My daily skincare routine contains 12 different products. That might sound like a lot, but for a skincare enthusiastic it's actually not that bad.
My skintype is combination and I'm still recovering from acne. I have acne scars, so that's one of the things I try to take care of. I also try to be gentle with my skin, because even though it gets oily, it also gets dry and I want my products to balance my skin. Being a beauty blogger means trying out different products quite often, but from this post you get an idea of how I treat my skin.
But one of the things I wouldn't change are my oils: argan oil and jojoba oil. And my serum!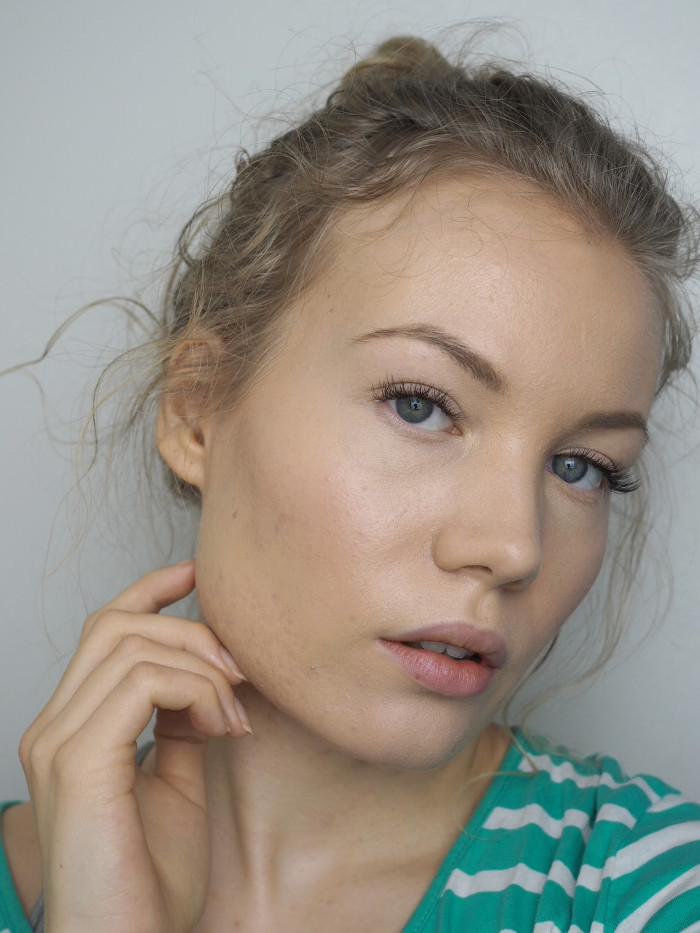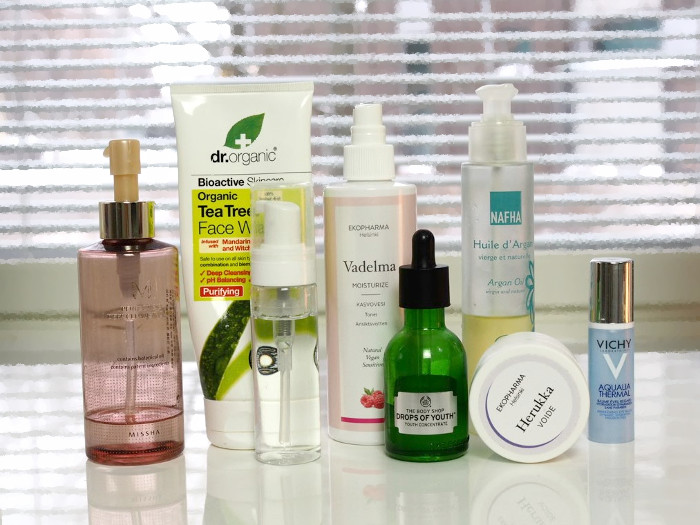 MY SKINCARE ROUTINE – EVENING
First, I double cleanse. It is one of the most important things in my skincare routine. I first wash my face with an oil, because oil soaks off makeup and sunscreen from my face, after which I can use my actual face cleanser to clean my face from dirt and sebum. Washing your face with two different products might sound extreme, but it's amazing, I promise you – and not drying at all, since the first product is an oil, anyway.
Missha Perfect BB Deep Cleansing Oil
A great oil cleanser, that removes makeup really well and is quite long-lasting.
Dr. Organic Tea Tree Face Wash
I'm still searching for that perfect face wash and that is the one product, that I do change a bit, but this one I've been using the most. It's inexpensive and very long lasting, so it's great for a budget.
Chrissanthie eye lid cleanser (mixed with pure water to get a foam)
I use this daily to wash my lash extensions. If you want to know more about lash extensions, check out this post.
EkoPharma Vadelma Moisturizing Toner
I love this toner. It balances my skin, while hydrating it. I think this is my favorite toner so far.
The Body Shop Drops of Youth Concentrate
This serum would deserve a party of it's own and I dedicated this post to it. When my skin started to get very bad last Summer, I bought this and started to use it daily. It helped with inflammation, spots, skin texture and dryness. It balanced my skin and was the key factor in making it smoother.
Argan oil
Argan oil my skin's saviour, when it comes to dryness, but it actually has some other benefits as well. It has anti-aging properties, so it's great for keeping that youthful glow on. Argan oil is also great for scarring and as you may know, I have pretty bad acne scars. I've been using this consistently throughout my acne journey and I'm pretty sure it's one of the reasons my acne scars have been fading away quite nicely and my skin has stayed smooth. For anyone battling acne scars (or any scars), you might want to try argan oil.
EkoPharma Herukka Cream
This is one of the lotions I told you about in this post. Basically I got to make my own lotions! I've been using this one as a night cream. It soothes my skin, balances any redness I might have and nourishes super well, so that when I wake up in the morning my skin feels moisturized, but not oily or sticky.
Vichy AqualiaThermal Eye Balm
A lightweight and refreshing gel, that moisturizes well and suits my lash extensions. I also like the packaging!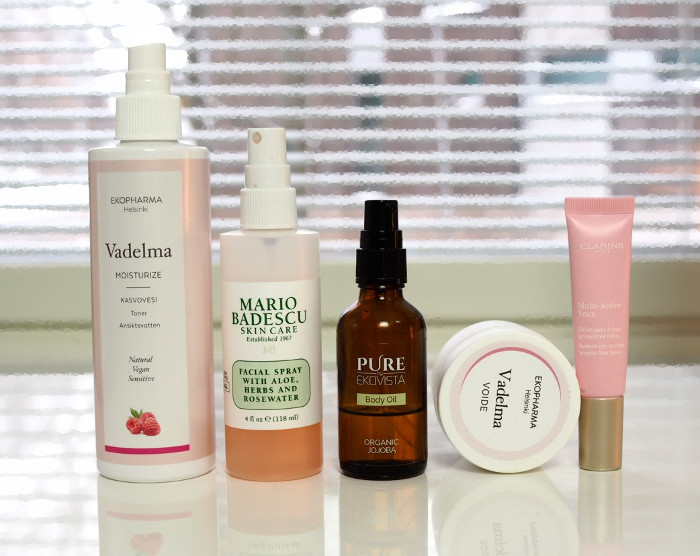 MY SKINCARE ROUTINE – MORNING
Before I put anything on my face, I wash my face with cold water. It's essential for me, and not least, because it helps me to wake up. I need cold water under my eyes and all over my face in the morning, period. Then I go through these products.
EkoPharma Vadelma Moisturizing Toner
Mario Badescu Facial Spray with Aloe, Herbs and Rose water
This facial spray offers nice lightweight moisture. I like to moisturize my skin using lighter products in the morning.
Jojoba oil
Jojoba oil seems to absorb in my skin better than argan oil, so I like to use jojoba in the morning. I apply oil either before lotion or I mix it with the lotion.
EkoPharma Vadelma Cream
EkoPharma's Vadelma (Raspberry) line is made for normal to mixed skin and it's great for my skin. This lotion is very moisturizing, but not heavy. It works well under my makeup as well.
Clarins Multi-Active Eye Cream
This eye cream actually has it's own blog post! It has a metallic applicator tip, which makes it perfect for eye massage and therefore helps with puffiness.
+ Sunscreen
Usually, my makeup acts as my sunscreen, since my foundations almost always contain a SPF. It's not that sunny here all year round, so wearing a full face of foundation is enough for my face in Fall and Winter. However, if I'm not wearing a foundation and I'm headed outside in that beautiful winter sun, I make sure to apply sunscreen. In spring and Summer I wear either a sunscreen (I like Eucerin's Mattifying Sun Fluid) or mineral makeup.

That is it for my daily skincare routine and products. Besides these I exfoliate my skin once or twice per week and use a mask once or twice as well. But I change those products a lot, so I didn't want to include all of them here. The exfoliator I use is amazing though, so I might give it it's own post.
How many products do you use daily for your skincare routine?