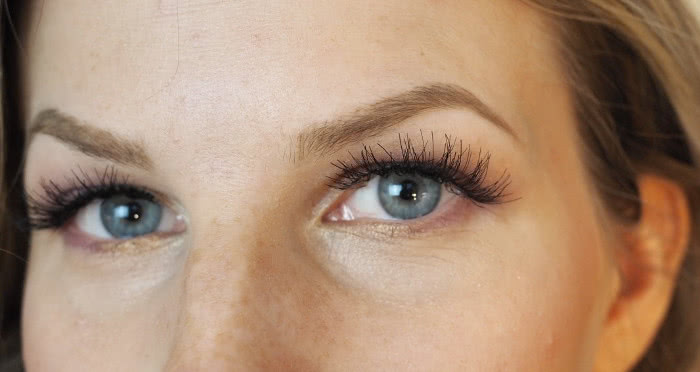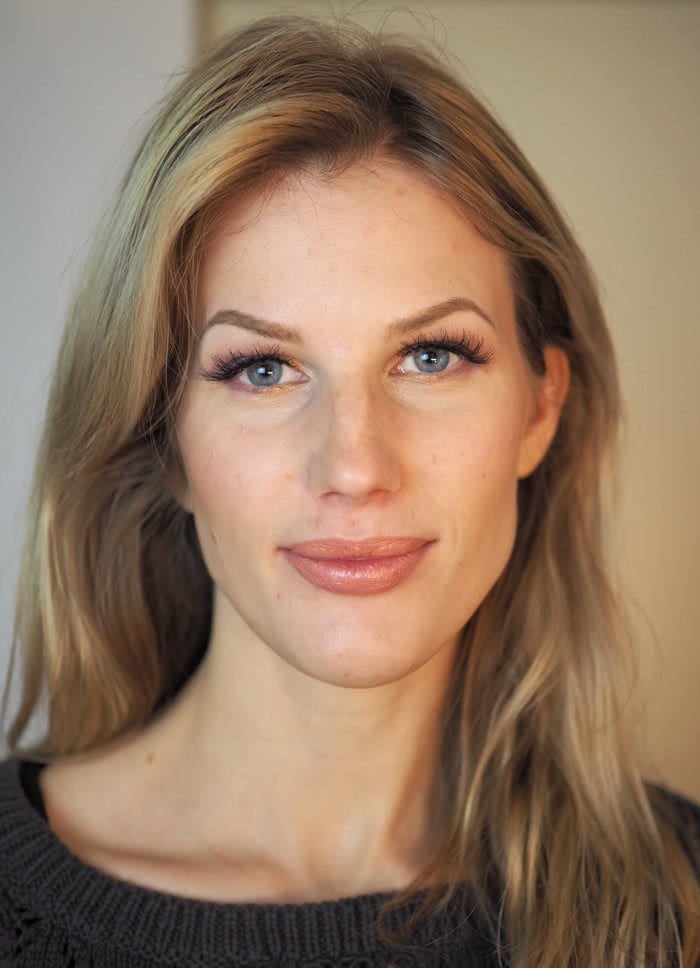 In this post I will show you how to work with deep set eyes. When the brow bone is prominent and the eye is deep in the skull, it can look small. With makeup you can bring out the eye and actually make it look at least twice as big.
As I've said before – we all have unique eye shapes and usually they're a mixture of different eye shapes. Even the same eye shape can look totally different on a different face. I have done a post about my eye shape, which is deep set and just slightly hooded. Now here is my friend Suvi's eyes: they are deep set too. But our eyes are still very different. My eyes are not as deep set and there's slightly more visible lid space showing – with Suvi's eyes the lid is more hidden.
If you have hooded eyes, you can use the same tricks. Deep set eyes and hooded eyes are kinda similar, when it comes to makeup application.
*adlinks
How to bring out deep set eyes
Here's what we're gonna do: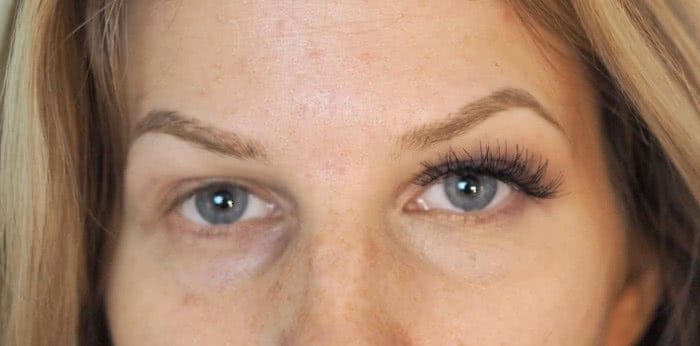 Before & after.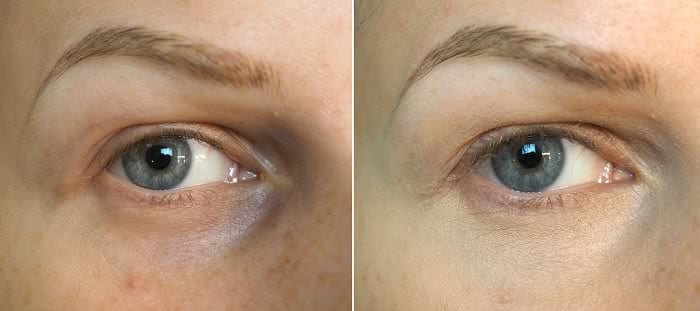 Concealer
Concealer is important for anyone, but especially for deep set eyes. The eye shape already creates shadows on the eyes and emphasizes the dark circles. If you're not sure how to conceal properly, check out this helpful post about it.
My absolute favorite concealer is *NARS Radiant Creamy Concealer, It's pigmented, easy to blend, it doesn't look dry and it lasts well on the skin. If you want something more affordable, *Catrice Liquid Camouflage Concealer is a good dupe for that (but I wouldn't recommend it for dry skin).
Read my post: How to conceal dark circles under eyes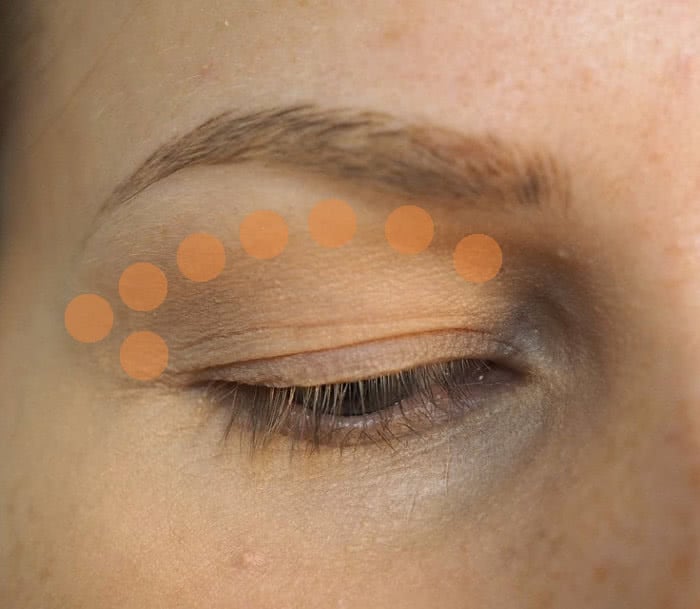 Crease colour | How to contour deep set eyes
Here is where you should contour your eye. Definitely above the actual crease – almost right under the brows, but do leave a small gap there. I used a slightly warm peachy colour. A warm colour works well, when you want to soften the area and not draw too much attention to  it. Use a matte shade!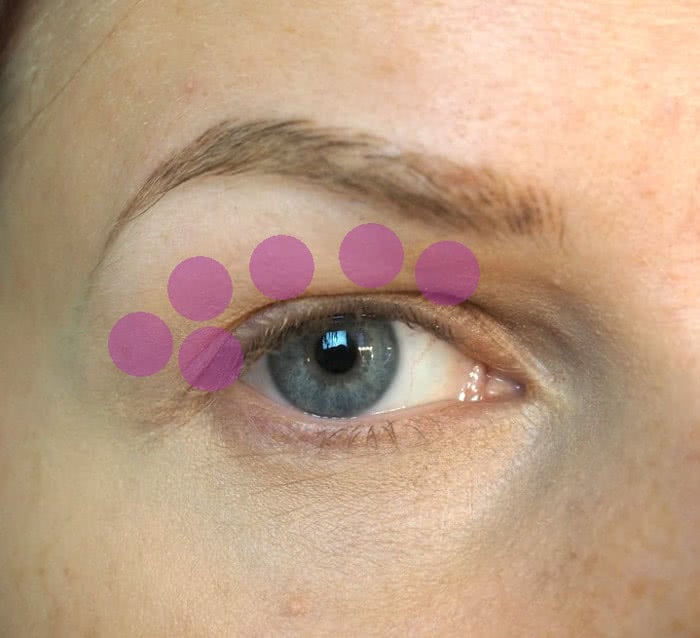 Use matte shades to sculpt the eye
Here is the area, you want to contour with matte shades. You don't want to bring shimmer to the area, you're trying to 'hide'.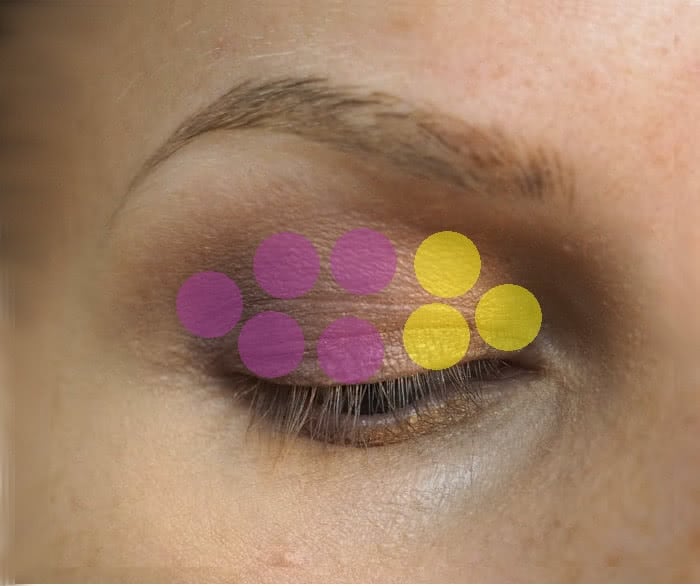 Play with colors on your lid
In this particular makeup I applied the lid colors as shown. I think you can play with colors here as much as you like! Even though it's not that visible when the eye is open, there is room to surprise your audience every time you blink. The only important thing here is to bring the eyeshadow high enough, so that some of it shows, when the eye is open. Make sure the line between your crease color and lid color is nice and blended.
Leave the lower lashline light
If you use a dark shade on your lower lashline, the eye sinks a bit deeper. So keep it quite light – or at least lighter than the lid colors. But don't leave it completely bare. Applying the same color on your lower lashline, that you used on your lid and crease, will make the makeup look more put together.
+ Lashes are important

They just really, really make a difference in bringing out the eye.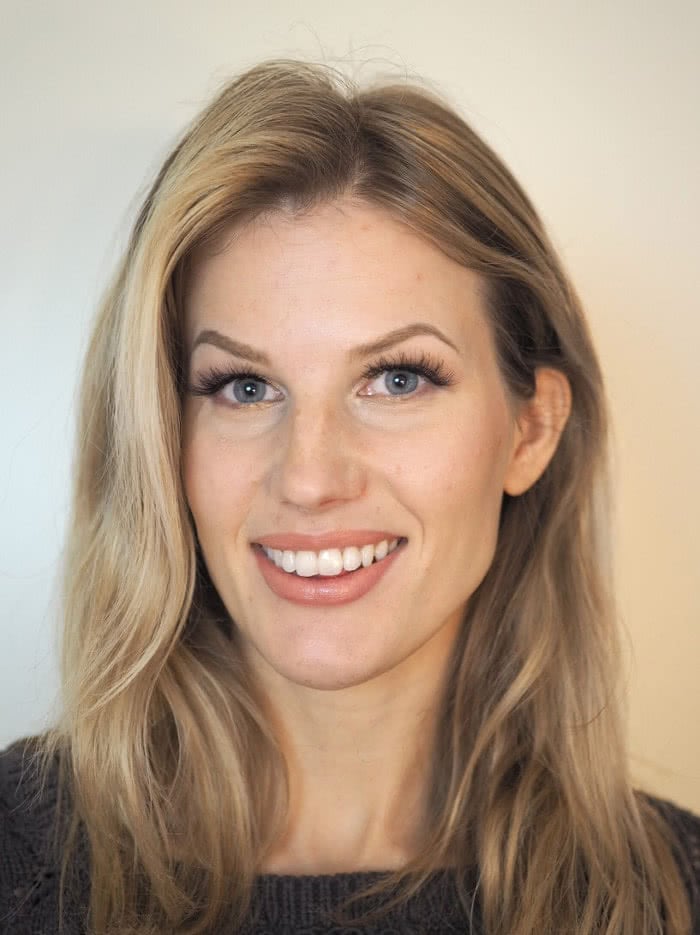 Now to the pictorial. I used purple and gold to bring out Suvi's blue eyes and to make the look more fun.
Purple & gold eyeshadow tutorial for deep set eyes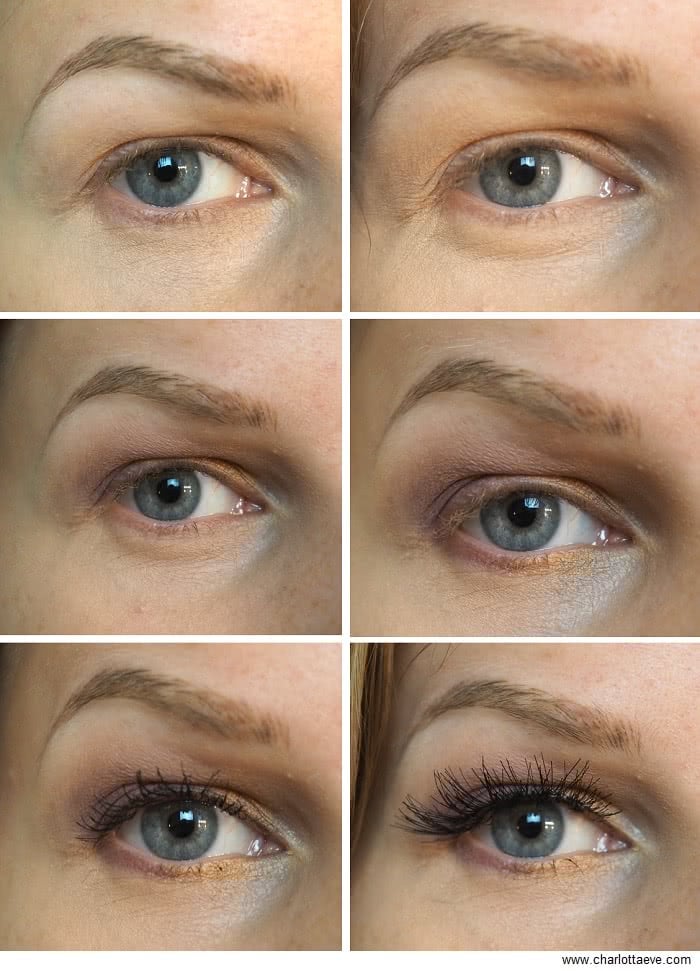 Before getting to the tutorial, an important thing to note is that using an eyeshadow primer with deep set and hooded eyes is crucial! It helps to keep the eyeshadow in place, especially since the lid folds. The iconic *Primer Potion by Urban Decay is my go to and I warmly recommend that.
And then to the pictorial:
1. I basically followed my own rules and first contoured the eye above the crease and slightly under the brow with a peach colour.
2. Then I used purple shade all over the lid and blended that high enough, so that some of it shows when the eye is open. The purple shade is matte.
3. I added a pop of colour in the inner part of the eye and blended that with the purple colour, so that the transition is subtle. Same goes to the lower lash line.
4. I added a highlight to the inner corner, lined the eyes, applied mascara and finally some big lashes.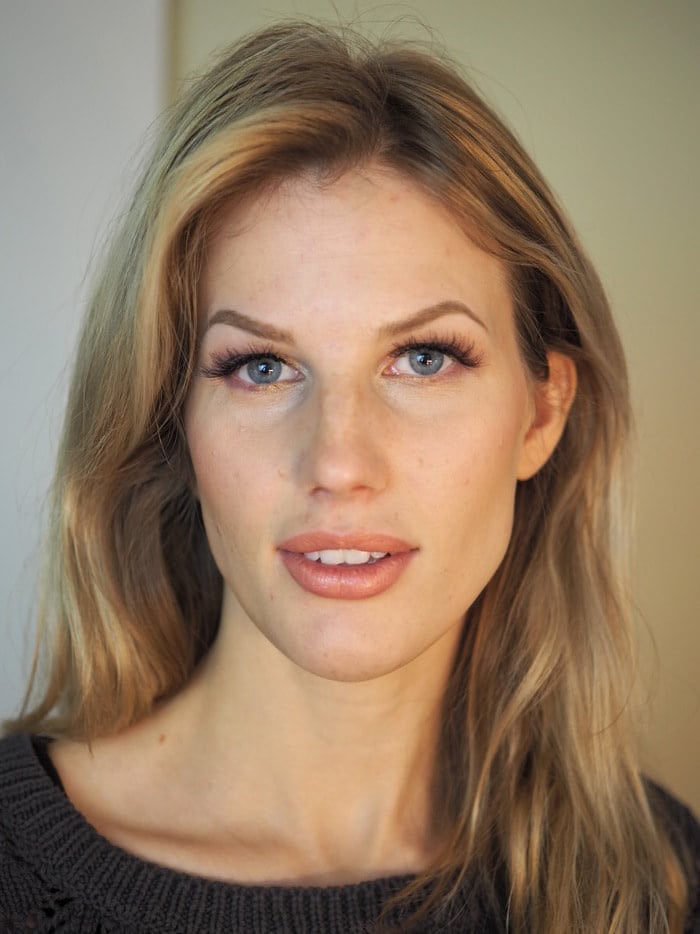 Isn't she gorgeous? There was some serious model material on my camera after this session. Thank you Suvi for being my model! 
Product recommendations
Eyeshadow palettes I love:
*Illamasqua Unveiled Nude Artistry Palette (US,CA) *Illamasqua Unveiled Artistry Palette (UK)
*NYX Perfect Filter Palettes
*Too Faced palettes
Makeup brushes I use:
*Coastal Scent Brush Set ($)
*Zoeva rose gold brush set ($$)
The key products I used were the concealer, the best ever eyeshadow primer and a bunch of products from Zuii Organic
For affordable eyeshadow palettes, I would recommend NYX Eyeshadow Palettes. They are easy to work with and come with lots of colors. My favorite palettes are their Perfect Filter palettes. I also love Too Faced's and Illamasqua's eyeshadows.
As for brushes, I can warmly recommend Coastal Scents 22 brush set. It's what I bought for myself as my very first brush set and still use it. Great price-quality-ratio. If you're willing to invest a little, the best brushes I've found are from Zoeva.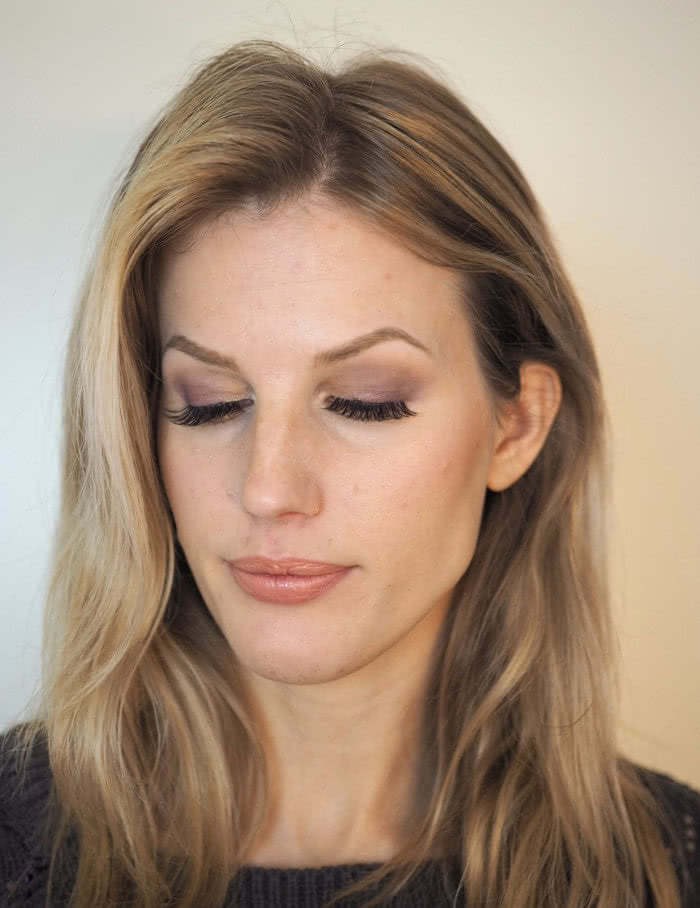 Full product list for Suvi's makeup:
*Urban Decay Primer Potion
Makeup Geek Eyeshadow, Peach Smoothie
Zuii Organic Eyeshadows, Blackberry,
Alima Pure Kajal, Ink
Ardell Lashes, Wispies
*NARS Radiant Creamy Concealer, Custard & Vanilla
Zuii Organic Makeup Powder, Creme
Zuii Organic Blush, Melon
Zuii Organic Lipstick, Sheer Peach
+ a clear gloss on top
Hopefully you learned something new here! What do you think of this look?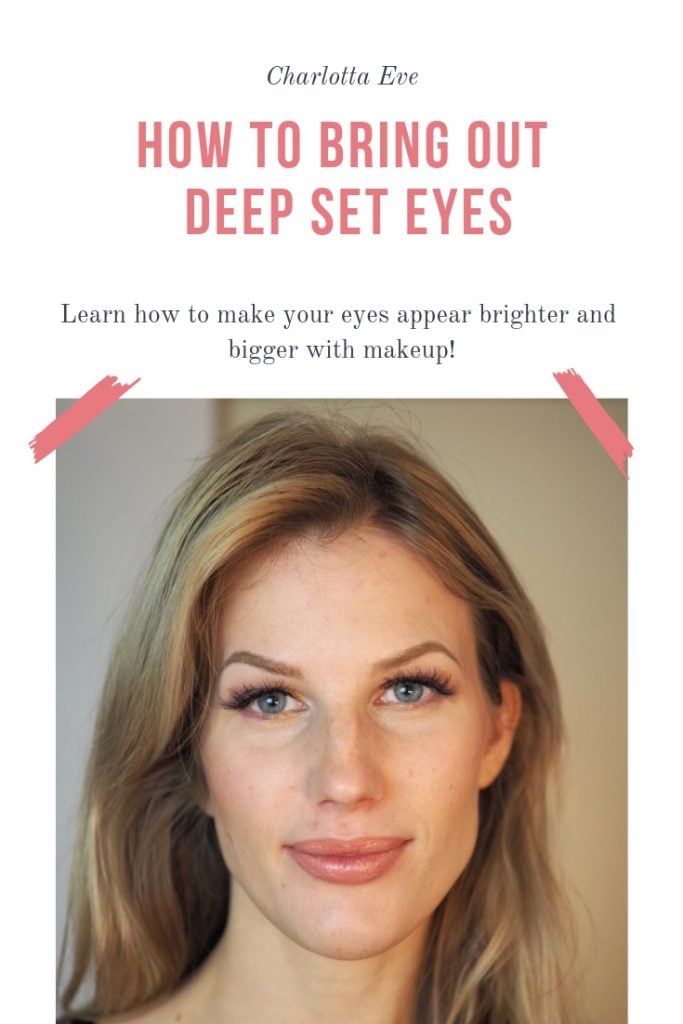 Pin this!