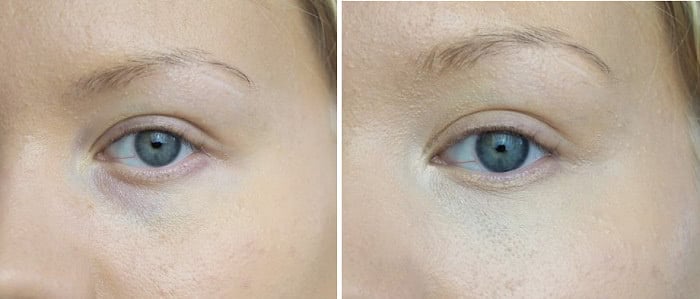 There are two products, that I value more than others and those are the products, that I use to conceal my dark circles under eyes. Those eyebags may come handy on Halloween, but in every day life it's pretty cool not to look tired. Concealing your dark circles makes the whole face look brighter, younger and healthier.
In this post I will show you how to conceal dark circles and I'll give you some tips on using concealer on your eyes – hopefully you'll learn something new here!
Before going to the tutorial – I need to go through some important things. The ABC of concealing dark circles.
The ABC of concealing dark circles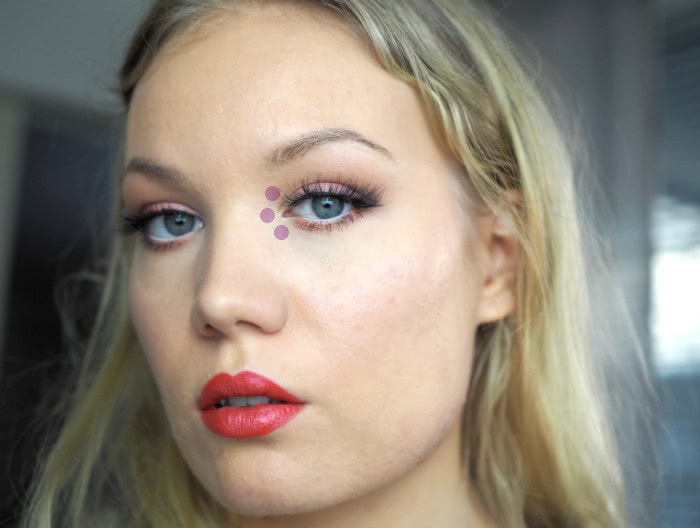 A. Don't forget to add concealer in the area shown in the photo. That is usually a very dark area (if not the darkest!), so make sure to bring your concealer all the way up.
B. This is the obvious problem area, that we are concealing. The dark circles. Here is where you apply most of the product. But you already knew this, if you have any problems with eye bags 'cause they create this shape (don't worry, I know they're chanel).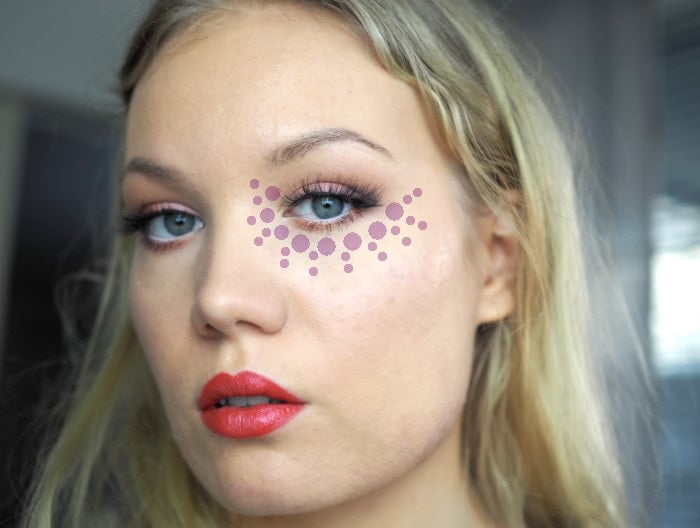 C. But! What's important here, is that you blend the concealer around (like shown in the photo), so that the line between your foundation and concealer isn't visible. Don't apply a ton of product to these little dots, but use what you already have (photo 2) and blend the edges. Make sure not to bring it too low – the idea is not to make your cheeks slump, which will happen if you bring the concealer too low in a V-shape (a mistake, that always caughts my eyes).
Then to the actual tutorial – here is how I currently hide my dark circles:

How to hide dark circles tutorial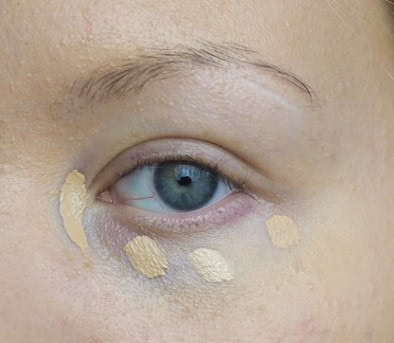 First I use a darker peachy shade. I make sure to follow my rules and I bring it on my inner corner as well to hide that dark area there. This colour is purely to neutralize the blue and hide that darkness, so it doesn't need to be blended around. Actually you want to keep this colour right where it belongs and pat it on. In other words – don't follow the C-rule here.
2. Already looking better, the blue/dark is not that visible anymore. But we need to add more coverage and brighten this up so, let's keep going.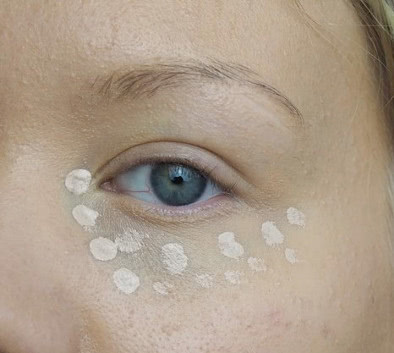 3. Then I use a lighter concealer shade to give my dark circles even more coverage AND to brighten everything up. Here those ABC -rules come handy.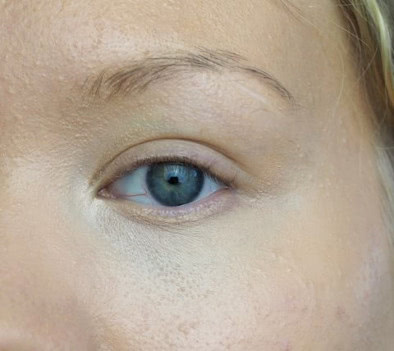 4. This may be optional, if your skin is dry and you feel like your concealer stays in place, but finally I set my concealer using a powder. I actually like to use a powder, that is also a concealer and offers that extra coverage. Then I'm all done!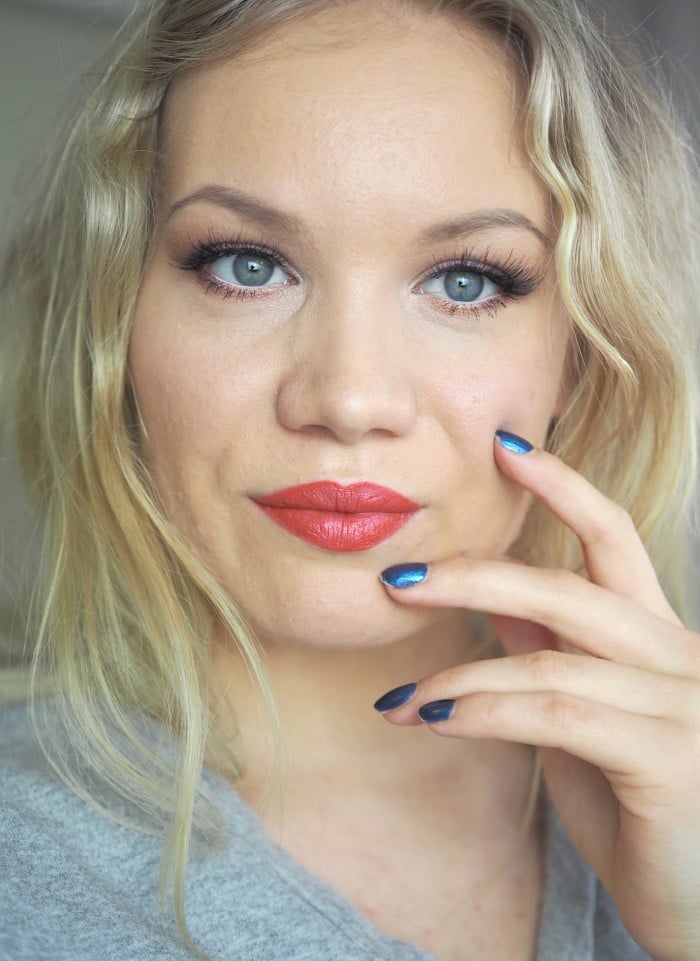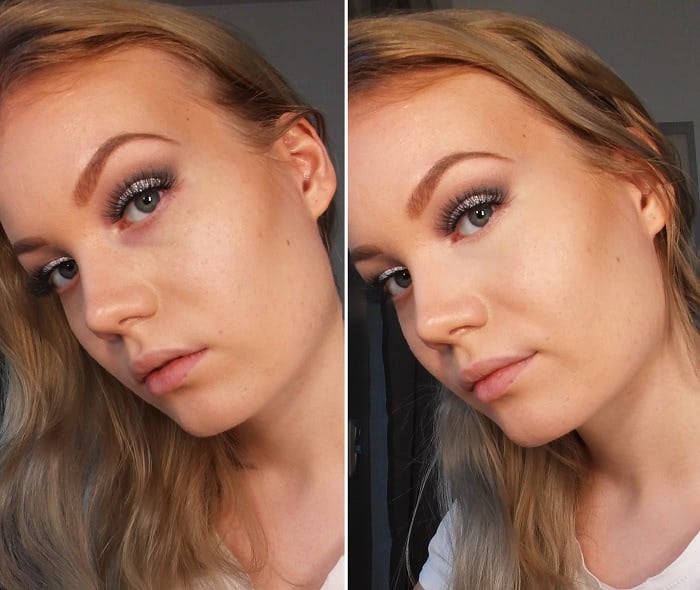 Before after photo from when I was a brunette. I wanted to add these here, 'cause I really captured the difference that concealer makes! I think here I only used NARS Vanilla, but I layered it a bit. Nowadays I prefer using something peachy first and then a light concealer.
These are the products, that I use and feel like can't live without:
*adlinks marked
*NARS Radiant Creamy Concealer in two shades:
Custard (a darker peachy shade) and Vanilla (a bit lighter than my skintone). This concealer is creamy, easy to blend and it has an amazing coverage.
*the beautyblender
I apply my concealer always with this. I think it's the best tool for this task. It's also a winner for foundation and for powder too. Honestly, if you haven't tried this magical makeup sponge yet, I urge you to.
*Tapered powder brush
I apply the powder under my eyes with a tapered pointy brush like this. It's just the perfect shape for my eyes and the bristles are soft, so it's gentle for my eye area.
+ Orange color corrector?
Sometimes, when my dark circles are super dark and super blue, I need a bit of orange there. That's why some people use orange lipstick, but it can be a bit hard to get right. I recommend just choosing a peachy concealer color, so that it neutralizes the blue. NARS concealer for example in the shades Custard or Cannelle can work for this great.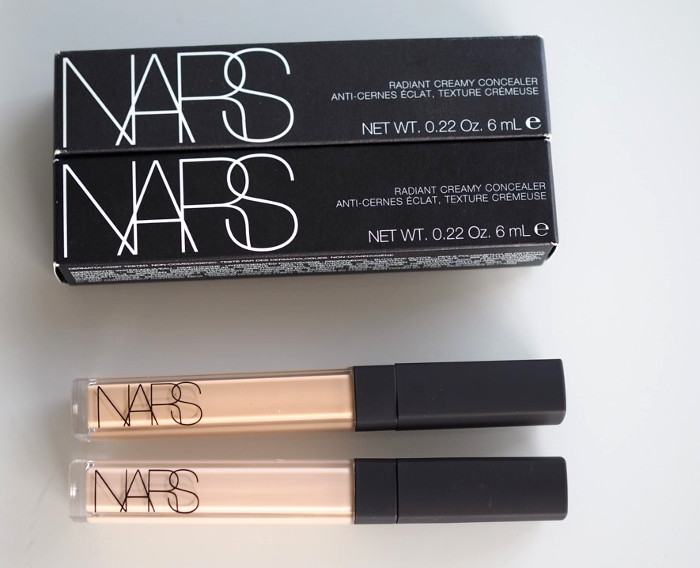 And there's that! What's your favorite concealer?

Pin me!