If I had to point out one product, which has made the biggest impact on my skin's wellbeing, it would be this serum – Drops of Youth concentrate by The Body Shop.
I started to use this last Summer, when my skin was going through some rough patch. My acne was quite bad, I had lots of red pimples and the texture was uneven. What I was longing for, was a smooth, balanced skin. Luckily, this serum worked amazingly for me and I still continue to use it. Right now I have acne scars as a memory from the painful acne, but this serum also helps to treat those scars.
Obviously, when it comes to skincare it goes so much deeper than just what it seen on the outside. I'm not saying that this product cured my skin – but it helped with the process. When it comes to acne and skincare, it's important to treat the skin with the right medication, but a good routine with effective products is just as important.
*adlink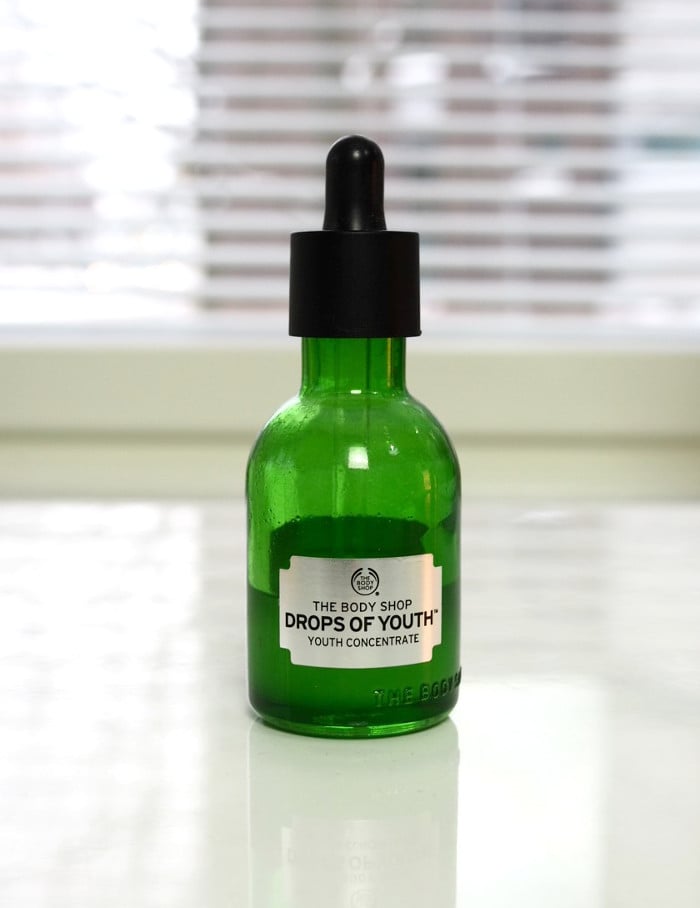 The Body Shop Drops of Youth Concentrate review
The Body Shop has different product ranges and this is one of their products from the Drops of youth -range. It's made to tackle the first signs of aging, like dryness and fine lines. By the way – did you know, that fine lines and wrinkles can form from dryness? When it comes to anti-aging products or preventing aging, it's all about moisturizing and keeping the skin healthy, so that those fine lines don't have a chance in the first place.
*The drops of youth concentrate is made from 99% of natural ingredients and it promises to moisturize your skin, while keeping it smooth and healthy. So you might be surprised, that it contains salisylic acid. Salicylic acid is amazing and it's one of the most effective ingredients used in cosmetics. It's often recommended for oily or mixed skin, because it helps with inflammation. It's great for all skin types, because it exfoliates and therefore renews the skin. That's one of the things, that make this serum so effective.  But it's not about just that one ingredient. Often I've tried these different products containing salicylic acid and they've been too drying for me. This serum's consistency doesn't feel too drying and it's successfully used salicylic acid in it's active ingredients.
Salicylic acid is amazing and it's one of the most effective ingredients used in cosmetics.
And I know – acids may sound scary and if you have dry skin, you might now be horrified of this product. But exfoliating the skin actually makes all the other products absorb better. It helps to get rid of dead skin cells, so they don't block the products from helping your skin. Salisylic acid is also considered quite mild and it shouldn't irritate the skin as much as some other acids. But like any exfoliators and acids in particular, you need to always remember to wear SPF when you use these kinds of products. You might also want to experiment and try which works for your skin – maybe you want to use this daily, or just once per week.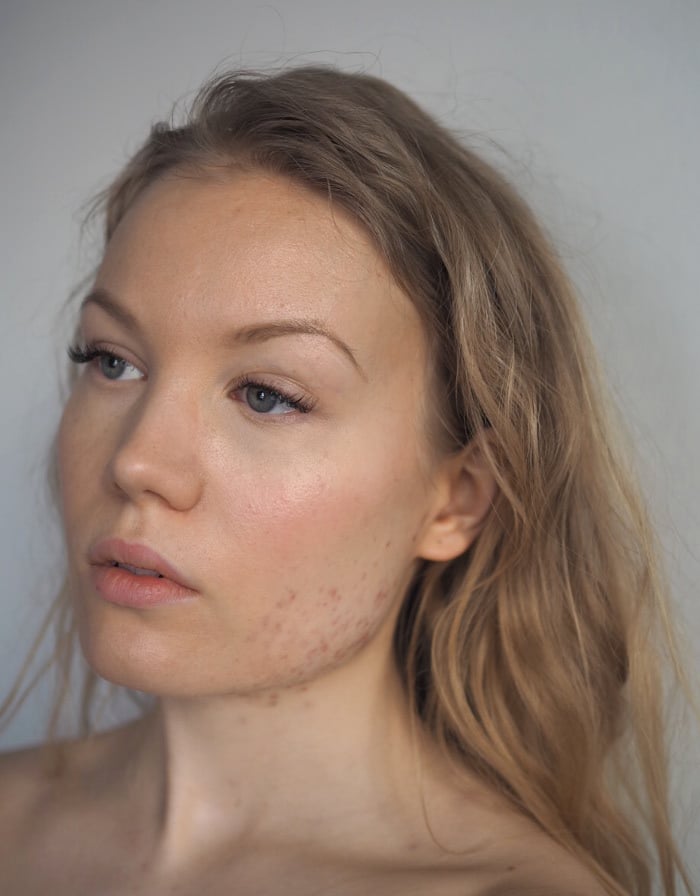 For my skin, I use it daily – most of the time. It's great for me in summer, fall and spring. The only time my skin gets too sensitive and dry to any exfoliating products, is winter. Right now it gets to -18°C, so I'm taking a little break from this product as well as from my purifying mud masks. You should always listen to your skin! I apply the serum in the evening and I let it sit for about half an hour, then I follow with my other products.
But to sum it all up: I love this serum and it's one of those rare products, that actually seem to make a big difference. It helps with my skin texture, pimples, dryness and even oiliness. It makes my skin feel smooth and balanced. When you're treating a skin, that has a tendency to oiliness and pimples and skin texture (talking about those sebaceus filaments!) –  you need to exfoliate your skin. But you need to do it gently, and that's when these acids come in handy. Exfoliation is also the key in treating acne scars. I'm speeding up the renewal process of my skin, basically.
This product has been so good, I'm tempted to try the other products from the range.
Shop the serum:
*The Body Shop Drops of Youth Concentrate
Have you tried this serum? Do you use acids such as salicylic acid in your skincare?
P.S. If you want to read more in-depth information about acids and salicylic acid in skincare, I recommend reading this article.