Dry skin is a totally different story to combination or oily skin. Since I have combination skin, (and it's also been oily in the past), I can't even begin to understand how it is living with skin that constantly demands moisture. Or skin, that barely has any visible pores (sigh).
If you don't quite understand what dry skin type means, I've explained it here in a nutshell:
A normal skin produces both sebum and sweat, which together create an acid mantle. That is the skin's barrier, which protects the skin from dryness, bacteria, air pollutants and other external threats. Dry skin is a skin type that doesn't produce enough sebum, which is why the skin appears dry and sensitive. Basically the acid mantle isn't working properly. This is why dry skin demands oil and moisture – and why the pores aren't visible (they just don't fill up like they do with oily skin). And that is why dry skin is also usually more or less sensitive. It can't take certain ingredients and it can react to things like weather quite dramatically, since the acid mantle isn't fully there to take the hit.
Since I want this blog to be helpful to not only those with oily skin, but also to those with dry skin or anything in between, I decided to loan my sister for this blog post. Because she has a dry skin. Which, you wouldn't necessarily believe, if you didn't know better. Annika takes such good care of her skin, it basically looks flawless.
Only fair to share her skincare secrets, right?
A while back I gave her some of my products to try out – most of them were a miss, but there were a few survivors. And those products came to be a part of her dry skin skincare routine, which we'll be taking a look at now. Besides sharing her current routine, Annika also shared some of her favorite products for dry skin.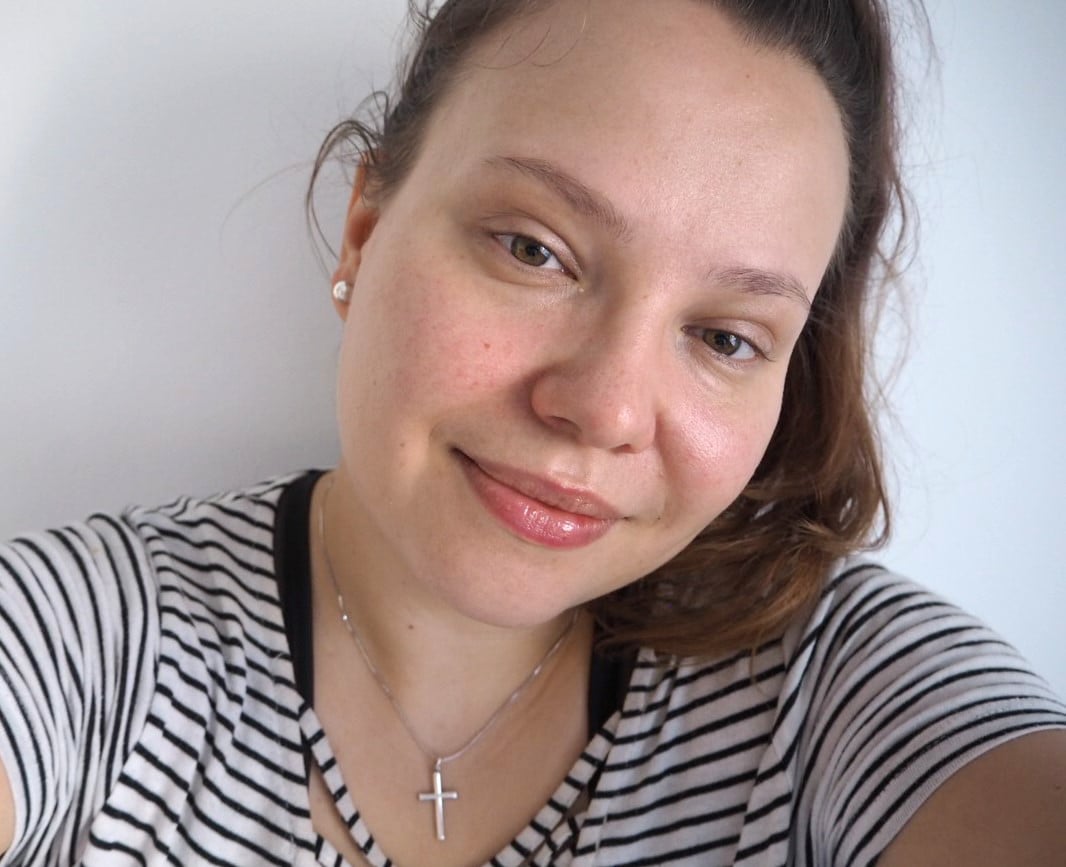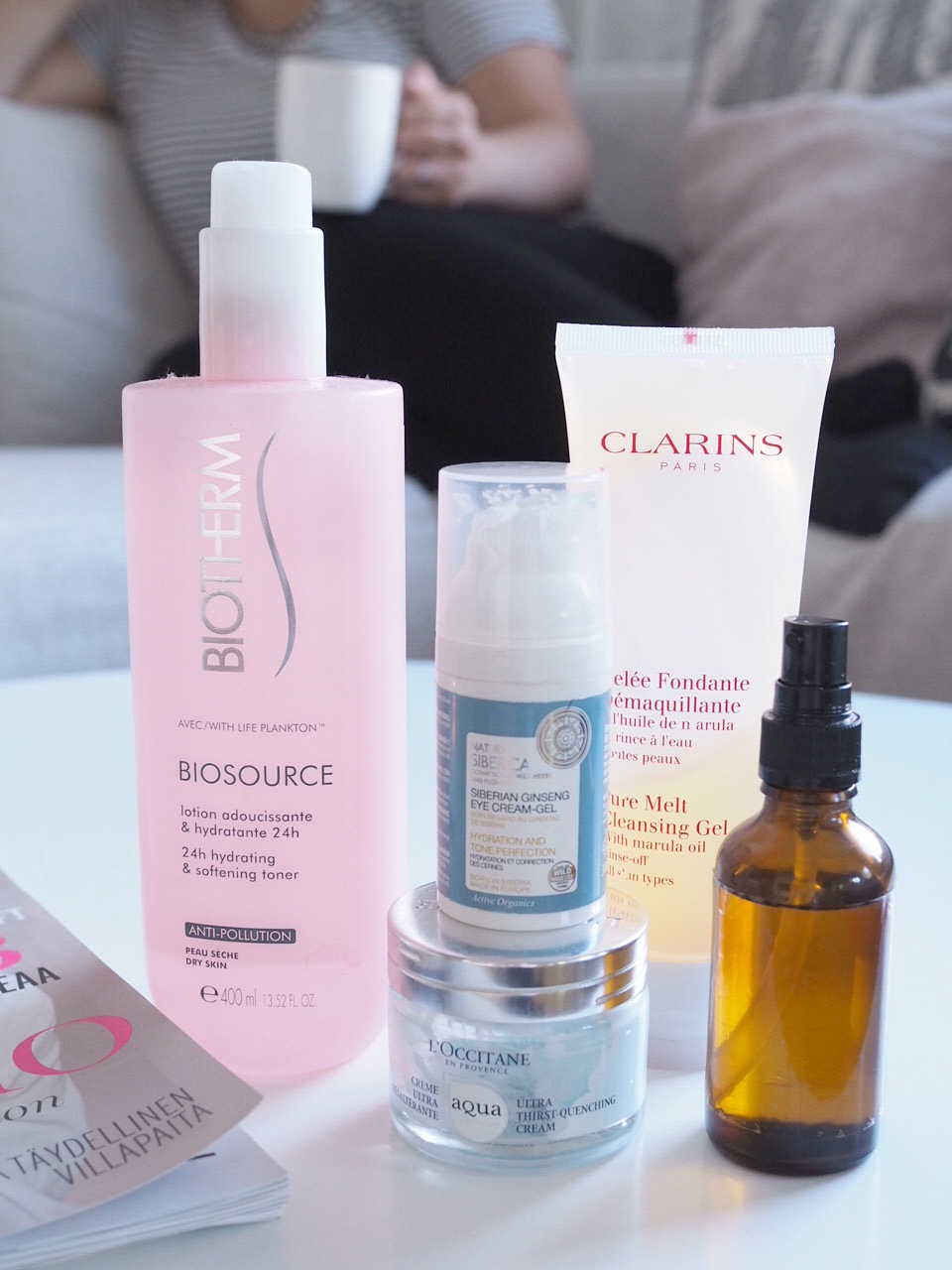 DRY SKIN SKINCARE ROUTINE
AM MORNING ROUTINE
Cleansing
Biotherm Biosource Dry Skin Toner*
On mornings, Annika just wipes her face clean with a toner. Currently she is using Biotherm's hydrating & softening lotion. Usually she can't use products that contain alcohol, but this particular product is working fine.
Another favorite toner of hers is Clarins Extra Comfort Toning Lotion
*.
Moisturizing
Serum & Argan oil*
Annika uses argan oil kind of like a serum before applying her moisturizer. I find it interesting that argan oil is the most important thing in Annika's routine, since it's an oil that I love to use on my skin as well. I think it's pretty safe to say that we're talking about an oil, that is indeed suitable for all skin types and problems: dryness, wrinkles, blemishes, acne scars – and even acne. Annika also sometimes uses argan oil in her makeup: she just mixes a few drops in her foundation.
If her skin feels very dry, Annika also uses a moisturizing serum before applying the oil. Two of her favorite serums are Novexpert Booster Serum with Hyaluronic acid and Estelle Thild BioHydrate Thirst Relief serum*.
L'occitane Aqua Reotier Ultra-Thirst Quenching Cream*
This product I gave Annika and she fell in love with it. She says it's very moisturizing and could see herself buying it again. I'm quite surprised, because I liked this cream on my skin as well! I wrote about this cream on the post about Aqua Reotier products. I actually gave Annika all the three products mentioned in the post, but only this worked for dry skin.
Other great moisturizers Annika likes to use are Clarins Hydra-Essentiel Rich Cream* , Novexpert The Repulp Cream and EkoPharma's Tyrni Anti-age moisturizer (a Finnish brand).
Natura Siberica Siberian Ginseng Eye Cream-Gel
I like to think I taught my sisters the importance of an eye cream, but be it whatever, Annika uses an eye cream always. I'm proud! Taking care of that thin skin around our eyes is important. This eye cream is very moisturizing, but doesn't feel heavy.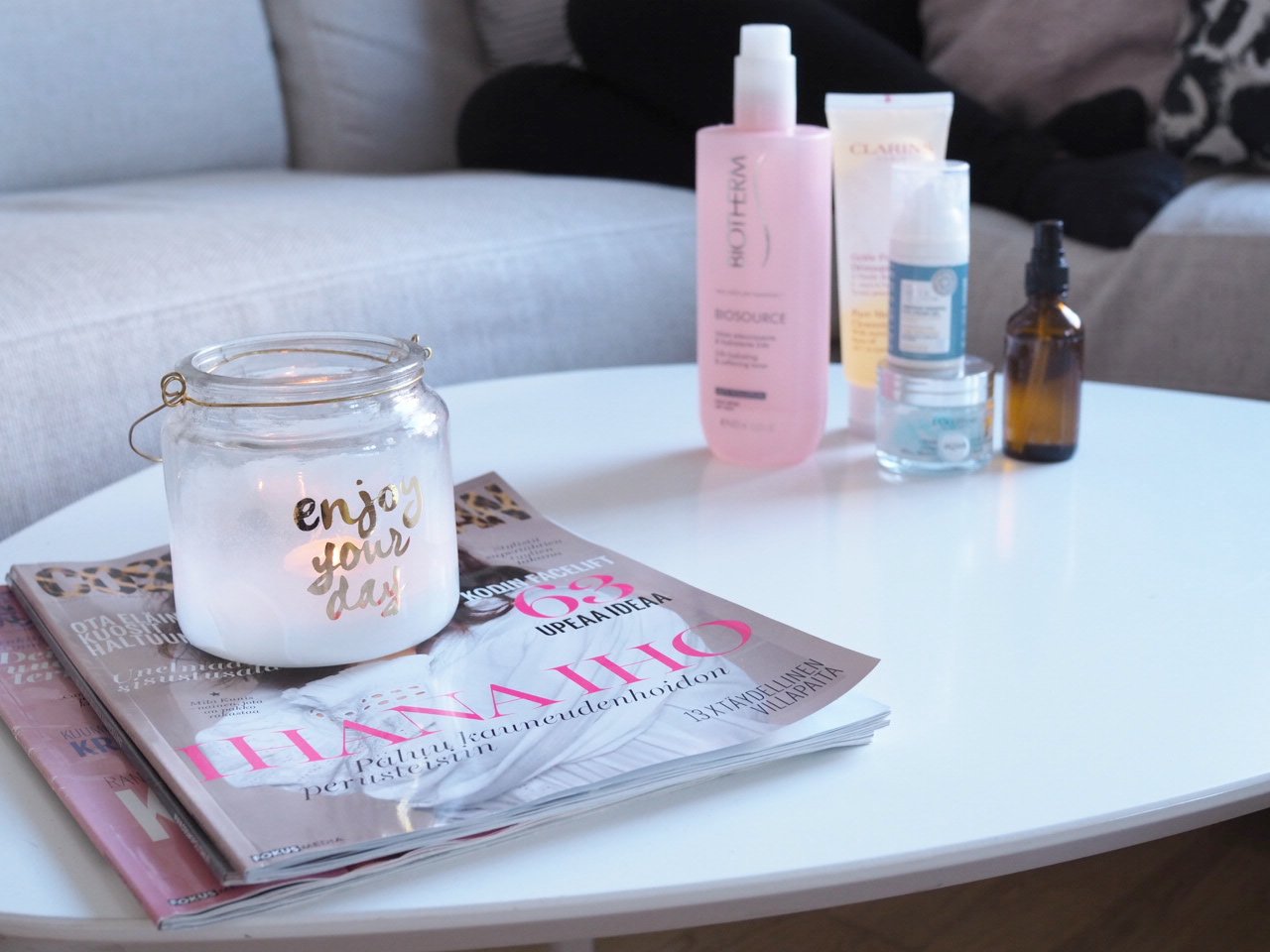 PM EVENING ROUTINE
Cleansing
Makeup eraser*
Annika uses makeup eraser to remove all her makeup in the evening. The original makeup eraser is very soft and it's indeed gentle enough even for a dry skin. She has used this for a few years now. I actually tried it for the first time when we had a sleepover, and I'm pretty sure I need to buy myself a makeup eraser. It's seriously so effective, but soft as a feather. Or heaven.
Annika got a good laugh, when I was wiping my face with the makeup eraser and my eyes just became huge plates. I might have even cursed a little. I think it's safe to say all the makeup towels I've tried before have suc – I mean – not have been as soft and good as this is.
Before she started to use the makeup eraser, she liked to use Philosophy's Purity made simple one-step facial cleanser*. She also tried the gel-version of it, but found it to be way too harsh. So there is a big difference in those two products.
Clarins Pure Melt Cleansing Gel*
I fell in love with Clarins' skincare products while I was studying cosmetology at school and somehow now 3/4 of us (sisters) have heavily used or are currently using their products. Annika uses their Cleansing gel as the second step of her cleansing routine. You apply this gel on dry skin and as it melts, it turns into an oil. It leaves the skin feeling hydrated, so it's great for dry skin.
I asked for other product recommendations and Annika's response to this was: "No other favorites! I don't know what I would do without this product!!" So I guess those exclamation points speak for themselves.
Moisturizing
After the double cleansing, it's the same toner + oil + moisturizer + eye cream combo than it is on the mornings.
WEEKLY
Lumene Nordic-C Glow Reveal Peeling Mask*
Weekly exfoliating and masking is crucial even for dry skin. When you choose the right products, it's not too drying – I promise. I gave Annika this product as I felt it was very gentle and could work for her. And yes, it's now dry-skin approved. I wrote a post about Lumene Valo products here.
Other masks that she likes to use are moisturizing sheet masks* (from korean brands mostly), professional moisturizing masks such as Phytomer Hydrasea Thirst-Relief Rehydrating Mask
* (I gave her this, yay!) and acid-containing exfoliants (like the Lumene one mentioned above).
And sometimes (not weekly, more like once or twice per month) she uses a more effective mud mask. But she never applies the mud mask on the most sensitive areas which are her cheeks and forehead. If she does a mud mask she only applies it on her nose and chin.
Thank you dear sister for helping me put this post together! Hopefully this helps all the dry-skinned beauties out there. Would you like to see more posts like this? I'm thinking of dry-skin makeup edition, as Annika is quite a makeup enthusiastic and her makeup always looks beautiful.
Related Posts