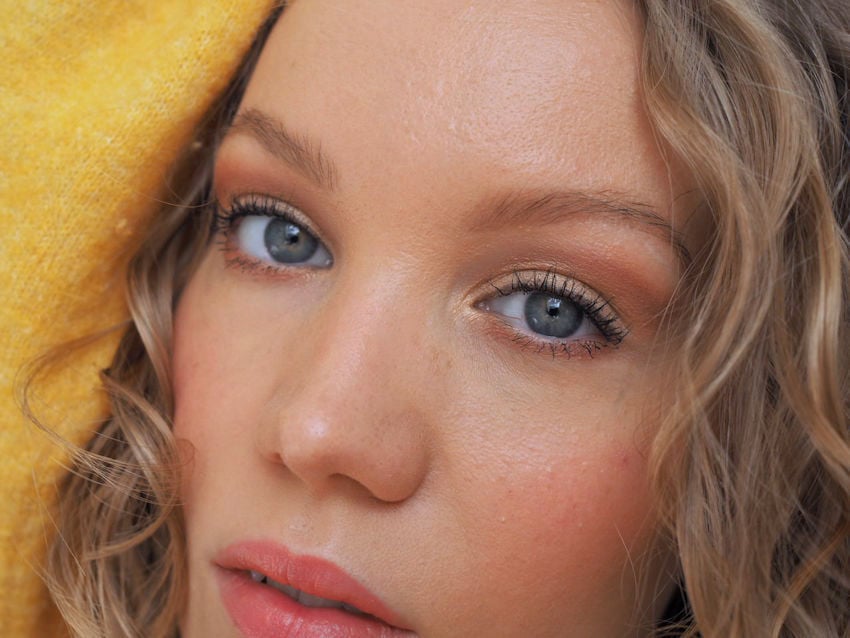 *adlink
If you want to try something new for your deep set or downturned eyes, why not try a floating contour? I like to do this when I feel like doing something different and want to keep my eyes (lids) more bare.
This technique works for downturned and deep set eyes, as the idea is to pull away the attention from the hood and the (downturned) crease with a matte eyeshadow. You see, typically I would add a darker eyeshadow to hide the so called problem area. But in this look I totally just ignore it, applying eyeshadow elsewhere to trick the eye. I call it the floating contour or an open contour, because it floats on the lid and is not connected in the outer corner, like the usual style. It's all about contouring and shaping the eye with a darker eyeshadow, mimicking shadow.
Floating contour for deep set or downturned eyes
As most eye makeup tips, it's easiest to explain and do when your eye is relaxed and open. See that outer corner in my eye? It's where my eye creates a tiny little hood and my crease tilts downwards. This is the area that I typically hide with matte colors. But in this look I apply matte eyeshadow on top of that area to lift up the eye. And then I highlight my lid with a lighter shimmer color, making my eye look more open.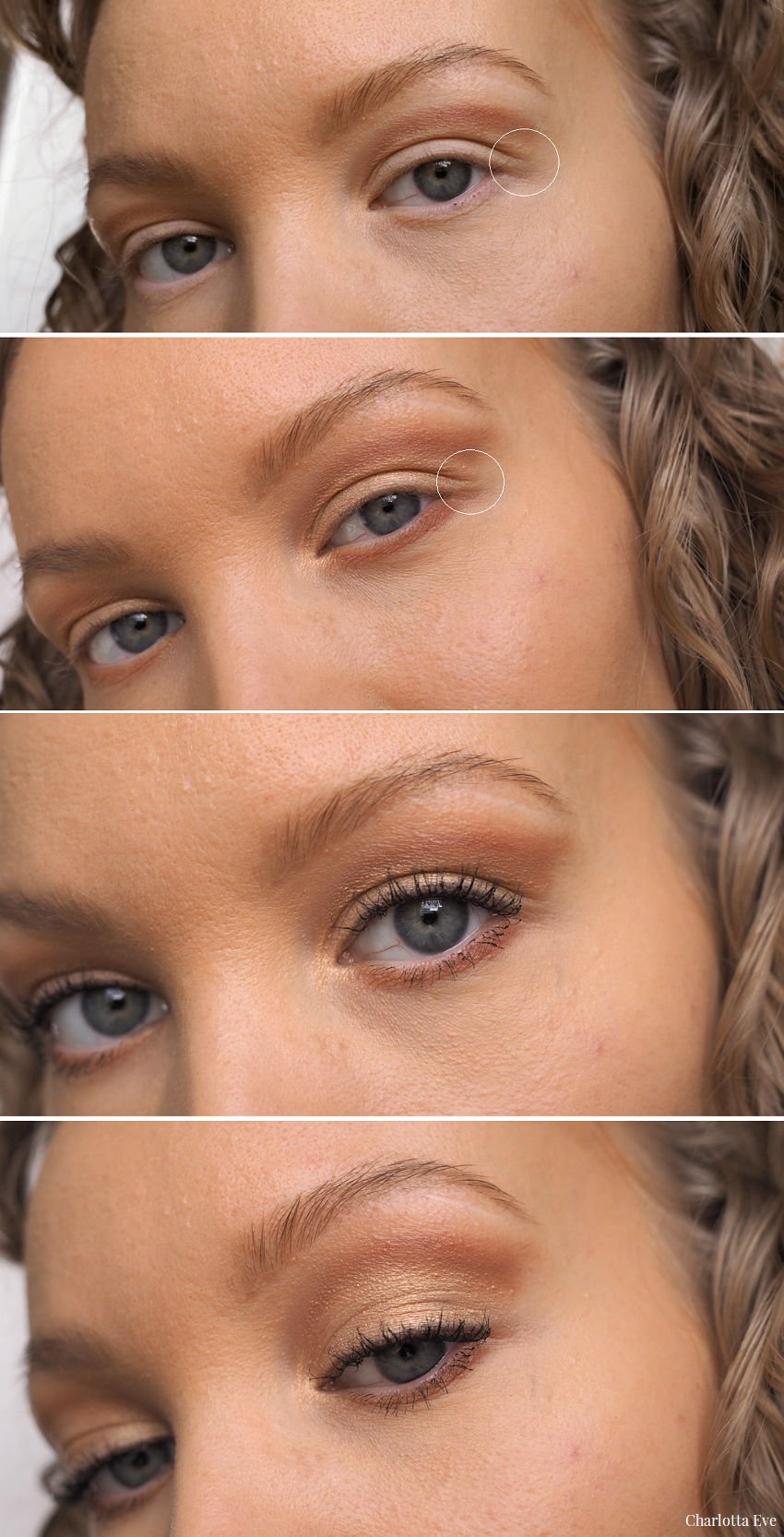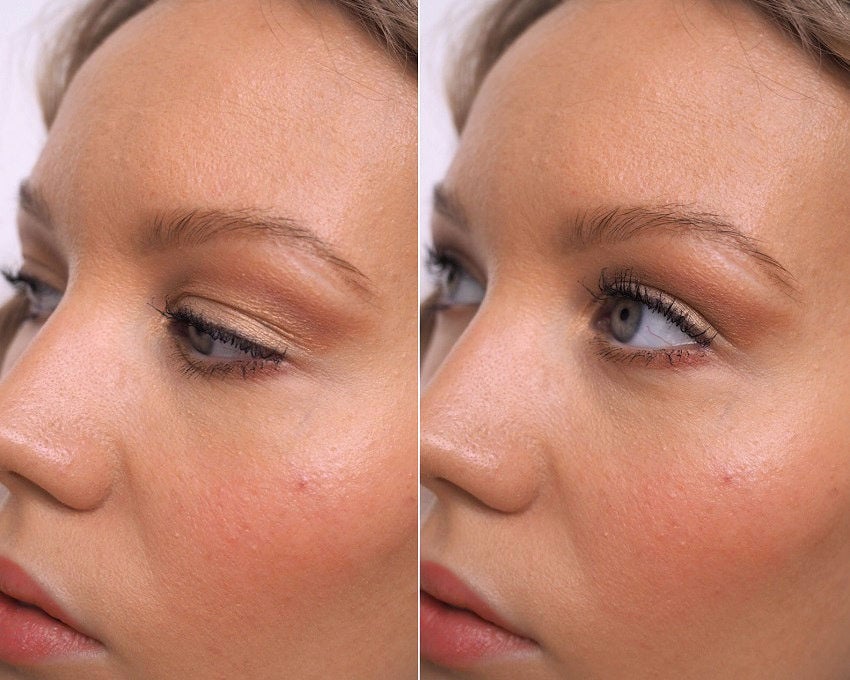 Now – how to find the right spot for the contour?
I've shared this tip before, but it's all about working with the natural shape of your eye. The right spot is where a natural shadow occurs on the eye, where the brow bone ends. When you put a brush in that spot, you can kind of feel that brush sink in there: that's about where your contour should go. Though in my eye I apply it there, but tilt it slightly upwards.
I also shared a video tutorial of the technique on my Instagram (@charlottaeve).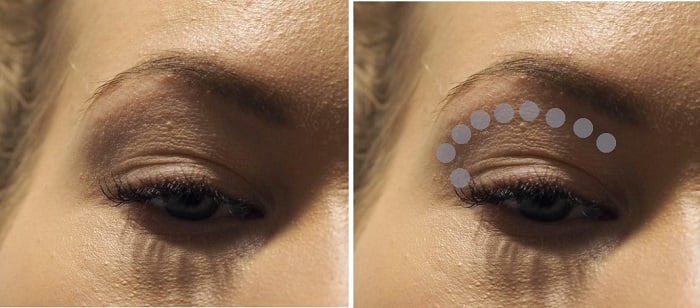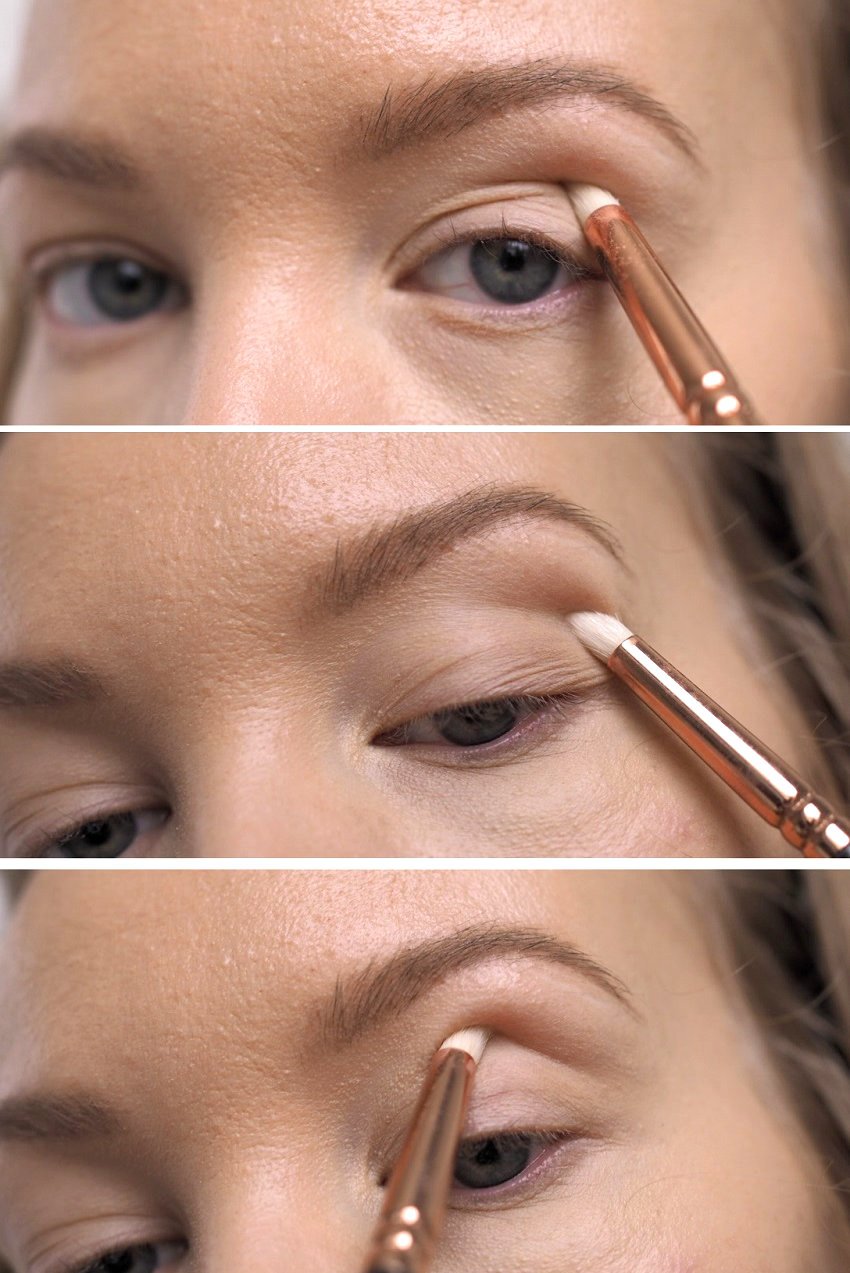 Another way to look at it is to keep your eye open and draw the contour where you can see it.  Obviously it's way higher than the natural crease. How high you want to bring it is up to you though. Just make sure to leave a gap right under your brow.
This technique doesn't hide the so called problem area (the crease/hood), but it shifts your focus to someplace else. Makeup is all about having fun and trying different things. So you know, why not try a different look every once in a while? There are no rules. Personally I enjoy wearing my eyeshadow a bit differently sometimes.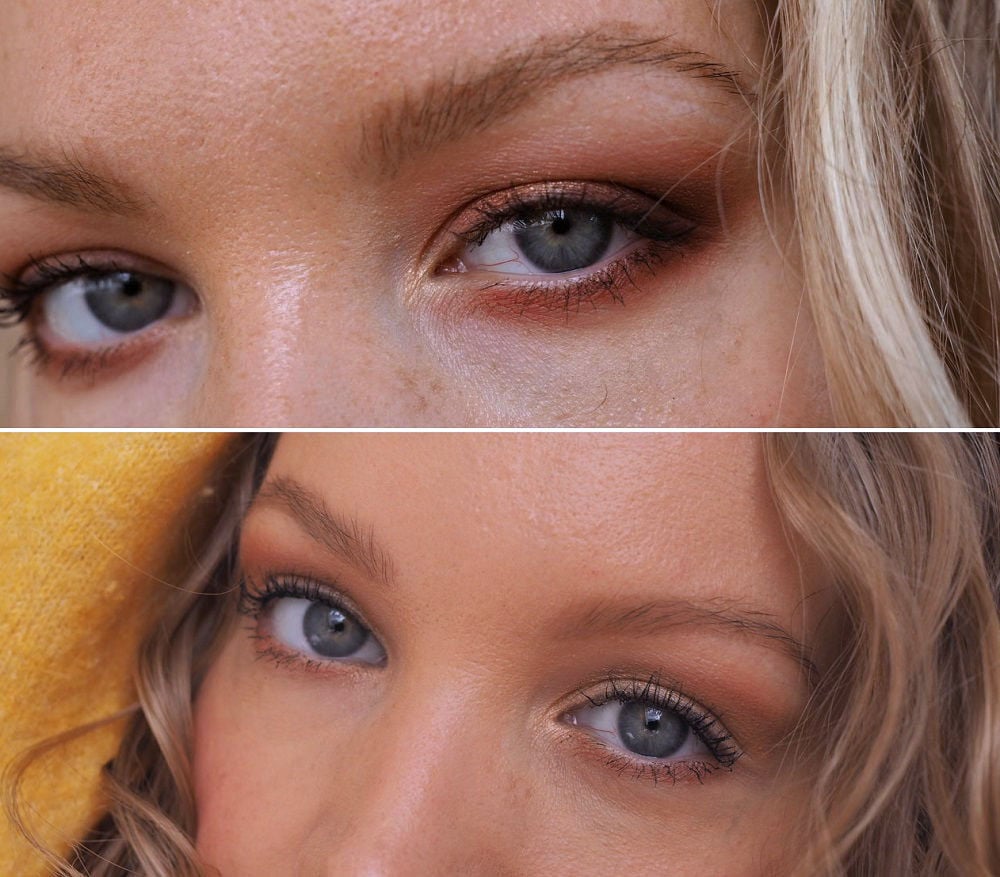 Related posts:
Do's and don'ts for deep set eyes
How to: makeup for downturned eyes
Floating contour – step by step photo tutorial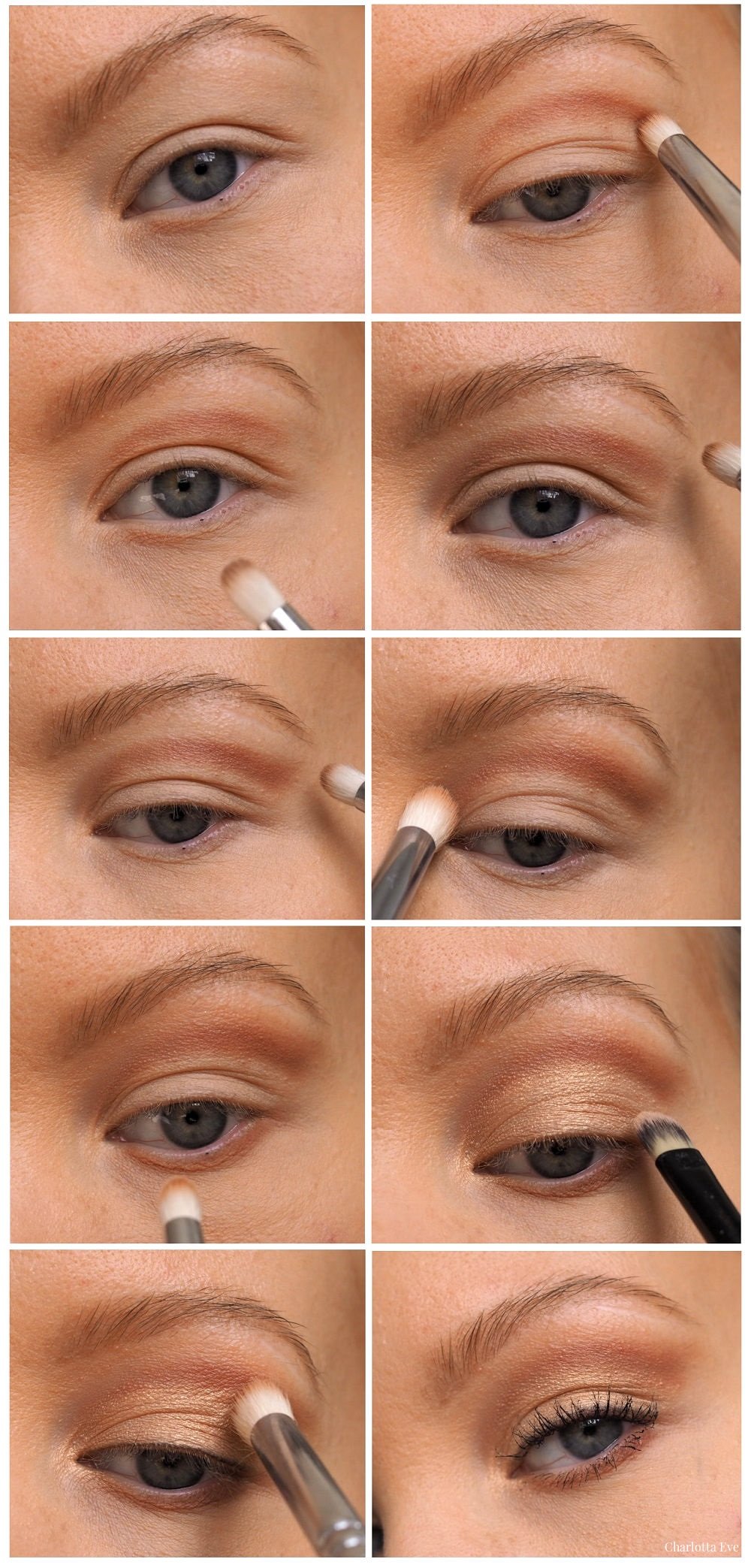 Here's the step by step for this look.
Draw the floating contour on the eye with a pencil brush. (I used Zoeva 230.) You can tilt it upwards in the outer corner to create a bit of a  winged look.
Blend that out using a slightly bigger and rounder brush. (I used Zoeva 225.) You can also take a color that is slightly lighter than the one you just used and blend it out using that. Blend slightly on top of the line or towards your brow, so that the lightest color is closer to your brow, blending nicely to your skin tone.
Add the same colors to your lower lid as well.
Then you can add your lid color. I added it all the way to the inner corner, because it was so light. Blend it slightly (still Zoeva 225), so that the contour line is not that harsh. Or you could also leave it more visible, faking a crease type of thing. (I used a flat brush from Coastal Scents brush set.)
Line your eyes and add mascara. Done!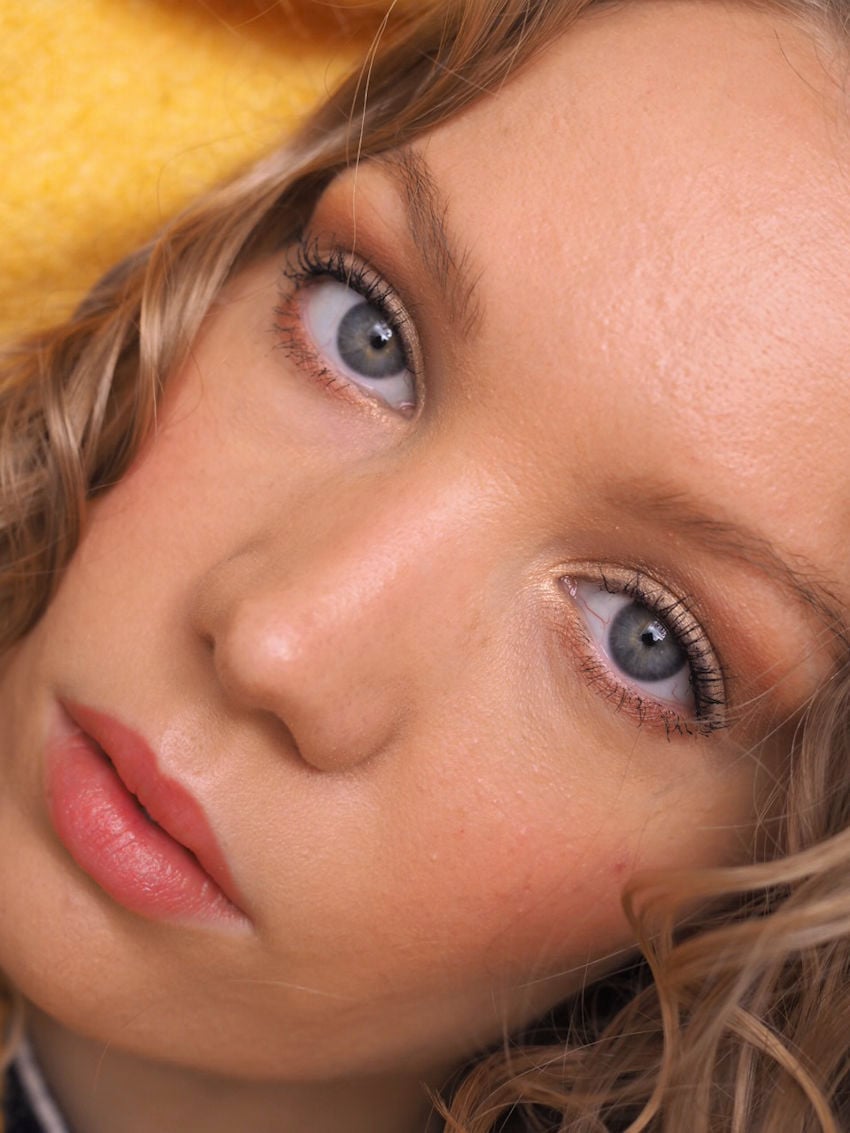 Eyeshadow palettes I love:
Illamasqua Unveiled Nude Artistry Palette  *Illamasqua Unveiled Artistry Palette (UK)
*NYX Perfect Filter Palettes
*Too Faced Gingerbread Extra Spicy Palette
Makeup brushes I use:
*Coastal Scent Brush Set (this brush set is what I started with)
*Zoeva rose gold brush set (more expensive, but more quality too)
Key products used in the makeup:
*NARS Sheer Glow Foundation
*NARS Soft Matte Concealer, Custard
*Ilia Multi-Stick Cheek & Lip I Put A Spell On You
*Laura Mercier Transluscent Powder
*Urban Decay Primer Potion
*Benefit 24-HR Brow Setter Gel
*Jane Iredale Triple Luxe Lipstick, Ellen
Here's also two other looks with a floating contour. There's also a video tutorial of the look below & the technique on my Instagram (@charlottaeve).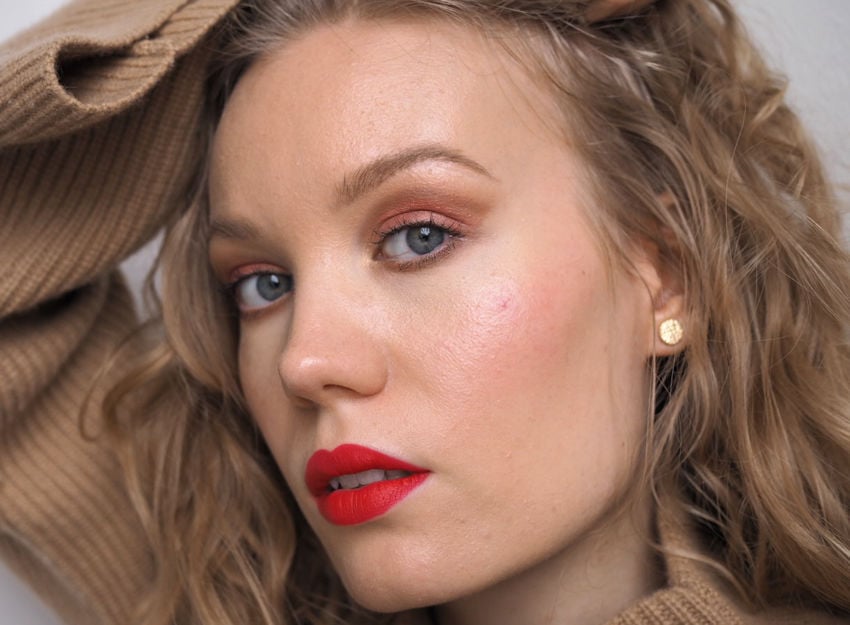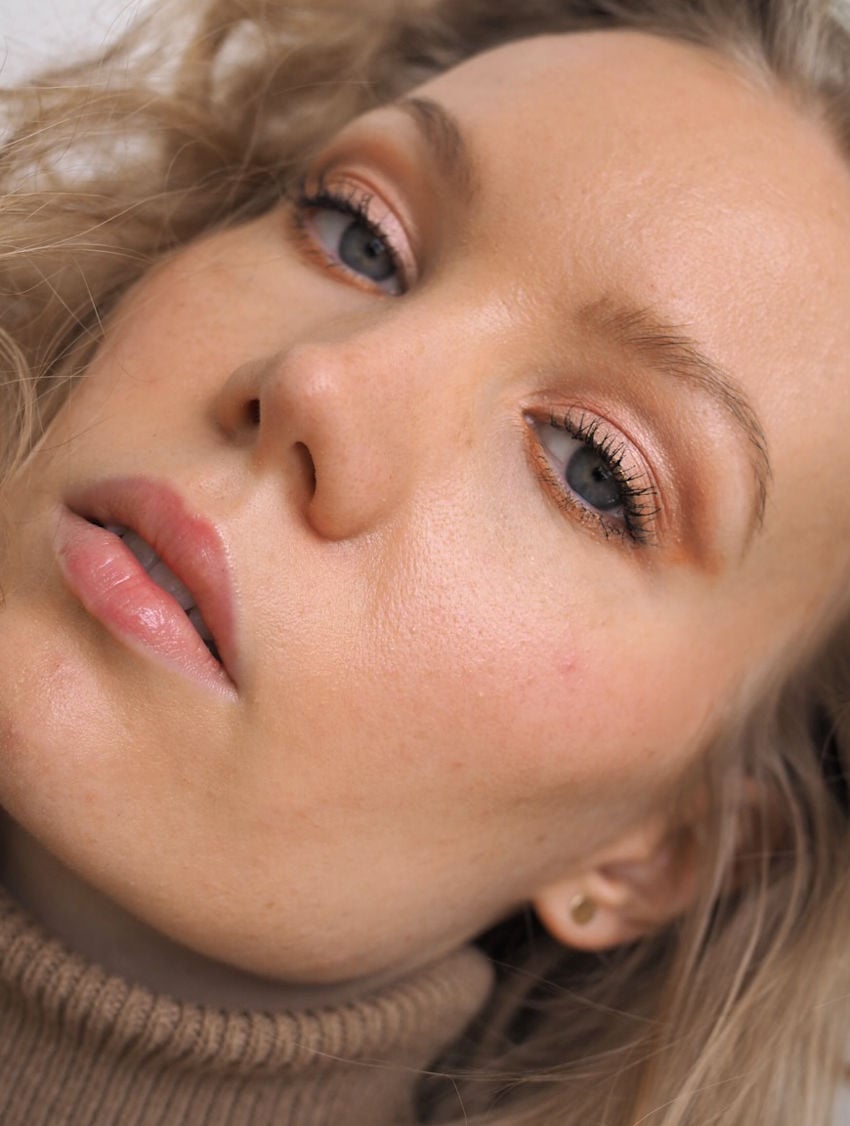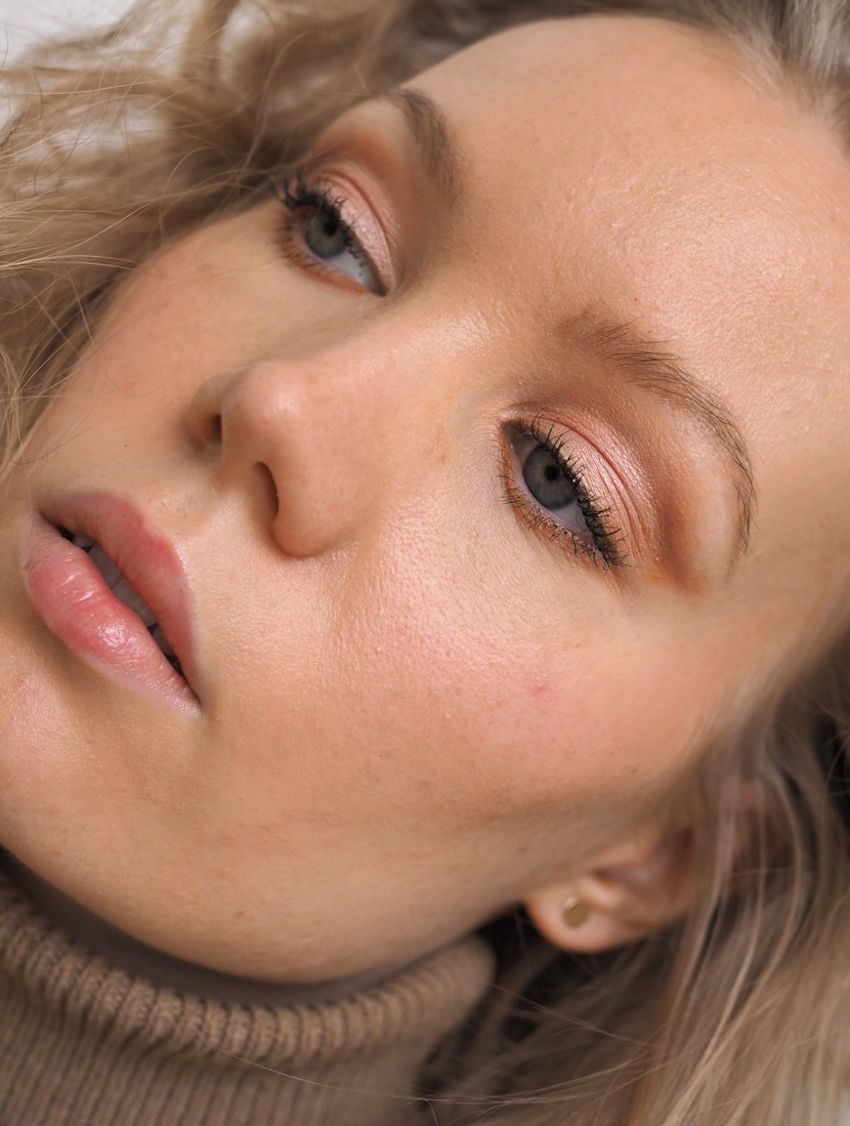 By the way: That red dot on my cheek is not a pimple, but spider veins. So annoying, but I'm waiting for it to just disappear. I've had one before on my nose and that went away on its own. Don't ask how I got it, I live in Finland okay? (Sensitive thin skin on the cheeks + harsh weather is not the best combo.)