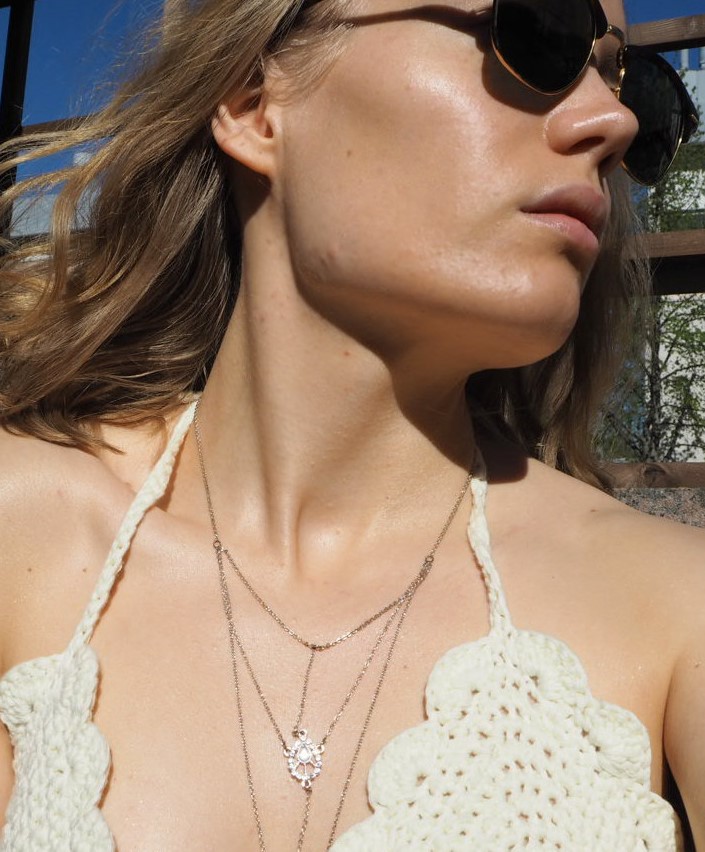 The best natural sunscreens
Last year my mind was blown by Madara's launch of the new sunscreen products. As we all know, natural sunscreens are a bit tricky. It's hard not to compare them to chemical sunscreens, which can feel so light on the skin. But the lightweight feeling is not necessarily the best choice here.
I have found that natural physical sunscreens give me the best protection. And these products also give me the prettiest glow! I personally don't have to reapply these products and not once have I burned wearing them. So if you really think about it – physical sunscreens are quite practical.
And have you noticed that sunscreens meant for children usually contain a physical sunscreen? Why is that, I wonder. Why not protect yourself as well as you do your children?
*Adlink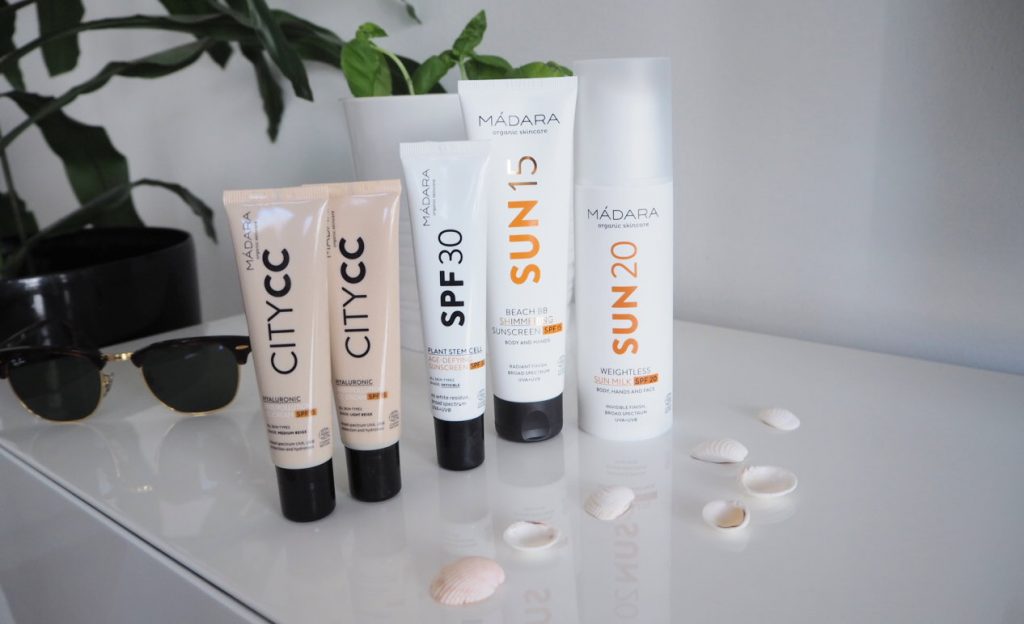 MADARA Sunscreens for face
The best thing about Madara's face sunscreen products is that they also function as makeup. The SPF 30 face cream has a bit of tint in it and it gives a beautiful natural glow to the skin. The City CC SPF 15 is a great choice when you want a bit more coverage to the skin (and glow, obviously).
These are my go-to products for spring and summer. I feel like they even out my skin tone nicely and they are the perfect summer "foundation". I just apply concealer where I need it and my skin looks beautiful. I wrote full reviews on these products here, so make sure to read that!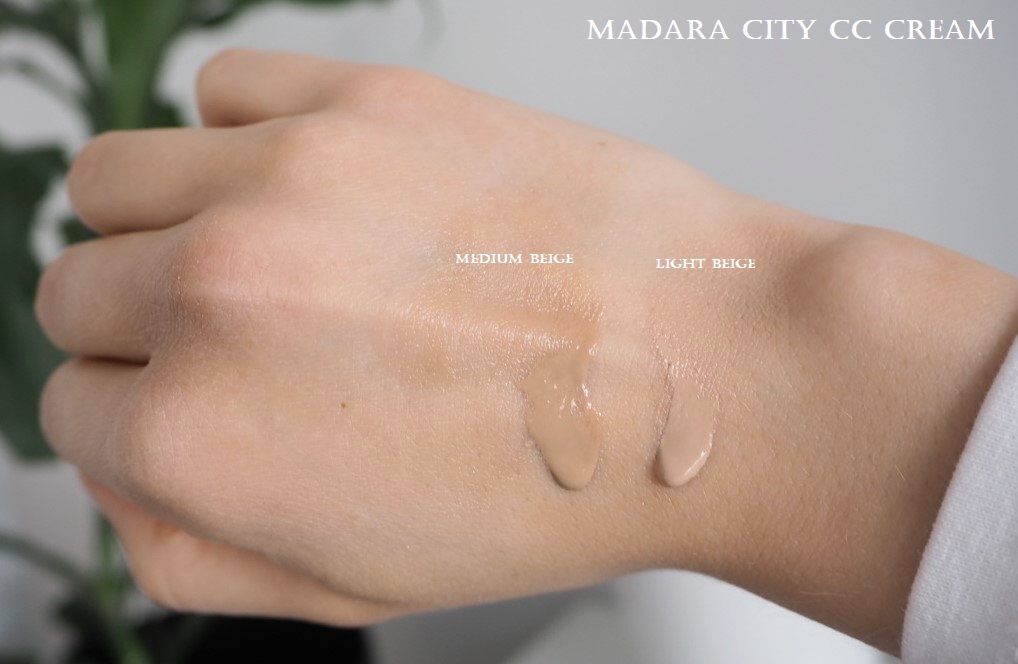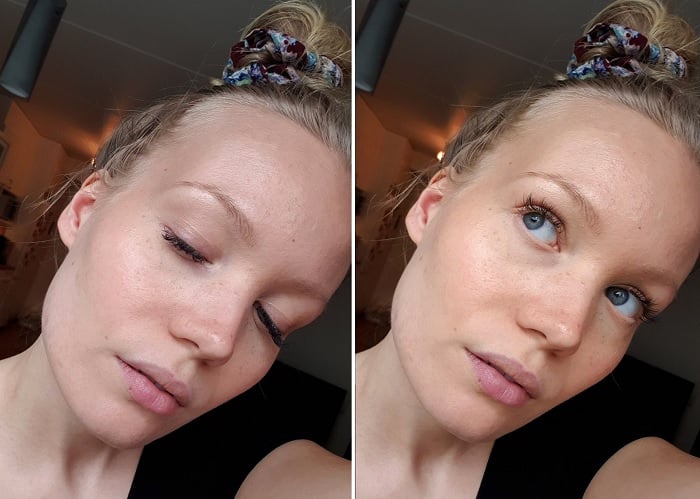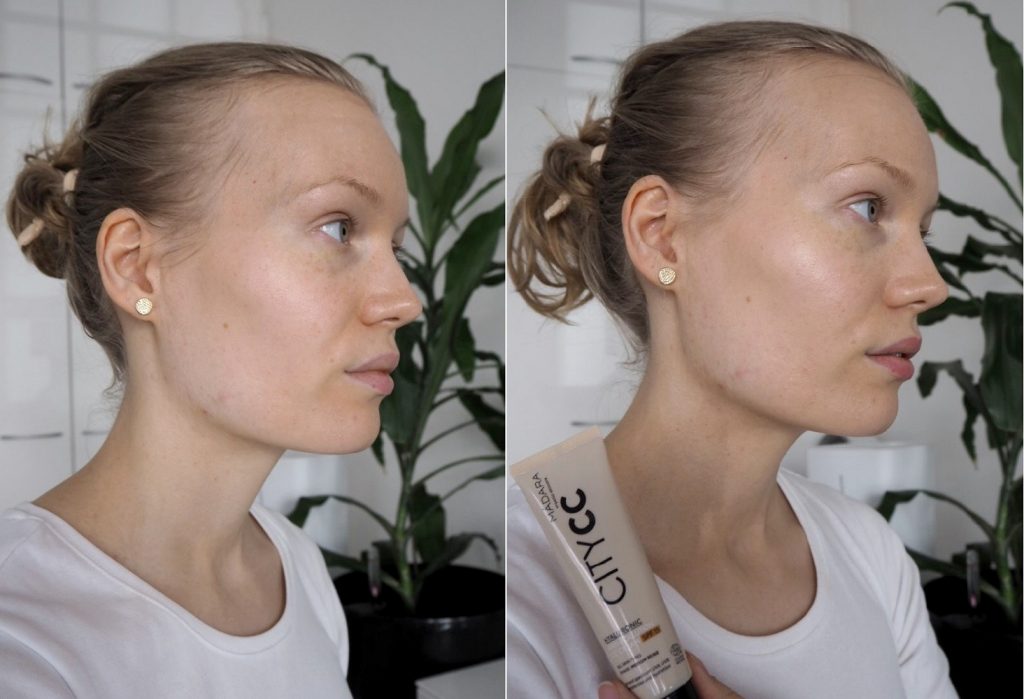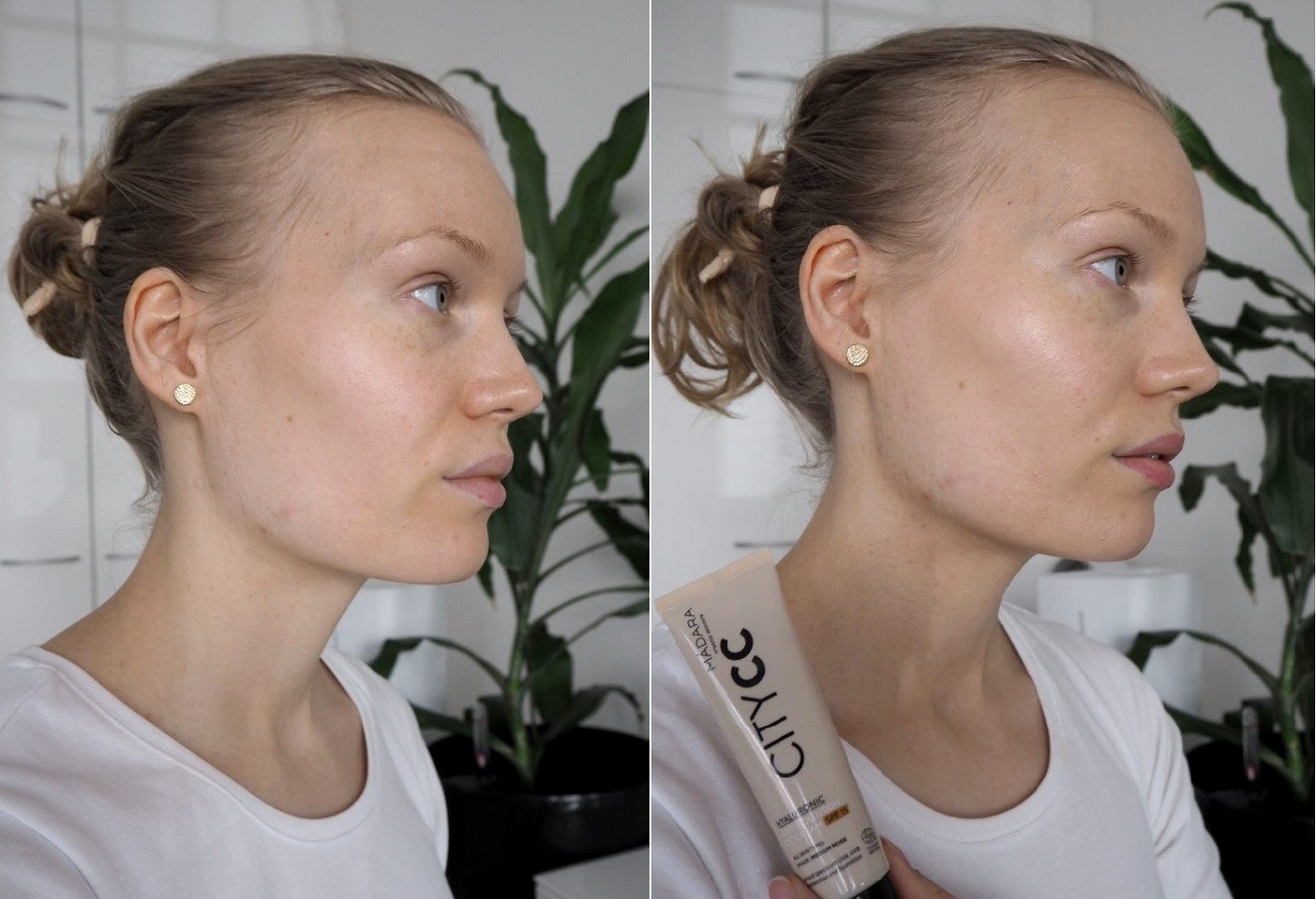 MADARA CITY-CC Light Beige & Medium Beige
This year I got the darker color option for the City CC cream and I have to say that it works better for me. The Light Beige color is more red-toned and light whereas the Medium Beige is more yellow and slightly darker. They are still both quite sheer, so you don't need an exact match to your skin. As you can see in the photos, I can get away with wearing both.
Shop:
*Madara City CC SPF 15 (US, CA)
*Madara City CC SPF 15 (UK)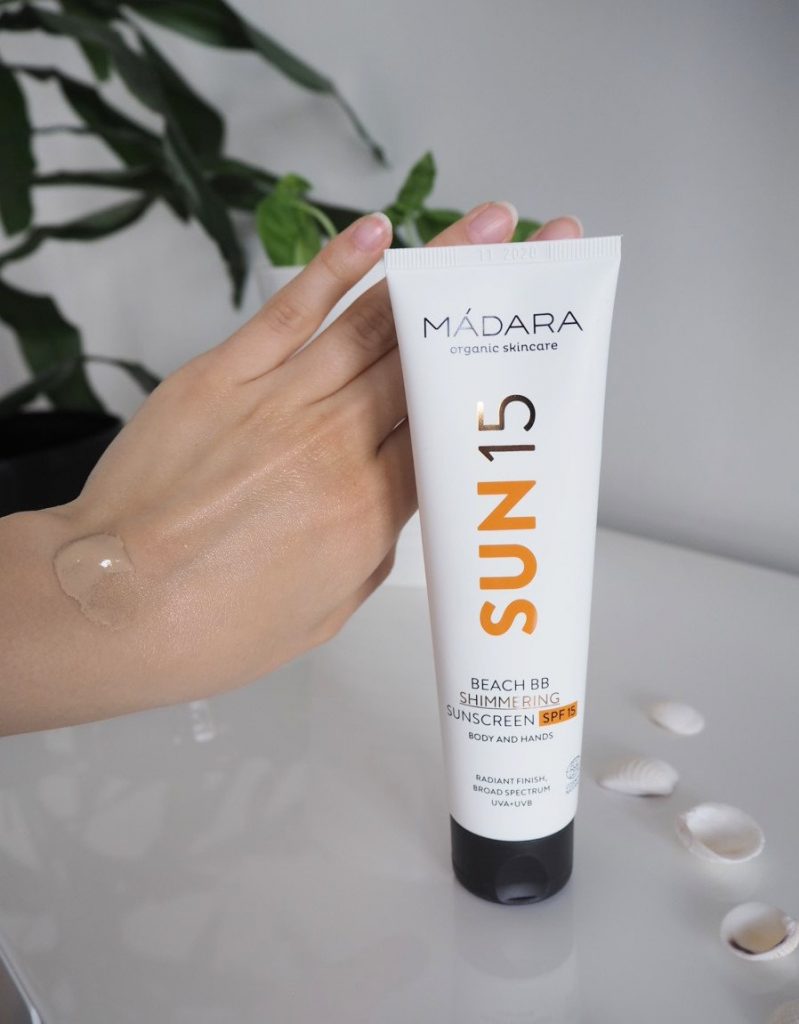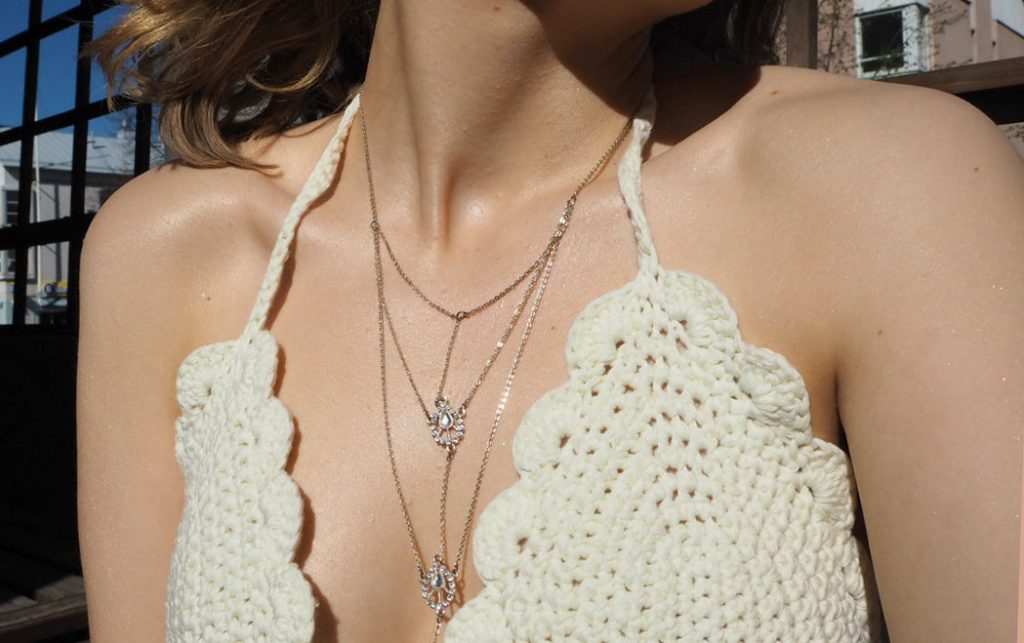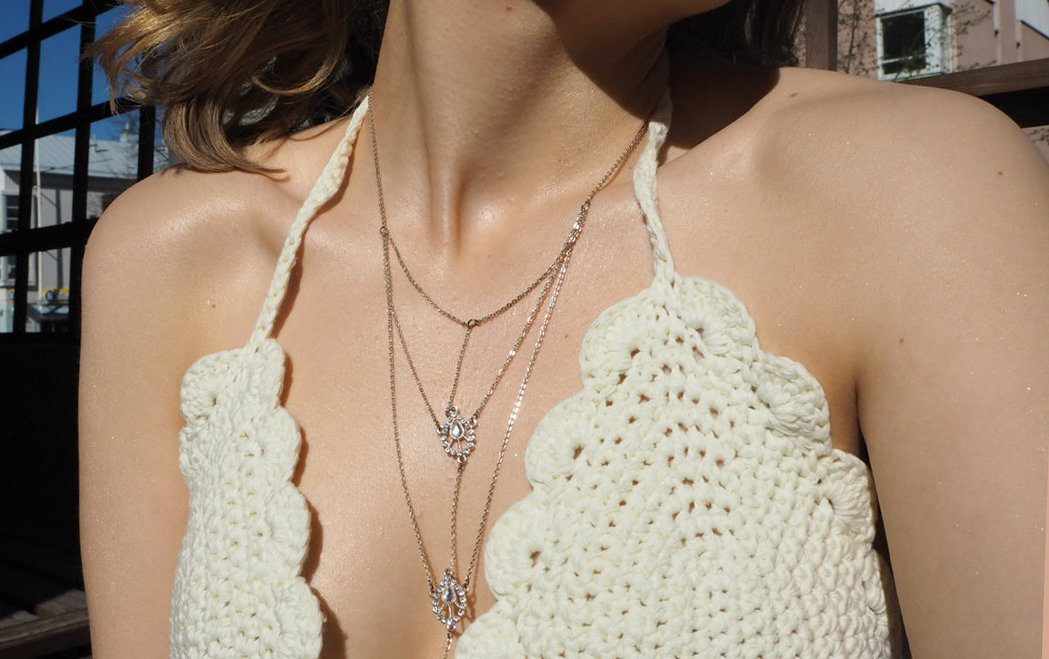 MADARA SUN15 Beach BB Shimmering Sunscreen SPF 15 – Body & Hands
This year Madara also came out with BB-cream for the body, which has some light shimmer and tint to it. Since I love the Face SPF 30 so much, I'm so excited for this tinted body version. It's a clever way to hide the white color, which all the physical sunscreens have.  And who doesn't like to glow while being protected of the sun?
The consistency in the body BB is creamy, but not too thick. It's easy to blend to the skin and it doesn't feel sticky. The shimmer in it is quite fine and doesn't look too glittery. In warm indoor lighting I could see some glitters, but that just made me happy. (And in direct sun, when you look closer. It's like gorgeous little glitters on your skin.)
This product has a sweet foresty scent to it, which I actually love.
I have a strong feeling I will be wearing this most of the days. And for any parties! It doubles as body makeup and I'm all for that.
Shop:
*MADARA SUN 15 Beach BB Shimmering Sunscreen SPF15 (US, CA)
*MADARA SUN 15 Beach BB Shimmering Sunscreen SPF15 (UK)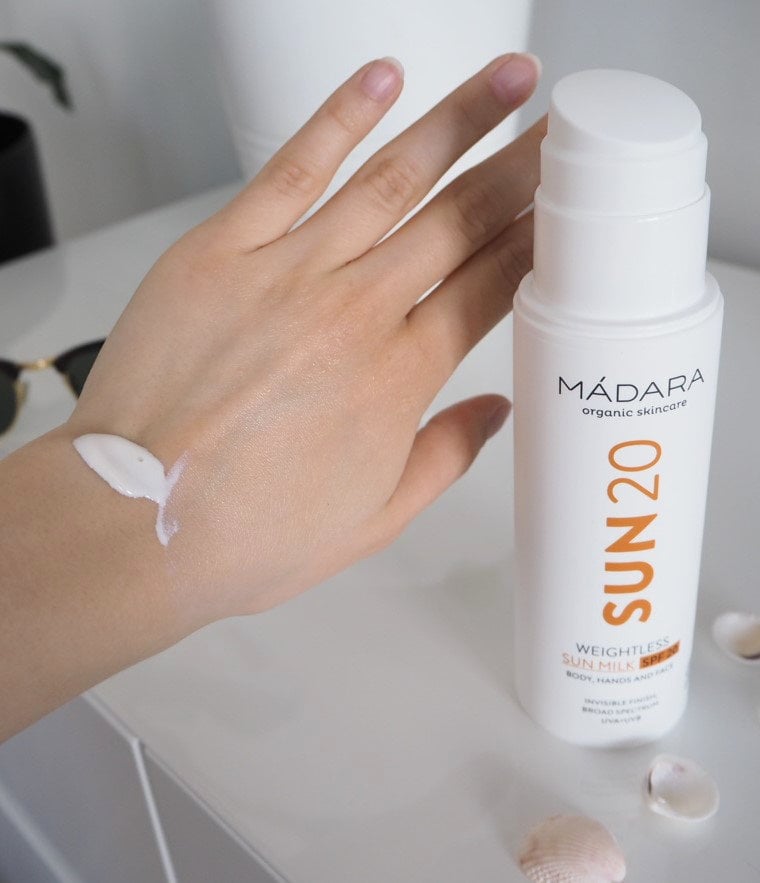 MADARA  SUN20 Weightless Sun Milk SPF 20 – Body, hands & face
Madara's SUN 20 Weightless Sun Mik is a hassle free easy option for those, who don't want any tint to their sunscreens or who feel like even the face SPF 30 is too dark. It's colorless, it feels comfortable on the skin and you can use it all over your body, face and hands.
Well, obviously the cream is first white, but once you blend it to your skin it looks invisible. Besides, this way it's easy to see where you've applied it (though the tinted versions work for that as well).
The body milk is Aloe Vera based and it contains natural oils and waxes. The sun can dry out the skin and I feel like that's the case in my skin, so I like to wear sunscreens that are also moisturizing. That way my tan looks better as well.
This product has a foresty scent to it, but I don't find it too strong.
I don't have kids, but if I did, I would choose this one for my little ones.
Shop:
*MADARA SUN20 Weightless Sun Milk SPF20 (US, CA)
*MADARA SUN20 Weightless Sun Milk SPF20 (UK)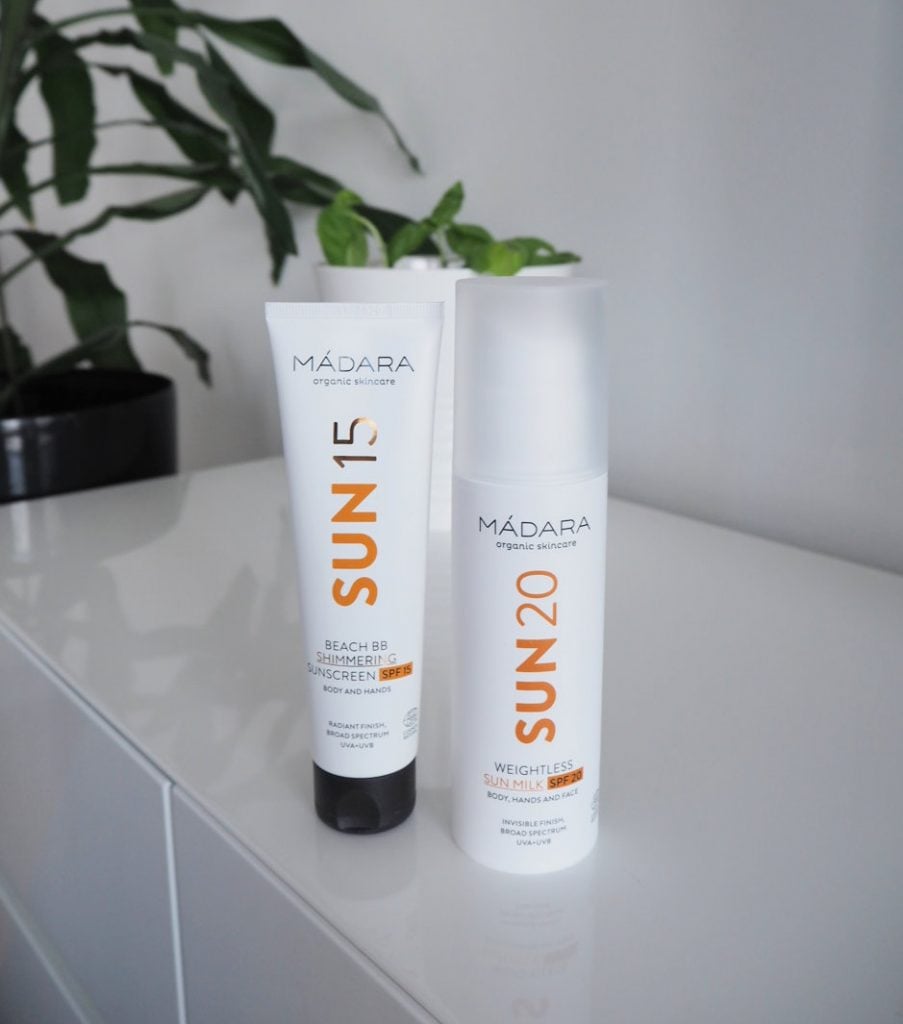 So, these products get A+ from me and I warmly recommend them to anyone who wants to switch to natural sunscreens, who wants a long-lasting sun protection or for those wanting a nice glow to their skin. If you do end up ordering and trying them, I would also recommend checking out Madara's masks (here's my post of them) and their hydrating SOS-serum.
Shop Madara Sun products at *Lookfantastic US/CA or *Lookfantastic UK.
I also recently tried out a BB-cream that acts both as a full-coverage foundation and a sunscreen. I know some like to wear makeup and foundation throughout the summer, so that would be a nice option for those, who still want to have that sun protection. 
What is your favorite sunscreen brand and is it natural?
Related Posts