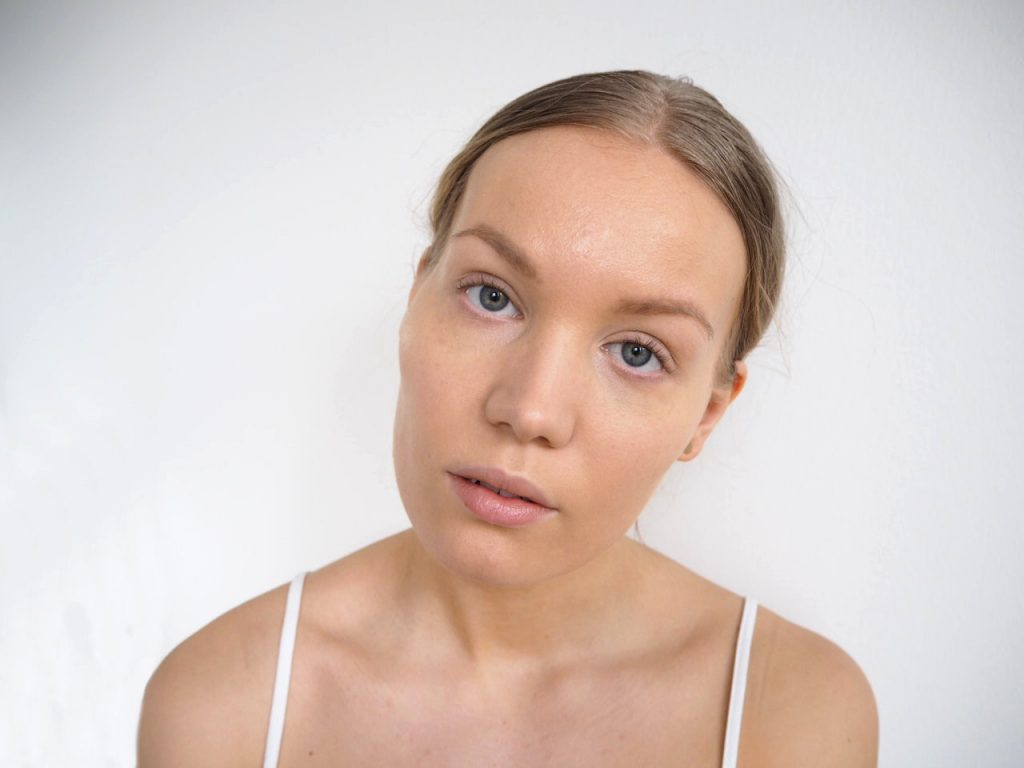 When it comes to makeup, I have a special connection to foundations. I love a good foundation. I admit I have a thing for more expensive foundations, but there are also affordable options. Plenty of them. Just like the one I'm about to tell you.
For my newest (okay, second newest!) foundation find I can just thank my sister Janika. Her skin type is pretty similar to mine and out of all four sisters, we're always the ones needing to powder our faces. So when she finds a good product – or I do  – it's a pretty safe bet to just use whatever the other one is using.
When Janika bought this foundation, I immediately tried it as well – and just had to buy my own bottle.
*Adlinks marked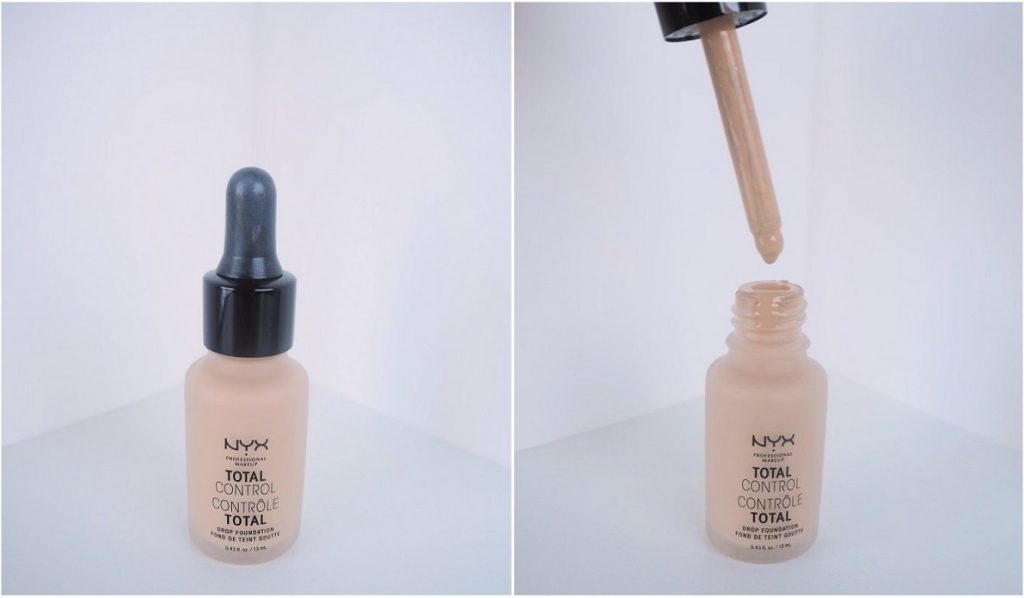 NYX Total Control Drop Foundation review
*NYX Total Control Drop Foundation is the perfect lightweight foundation, that can be applied just with fingers or with a beautyblender. One drop goes a long way and I love how I can build up this foundation. From light coverage to full coverage – this foundation surprisingly does it all!
Lightweight, matte & easy to apply
This foundation is as thin as they come.  And that's a nice feature, because when I think of matte or full coverage foundations, they are usually more on the thick side. But not this one! Because the foundation is so lightweight, it can be layered and once it dries it gives a soft matte finish. And when I say soft matte, I mean soft matte. Like this velvety soft. Not matte-matte, in a totally matte dry way. That said, I don't need to use powder with this foundation.
Surprisingly I've found that this can be applied both with fingers or with *the beautyblender. I prefer the beautyblender though. I recommend either one of these techniques, because once you apply the foundation on your face and blend it, it sets pretty quickly. You need to be somewhat quick applying it. It's nothing too crazy, but just something to keep in mind. It's still easy to blend, in my opinion.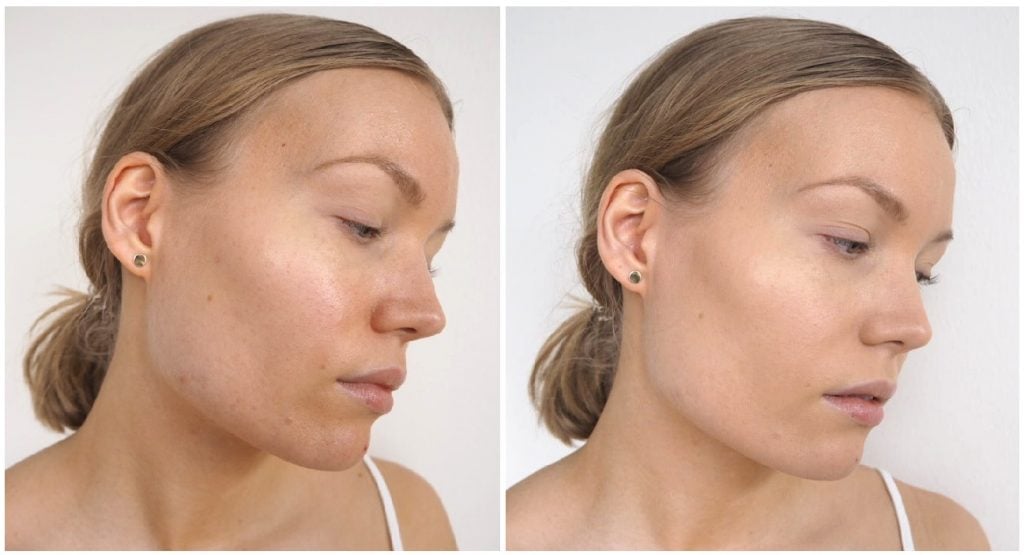 Before & After NYX Total Control Drop Foundation in the shade Buff. A nice soft matte finish!
So, how does this foundation last?
On my skin, it lasts pretty well. I have nothing bad to say about that. After a long day I might need to soak off some excess oil with powdered papers, but that's normal. I don't expect my foundations to keep my face all matte and perfect all day long. My face is not a doll's face – it's a living organ, and I expect it to, you know, live its life even under the foundation.
Okay, I'm getting slightly off track here. I just don't understand why we want 24 hours of lasting power from our makeup products? Okay, getting even more off track now.
To put it short: this foundation lasts well on my skin, through a normal day. My skin type is combination.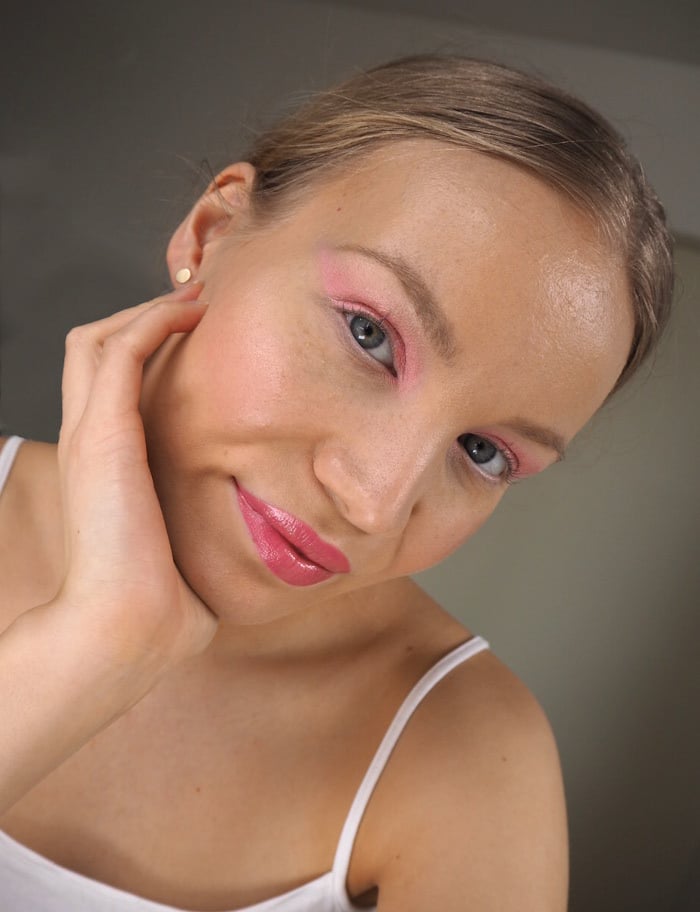 Here I'm wearing the foundation & I sprayed my face with *Beautyblender's Re-Dew spray, to make it glowy. The foundation itself doesn't have this glowy finish.
I think you would like this foundation, if you want something that is
lightweight
soft matte finish
light coverage – or full coverage (you can get both with this!)
quite long lasting
Finally, one more thing about the packaging. I like it! I think it's fun and convenient. Sometimes pipettes can be messy and tricky, but this has worked without problems for me.
I think so far, this is my favorite drugstore foundation.
There are 30 shades available, which is pretty good. My shade is Buff, which is considered neutral. My skin tone is neutral, but still leaning more to yellow though.
Shop the foundation:
*NYX Total Control Drop Foundation (Amazon)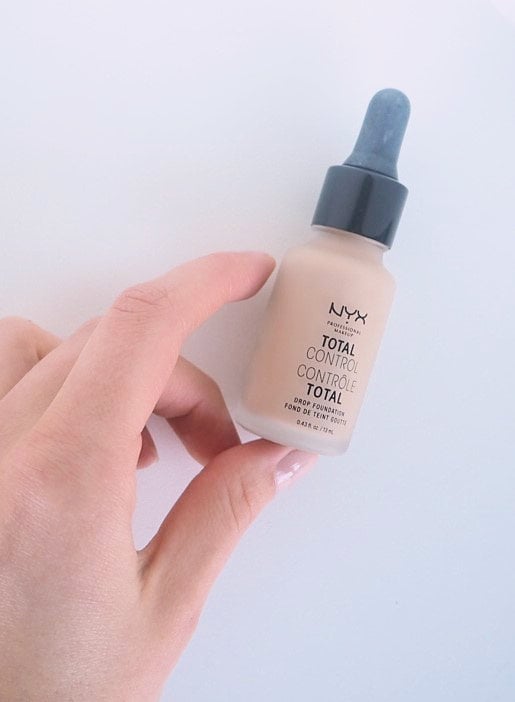 Have you tried this foundation or are you gonna?