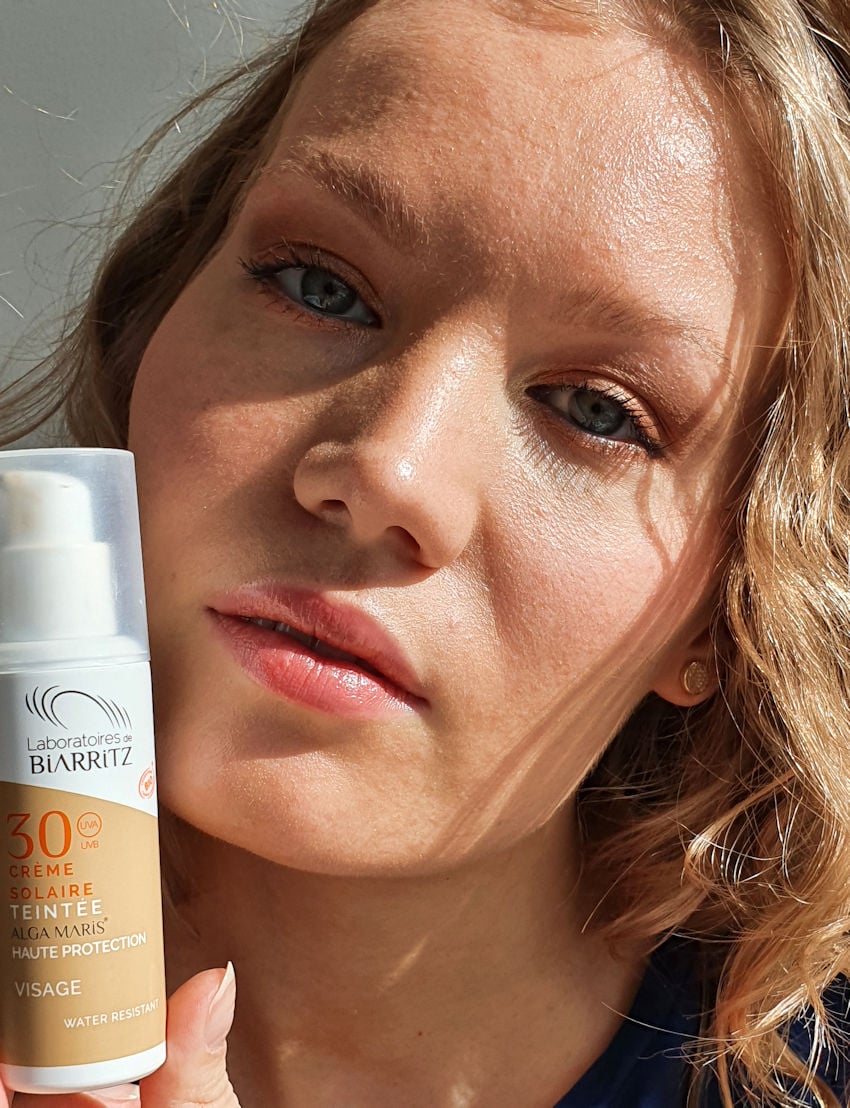 I'm very excited to introduce you the best natural face sunscreens I know. Besides protecting from the sun and wrinkles in an environmentally friendly way (hello coral reefs),  these products also hydrate and even out the skin tone. Whether you want a matte or radiant finish, I got you covered.
Also: You can forget everything you think you know about organic/natural/mineral/physical sunscreens. These products don't leave a white cast and they are not sticky, I promise. I've also noticed that natural sunscreens, being physical sunscreens, actually protect me better than chemical ones. I think it has something to do with the fact that they reflect the sunrays away from your face, rather than absorbing them, like chemical sunscreens do.
If you're looking for the best sunscreen for your face, here are four awesome natural options!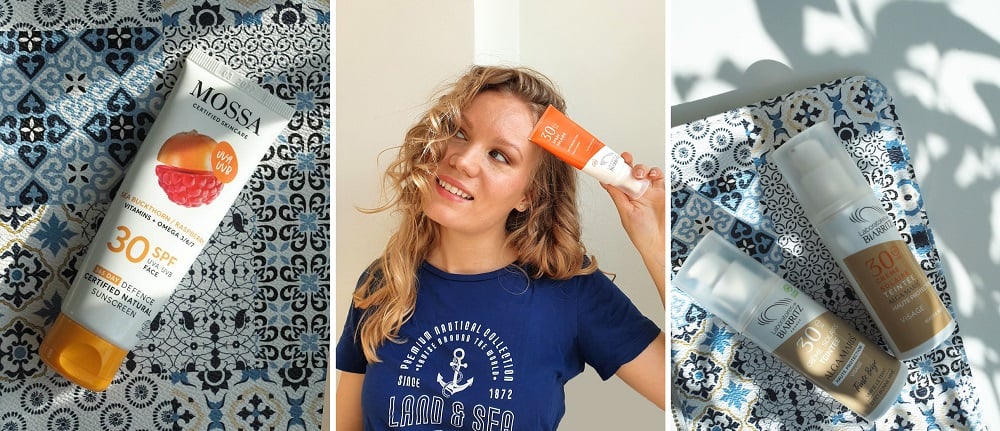 Best natural sunscreens for face
And hey, if you're shopping from Finland, I have links here.
Alga Maris Tinted Sunscreen SPF 30 – Tinted, lightweight, mattifying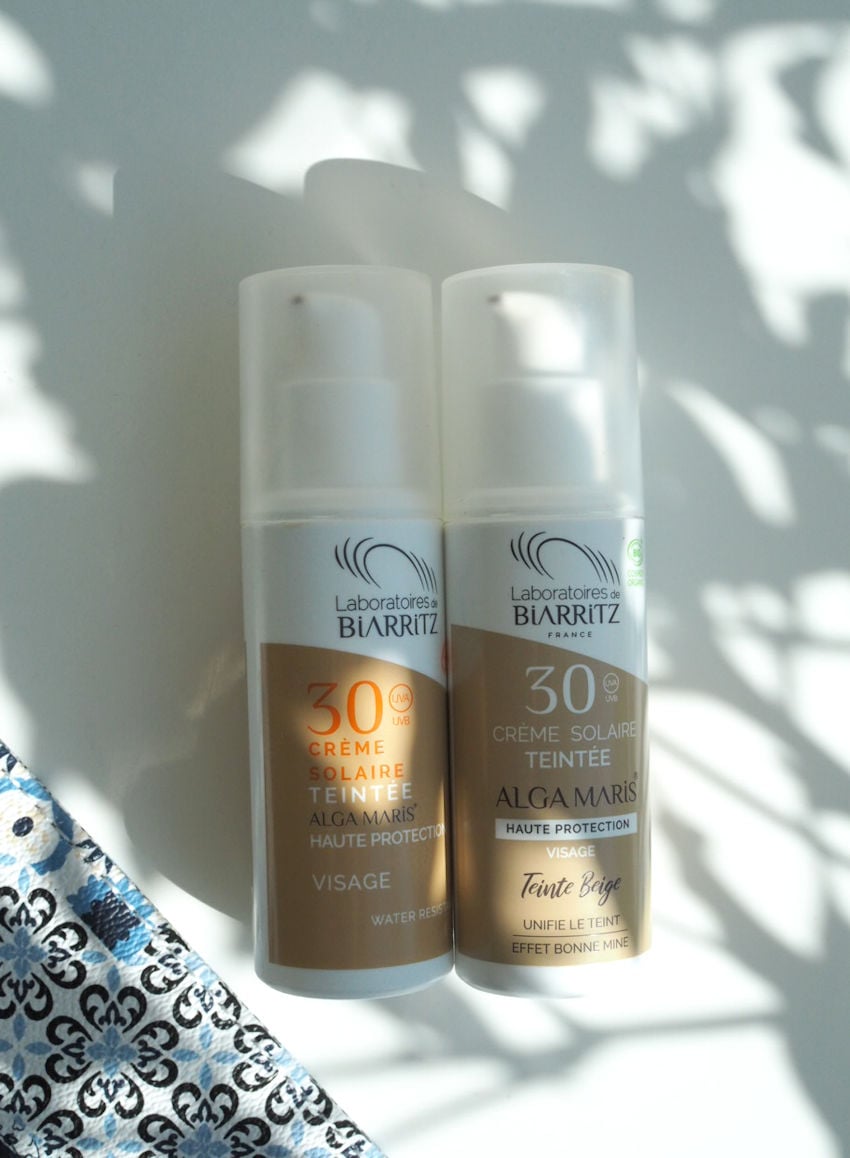 Alga Maris Tinted Sunscreen is the most lightweight, liquid physical sunscreen I've tried. It's also the only one on this list that mattifies the skin. That's definitely a bonus, since most natural sunscreens are more on the creamy and glowy side. And even though it leaves more of a matte finish, it still doesn't look or feel dry. The consistency is easy and quick to apply just with your fingers.
The product has some tint to it so it evens out the skin tone really nicely. You can also build it up a bit on the areas where you would like a bit more tint (coverage), since it dries down to a matte finish. I love to use it instead of foundation. It comes in three colors: Ivory, Beige and Golden. Beige is a better shade match for me, but I usually mix Beige and Golden together, because I want a bit more color and I do rock self tan most of the time.
Alga Maris tinted sunscreen is suitable for all skin types, but since it's mattifying, I would choose another product for dry skin. My recommendation would be Madara's cream. I have to also note that this has coconut alkanes in it, and some acne-prone skin types don't take coconut oil that well. That said, with my hormonal acne background, I can use this product without problems. If your skin can't take coconut oil, check the Mossa option below.
This product has a very subtle vanilla scent. Also available in SPF 50.
Alga Maris Tinted Sunscreen SPF 30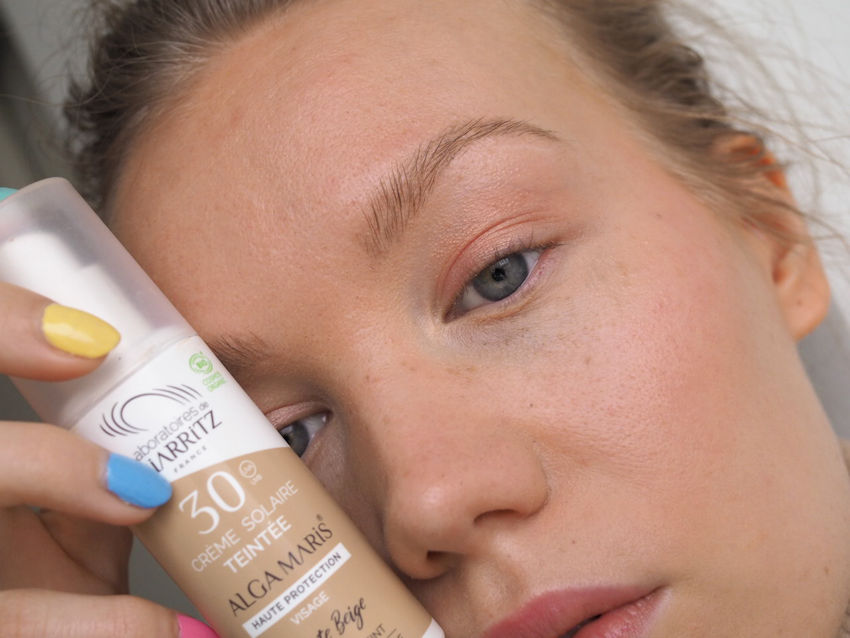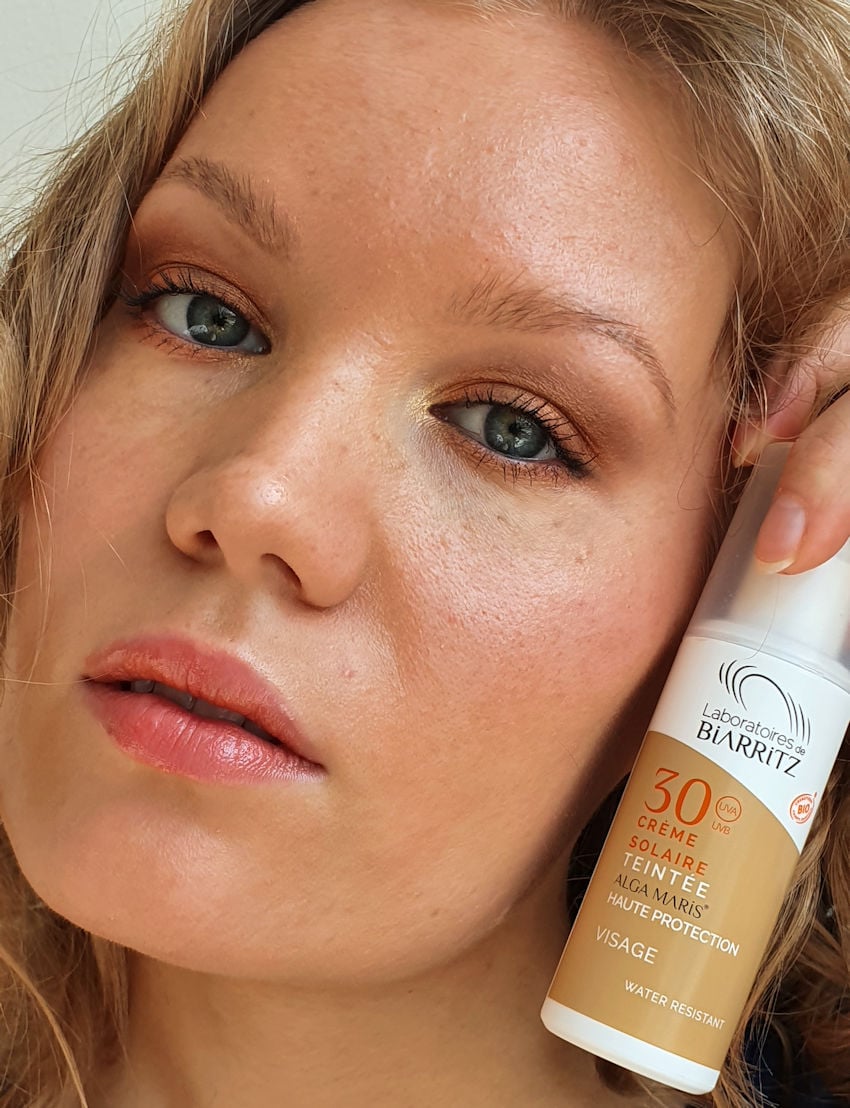 Mossa 365 Days Defence Natural Sunscreen SF 30 – Tinted, lightweight & fruity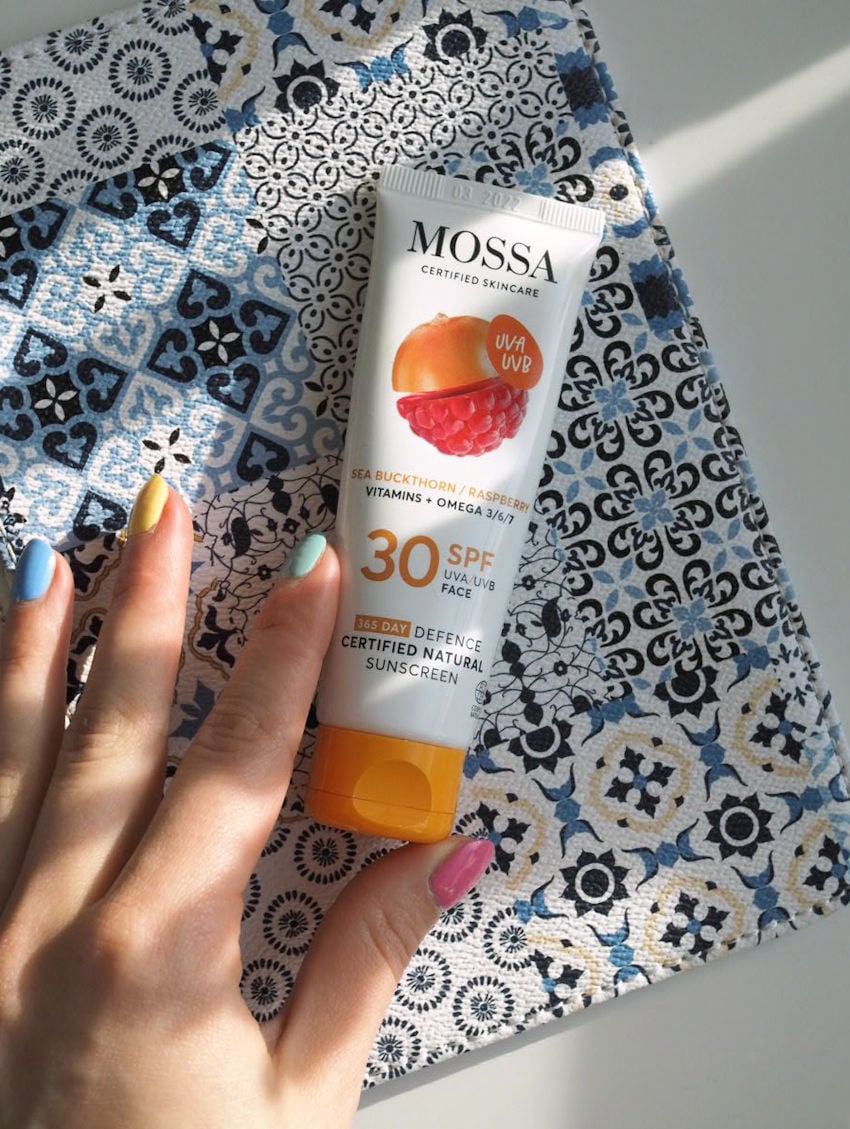 Mossa's tinted sunscreen has to be one of my favorites. It has a lightweight creamy consistency that is a joy to apply. Or maybe it's the subtle sweet fruity scent that gets me?
This cream is tinted and the color is perfect to give a sun-kissed look for fair skin. The shade is warm and a bit yellow. As most tinted creams, it blends nicely with your own skin tone. I love to use this instead of foundation in summer.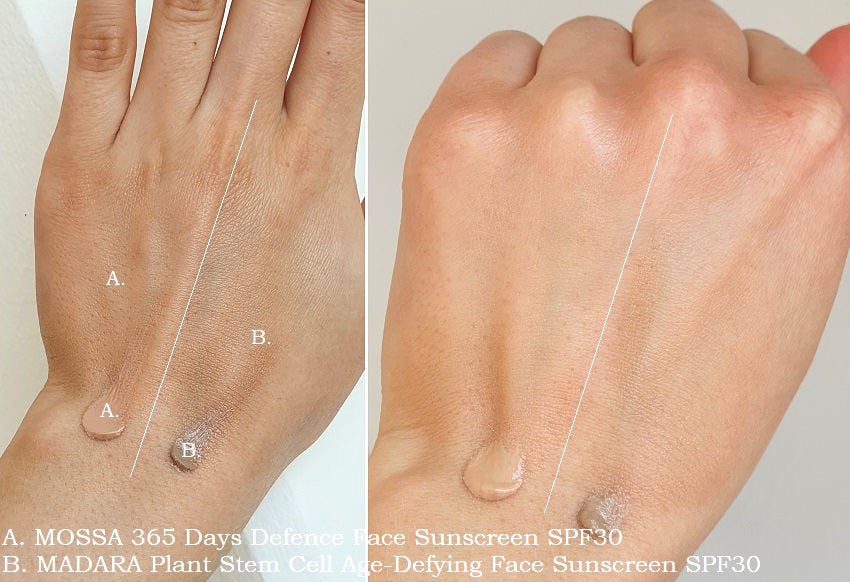 Since the consistency in this is light and it absorbs nicely on the skin, it's ideal for all skin types. If you have oily skin, I would choose either this or the Alga Maris option.
Mossa 365 Day Defence Natural Sunscreen SPF 30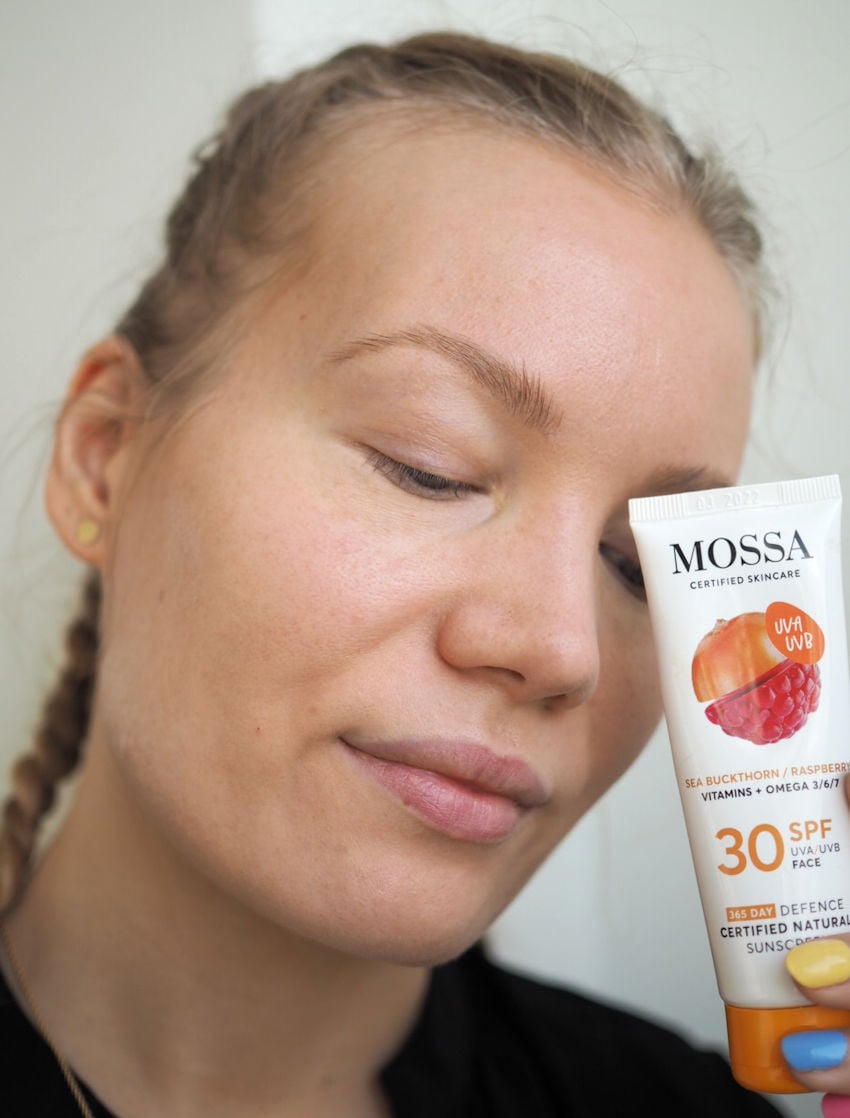 Madara Plant Stem Cell Age-Defying Sunscreen SPF 30 – Lightly tinted, nourishing, glowy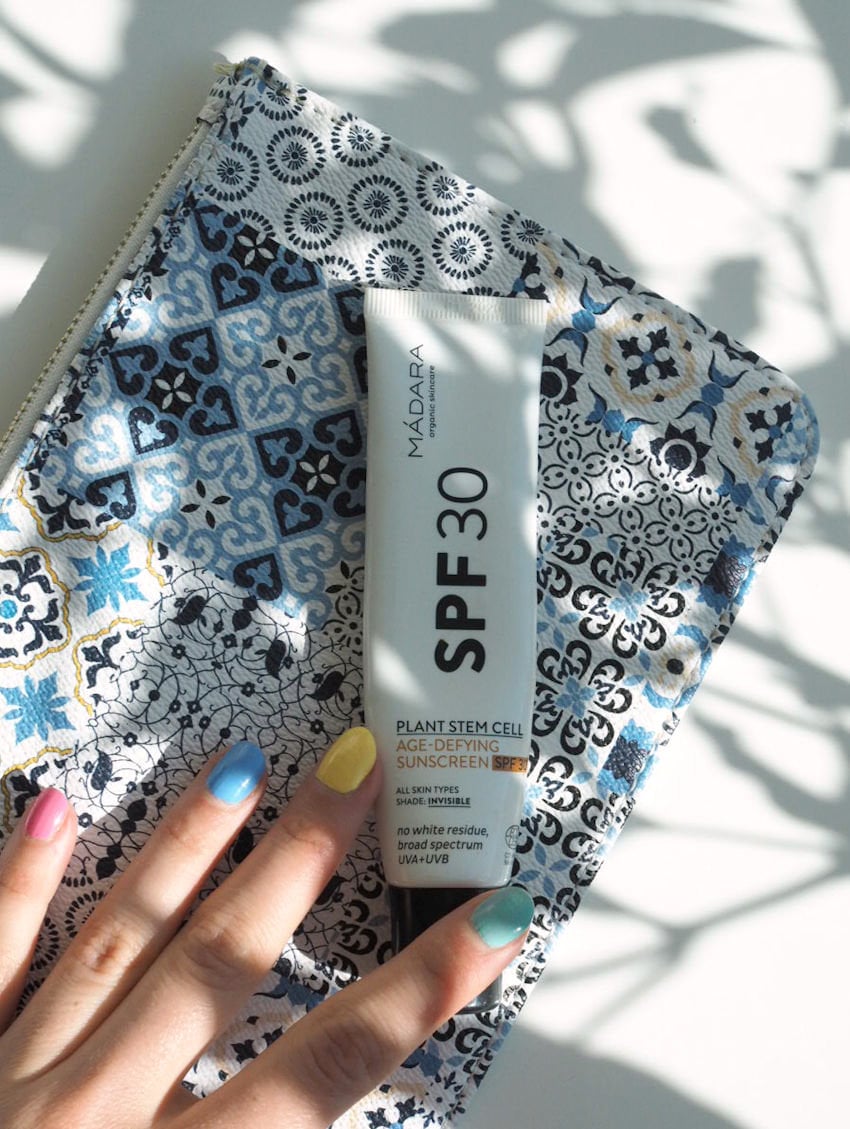 Madara's Plant Stem Cell Age-Defying sunscreen is the thickest, creamiest option out of all these and feels the most nourishing on the skin. This also leaves the most beautiful glow on the skin. (And might I add, this was the first natural sunscreen I tried and fell in love with.)
This has a very subtle tint to it. It might look dark once you first squeeze it out of the tube, but once you spread it, the color is barely there. It's just enough to give your face a wash of color. And that evens out the skin tone ever so slightly.
This has a subtle citrus scent to it. Since it's moisturizing, it works for most skin types. I would think dry or mature skin would especially benefit from it. Though having combination skin I still love it, because it gives a beautiful glow. I notice grabbing either this or the SPF 15 CC-cream when my skin feels dry. I also like to mix this to my foundation.
Madara Plant Stem Cell Age-Defying Sunscreen SPF 30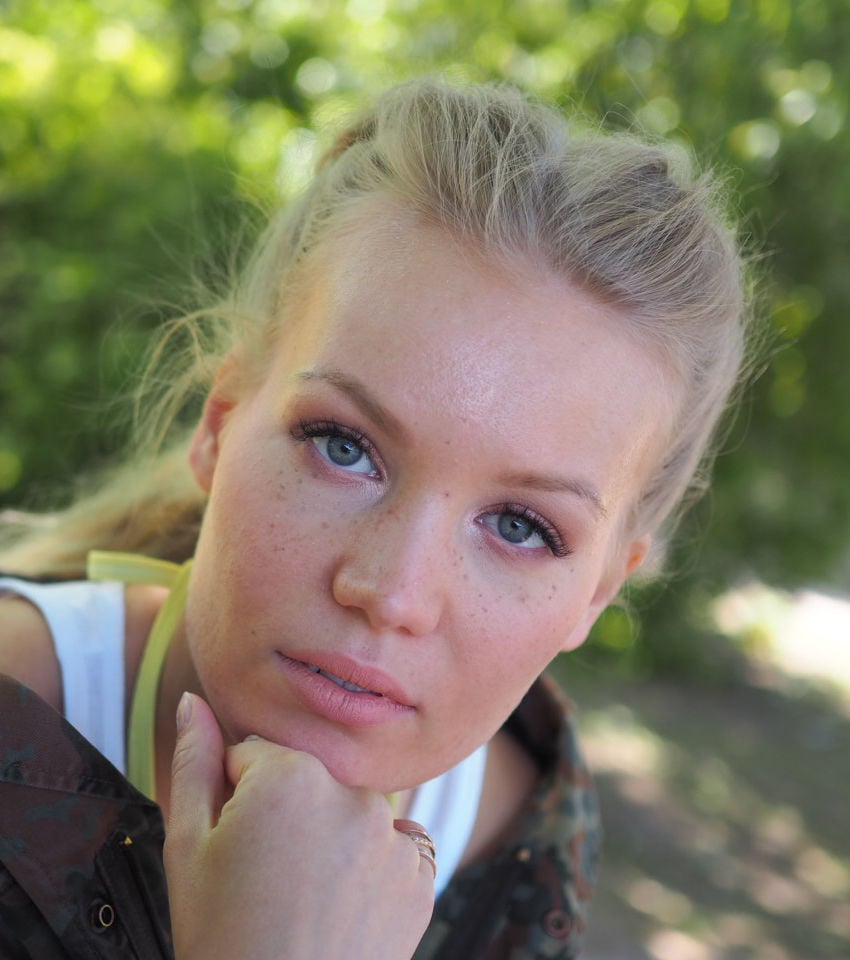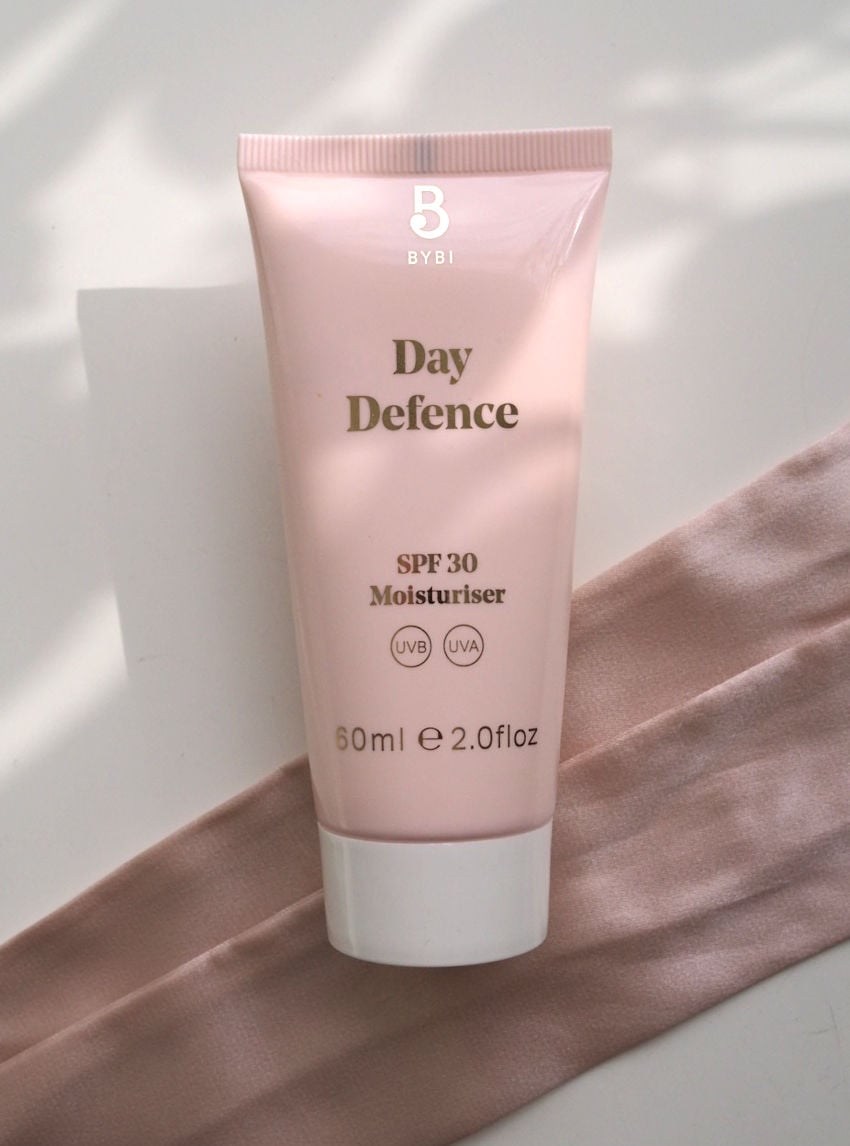 Bybi Beauty Day Defence SPF 30 Moisturizer – lightweight, perfect for under makeup
Bybi's Day Defence SPF 30 Cream is perfect for those, who want a sunscreen that just feels like a day cream. This has no tint, though it comes out of the tube very pale yellow (but I think that's better than white, since it has zinc oxide and we don't want a white cast). This cream is moisturizing and non greasy. It absorbs well onto the skin making it ideal to be used under makeup.
Not always do I want a tinted sunscreen, so this is handy for those days. Also, I can use it on on my hands, neck or shoulders if I'm on the go and need to have some product with me. For oilier skin it might be enough just as itself, but for dry skin I would use a regular day cream first.
Comes in a simple yet pretty packaging.
Bybi Beauty Day Defence SPF 30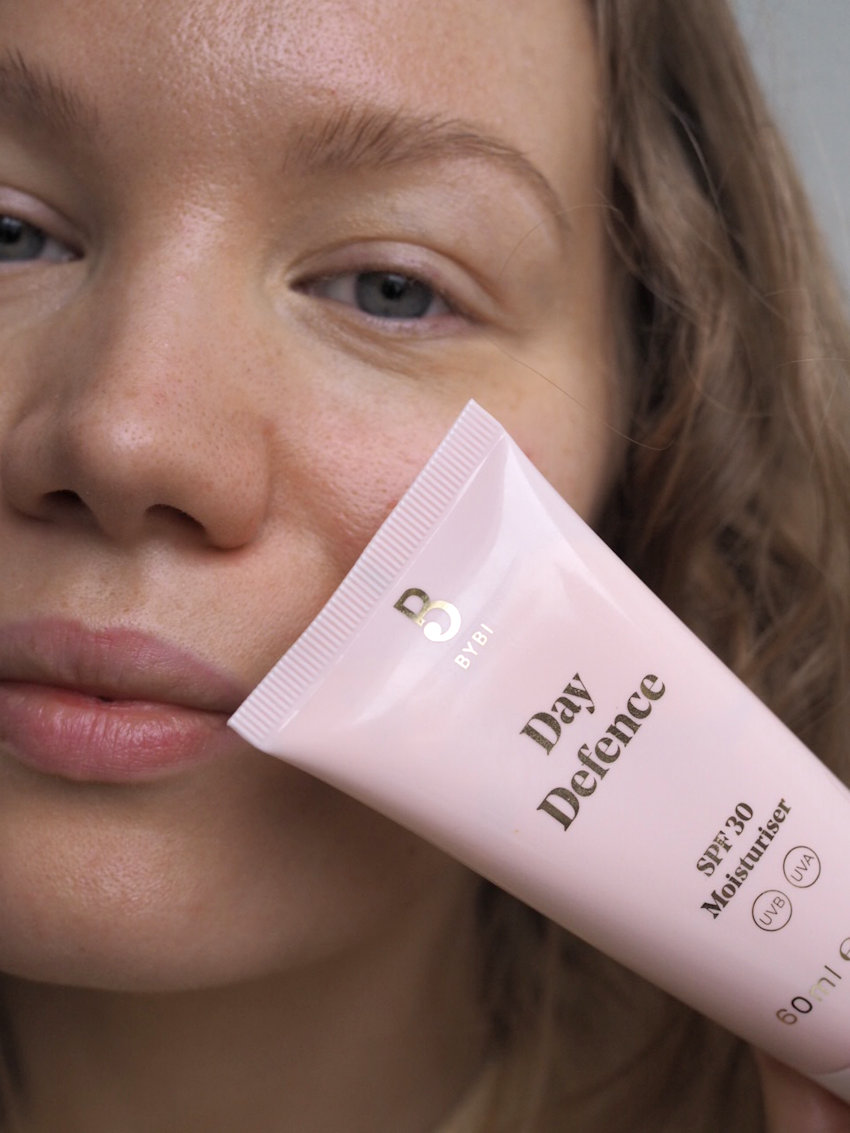 How to remove physical sunscreen from your face?
Physical sunscreens really stay on the skin, so it's important to wash your face properly. I use an oil to remove it and do double cleansing. That means using an oil first – and then another face cleanser.  My favorite oil cleanser currently is Patyka's Melting Cleansing Oil.
The best natural sunscreen for body
If you need a natural sunscreen for the body, my favorite is Alga Maris SPF 30 Sunscreen Spray. Other favorites listed here.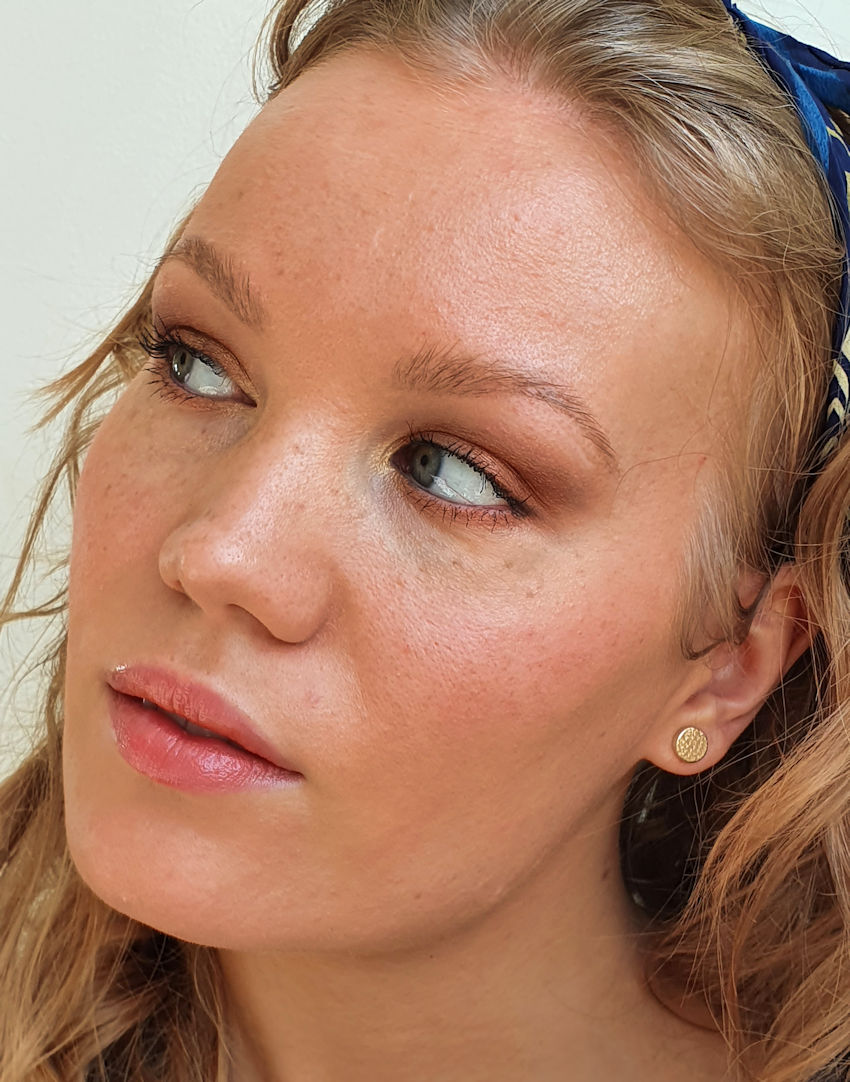 Have you tried any of these products?