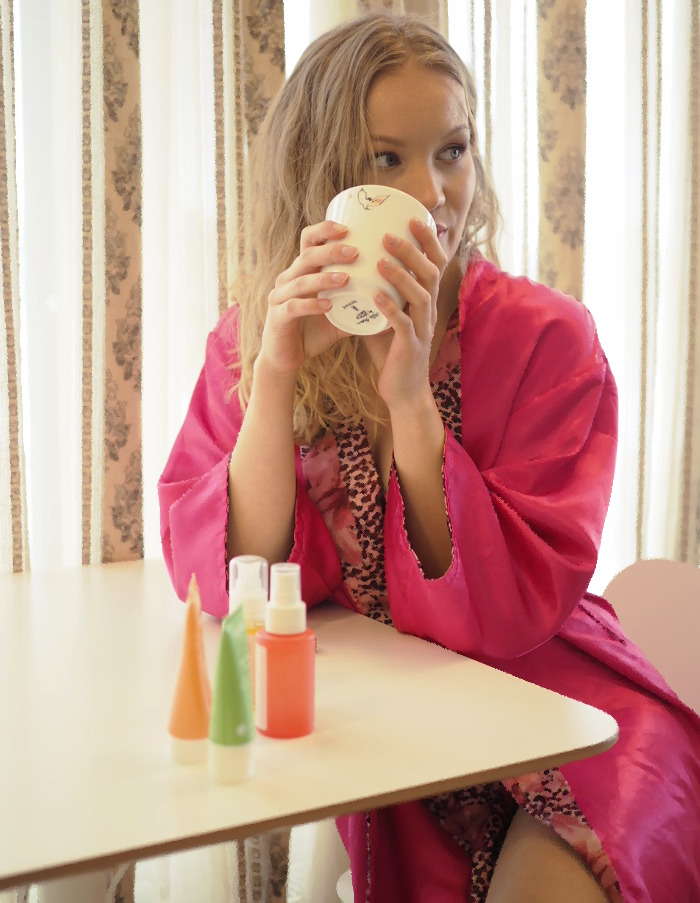 Every now and then the story of my skin changes drastically. Usually because of the ever-changing climate. Suddenly I steer clear of most of my purifying products and I even reduce the use of my favorite serum. I get this new problem that I promise to tackle every single year: dryness.
Unfortunately some things you just have to let be. Such as, dryness when the climate changes. It's inevitable and not always your fault. The dry cold weather is no joke. That said – I have found some great products that do help. Right now my skin is doing really good and I have this routine to thank.
These three steps have become crucial in tackling dry skin:
1.Changing your cleansers to milder ones.
2. Hydrating and moisturizing like your life depended on it and
3. Protecting your skin with the right products.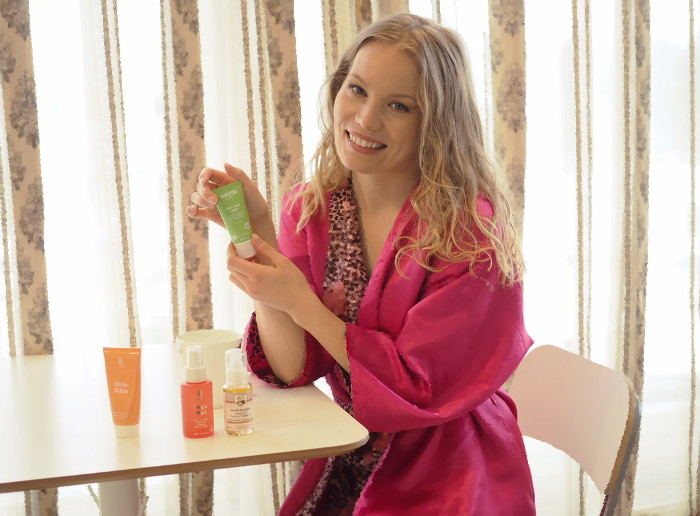 Products received in pr
How to tackle dry skin in three steps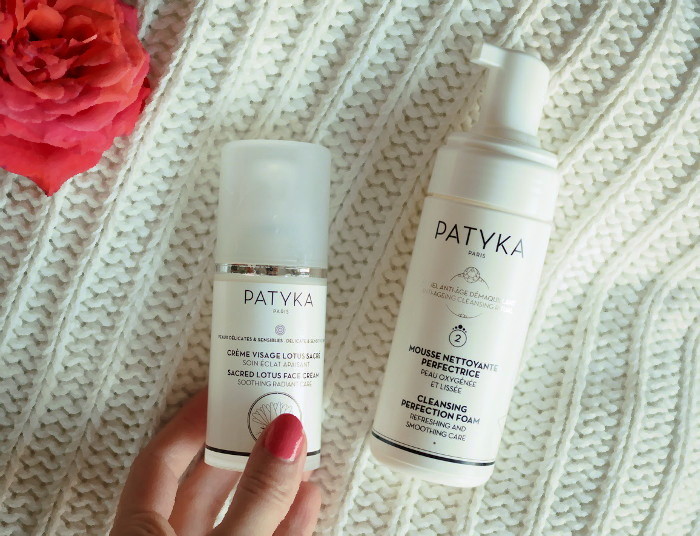 Step 1: Change your cleansers to mild ones
I'm very strict about removing my makeup and cleansing my skin in two steps. For a skin that has large pores and sebaceous filaments, keeping those pores clean is important.
I recently found the makeup eraser*, which has changed my makeup removing game. That cloth is so soft yet effective, I'm amazed. I remove my makeup with the makeup eraser.
After that I wash my face with some product. Lately I've used Patyka's Cleansing Perfect Foam*, which is suitable for a mature skin as well as for my skin, which is combination. It contains calming and moisturizing properties as well as some gentle fruit acids.
If your skintype is dry or normal, you might want to try Patyka's own 3-step-cleansing ritual, which consists of an oil, this foam and finally their toner/hydrating mist. I've tried it, and it feels very luxurious, but too nourishing for my skin.
CLEANSING:
The makeup eraser*
Patyka Cleansing Perfecting Foam*
My favorite cleanser is still Lavera's Cleansing Balm*, but right now I've ran out of it and I'm trying to use my other products.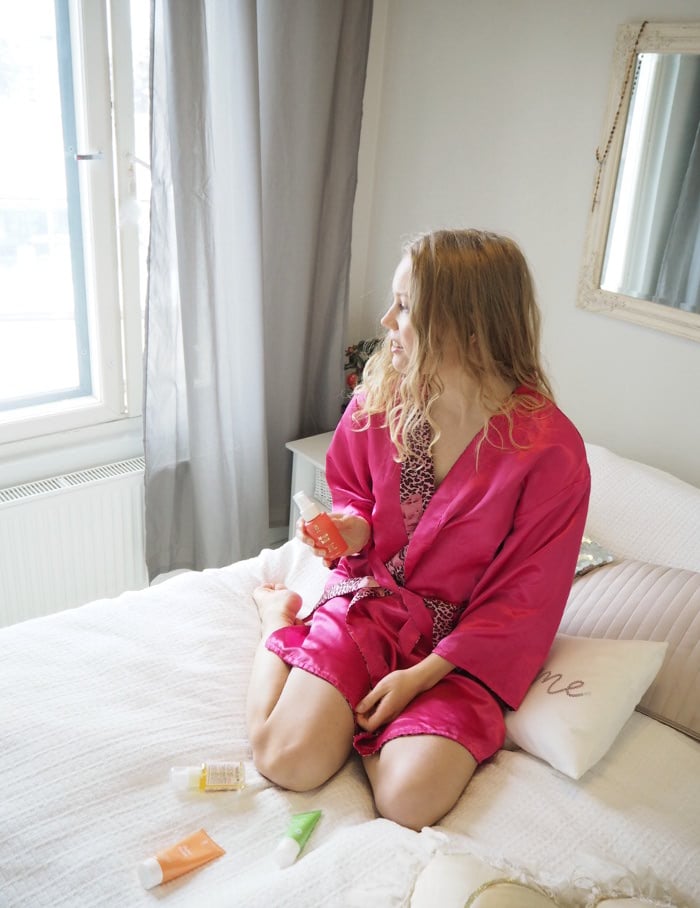 Step 2: Hydrate & moisturize
I'm talking about both hydrating and moisturizing, because those are actually not the exact same thing.
Hydrating means bringing water to your skin – which it needs, to look radiant, soft and healthy.
Moisturizing means locking in that water and keeping it hydrated.
Basically what this means is that you should stack products. First your lighter water-containing products like toners, mists, essences or serums. Then your moisturizer. Korean skincare routine like.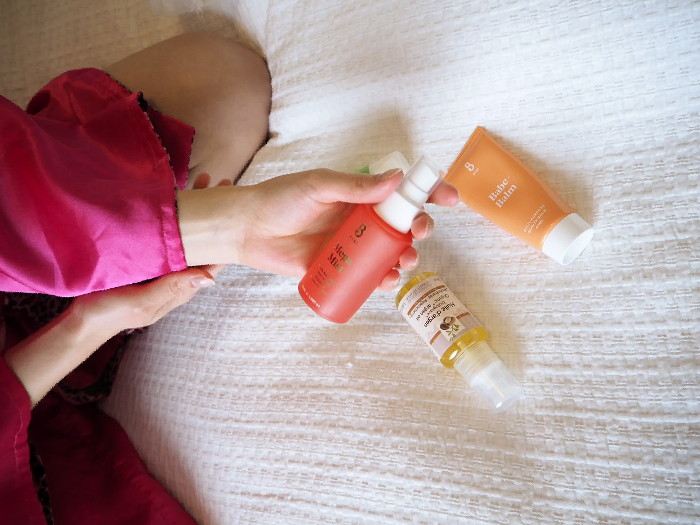 Right now I've been loving BYBI's Mega Mist, which contains hyaluronic acid. Hyaluronic acid is awesome for hydration, because it can hold onto a lot of water (and we just learned that our skin needs water!). I usually apply it on moist skin, just so it has some more water to hold onto (that's a tip I learned from Nude blog).
I've also started to add Loccitane's essence on top of that mist. I wrote about it here*.
After that, I apply my moisturizer. For day and night use, I have Patyka's Sacred Lotus Soothing Lotion. I got it before winter and thought it wouldn't work for me, but now I think the exact opposite. It's an awesome moisturizer. It smells amazing and it works wonders – for my skin, anyway. It doesn't leave my skin shiny nor matte. Radiant is possibly the right word. It contains natural oils such as almond oil and jojoba oil.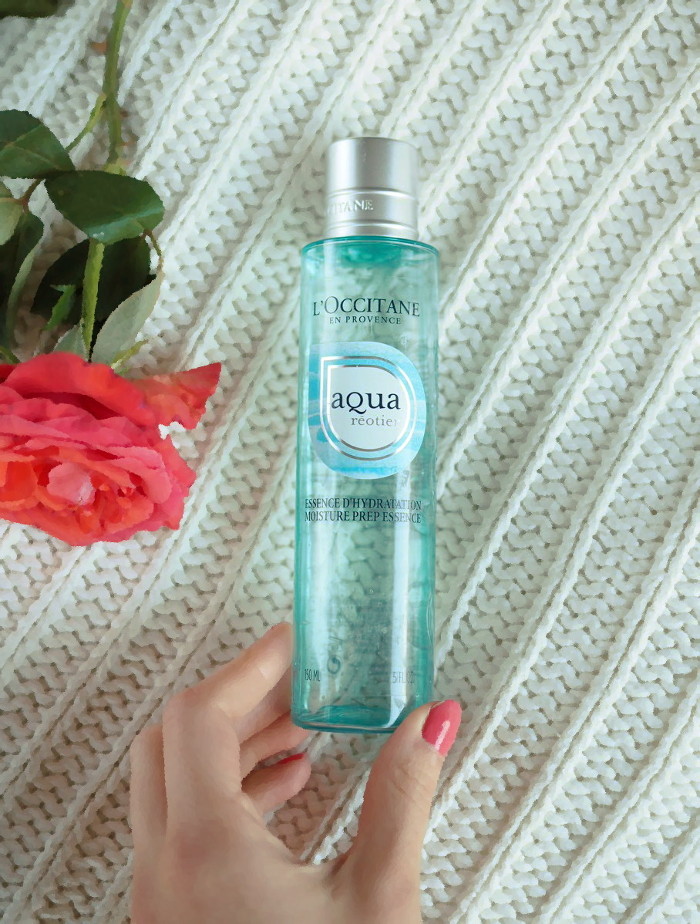 HYDRATING:
BYBI Beauty Mega Mist
L'Occitane Aqua Reotier Moisture Prep Essence*
MOISTURIZING:
Patyka Lotus Soothing Radiant Lotion
PURA D'OR Organic Moroccan Argan Oil
I also always apply argan oil in the evening. I apply it under the moisturizer, on top of it or mix it with my moisturizer (Patyka). It doesn't really matter how I apply it – most important thing is to use it. Argan oil is the queen of oils, because it suits both dry, mature and oily skin. It should also help with scarring, so my acne scars are definitely getting their fair share of this. My sister, who has extremely dry skin, also swears by argan oil. Psst! She shared all her dry skin secret here in this post!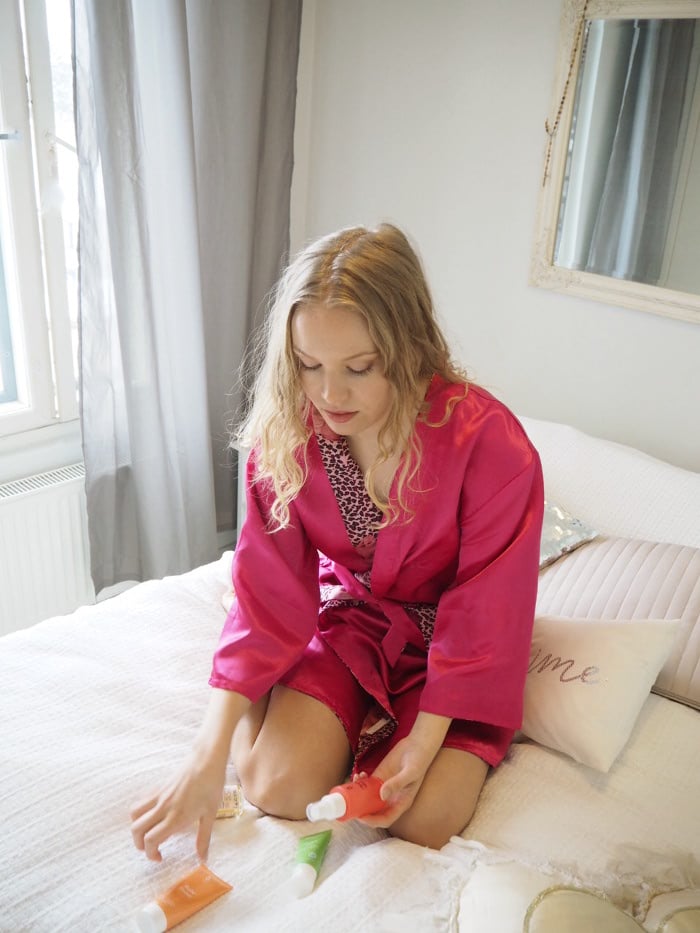 Step 3: Protect your skin
This is partially the same as moisturizing – moisturizer locks in the hydration, but it also protects the skin. It's like a barrier between your skin and the world.
For my skin, I feel like makeup is enough to protect my skin from the harsh winter. Makeup is so much more than just something that makes you pretty – it actually can have skincare benefits and it does take care of your skin (as in, being a protective barrier).
However, on those days that I'm not wearing makeup, I like to wear a thick(ish) cream. If I'm going for a long walk or run outside, I like to apply a layer of Babe Balm* as my protector. It does leave my face a bit shiny, but I'll take that instead of a red and dry poor skin. I've used that product for quite some time now and I think it's become a holy grail product for me. It's cuteness and luxury in one tube. It's the best hand lotion as well and for dry skin you could possibly try it as a night mask. Oh – and this product has an amazing sweet scent.
Weleda's Skin Food* or Skin Food Light is a good multi-use product option for the Babe Balm. I recently got to try Weleda's Skin Food Light, which is a lighter version of their classic Skin Food lotion. Even that Light-version is super moisturizing for me, so it's perfect for protecting my skin against cold. I also sometimes use it as a night cream, since it doesn't matter if my skin looks a bit shiny in the evening. That product also works as a hand cream or body cream for dry spots.
MOISTURIZING & PROTECTING:
BYBI Beauty Babe Balm*
Weleda Skin Food Light*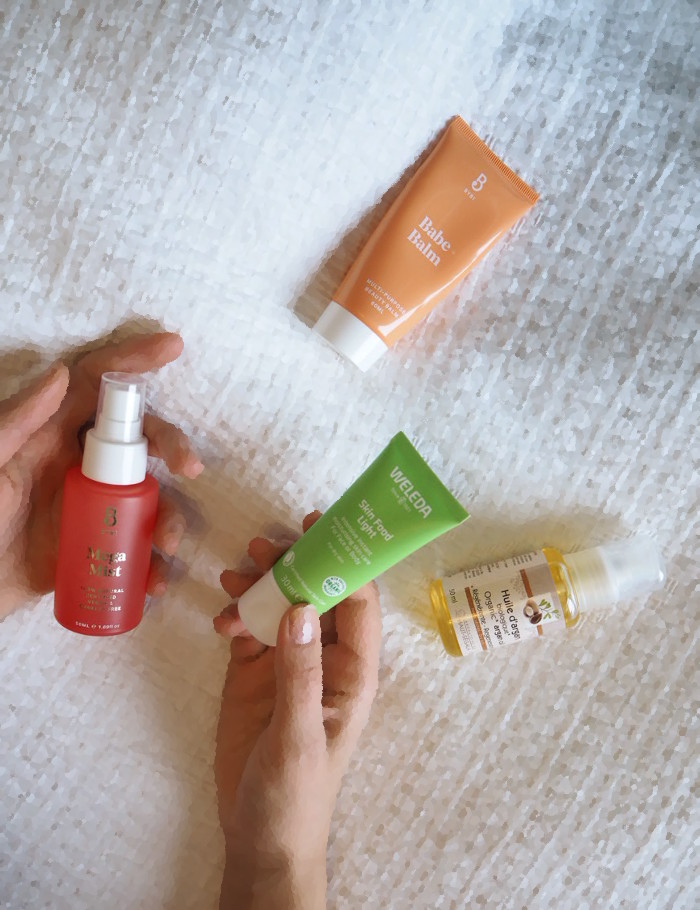 *adlink
Thanks for helping with photos @pinjaelisa
What are your top product picks for winter?
Good reads:
Hyaluronic acid on Paula's Choice