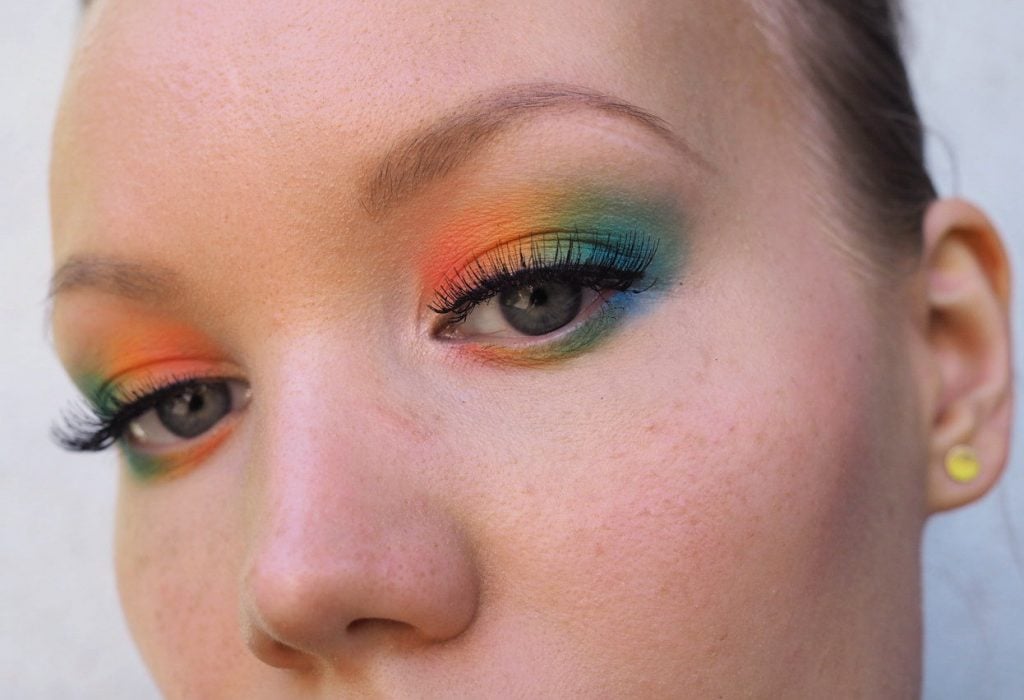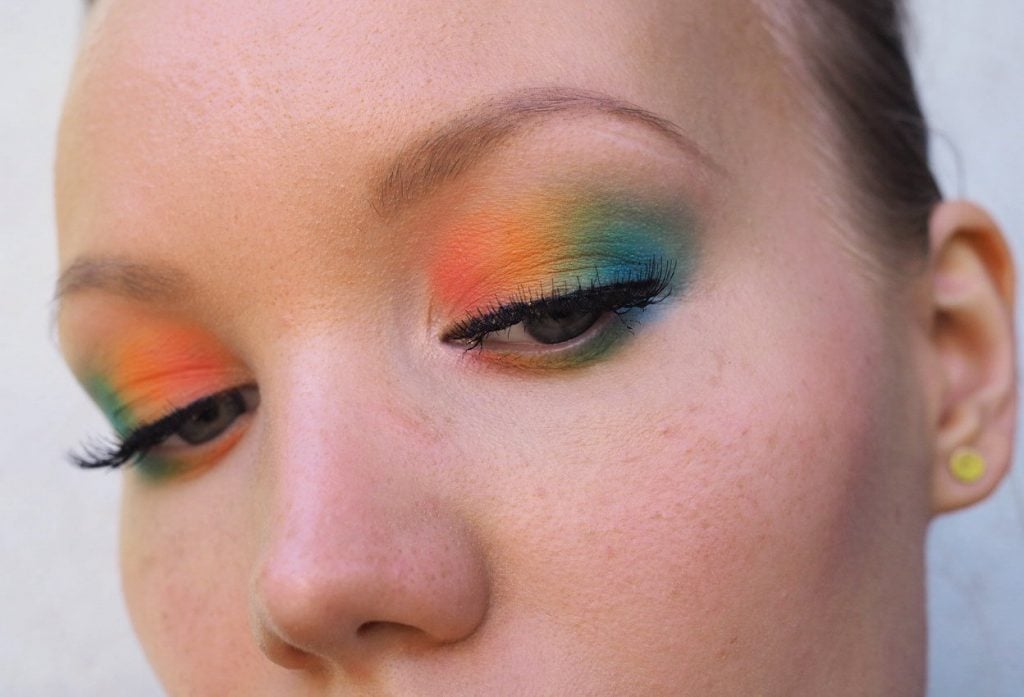 I don't always play with colors, but when I do, it's a full rainbow. No but seriously, it happens. I don't wear makeup for a long time, then I feel like doing something cool – and then I end up with something like this. Glad I did though, I feel my inspiration slowly coming back and I already have ideas for more fun, colorful looks.
For this look I used my *NYX Off Tropic Palette. It honestly has such good pigment. I primed my other eye white pencil, but for the other eye I didn't use any white base whatsoever (yes, I forgot, okay?). And the colors turned out just as bright. So for anyone looking for colorful palettes, my vote goes for the inexpensive NYX palettes.
Palette was gifted to me. *adlink
Colorful rainbow eye tutorial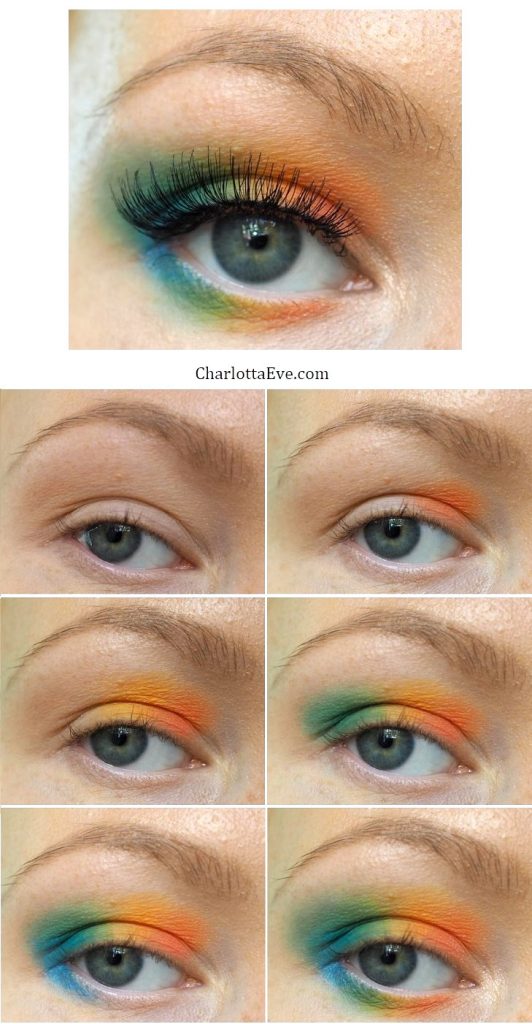 This look is honestly quite easy to do. The key is in the color placement. For example: I put green next to yellow, and blue next to green. Because when you mix up yellow and blue, you get green. That makes it look harmonious.
You can apply a very light brown transition color to your crease area (or fake crease, in my case, with my deep set eyes), but it's optional. I applied the tiniest amount of light brown under my brow bone, but it doesn't really show up on camera.
Then you can just start applying the colors one by one. First orange, then yellow, green and blue. I didn't blend too much – rather I kind of tapped around the edges of where two colors collided.
Finally I applied a light shimmer in my inner corner, lined my eyes with a black liner and added falsies. I think black liner and lashes are very important in this makeup – it balances the whole look and makes it look more put together.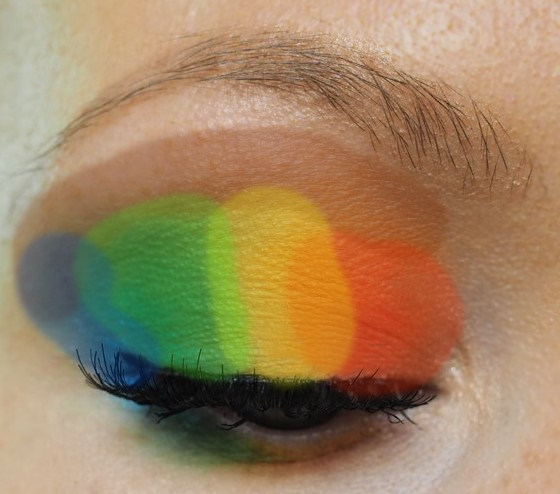 This photo shows you better where I applied my transition color (that light brown). Again, it's because of my eye shape. You can read more about working with deep set and hooded eyes here and here.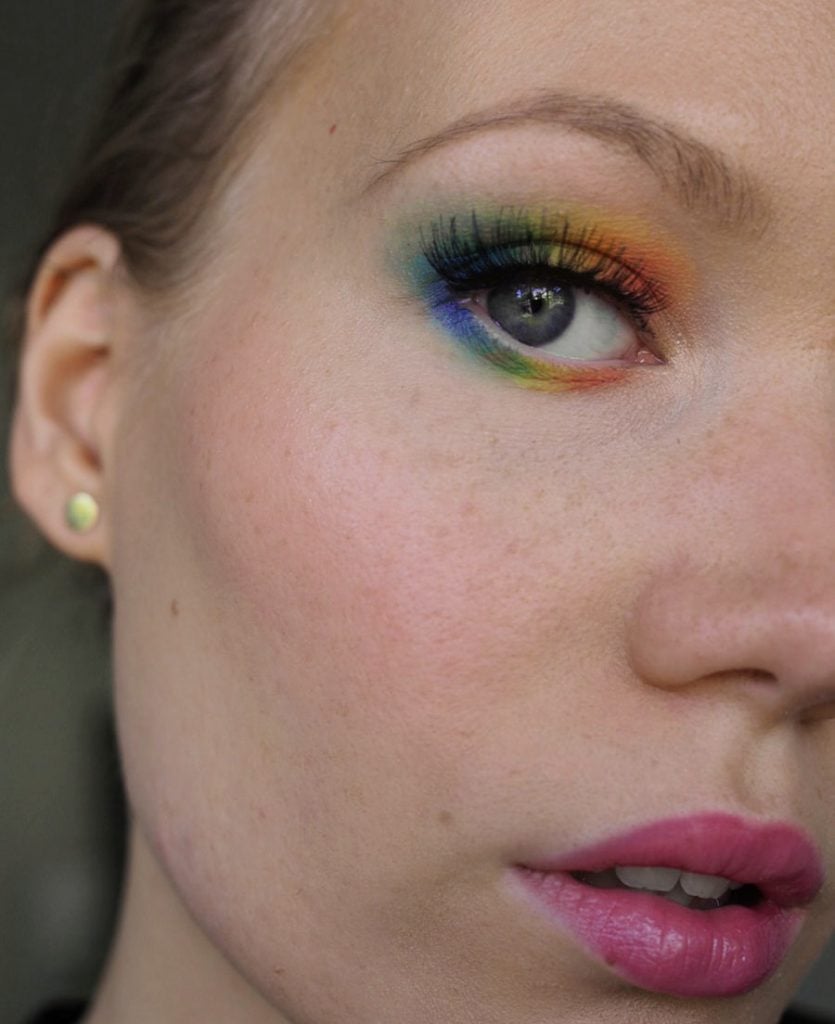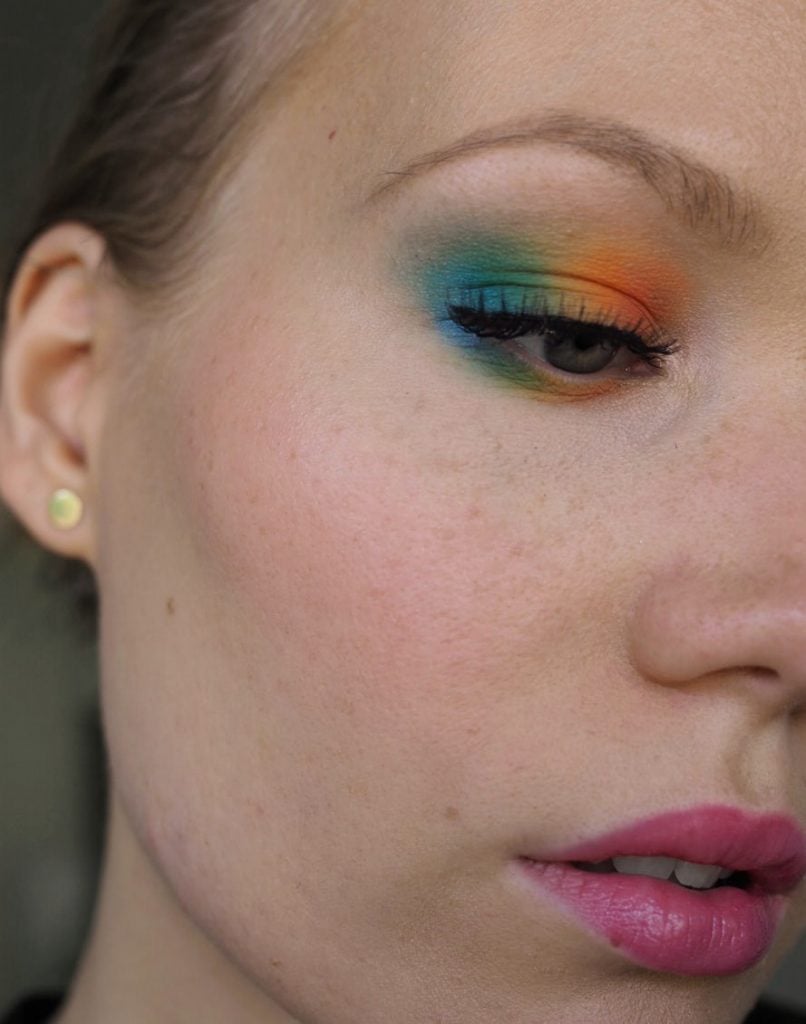 Key Products:
*Madara City CC , Medium Beige (blog post)
*NARS Soft Matte Concealer, Custard
*NARS Radiant Creamy Concealer, Vanilla
*NYX Off Tropic Palette
*Eylure Lashes
*Yves Saint Laurent Volupte Shine Lipstick, 41
Did you already see my previous tutorial? It was about how to apply mineral makeup & a quick luxury makeup. That tutorial is for the whole face, rather than just for eyes.
I also want to remind you of my big post for brides. I gathered the best bridal makeup products and showed you a bridal makeup look on a video there. And I just want to mention that all the product recommendations are based on actual experience on working with a lot of brides.
And finally – if you're interested in good coffee, go participate in my giveaway here!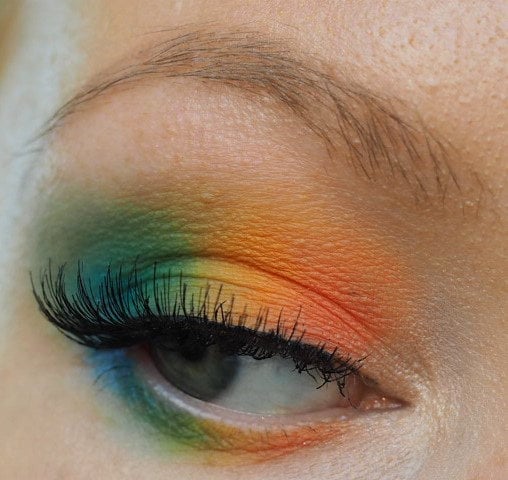 P.S. What is everyone up to this weekend? I'm travelling to my hometown to celebrate my grandpa's and grandma's 80th birthday. Roadtrip, here I come! Luckily 7 hours in a car feels easy after being used to driving all the way up north, like last year, when we drove to Lapland.
Related Posts