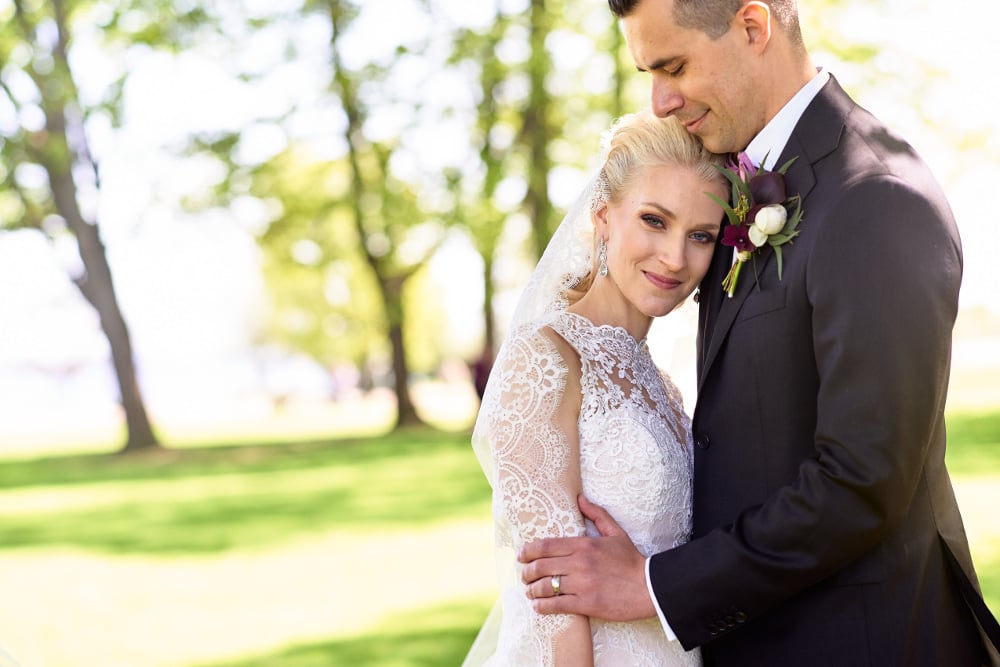 Bridal makeup is challenging, because it can basically mean whatever. The makeup should reflect the bride and her looks and personality. For some that might mean a very natural look with earthy tones and to others it can be a black smokey eye with red lips.
*adlink
Bridal makeup 101
Possibly the most important thing about bridal makeup is that it has to last. A bride's makeup has to go through it all – laughter and tears, a day of nervous sweating and evening full of dancing.
There are also some general things brides usually ask for. They want en even beautiful skin with some glow. Eye makeup that contains some shimmer. And pretty often, a lip color that is somewhat natural looking.
In this post I will share with you my tips to doing your own wedding makeup. I'm sharing the best products I've used on many brides. I also gathered some helpful makeup tutorials here – so that you have no other option, but to succeed in your makeup!
This post is quite comprehensive, so if you feel overwhelmed, bookmark this page and read it in parts. Or if you prefer videos, just check out the video.
In the photos you see one of my friends, Anet, and the bridal makeup I did on her. I recreated her wedding look on myself in the video. Many of the products I mention in this post are also what I used on her.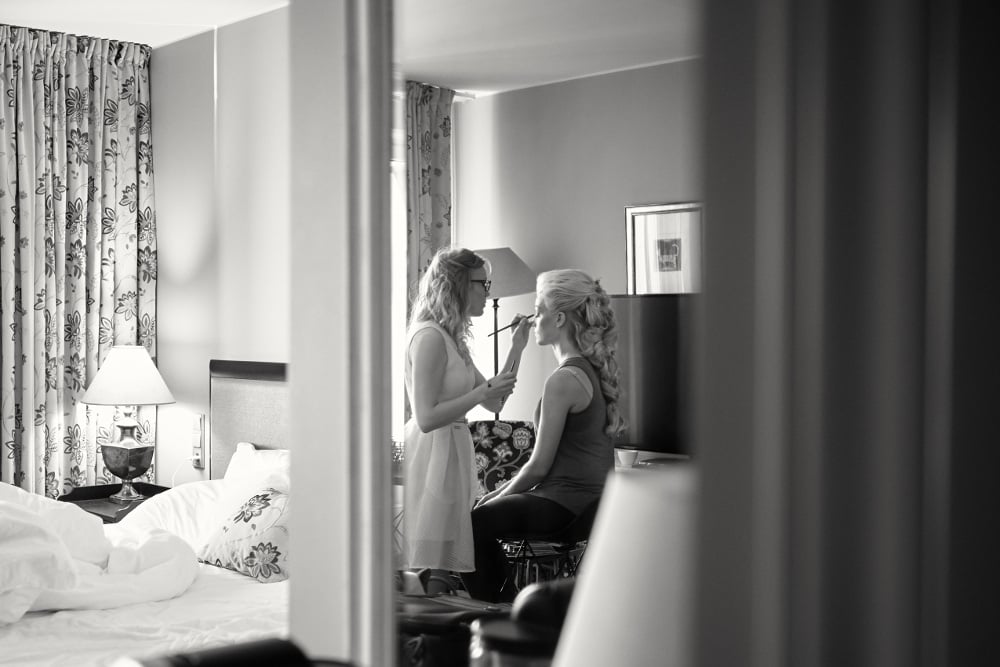 Bridal makeup step by step
I've divided the bridal makeup in four parts – the base, the glow, eyes and  lips. If you're here just for product recommendations, here is your cheat list with all the best makeup products for your wedding. Investing in these products is indeed an investment, since you'll end up with great products to use even after the wedding. (And they would remind you of your big day every time you use them!)
Best bridal makeup products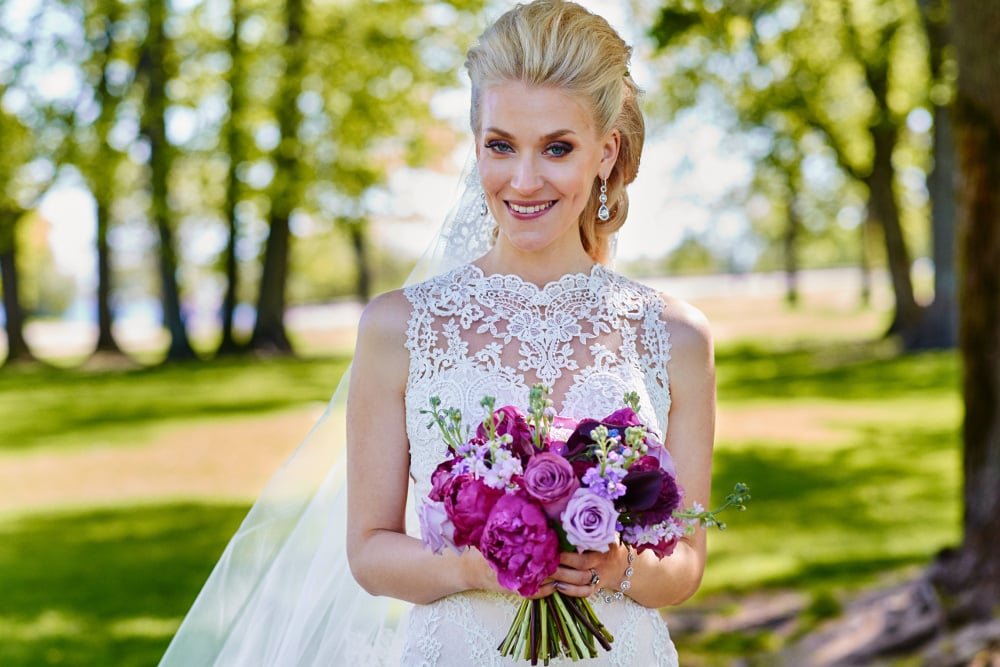 Bridal makeup product recommendations
Bridal makeup – The base

A beautiful, even and glowy base is the key to a beautiful bridal makeup.
Primer
It all starts with a primer. The best primer that works for all skintypes is *Stila's One Step Illuminating Primer. It truly does it all: it minimizes pores, smooths out the skin, hydrates and brings a beautiful glow to the skin.
Even more important than the primer, is to prep your skin. The only skincare product I will recommend here is *Evolve Beauty Radiant Glow mask. Use that instead of going into a facial, a day or two before your big day! More on that on the post linked below.
Skincare checklist:
2 x mask that does it all
Foundation
The most important product for the base is foundation. More expensive foundations are often better in consistency and longevity and they also have skincare benefits. I recommend investing in this one, even though there are also affordable options.  You'll end up with a great foundation to use even after the wedding.
I think the ultimate foundation for a wedding day is *Estee Lauder's Double Wear  foundation.
The first one is very full-coverage and offers amazing lasting power. That would be best for combination to oily skin types. There is also a lighter version*of Double Wear with a lighter coverage – more suitable for normal to dry skin.
I recommend applying your foundation with a damp *beautyblender because that sheers out the foundation a little and makes blending easier. No foundation lines and smooth coverage. Get a beautyblender – you'll be using that to blend your concealer as well.
Helpful posts:
How to apply foundation – natural flawless finish
Undertones & makeup – are you cool, warm or neutral?
Double Wear – the best long lasting foundation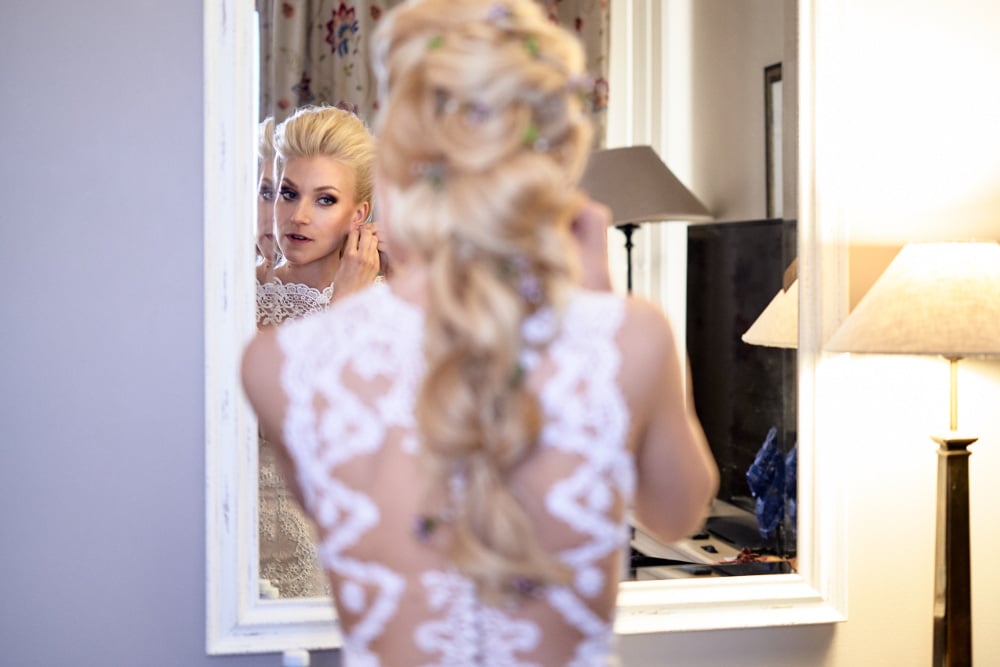 For Anet, I used Double Wear in the shade Ecru and as you can see, her base is flawless. I applied it with a damp beautyblender.
Foundation – mineral makeup
As an exception to my rule when it comes to expensive foundations, I do sometimes use mineral makeup on brides. The brand that I like is pretty affordable. Mineral makeup is a great idea for a wedding to those that have normal or dry skin, since it doesn't last that well on oily skin. It looks natural and reflects light beautifully so it gives a nice glow. But again, if your skin tends to be more on the oily side and you need that lasting power with good coverage, a mineral foundation is not the best choice.
My favorite loose mineral foundation is Lily Lolo's*.
Concealer
No one wants to look tired or let the stress pimples show on their wedding day. Use a concealer to hide your dark circles and any pimples or areas that get red easily (like the sides of your nose). The best concealer is the iconic *NARS Radiant Creamy Concealer. It gives an amazing coverage, yet it's still easy to blend since the consistency is so creamy.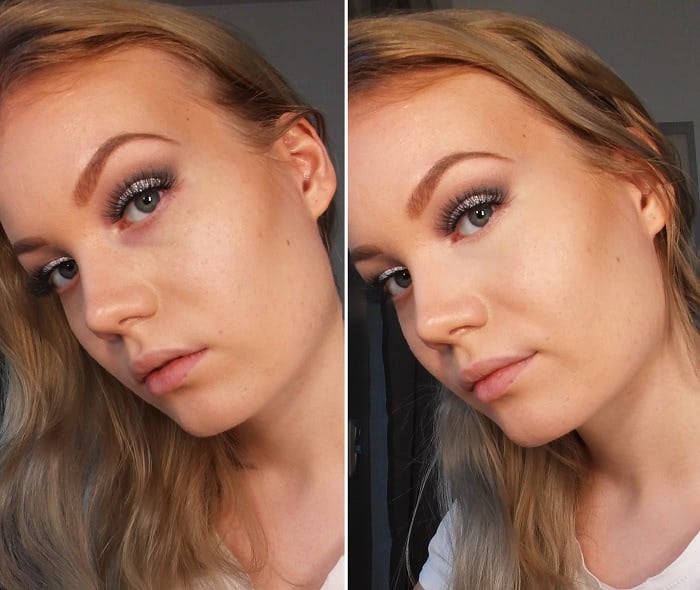 I like to use first the shade Custard to hide the blueness under my eyes and also to hide any pimples. After that I use shade Vanilla to bring a bit of light under my eyes. But, if I layer Vanilla, that also works amazingly, like shown in the photo.
Helpful posts:
How to hide your dark circles – concealer tips
Effortless makeup with Lily Lolo
Powder
You should use powder to set everything in place, but you shouldn't use a very light layer of it.
A good quality powder is fine and makes the skin smooth – not cakey. The best powder I've used is *Laura Mercier Transluscent Powder. It makes my skin feel silky smooth and it does the job fantastically.
Contour and/or bronzer
Contour and bronzer are not as important as blush and highlight, but they do give definition and warmth to the face. Many celebrate their wedding in the summer, so bronzer gives that nice sun kissed look.
If your face is cool toned, pick a cooler contour shade. If your face has warmth to it, a slightly warmer contour shade looks better. If you don't know what I'm talking about, read my post about undertones.
*Anastasia Beverly Hills Contour Kit suits many skin tones and is a good choice. You can also use that for bronzing. What I like to use is *Benefit Hoola, which is quite warm, but it works for me.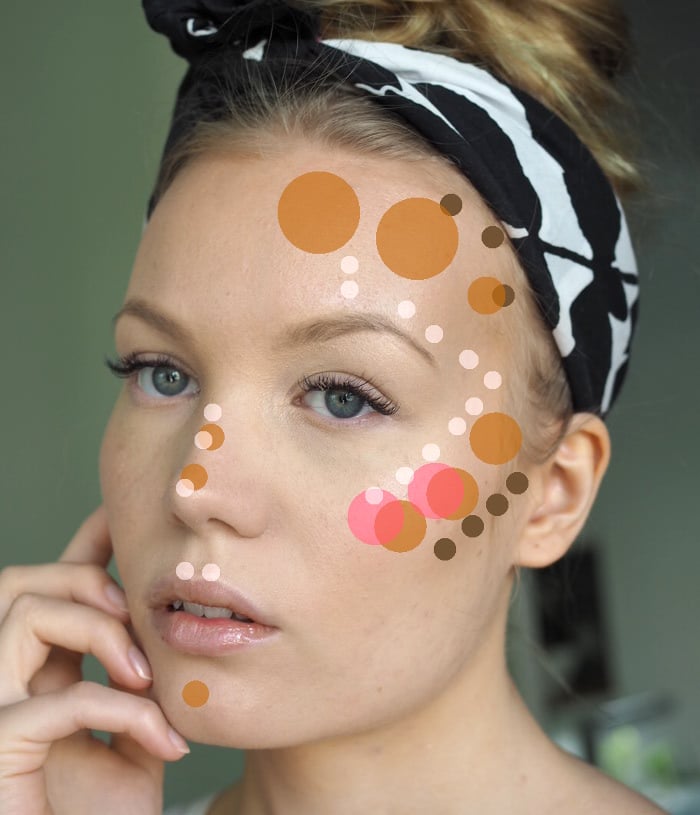 dark brown – contour
orange – bronzer
pink – blush
white – highlight
Bronzer can be a warm color and it can contain shimmer, whereas a contour shade should be matte. You should apply bronzer to the highest points of your face, where the sun naturally hits you. Brush bronzer to your cheekbones, tip of your nose, your temples and just a touch on your chin.
If I could choose anything for my wedding day, I would choose something like *Guerlain's Terracotta Bronzer. I love a big luxury bronzer.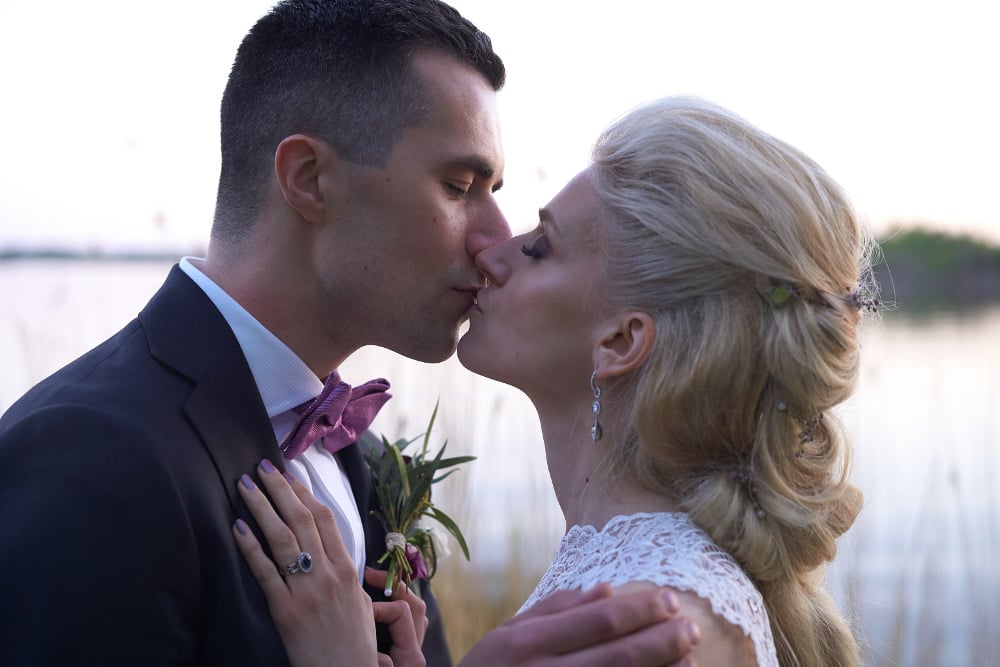 The bridal glow – the importance of blush and highlight
The bridal glow comes from blush and highlight and it's probably my favorite part of the makeup. The right blush shade depends on your skin tone, but I think pink blush colors are quite universal and work really well on brides. If your skin is more on the warmer side and you like a sun kissed look, you might want to go for something peachy.
Blush
I usually use a blush that has some sheen or shimmer to it, just to keep the cheeks fresh and glowy.
Zuii's Melon blush* is the perfect blush for anyone with that nice pink/peachy shimmer. It's also the better alternative to NARS Orgasm blush. I also like *Too Faced's Sweethearts blush (comes in both pink and peach colors).
An affordable option is *Milani's Baked Blush. The shade Luminoso is quite universal and works on many skin tones.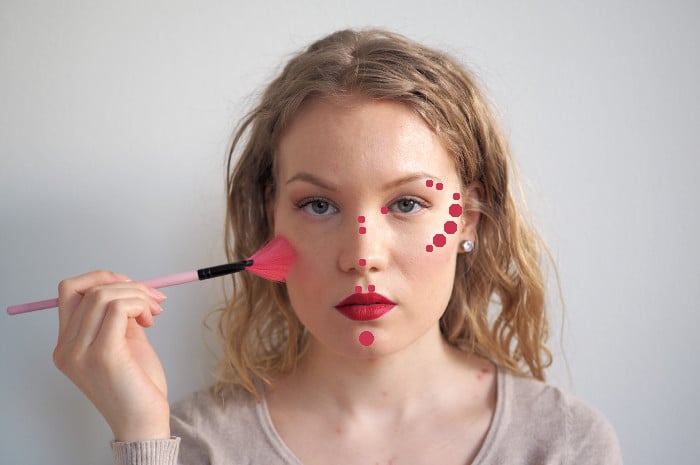 Where to highlight.
Highlight
I have one product that I use for every bride and that is highlight. I think for bridal makeup a cool slightly pink color is most flattering, at least for fair skin. There is just some magic to it. When you have the right good quality product, it just blends on the skin perfectly and just glistens.
If there ever was a bridal makeup highlighter, *Becca's Prismatic Amethyst Highlighter would be it. It's such a perfect shade, just like the one I like to use on brides.
However, if you are more tanned and olive, you might want to choose a warmer highlighter. Another favorite highlighter of mine is *MAC Mineralize Skinfinish, Soft & Gentle, which has more of those bronzed warm shades. I use the shade Soft & Gentle, which is gilded peach bronze and works on my skin.
­
.
Helpful posts:
How to highlight your face
Undertones & makeup – are you cool, warm or neutral?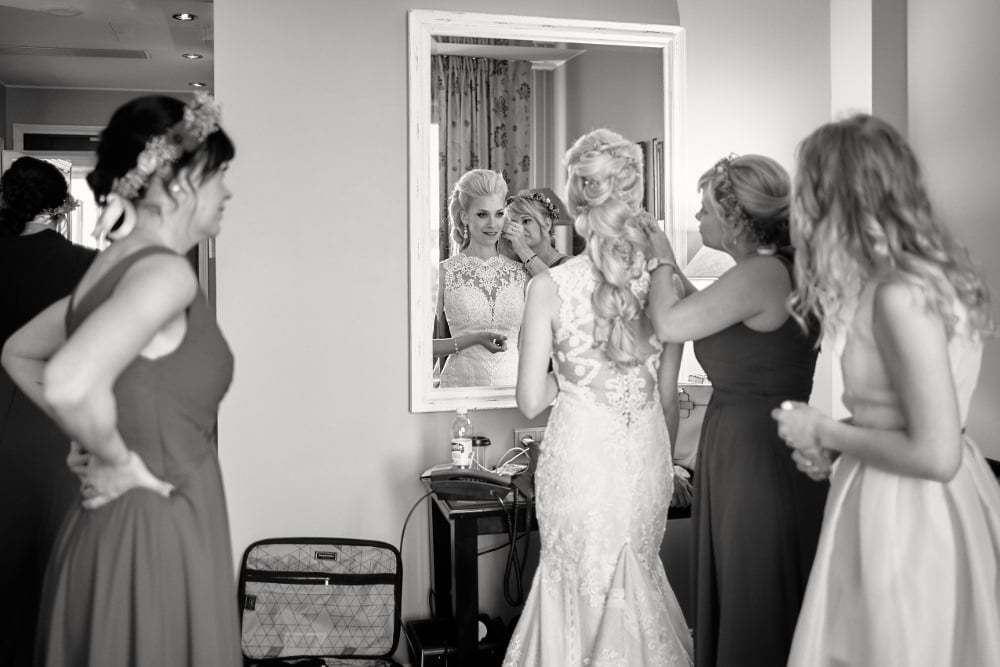 Bridal eye makeup & brows

Eye makeup is probably the hardest part for most. And that is the part that I really encourage you to work on. Watch youtube videos, look for tutorials, learn to work with your eye shape and find a style that works for you. That said, it doesn't have to be that complicated. A simple look works for most eye shapes: one shimmery color across the lid and some shadowing in the crease or a bit higher depending on your eye shape. If you have deep set or hooded eyes, my tutorials might be helpful for you.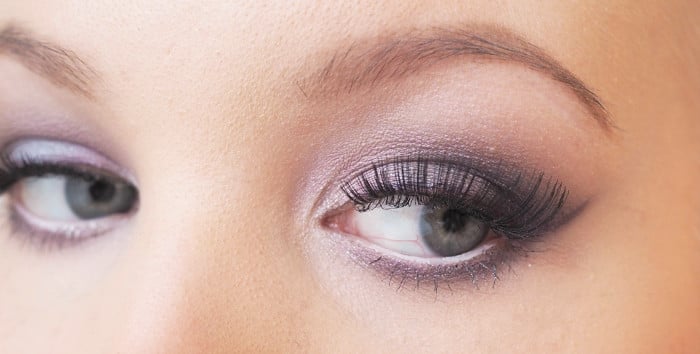 Primer 
A super important product to remember is an eyeshadow primer. It makes all the difference. It keeps your eyeshadow on the whole day and night, it makes the eyeshadows more vibrant and it also evens out the skintone a little.
My holy grail eyeshadow primer is *Urban Decay Primer Potion. The original one is great, but I would also recommend the Eden one, if you want it to even out the color of your lid.
Eyeshadow
When it comes to eyeshadows, I'm not as picky. I like *the Naked palettes and their quality, but I also often use *NYX Eyeshadow Palettes.
For Anet I used NYX Perfect Filter palettes in the shade Golden Hour (brown, golden colors) and Marine Layer (purple and pink shades). Anet's eye makeup was a bit different, since she wanted to have some purple on her eyes. I loved how it turned out. This is probably my favorite bridal makeup I've done.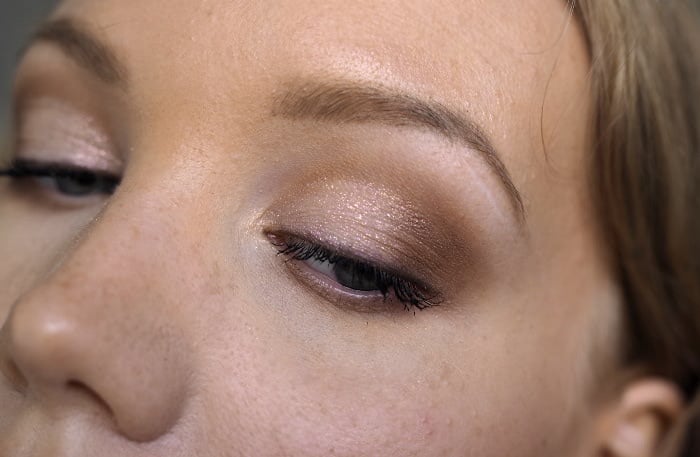 Liner
When it comes to eyeliners and pencils, we probably all have our own favorite products. I love a smoked out, soft line. That can be achieved with just eyeshadow and a liner brush, so you don't necessarily need another product for this.
The best black pencil I've found is Alima Pure's Ink Pencil*. My eyes are quite sensitive and I have found that it works for me. The best eyeliner I've tried is mellow cosmetics eyeliner*.
Mascara
You might want to choose either a waterproof mascara or something that can be rinsed with warm water. A good idea is *Sensai's 38 mascara. Another affordable find is *Maybelline's Snapscara, which can be removed with warm water. I also like *Essence's mascaras*.
Lashes
False lashes are a great idea for bridal makeup. They lift up the eyes and finish off the eye makeup nicely. False lashes can be a struggle, so what I would suggest are falsies, that have a very thin lash strip or just get single lashes. Single lashes are the easiest to apply and they also look very natural.
My favorite false lashes are from *Eylure and their single lashes are also what I like to use on brides.
Anet actually had lash extensions, which is another great idea for a wedding.
Helpful posts:
How to – makeup for deep set and hooded eyes
Makeup basics – easy eyeshadow (for almond-shaped eyes)
Smokey bronze eyes tutorial
More tutorials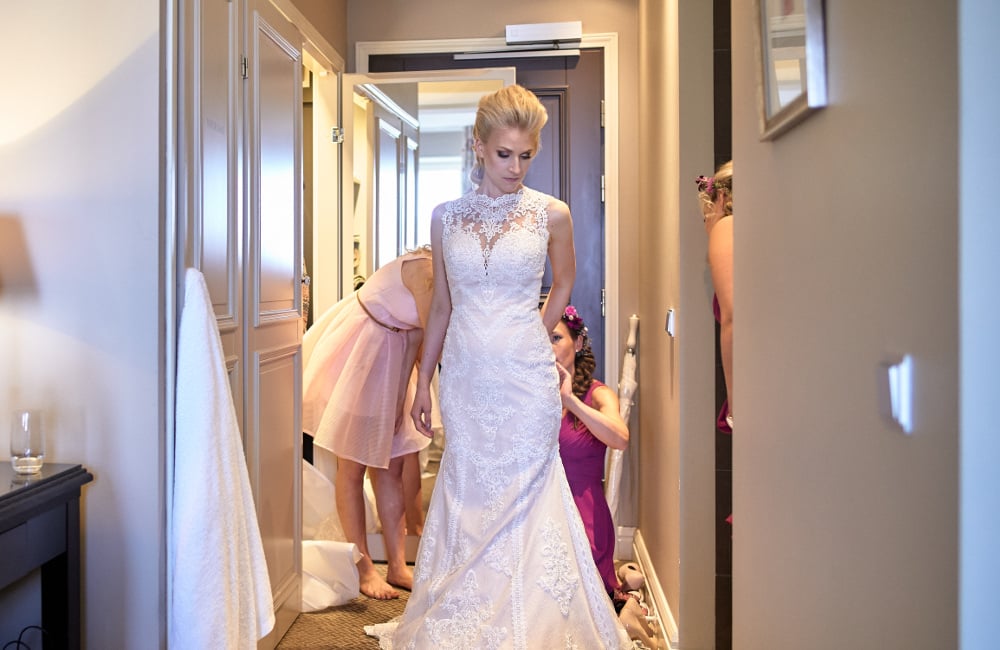 Brows
I think that for most people, enhancing the natural shape of their brows is the best way to do the brows. Just applying a bit of definition and color to the brows.
If you are lost in the eyebrow world, get your brows done on a professional. Tint them and get them waxed. After that, you have a nice shape and color and it's easier to apply makeup to them.
My favorite brow product is the mad4eyebrow Natural brow filler, which is unfortunately a bit hard to get. Besides that, I love a thin brow pencil that I can use to imitate brow hairs. My favorite brow pen is *Jane Iredale's Brow pencil, but there are similar from *Anastasia and *NYX. I also like brow definers that have this angled shape to them like Zuii Organic's Eyebrow Definer*. That product is actually super easy to use and that was the product that made me fall in love with brows in the first place.
If your hairs tend to not stay in line, use brow gel. My favorite brow gel is *Essence's brow gel.
I used mad4eyebrow Natural Brow Filler on Anet and she actually ended up buying that product for herself as well.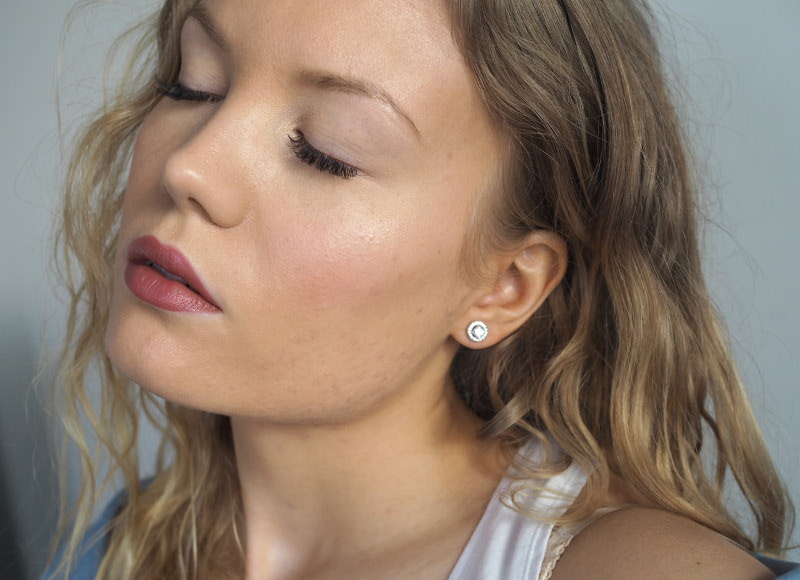 Bridal lip makeup – best lipsticks and glosses
A rosy nude lip color is a classic choice for bridal makeup. Not just because it works for so many looks, but also for its convenience. A nude lip color looks more natural when it wears off and it's easy to reapply. And when it comes to reapplying – lipstick is something you should have with you (along with blotting papers), so that you can fix your makeup during the day if needed.
Lip liner
Even if you weren't used to lip liners, I would strongly suggest to use a lip liner on your wedding day. It makes the lips look more polished and it makes lipstick application easier. Lip liner also keeps the lip makeup locked in it's place. You want to choose a lip liner that is close to the lipstick shade you're wearing.
There are many different affordable options for lip liners, but MAC's lip pencils* are some of my favorites.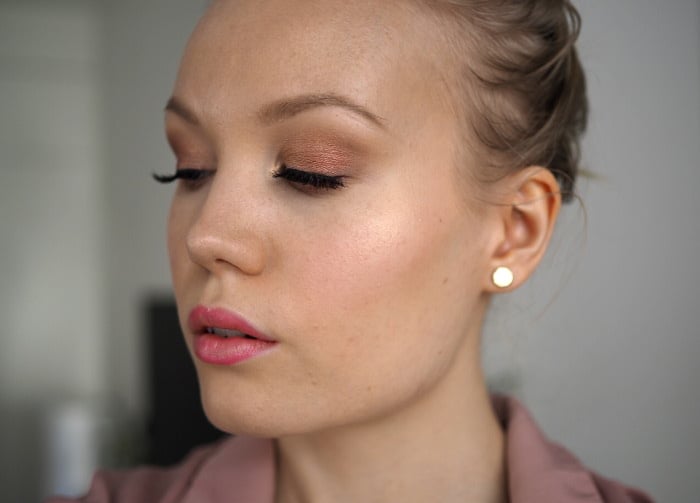 Lipstick
Nude, slightly pink or rosy lipstick colors are universal and work for everybody. That is also the most convenient color, since it doesn't look off, when it wears off. It's easy to reapply and and suits all eye makeup colors.
One of my go-to lipsticks for brides are *IsaDora's Twist-Up Gloss Sticks. Those are moisturizing, they feel comfortable on the lips and they give a nice shine. They are also super easy to apply, since they come in a pen form. There are some very nice nude colors (as well as colorful) available!
But when it comes to lipsticks, only sky is the limit. I think the key here isn't to find the most long lasting lipstick (those are not usually that comfortable or forgiving on the lips), but to find something that feels nice on the lips and is nice to carry around. I'm all for luxury lipsticks and if you want to splurge a little,* Yves Saint Laurent's Volupte Shine lipsticks are a great choice. I also love *Jane Iredale's Triple Luxe lipsticks, because they feel like nothing on the lips yet they have great pigment.
For Anet, I used Zuii's Nude lipliner and IsaDora's Twist-Up Gloss Stick in the shade Milk 'N Chocolate & Sugar Crush.
Helpful posts:
Bare & beautiful – IsaDora Twist-Up Gloss Lipstick swatches & review
The best lipstick I've ever tried?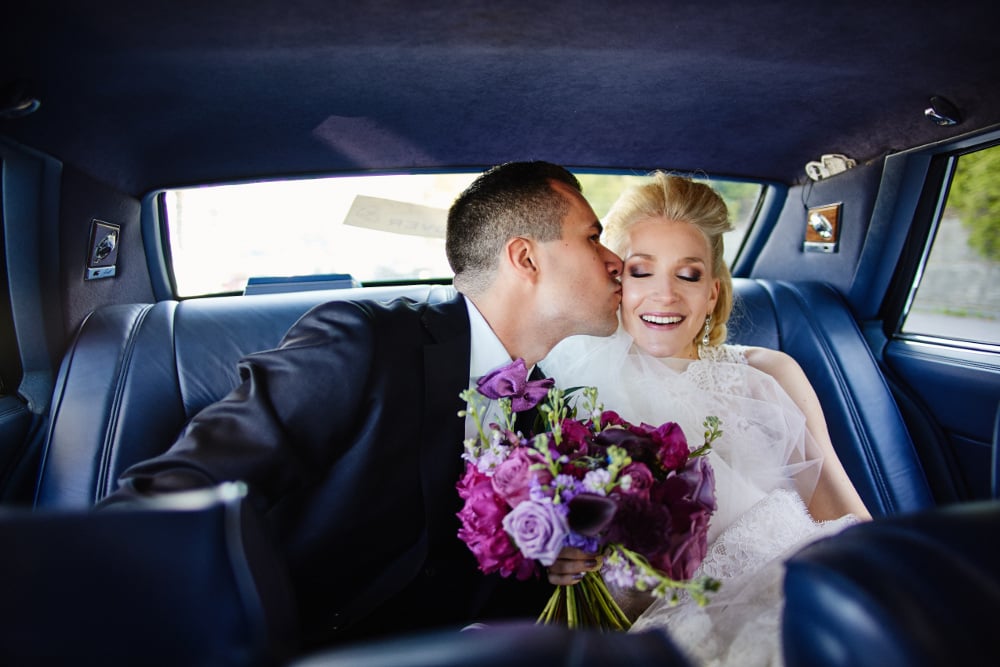 + A few more notes
As I said, keep your lipstick with you. You might also want to pack a concealer – just in case. If you end up crying and your nose starts to get red for example, you can tap on some of that concealer.
Oh – and one more thing. Keep blotting papers with you! They are the best way to refresh the makeup, since it's better to soak off that excess oil, than to add more makeup (=powder) to the face. My holy grail blotting papers are these *Powdered Papers.
And if you're reading this, because it's your big day soon – congratulations and I wish you the best wedding day!
Photos of Anet's wedding – Oka Morikawa