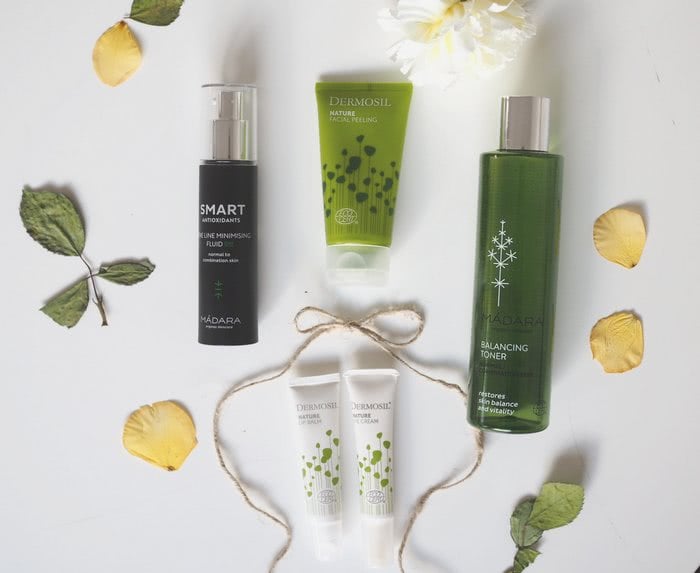 Here are my favorite products of this month, this time featuring my skincare products from MÀDARA and DERMOSIL. These products are special, because even my man likes some of them. Actually one of these is solely in his use! So these products are definitely unisex and suitable for men too.
I got so many new products this month, that deciding my favorites was kinda hard – I think I'll have to do more reviews on all the goodies I got. Most of these products I got from the organic cosmetics exhibition, so they are gifted (I've marked them with a *).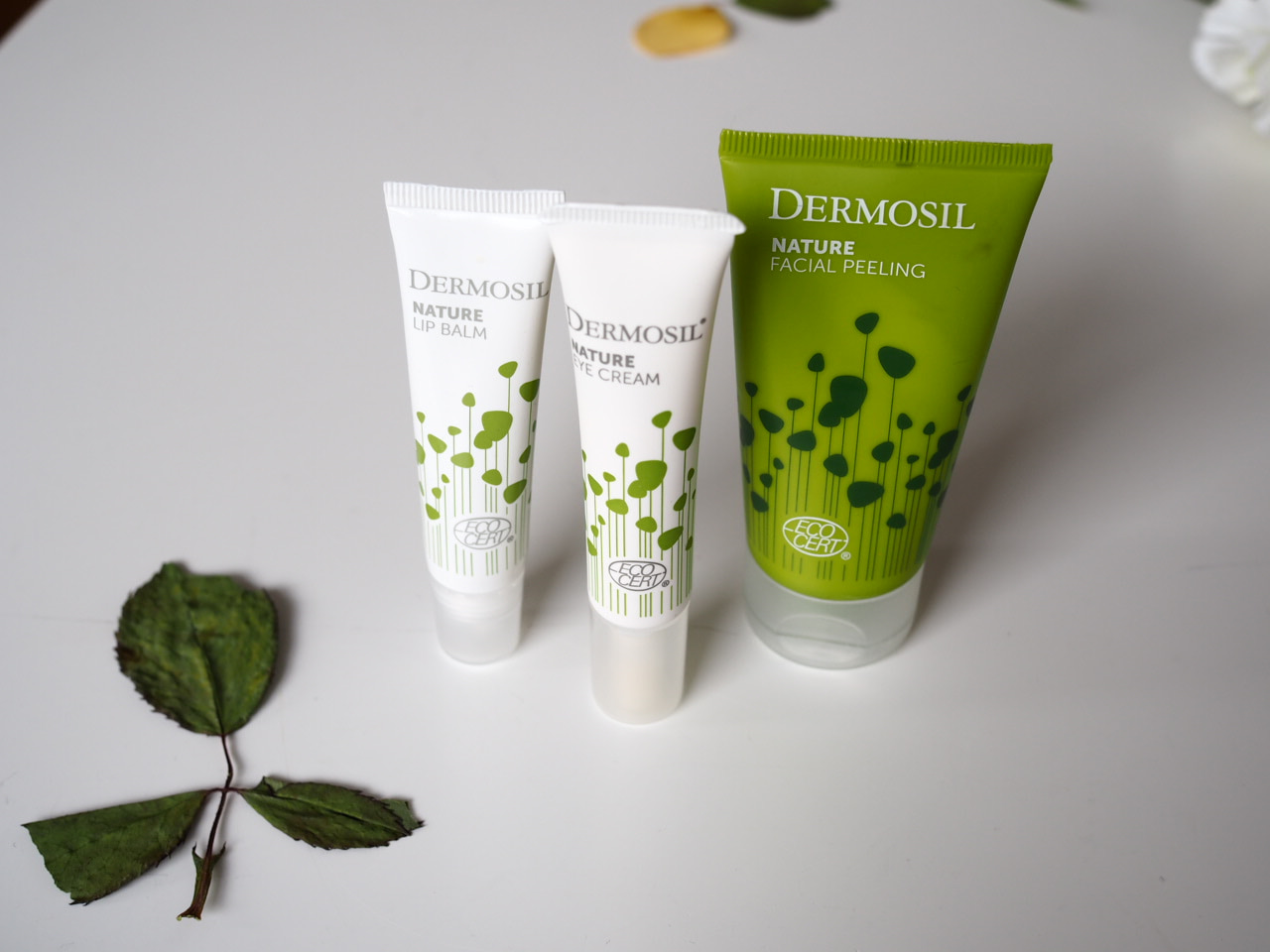 DERMOSIL NATURE FACIAL PEELING
Can I start small by saying, that this is probably the best mechanical exfoliator I've ever tried? I had zero expectations since this brand was new to me, but this is honestly so great. It's a creamy exfoliator with super fine grains. It feels super smooth on the skin, but still so effective. Also this is pretty cheap and a small amount goes a long way! I love this and use it weekly.
DERMOSIL NATURE LIP BALM
I'm kinda hooked on my current lip balms and never use anything else, but lately I've tried a new product and it's this. This lip balm contains natural oils and beeswax so it's very nourishing. It's clear and a bit glossy so I like to use this during to day to give my lips some moisture as well as some volume. This has a raspberry scent, which I like. This reminds me of my childhood lip balms – in a good way.

DERMOSIL NATURE EYE CREAM
The first cosmetic product I've gotten my man to use! I mean he uses a shampoo, a shower gel and a cleanser for his face, but that's it. A friend of ours (a man) recommended an eye cream for him and after that he's been more open to it. I've been on a lookout for a unisex cream for him and this one caught my eye. It's important, that the cream isn't too thick, sticky or noticeable. This one is very lightweight and scentless so it's perfect for him as well as anyone looking for an easy and affordable option.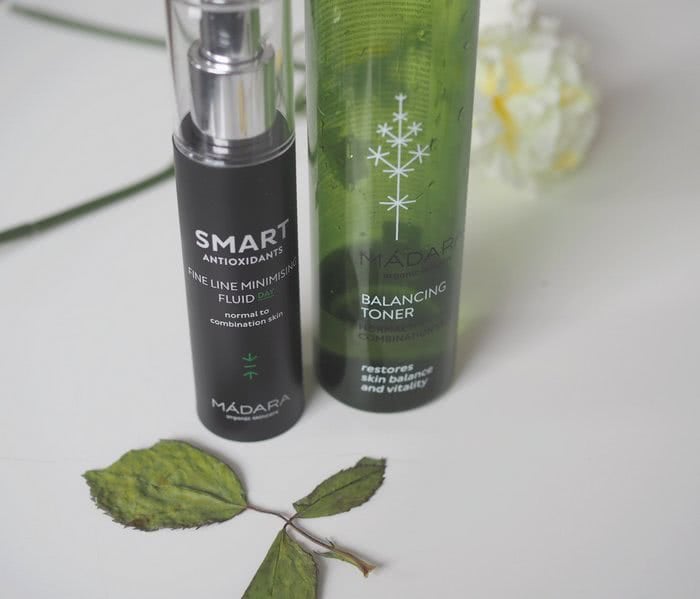 MÀDARA BALANCING TONER
As you can see, I've almost used this bottle. I already have a new one though, because this toner has earned it's place in my skincare regime. This toner is suitable for normal and combination skin. I chose this, because I needed a toner that is indeed good for my impurities and oiliness, but doesn't dry out the skin. This suits my skin perfectly: it leaves the skin refreshed and clean, so in one word: balanced. This has a light rosy scent to it, but it evaporates quickly. I use this in the morning and in the evening.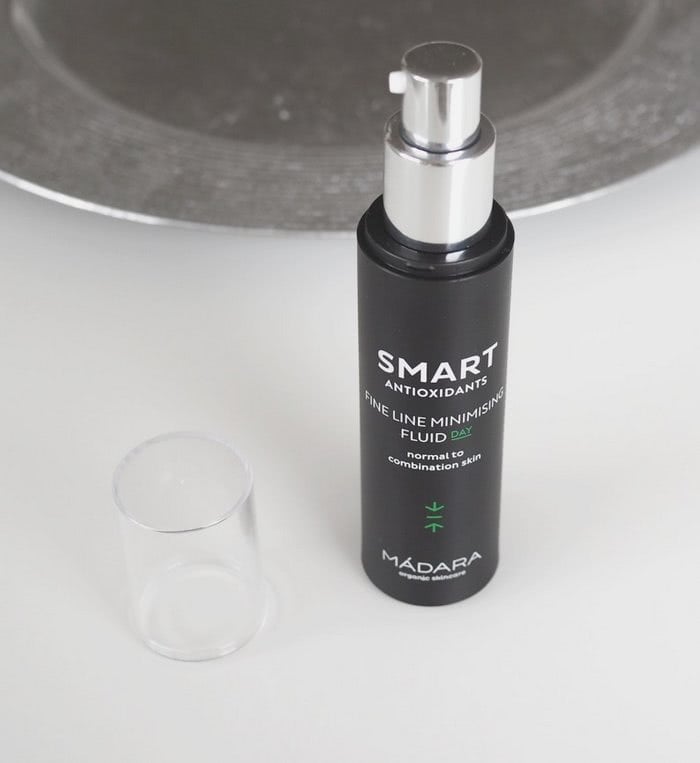 MÀDARA SMART ANTIOXIDANTS FINE LINE MINIMIZING FLUID DAY*
I tried this lotion and immediately loved it. It's great for normal or combination skin and for men too. It's super lightweight since it's a fluid and it absorbs quickly leaving the face almost matte. It has a lovely woody scent to it, which I love. The packaging is modern and cool, which is nice. Altogether a great product also as my first anti-aging lotion (I think this is meant for 30-year-olds, but I would recommend it for 20-30 year-olds).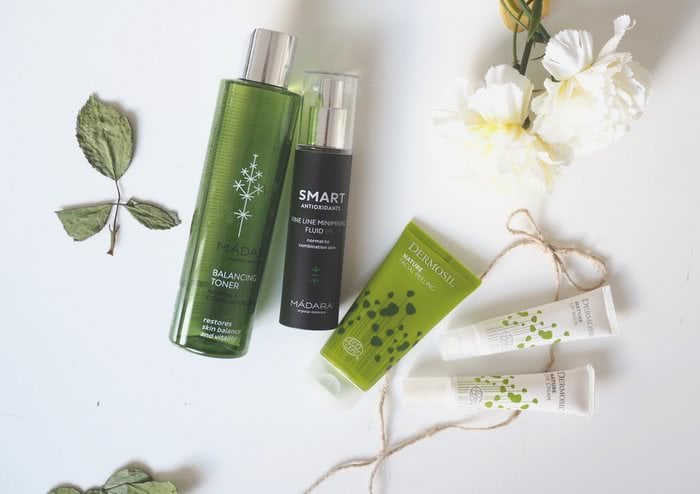 Did any of these products caught your eye?
Here is also a list of this month's posts. Your favorite posts were (judging on the comments) my hair post, Champagne on a thursday post and the skincare diet post. I love that you take the time to comment, it always makes my day.
What would you like to see next? Let me know, I would love to fulfill your post wishes.
April posts
10 x a colourful makeup (6 comments)
Fresh Pink / Full Face Makeup Tutorial(12 comments)
Acne update – Progress after 2 months of Apocyclin (8 comments)
About Confidence (6 comments)
Skincare diet & natural oils in skincare(15 comments)
Hairdresser's worst nightmare AKA me as a client(18 comments)
Champagne on a thursday (18 comments)