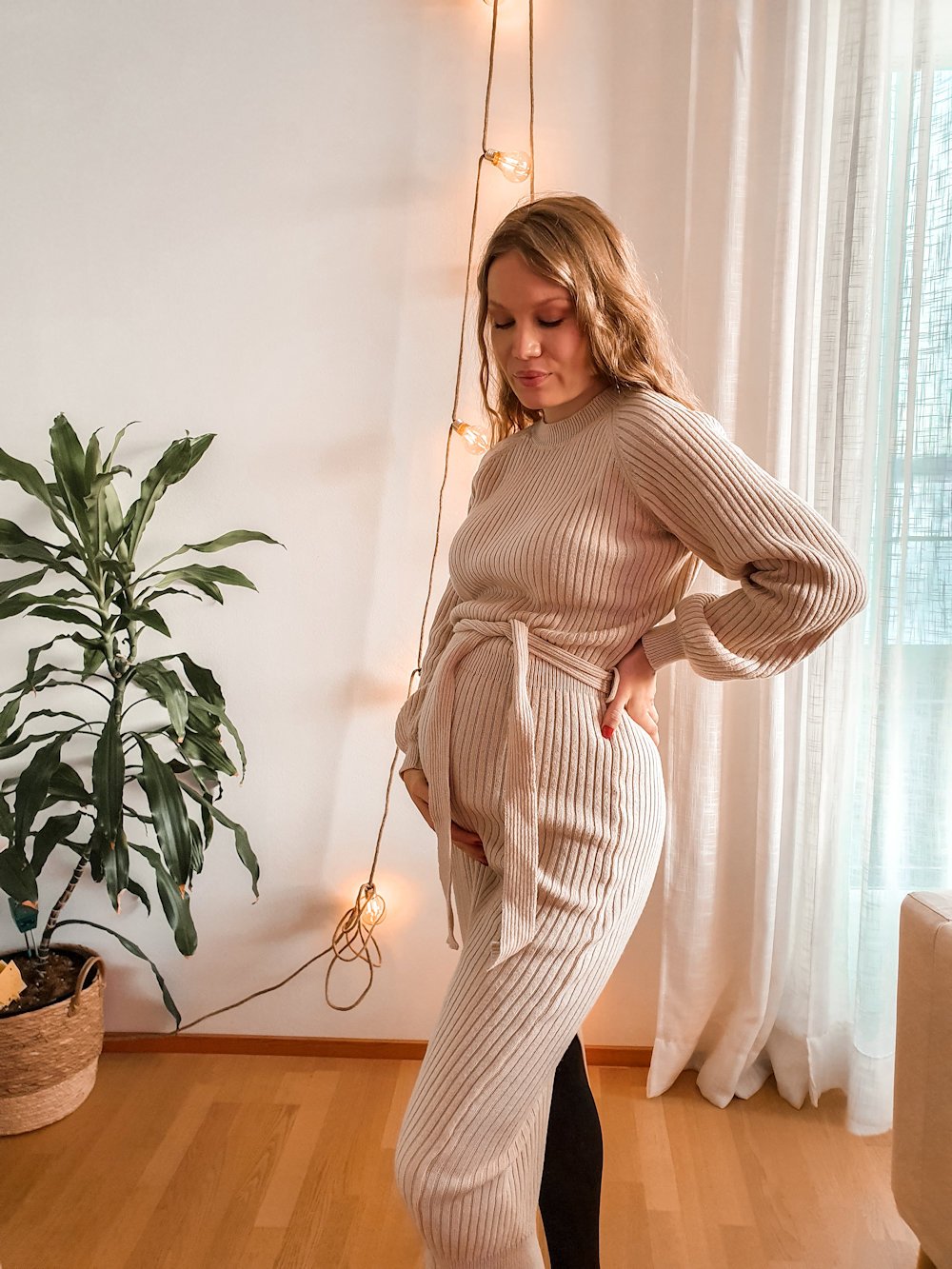 *adlink
Winter style – pregnancy edition!
Needless to say I have had to buy some new clothes this year. Right from the beginning of my pregnancy, however, I wanted to buy clothes that would also fit me after pregnancy. And I think I have done a pretty good job at finding classic pieces that are comfortable, elastic – but stylish.
Here are some of the clothes I have bought to fit my bump throughout fall and winter.
I also have a discount for *Bubbleroom that's valid until the end of this month: CHARLO for -10% off.
Pregnant winter/fall style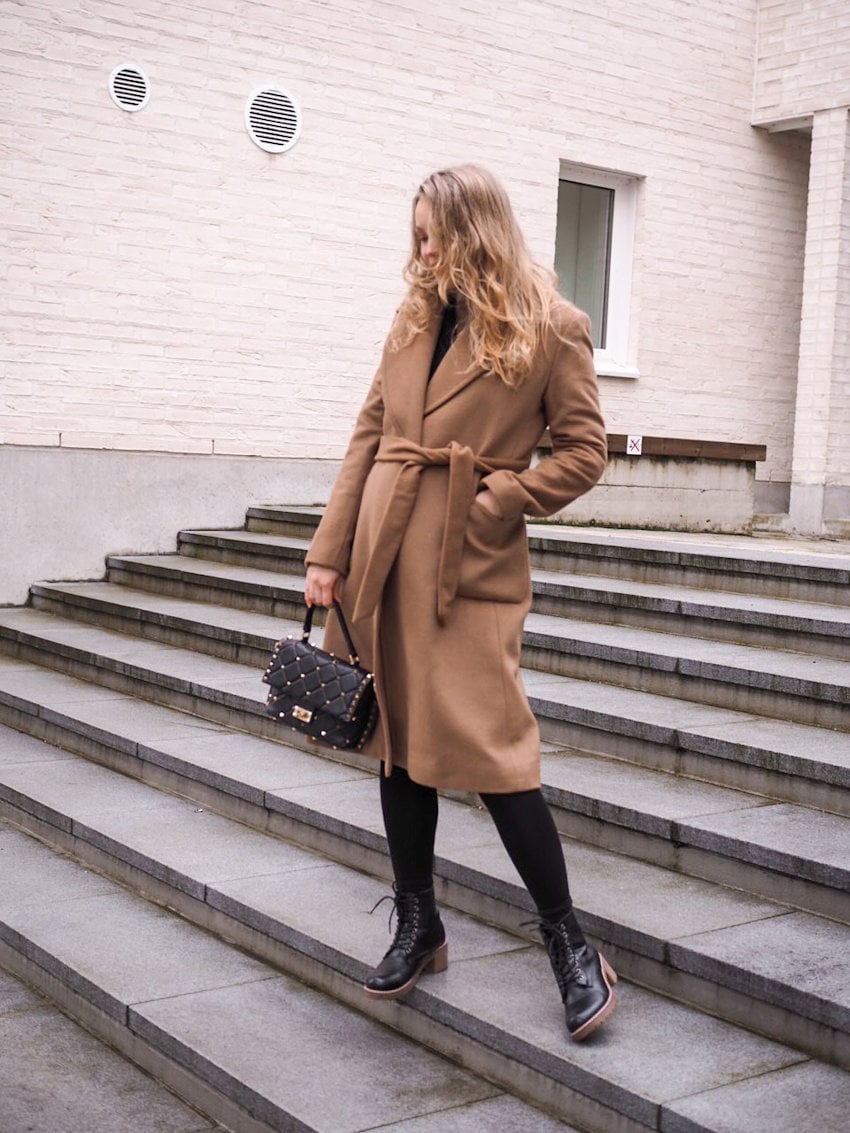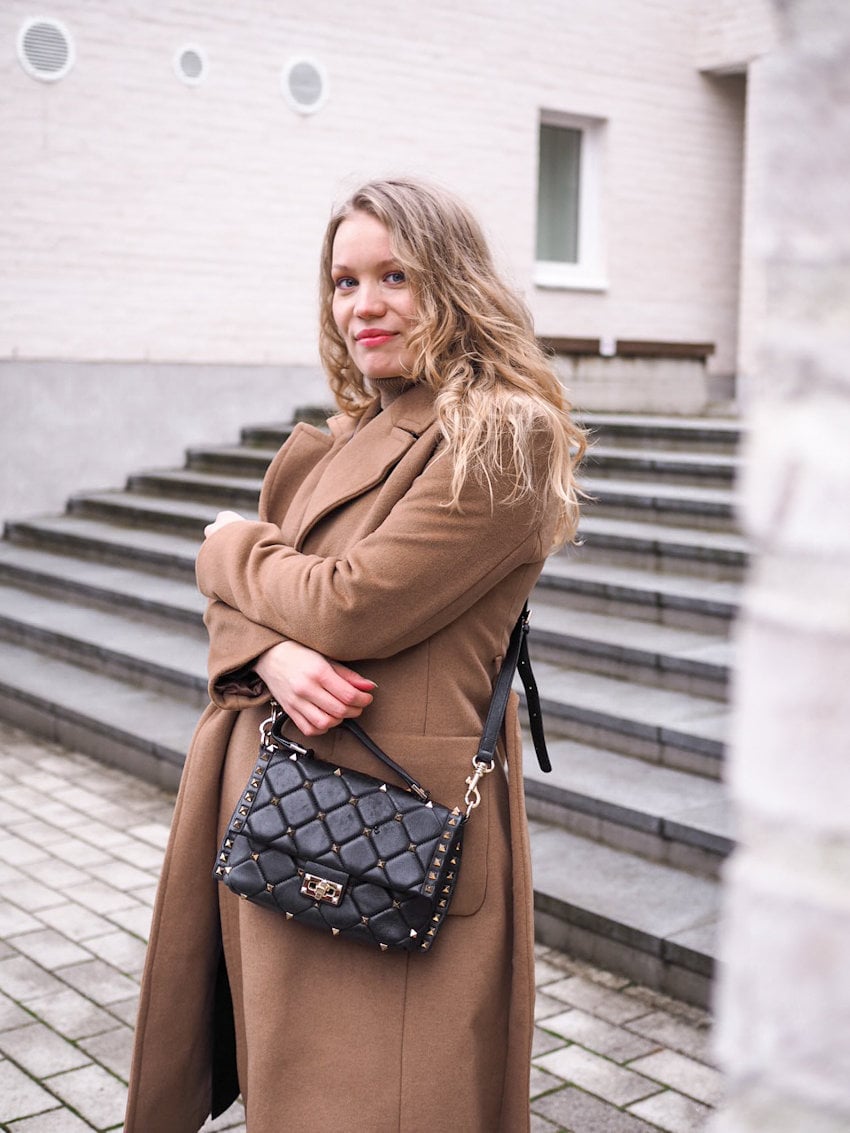 Wrap wool-blend coat
This wrap wool coat fits the bump better than something with buttons. I love the classic color and style of this! I can see myself pushing strollers and drinking lattes (I hear babies make you tired) in the city in it. However, I have to say, because you only lightly wrap it shut, it's not as warm as a jacket with a zipper, for example. Luckily I also got a warmer maternity coat from a friend.
Ralph Lauren Wool-Blend Wrap Coat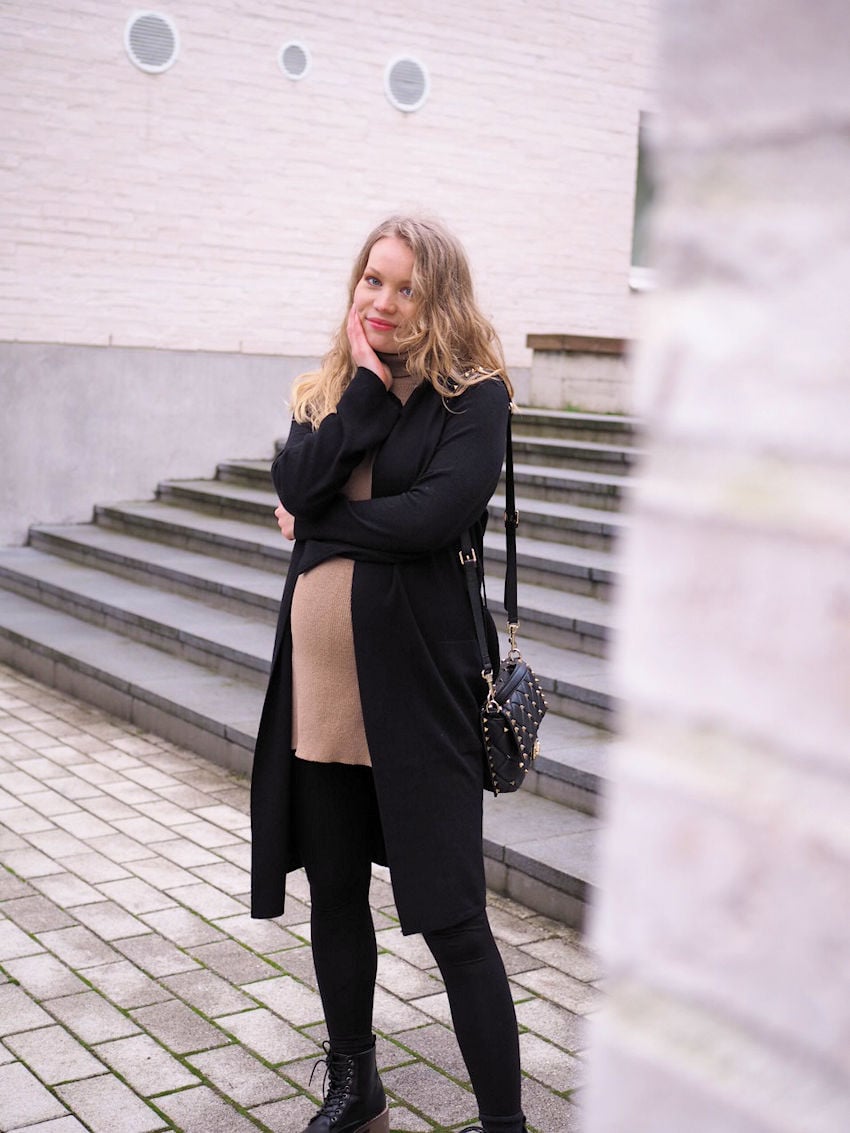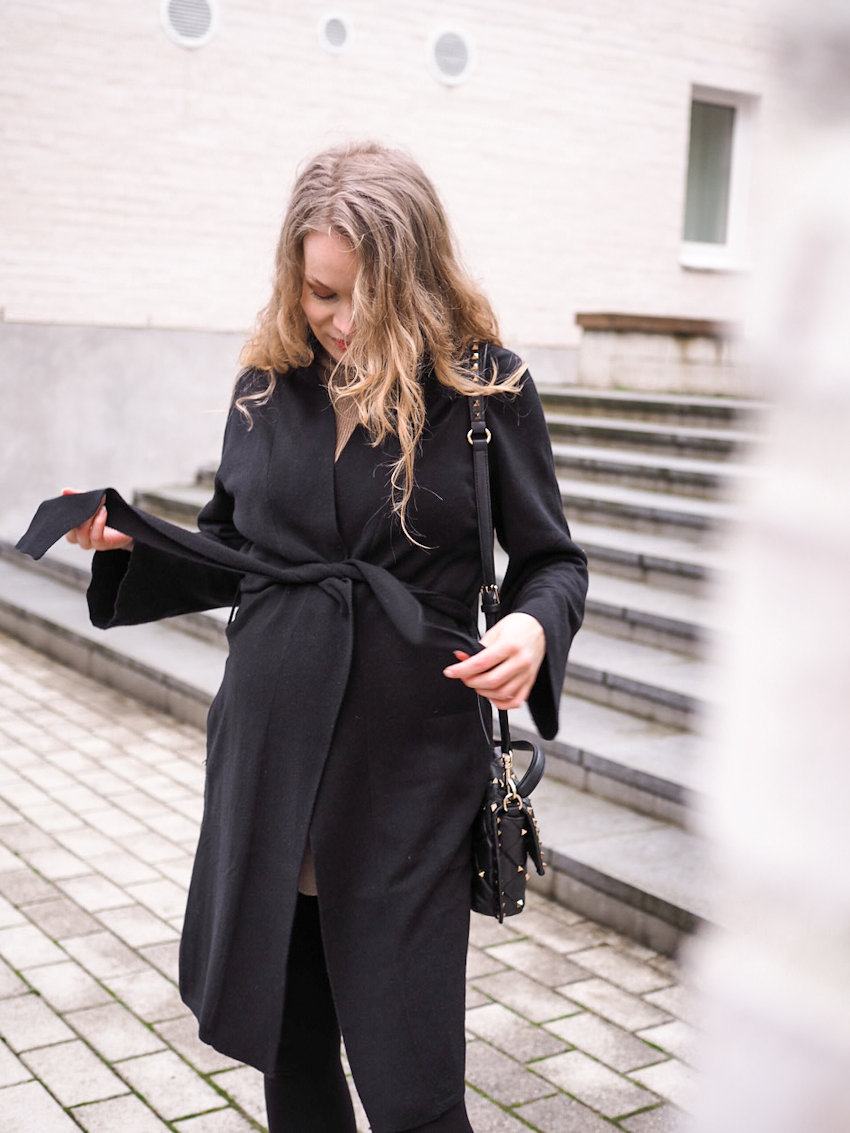 Long merino wool knit wrap
I love merino wool. It's warm, breathable and doesn't tickle. Pierre Robert is my go to brand for beautiful merino wool clothes and this long knit I also got from them. It fits the bump beautifully and can be worn with just leggings and some t-shirt.
*Pierre Robert Loungewear Long Knit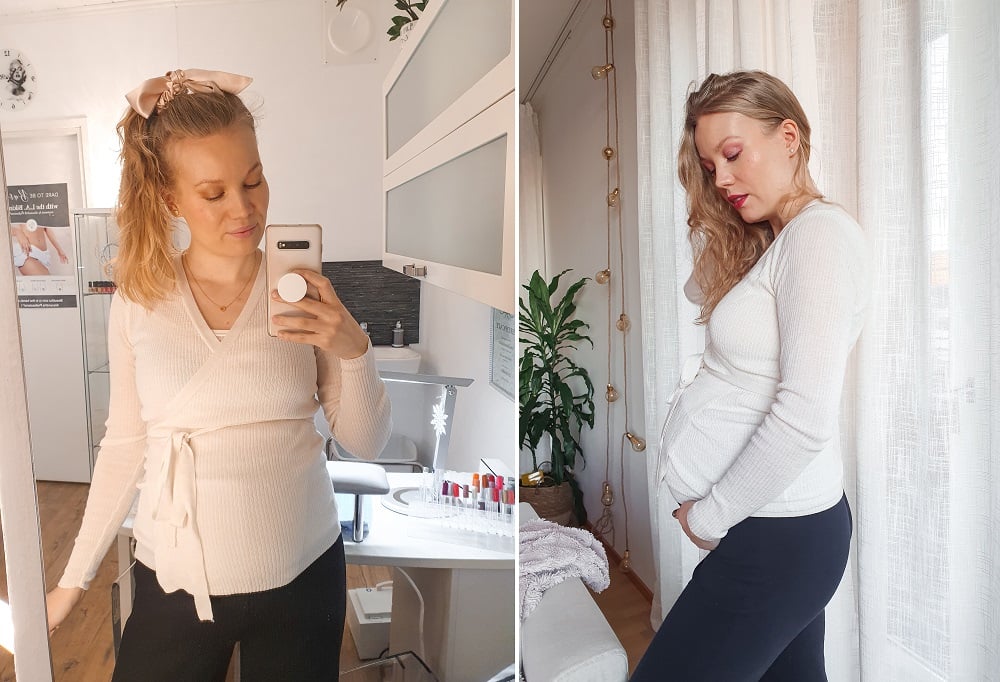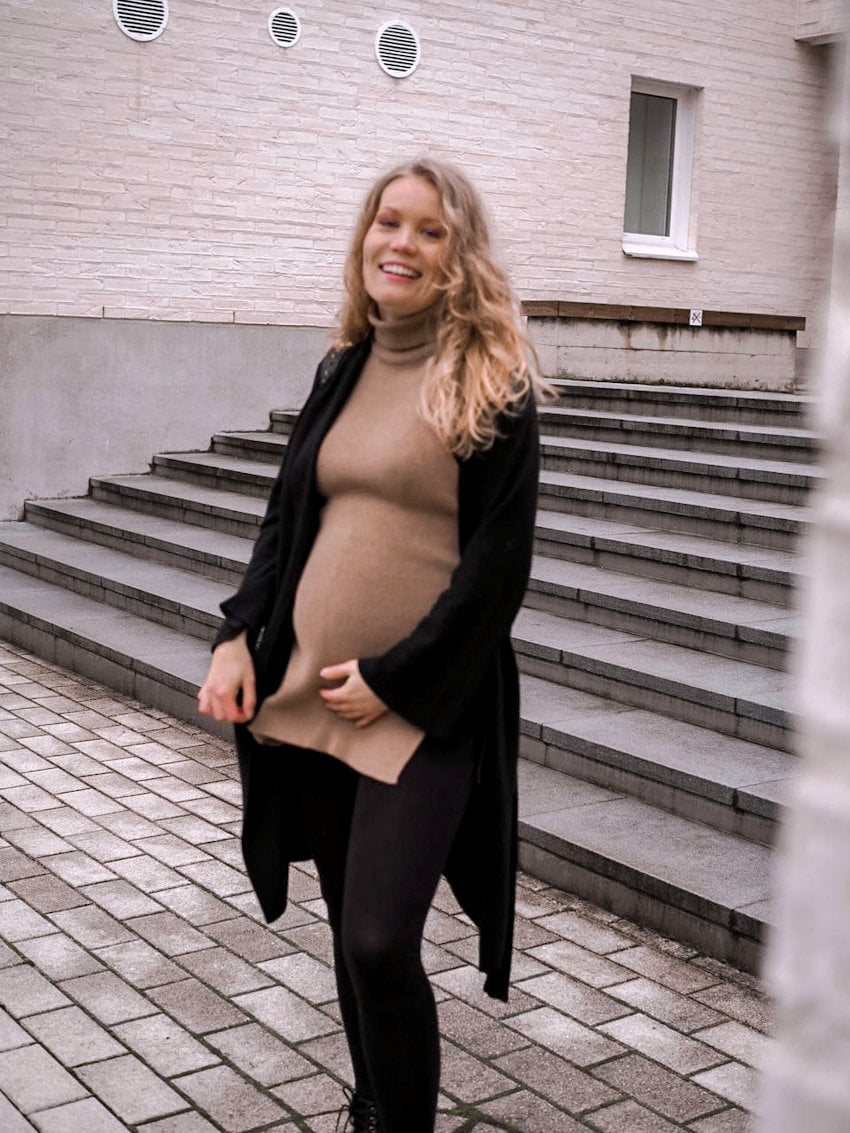 Turtleneck knit vest
I've also worn nu-in's sleeveless turtleneck a lot throughout this pregnancy. Since it's a vest, I was able to wear it already at the end of summer. The long style of it makes it great with leggings.
Sidenote: maternity leggings are a must! I wear them all day every day. I have ones from asos and Noppies.
nu-in sleeveless turtleneck ribbed sweater
Maternity leggings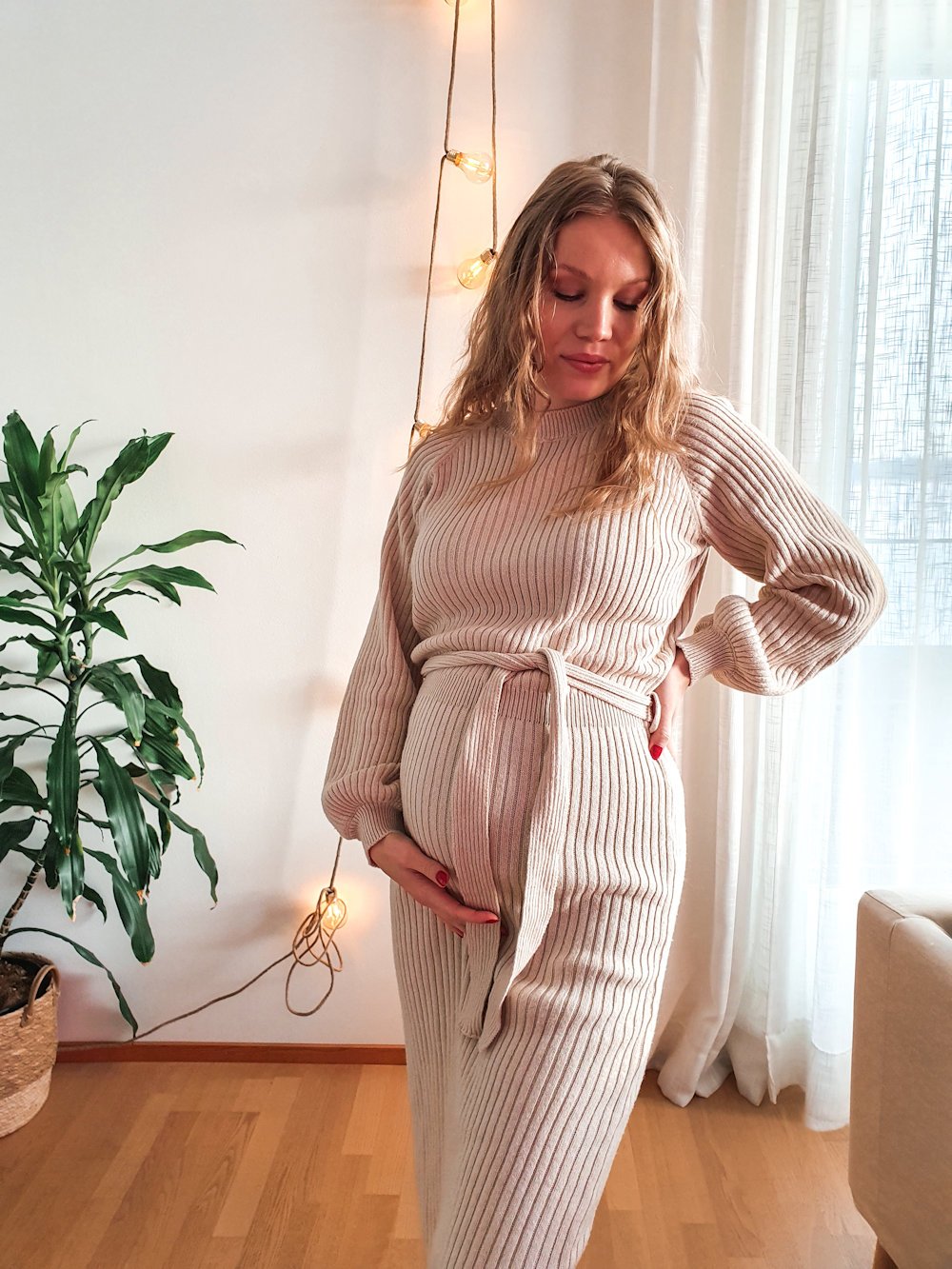 For the Bubbleroom items, remember to use the code CHARLO for -10% off.
Beige knit dress
I adore this long knit dress from Bubbleroom. It fits the bump so nicely – while also looking really good without it (check the link to see the model wear it). The material of this feels super soft and good. This dress is something I've been looking for for a long time! Comfy and stylish, if I do say so myself.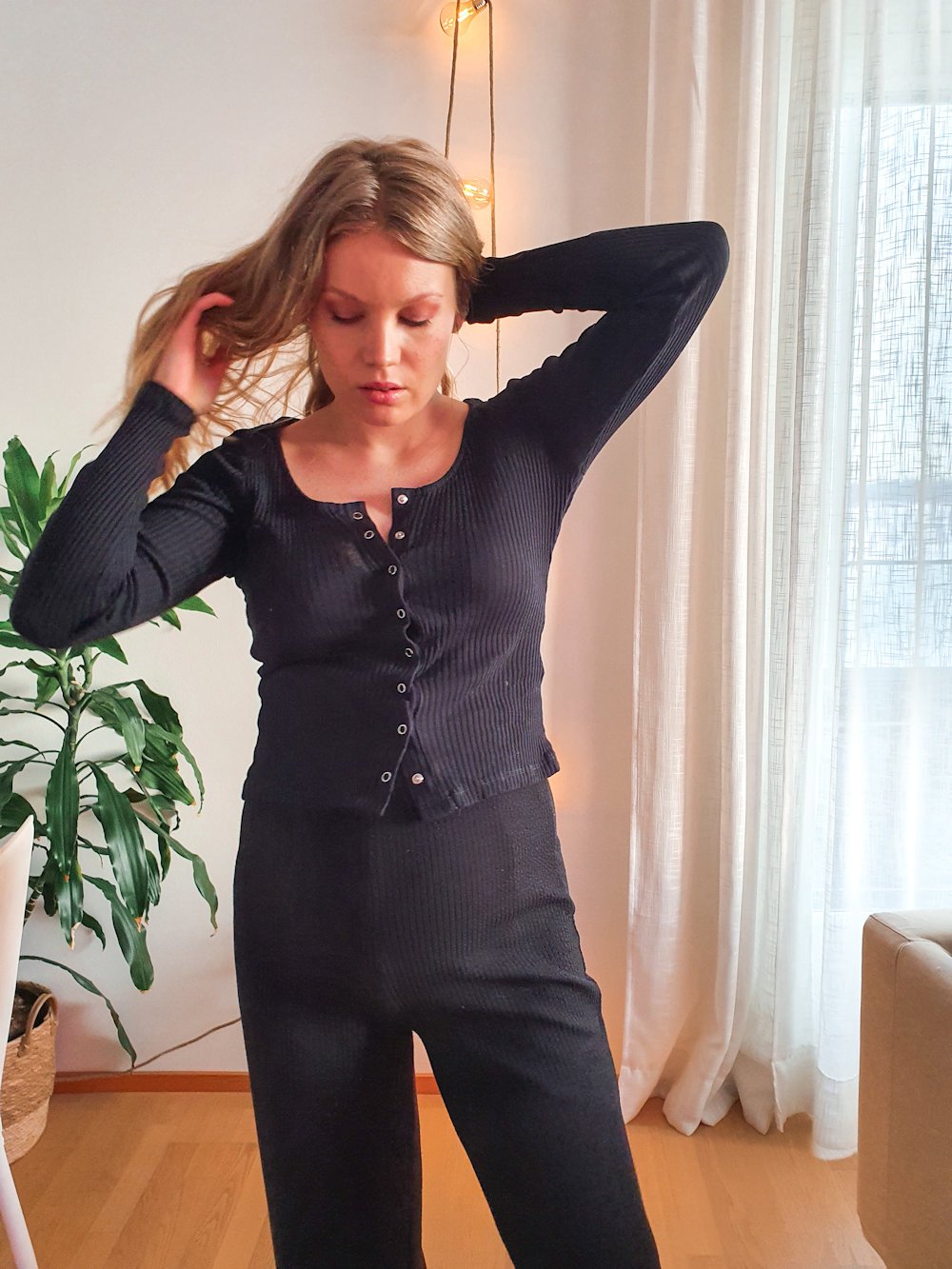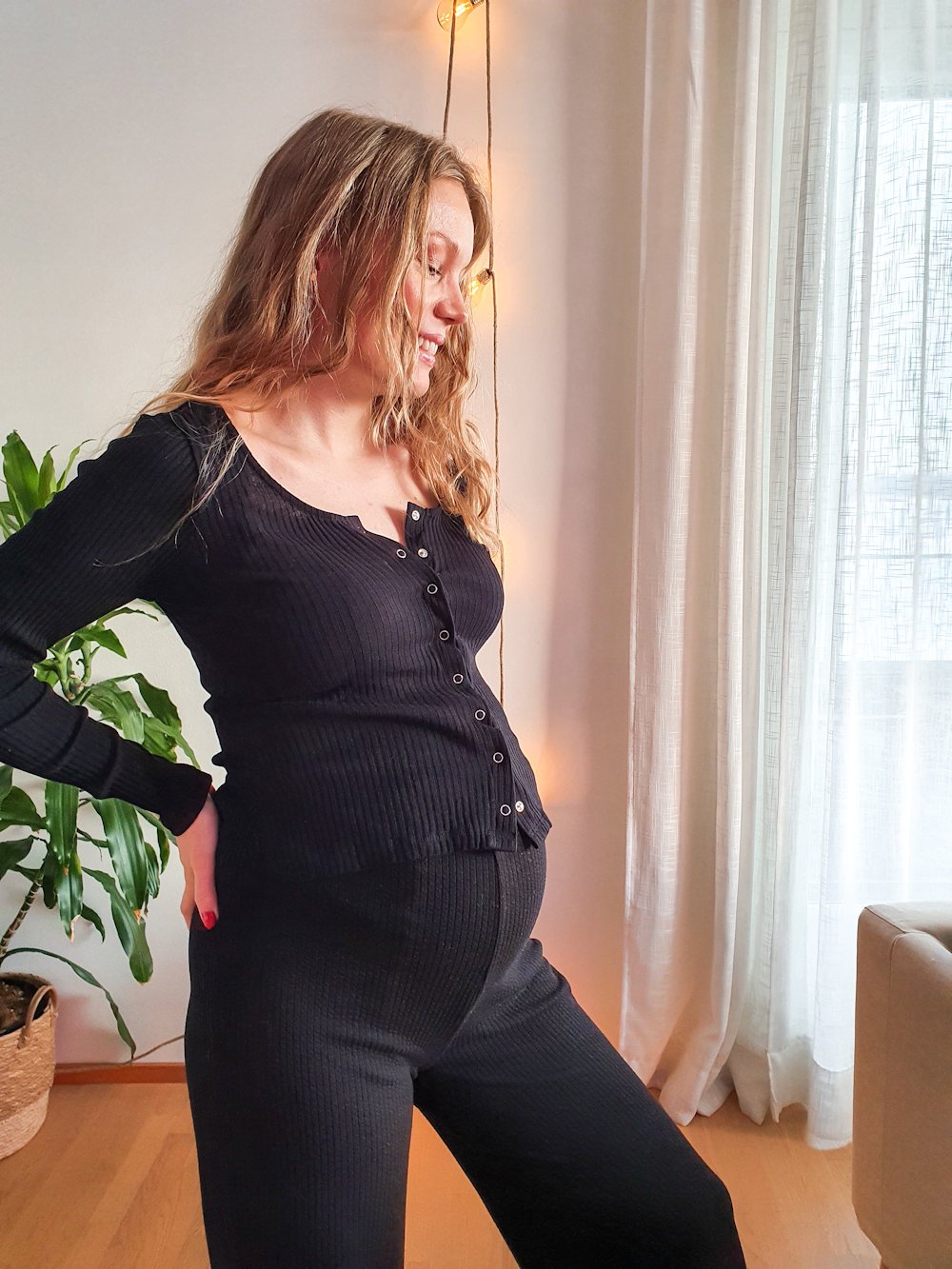 All black outfit
I think this black cotton shirt with buttons looks so cute with the bump. The pants I have bought from Zalando and they have been one of the best things I've bought, along with the maternity leggings. The sizing runs a bit small, I have size 38, but now that my bump is growing rapidly, I think I could wear 40.
*Chelsie Rib Top Black
Pieces maternity pants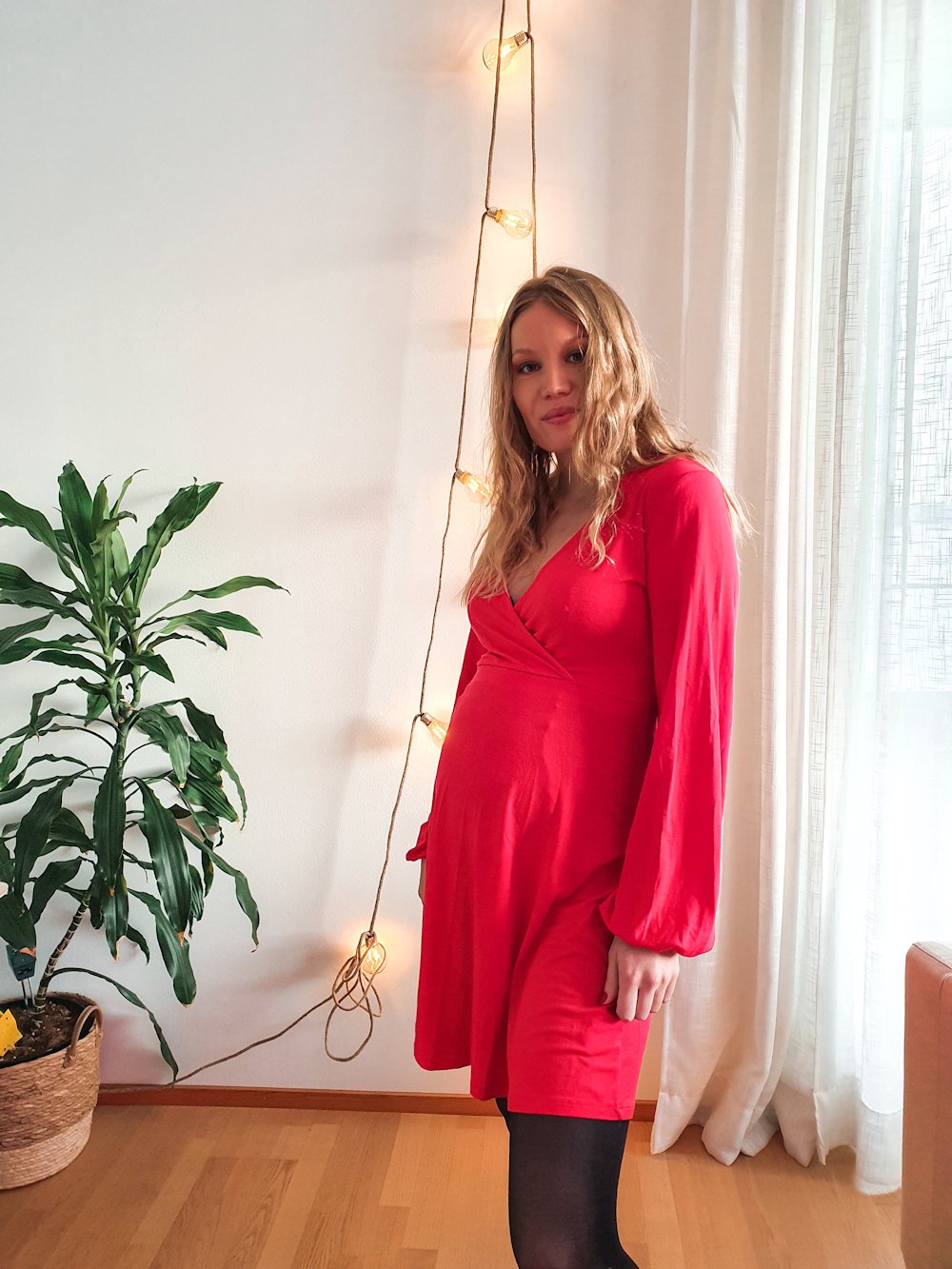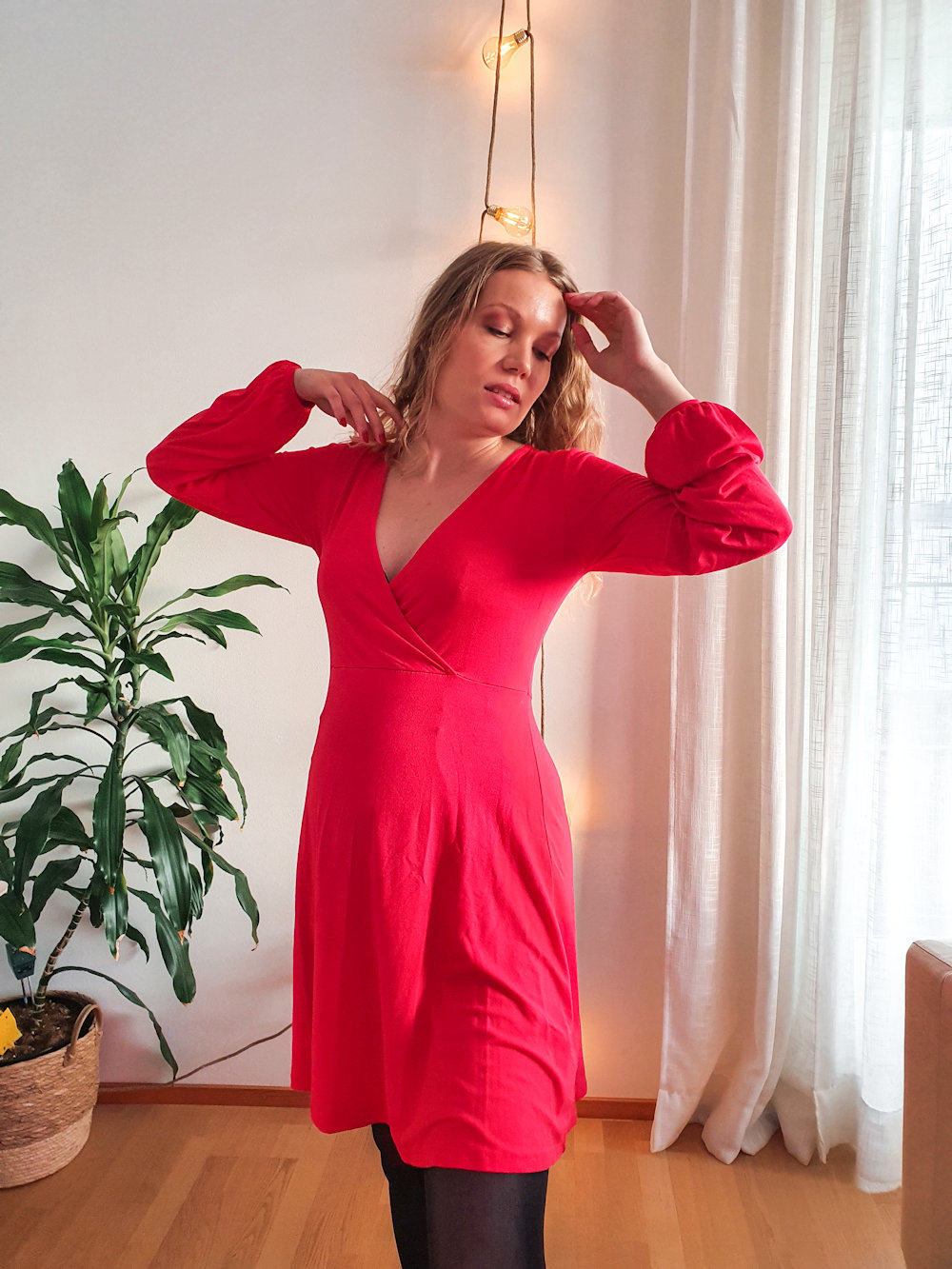 Red elastic dress
I love red and not just for Christmas. This red dress from Bubbleroom is really comfortable and pretty!
My tights are from Lindex. If you didn't yet know, I love Lindex. Basically all my bras are from them. They have comfortable yet pretty ones for pregnancy (and also nursing bras).
*Luigina Wrap Dress Red
*Lindex MOM Tights
Festive top
There come a time when you need festive clothes, but you can't fit into any of your party dresses. This top is for those occasions. I can pair it with the black pants and some knit and call it a day.  This blue (or lavender?) high neck top is beautiful! It fits the bump nicely – again – thanks to the wrap/ribbon style of it, because you can choose how high you want to tie it.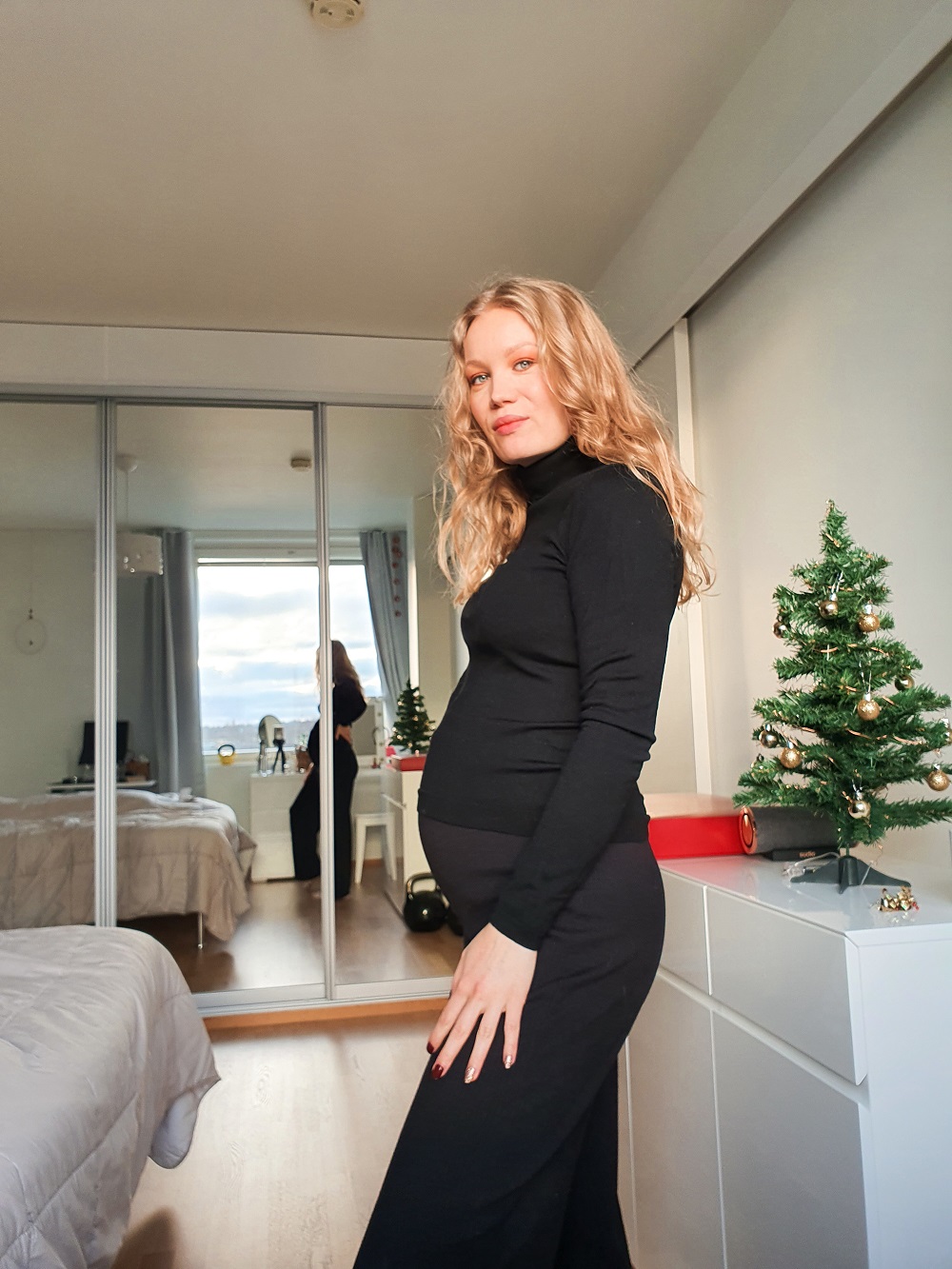 Where to shop maternity clothes online?
So there's a peek into my pregnancy winter style. I have to say, it hasn't been easy to find good maternity wear. You kind of don't want to spend a lot of money, but then again, material also matters. Based on my experience I would recommend:
Zalando, which has a big maternity wear selection & easy return.
*Pierre Robert & nu-in especially for knits.
*Lindex for underwear and loungewear.
And even though *Bubbleroom doesn't have a maternity section, you can make great finds from them or other similar stores. Just pay attention to the material (all the clothes in this post are either cotton or viscose, except the top) and the fit of the clothing. Usually clothes that are elastic or can be wrapped are great for pregnancy also, even though they're not advertised as such.
What is your favorite look?
Related Posts