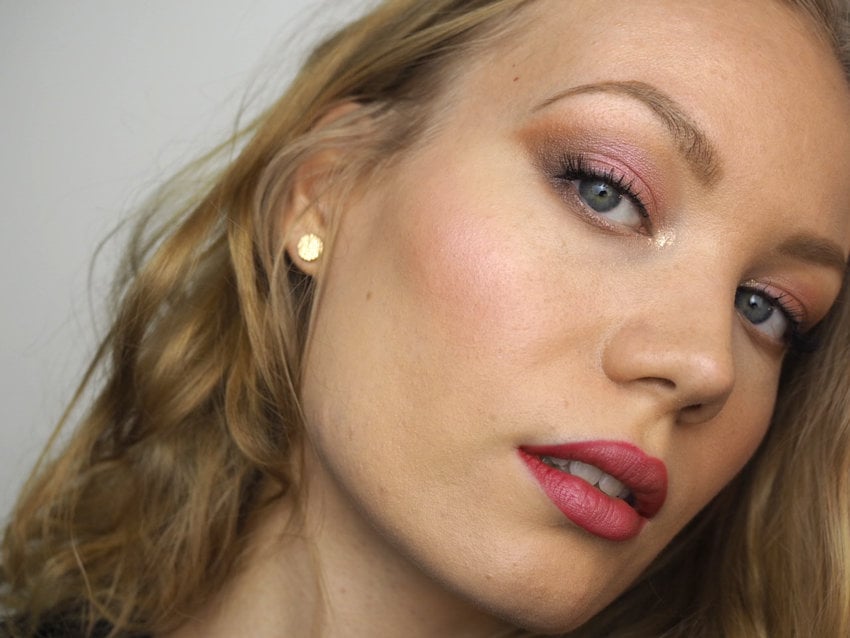 *adlink
When you have downturned eyes, it means the outer corner of your eye draws downwards. That can create a hood that makes your eye droop a little. It's also the reason why a winged eyeliner doesn't work for you (what a relief, right?). This also makes the upper lid very prominent, so it's important to bring some eyeshadow to your bottom lid and lashline as well.
Eyes can also be upturned or straight. Out of these three, my eyes are downturned. To be specific, my eyes are deep set, slightly hooded and downturned. I used to be scared of taking my eyeshadow too far off the side of my eye, but now I'm actually embracing that outer corner. That is the key to making the eyeshadow work for you when you have downturned eyes – and I'm gonna show you how.
The trick is simple: I'm hiding the area I want to hide with a dark matte shadow.
Makeup for downturned eyes or a droopy lid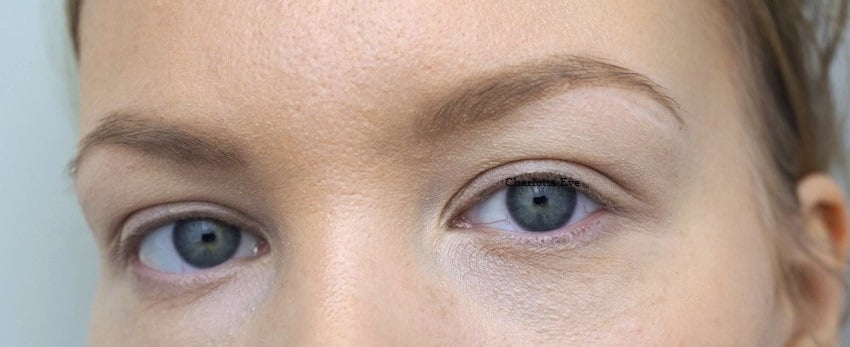 Here are my eyes. As you can see, my upper lid keeps on going in the outer corner and it ends quite low on my eye. You can also see (especially on the left side) how deep my eyes are and how that kind of creates a hood on top of my lid. The key is creating a lifting effect to the eyes by hiding that wrinkle or hood in the outer corner.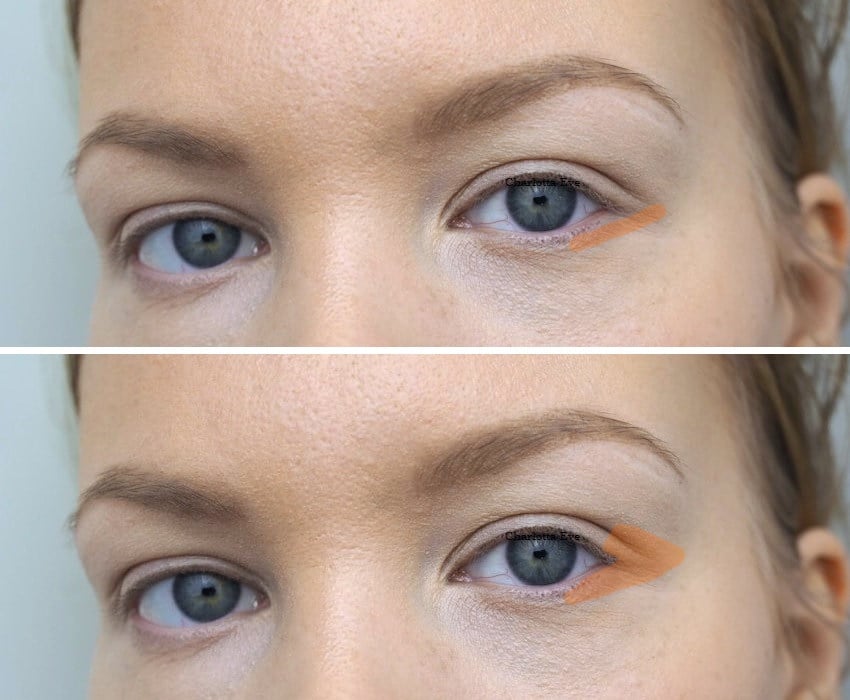 Here is the makeup trick in all its simplicity. You're basically drawing a line from your lower lashline to the point where your lid ends/droops. And then you fill in the so called problem area. It's the oldest makeup trick in the book: hiding something by creating a shadow with a matte color.
It's up to you how pointy or round you want to make this shape – and how high you want to lift the color. The only thing I would say is that make sure some color (eyeshadow) shows when you have your eyes opened and relaxed. That lifts up the eyes.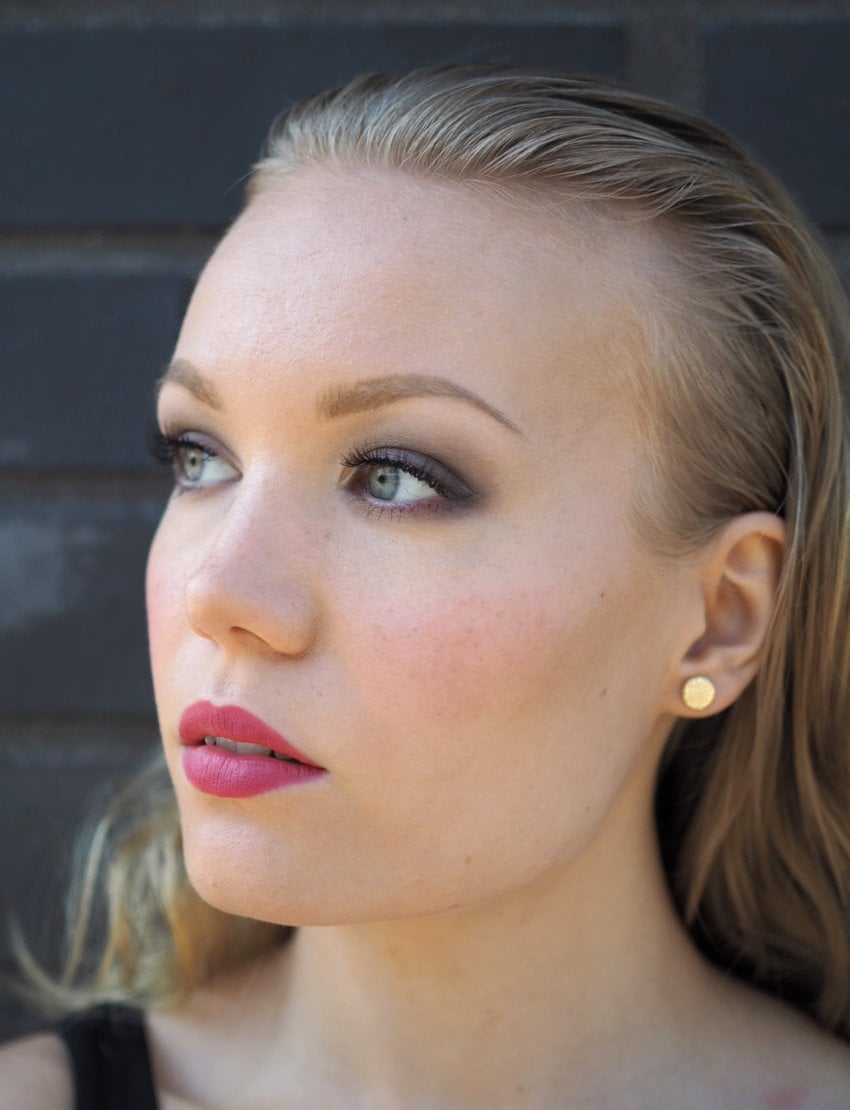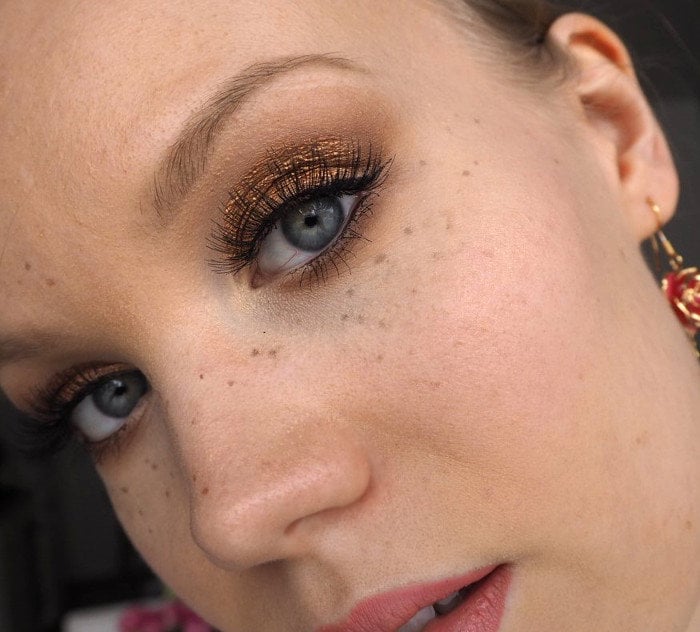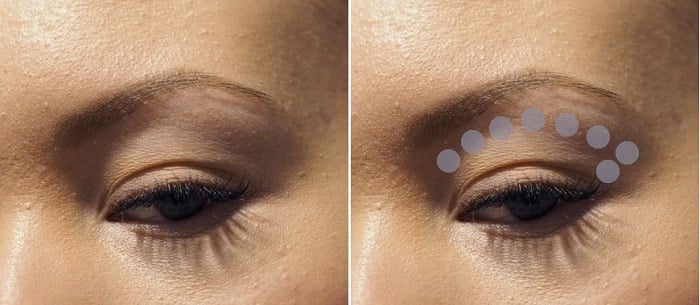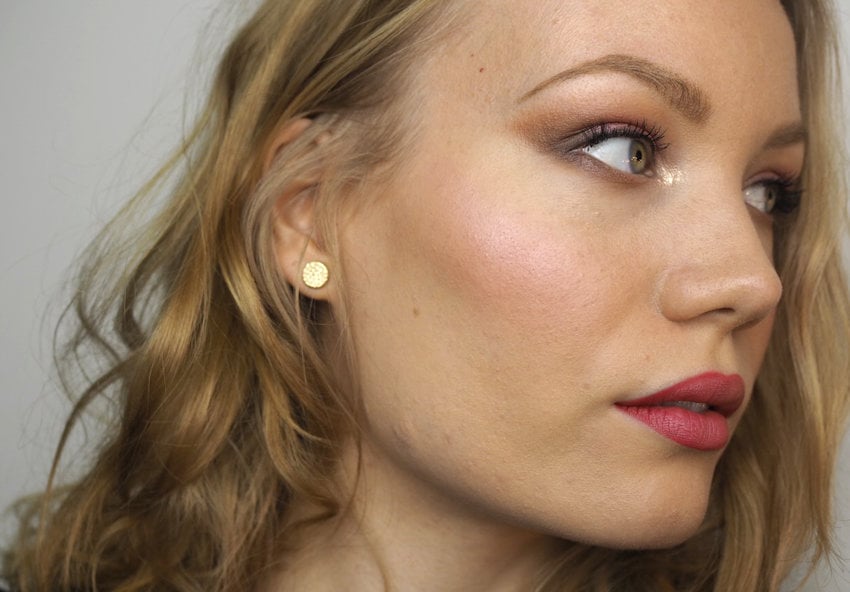 Simple makeup tutorial for downturned eyes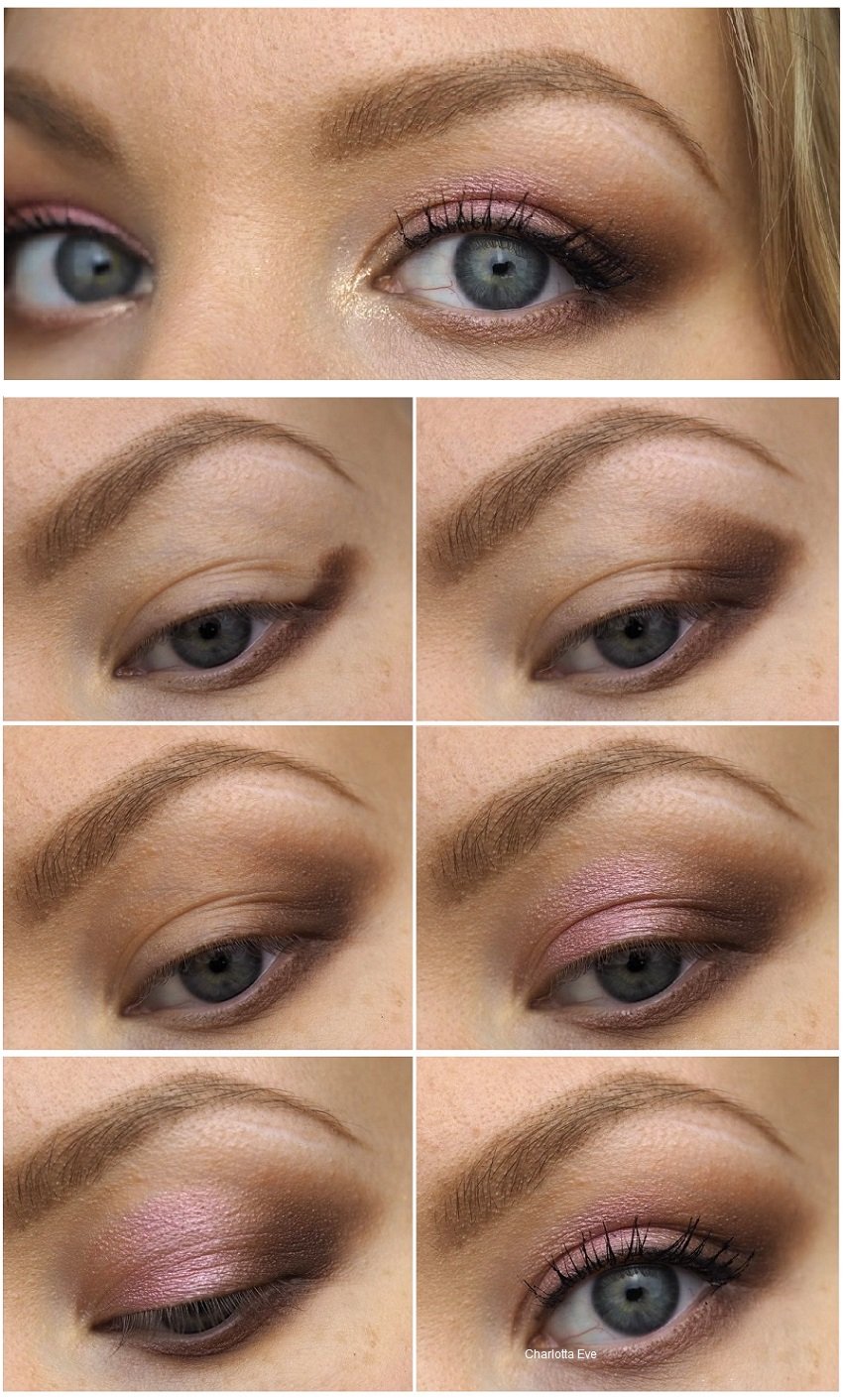 Draw a line from your lower lashline to where your upper lid ends and towards the end of your brow. Make sure you are hiding the wrinkle or the hood. Fill that in and start to blend the shadow wider and higher.
Blend well and add more depth if you feel like you blended too much. Keep the outer corner dark.
Finally, add a lid color. I added a beautiful pink shimmer.
Line your eyes, add mascara and lashes if you want.  I also added some glitter in the inner corner. And there you have it!
I also have another tutorial basically done using the same technique. I did this other one using just *NYX Jumbo Eye Pencils in Dark Brown and Iced Mocha (One matte and one shimmer color). It ended up looking very grey, especially in photos, but here it is anyway.
If you would like to see this in action, I have a video tutorial up on my Instagram Stories Highlights (Eye Tutorial) @charlottaeve.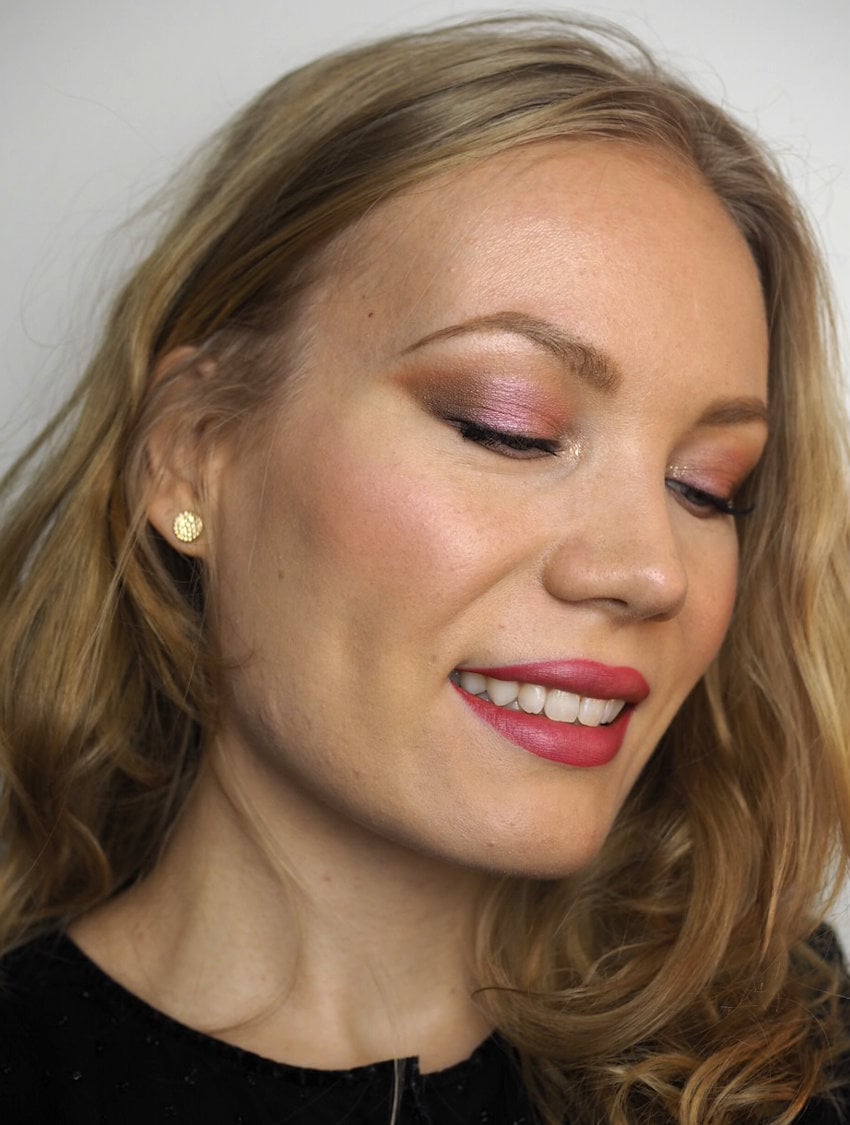 PRODUCTS USED
*Clarins Everlasting Foundation+, Sand (Great foundation for combination & oily skin, review here!)
*Madara City CC Medium Beige
*Zuii Organic Diamond Sparkle Powder, Raspberry (on the lids, cheeks & lips)
mad4eyebrow Natural Brow Filler, Blond
GOSH Brow Hair Stroke, Greybrown
*Holika Holika Wonder Drawing Skinny Eyebrow, Dark Brown
*NYX Glitter Goals Liquid Eyeshadow, Polished Pin Up (Added some glitter in the inner corner)
*Tony Moly Panda's Dream Long Lash Mascara
*Lily Lolo Lip Liner, True Pink
As for makeup brushes, I use brushes from Zoeva, EcoTools and Real Techniques. If you're someone just starting out, *this affordable set from Coastal Scents is also great. I used it when I started and I still use it to this day.