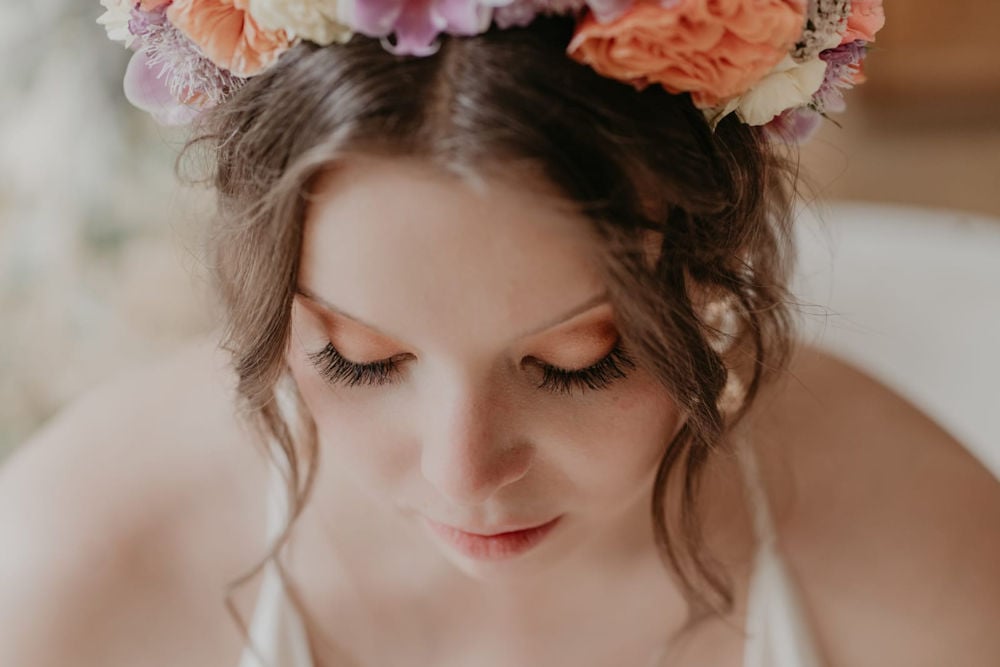 *adlink
If you want a more simple look for your big day, natural boho bridal style is for you. Think of earthy tones, natural glow and all in all a makeup, that brings out your best features and doesn't steal all the attention.
I've written a quide for bridal makeup, where I go through, well, everything. I recommend reading that, because this post is shorter.
Here are the best tips and products for boho wedding makeup!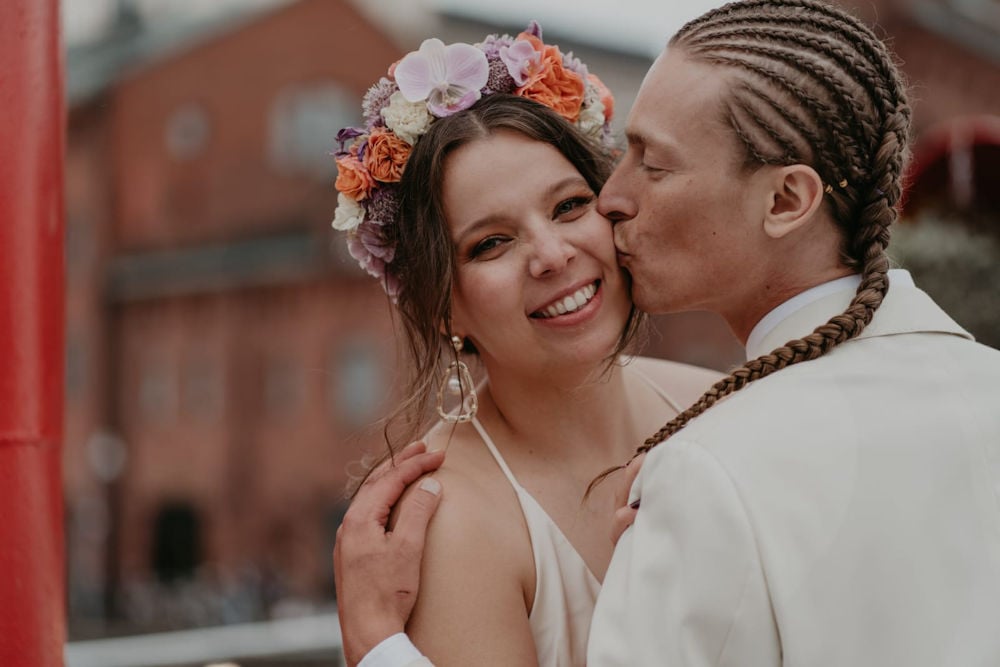 Natural boho bridal makeup for Susanna
I was honored to do Susanna's bridal makeup for her wedding. She wanted quite a natural look with bronze eyes to compliment the lilac flowers in her flower crown.
I love the bohemian vibes of Susanna's bridal look. This makeup is close to something I would choose myself if I ever got married. It really suits everyone – the only thing that you might need to change are the tones (cool, warm or neutral, based on your colors).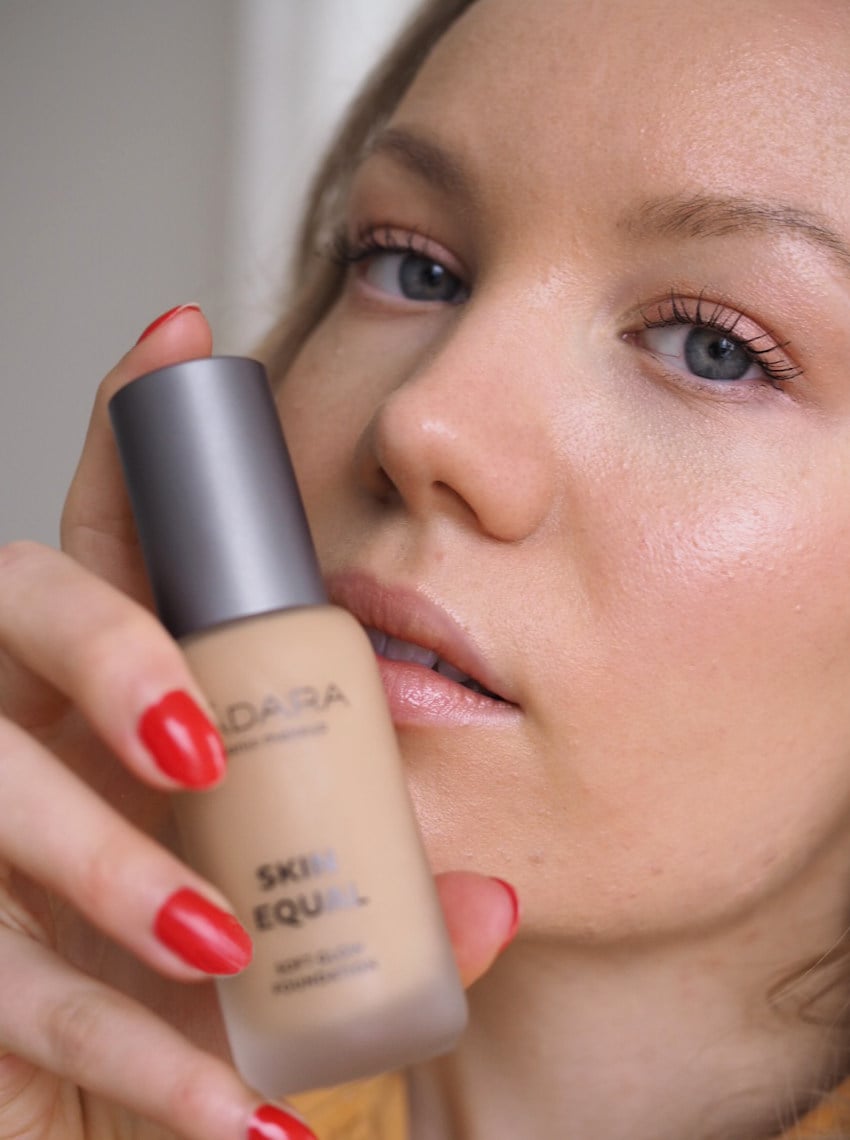 Natural boho bridal makeup: base

I would argue that a sheer foundation works for most people. And you don't have to have a perfect skin for that. You'll be surprised how much just a light layer of product does. The whole idea is to even out the skin color and texture a bit, and leave the rest for the concealer. Instead of using a full-coverage foundation all over the face, use a concealer where it's needed, such as dark circles, pimples or redness.
Madara's natural foundations a great option for a wedding, because they really stick to the skin, making them last long while giving a beautiful glow. They also double as sun protection (perfect for a summer wedding). Creamy consistency works both on dry skin and on skin with impurities. You see, a matte foundation would enhance the texture, whereas this creamy foundation sits nicely on the skin.
Another perfect option for a natural base is mineral makeup! It really looks like your skin, but better. Loose mineral foundation is very easy to apply (and it also has SPF in it).
Natural foundations & mineral makeup:
*Madara Skin Equal foundation
*Madara City CC Cream
*Bareminerals Loose Powder Mineral Foundation
Concealer & powder:
*NARS Radiant Creamy Concealer
*Madara The Concealer
*Laura Mercier Transluscent Powder
Read:
How to neutralize and brighten dark circles
Effortless makeup with Lily Lolo
Susanna has gorgeous skin that she takes really good care of with facials and good skincare. For her I mixed Madara's foundation and CC-cream. The foundation has more pigment while the CC-cream is very sheer. So by mixing them I get the perfect medium sheer coverage, plus a close shade match. I also used the NARS and Madara concealers on her and some Laura Mercier powder.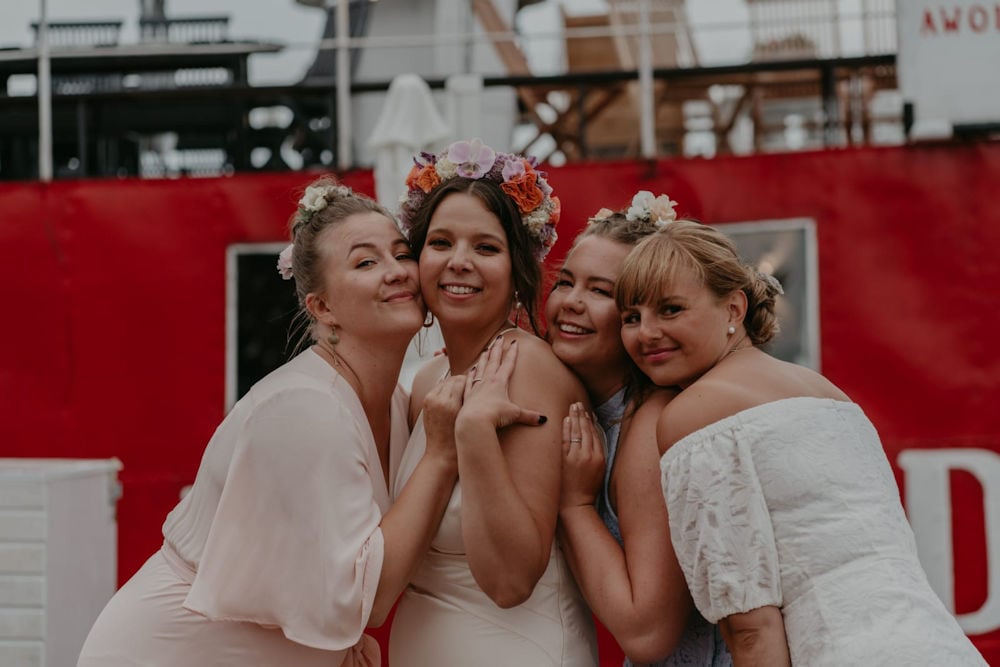 The bridal glow
For any bridal makeup, I always make sure to add a lot of glow. This doesn't mean a lot of shimmer or glitter on the face. You can also achieve a natural glow with bronzer or blush. Cream products also tend to give a nice sheen. For example Ilia's multi-stick has a dreamy consistency that blends effortlessly on the cheek and has a natural shine.
When you're bronzing your face, make sure to use a big fluffy brush, which distributes the product softly. This way you avoid any harsh lines. Add the bronzer to the highest points of your face: cheekbones, temples and the tip of the nose. If your neck is pale, you can also bronze that up.
Bridal glow products:
*Ilia Multi-Stick Cheek & Lip
*Guerlain Terracotta Bronzing Powder
*Benefit Hoola Bronzer
*All in one: Make Up For Ever Pro Sculpting Palette
I used Zuii Organic's  Sun bronzer, Kjaer Weis Above And Beyond cream blush and Zuii's Diamond Sparkle Powder in Berry on Susanna.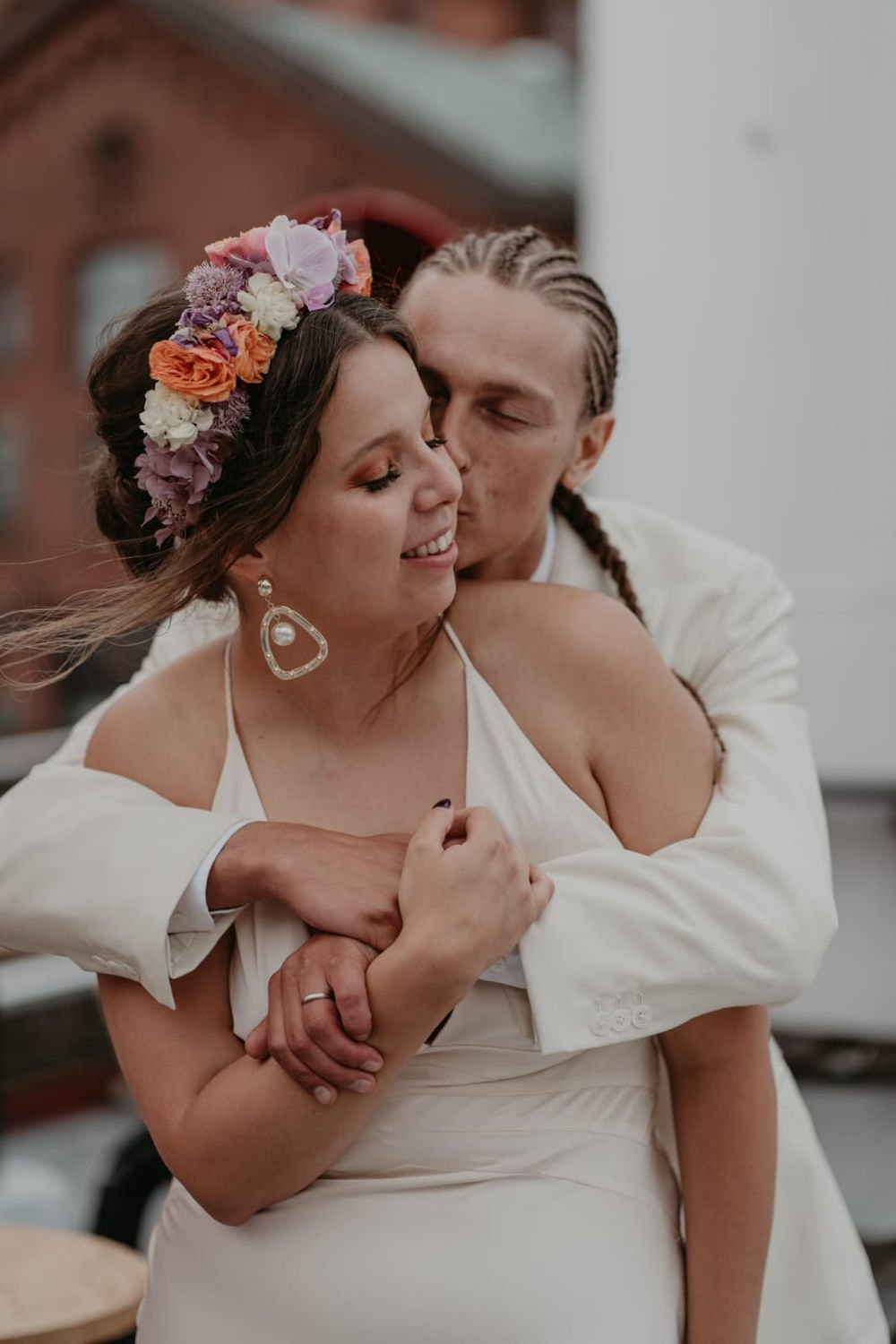 Boho bridal eye makeup
I don't think you need to change yourself completely with makeup, even or especially for your wedding. If you normally don't wear makeup, you can keep your makeup light. Or if you like a light brow –  do light brows on your big day as well. That said, if you want your makeup to show on photos, you're gonna have to apply a bit more of it. Still I think the look can be natural!
False lashes are always a great idea for a big day, because they open up the eyes and elevate the look. Individual (duo & trio) false lashes are the best option for a wedding, because you can control the volume and length of the lashes. If you're doing your makeup by yourself you're probably happy to hear they're also the easiest to apply.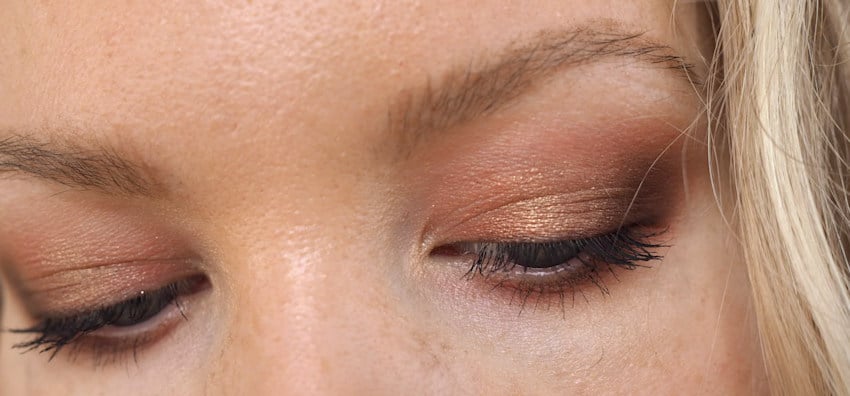 My eyeshadow palette recommendations at Sephora *here.
Susanna's eye makeup:
Mad4eyebrow Natural Brow Filler (a powder brow product with fibers)
Urban Decay Primer Potion
Morphe 3502 Palette
Bobbi Brown Luxe Eyeshadow, Heat Ray
*Jane Iredale Gold Dust
Alima Pure Natural Eye Pencil, Ink (blog post: Brilliant black pencil for sensitive eyes)
*Eylure Individual Lash Duos & Trios
Read:
Mad4eyebrow natural brow filler
Benefit 24Hr Brow Setter Gel review (the best brow gel)
Brow tutorial using powder and pencil (how to get the right brow shape)
Brilliant black pencil for sensitive eyes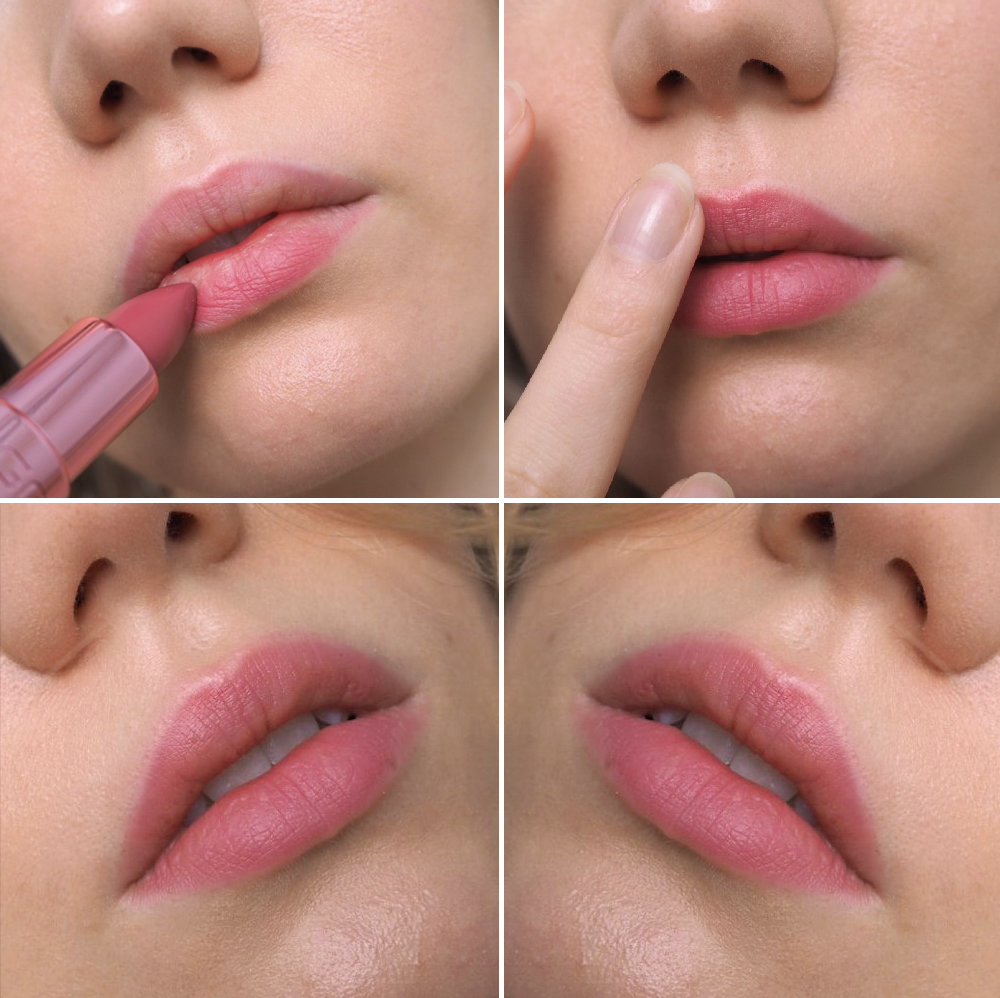 Boho bridal lip makeup
Even though matte lipstick would probably stay the whole day, it's not the most comfortable. My recommendation for brides is nude sheer lipstick, that looks natural wearing off and is easy to reapply.
The best, most comfortable lipstick ever is Jane Iredale's Triple Luxe Lipstick. I've recommended it before and used it on brides too. One of my all time favorite nude lip glosses is Clarins Natural Lip Perfector. I's moisturizing, it has some color and a nice gloss to it. Plus it smells delicious.
Bridal lip products:
Clarins Natural Lip Perfector Gloss
*Charlotte Tillbury Lip Gloss
*Jane Iredale Triple Luxe Lipstick
Read:
The best lipstick – Jane Iredale Triple Luxe
Clarins Natural Lip Perfector shade swatches & review
Susanna purchased the Clarins gloss by my recommendation for her wedding day and I used that on her.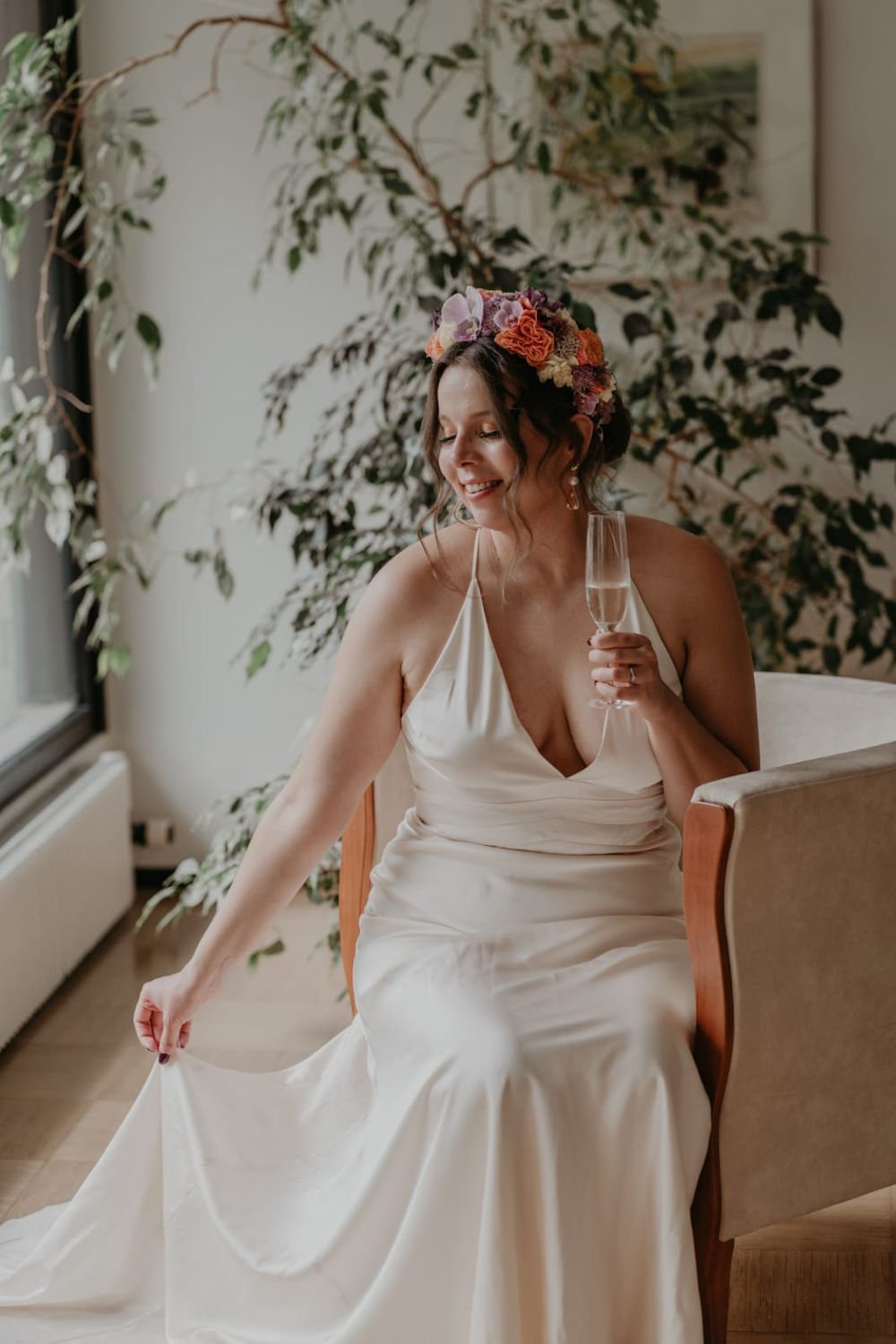 I hope this post offers some tips and inspiration for your own natural boho wedding makeup. And hey –  if you have any questions regarding bridal makeup, leave a comment and I'll do my best to answer.
Photos of Susanna: Polina Khanteeva