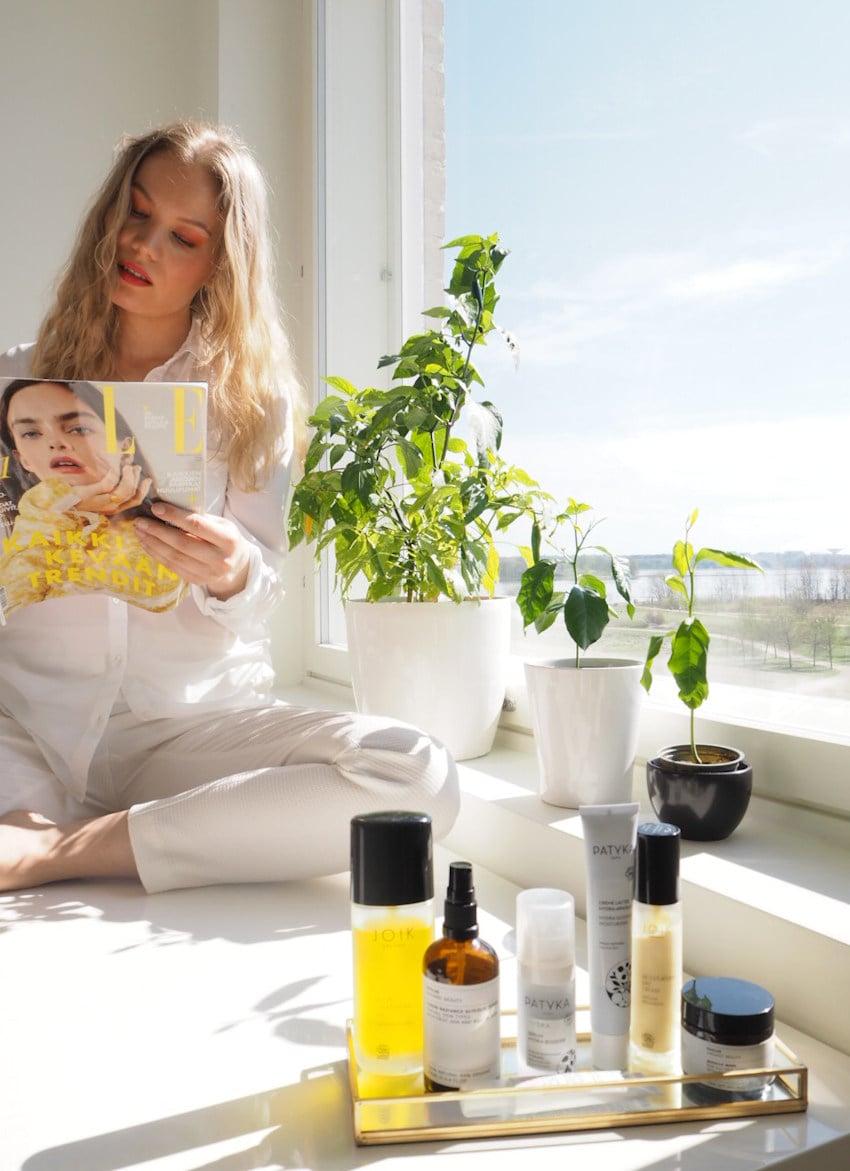 *adlink
If you want good skin, you need a skincare routine. Chances are, if you're oily or combination, it's the difference between breakouts and clean skin. Your diet, exercise and genes play a part in your skin's condition, but good skincare does make a difference too. I didn't win at the gene lottery (actually, I still have hormonal acne), so my skincare routine together with a healthy lifestyle are crucial to me.  My skin doesn't feel oily or dry and my hormonal acne stays manageable with my routine.
Skincare is more than just washing your face and slapping some lotion on. To me it's self care, pampering myself and feeling good in my own skin.
I created a skincare routine that works for all the different skin types: Normal, Dry, Combination and Oily.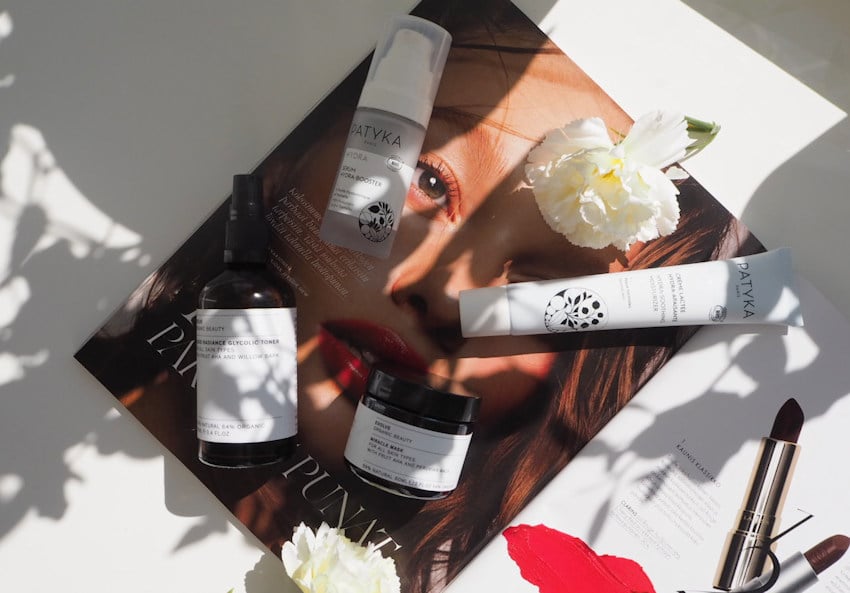 Different skintypes & how to determine your skintype?
If you don't know your skin type, check out my post: How to determine your skintype
Then it's easy to choose products that are meant for your skin.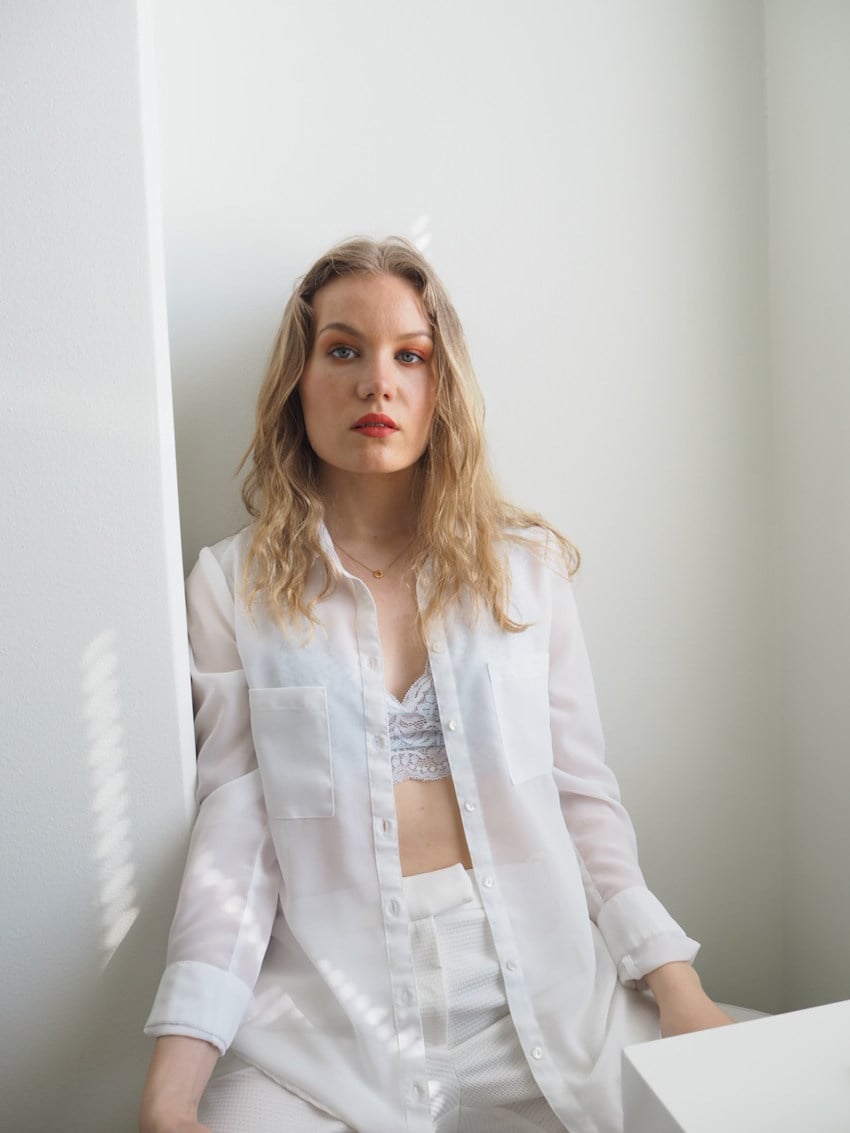 Basic skincare routine for all skin types
Here is a basic skincare routine for all skin types, with different product options depending on your skin.
If you have oily skin, you can check out the best moisturizers for oily skin here. And if you have dry skin, check out this dry skin post for even more product recommendations.
Here is what your skincare routine should look like in the evening. If I were to simplify it even more, it would consist of double cleansing, toner and lotion. But if there's any problem with your skin, I really recommend using a serum. You'll also benefit from using an oil. Argan oil actually works for battling different skin problems too.
Evening skincare routine steps & product recommendations
Tip: You can mix your oil with your lotion to save some time.
Morning routine is slightly simpler. I like to splash my face with cold water before cleaning my face with a toner. Then I just apply my serums and lotions. I use a lighter cream in the morning, so that it works under makeup too.
Morning skincare routine steps & product recommendations
Tip: if your skin is very oily, you could wash your face with a face cleanser in the morning as well. The Lavera Cleansing Balm is good for that.
Weekly skincare
An exfoliating mask
*Evolve Beauty Radiant Glow Mask normal, combination & oily skin
Evolve Beauty Miracle Mask all skintypes & dry skin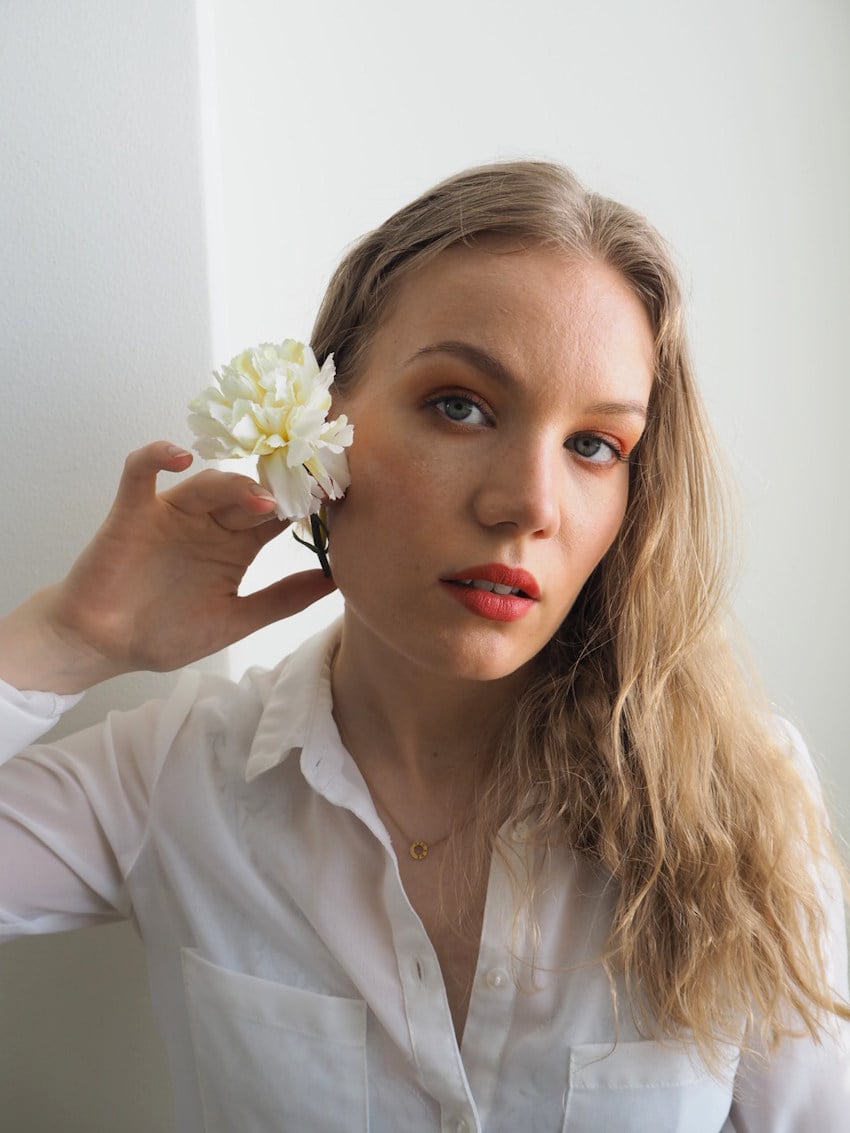 Basic skincare routine – a few notes
Double Cleansing: Makeup remover & Cleanser
You should always take off your makeup with a makeup remover. I recommend an oil based makeup remover, because it's gentle but effective in soaking the makeup off. Another good option is makeup eraser, which is a soft microfiber towel. That also removes makeup well and is machine washable.
After you've taken off the makeup you need to wash your face to get rid of sweat, excess sebum and dead skin cells.
A toner 
Many people skip toner thinking it's not important. Guess what – it is! A toner helps to maintain the right ph-balance on your skin and bring some very much needed hydration to the skin. I like acid containing toners in the evening, because they help to brighten up the complexion and keep blackheads at bay. In the morning I like to switch to a hydrating toner.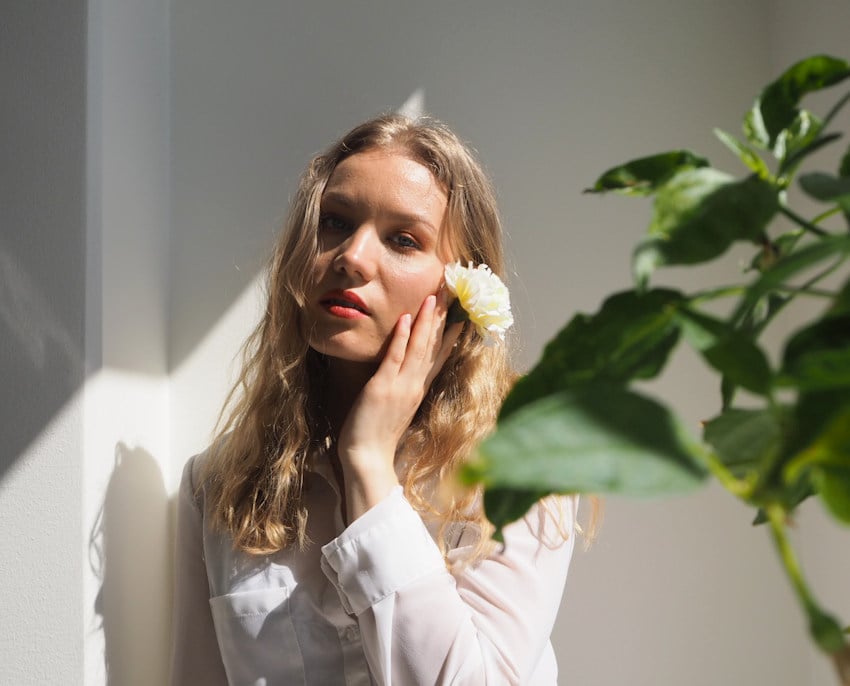 The importance of serums
A hydrating serum works wonders and suits all skin types. It absorbs deeper into your skin and keeps your skin hydrated and radiant. My favorite hydrating serums contain hyaluronic acid, which helps to absorb water to your skin. I use a hydrating serum in the morning before my lotion.
If there's any problem with impurities or texture in the skin, I would choose another serum for the night. AHA or BHA containing serums are awesome for oily or combination skin and acne. They really improve the skin's texture by gently exfoliating the skin with acids. You can use serum as a treatment when needed. TBS Drops of Youth Serum is great when my skin is acting up. Recently I've been using Evolve Beauty's Liquid Radiance Glycolic Toner, which is very effective as well. The morning after I've applied it my skin feels very smooth and my redness/impurities have calmed down. It's a toner, but I would use it as a serum, since it's a bit too effective for constant use.
Oil
Natural oils are amazing when it comes to moisturizing and treating the skin. Argan oil is non comedogenic and it works for all skin types – even acne. I always mix oil to my lotion and then apply it all over my face and neck. I use oil only in the evening, so that it really has time to work its magic during the night.
Lotion/Cream

To lock all the moisture in, you apply a moisturizer. You can get away with just one, especially if you're using argan oil (which you can mix in with your moisturizer for the night). But you can also choose a lighter one for day and a creamier one for the night. Most of the time I use two different lotions, but it's not a necessity.
Don't forget your eye cream! It should be a different product made for the sensitive eye area. The one I linked is awesome, because it suits irritated eyelids and soothes the skin.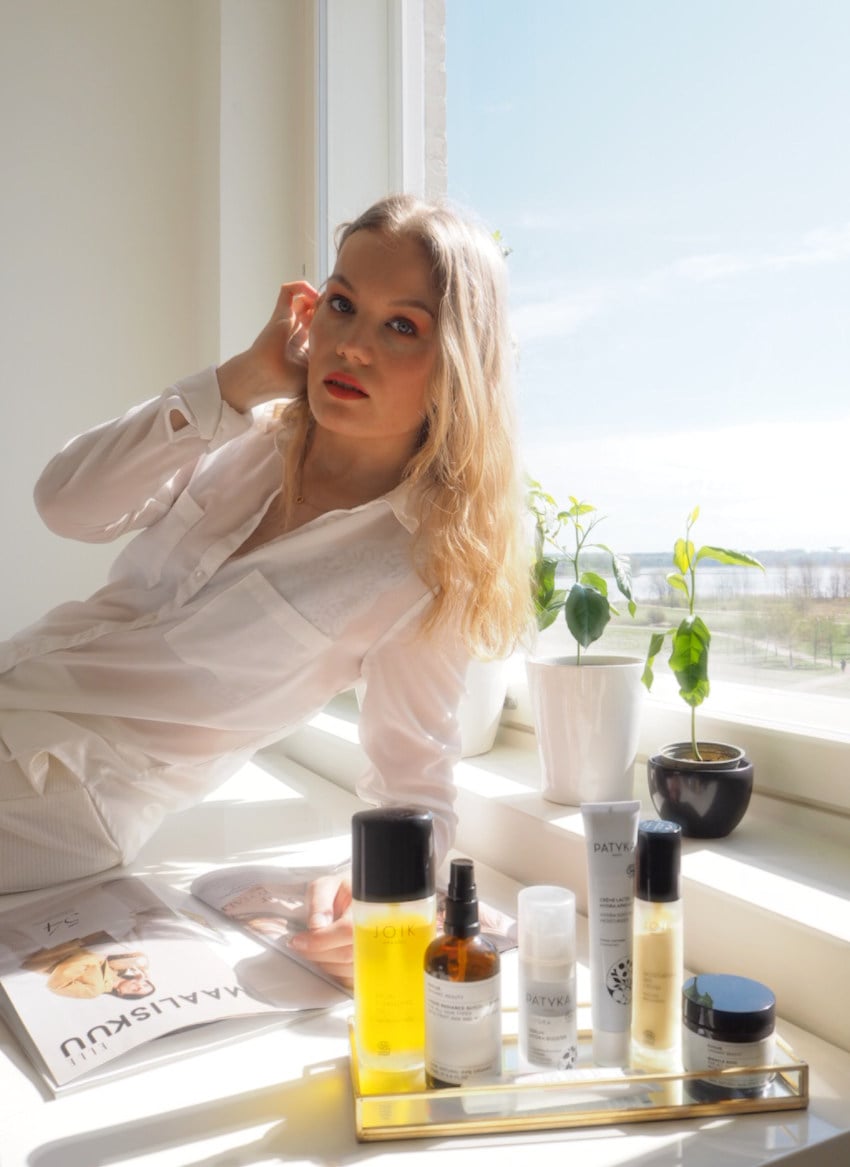 Radiant skin comes from masking
I really feel like the secret to a radiant happy skin is a weekly mask. Exfoliating masks are the most effective, because they get rid of dead skin cells. Exfoliating makes the other products absorb to the skin better (so it benefits even dry skin). Better yet, your skin feels softer and looks glowy. This step is done only once per week so take it as your personal spa moment – enjoy it!
My absolute favorite masks are from Evolve Beauty and they both work in just 5 minutes. *Radiant Glow mask is a safe bet for everyone and a great option also before a big day (I also recommend it for brides!). It smells like vanilla and exfoliates the skin gently using coconut shell powder.
*Miracle Mask is an awesome even more effective one, that is your salon-like treatment at home. It looks like mango jelly, but is packed with fruit acids that make your skin baby smooth. It doesn't have those 'grains' so I would choose this for dry skin.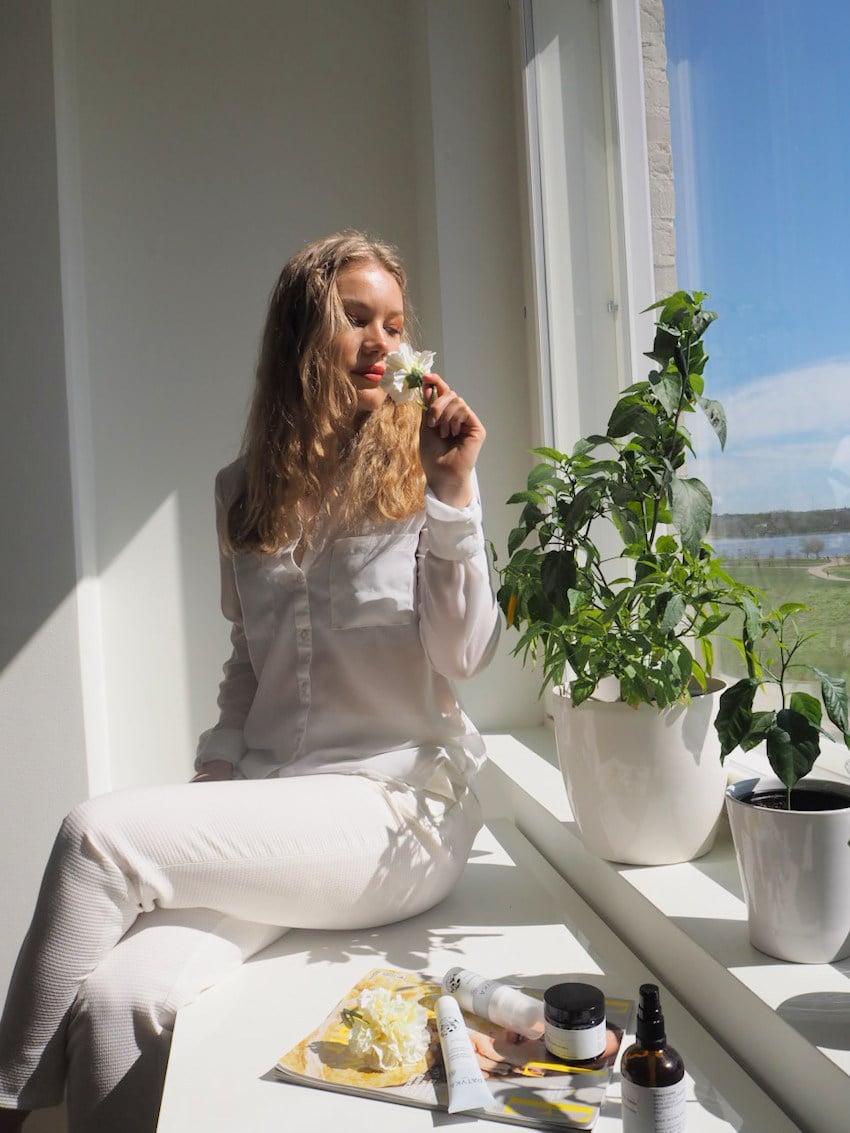 Hopefully this post was helpful to you and not too in-depth. Let me know in the comments!