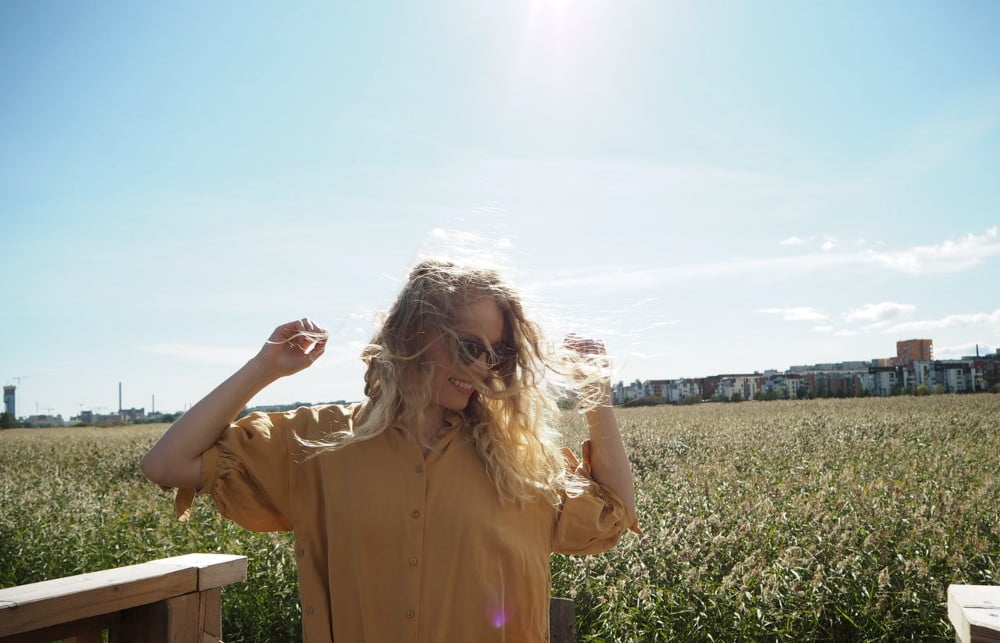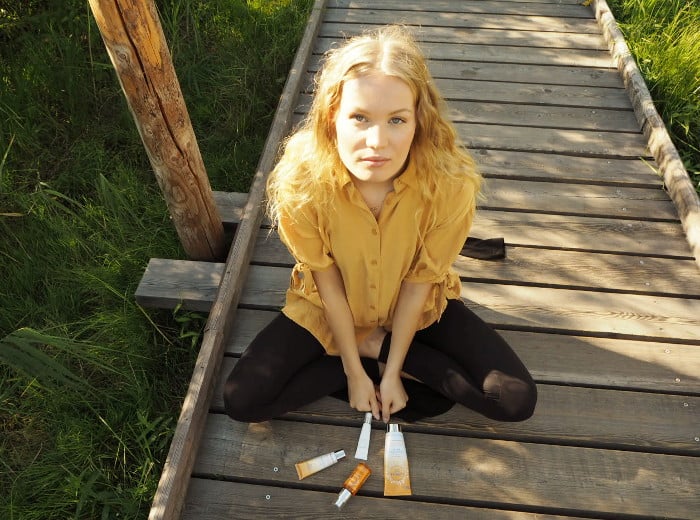 Valo.
That's a pretty common Finnish word, meaning light. Light has a mind of it's own here. In summer it feels as if we have all the light in the world – and in winter it's possible you don't get any light. Zero. It's tough. And you can only imagine what that means blogging-wise. Well, I've survived other winters and nowadays I do own better lights, so maybe I'll survive. Maybe.
Be it whatever – light is inspiring and the lack of it makes you appreciate it even more. It's not a bad choice for Lumene's Nordic-C -line, which is all about bringing that light to your skin. And whenever we're talking about brightening products promising a glowy skin, I'm on board!
I got these products as pr-samples. *adlink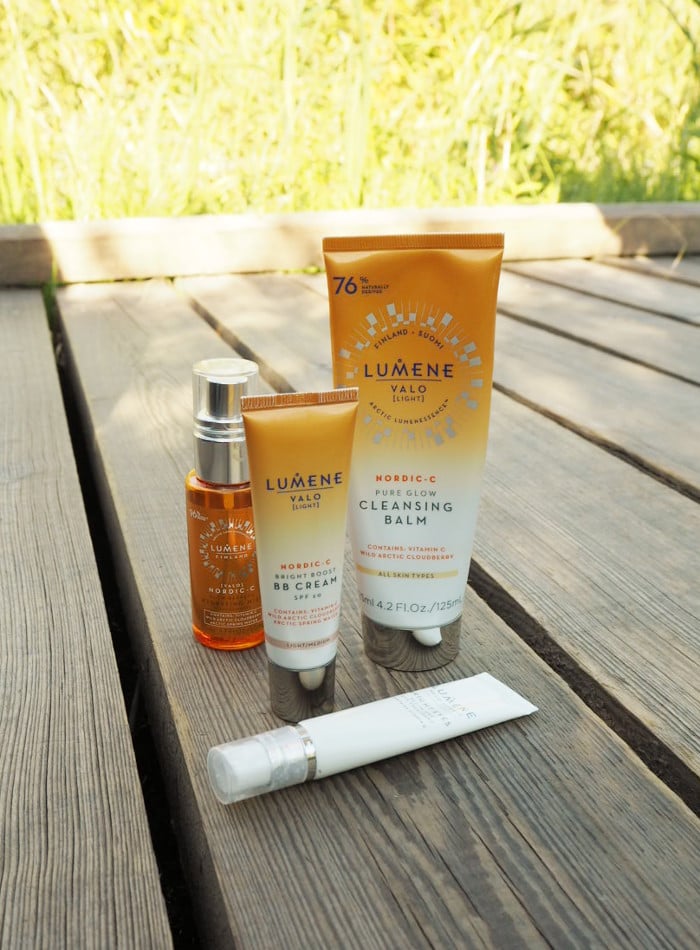 Lumene Nordic-C Valo review
Lumene's Nordic-C Valo line is based on ingredients like arctic cloudberry, vitamin c, hyaluronic acid and arctic spring water. The ingredients are mostly natural. For example the mist is 96% naturally derived, which is quite cool.
Here's my thoughts on some of the Valo – products. My favorites out of these are definitely the Glow Reveal Peeling mask and the Glow Refresh Hydrating Mist.
Lumene Nordic-C Pure Glow Cleansing Balm
The consistency in this cleansing balm is very nice. It's a mixture of balm, oil and emulsion. At first, it feels like a balm. But as soon as you put it on your skin, it melts and almost feels like an oil. And when you mix it with water, it turns into an emulsion. When I rinse it off, it leaves my skin feeling fresh and clean – but not oily.
You're supposed to apply this on wet skin, but I actually prefer to use it on dry skin as a makeup remover. It's amazing for that. I tried it both ways, but I just really prefer it as a makeup remover. As it's a balm that melts into an oil, it's awesome to really get all that makeup off of your face. It's also great in a sense, that a little goes a long way.
So, here's a good gentle cleanser, that can also act as a makeup remover.
Lumene Nordic-C Glow Reveal Peeling Mask
This mask became my favorite on the first try. It makes my skin feel and look smooth and glowy. I've said it before, but acids are amazing for your skin. They peel your skin gently, without the physical exfoliation and irritation. They minimize the appearance of pores, sebaceous filaments and they help to get rid of acne scars.
The mask feels like a gel cream and it glides nicely onto the skin. I sometimes experience a little tingling sensation, when I'm using this (which happens with acids and is normal). I might not always leave it on for 10 minutes – sometimes 6 or 7 minutes is enough. It has a subtle fresh scent to it, which I don't mind. This is suitable for all skin types as well.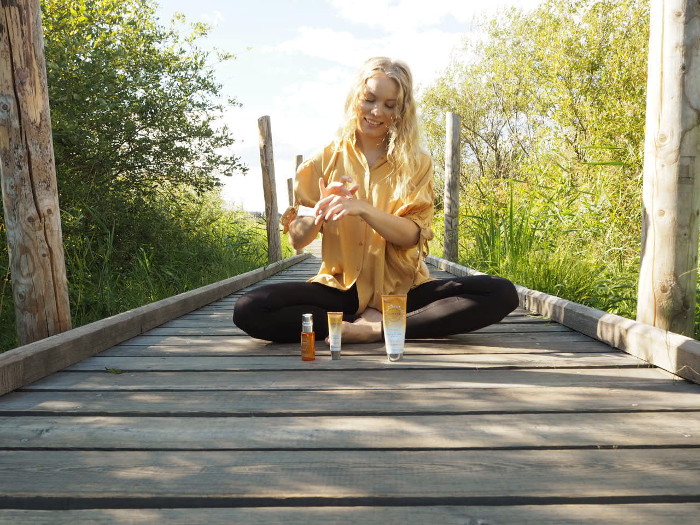 Lumene Nordic-C Glow Refresh Hydrating Mist
The first thing I noticed about this product was how fine the mist is, when it comes out. It's so fine – and it feels so nice on my skin. The mist is great to use under lotions to bring some extra hydration, but you can also use it during the day to refresh your face. I know a light mist doesn't sound like it would bring that much hydration, but actually it does. When you're treating dry skin, lighter products can work better than heavy lotions. Instead of applying a heavy cream on your face, try using light products and layer them. Light products, like this lovely mist, absorb really nicely into the skin and do their magic that way.
This would also be nice to use during flights. I might just need to get it for my upcoming travels, since I've almost ran out of this product.
Lumene Nordic-C Bright Eyes All-in-one Eye Treatment
I have actually used Lumene's eye products before. Their gel-cream was my first proper eye cream ever and I still to this day sometimes recommend it to friends. This eye cream is nice as well. It's a cream, but it's quite lightweight. It doesn't irritate my eyes and it keeps the skin nicely moisturized. I've heard someone say, that Lumene has the best eye creams. So far, having tried two of them, I think that they are a pretty safe choice.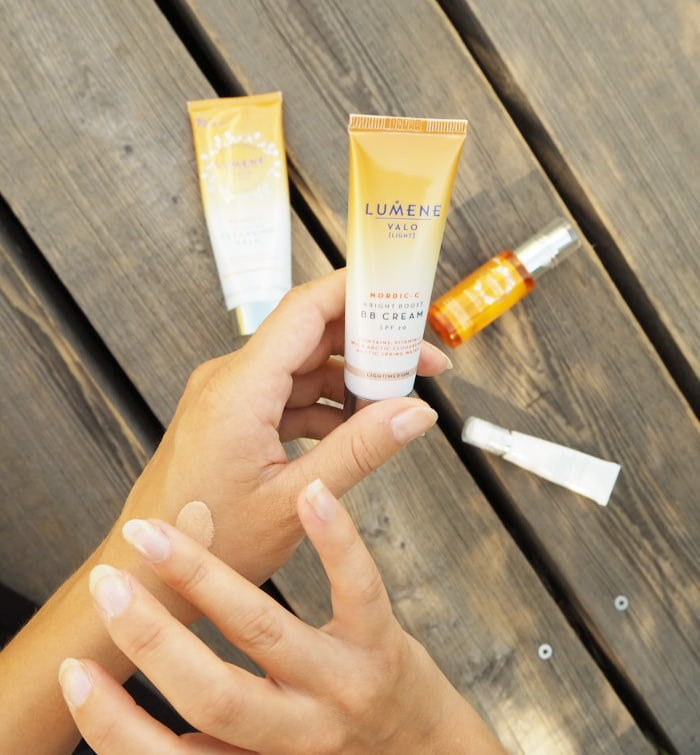 Lumene Nordic-C Bright Boost BB-Cream
Lumene's BB and CC -creams are quite popular here and many beauty bloggers recommend them. So, I was quite excited about this one. Especially since I feel like I haven't had that much luck with Lumene's makeup products before. Unfortunately the color is a bit off for me though. It's slightly too light and slightly too pink, but it works when I mix it with some other (more yellow-toned) foundation. The consistency in the BB-cream is nice. It's medium-coverage, the consistency feels quite hydrating, but not too heavy and it leaves my skin looking glowy. It lasts quite well on my face too and since it's not that full-coverage, it wears off naturally.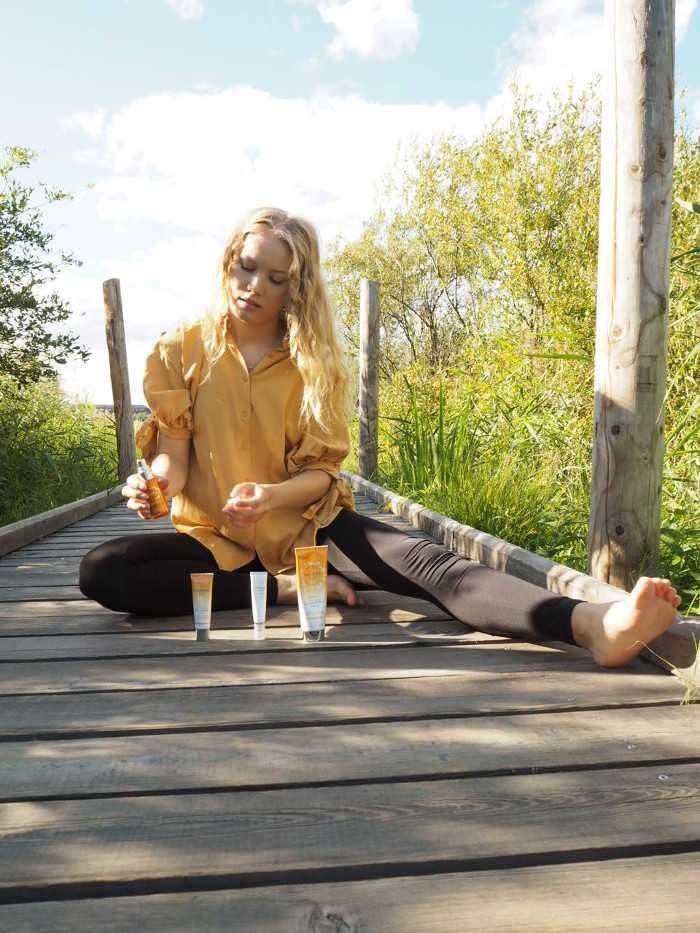 All in all, I'm happy with these products. It was nice to try some Lumene products for a change. It's actually the first time I properly talk about Lumene here on my blog at all. Lumene is possibly the most known Finnish brand in Finland. It's a classic. Still – I haven't used that much of their products before. But now with their new branding, new products and new packaging – I'm finding myself to be quite interested in them. It's also nice to show you some Finnish brands, made here in Finland. Especially if they're good.
It's been intriguing to see Lumene expand and being sold all over the world. So for once, these Finnish products are available internationally as well and I have links for some shops!
*Lumene Valo products on amazon
*Lumene Valo products on Lookfantastic US
*Lumene Valo products on Lookfantastic UK
Are you familiar with Lumene?