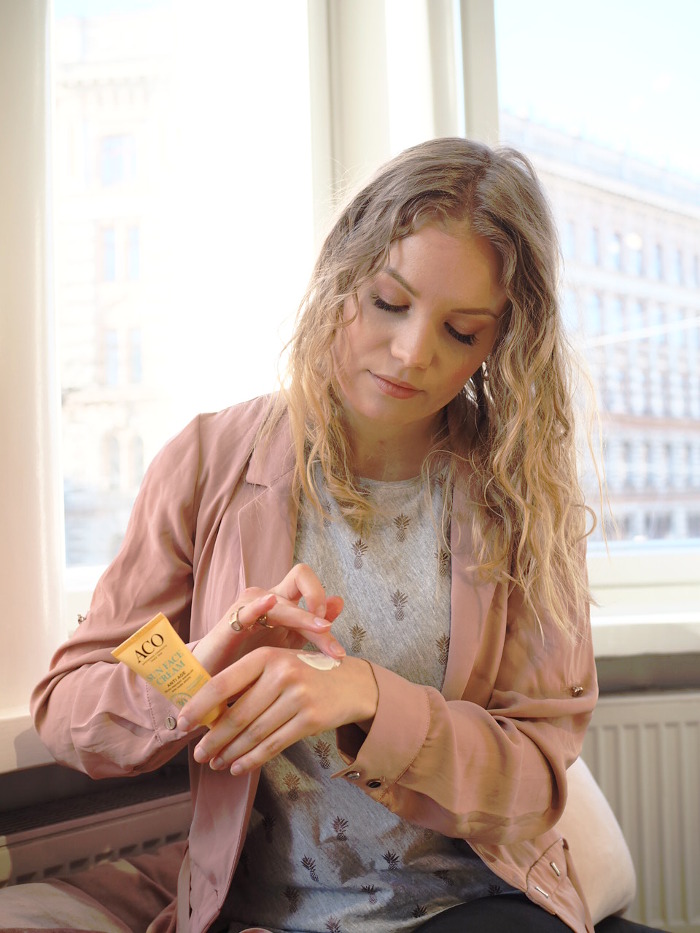 Sunscreen and oily skin. Not a good combo. If your skin has even a slight tendency to oiliness – you know just what I'm talking about. I'm not sure what it is exactly that causes my skin to break out and to shine even brighter like a diamond (Rihanna gets it) with sunscreens, but I've learned that once you find a product that works for you, you hold on to that product and never let go.
And you tell everyone all about it – since most of us don't enjoy that sticky feeling anyway. And it would be nice to wear makeup on top of that sunscreen. So – here are three best sunscreens that work for oily and combination skin and that work really well under makeup as well. I would think that all skintypes would benefit from these (if your skin is dry, just apply your regular moisturizers under them).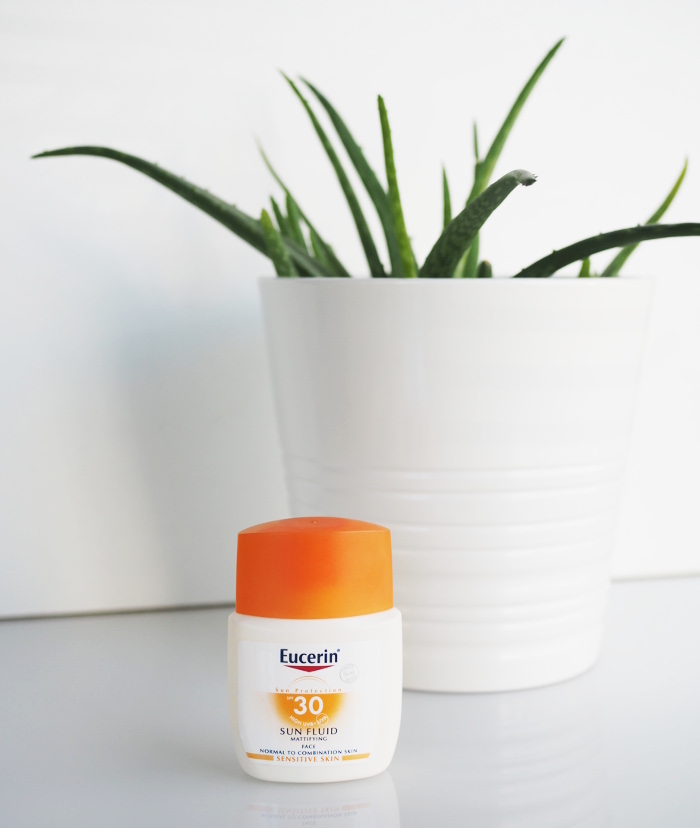 Eucerin sun fluid mattifying (SPF 30 & SPF 50)
Eucerin's thin fluid sunscreen is the winner for me as the best sunscreen for oily face. When I first found it, I couldn't believe it's true. It's really a super lightweight fluid, almost watery. It absorbs into the skin quickly and it leaves a matte finish. It also stays quite matte, it doesn't move anywhere. It doesn't have a heavy scent to it – except that it smells like summer, since it's always my memory from this product.
This is also Risto's favorite – as he's bald he needs to cover his head as well and this is one of his favorite sunscreens, as it's so light and matte.
The only downside to this is that as it's so runny (is that a word?), the packaging can get a bit messy. The packaging could be bigger too, but then again it's so easy to travel with since it's quite small. Other than that, per-fect.
Eucerin mattifying fluid SPF 50*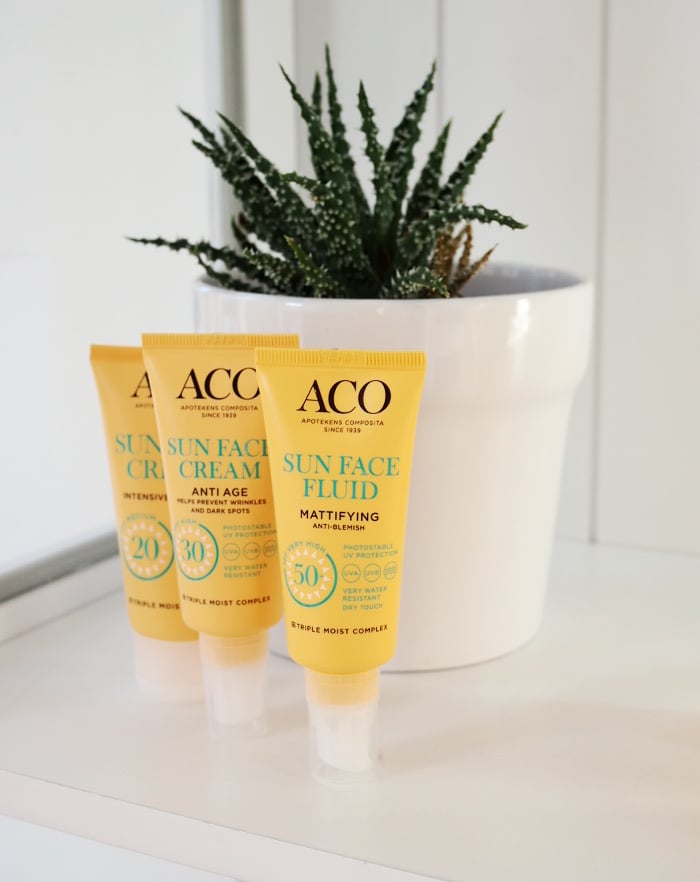 ACO Sun Face Fluid Mattifying SPF 50
I got ACO's mattifying sunscreen as a pr-sample and I was eager to test it, as it's quite affordable, the packaging is perfect and it's easily available in my country.  And I am positively surprised.
This fluid is not as thin and watery as the one mentioned before, but it's still quite lightweight. It feels a bit sticky, when you first apply it, but once it absorbs, it feels nice and lightweight. And yes – it leaves your skin quite matte. Not as matte as possible, but matte enough. This smells pleasant as well, like summer.
For my skin, this works as my moisturizer – if I apply a moisturizer under this, it doesn't work. It starts to shine. But when I apply this to my cleansed face (possibly just a serum or a moisturizing mist under), it works wonders.
I definitely recommend this product as well – and I would think that if your skin is not quite that oily, you would prefer this than the Eucerin one.
The only thing here is, that this product and brand is only sold in Nordic countries.
I also got to try ACO's new transparent sun spray (SPF 30), which is amazing for your body, if you want your sunscreen to be non-sticky and lightweight for your body as well. And obviously ACO has a whole range with different products for different skintypes.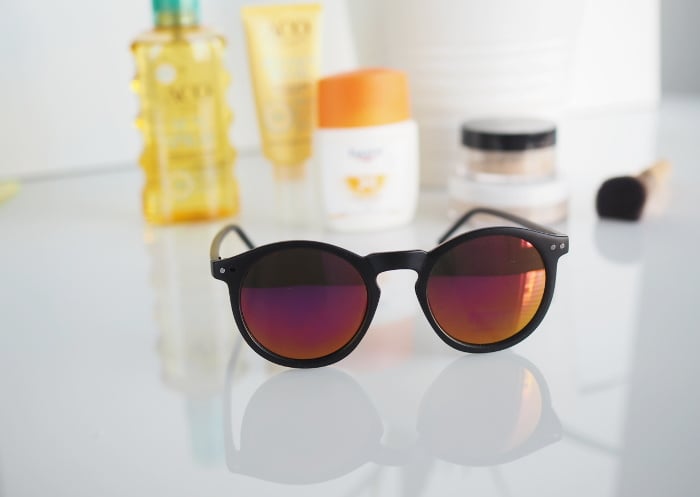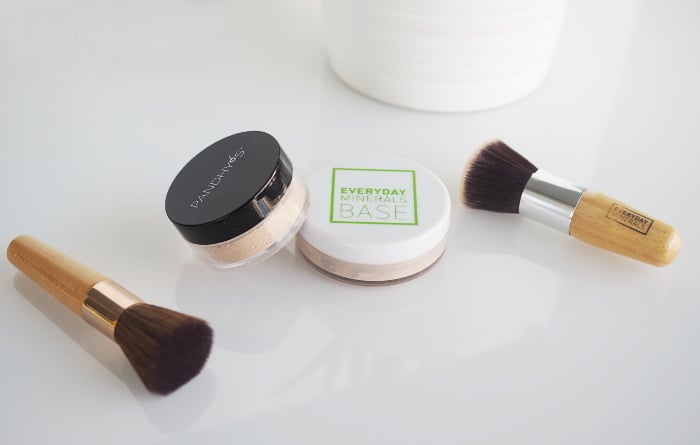 + Mineral makeup
I know mineral makeup is not technically a sunscreen, but it does act like one. And it does a great job. Also – if you choose your mineral makeup right, it is the right choice for the environment. Minerals work as a physical sunscreen, meaning that they reflect the light away from your skin. I hate to admit it, but physical sunscreens are the ones, that are better for the environment.
If I lost you on 'physical sunscreen' – make sure to check out this post: Physical vs. chemical sun lotion.
And in my experience, physical sunscreens don't let you down. I don't think I've ever burned, wearing mineral makeup on my face (or wearing a physical sunscreen). It's a safe choice. Needless to say, it also acts as your makeup, so your skin looks beautiful and even.
The only downside to it is that it doesn't stay matte – unless you powder it and fix it during the day, as you would your makeup.
My favorite mineral makeup is Lily Lolo's mineral makeup, but the second would be Everyday Minerals. If you don't mind silicones, I also like Jane Iredale's mineral foundations. I also use Zuii Organic's foundation bases and they work really well as well (even though it's not a mineral makeup line per se).
Lily Lolo Mineral Foudation*  (blog post)
Everyday Minerals*  You can order free samples from their site, if you want to try first!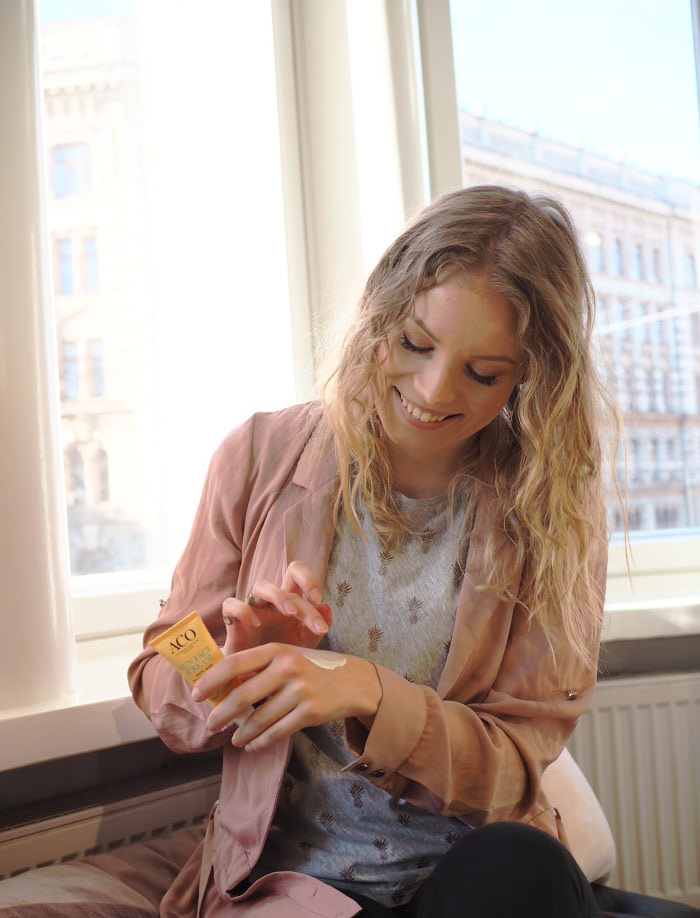 Photos of me: Kauneusgurusi
What is your favorite sunscreen for face?
And do you know of a natural sunscreen for face, that works and is very lightweight? I'd love to find more options.