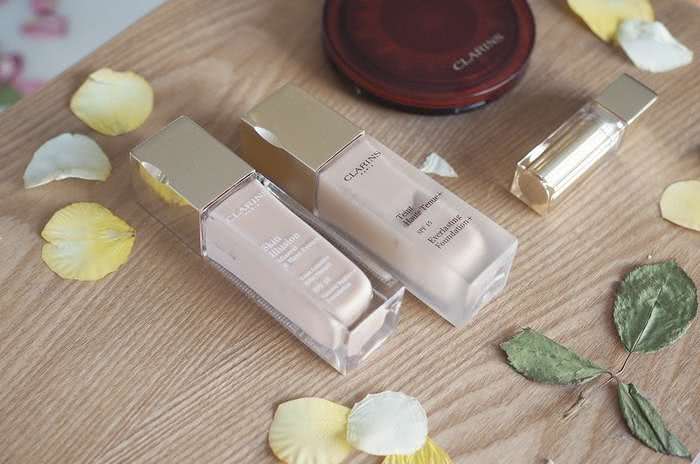 Clarins is one of my favorite makeup brands. I fell in love with the brand when I first tried their foundations: I noticed a big difference compared to drugstore brands. The quality of their products is top notch, the pigment is really good in every product and they are beautiful to look at. I used to buy their products as gifts too – their eye shadow palettes are super pretty and make a great present.
My personal Clarins collection at the moment is quite modest: only foundations, lipsticks and a bronzer. I'd love to try out their different palettes too and their mascaras – they always seem to come up with the most interesting collections.
Anyway – here are my four favorite products of this month, this time all from the same brand.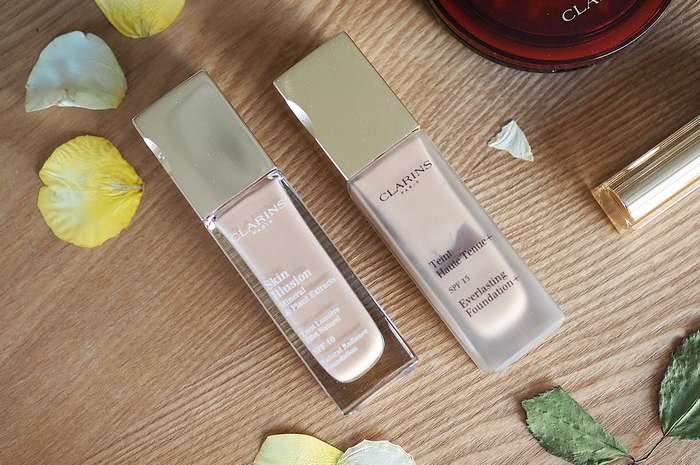 Clarins Everlasting Foundation, Sand
This is one of my all-time favorite foundations. This is actually my third or fourth bottle. I remember the first time I bought this – it was the most expensive foundation I've ever tried and I instantly saw that it was worth the price. It just performed perfectly – looking flawless and beautiful on the skin and lasting really well throughout the day. My skin is quite sensitive to products and makeup, so one of the important things about foundation is that it shouldn't break me out. And this doesn't. I love to use this foundation on special occasions, going out, for photo shoots or just to bring some luxury to my daily life.
If you're looking for the perfect foundation that offers you great coverage, great lasting power and that's easily blendable to the skin – this might just be the one for you. This is ideal for combination or oily skin as it leaves a matte finish.
I adore the packaging and I actually keep this on my makeup table so that I can see it.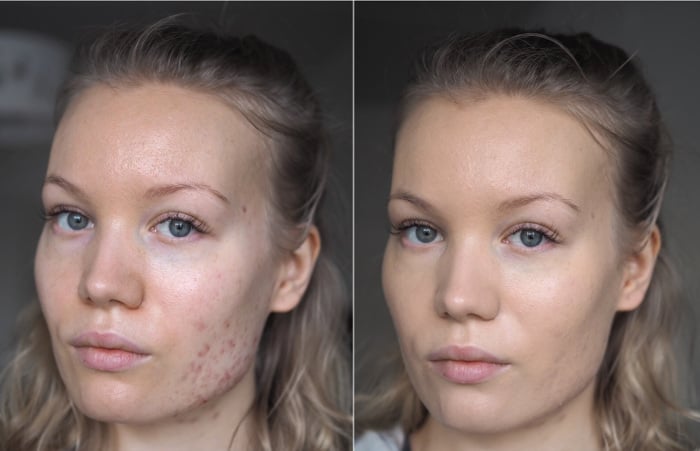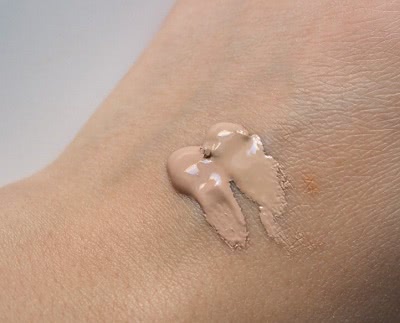 Left: Skin Illusion foundation probably in shade wheat / Right: Everlasting foundation in sand
Read also: The foundation for oily skin – Clarins Everlasting Foundation+
Clarins Skin Illusion Foundation, wheat
Another foundation from Clarins. (Obviously with my acne going on, my favorite products are for the face, haha.) This I actually got from my sister, who's also a bit of a fan. The color was wrong for her so I decided to try it. The color is actually a bit too red for me too, but I I love to mix this with the Everlasting foundation. The texture of this foundation is totally different compared to that – whereas the other foundation is matte, this is more radiant and not that full-coverage. I love to mix them together to get just the perfect amount of glow on my skin.  I would recommend this foundation for normal, dry or mature skin or anyone who wants more of a natural radiant finish.
Again, the packaging…  is just beautiful. Needless to say this product sits next to that other foundation where I can see it. I have to say, that I'm not 100% sure about the shade of this, it has rubbed off of the product.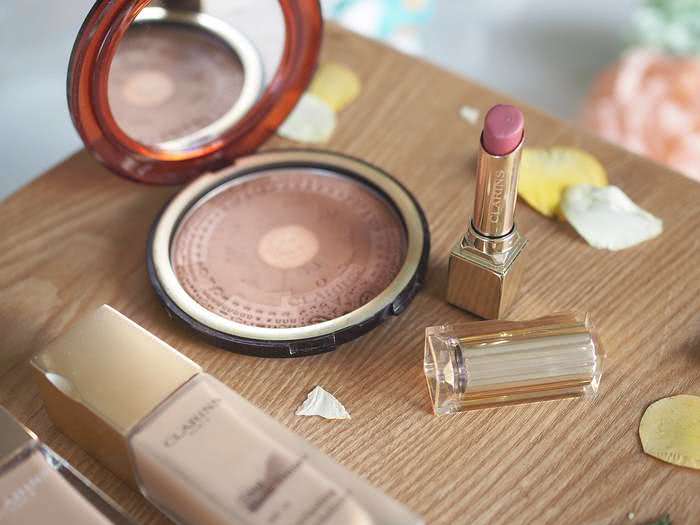 Clarins Splendours Bronzer
You know it's spring when you start using your bronzer again! When it comes to bronzers – the bigger the better, right? I love that this bronzer is huge and it comes with a mirror. I actually use it as my makeup mirror quite often. Now since this bronzer is so big, it's super long lasting. I haven't needed a new bronzer in quite some time. Besides being the perfect size, it's also the perfect bronze color for my face with just the right amount of shimmer. This can also act as an eye shadow, as in these makeup photos.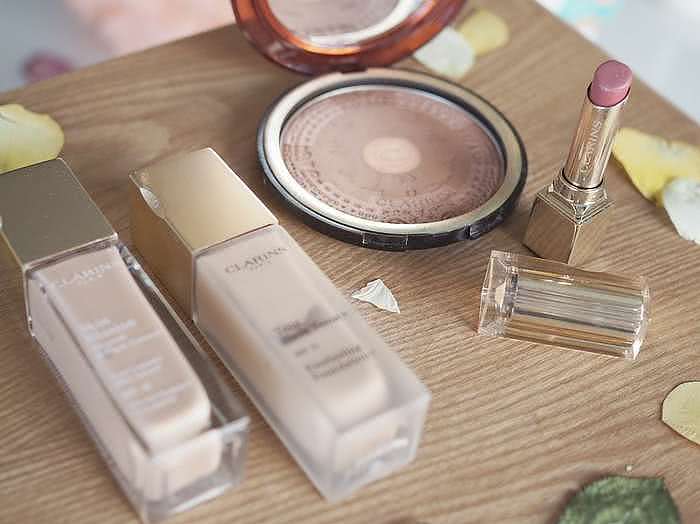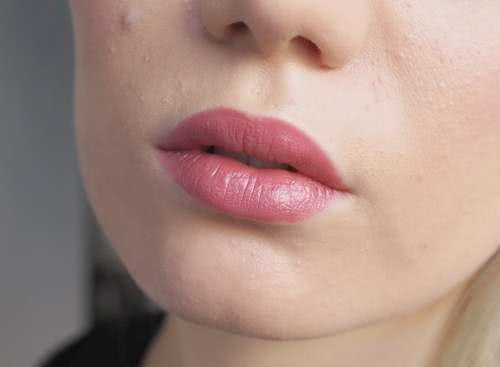 Clarins Rouge Eclat Lipstick, Pink Magnolia (pr-sample from Clarins Fall 2014 Collection)
I have four lipsticks from Clarins and they're all the same formula: really lightweight, moisturizing and still very pigmented. This particular shade is the perfect muted pink shade. Whenever I'm in doubt, I grab this one. The pink shade suits different makeup styles and it still makes me look like I've made an effort. It's funny to think that when I first got this lipstick I thought it was a bit boring. Now I see it's full potential. I used the lipstick as a blush too in this makeup look.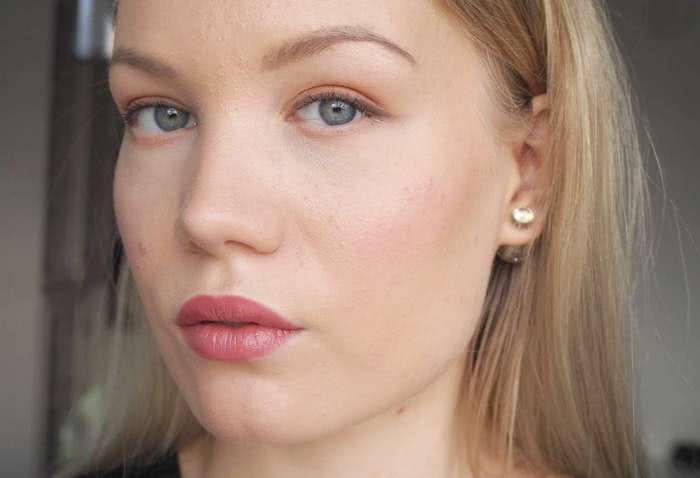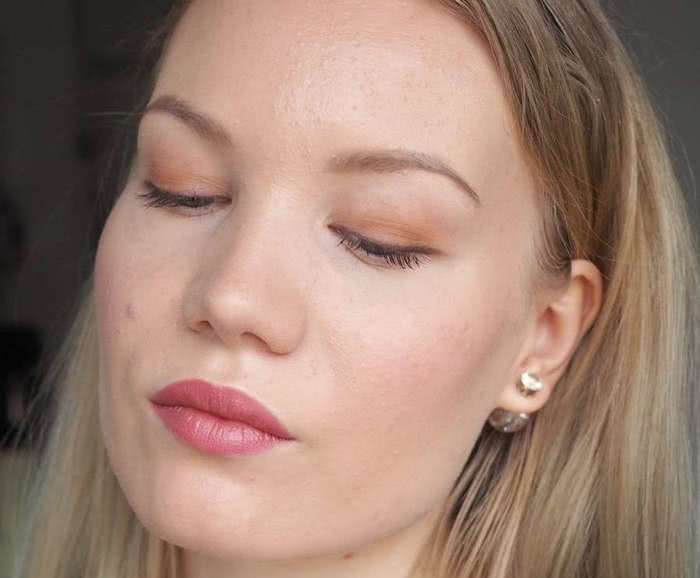 What are your favorites of this month? Have you tried any makeup from Clarins? Now is the time to share!
Clarins makeup from amazon
Clarins UK
Clarins.com 
This month's blog posts:
Holbox the paradise island part 2  I already miss Mexico. Luckily I have the tan left from the trip.
Blog recommendation: Amy Evans I introduced Amy and her blog to you. This post was quite popular, which makes me happy. It's nice to promote new blogs.
My acne-friendly makeup routine My everyday foundation routine, that is especially good for problematic skin, since the products are anti-inflammatory and soothing.
Exciting times Long time no outfit photos! I plan on doing more fashion and style related posts.
Acne update – progress after one month of Apocyclin The title says it all. I love how you have commented on this and shared your experience. It makes me feel like I'm not alone with my acne.
Easy eyeshadow tutorial: purple and light pink One of my favorite go-to eye shadow looks, that is quick and easy to do.