As you well know, I'm all about that skincare makeup. For me it means using makeup products that are organic or otherwise 100% natural with ingredients, that help my skin. Here are some of my favorite acne-friendly makeup products that I use to create a natural yet beautiful canvas. These makeup products suit my acne-prone skin, while actually helping it to heal. The routine is super simple: only foundation, concealear, contour/bronzer and a blush.
Now obviously mineral makeup is great for acne-prone skin and I will tell you why. I have wrote more about this particular mineral makeup powder earlier, but the important thing I want to note is that you use a mineral makeup that is really just that: minerals. Lots of different brands use silicones and other ingredients in their formula, which kinda ruins the skincare effect for me. So go for the purest products. Same goes for organic makeup: look for the certificates – it's the easiest way to check the brand is legit.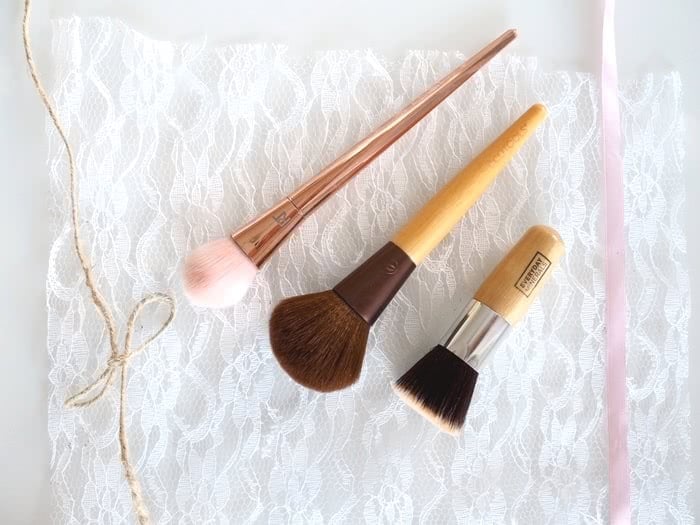 First, let's go through the facts here. Mineral makeup is awesome for acne-prone skin, because minerals:
a.) let your skin 'breathe' = they don't clog your pores. This also means the finish is a bit sheer and doesn't last as matte as a 'regular' foundation, but that is because your skin functions normally = develops sebum.
b.) don't support bacteria = it doesn't worsen the bacteria already on your face (=acne).
c.)  are anti-inflammatory = they soothe your skin, so they're awesome for irritated or red skin.
I also love to use flower makeup (Zuii Organic) on my face. The same list kinda goes to their products but there are some other benefits too:
a.) the powder base in their products is made from flower petals: rose, jasmine and chamomile. These flowers have moisturizing, soothing and anti-inflammatory properties, so again they're perfect for acne-prone skin. They're make a super soft powder so it's very easily blendable on the skin.
b.) they use natural oils and plant extracts in their products, which have different skincare properties. So they don't only 'not clog pores' but they also actively treat the skin!
So there is the difference between mineral makeup and flower makeup. The other has more skincare properties. I feel like Pandhy's tends to stay a bit more matte than Zuii. Then again Zuii is easier to blend and use. It's also better when my skin is dry. Pandhy's lasts longer and you need less product, since it's almost just pigment.  I love to use both and sometimes I mix them together, like I did here.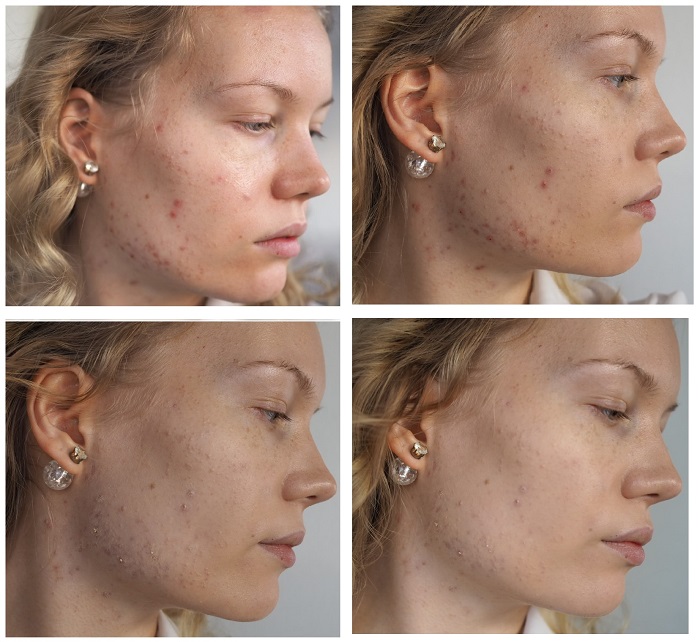 Here is how I do my foundation step by step:
I apply a light layer of the mineral makeup.
I conceal any blemishes with a concealer. I blend it by tapping with my fingers. Make sure your hands are clean. You can also use a brush if that's what you prefer, but with this particular formula it blends easier with the fingers.
I apply another layer of the foundation. Just to set the concealer and to get more coverage.
 I contour my cheekbones and forehead with a darker shade of Zuii's powder foundation. This color can also work as a bronzer, since it's a bit warm. When I'm tanned I kinda go through my whole face with this to get a bit of a color.
Last but not least I apply some blush to my cheeks. I do this even though I have acne and redness on my face – blush is the key to making you look healthy and fresh! Don't skip this. Zuii's Melon is one of my favorites.


Under-eye concealing
I forgot to use the other shade (that is more orange=color correcting blue) here, but other than that here is how I use Zuii's concealer around eyes. The concealer also acts as an eyeshadow primer which is why I put it on the lids too. I set the concelaer using a lighter powder than on the rest of my face. Two products that I use are Everyday Mineral's Multitasking or Zuii's makeup powder in Ivory.
Face makeup done.
As you can see this routine doesn't give you the perfect, flawless skin. You can still see some impurities and texture on the skin – and that's perfectly fine. This still makes the color of your skin more even and prettier while looking natural. And the most important thing is that you're not doing any harm to your skin. Doing my base like this I instantly feel more confident and therefore a bit happier.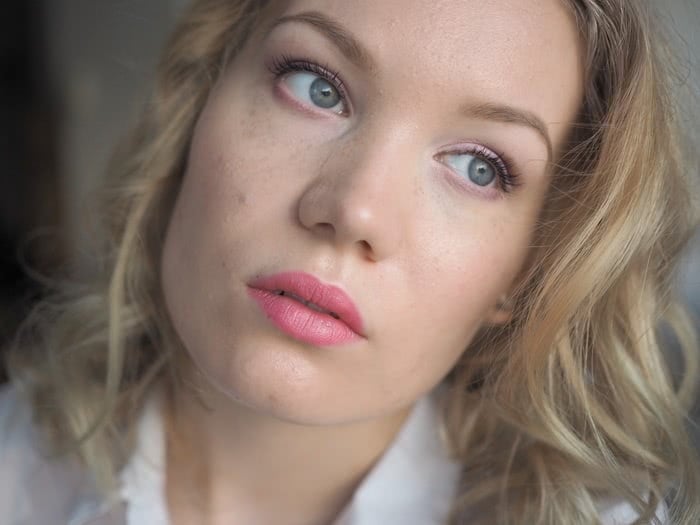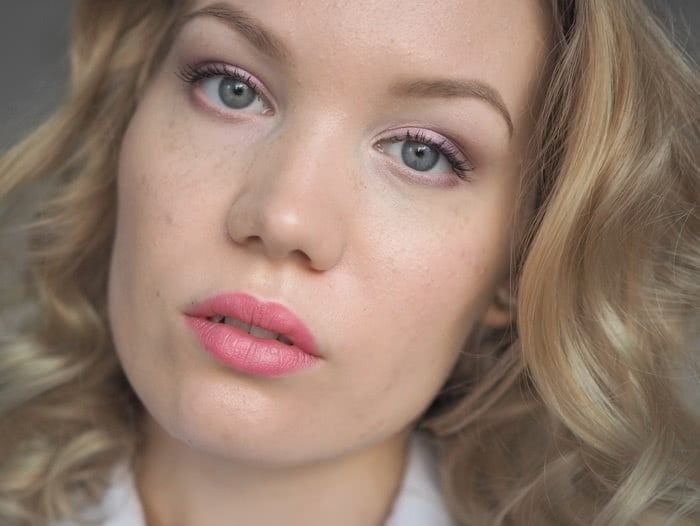 Eye shadow tutorial on this look can be found here.
PRODUCTS 
Pandhy's Loose Mineral Powder Foundation in Sandra
Zuii Organic Concealers in Fair & Beige
Everyday Minerals Multitasking Concealer
Zuii Oganic Makeup Powder in Hazelnut
Zuii Organic Blush in Melon
Zuii Organic Eyeshadows Pink Ice, Blossom, Blackberry
Zuii Organic Eyebrow Definer in Taupe
Zuii Organic Sheerlips lipstick in Daisy
Essence Get Big Lashes + I love Extreme mascaras
BRUSHES
Everyday Minerals Flat Top Brush
Ecotools Blush brush
Real Techniques Bold Metals Blush brush
Related Posts