I don't know about you but I sometimes feel a lesser person 'cause of my brows.
I'm not sure when this happened – when eyebrows suddenly filled up my instagram feed and all the brows in the world started to look alike. Or when everyone else's brows started to look better than mine. Perfectly defined, big and bold. Or natural, big and bushy with just a tiny bit of product. Whatever it was and how it was done, it was probably better than mine. I also noticed I started to look at brows the different way and I was also judging other people's brows.
Ever since I started doing my brows I've felt lost with them. That I'm constantly trying but never achieving the perfectness.
But you know what? That is over now. I'm gonna stop this damn brow-shaming. And you should too – whether it was your own face or someone else's – we're all trying our very best and our brows are good enough!
Your brows are good enough whether they're thin or big or they don't grow much or they grow like crazy. They're good enough the way you like them, the way you like to apply makeup to them.
Do you like your brows natural and just use gel in them? Go ahead, even if they're invisible.
Or maybe you draw them twice as big as they really are? You have every right.
The point is.. Stop brow shaming. Your brows are good enough!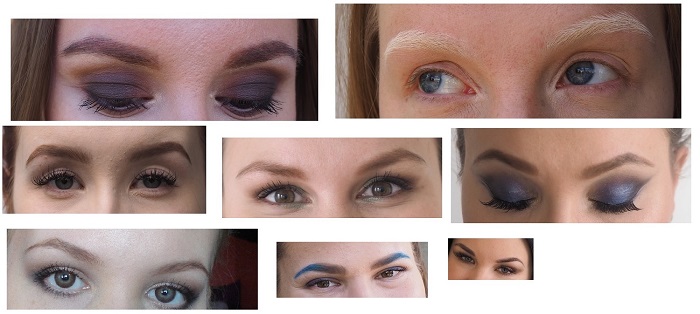 Different brows – all done by me.
I feel like now that I've said that – I can give you some advice. Really gently – I promise.
First advice is: Get your brows done on a professional. I cannot stress this enough – even I do this with my brows! A true professional can see your natural brow shape and follow that – and make your brows look like your brows but better. You can always say which shape you want and the professional can make that particular shape work with your brows. Plus, when you get your brows done it's easier to maintain them at home and see when there are hairs that fall out of the line.

Second advice is: Buy a brow product suited for your needs (=determine what is it that you want).  There are gels, pens, creams, powders.. Everything really. For soft finish I recommend powders and soft pencils. For more defined look I recommend creams and waxes. If you only want your brows to stay in place you can just use plain brow gel with or without color.

Third advice is to choose the right color for you. The easiest way to choose the right color is to match it with your hair colour. Of course some like their brows darker than their hair and that's okay too as we learned earlier. But a good advice is to pick the same color or two shades darker than your hair. The color shade should also be matching with your hair – if you have cool toned or ashy hair you should pick more of a grey toned color to your brows. If you have warm toned or golden hair you can choose a warmer color to go with it. The safest pick would definitely be more of a cool toned or neutral brown rather than a warm color – it's most likely to suit your skin color and not stand out too much.
The best brow product for natural yet defined look in my opinion is Zuii's eyebrow definer 'cause of it unique shape and texture. There are many brands with the same kind of product but the idea is that it's easy to use since the shape is slanted. I  did a small video tutorial on how I use it – you can watch the video below. My brow style is definitely more natural and not at all perfect – but that's exactly why I wanted to do this tutorial. Getting different brows out there.
I also have a post about eyebrows where you can see how different brow products look and maybe determine which product you want to get.
#yourbrowsaregoodenough #stopbrowshaming