Photos Inka Lähteenaro
A while back Inka texted me (or whatsapped – who even texts anymore?) and asked if I'd like to be her model in this nice coffee shop where she was supposed to take photos for a magazine. I said yes of course and did my makeup and outfit to suit the photoshoot. I was inspired by some new makeup items from Alima Pure and decided to create a look around this beautiful blush and a new eye pencil. I really love that intense pink ruby color! I used the blush on my eyes too and matched my lips with them. I wanted to keep this look warm so I paired the pink color with warm browns and orange colors. Full product list is in the end.
Here are the reviews.
*In collaboration with Jolie.fi. Both of these product were sent to me.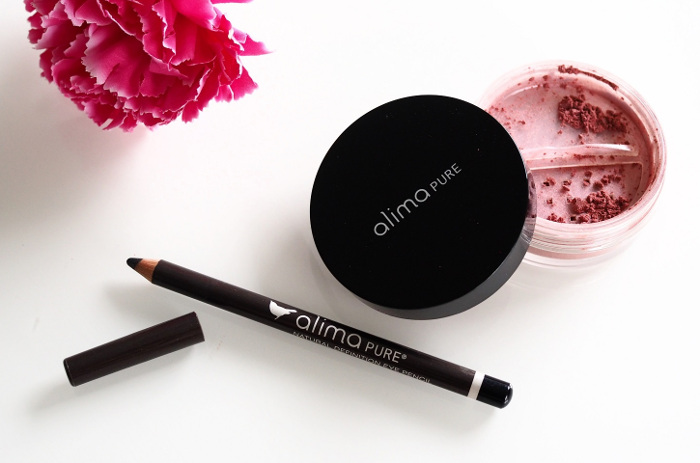 Alima Pure Luminous Shimmer Blush in Garnet
This is a loose powder mineral blush with an amazing pigment. Alima Pure has two types of blushes: matte and shimmer. I usually like my blush to have some shimmer in it so this product was perfect for me. I feel like the shimmer is quite fine so it doesn't look like giant clumps of glitter on your cheeks. It actually brightens your cheeks and therefore your whole face – whilst giving them some shimmer. Since this is a loose powder it's a bit tricky to get just the right amount of product but anyone who's used to mineral makeup probably does it better than I do.
This is great blush with great color and it goes on smoothly since it's mineral based.
Alima Pure Natural Definition Eye Pencil in Ink
This is a really black eye pencil that almost looks wet when applied. The word Ink actually describes it pretty well. It has jojoba oil, natural wax and chamomile in it's ingredients so it should work for sensitive eyes too. It lasts long and is a good natural choice for a regular eye kohl.
PRODUCTS *gifted
Clarins Everlasting Foundation in Nude
Innisfree No-Sebum Mineral Powder*
Benefit Hoola Bronzer
Alima Pure Luminous Shimmer Blush in Garnet*
Urban Decay Primer Potion
Urban Decay Vice 4
Alima Pure Natural Definition Eye Pencil in Ink*
Eylure lashes
Clarins Rouge in Candy Pink