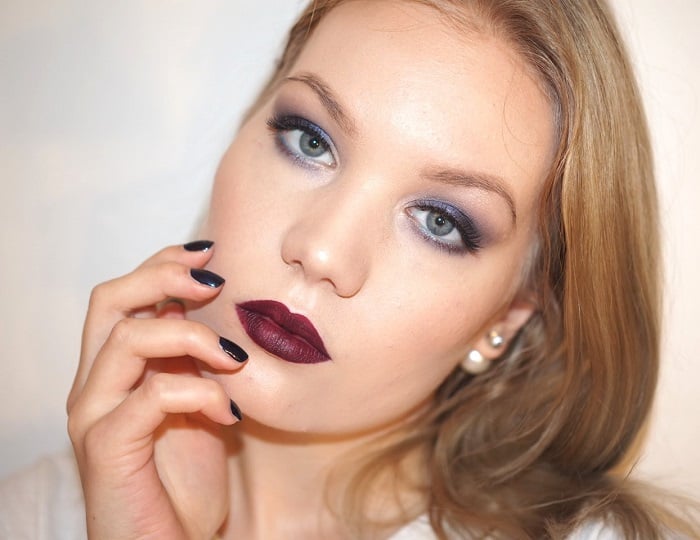 I love blue eye shadow. I'm always drawn to it. If there's a palette with blue shade in it I'm gonna choose it. Or if there's a beautiful blue single eye shadow I'm gonna buy it. I love blue. And I think blue suits many eye colors – especially if you pair it right. Black eye shadow works with anything but especially with blue. Anyway – let's get to the tutorial and to my makeup tips for this beautiful look!
FACE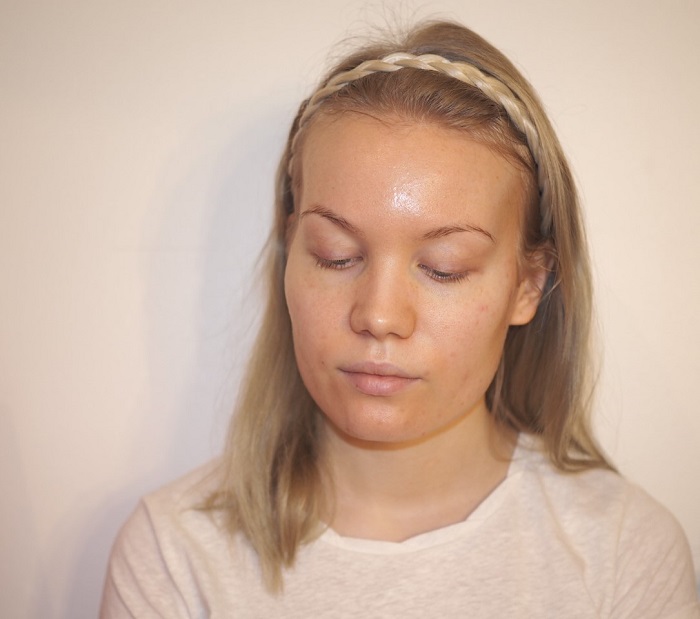 Before. Starting with a clean base. Nothing on my face here (except moisturizers I applied in the morning.)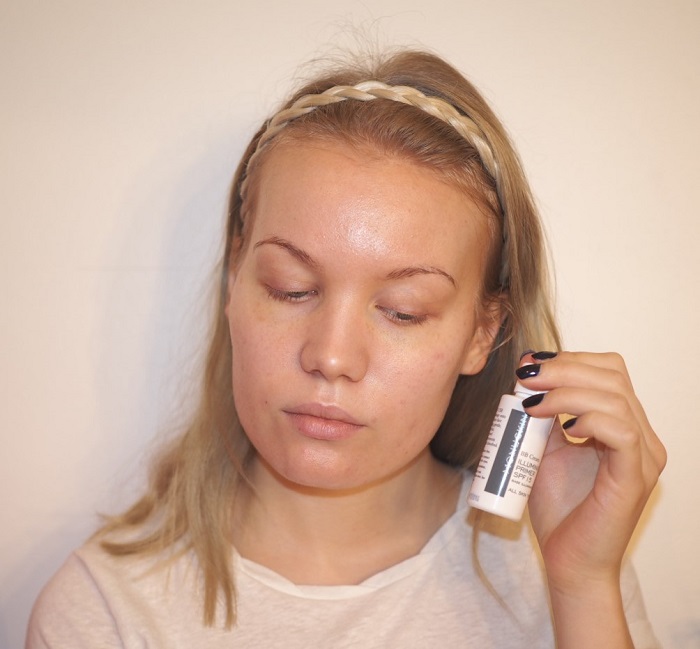 Primer. Here I'm wearing MONUSKIN Illuminating Primer. This makes my skin dewy and it evens out the color a bit. It's also a bit sticky so the foundation sticks to it better.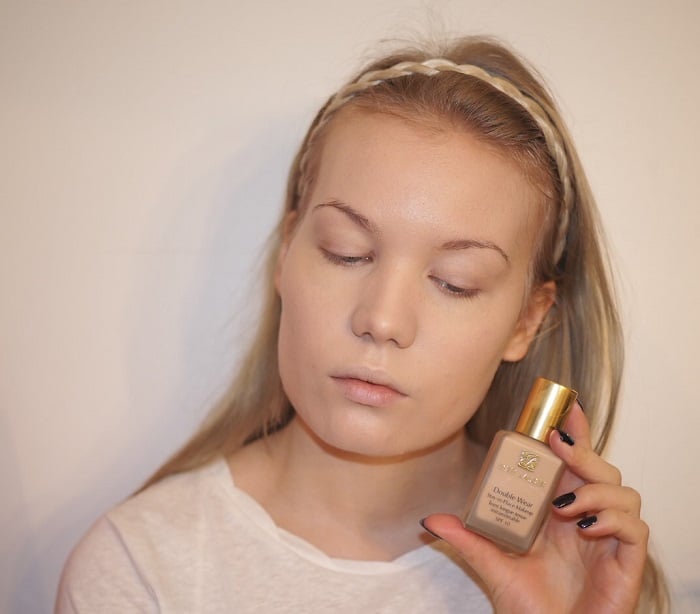 Foundation. Here I'm wearing Estee Lauder Double Wear Foundation in the shade Ecru. This offers full coverage and makes my skin look flawless. This foundation is gold.. as you can see.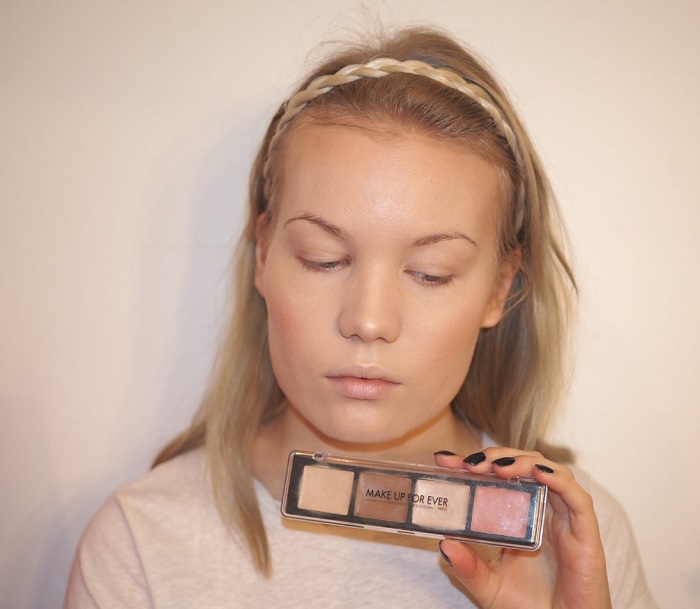 Contour, Highlight & Blush. Here I'm wearing Make Up For Ever Pro Sculpting Palette in shade 30. I have a video where I show you exactly how to use this palette here. It's important to apply at least some blush and bronzer when you're using a full-coverage foundation so that you don't look like a ghost. (Just compare this pic to the Foundation pic.)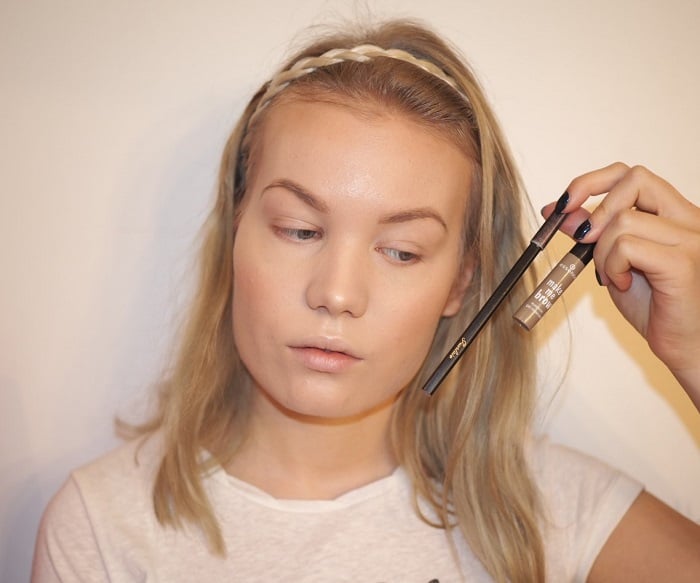 Brows. I've been loving Guerlain Brow Pencil in Blonde 'cause it gives my brows a natural finish with just enough color. Essence make me brow -gel in blonde shade makes my brow hairs stay neat and gives them a bit more color.
EYES
Vice 4 tutorial – blue &purple eyeshadow look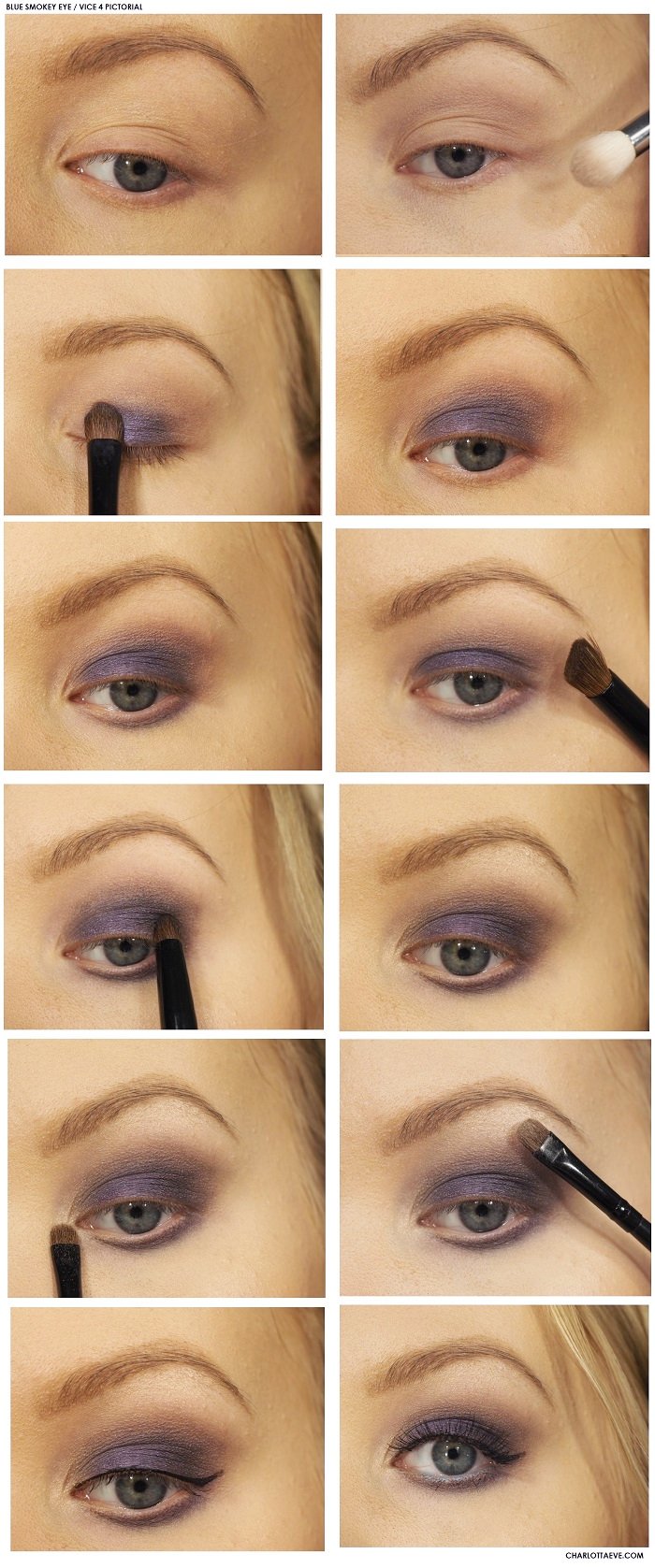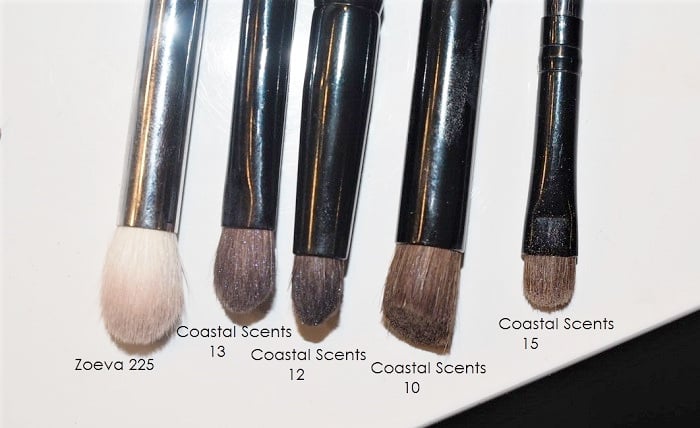 For eyes I wanted to do blue kind of a smokey eye with a pop of turquoise on the waterline. I included the brushes in this tutorial, let me know if you find it helpful.
1. First I applied a primer. Then I started to contour my eyes just above the crease using Zoeva 225 brush and the color 'Discreet'. This helps to get the right shape for the darker shadows and works as a transition color.
2. Then I applied the 'Beat Down' blue on my lid with a CS 13 brush. I used a tapping motion and blended  it really carefully using that same brush.
3. I applied 'Beat Down' also on my lower lashline using that same CS 13 brush. Then I blended all that blue shadow using CS 10 brush.
4. Then I applied some depth using the black 'Deadbeat' shade. I applied it to my outer corners and a tiny bit to my lower lash line too using a CS 12 brush. I blended it using the same CS 10 brush I used blending the blue.
5. Then I added some light shimmer to my inner corner and to my brow bone. The shade I used was 'Bones' and the brush was CS 15.
6. I did an eye liner and added mascara and fake lashes. I also lined my waterline with a turquoise liner.
LIPS

With matte lip creams you want to make sure your lips are not dry. So use a lip balm before applying makeup to them. I love Hurraw! lip balms and they are the only ones I  use.
1. I lined my lips and colored them in using Stagecolor Liner Stick in Plum Red.
2. Then I applied two coats of NYX Soft Matte Lip Cream in Transylvania. It's a tricky color to get even – but so pretty.
PRODUCTS
MONUSKIN Illuminating Primer
Estee Lauder Double Wear (1N2 ECRU)
Make Up For Ever Pro Sculpting Palette in 30*
Urban Decay Primer Potion
Urban Decay Vice 4
Essence liquid ink eye liner
Kjaer Weis Mascara
Eylure Multipack, 035
IsaDora Perfect Contour Kajal in Tropical Blue
Stagecolor Liner Stick in Plum Red
NYX Cosmetics Soft Matte Lip Cream Transylvania
Rimmel Lycra Pro Nail Polish in Midnight Blue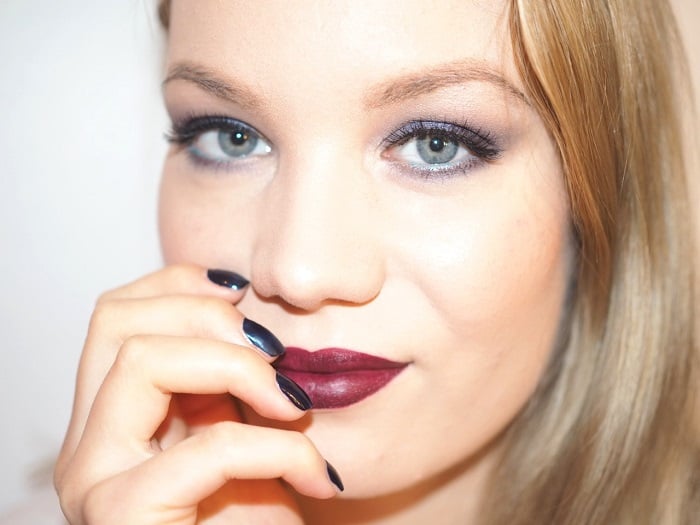 And that's it for the tutorial. Let me know your thoughts on this on the comments below!