Sometimes the most simple things seem to be the most problematic. For makeup enthusiastic foundation may really be easy and almost boring necessity but for beginners it can be overwhelming. How to apply foundation? How do you blend foundation? How to make your foundation look beautiful?
I decided to share my tips on how to apply foundation and how to get a beautiful, natural-looking base. Maybe there's something new for you to learn! I will also tell you, what makeup mistakes to avoid when applying foundation – and how to get it just right.
Oh and if the question is: how to choose the right foundation? Check this post.
Here is what the finished base looks like. Natural, but even.
Four tips to makeup application
Tip number 1: Use a beautyblender. It really makes a difference. A moist makeup sponge makes the application a lot more easier. It blends the foundation onto the skin beautifully so you den't get streaks. The water in the sponge blends and thins out the foundation so beautyblender actually also gives you a natural glowy sheer finish.  If you have normal or dry skin you can use a really wet sponge and if you're oily you can just spray the sponge lightly with water 'cause you don't need all that extra moisture.
Tip number 2: Apply thin layers. Start small. Take a little bit of foundation and blend it to the skin little by little rather than applying one thick layer. You can always apply more but it's not as easy to take off excess foundation afterwards.  Thin layers don't necessarily offer as much coverage as you'd like – but that's what concealer is for! Concealers are usually very pigmented so they are perfect for any redness spots or dark under eye areas. Use a concealer.
Tip number 3: Show some skin. Don't cover up everything. Your real skin can and should shine a bit through. It makes you look more natural and it looks better when wearing off. You can start the application on the center of your face: on the forehead, on the nose, on the cheeks and a bit on the chin. Start there and blend with circular motions. This way you get the most coverage on the center of your face – which is what people see when they look at you – and almost not any foundation on the sides of your face.
Tip number 4: Try mineral makeup. Mineral makeup offers an easy solution to all of these problems. It's easy to apply with a brush and it gives you a nice coverage – you don't even necessarily need a concealer. Mineral makeup reacts with your skin temperature and "melts" to your skin so it looks extremely natural and it also gives you a nice glow. Mineral makeup (depending on the brand) is also good for problematic skin. It lets your skin breathe and it doesn't clog pores – actually it moisturizes, balances and protects it.
Psst! You can read this post about my favorite mineral makeup brand and this tutorial of my acne-friendly mineral makeup base.
What mistakes to avoid with foundation & how to achieve a beautiful finish?
Here you can see the 'Wrong' and 'Right'. In the first picture you can also see, that the foundation shade is a bit too light and red for me – in the other picture I'm wearing a darker yellow-based shade, which is a perfect match for me.
In the 'Wrong' picture I made the mistake of applying the product too heavily. A lighter layer would have looked better and it's easier to pull off. I also applied the foundation all over my face, when I should have started on the center of my face and blended it towards the edges.
In the 'Right' picture, I applied the foundation in light layers. You can see a bit of my skin showing through, and that was actually the goal here – that is what makes it look natural and flawless. I applied a super light layer here, just to prove my point: you don't need much, to make your skin look even. I focused the foundation on the center of my face and blended it towards the edges, so that there is actually almost zero foundation, where my hair starts or on my jaw lines. You can see there is some pimples on my jaw – which I left there on purpose. Because that is where I use my concealer.
When you're someone just starting with makeup, it's easier to get it right with foundation, when you go for the more natural-look, as I did here.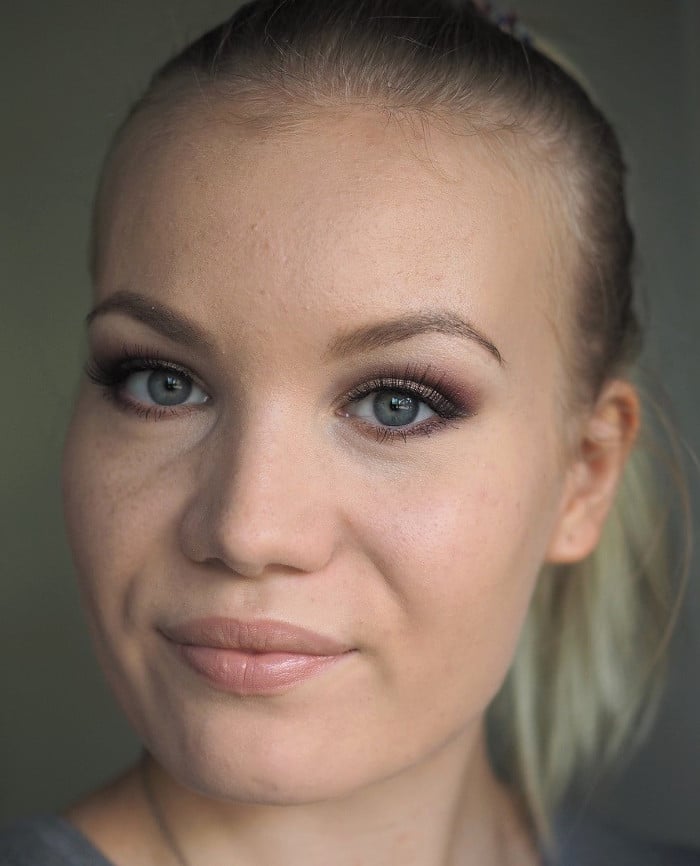 Here is the finished look with Clarins Everlasting Foundation in the shade sand 108 (which I layered a bit), applied with a damp beautyblender. I'm also wearing NARS Radiant Creamy Concealer in shade Vanilla & Joe Blasco Red Neutralizer.
Some product recommendations
Foundations
Rimmel Lasting Finish Nude 25HR
Loreal Infallible 24-HR Matte
Maybelline Fit Me
Make Up For Ever Ultra HD Foundation
Diorskin Forever Everlasting makeup
Clarins Everlasting foundation
Estee Lauder Double Wear
Estee Lauder Double Wear Light
Mineral makeup
Everyday Minerals (affordable)
Jane Iredale (luxury)
Pandhy's (organic)
+ Flower makeup Zuii Organic, which is a flower-powder based foundation with some minerals in it
Makeup sponges
The beautyblender
Real techniques miracle complexion sponge