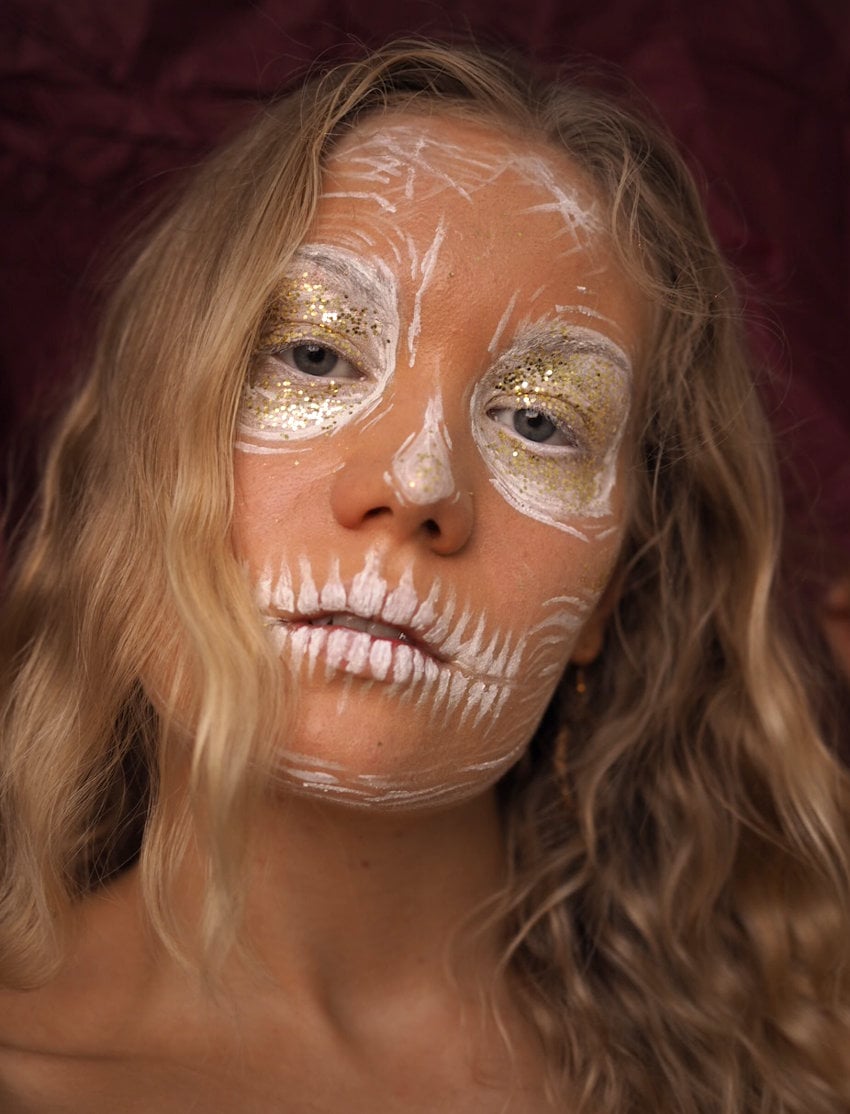 *adlink
If you're looking for an easy Halloween look, skull makeup always works. It's easy enough to do and there's lots of room to make it your own. For this draft skull you don't even need a steady hand as a few misplaced strokes only make it cooler. The idea is to play with brush strokes and make it look like a draft or a sketch. I ended up adding some gold glitter as a finishing touch, but you could also leave it without glitter. Or you could add rhinestones or some other detail to really make it your own.
Check out my tutorial and step by step photos for this easy Halloween skull!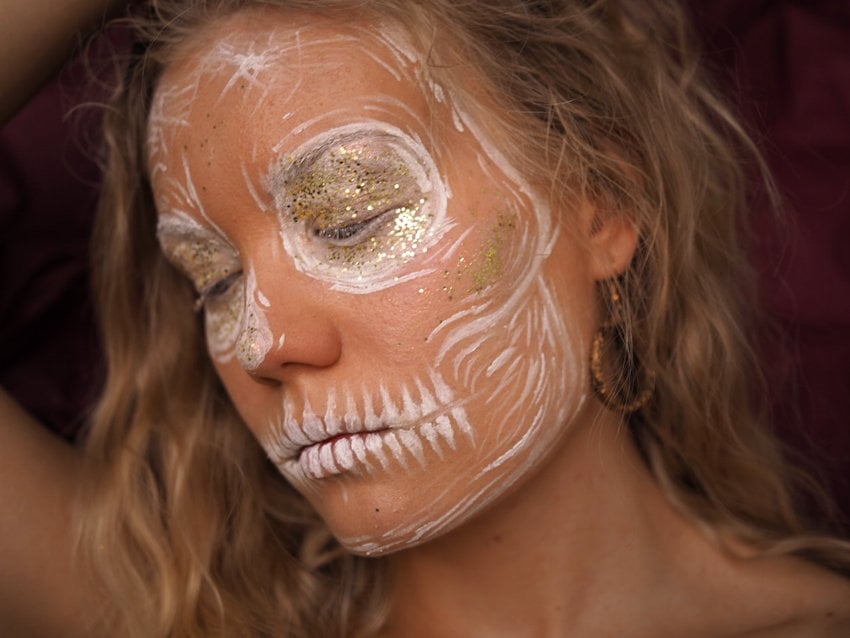 Draft skull – Easy Halloween makeup
It's definitely personal preference, but I really feel like tanned skin suited this look. It also really makes the white pop! So for your base you can use self-tan, a slightly deeper foundation shade or lots of bronzer. But more importantly, make sure to have a clean even base. So a medium or full-coverage foundation. That leaves room for the face paints to shine.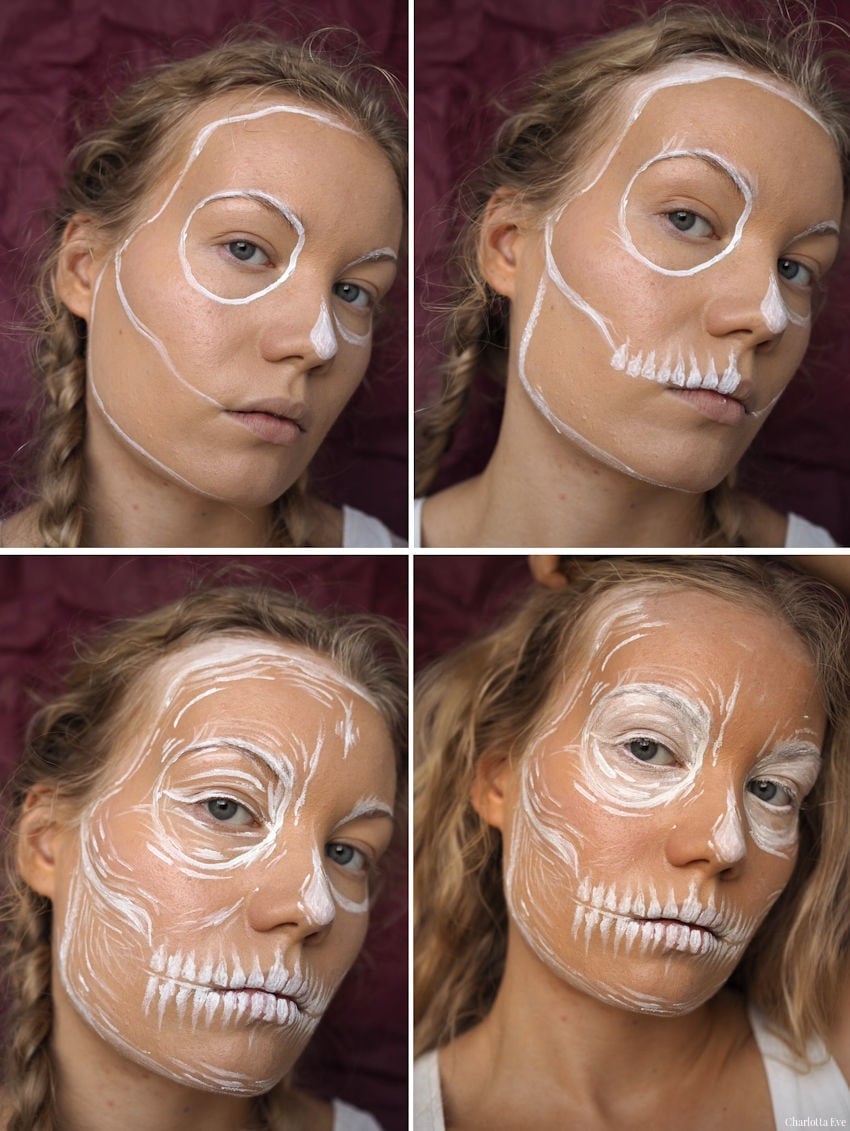 Easy skull makeup how to:
Start with the basics: Draw eye sockets and the nose. Then go through the perimeter of your face & carve out the cheekbones.
Then draw the teeth. Use your real teeth as guidelines as to where to draw them. They don't have to look perfect in order to work. (Says me who's drawn them haphazardly for all these years. One could argue I could take the time to really perfect them, but yeah, nope.)
Add lines and brush strokes along the lines you've already drawn. And a bit all over the face. The more the merrier! I also ended up painting the eye sockets white, yet still leaving some strokes visible there. See what looks good and what doesn't. White paint is easy enough to erase and fix with foundation if something looks out of place.
As a finishing touch I added white pencil all around my eyes, waterline and lashes. And I added some gold chunky glitter. Use your imagination and decorate the skull if you want to.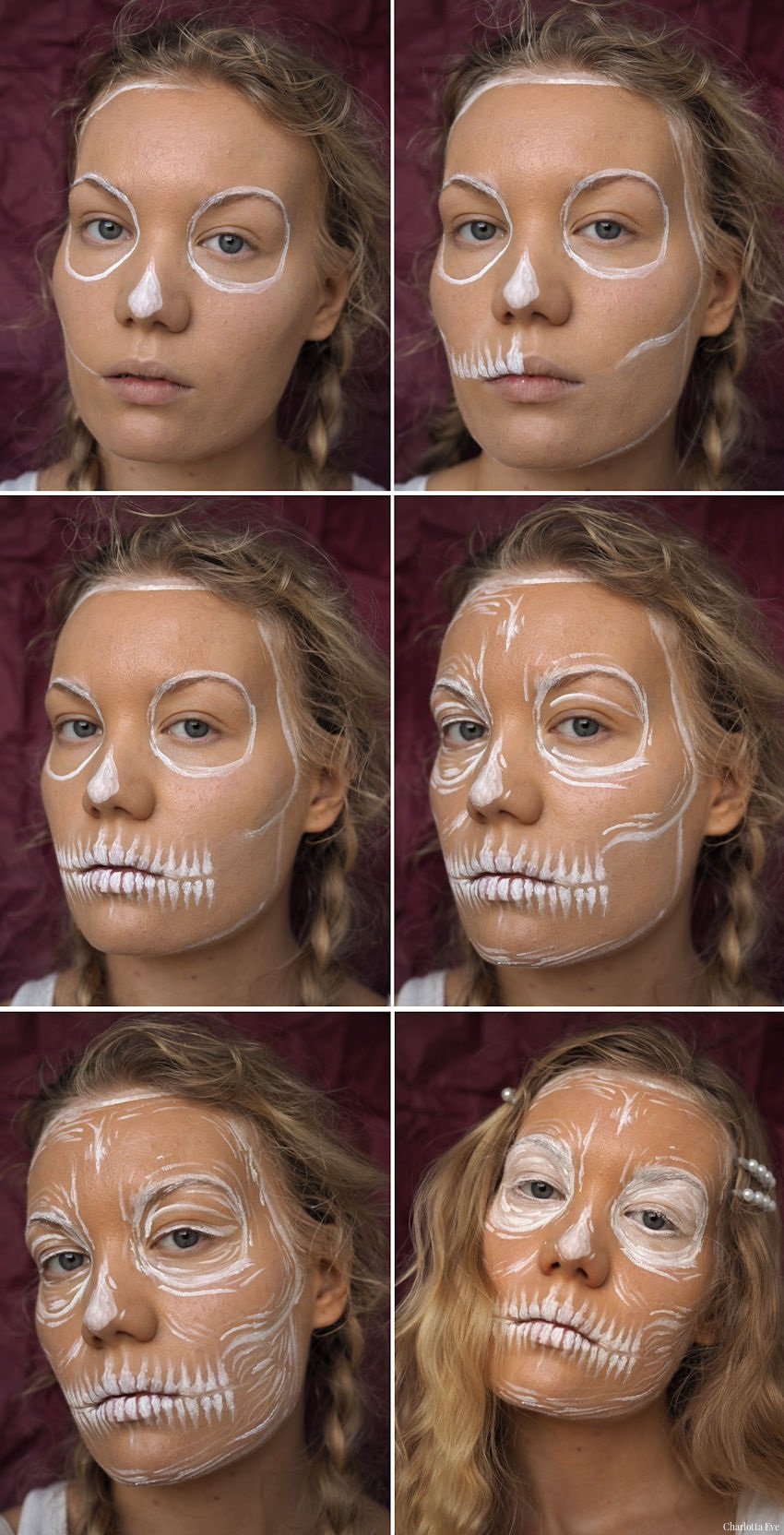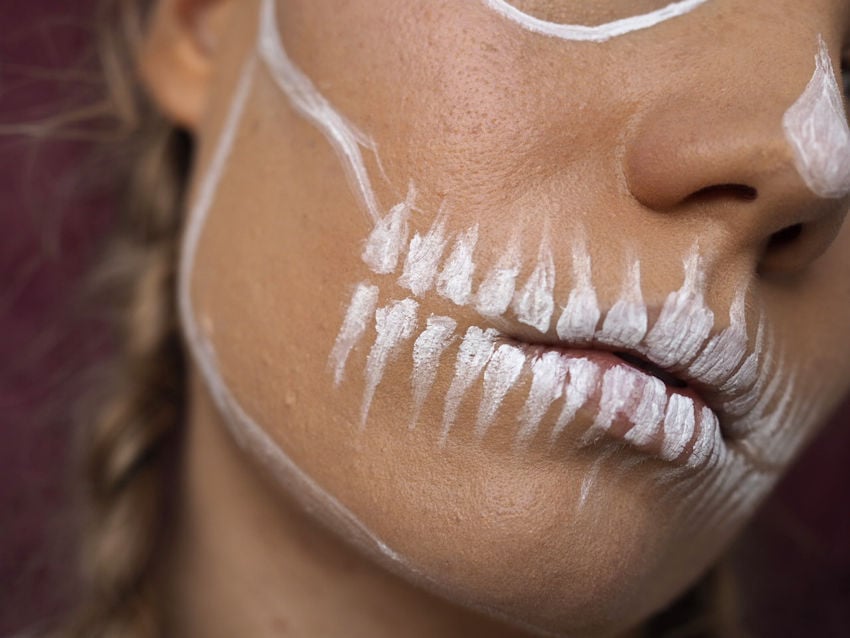 I also styled this look with some white pearl hair pins. White accessories or an all white outfit goes well with this look.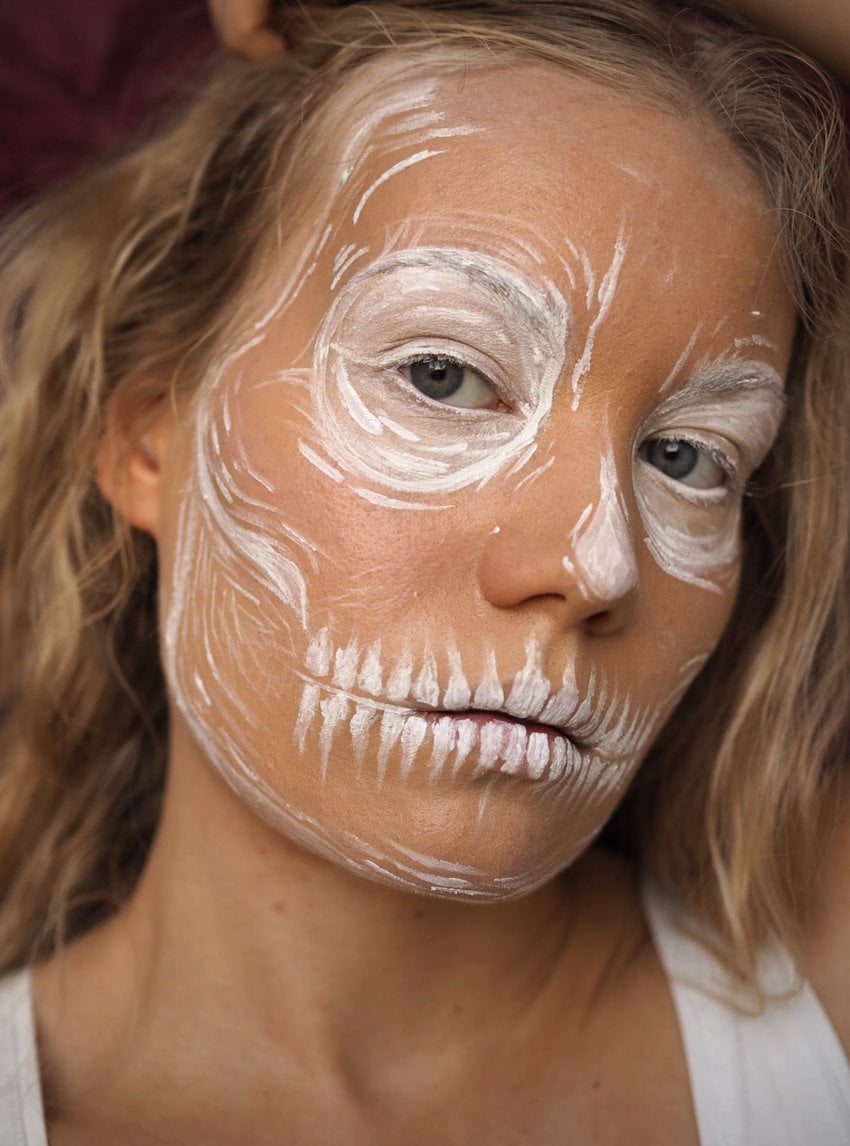 Get the look – products:
*Charmcode Professional Face paints
*NYX Jumbo Eye Pencil, Milk
*Gold chunky eco glitter
*Pearl bobby pins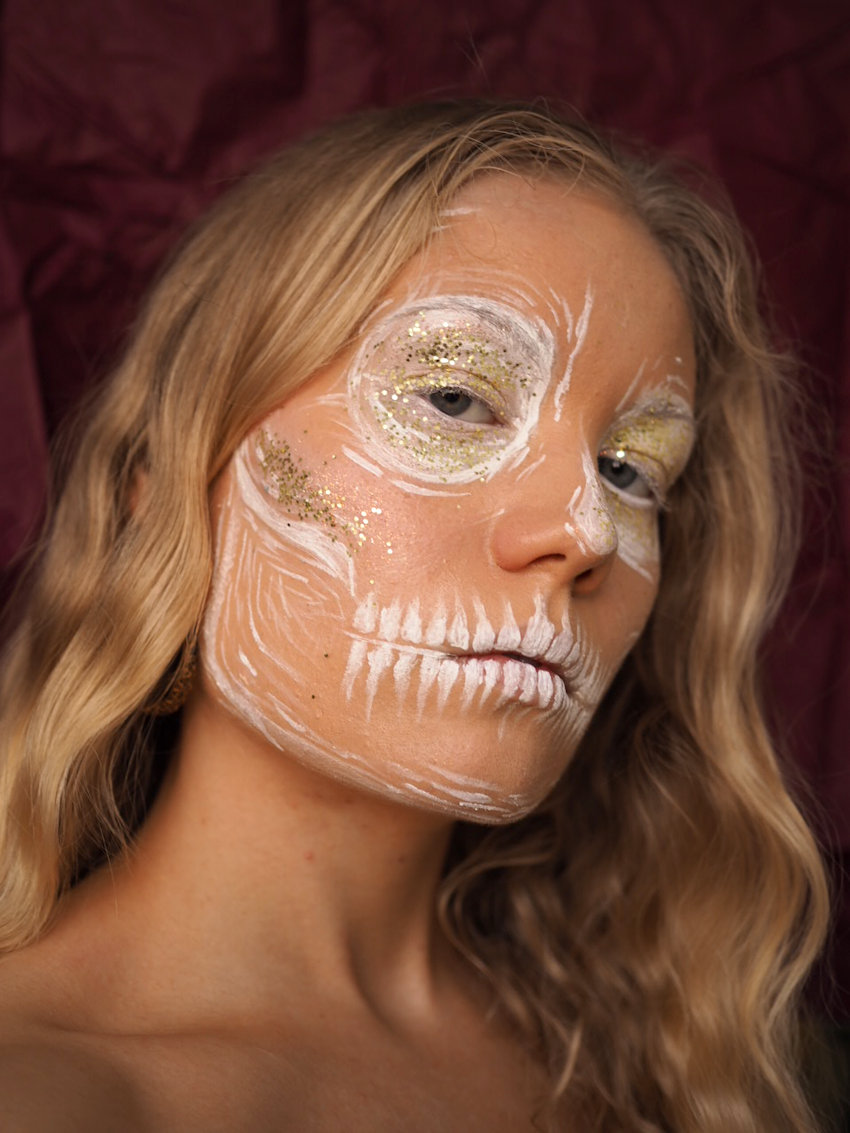 Are you going as a skull this Halloween? What do you think of this one?