Sponsored collaboration with Zadaa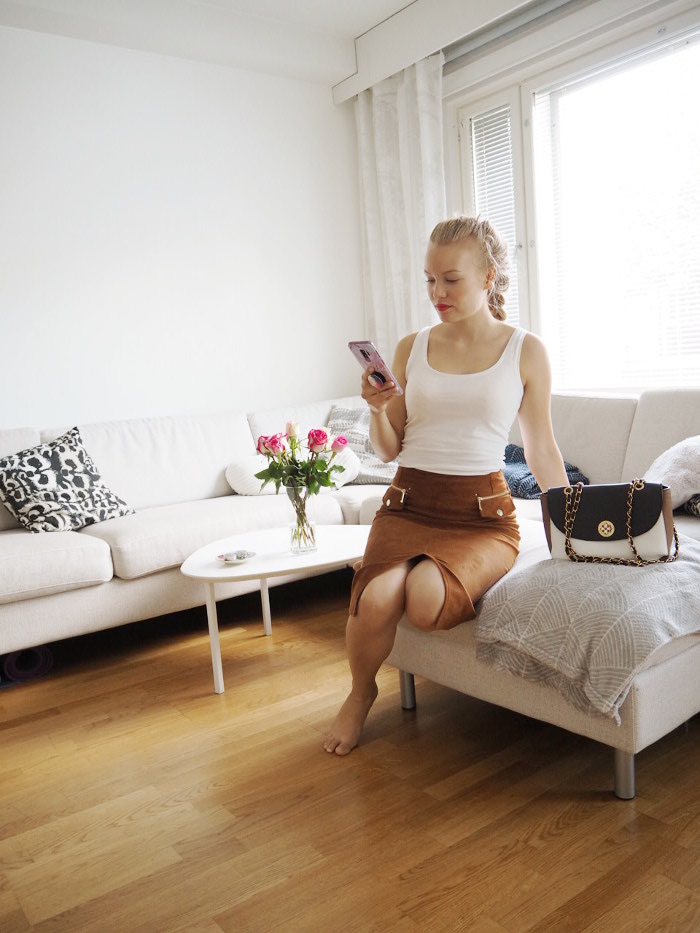 When it comes to shopping, I try to shop wisely.
For me, it means I don't buy impulsively. Instead I  try to think, if I really need the item or if it really makes me happy. If either is true, it's worth the purchase (because #konmari). I also want to buy things that last long and feel comfortable.
For the last year or so I've tried to buy more pre-used clothes and shoes. I've never been good with second hand stores, but I've had great success with the Zadaa app. I've found so many awesome things from the app that it's become one of my favorite shopping places. I love the idea that you're able to find new use for things that someone else is about to abandon. And on the other hand the clothes I'm looking to get rid off can still find new life with someone else.
Nowadays, whenever I'm in need of some new clothing, the first place I go looking for it is Zadaa. I recently needed a raincoat, so I searched for jackets on Zadaa. It took a few tries, but eventually I found my raincoat from the app. And it only cost me 11,50€.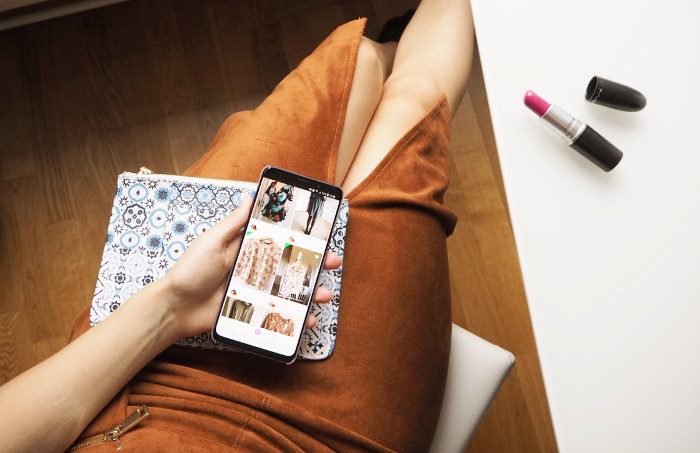 If this is the first time you hear about Zadaa, here's what it's all about.
Zadaa is a marketplace, where you can buy and sell clothes, accessories, cosmetics and now even cameras (lucky for me, since I need to sell my older camera). Funnily enough, I was first introduced to Zadaa by Risto. When I opened the app for the very first time, I was a bit overwhelmed. It was a totally new way to think about second hand shopping (which, as I stated earlier, I wasn't that keen on). But after I got used to the app, I realized it's pretty awesome.
What makes it awesome is that it connects you with your "fashion twins." That made it possible to immediately find clothes actually in my size! In addition to that, the app learns your personal style and helps you connect with people who share your taste. Another cool thing about it is, that usually the clothes are photographed on the people who are selling those clothes. So in addition to finding the right size faster, I now also see how it might actually fit me as well.
Shipping is also very easy, since Zadaa takes care of that. I just take my package to my nearest post office and show the shipping code to the cashier. I used to never sell any of my old clothes, so I'm happy that I've found an app that works for me.
And recently, the app got even better.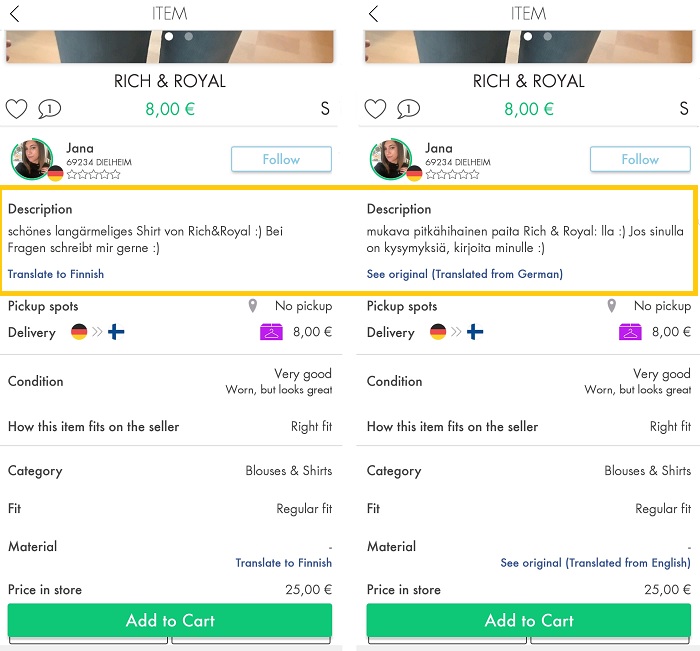 A while back, it became available in Germany. So now you can shop in Finland, Denmark and Germany. Honestly – I can't wait for it to expand to the whole world! Shopping from different countries has been made easy on the app.
There is a new translation tool, so I don't need to learn German to buy a shirt from someone in Berlin (or if you're German, you don't have to learn Finnish to buy a shirt from Helsinki, which I imagine might be even harder.) You simply press 'translate' and it's translated to your language. That really helps the communication between the seller and the buyer. And it will become handy once Zadaa expands to even more countries. The translator works in the description boxes and in the comments. That is great, because although the pictures tell a lot of the item, sometimes there are some details about the item explained on the description box.
Besides the new translation tool, there's also a new payment option – Paypal. The categories also got improved and now there are for example sub categories for shoes. You can categorize things by brand and color, and you can choose what countries you want to shop in.
A quick tip on finding some new clothes
If you already know some brands or styles that suit you – try searching for the brand on Zadaa. You might find, for example, your jeans in different colors and styles. I've bought most of my jeans this way. All from the same brand and in the same style – Gina tricot Kristen jeans. Buying jeans is hard, so once I find a model that works for me – well, I might end up buying four pairs of it.
I've also used the brand searching tip for shoe shopping. I love Vagabond shoes, so I searched for Vagabond in the shoe category and ended up buying a beautiful pair of boots.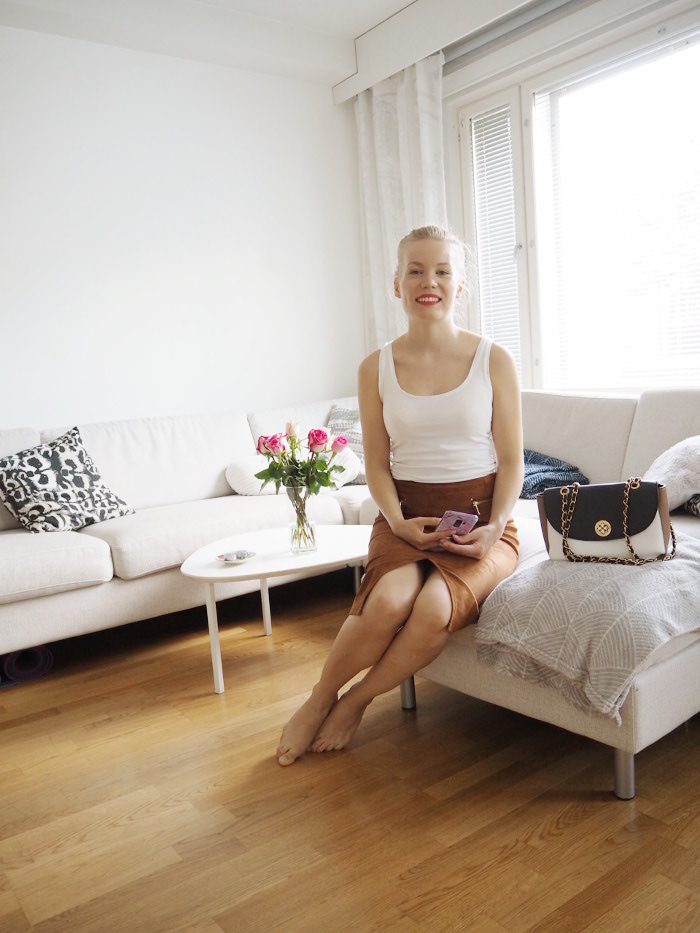 One of my latest findings from Zadaa is the beautiful skirt seen on these photos. It's from River Island, one of my favorite brands. And yes, I found it by using the search tool. This skirt was actually unused – or just tried on once – so buying second hand doesn't always mean buying something very used.
At the moment my clothing situation is pretty good. The only thing that's on my not-in-a-hurry-buying-list is a good quality leather jacket. That's why right now I'm focusing on selling the clothes I no longer use. This means you can find my shop in the Zadaa Showroom this week! It's open right now and I'm selling some pretty cool things, like that unique handbag next to me on the photo above. There's also my old camera on sale, and it's a pretty good deal. The showroom can be found on the app from the eye icon. 
You can download Zadaa here: https://zadaa.co/download/ or on App Store or Google Play. For those, who already have the app: remember to update it to get the new features!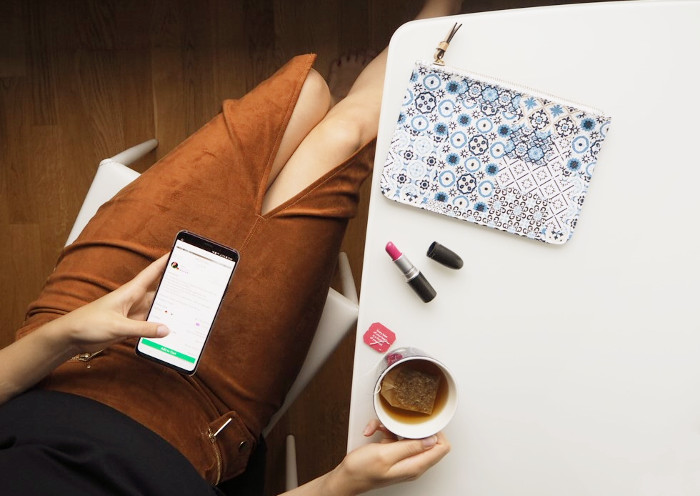 Do you shop second hand? Have you tried Zadaa?
Related Posts