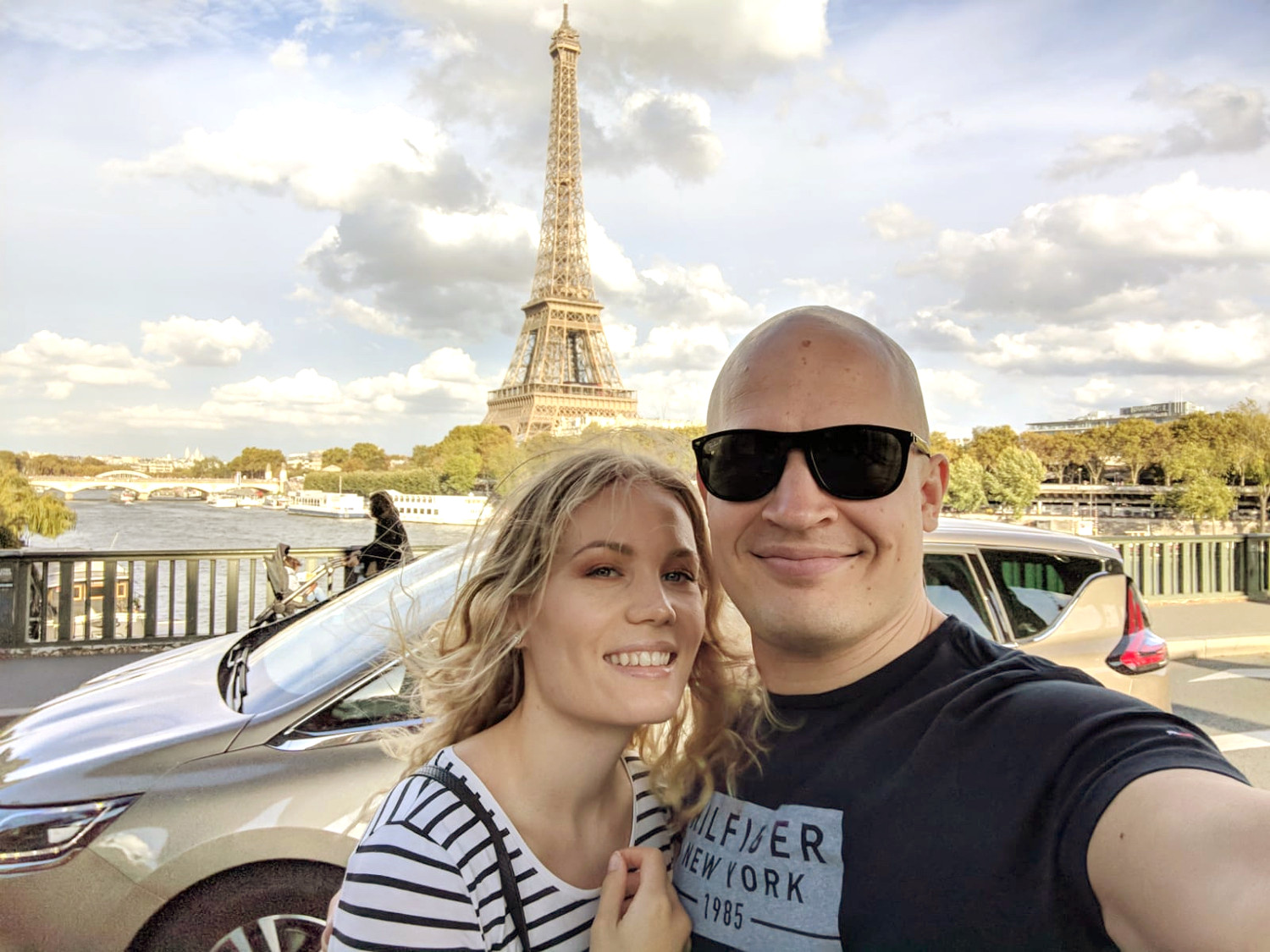 For our latest trip we travelled with just hand luggage. That meant a smaller wardrobe, consisting of mostly staple pieces. I have a whole post about what exactly I packed here, but in this post I will show you the outfits I came up with my travel capsule wardrobe.
We travelled for two weeks, of which we spent about a week in Paris and Versailles and another week in Caribbean island Martinique. For this post I gathered up my city outfits – clothes that I wore in Versailles and in Paris.
Believe it or not, coming up with outfits was easier than I had thought and I could have managed even with less.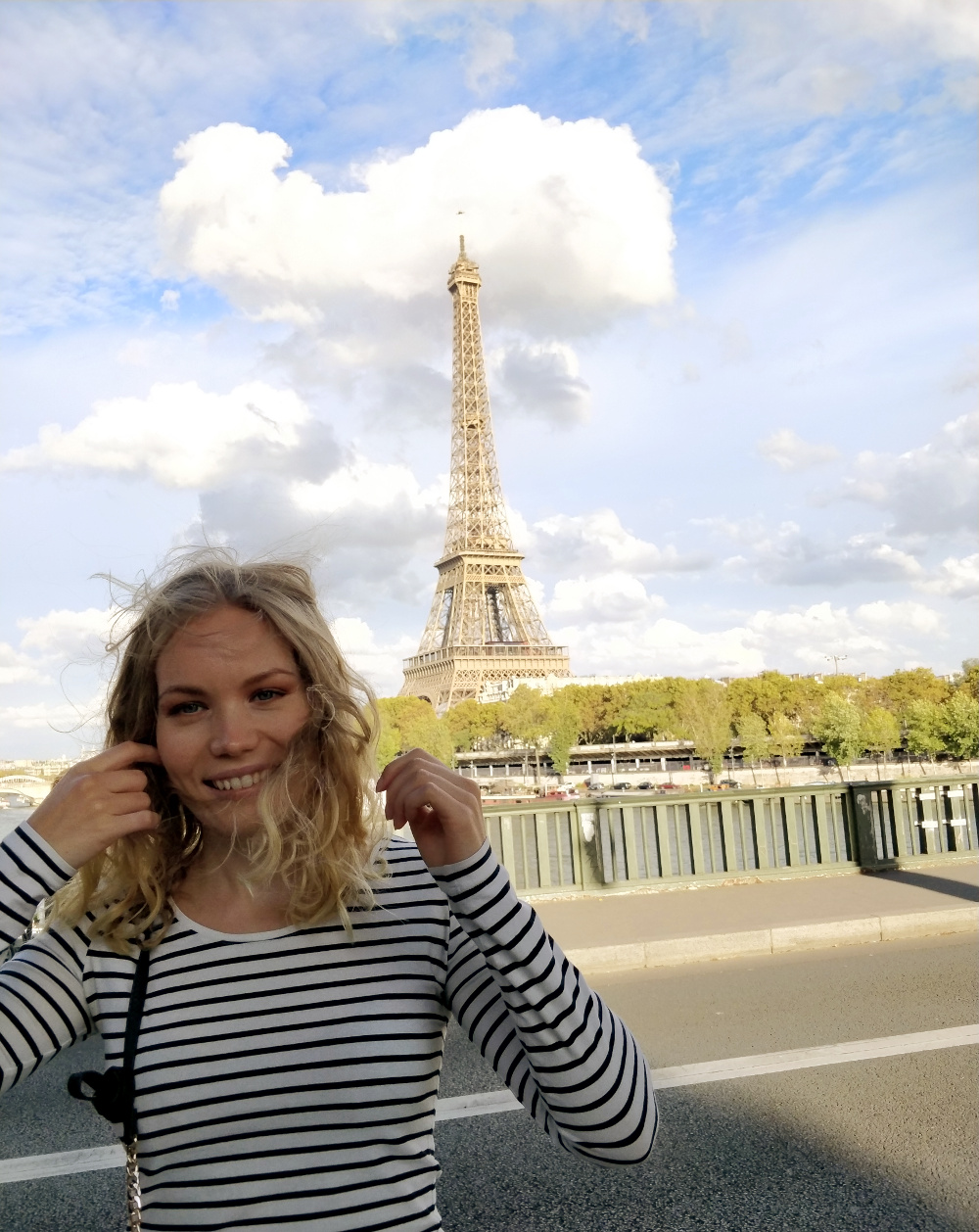 Travel capsule wardrobe – city outfits
Let's get to my outfits.
Flight – outfit 1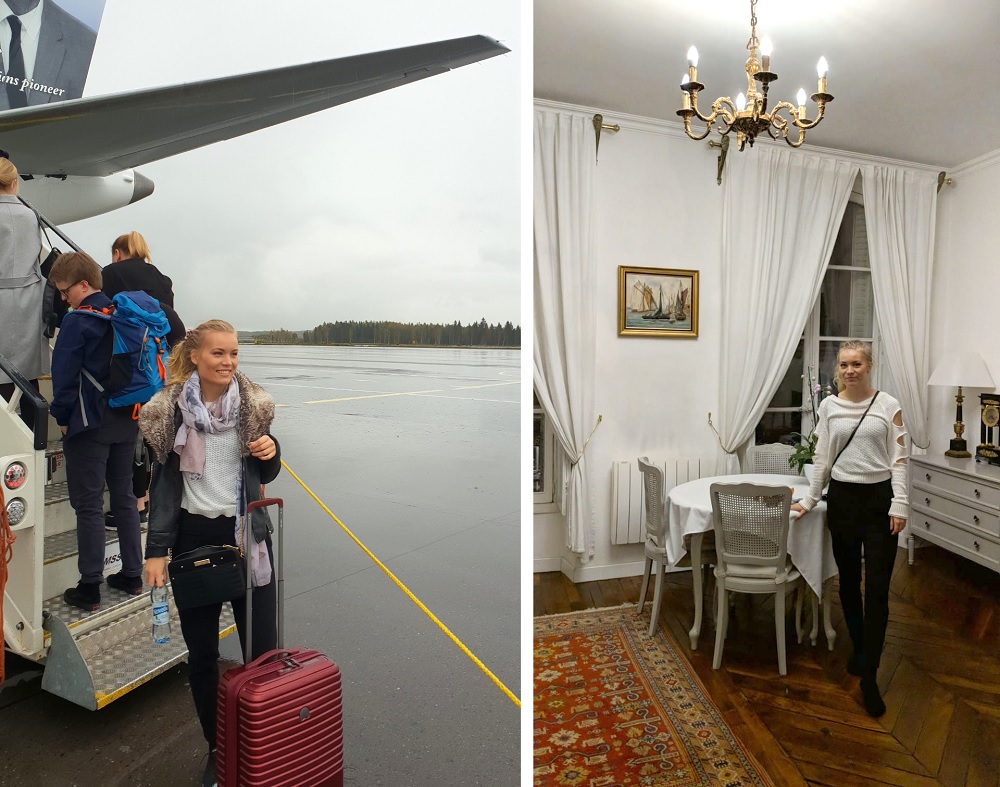 For the flight I wore black trousers, a black tank top and a white knit. I also wore a scarf and a fake leather jacket. The jacket is obviously the heaviest thing, so you need to wear it on you. My outfit was comfortable, but still neat, thanks to the pants being pinstriped.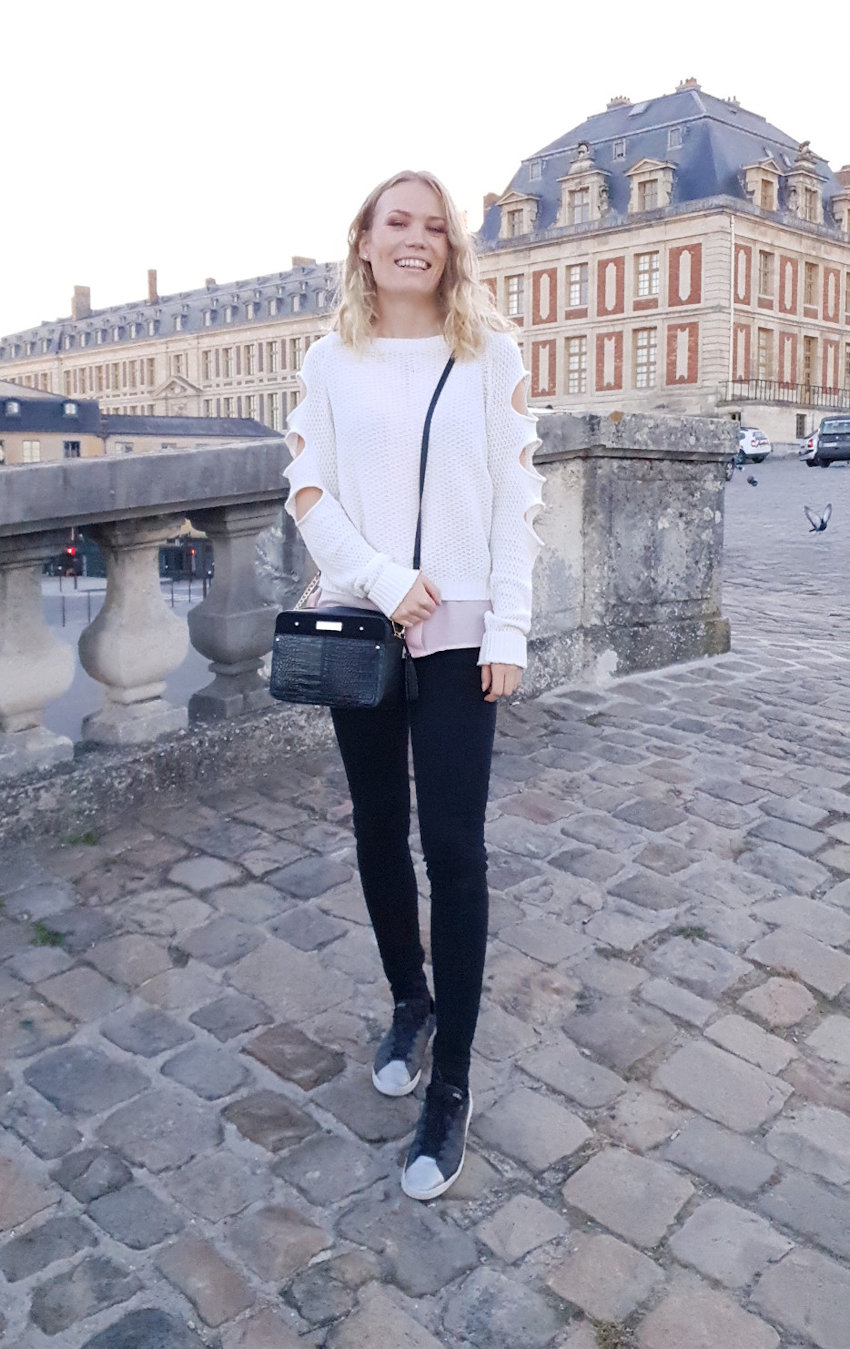 Versailles – outfit 2
I wore black jeans, a long pink top and a white knit. The pink top showing a bit adds a nice touch, I think. And the day ended up being so hot, I didn't even wear the knit that much. (You'll see the pink top better on my last outfit.)
Versailles was so lovely. So much calmer than Paris.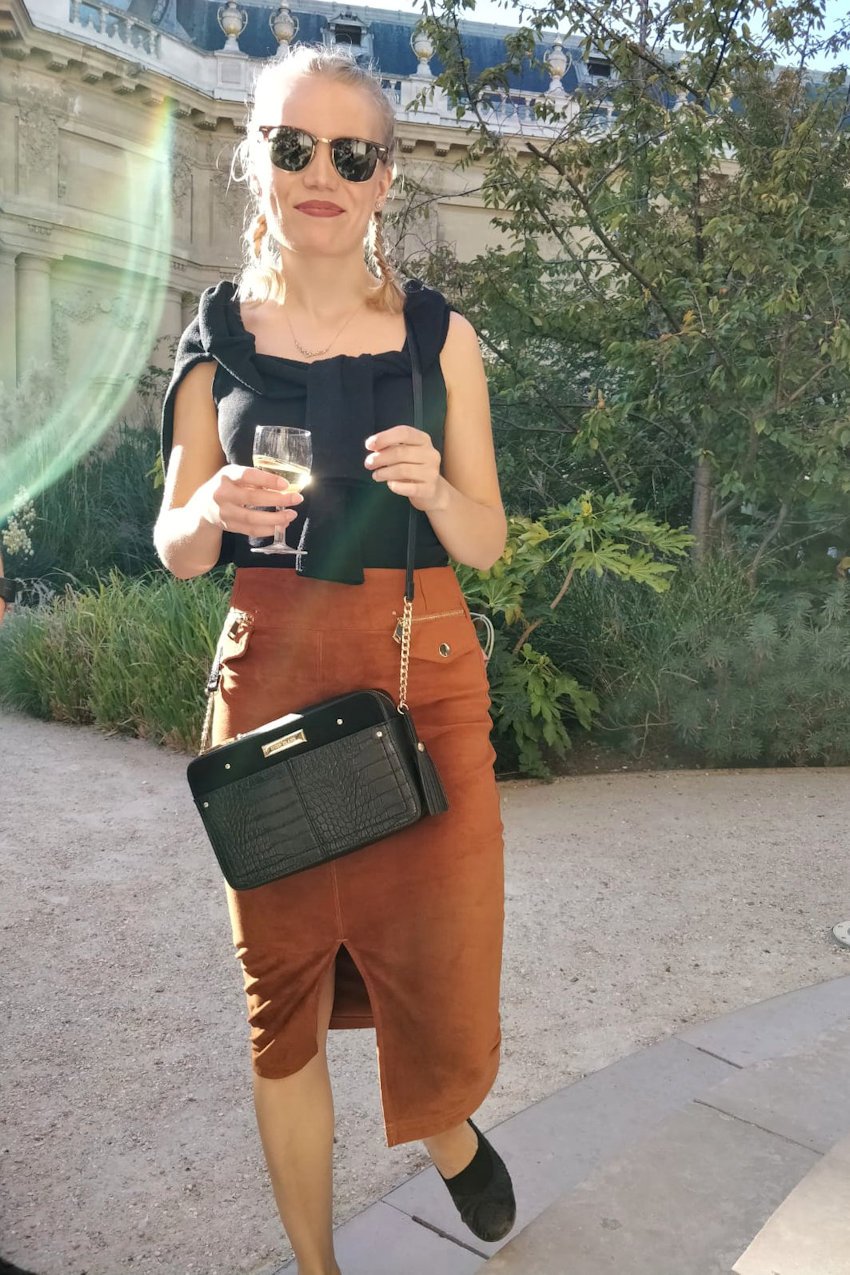 Versailles & Paris – outfit 3
Ah, the day someone pick pocketed me on the train. Happy memories. I wore my brown skirt, black tank top and a black knit over my shoulders. And different shoes! I wore ballerinas.
The photos are from a place called Petit Palais. There was a cute but crowded cafe.
Second flight – outfit 4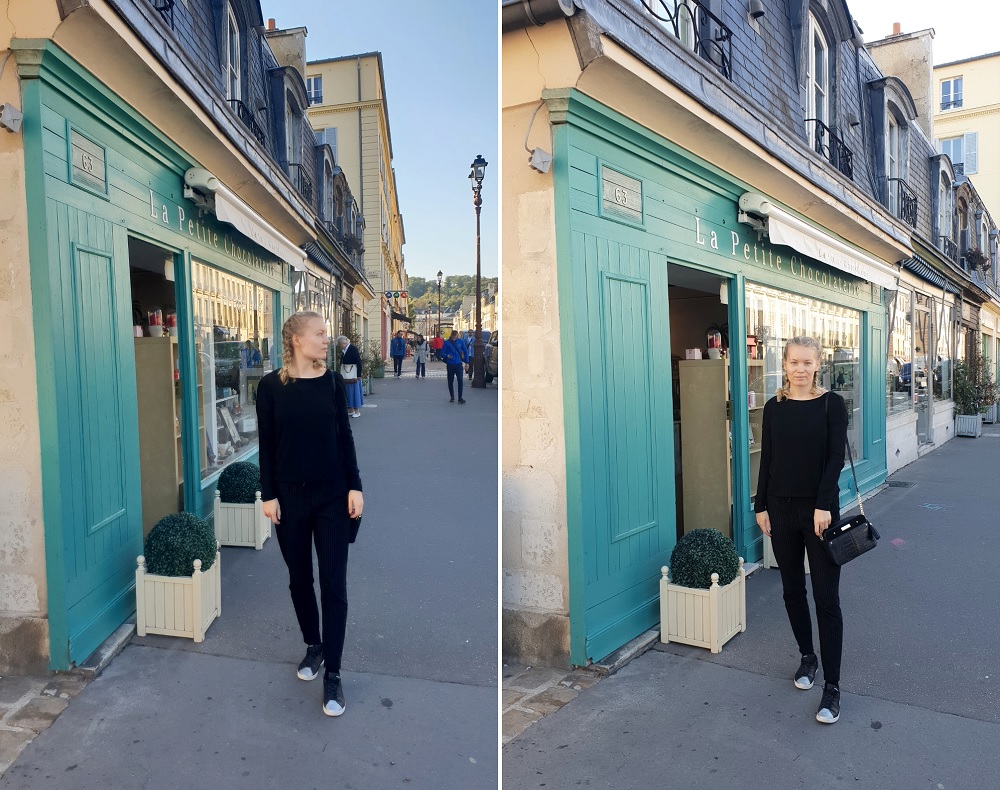 For our flight to Martinique I wore basically the same things than on our flight to Paris, except that I changed the knit. All black everything. Fake leather jacket and a scarf were also on me.
That cute chocolate shop behind me was tempting.
Paris – outfit 5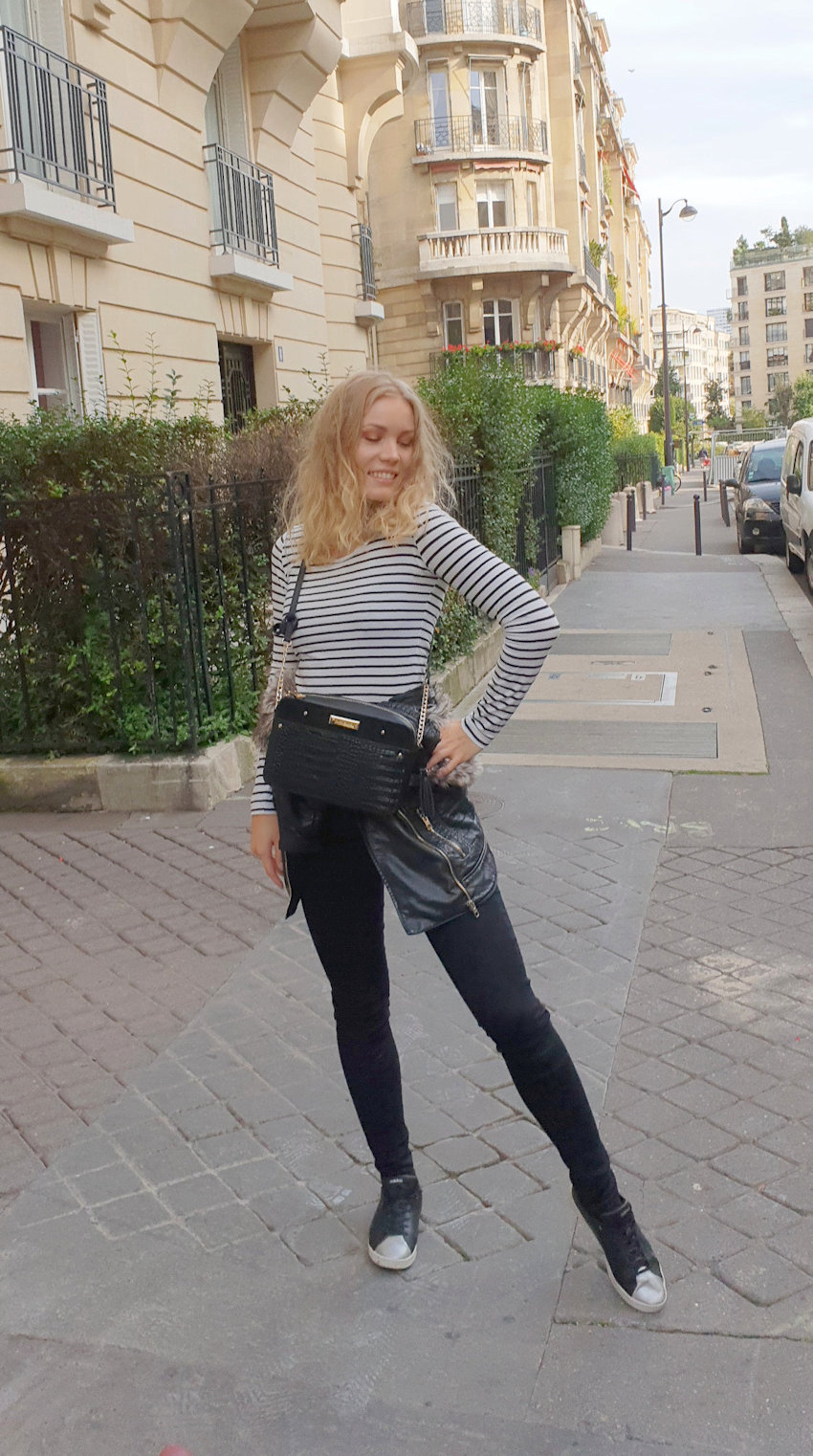 Felt like a true Parisienne in my striped shirt and black jeans. A side note: I tied my bag to get it higher up on me, after getting pick pocketed that other day. Safe to say I was paranoid.
This was the relaxing day, when we came back from Martinique and our airbnb ended up being invaded by bedbugs. Well, one night in a hotel (felt like such a luxury!) and our next airbnb was great. Oh, and we got our money back and more.
Paris – outfit 6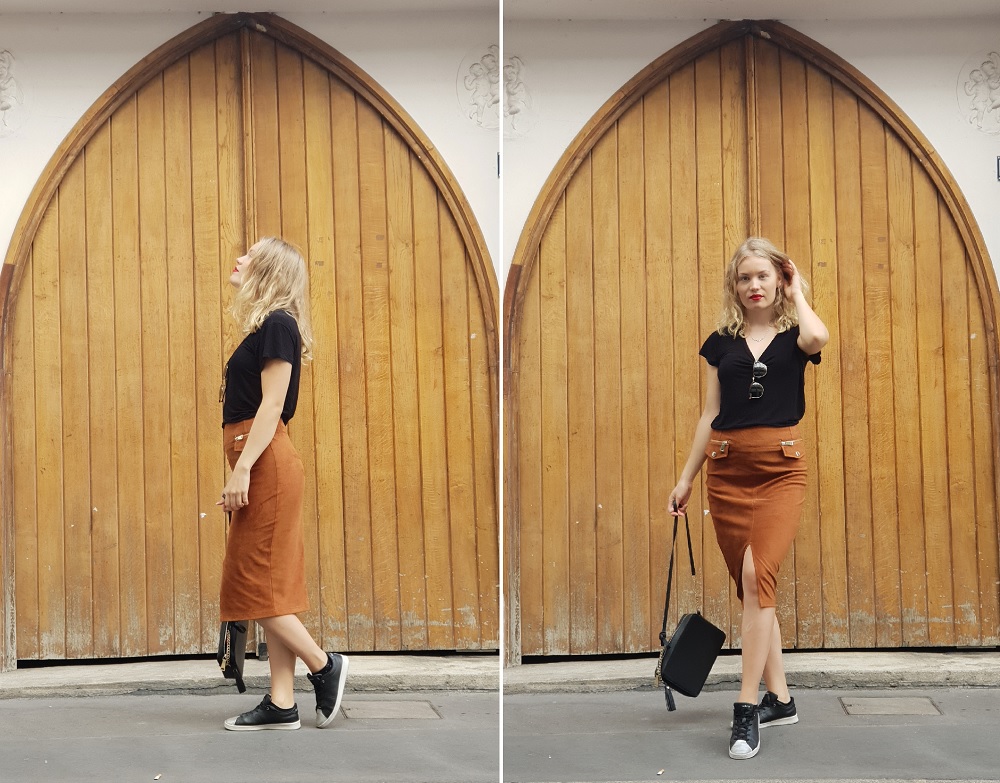 We were lucky to have such warm weather! I wore the brown skirt with a black t-shirt. I love that skirt so much.
I love beautiful doors and there were lots of them in Paris.
Paris – outfit 7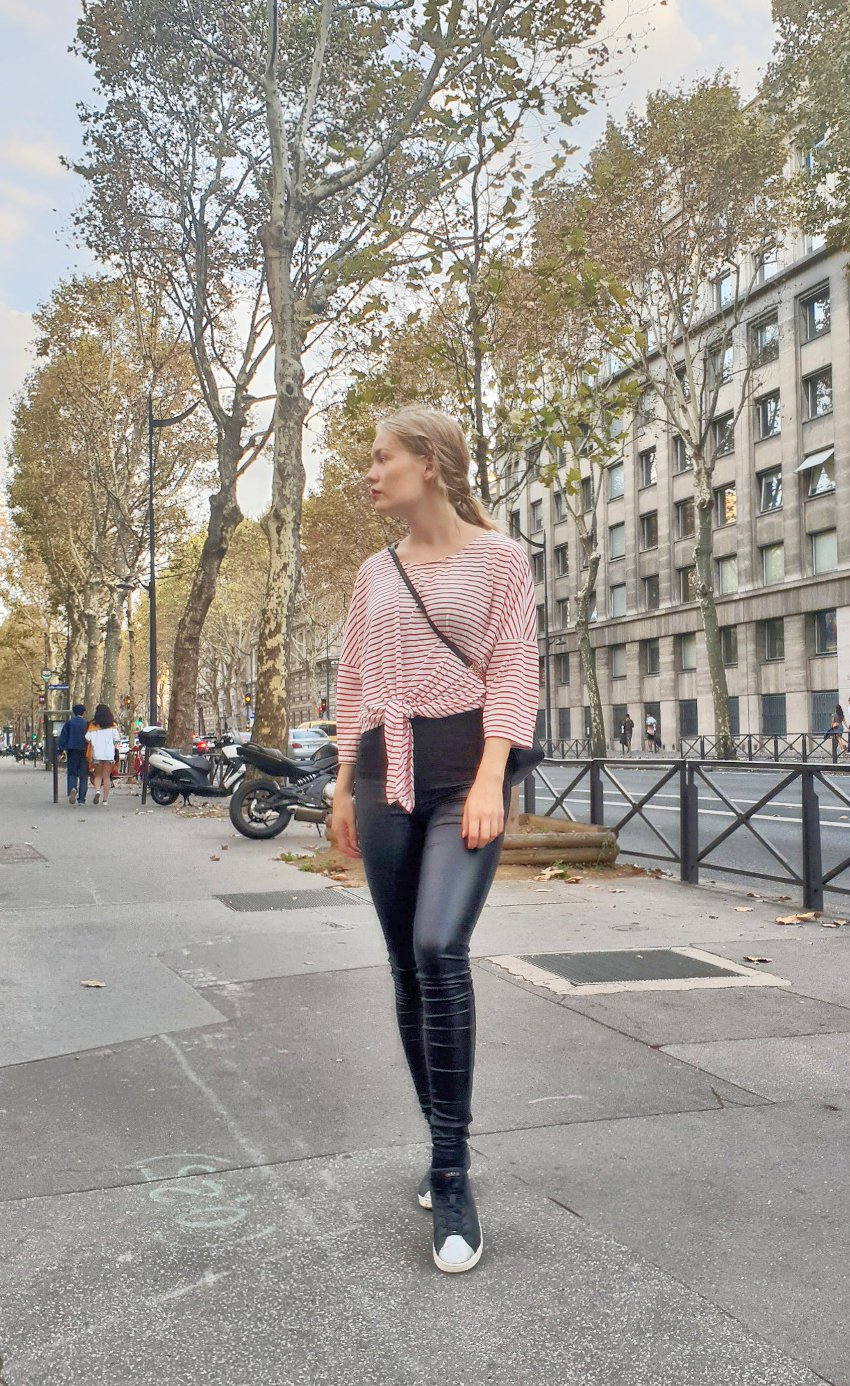 Okay, here I cheated. Just a little bit. But the fact that we were travelling with my sister who is basically the same size as me, made borrowing her shirt so tempting. So I wore my sister's red striped shirt and my own black leather pants (I think of them as my other 'statement item').
On this day we visited the Wall of Love and spotted the most wonderful sentence in Finnish as well: Minä rakastan sinua.
Paris – outfit 8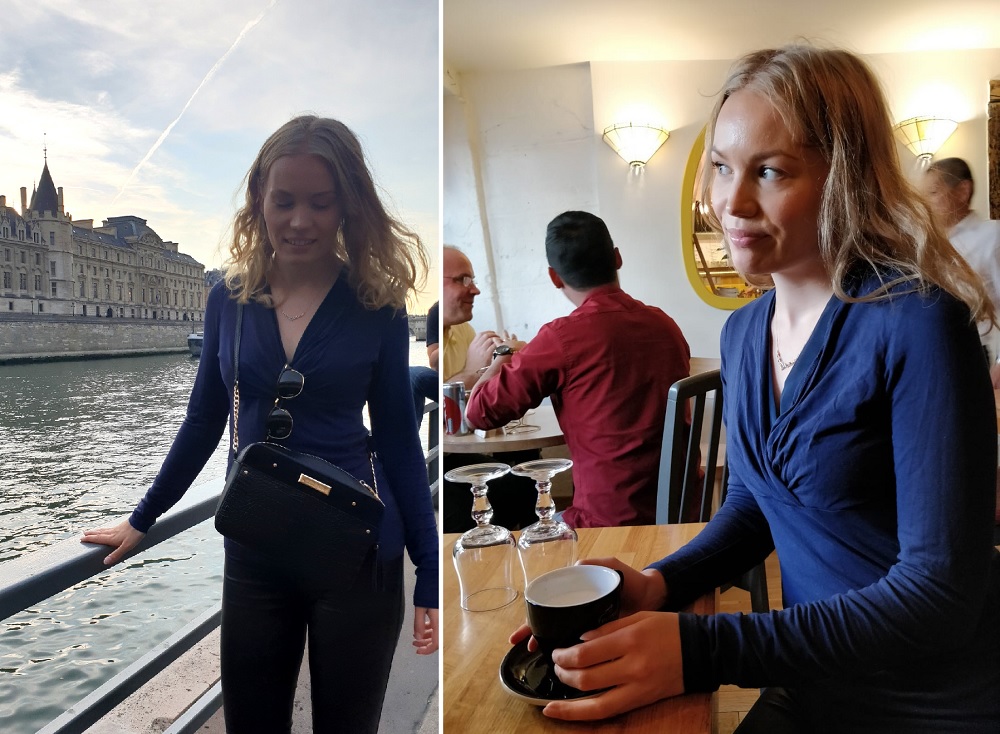 Another day of the leather pants. I paired them with a simple blue shirt. Here you can also see my necklace that I wore quite often as well.
We ate at least four times in the same restaurant during our stay in Paris. So if I give you one restaurant recommendation, it's this: Shiso burger (suitable for everyone, vegan and gluten-free as well).
Paris – outfit 9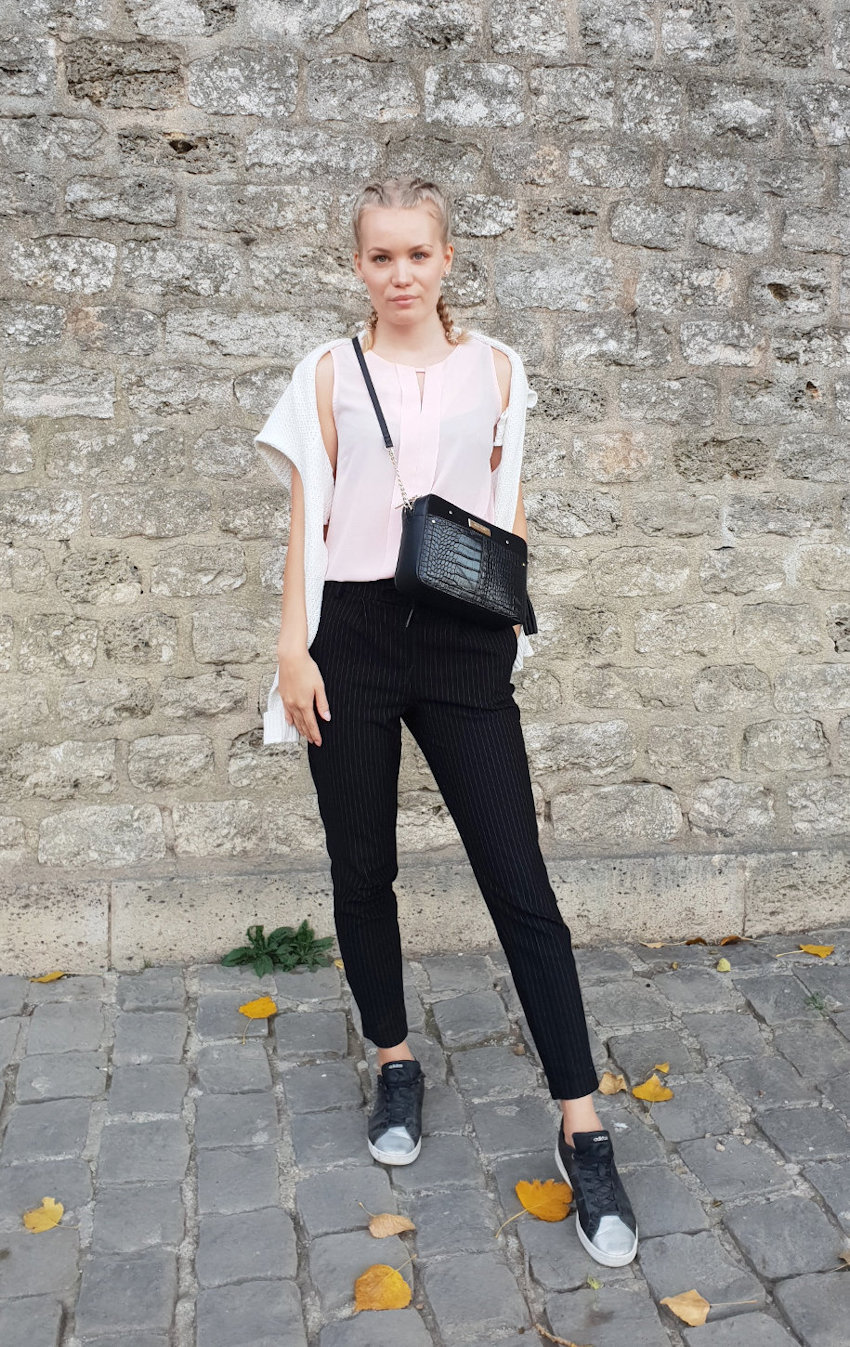 Almost the same outfit as the one I wore in Versailles. Except the pants. Also, I ended up using those sneakers almost every day. They were the best choice, since they are so comfortable. In Paris you walk a lot.
On this day I enjoyed wine and the light show of the Eiffel tower. The day was fun, even though we kind of hated the public transportation and RER trains that day.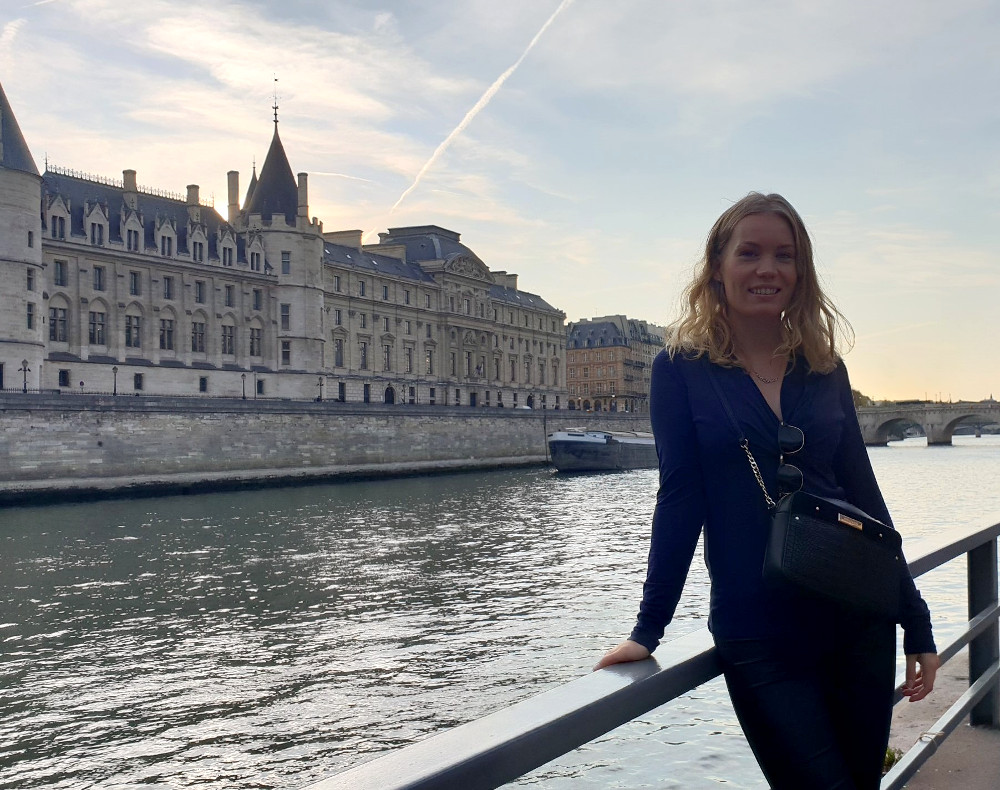 And that's it for the outfits. Coming up with outfits was so fun, since I basically just packed all my favorite clothes. I felt comfortable, but still stylish – even if I say so myself.
What is your favorite outfit from these?