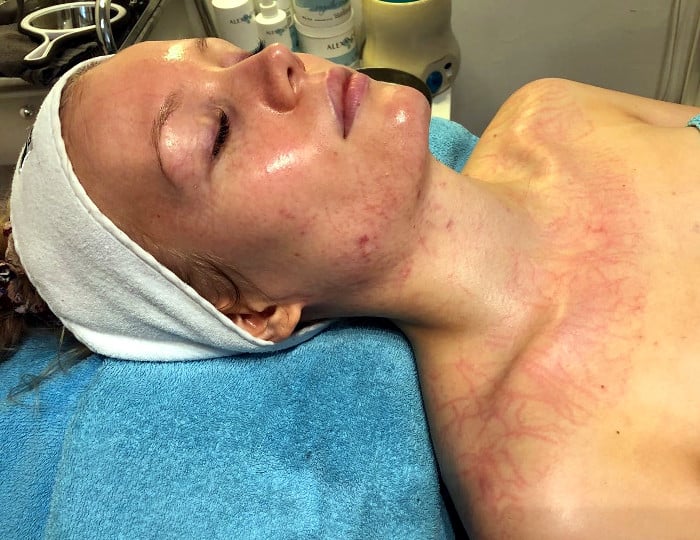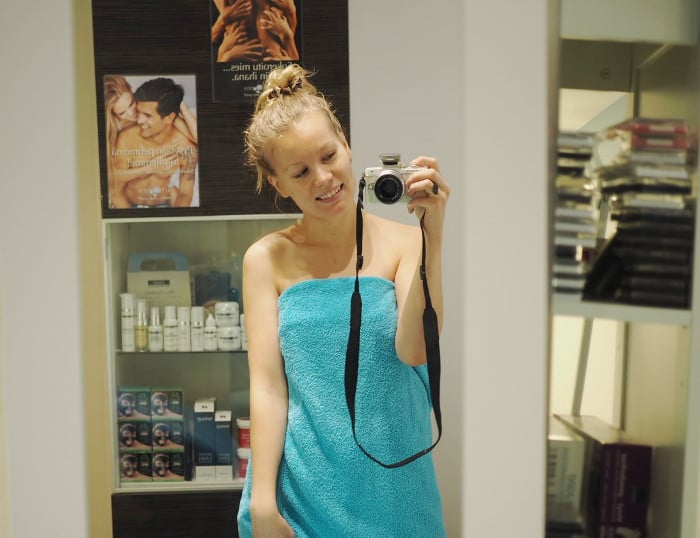 Collaboration with cosmetologist Anu
Contains a discount to DMK-facial & products
I've tried several different facials, but few of them are as rememberable as DMK's enzyme therapy facials. While those usual relaxing treatments lovely and I enjoy for example face massage – it's a totally different thing to leave from your facial, so that you don't only feel the effect, but actually see it clearly. Who wouldn't want to see results right away?
Today I'm going to tell you about a very effective facial and brand called DMK. DMK is quite different from other professional skincare brands. The facials are really different as well, because they don't contain for example massage and the treatment can actually hurt a little. Yes, it's a bit painful at times. I should also mention the mask, that tightens on your face and does it's magic for forty-five minutes. You can't really move your face during that time, but the mask does that for you – it works your muscles and it feels as if your face was at the gym.
Still it's one of the most effective facials I've ever tried (this wasn't the only time I've tried it) – and I'm excited, that I can tell you more about it through this collaboration with my cosmetologist.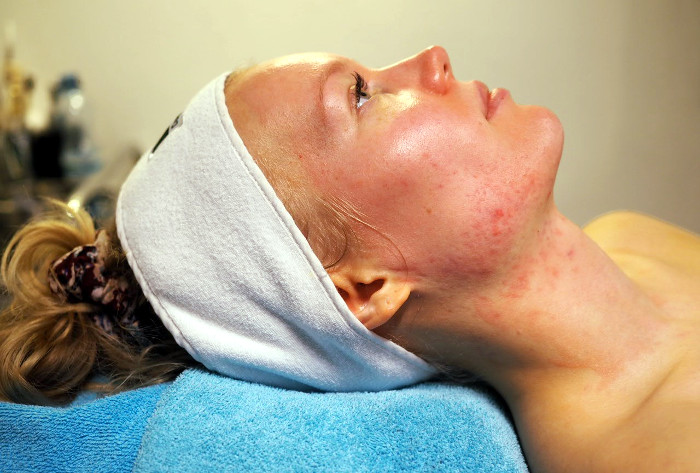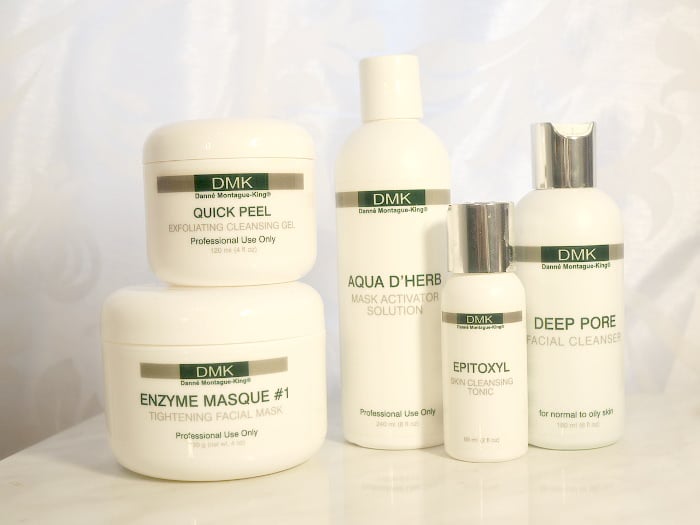 DMK skincare brand
DMK is an american brand, which ideology is to bring balance to the skin with products and treatments, that work together with your skin, not against it. The products contain mostly natural, plant-based ingredients. The ingredients are categorized pharmaceutical, so they contain more active ingredients compared to base ingredients.
What is my own experience with DMK skincare line?
I think it's a quality brand and I wouldn't put in on the same line with many brands. The products look a bit boring, because the idea is to make the products awesome – not to use money on it's packaging. At the same time when I look at the products they seem medical to me – just as the treatments and the education manual (I once went through the education for work). Cosmetics isn't supposed to absorb that deep in the skin, but with these products it's said, that they affect the skin on cell level. In my experience they are effective.
So you do get your money's worth with these, even though the price seems a bit salty at first. The consistencies of the products are nice and there are no additional scents used in the products.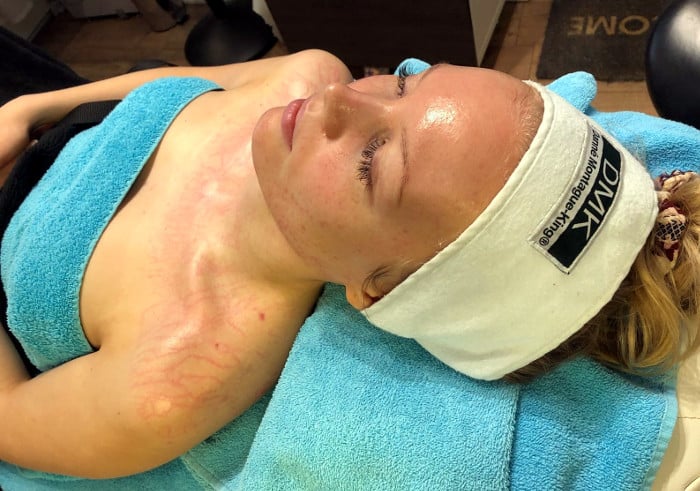 DMK Enzyme Therapy facials
Enzyme facial is one of my favorite treatments. It makes my skin glow from within and every time I leave the appointment I feel as if I've gotten a little younger. It makes my skin feel soft, plump and clean – and the effects lasts for at least a week. My skin just feels and looks lovely.
Enzyme therapy creates a plasmatic effect by dilating capillaries.  You can clearly see your veins after the mask, as you can see from the photos as well. It increases blood and lymph flow to the skin, which you can feel as the mask tightens on your skin and pulsates (as I said, it feels as if your face was working out). This makes oxygen to rush to the dilated capillaries.
DMK enzyme therapy effects:
removes dead skin cells
stimulates circulatory system
stimulates lymphatic flow (so it removes puffiness from your face!)
brings oxygen to skin
stimulates collagen production
strengthens your face muscles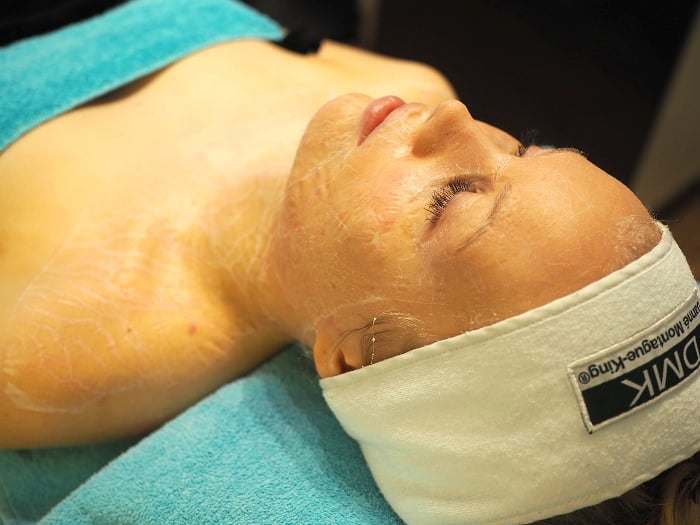 The treatment is quite simple, but every single step has an important task.
Before the enzyme mask, your skin is cleaned and wiped with detoxifying tonic, that evaporates toxins from the skin. It's designed especially for acne-prone skin and to them, whose skin is exposed to lots of toxins (for example air pollutants). The substance transforms toxins into gas, and that can sometimes cause unpleasent smells. In my treatment I could smell a weird scent, but it wasn't that strong.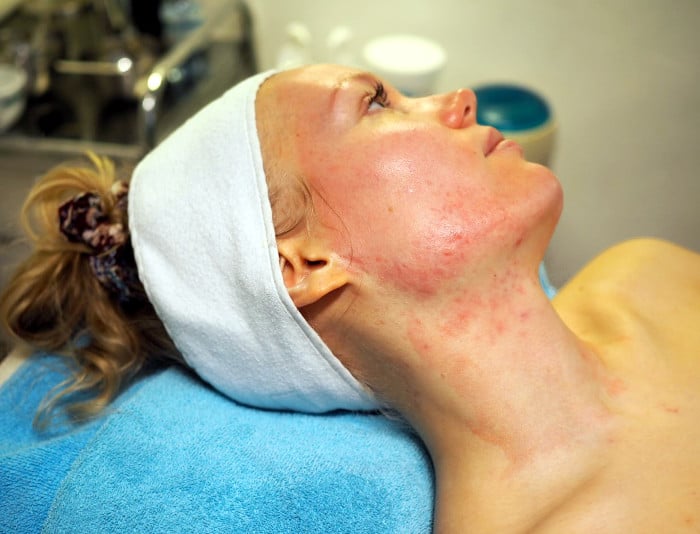 Then we get to the painful part – and I'll be honest here and tell you, that tears were literally streaming down my face. Quick peel is a chemical exfoliant, that contains acids. Even though it's super effective, it can be used on many different skin types. It exfoliates, it increases blood flow, strengthens the capillaries, removes toxins and helps with inflammation. It also promises to prevent scarring by preventing melanin production.
I can say, that this burns. I've experienced quick peel many times, but I didn't remember just how bad it was. I was both crying and laughing, while Anu made me feel better with a fan. That fan is like an angel in that situation – it helps the burning sensation so much. Lucily it's only five minutes. After the exfoliation your skin is supposed to be red – and in my case my face got extremely red. That is normal and the redness will fade, once the acid is removed from your skin. Here is another example of just how different this treatment is!
Still I would take that exfoliaton again – it's so effective. Maybe it's one of those things, you are willing to do – you know – for your beauty's sake. Just like brazilian sugaring. It hurts for a while, but it's definitely worth it and you go through it every month again and again.
Here is the simple steps to Enzyme #1 treatment. At the end of the treatment, several different serums and lotions are applied on the skin. One of the important things in DMK skincare is also sun protection and DMK's sunscreen is indeed very comfortable and lightweight (I could have recommended it on my last sunscreen post!).
DMK Enzyme #1 treatment:
Deep pore cleanser – Cleansing
Epitoxyl – detoxifying toner
Quick peel – exfoliation, 5 minutes
Enzyme mask – mask, 45minutes
Last, but not least: serums, oil, vitamin c, herb & mineral mist, lotion, sunscreen
Anu does DMK facials in her beauty room in Hiushuone Neo in Kamppi, Helsinki. Enzyme facial lasts for about 120 minutes and it's normal price is 149€. So you could say it's a bit more pricey than the regular facial, but as you might have already figured, it's not a regular facial.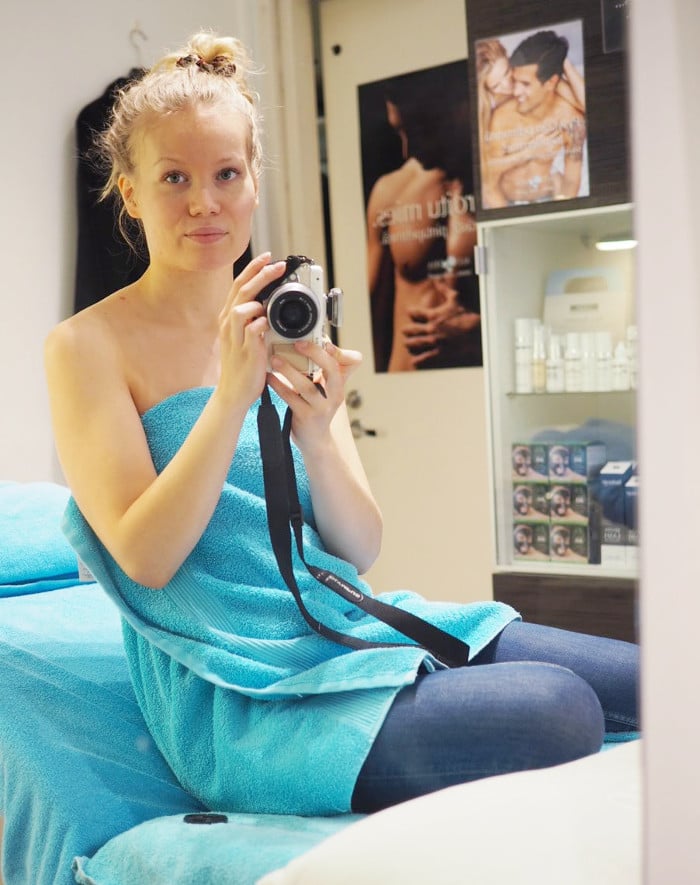 DISCOUNT
Anu has an awesome deal for you right now: DMK Fundamentals kit, which contains one enzyme treatment done at the salon, and products for you to use for thirty days at home. Here's a great chance to try not just the treatment, but also the products. It's always recommended to use DMK's own products with the facials, so that the results last for longer.
This kit is now 200€ (normal price 250€). The discount is valid until the end of June – make sure to tell, that you got the discount from Charlotta Eve blog.
If your skin needs a boost and you want to know, just how good a quality treatment feels like – consider DMK's enzyme facial.
Facials are always customized to be suited for the client. Besides the enzyme treatments, there are other DMK-treatments available. There is for example DMK Beyond Botox – The smiling face treatment, which is awesome for those who use fillers, to make them last longer and to prevent the need for them.
Have you ever tried DMK treatments? What do you think of it? Do you prefer relaxing treatments or the ones, that give you results right away?