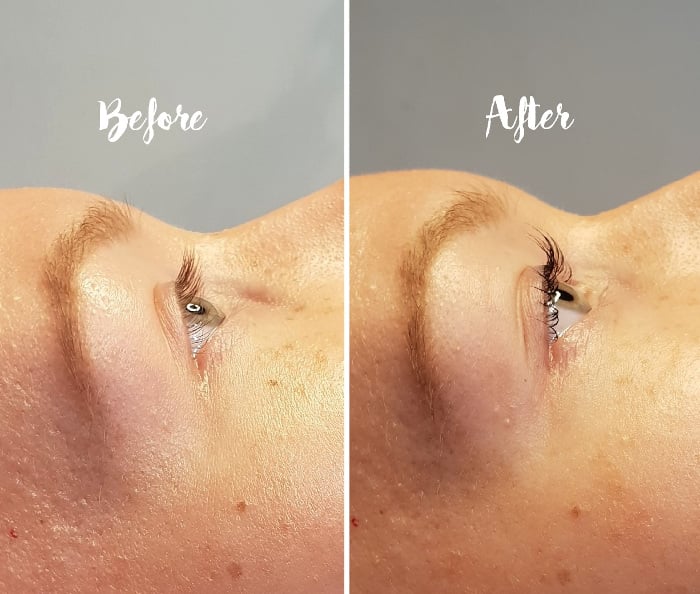 Collaboration with cosmetologist Anu
Lash lift is the perfect alternative for those, who don't want lash extensions or can't have them for some reason. Yumi lash lift boosts your own lashes with a lift and a tint, so that the result is always natural.
I've had lash extensions for six months, but a while back, I turned to this more natural option. And I'm happy that I did. Now that I got my lash extensions removed and got the lash lift instead – I feel whole. I think I missed my natural state a bit. Who knew, that having your lashes semi-permanently lifted made such a difference?
Well, actually I have straight lashes, so I absolutely knew that. But nevertheless – the results were even better than I expected!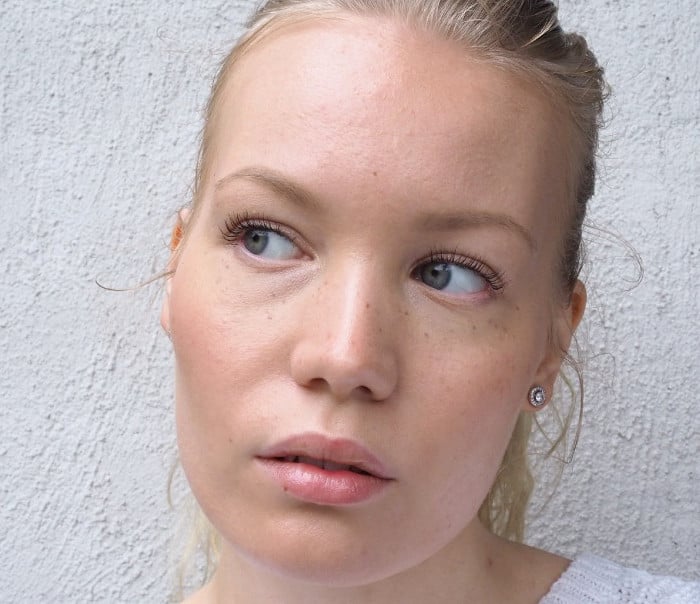 Yumi lash lift
I have naturally transparent and straight lashes, so if you saw me walking on the street without makeup, you might think, that I don't own lashes. But it just so happens, that I own quite a nice set of lashes, if I say so myself. They are just hidden. And quite stubborn, when it comes to curling and applying mascara on them.
Having them lifted and tinted – has made a small, but a significant difference. When I'm not wearing makeup, you can still see some lashes. And when I'm wearing a mascara: VA-VOOM! I've always struggled with lash curlers and mascaras and not many of them seem to keep my lashes that curved. So now that I can just skip that part and apply my mascara – I'm dancing a victory dance. Besides, did I ever tell you about that time, I accidentally ripped the whole lash row off of my eye with a lash curler? Yup, that happened. So I'm quite happy to be leaving my lash curler alone.
Yumi lash lift is awesome, because it's low-maintenance. You don't need to take care of your lashes the same way you do of your lash extensions. I can just live my life normally. Wash my face and remove my eye makeup normally. I can go to shower and let the water pour down on my face and on my eyes. (Please tell me you can relate to that? With lash extensions I never went under the shower and I always washed the lashes separately carefully by the sink!)
Yumi lash lift treatment is quite quick, and painless. Your lashes are cleaned, lifted on the pad, glued on it, then there are two different pastes added to them and after that, the tint. The only thing you need to remember, is to not wet your lashes for 24 hours. After that, it's normal (but a bit better, hah) life.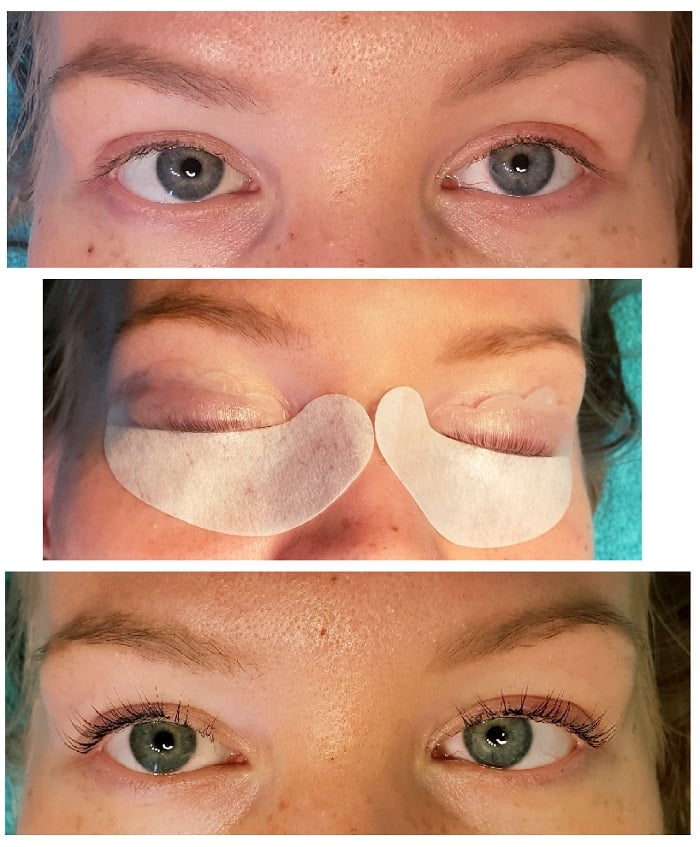 How long does the procedure take?
It depends on the professional, but it takes somewehere around 1 to 2 hours.
As a professional, I can reveal to you, that what takes the longest time is the glue. It's important to get the lashes nicely in a neat row (like you see in the picture above, Anu made a nice neat row!) and sometimes the lashes are stubborn and you need more glue and more time.
The time for the actual process (the perm substances & the tint) isn't that long.
How long does Yumi Lash lift last?
Your lashes stay lifted for 8-12 weeks, depending on the natural cycle of your lashes. Your lashes will naturally renew – they fall one by one and new lashes are grown back. So here's another reason, why it's such a great alternative to lash extensions. When I had extensions I had to fix them every three weeks. Lash lift lasts for two months!
How Yumi lash lift differs from lash perm?
Lash perms are old news, and nowadays it's all about lash lifts. The difference is in how it's done. With lash perm, your lashes are curved on a round roll – and there's the possibility of having curly lashes, yikes. I know this, because I've done perms to clients. Successfully, thankfully, but I still think the whole procedure is a hassle. With Yumi lash lift your lashes are simply turned upwards, on a curved soft pad, so they can't get accidentally too curly. In my opinion, your lashes look longer with Yumi lash lift. And it's just a safer and an easier procedure.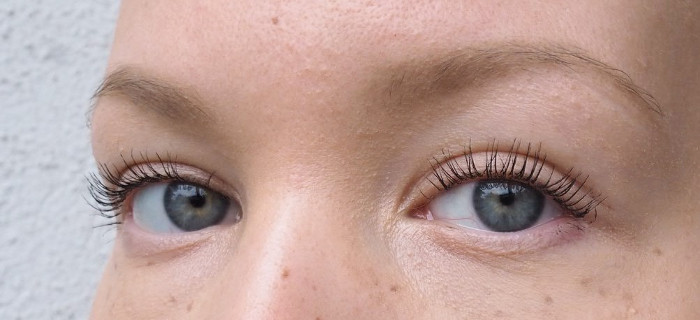 I am so happy once again with my lashes. And I'm afraid, I'm already hooked on this new technique. Yumi lash lift, you're my new favorite!
And I guess I'll admit it: I enjoy boosting my so-called natural beauty, so that when I don't wear makeup, I feel even more fabulous.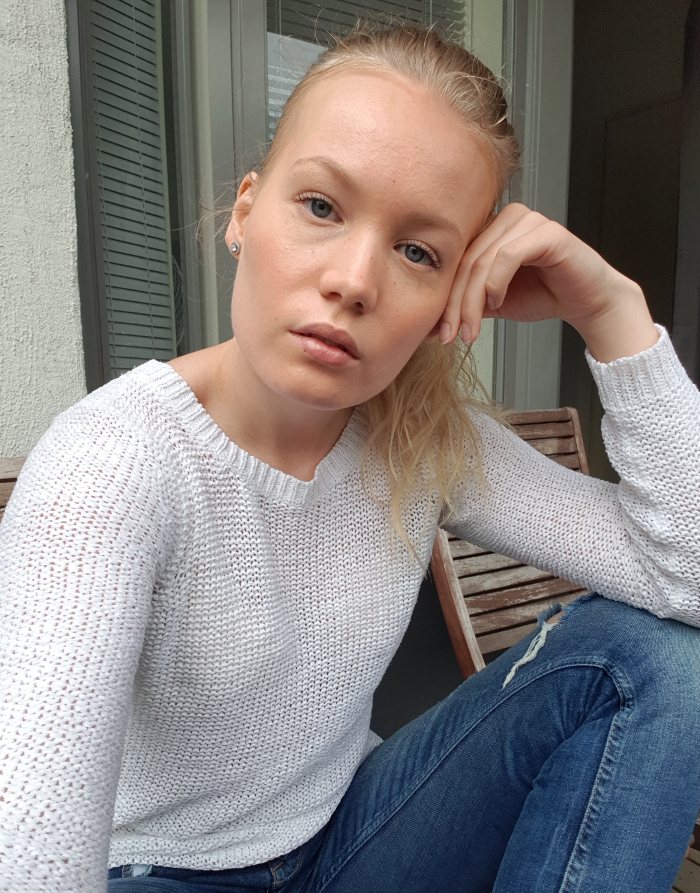 Yumi lash lift made by Anu costs 89€ and it takes about 2 hours.
Book your appointment with Anu:
Tmi Kosmetologi Anu
Kansakoulunkatu 5, 00100 Helsinki
phone 0456162998
@kosmetologianu