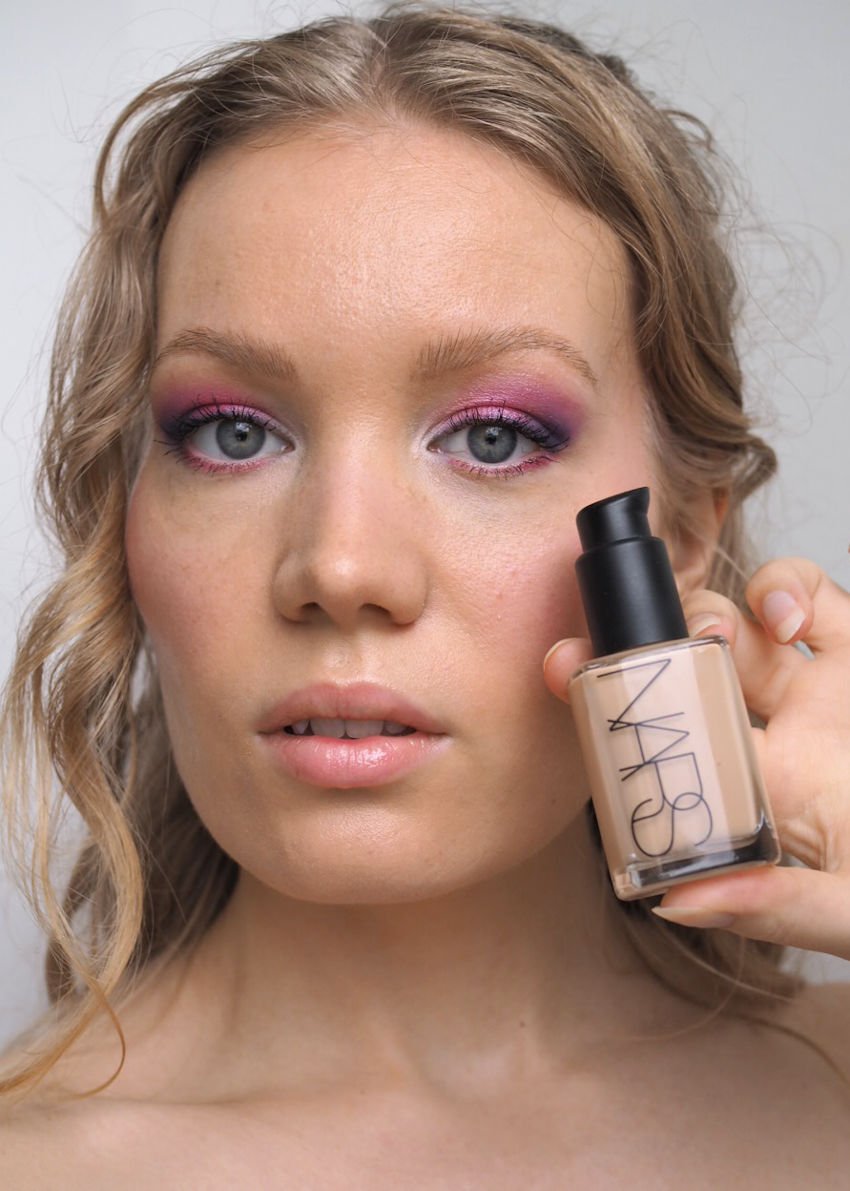 *adlink
NARS Sheer Glow Foundation is just what the name implies, but also much more (at least to a foundation fanatic). It's a medium-coverage foundation that gives a subtle glow to the skin, making your skin look like skin. I like to think of it as my skin, but in a bottle. You know, if my skin had even texture, it was smoother and not as oily. My skin, but better.
This foundation is a classic, which deserves a gold medal in my books. Here's my review with before & after photos!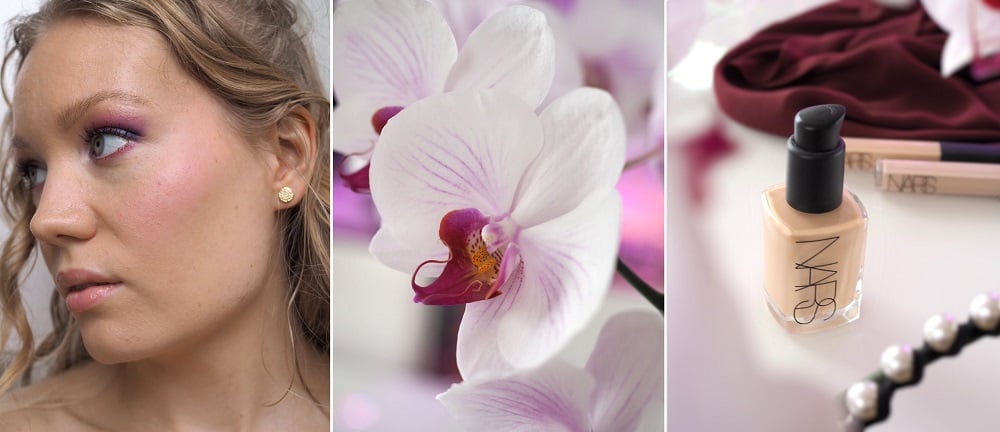 NARS Sheer Glow Foundation review
*Sheer Glow foundation has sheer, yet buildable coverage. I feel like it's impossible to create a cakey mask with this one. Since it leaves a bit of a glow on the skin and reflects light, it looks more natural on the skin than a matte foundation. (That said, there are also matte foundations that reflect light, making them look beautiful – if you're more oily you might want to check out my review on Clarins Everlasting Foundation or Estee Lauder Double Wear.)
The foundation doesn't contain alcohol or fragrance, which is great, because those two ingredients tend to be not so great if your skin is sensitive. It's also oil-free and non-comedogenic, making it suitable also for combination skin. Ingredients include glycerin, vitamin C and turmeric extract. These hydrate, brighten and even out the skin tone.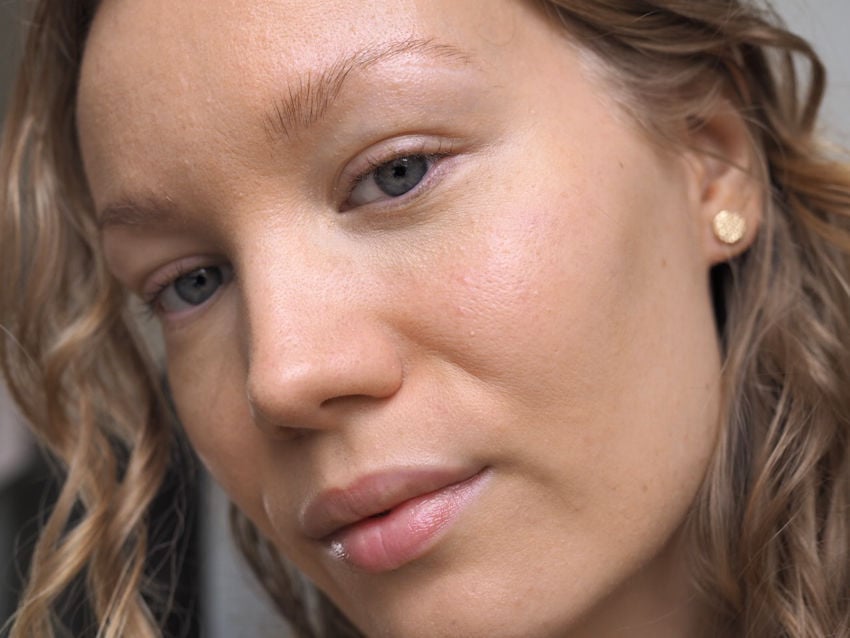 My skin type is combination, meaning I get a bit oily in my T-zone. I still love a glowy foundation and I'm so happy I found this one! It gives me just enough glow, without making me look like a greasy mess. So when it comes to the longevity, it lasts pretty well throughout the day. Obviously I'm quite glowy at the end of the day, but it's nothing too crazy. I can always fix it by absorbing excess oils with powdered papers.
Quite often I leave it without powder, but applying a light layer of powder to set the foundation also helps to keep it in check longer. If you're using a qood quality powder, it doesn't ruin the radiance. My recommendation is *Laura Mercier's loose translucent powder.
Before & After Nars Sheer Glow Foundation in Punjab (Medium 1)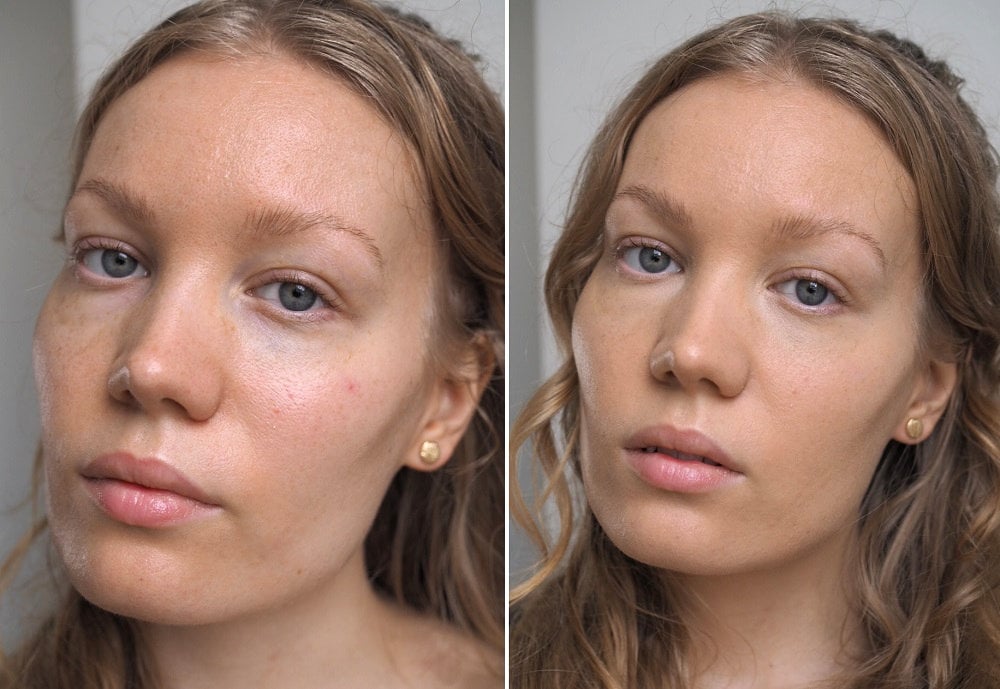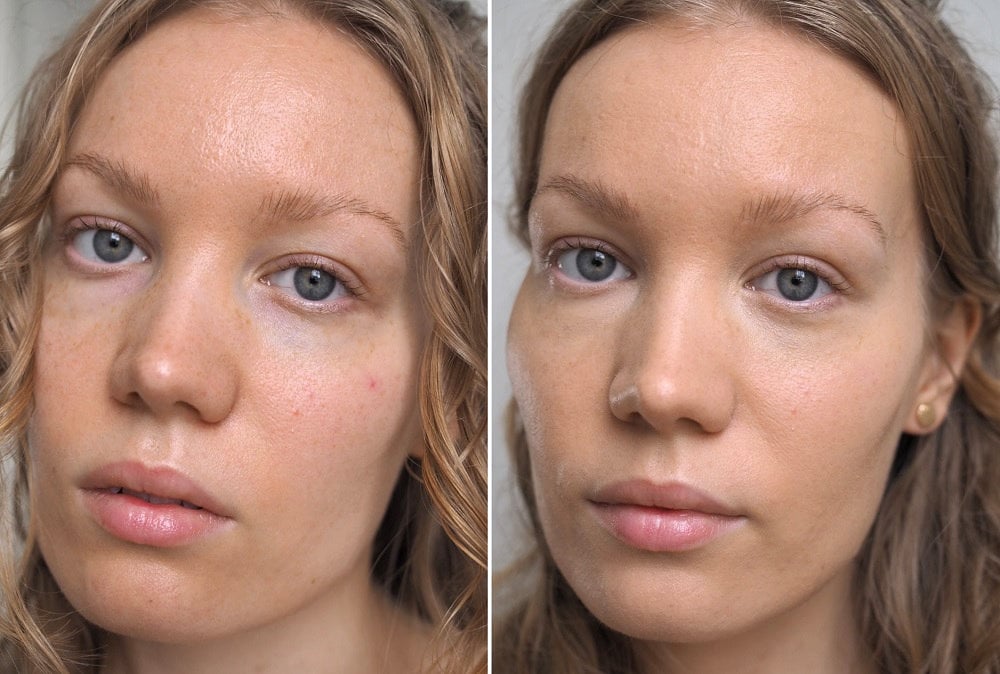 The shade that I have is Punjab. Right now it's slightly darker than my skin, but I usually use self-tan and then it fits me perfectly. And that said, you can still see how easy it is to blend to look good, even with a slightly darker shade.
There's great shade descriptions on Sephora (just follow the foundation link), so it's quite easy to find your match.
I love to apply this foundation either with a damp beautyblender or a brush. It works either way. The consistency of the foundation is very lightweight, making it easy to apply and blend on the skin. For this post, I used a beautyblender. I didn't use powder, so you can see the beautiful finish it leaves on the skin.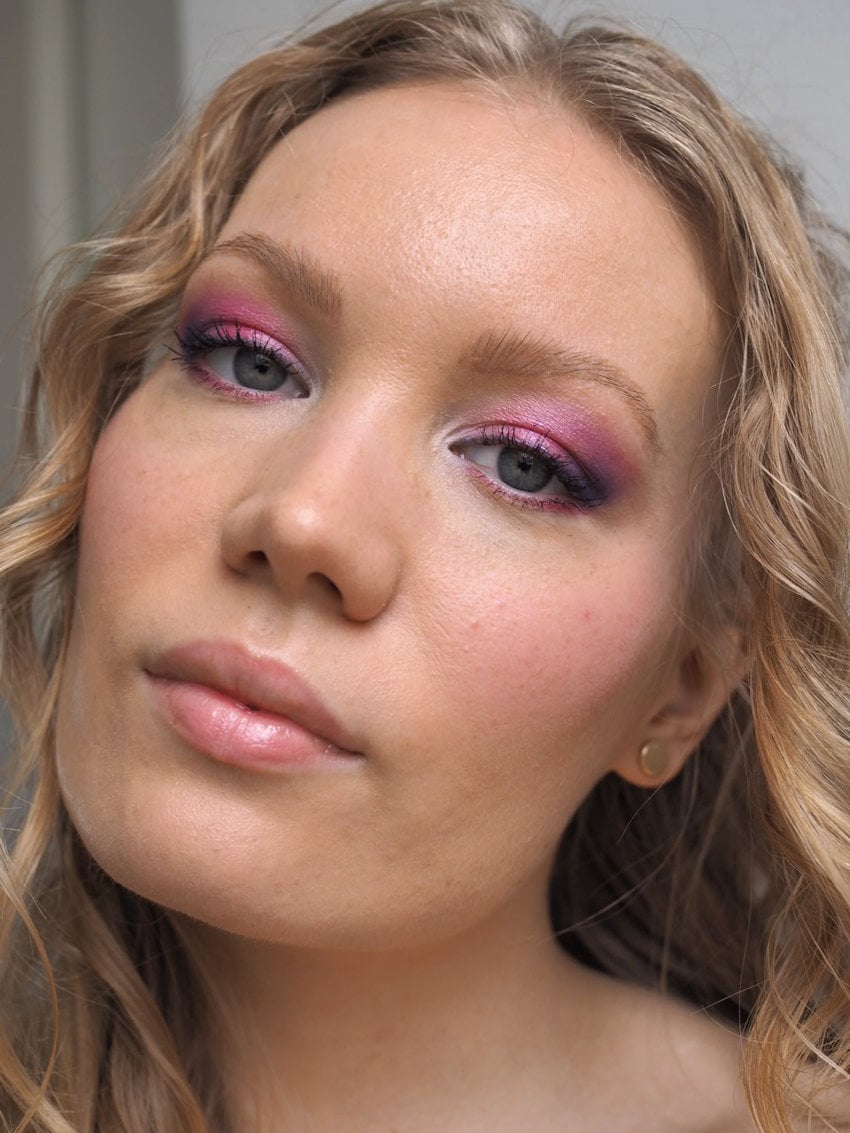 NARS Sheer Glow Foundation review & my NARS favorites
All in all, I really love this foundation. NARS really seems to know its base products. I've been using their Radiant Creamy Concealer for years and just haven't found anything that beats that. I also used those concealers in the makeup here.
Note – this foundation doesn't come with a pump. You could use the foundation without the pump, but it does make it easier to use, so I would recommend buying that. It costs $6, which I think is fine for a great foundation like this.
Shop the foundation:
*NARS Sheer Glow Foundation
*NARS Sheer Glow Foundation Pump
And when it comes to the rest of my makeup, here's the details.
Makeup details:

*NARS Radiant Creamy Concealer
*Norvina Pro Pigment Palette Vol 1 (the best purple palette I own)
*Benefit 24HR Brow Setter Gel (the best brow gel ever, check out my review)
Milani Baked Blush, Delizioso Pink
Clarins Natural Lip Perfector 5