Nowadays whenever I see a snail or hear someone talking about them the first thing that pops into my head is skincare. That may sound weird or disgusting even – but using snail extract in skincare can be really benefitial. So just hear me out, okay?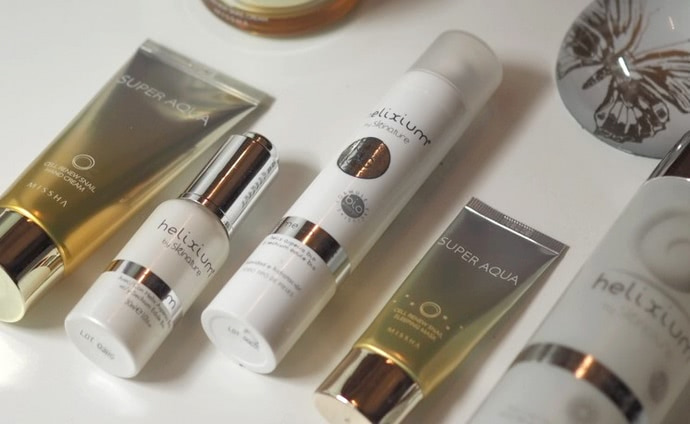 *adlink
Why is snail extract a good thing in skincare
Snail extract contains lots of good stuff: allantoin, glycolic acid, hyaluronic acid, collagen and elastin. It's regenerating, moisturizing and soothing. It helps the skin renewal process so it's especially good for mature skin or to treat acne-scars.
These benefits were found by accident at first – the farmers that were picking snails for restaurants noticed that the skin on their hands was softer and the cuts were healing quickly. This is a quick way of testing the effectiveness of snail extract yourself too –  I notice the difference on my hands almost instantly.
There are different kinds of products containing the slime: creams, lotions, gels, serums or toners. So there are definitely suitable options for each skin types.
But first, let's get to the important guestions.. Does it smell like snails? Is it gross?
Absolutely not. These products have their own scent that comes from totally different ingredients than the main ingredient (snail extract). They don't smell like snails. And the extract isn't sticky or gross. It almost feels like a silicone, very sleek and soft. I could compare it to aloe vera, but it's actually more comfortable than that. Aloe vera can be sticky but snail extract just absorbs nicely and leaves your skin feeling incredibly smooth.
Shop Snail-containing products at *amazon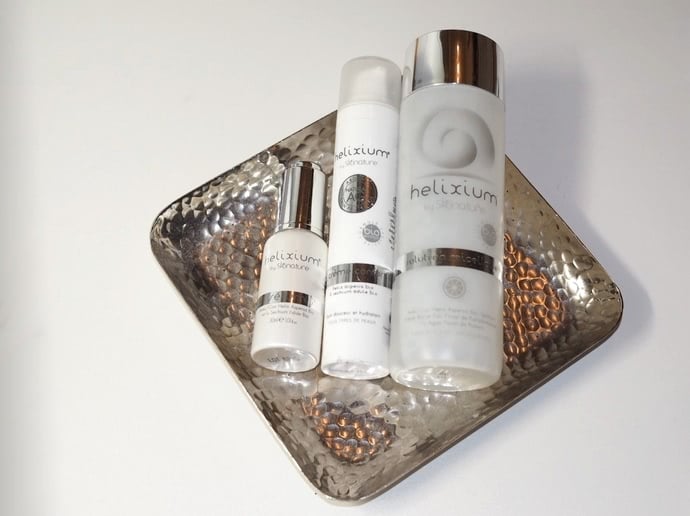 Now here are some of the products I've been using. I've tried two brands: Helixium and Missha. Helixium is certified organic brand from Skinature and Missha is a popular South-Korean brand. All of these products were sent to me.
Helixium is definitely more expensive but as I said – it's organic. The snail extract is collected manually with a respect for the animal. I really like their product range: the cream and the serum are awesome for normal, dry or mature skin whereas the toner (micellar water) is suitable for mixed or oily skin. Actually all the products are suited for all skin types and they contain silver which is antibacterial.  I think the cream would work as a night cream for oilier skin too – if you'd like to treat those acne scars. Helixium products have a certain luxury feeling to them which I absolutely love!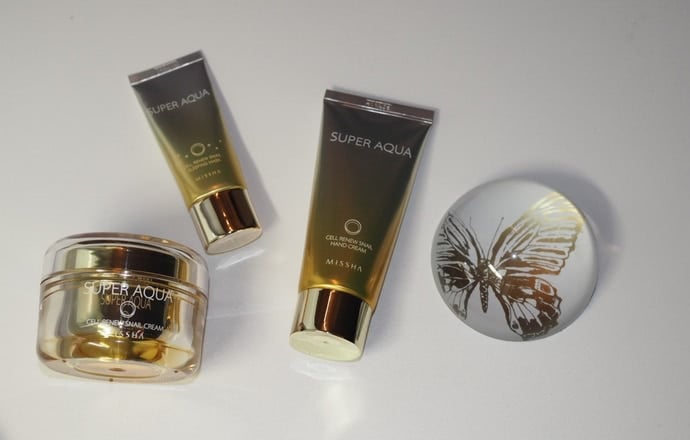 Missha is another great brand. Their snail line is called Super Aqua Cell Renew and I've tried the gel cream, night mask and a hand cream. The importer told me that here too the snail extract is being collected without any harm to the animals. Even though Missha is quite an affordable brand the products are super beautiful and look expensive. The gel cream is awesome for combination or oily skin 'cause it absorbs quickly. It contains 70% snail extract so it's the real deal. You may want to take that into consideration if you think 36,90€ is too much for a Missha product.  I also love the sleeping mask 'cause it leaves my skin super smooth. I've been using it as a regular mask before applying makeup – especially on those special days when you want your skin looking extra smooth. My all time favorite here is still the hand cream. I actually bought another tube as soon as I ran out of the first one. I think this is the best hand cream I've tried. I dare to say the secret lies within the snail extract.
Here are some swatches just for you to get a better idea of the consistency of the products.
1.* Missha Super Aqua Cell Renew Snail Hand Cream
Creamy, but still lightweight and absorbs quickly.
2. *Missha Super Aqua Cell Renew Snail Cream 
It says cream but it's definitely a gel which is lightweight but still very nourishing. Absorbs quickly.
3. *Missha Super Aqua Cell Renew Snail Sleeping Mask
A nice mask that isn't too heavy and makes the skin very smooth.
4.* Helixium by Skinature Creme confort
Creamy lotion that's very nourishing.
5. *Helixium by Skinature Serum
This watery serum absorbs to the skin immediately.
Featured image by Kev-shine (flickr link).
Have you tried snails (other than on your platter)?