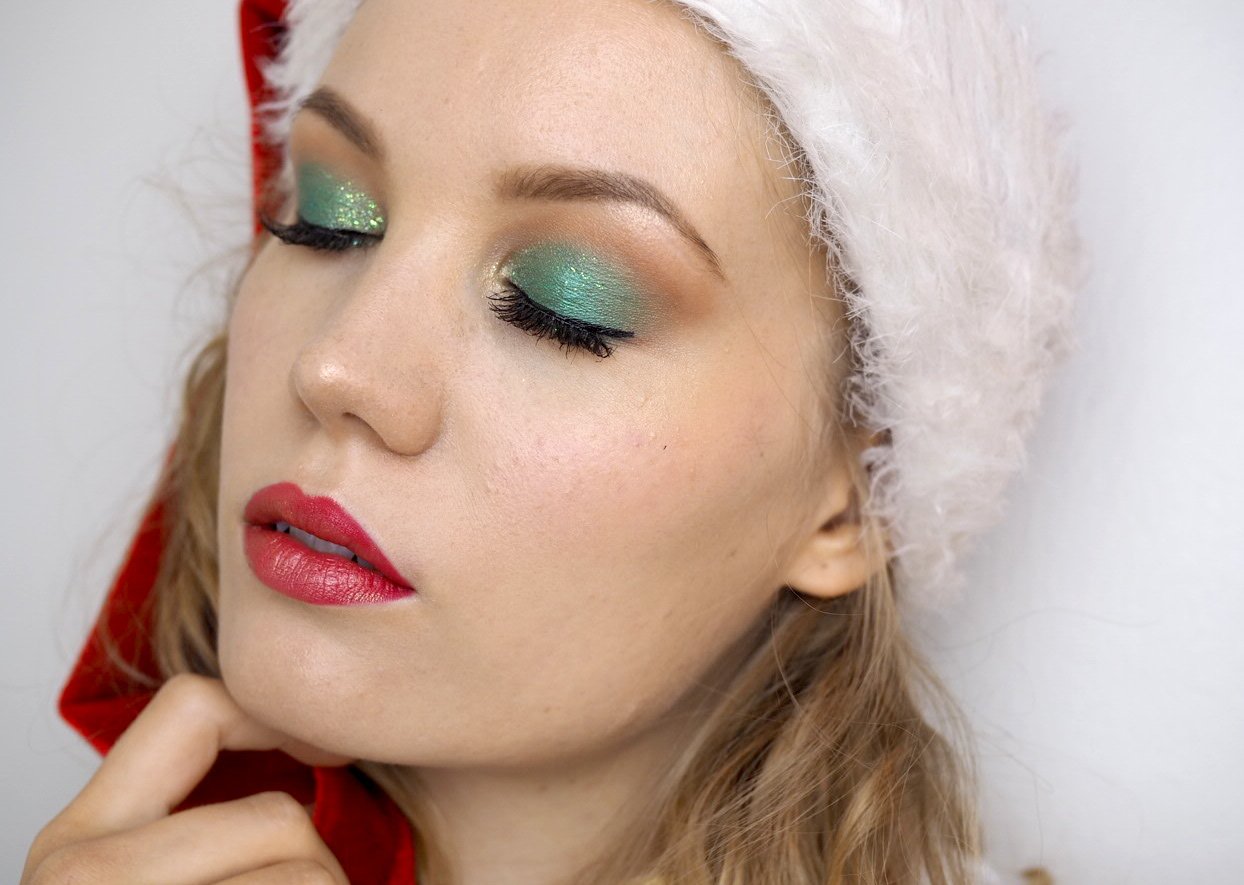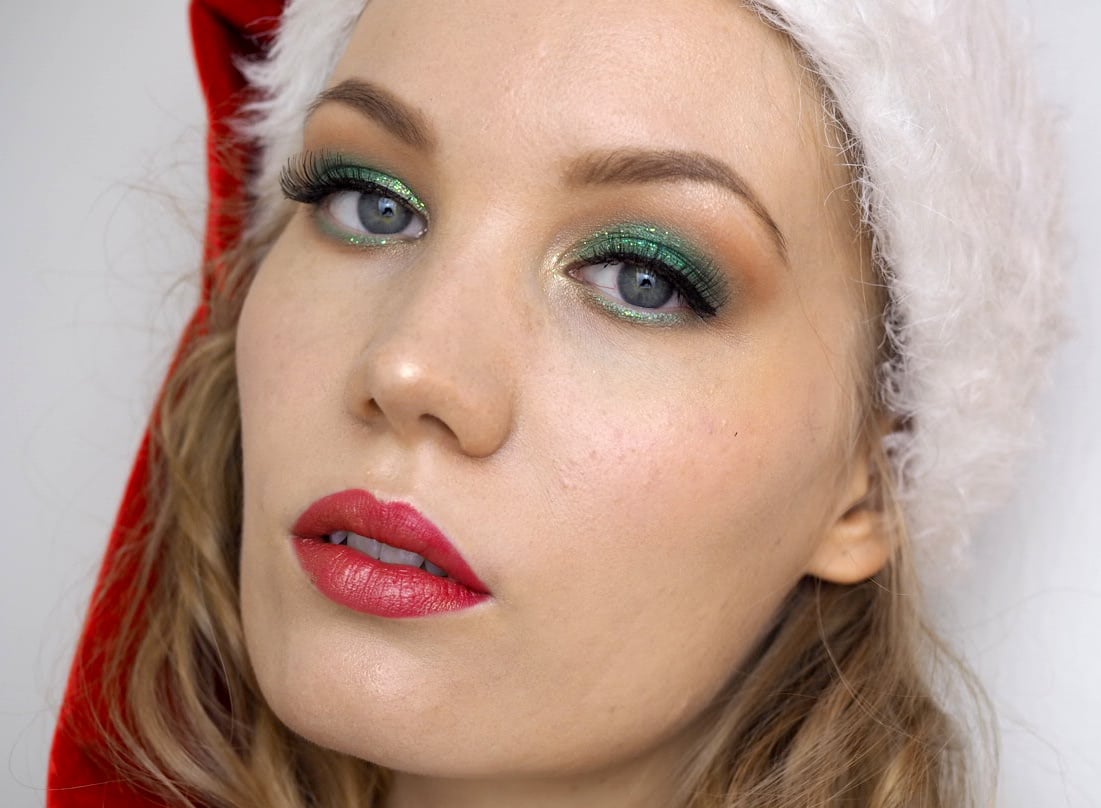 *adlink
Green eyeshadow? Yes please!
Green is a surprisingly easy color to pull off. It goes beautifully with warm colors and gold. I find myself reaching for green colors especially during the holidays. There's just something super festive about it – especially if you pair it with red lips.
I've also been asked to do a green eyeshadow tutorial – so here it is. I actually used just three colors here: warm orange shade, green and gold. And glitter. I just had to – since for once my weird-colored glitter liner matched the look perfectly.
This post is also a part of Finnish beauty blogger's holiday makeup collaboration. We all did different party looks for the season. Links to other bloggers' posts are at the end of this post!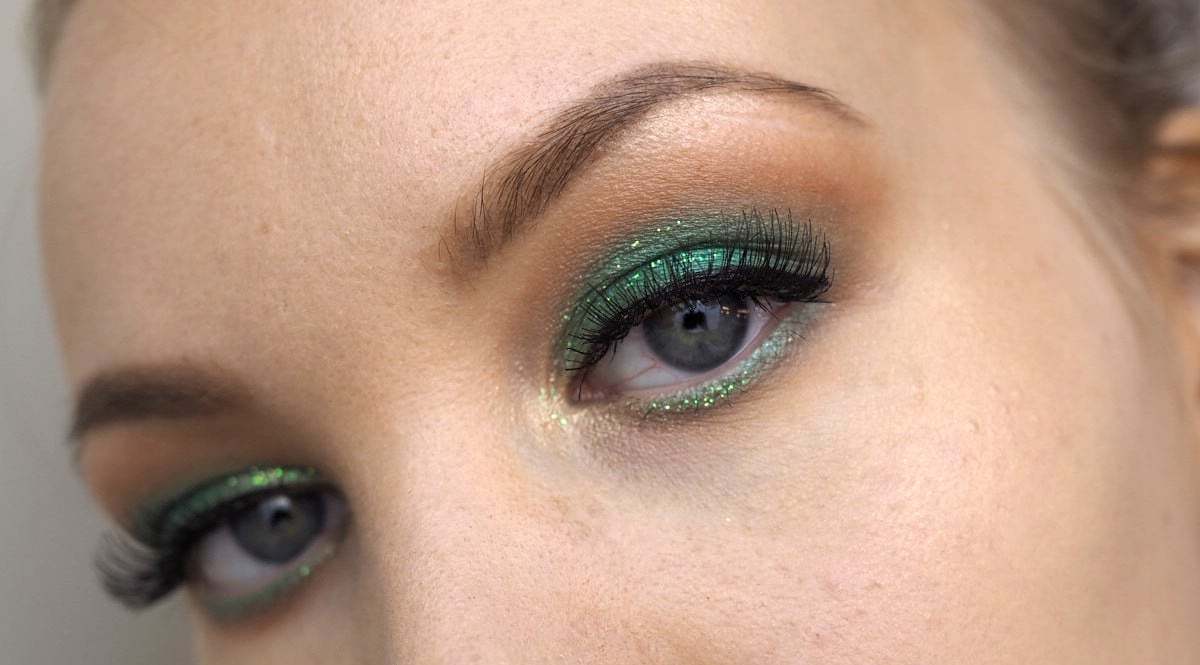 Green & gold makeup tutorial – with a touch of glitter!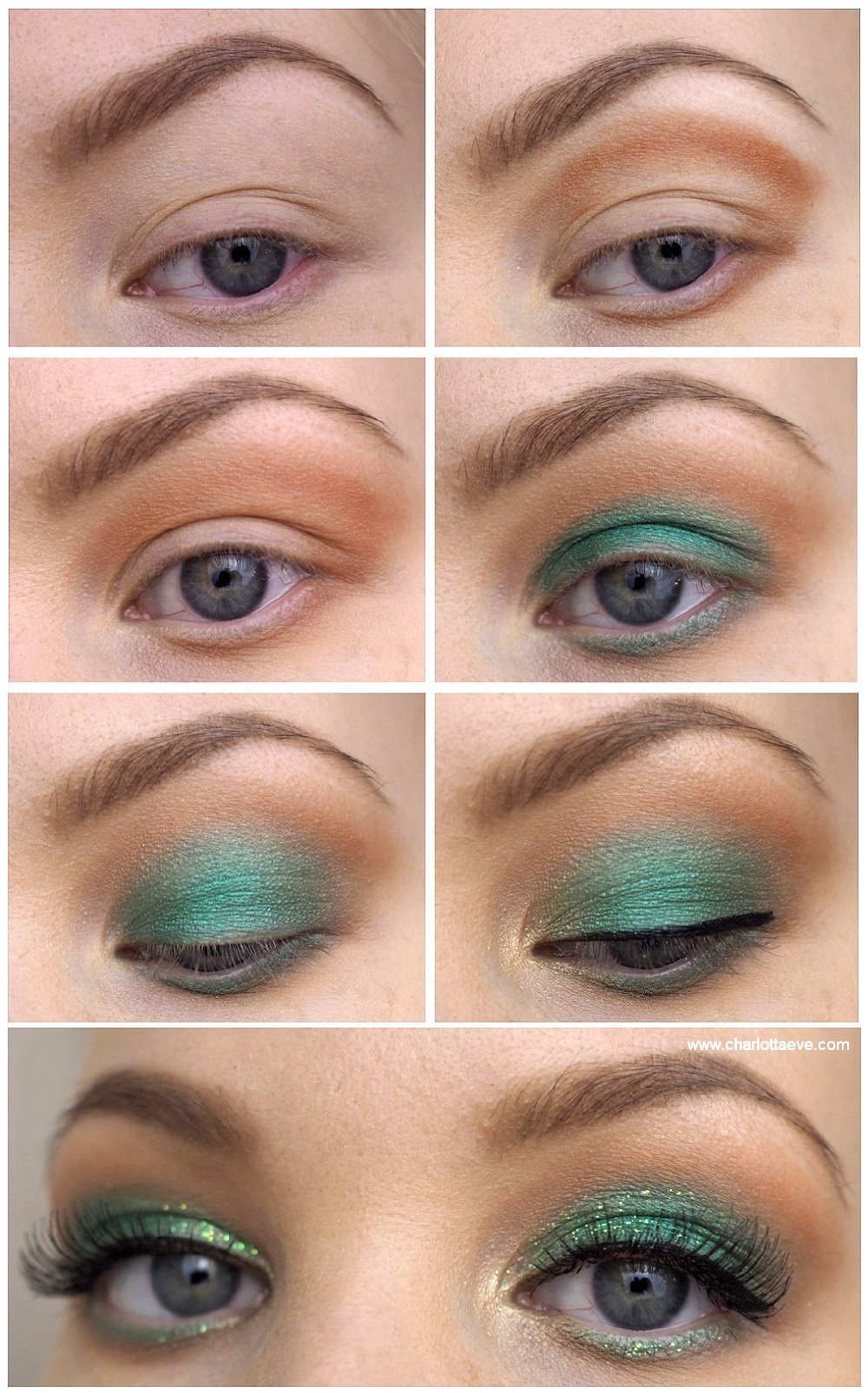 1. Start by applying a warm orange shade as a base for your look. This color acts as your 'border'. My eyes are deep set so I apply the color pretty high. Blend this color well so that there are not any harsh lines. Do the same to your lower lash line, but leave a gap for the green eyeshadow.
2. Apply a green shade all over your lid and on your lower lash line. Basically fill up inside the lines you created with the orange shade. Blend carefully the edges, but don't overdo it. If you blend these colors too much, it can look muddy.
3. Apply a gold shade to your inner corner and bring it on the lid slightly from the inner corners. You can also apply some gold on your brow bone if you like.
4. Apply glitter on about 1/2 of your lid. Add a touch of glitter on your lower lashline as well. This is easier with a glitter liner.
5. Line your eyes, add mascara and lashes.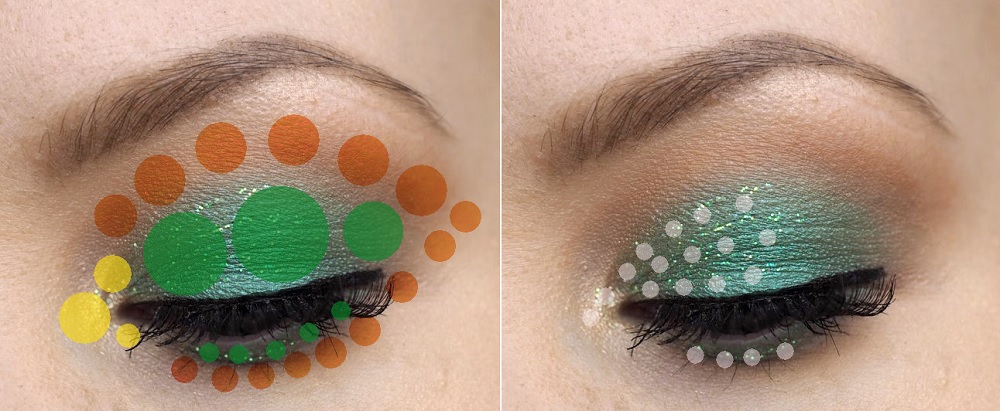 Simplified version of color and glitter placement. The white dots is where I applied glitter.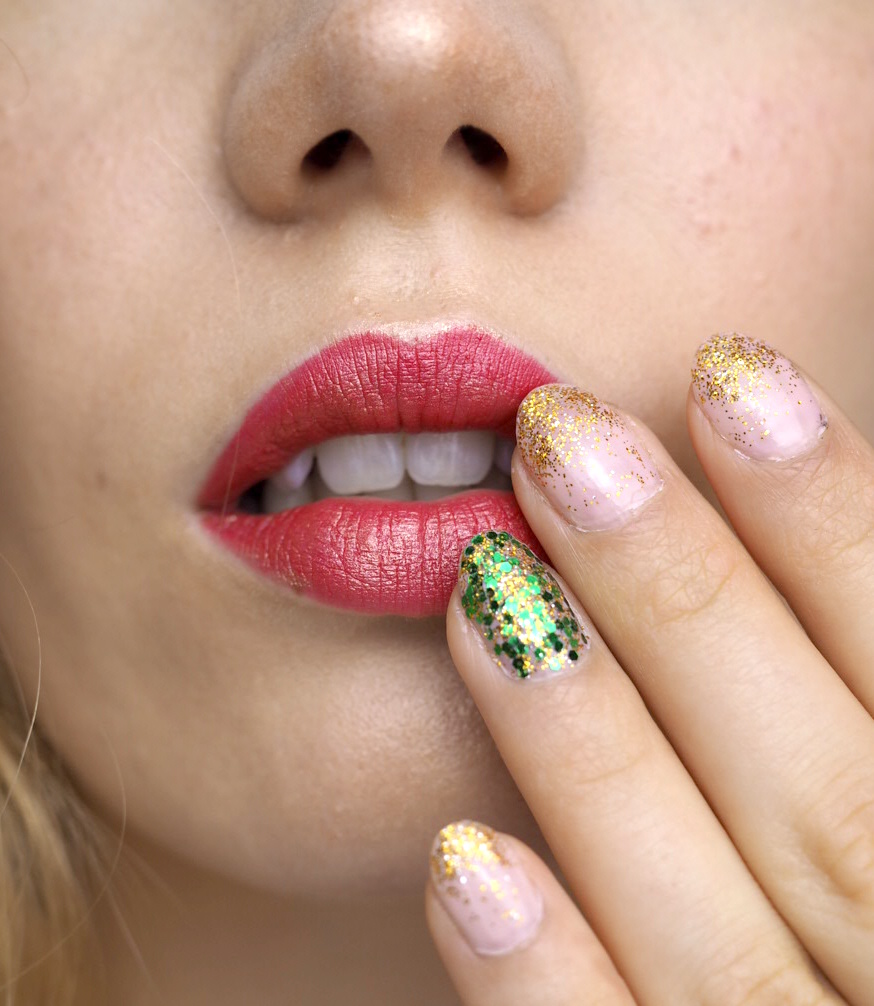 To bring this look together, I applied the same gold color as my highlight on my cheekbones, nose and cupid's bow. I even applied it on top of my red lips. My nails also matched the look. Although no one knows if I only painted one hand out of laziness.
Products used
*Bobbi Brown Skin Long-Wear Weightless Foundation, Warm Ivory
*KICKS Full Coverage Stick Concealer, 02
*elf Soft Luminance powder
*KICKS Cheek & Lip Tint, Pink Petals
*Jane Iredale Retractable Brow Pencil, Ash Blonde
*Holika Holika Wonder Drawing Skinny Eyebrow 02
Urban Decay Primer Potion
KICKS Eyeshadow Palette (orange shade)
Urban Decay Vice 4 palette (Grasshopper green shade)
*Laura Geller Baked Gelato Swirl Illuminator, Gilded Honey (gold eyeshadow & highlight)
*Urban Decay Heavy Metal Glitter liner, Distortion
mellow Precision Pen Eyeliner
*elf Lash Extending Mascara
*Eylure 035 Lashes (cut almost in half)
*Jane Iredale Triple Luxe Lipstick, Gwen
Most of the products I've received as pr-samples.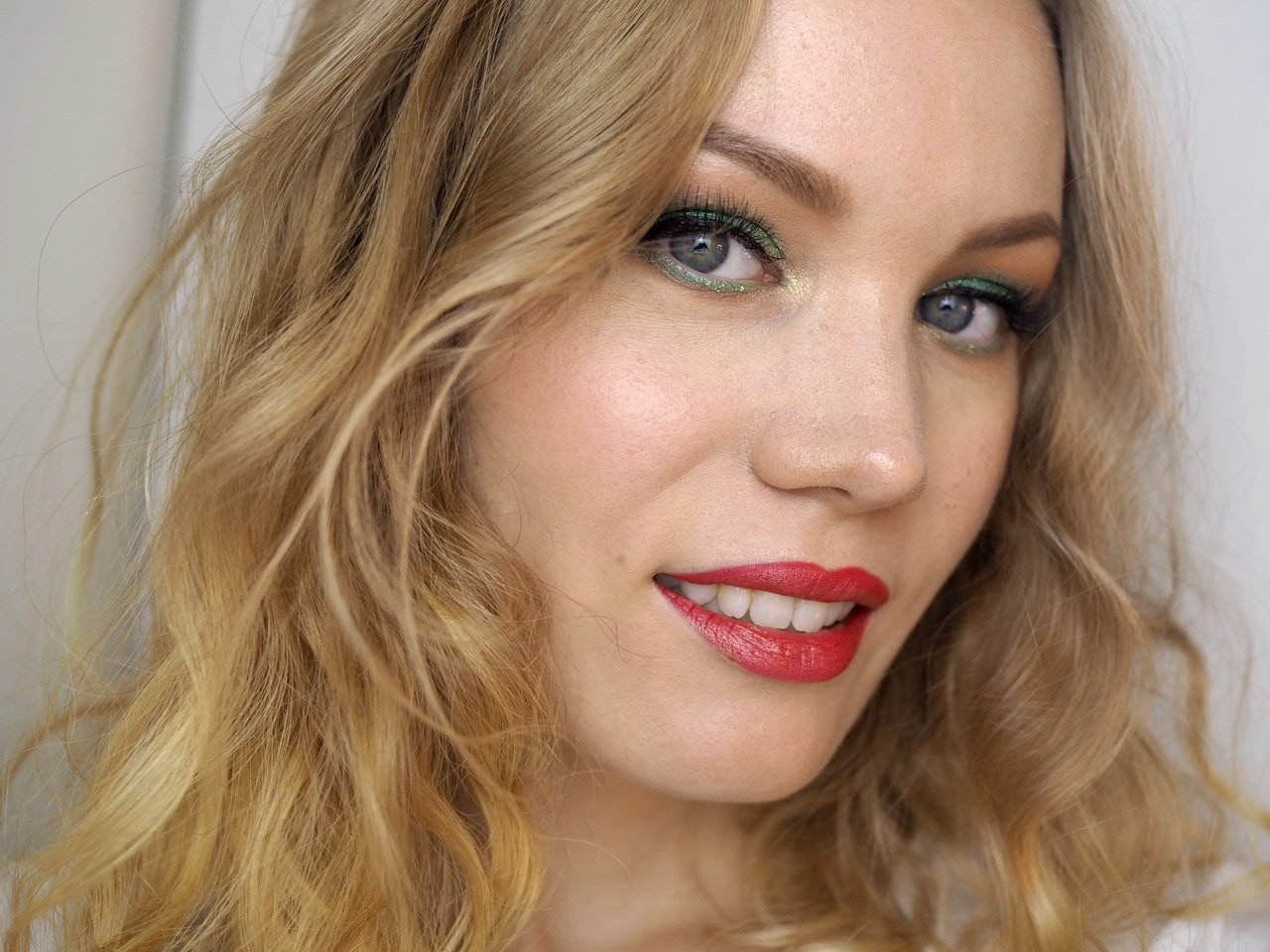 Here are the links to the other beauty bloggers Holiday looks:
Blinger Shimmer / The Diary of a Shopaholic / Hannamaria / Henna V / Meikkimonsterin maailma / MaittaLy / Meikkiblogi Be Beauty or Creepy  / Miss Aria
What do you think of this look?