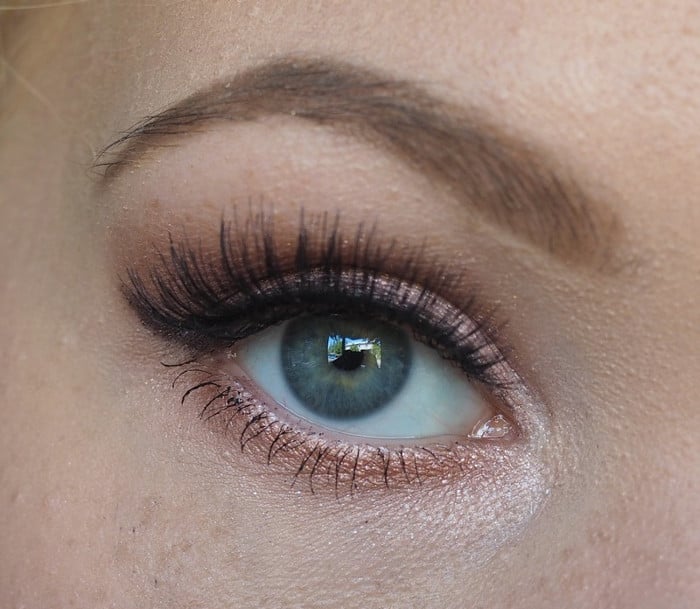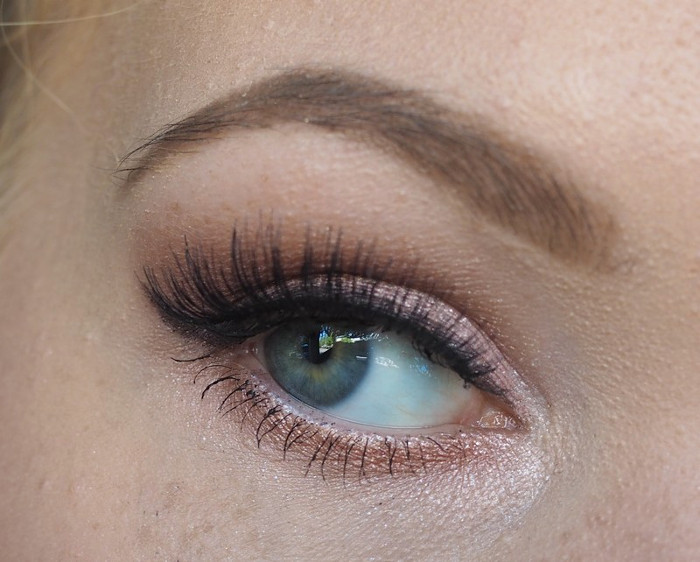 Spring and summer is full of parties so I decided to do a little tutorial for graduation makeup. I used a palette that many of us have – Naked 3. It has nice warm neutrals so you can use any palette you have with same colors (there are a lot of dupes for the palette!).
This tutorial is also good for hooded or deep set eyes as my eyes happen to be like that. I hope you find this tutorial helpful! I'm referring to the colours from the Naked 3 palette with "x" .
Naked 3 tutorial

1.Prime your eyelids. I use the classic Urban Decay's Primer Potion. I set it with  "Strange". 
2. Do your brows. That helps to give your eyes a frame and is just a personal reference really. Brows make quite a difference, right!
3. Prime your eylids with white eye pencil like this. This helps to make the shimmery colours show up more and with Naked 3 some of the colours lack pigment so don't skip this!
4. Blend with your fingers.
5. Add "Dust" to the inner corner and blend to the center. The colour should cover almost like a third of the lid.
6. Add "Trick" to the centre of the lid but leave a little space to the outer corner.
7. Add "Liar" to the outer corner where you left a little empty space.
8. Blend these three colours together with a tapping motion.
9. Apply  "Limit" to the crease and slightly above it.
10. Apply "Nooner" to the outer corner of your eye and to the crease.
11. Apply "Dust" and "Trick" to the lower lashline.
12. Line your eyes using a damp liner brush and "Blackheart". You can wing it or not – up to you and your skills.
13. Add mascara and falsies (mine are Eylure #143).
Blending instructions:
With hooded eyes you want to bring the colour up here so blend it up and straight from the crease. As you can see when the eye is relaxed it hides some of the eyeshadow. So you want to make it rise higher on the outer corners so it lifts the eye. This works for other eye shapes as well and creates a cat eye look to them.
Face
1.Prime your face! Especially for parties such as graduation you want your makeup to last all day long and a primer helps with this. Choose a primer suitable for your skintype – more here!
2. Apply foundation and set it with powder. I used Rimmel's Lasting Finish Nude in Ivory and I do recommend that for all skintypes. It's a great foundation. It's my go to foundation for parties.
3. Do your basic contouring if you like. I applied just a little Hoola under the cheeks. I concentrated to the highlighting this time and I used "Dust" as a highlighter.
4. Apply a light natural colour to the cheeks. I used Jane Iredale's Flawless blush*.
5. Any lipcolour could work for this look but I deciced to go with nude glossy lips. I lined my lips with Zuii Organic's Nude liner and lipstick is IsaDora's Twist-Up Gloss Stick in Milk 'N Chocolate.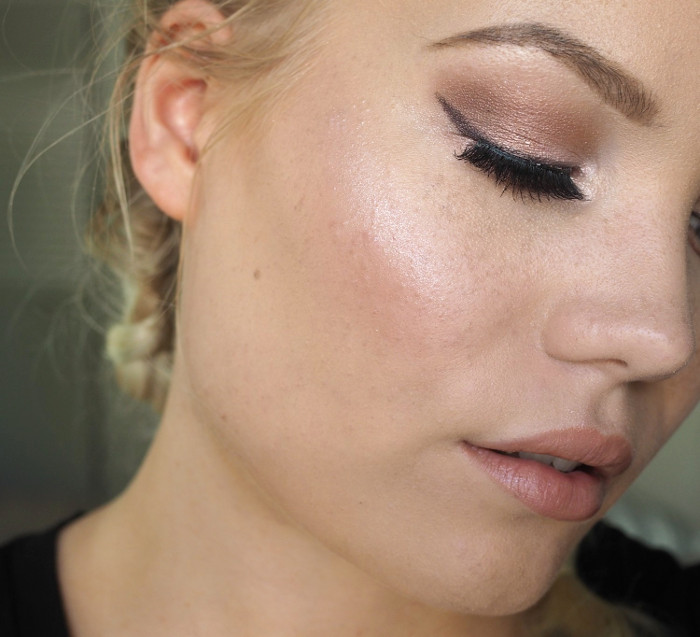 Products

Rimmel Lasting Finish Nude
Jane Iredale Flawless Blush
Urban Decay  Primer Potion
NYX Jumbo Eye Pencil -Milk
Urban Decay Naked 3*
IsaDora Twist-Up Gloss Stick -Milk 'N Chocolate
Eylure – 143
*adlink