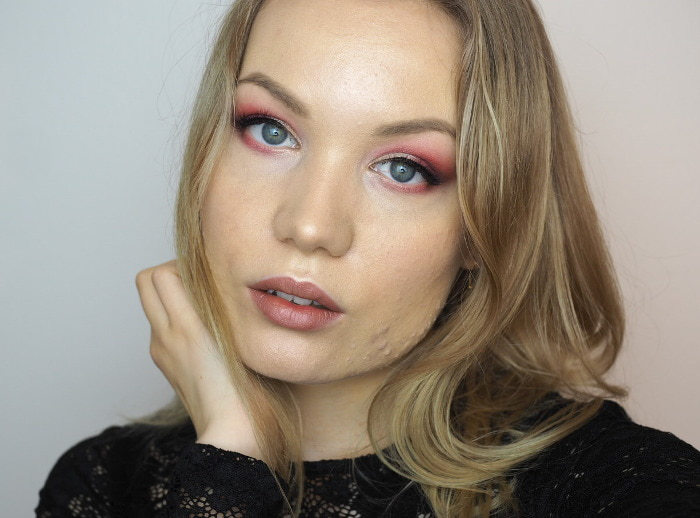 Sometimes you just get a vision.
I had a vision of this makeup: it was gonna be red and awesome. Half cut-crease with a glittery touch (but not straight up glitter, 'cause ain't nobody got time for that mess). Was I pro at cutting creases? Well, not really, but I was going to a pre-Christmas party and damn it, if my makeup game wasn't gonna be on point that evening.
Sometimes (read:always) you just need a winner's mindset and a great motivation. As it turns out, my makeup was gorgeous that day and I realized I needed to recreate it for a tutorial.
Also: red eyeshadow is BOMB and it suits most eye colours and no it doesn't make you look sick.
So here we are.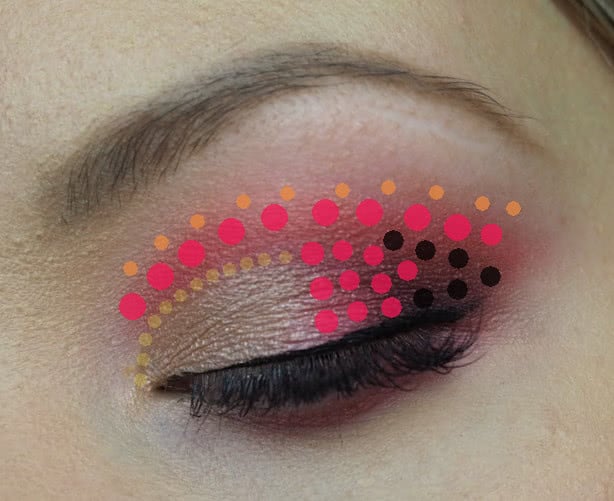 Colour placement. 
Half cut-crease makeup tutorial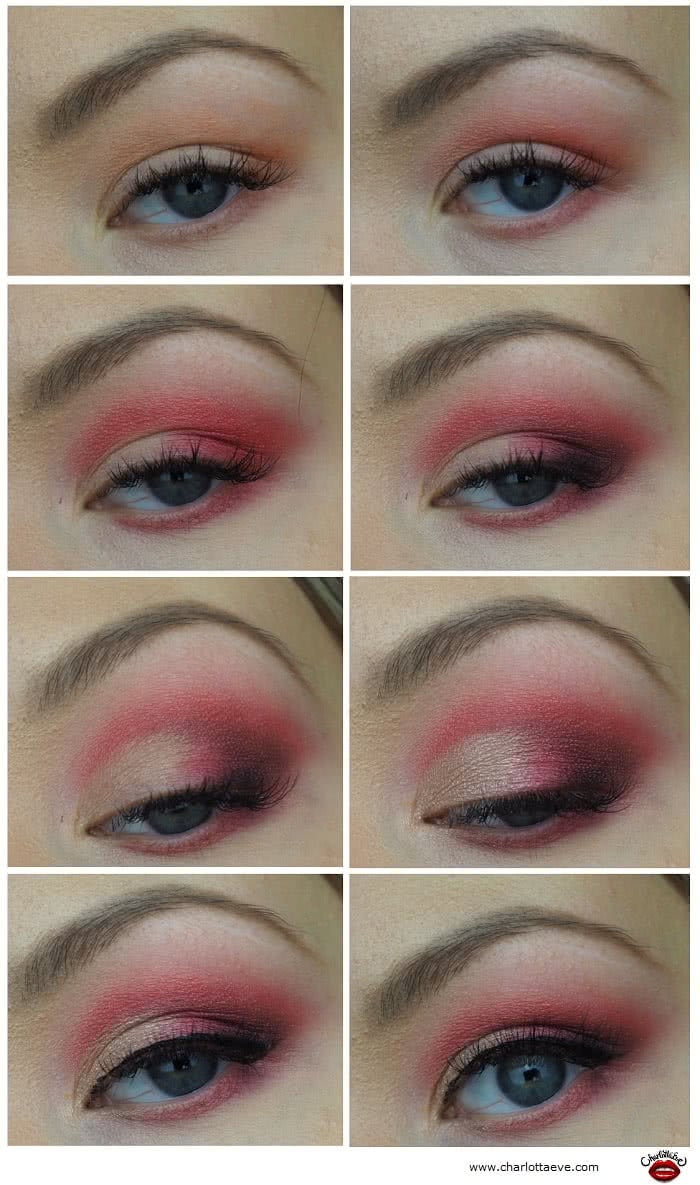 It's easier to start off with lighter colours. First I applied a peachy warm colour and I created the shape of my eyeshadow. Then I took a matte red eyeshadow and started to deepen the colour. Work your way into it – apply shadow, then blend, apply shadow and blend again. You want the colour to look smooth as f (eather).
 I then took a darker red colour and deepened the red colour more. I also applied that colour on half of my lid. After that I took some black eyeshadow and applied that on my outer corner in a V-shape. When you're doing a colourful look, black is your friend. Black pulls the look together and just makes it look better.
Cut the crease. I explained this better in a photo below – but basically I used glitter glue for it and a shimmery colour. I then blended that shimmery colour with the red colour, so that the transition looks somewhat smooth. It's up to you how high you want your crease to be – I faked the crease higher than my actual crease, but not so high, that the line is visible when my eye is open.
You can then line your eye and maybe do a better job, than I did here, haha. Then apply mascara and lashes or whatever is your wish. I did neither, since I have eye lash extensions now HALLELUJAH! By the way, don't forget to apply some red eyeshadow on your lower lashline as well. I kinda forgot to tell you that, but you probably figured it out from the photos.

Cutting the crease
As I was going for a shimmer eyeshadow (or actually a highlight), but I wanted it to look extra sparkly, I went for my secret weapon: glitter primer. If you haven't tried it for shimmery eyeshadows, you haven't lived. It seriously makes them pop and last super long! I used NYX's glitter primer, which is like a cream, which makes the powders stick. I first cut my crease using a flat brush and that glitter glue. I then patted on my shimmer colour on top of that glue.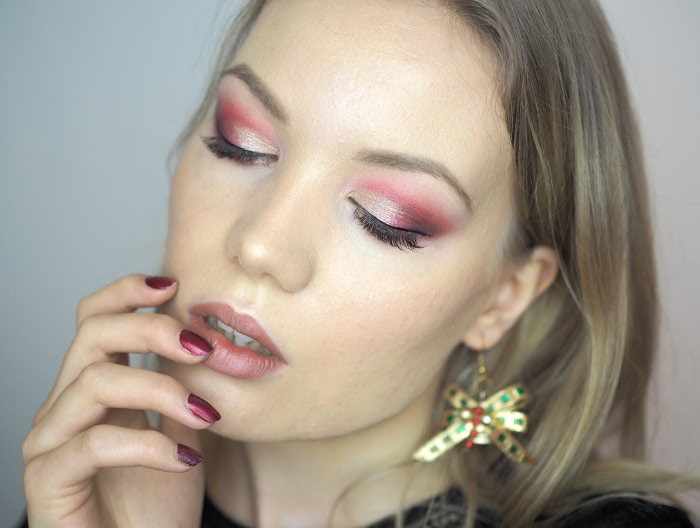 I listed the products I used, but if you want to re-create the look with a less hassle, these palettes would be great for this look (or for my collection, dear Santa). A lot of you may already own these palettes. Links are adlinks, so if you want to show your support and was gonna buy something from Sephora anyway, here is a good chance.
*Naked Heat Palette
*Anastasia Modern Renaissance Palette
*Tarte Tartelette Toasted Palette
For my look the key products were glitter glue, Milani's blush (which I absolutely love!) and MAC's highlight.
PRODUCTS
EYES
Urban Decay Primer Potion
Illamasqua Look Fantastic Palette (matte bone color + orange color)
NYX Professional Makeup Beauty School Dropout Freshman (matte red color)
Milani Baked Blush, Red Vino (deep red color)
TooFaced Semi-Sweet Chocolate Bar Palette (matte black)
NYX Professional Makeup Glitter glue
MAC Soft & Gentle Highlight
FACE
Jane Iredale Smooth Affair Primer
Jane Iredale Glow Time BB-Cream
LA GIRL HD Pro Concealer, Bisque
Lumene Nordic Girl Cheeky Lip&Cheek colour, 2
Mad4eyebrow natural eyebrow filler, Blonde
*NUDESTIX Lip & Cheek Pencil, Mystic