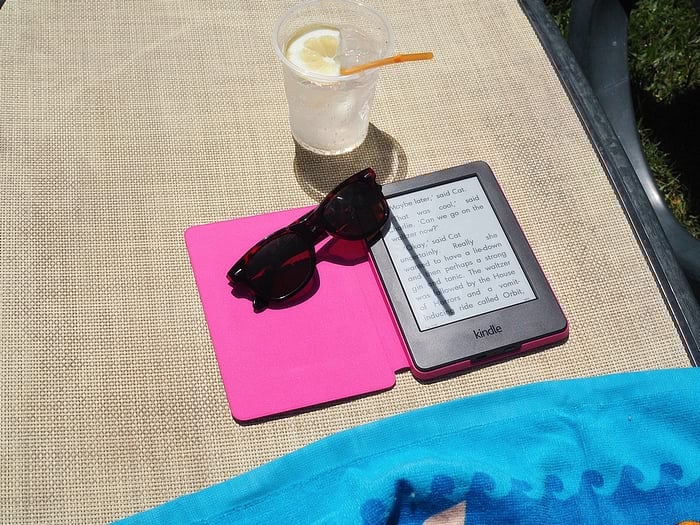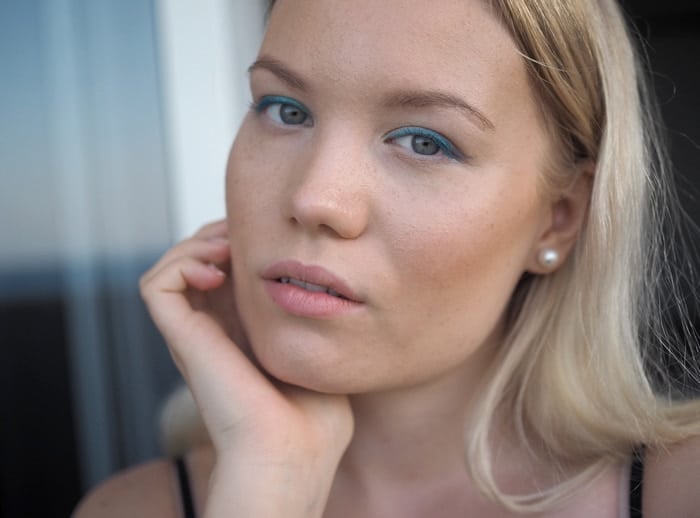 Kindle e-reader – better than books
I love my kindle. It's a lifesaver. I took it with me to my trip in Rhodes and it was one of the best things there (don't get me wrong here though!). I read more than I ever have on my holiday. I read 4 books.
Don't tell him, but sometimes my significant other gets amazing ideas. The ones that I just ignore and maybe say "whatever" from the other room. Then later I thank him for that awesome idea he got that I didn't understand at all at first. One of these ideas was ordering Kindles from amazon.
Kindle is kind of like a tablet that you can read e-books with. It doesn't have a lighted screen like tablets or computers do though so you need a light if you're reading in the dark (my man got us small reading lamps too of course 'cause you know, he's him and he's awesome). It doesn't cause headache the same way that computer does after a long time. The best thing in that small and thin device is that you can have all the books you want in just that tiny space. You go to Kindle store, you buy books and then you read them. On my holiday in Rhodes I read four or five books and after one ended I could just buy the next book (I was reading a series) and continue reading. Kindle store has also free books. Book shelfs are limited at home so I think this is amazing.
Edit: I learned that there are different kinds of kindles and some of them have built-in lights as well. You can find all the options and info from the link below.
Not convinced yet? Other good things about Kindle is that..
.. it's easy to travel with. You can take it anywhere with you 'cause it's small and very portable. Just think about if you had Harry Potter book five – it's huge!
.. you can hold kindle with one hand and you don't have to hold onto the pages you have read already. (Just imagine the HP book here too!) In kindle you turn page with your finger.
.. you can read it in the sun without any problems. It doesn't reflect light like tablets or phones do. Actually comparing the device to a tablet is funny 'cause it differs a lot from it.
.. you can change the font and the font size however you like. For example I change the font to an enormous size if I'm not wearing my reading glasses. In other words: I don't always need to wear my glasses when reading!
.. it has a built-in-dictionary so if you're reading in English (like I do) you can paint the word you don't understand and you get the translations and explanations from a few different sites. Hallelujah!
You can also download the kindle app to your phone and try it that way first. Of course then it's a phone and works a bit different but anyway it gives you an idea of the app and the device.
Kindle E-reader
*
affiliatelink to amazon.com
Any kindle fans out there? Or do you prefer regular books? I swear I though I would hate it 'cause I like the feel of a real book, but now that I have this, I wouldn't change it for anything.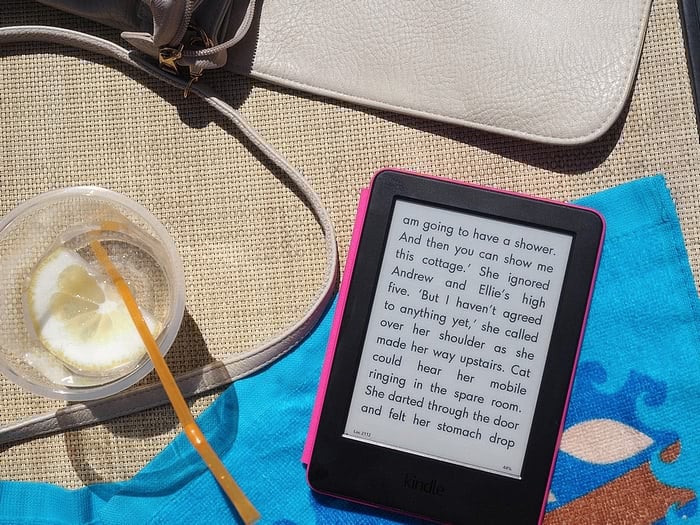 Pairing your kindle with Gin&Tonic is recommended. Photos from year ago from our trip in Rhodes. 
Related Posts