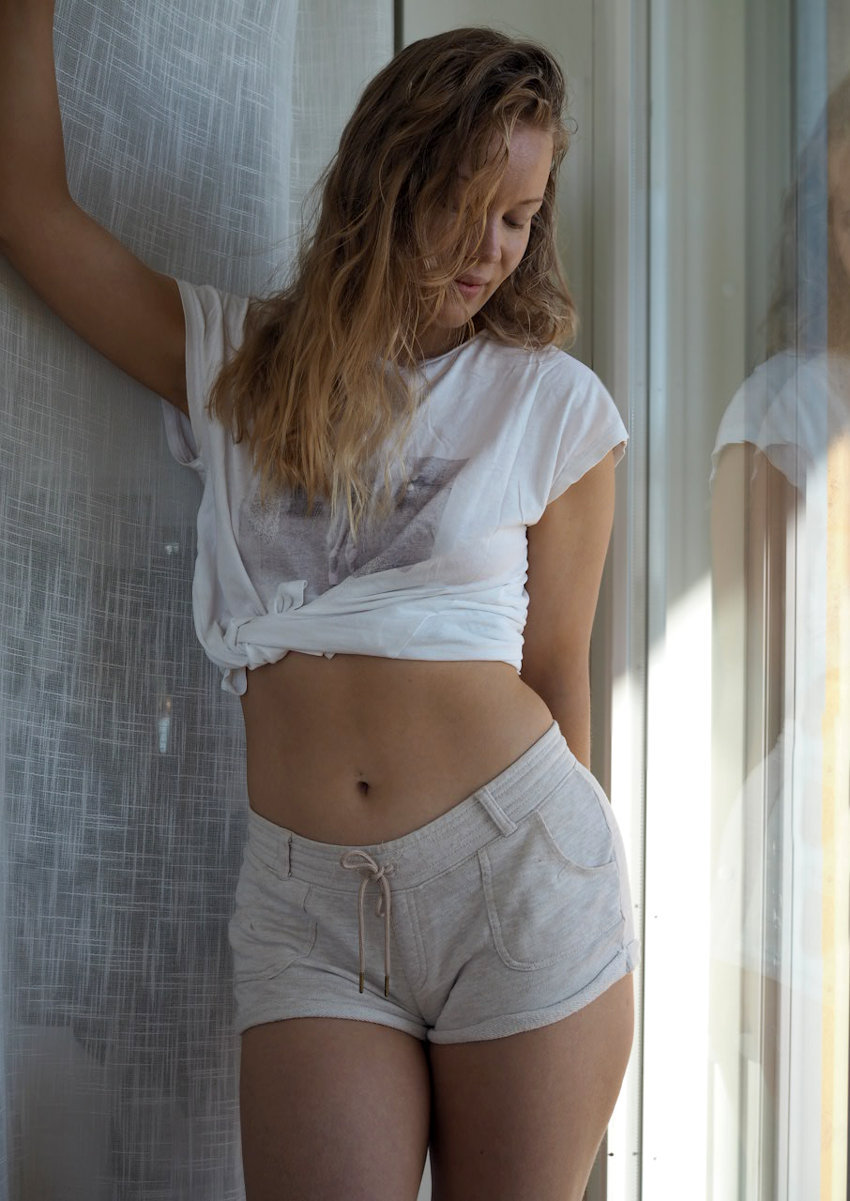 *adlink 
pr-gift
Vita Liberata recently came out with a new Heavenly elixir self tan. The promises for the product are quite high and I see it hyped up in social media. But is it worth the hype?
Absolutely: this new self tan is awesome.
To be perfectly honest, I expected not to like the product all. At the very least I was sure it couldn't beat my all time favorite product: the invisi mousse. But it just so happens that the self tan product is indeed quite heavenly. The Heavenly Elixir cream is moisturizing, the color makes it easy to blend evenly and best of all, the delicious scent totally covers the self tan odour.
Vita Liberata Heavenly Elixir review
This new product is advertised to develop over three days, through encapsulated DHA technology. You do get the color in 8 hours, but it should deepen and continue to develop after that. The cream itself has a wash-off color, which makes the application easier (because you see where you applied it).
So I apply it in the evening, sleep with it and shower in the morning. And even after shower it should somehow stay on my skin and keep working its magic. I'm not quite sure about that. I have now used it two times and I didn't notice it changing throughout the three days. What I did notice was the beautiful deep tan it gave me in just one night. And I love it.
I have the shade Medium and my tan usually lasts nice for about a week, after which it starts to fade. I never have problems of it fading blotchy or looking bad – maybe because I never go for an over the top tan. That said, I exercise daily and shower usually two times per day. So I don't expect miracles from self tanners. I usually keep my tan on for 1-2 weeks after, which I exfoliate my skin and redo it.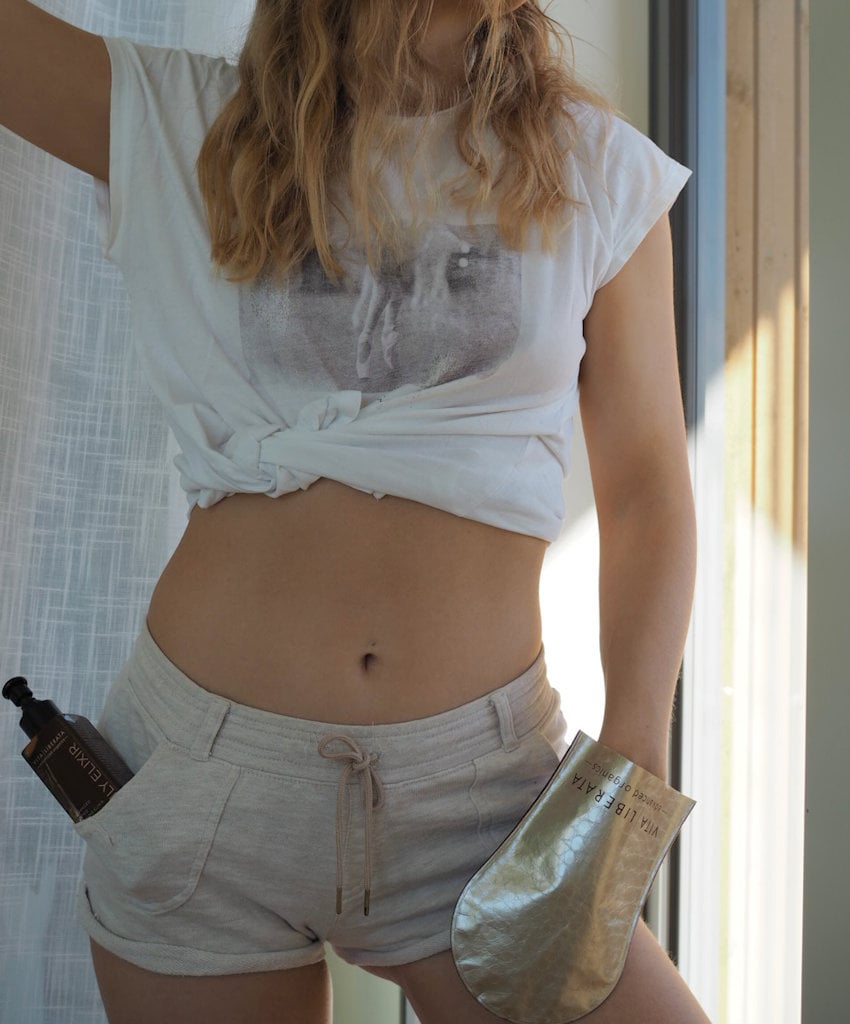 Tips for the best self tan result:
Exfoliate your skin one day prior to applying your product
Apply the product with a mitt in circular motions, one area at a time:
shins, thighs, stomach, back, decollete & hands
Take your time in application:
after the product is absorbed on to your skin, go over the area one more time in circular motions
Don't overdo your tan – that way it looks natural, even when it starts to wear off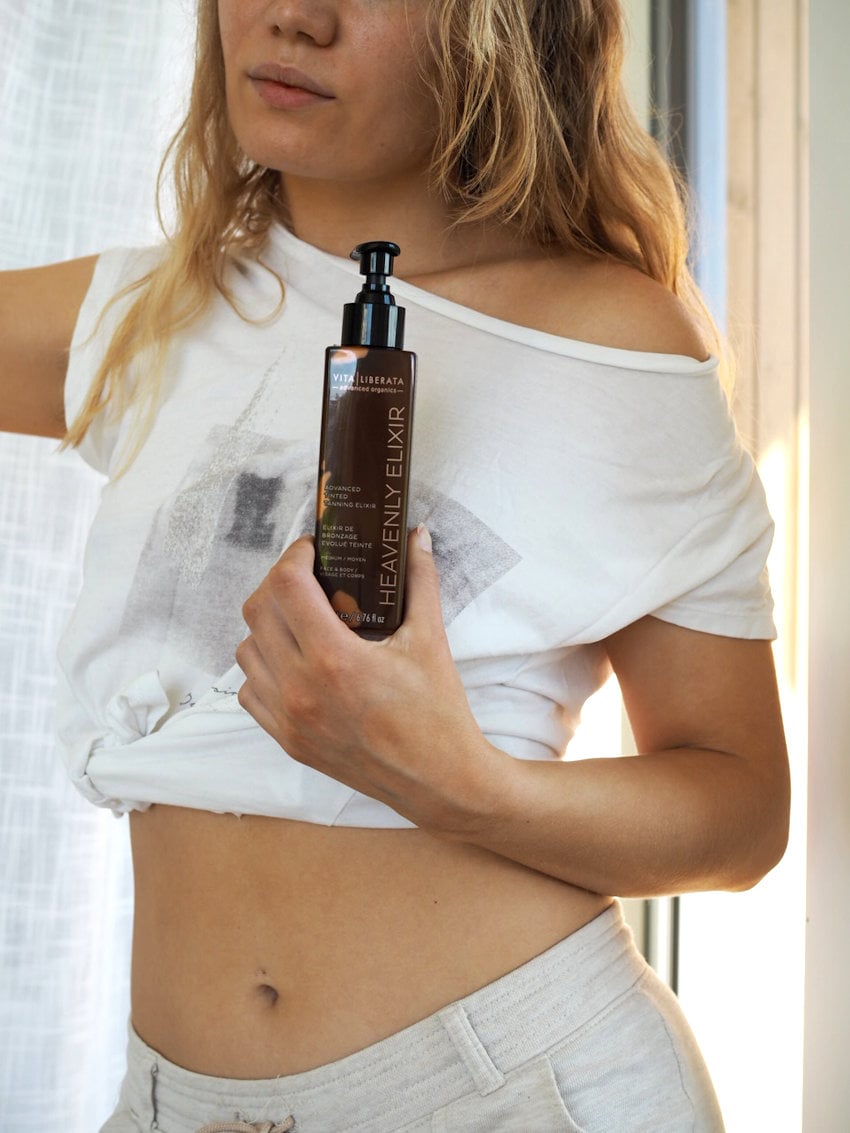 Delicious scent, no self tan smell at all & lovely, moisturizing consistency
The cream has a sweet cocoa scent that first felt quite strong. Especially, since the invisi mousse is totally unscented. However, after a while I got used to it and now I love it. Even more so, because it really hides all the self tan odour. Usually my man can smell my self tan at some point in the night, even though it's really mild with Vita Liberata's products. This time – actually both times I used it – he didn't have a clue. (He said that I fooled him, in the morning when I woke up all tanned and revealed I had put on self tan in the evening, but that's just him being silly.)
Another thing I love about the new product is the consistency. The cream is moisturizing and feels lovely on the skin. Yet it doesn't leave my skin sticky. That was another fear I had about this product. At this point you probably get why I had to blog about this product, and why it's so good. I honestly had low expectations, but after trying it I knew the world (heh, or my blog readers) needed to hear about it.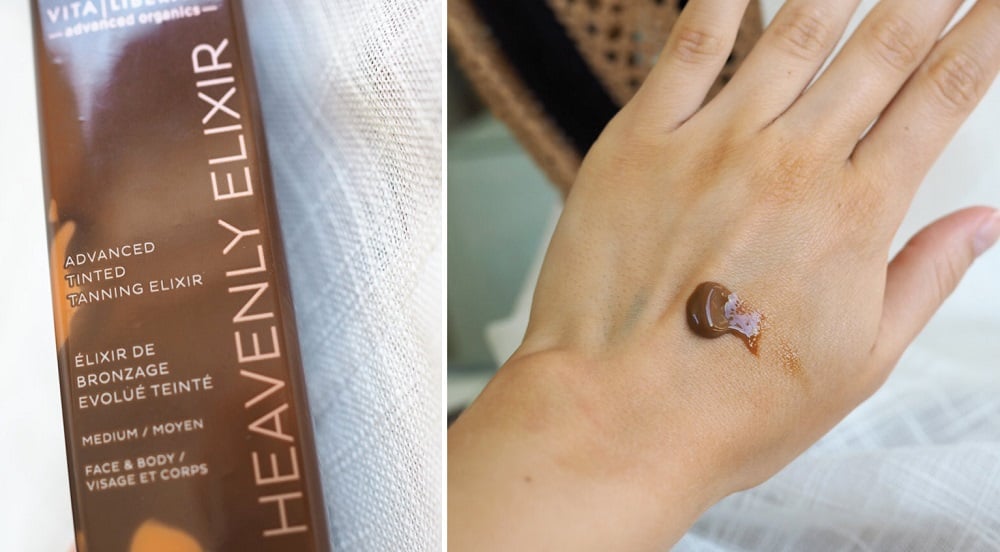 My favorite self tans from Vita Liberata
Vita Liberata is my number one self tan brand, so I've written about their products before. In this post I talk about the Invisi mousse and other body products. Here I focus on the makeup products and the Fabulous Self Tanning Mist.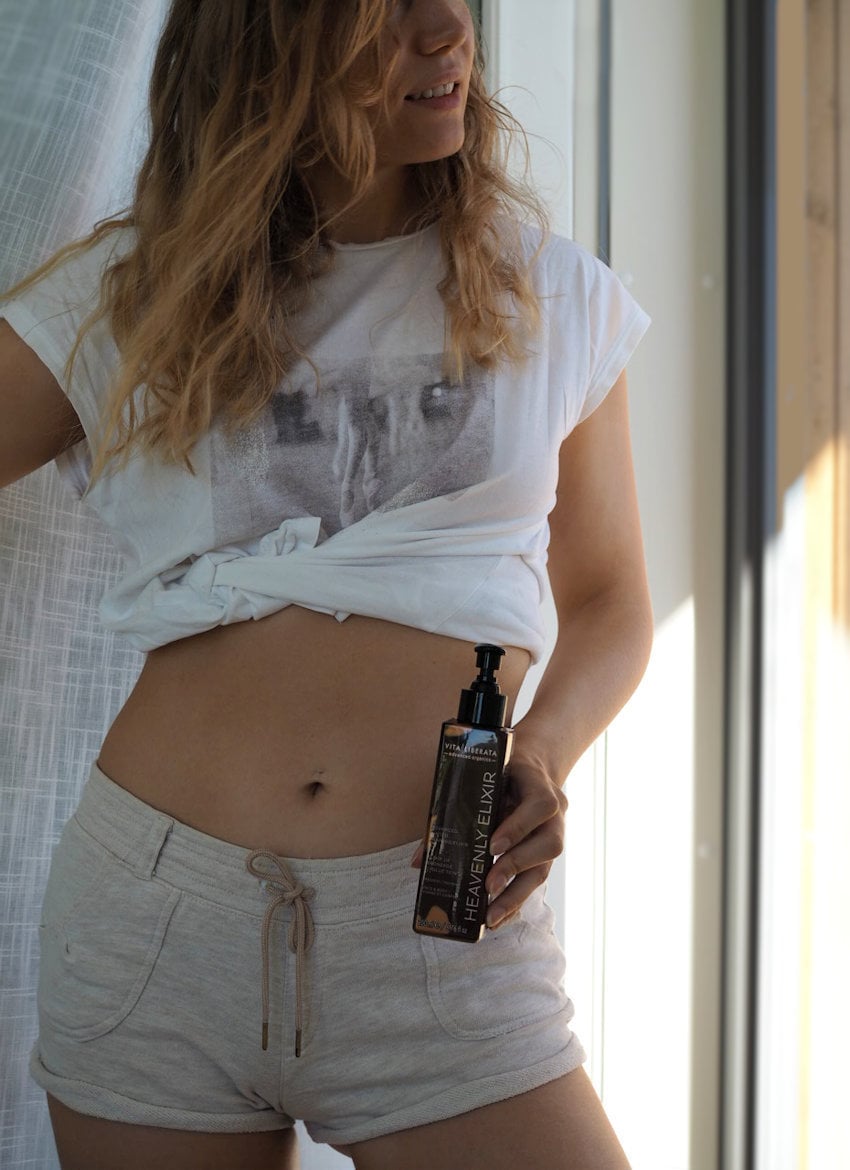 All in all, Vita Liberata's Heavenly Elixir is definitely in my top list of best self tanners. It gives a beautiful even tan in just one night. However, I still also love the *invisi mousse and recommend that if you don't like scented products.
For my face I use the *Fabulous Self Tanning Mist, because it's easy to mix in with my skincare products. It's also a great product for the decollete area, if I feel like my tan starts to fade.
To conclude this post; if you're looking for a great new self tan, that has a delicious scent and zero self tan odour, this might just be your match.
I have listed other brands & favorite self tanners here.
Shop:
*Vita Liberata Self Tan Heavenly Elixir Tanning Elixir (amazon)
*Vita Liberata Self Tan Heavenly Elixir Tanning Elixir (lookfantastic UK)
*Vita Liberata Self Tan Heavenly Elixir Tanning Lotion (lookfantastic US)