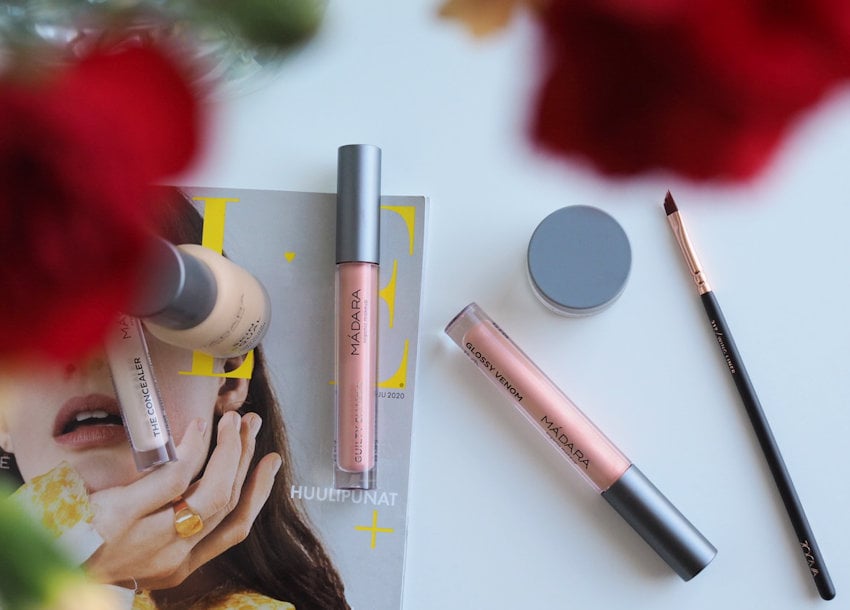 *adlink / pr-samples
I have found the best organic natural foundation. And a whole lot of other awesome natural products.
I shouldn't be surprised it's from one of my favorite organic brands. Madara recently came out with a makeup line that I just had to try out. These products perform just as well as some synthetic ones. They have lots of pigment, they are effortless and easy to use and the packaging is done right.
Madara's makeup products don't scream organic, but they still have the best benefits of natural products. They hydrate and treat your skin, while making you look fabulous.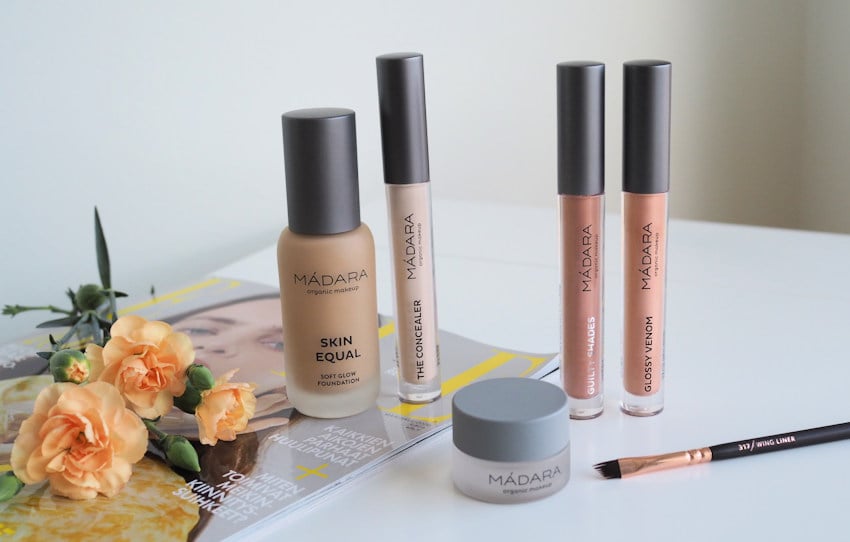 Madara organic makeup review
The makeup line currently consists of foundations, concealers, highlighters, brow pomades, eye & cheek multishadows and lip glosses. I have everything except the highlighter, so I will give you my honest thoughts on almost all the products.
I also filmed a video, where I do my makeup using the products and review them. I ended up repeating myself quite a bit (It turns out I love everything), but I'm sure once I make more of these videos I will grow my vocabulary and also be less nervous in front of the camera.
I really loved all the products and will keep using all of them. Still my favorite products must be the brow pomade, because it's the perfect blonde shade for me and the lip gloss, which smells heavenly.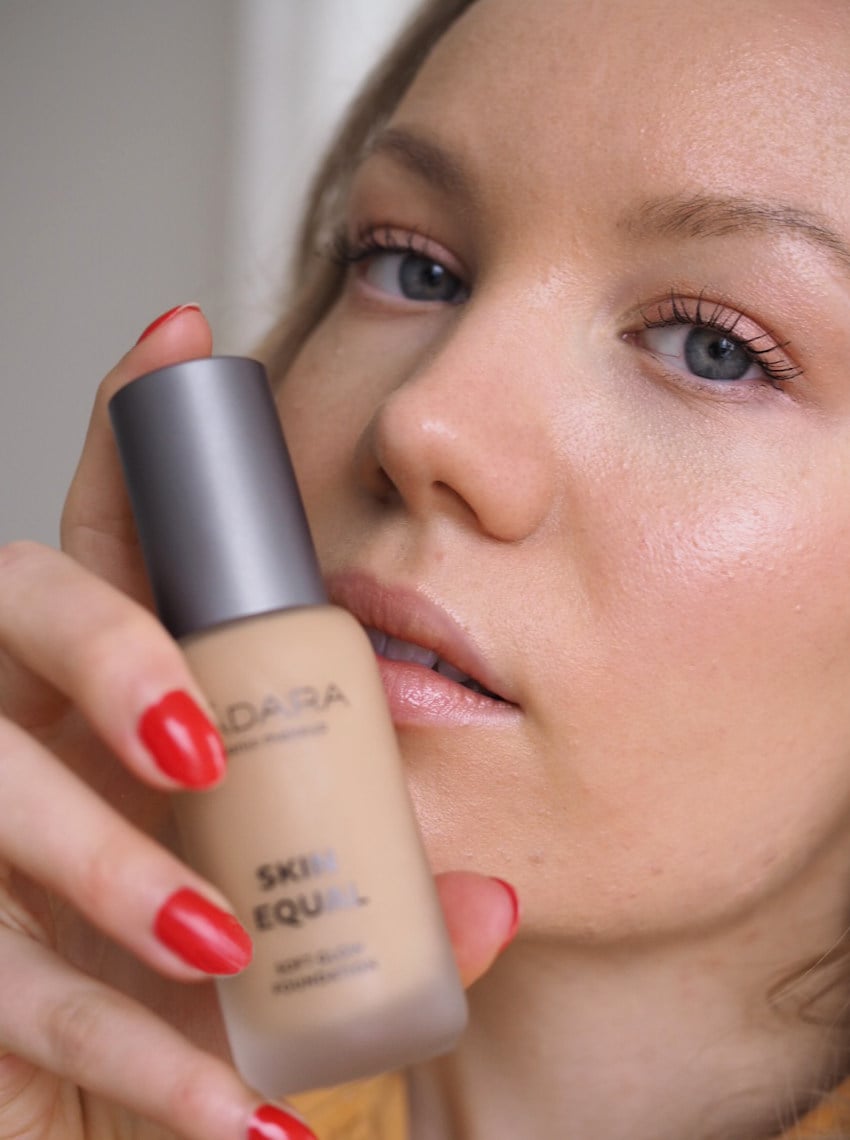 The best natural foundation – Madara Skin Egual Soft Glow foundation
Madara's Skin Equal Soft Glow foundation is the best liquid natural foundation I've tried. And I mean it. I have tried some pretty horrible organic foundations and it's remarkable how much this one differs from them. It just feels like a regular foundation. The consistency is great, it blends easily to the skin, gives an amazing glow and stays well on my skin.
I'd say the coverage is medium. It evens out the skin tone, covers redness and small spots. In my case, I need a concealer for my acne scars and some inflamed spots. But that is good, because I don't like a full-coverage foundation anymore. I like a natural finish and I use more coverage only on the problem areas.
Since it's Soft Glow foundation and my skin is combination, it is pretty glowy at the end of the day. If I powder it well though, it lasts nicely and is less glowy. I'm pretty confident this foundation can work for different skin types. If you've been looking for an organic option, you might want to check this out!
I use the shade 50 Golden Beige, which is a medium light color with a yellow undertone. It's actually my summer shade, but I prefer a slightly darker foundation anyway. If you want to see before and after, check out the video where I apply the product.
The foundation also has SPFT 15, which is great. Contains Aloe Vera, natural oils, hyaluronic acid, vitamins C and E and antioxidants.
Madara Skin Equal Soft Glow foundation
Shop: *Amazon
*Madaracosmetics.com (US) *Feelunique (UK) *Ecco-verde.com (global shipping) *Madaracosmetics.com/fi (FI)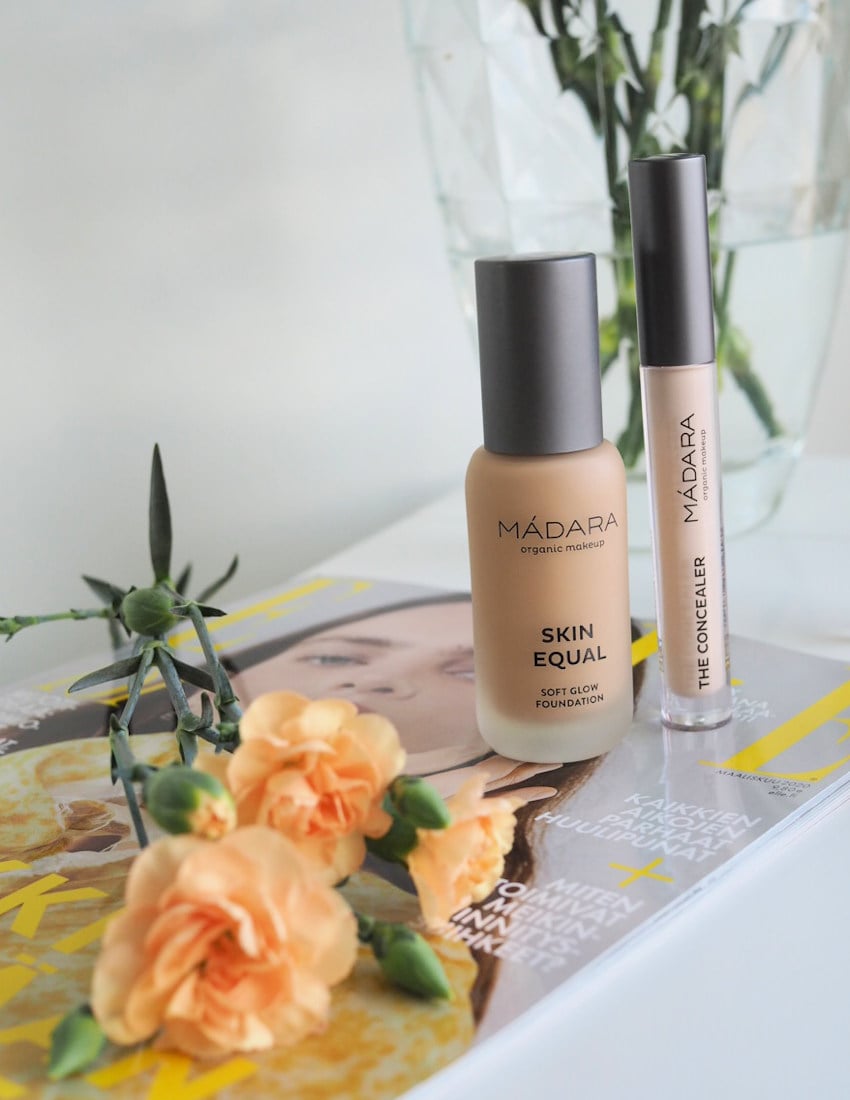 Cruelty-free & vegan dupe for NARS RCC – Madara The Concealer
Madara's concealer has a creamy yet thin consistency and it blends very easily to the skin. It's great for bringing light back to the skin. I like to use a light shade under my eyes after first neutralizing my dark circles with something more peachy and yellow.
The shade Vanilla reminds me of NARS Radiant Creamy Concealer in the shade Vanilla. I think this could be a great cruelty free, vegan and organic dupe for that. It's not as thick and as pigmented as the NARS one is, but for dry-skinned beauties it's a good thing. Madara's concealer doesn't get into the fine lines under the eyes and it feels hydrating.
Contains Aloe Vera juice, shea butter and hyaluronic acid.
Madara Luminous Perfecting Concealer
Shop: *Amazon
*Madaracosmetics.com (US) *Feelunique (UK) *Ecco-verde.com (global shipping) *Madaracosmetics.com/fi (FI)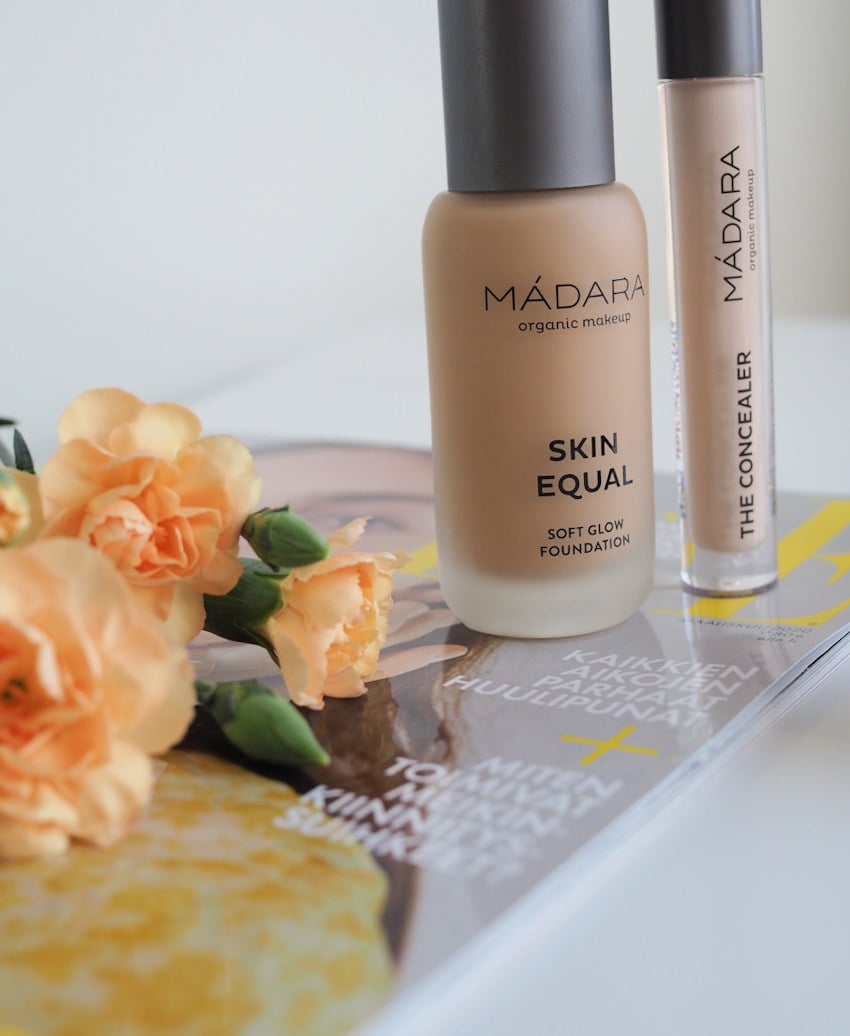 Madara Guilty Shades Eye & Cheek Multishadow
I love that this product is multi-use. You can use it on your lids, cheeks and lips. I love to use it on my cheeks as a blush.
It's very pigmented and a little goes a long way. It's also one of the most long-lasting cream blushes I've tried. The shade 64 Heat is beautiful with a peachy glow and sheen to it. It actually also acts as a bronzer, when I blend it all out. I'm slightly obsessed with this shade. It makes it look like my skin is on a summer holiday.
The only downside to this product is that it doesn't last on my lids, unless I set it with a powder or eyeshadow. That's the thing with all cream eyeshadows though, so it's not just this.
Contains Aloe Vera juice, natural oils, vitamins C and E as well as antioxidants.
Madara Guilty shades Eye & Cheek Multishadow
Shop: *Madaracosmetics.com (US) *Feelunique (UK) *Ecco-verde.com (global shipping) *Madaracosmetics.com/fi (FI)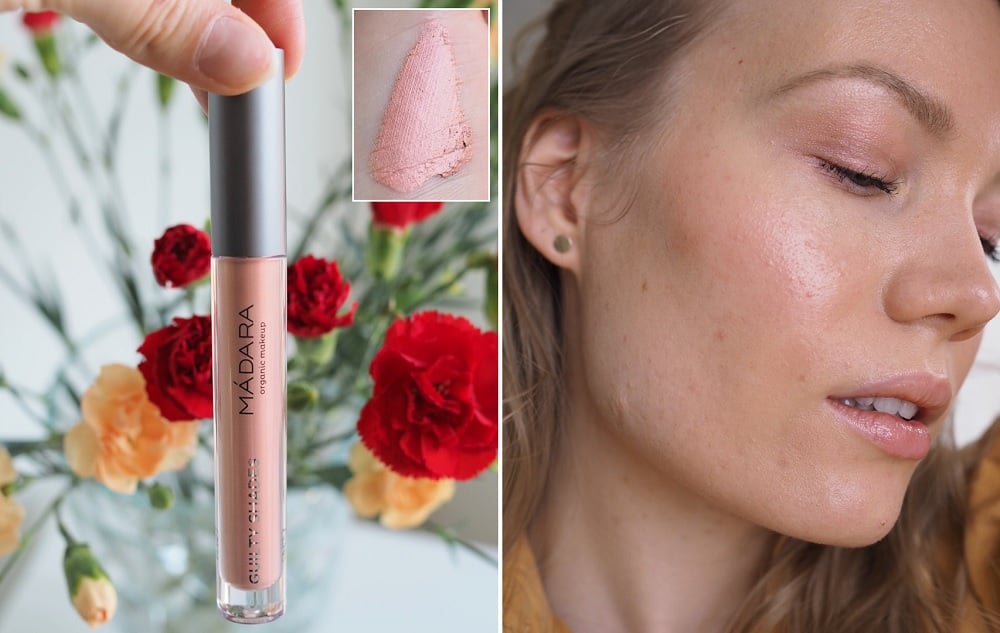 Madara's Brow Pomade in Smoky Blonde is the perfect color for light brows
It's pretty rare to find brow products light enough for blonde eyebrows. Not all of us want to make our brows very dark. The shade 10 Smoky Blonde is the perfect shade for light eyebrows. I can make my brows defined and nice with this, yet the color is light enough so it blends perfectly to my brow hairs. My brows look natural, but done, if that makes sense.
The brow pomade also has good pigment and it lasts nicely on the brows. I use Zoeva's winged liner brush with it, which is the perfect brush for brows. It's super thin so I can draw on brow hairs.
Contains oils from argan, rice bran and cumin.
Madara Brow Pomade
*Zoeva rose gold brush set
Shop: *Madaracosmetics.com (US) *Feelunique (UK) *Ecco-verde.com (global shipping) *Madaracosmetics.com/fi (FI)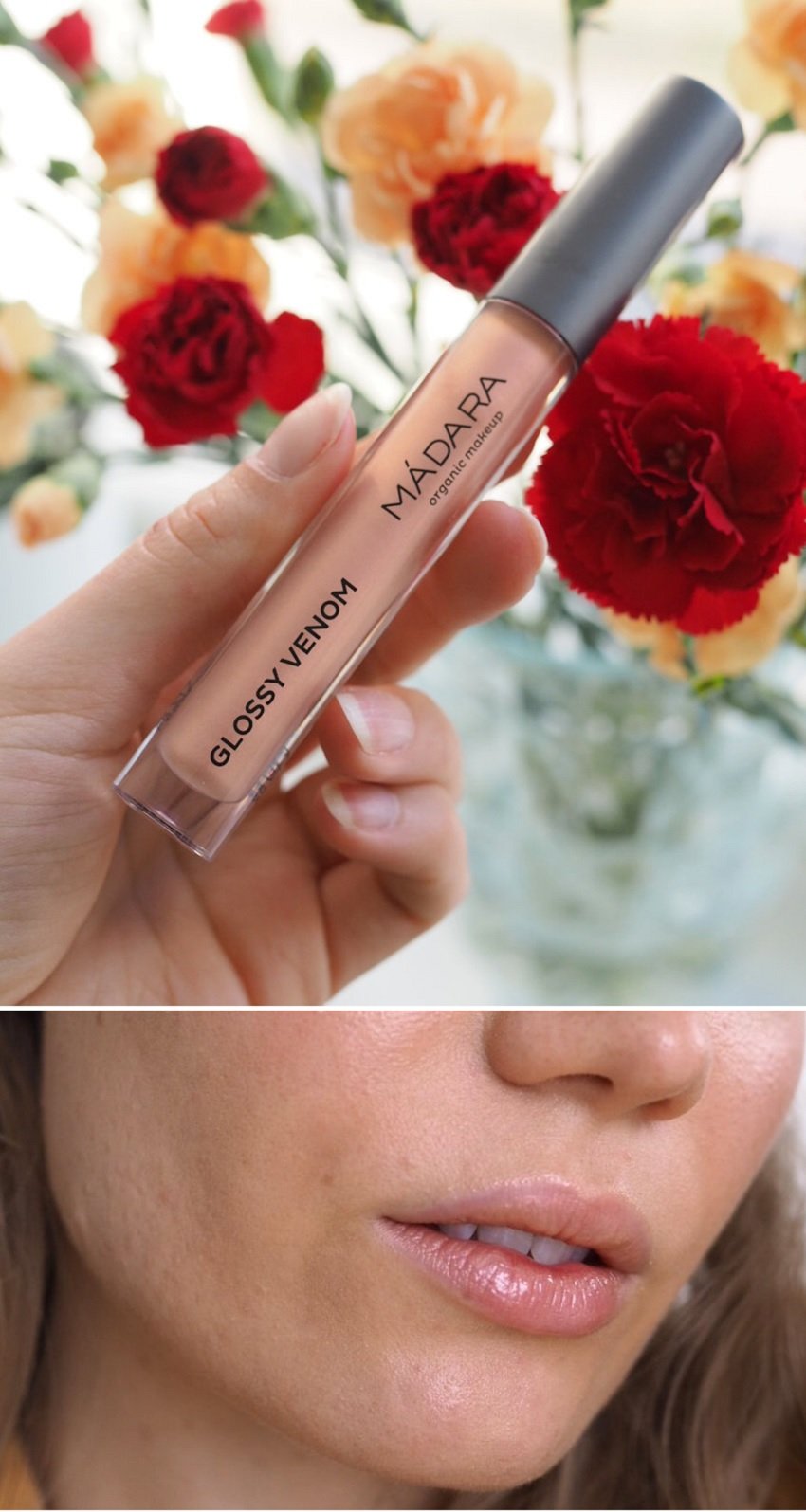 Madara Hydrating Lip Gloss
I love lip glosses and especially natural ones. After all, some of the makeup is gonna end up in my mouth.
Madara's lip gloss was a winner for me since the first try. It has a delicious vanilla scent to it and the consistency is great. It's in-between a sticky and a watery gloss. It's quite lightweight and watery, but it has some stickiness to it so it lasts better on the lips.
I have the shade 74 Nude Coral, which is a peachy color. There's not much pigment though, so keep in mind these lip glosses are more for a gloss and a tiny amount of color. (Though I have only tried this shade, so I don't know if the other colors are more pigmented.)
Contains blueberry seed and rice bran oils,  vegan plant waxes and vitamin E.
Shop: *Madaracosmetics.com (US) *Feelunique (UK) *Ecco-verde.com (global shipping) *Madaracosmetics.com/fi (FI)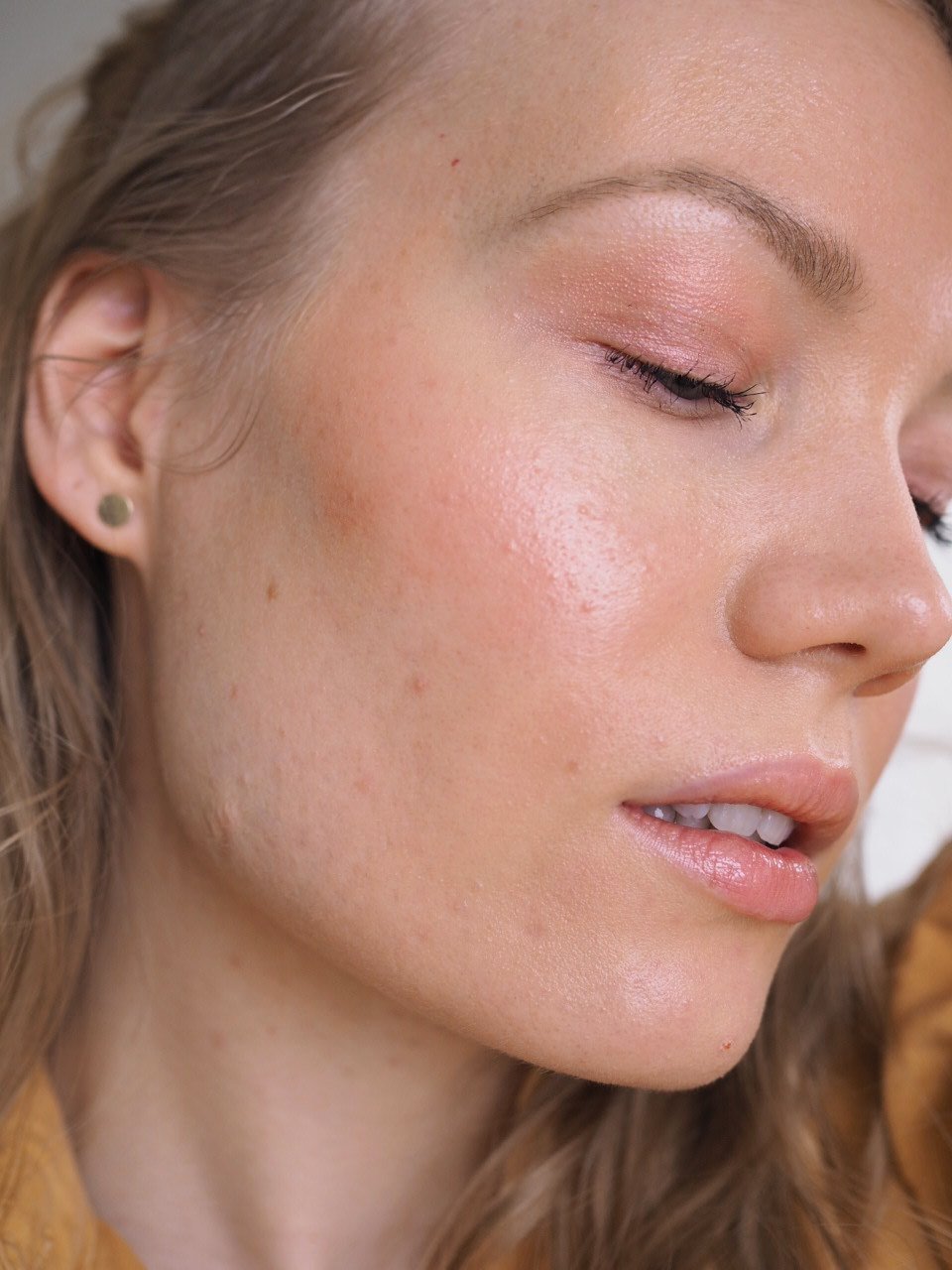 Overall I'm very pleased with the products. I love Madara's sunscreens and the City CC Cream is my go-to "foundation". It's very light-coverage though, so it's nice to now have the foundation to use for when I want more coverage.
Where to shop Madara:

*Madaracosmetics.com (US)
*Feelunique (UK)
*Ecco-verde.com (global shipping)
*Madaracosmetics.com/fi (FI)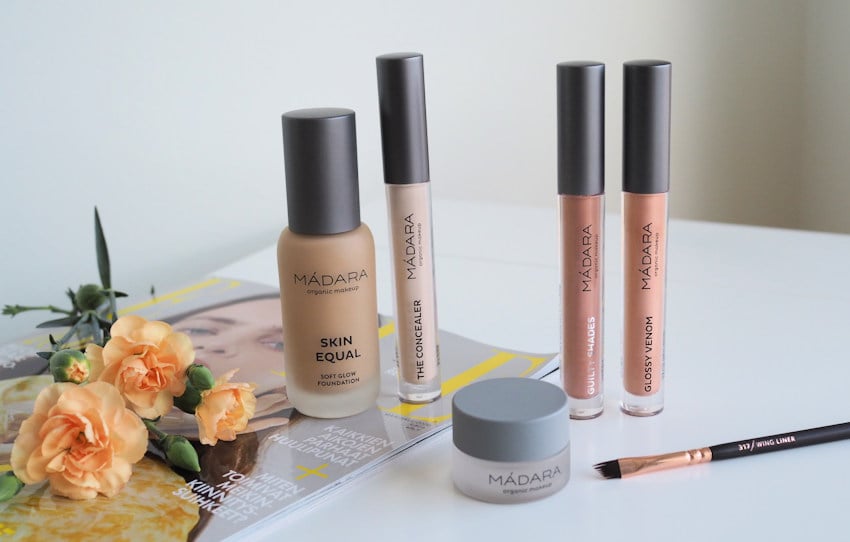 Have you tried Madara's makeup or would you like to?
Related Posts