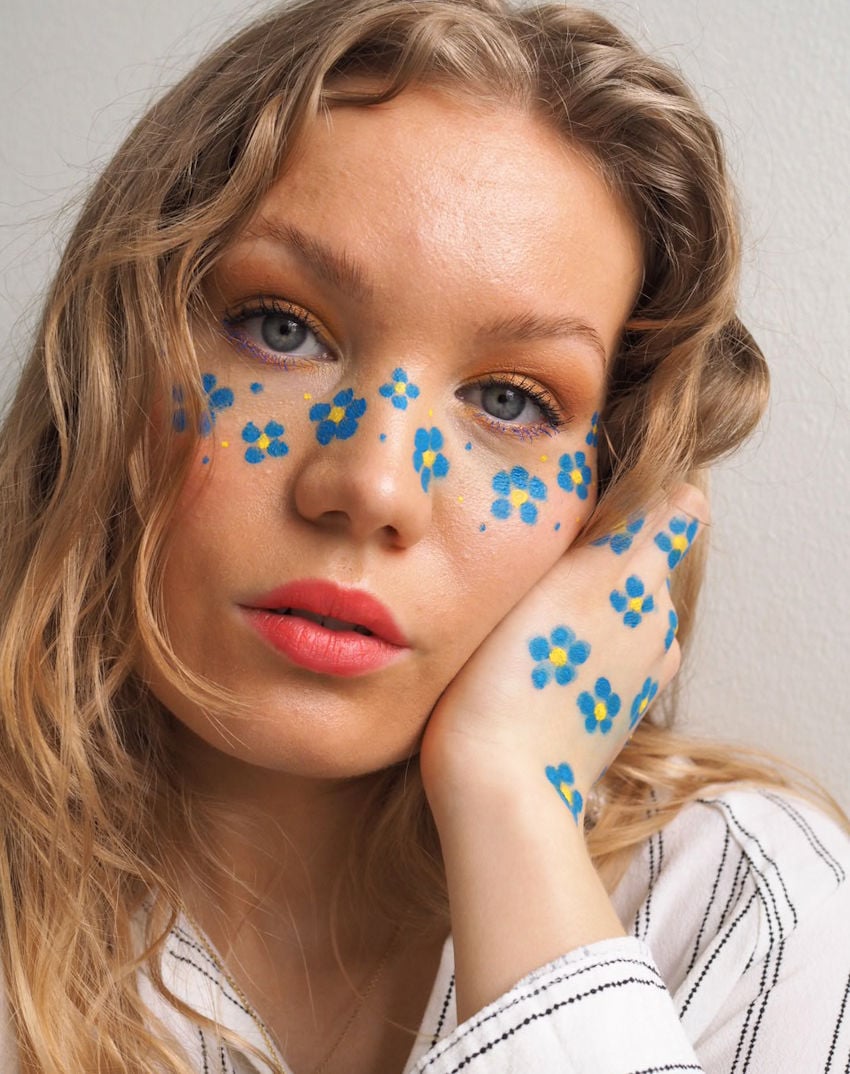 *adlink
My real freckles aren't yet visible, so I'm doing what I did last year, and wearing flower freckles makeup again! This time I chose blue flowers and paired them with yellow and coral colors.
That first flower freckles makeup post has put a smile on my face on more than one occasion. The same week I posted it, I got a question from a beauty editor, asking if they could use my photo in their magazine. So I ended up being featured in an Austrian women's magazine! That's one step closer to my dream of being on the cover. Hopefully talking about something important like mental health, blogging or makeup. I also posted the look on pinterest, where it has inspired people to recreate it. I love seeing your looks, so keep on tagging me if you do try it! You'll find me on social medias by the name of charlottaeve.
Blue flower freckles makeup
I made a step by step tutorial for the flower freckles and the eye makeup. I also took before and after photos of applying blush and lipstick – just to show you how big of a difference that makes. I think a good base is important for this look, so that the flower freckles can shine. I thought a coral blush under the flowers suited the color theme nicely.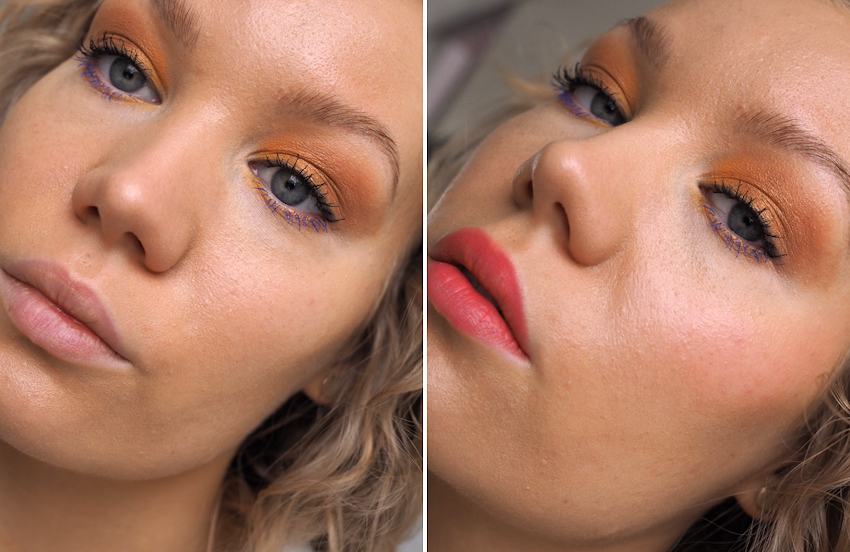 I chose coral lipstick – *Jane Iredale Triple Luxe Lipstick, Ellen – that I used both for my lips and cheeks.
Jane Iredale's Triple Luxe is my favorite lipstick when it comes to lipstick formulas. And well, I love the gold packaging with magnetic closure. Honestly it's the most comfortable lipstick ever. It has hydrating, thin and pigmented consistency. It works amazingly as a blush too, because it's easily blendable.
Full review: The best lipstick I've ever tried?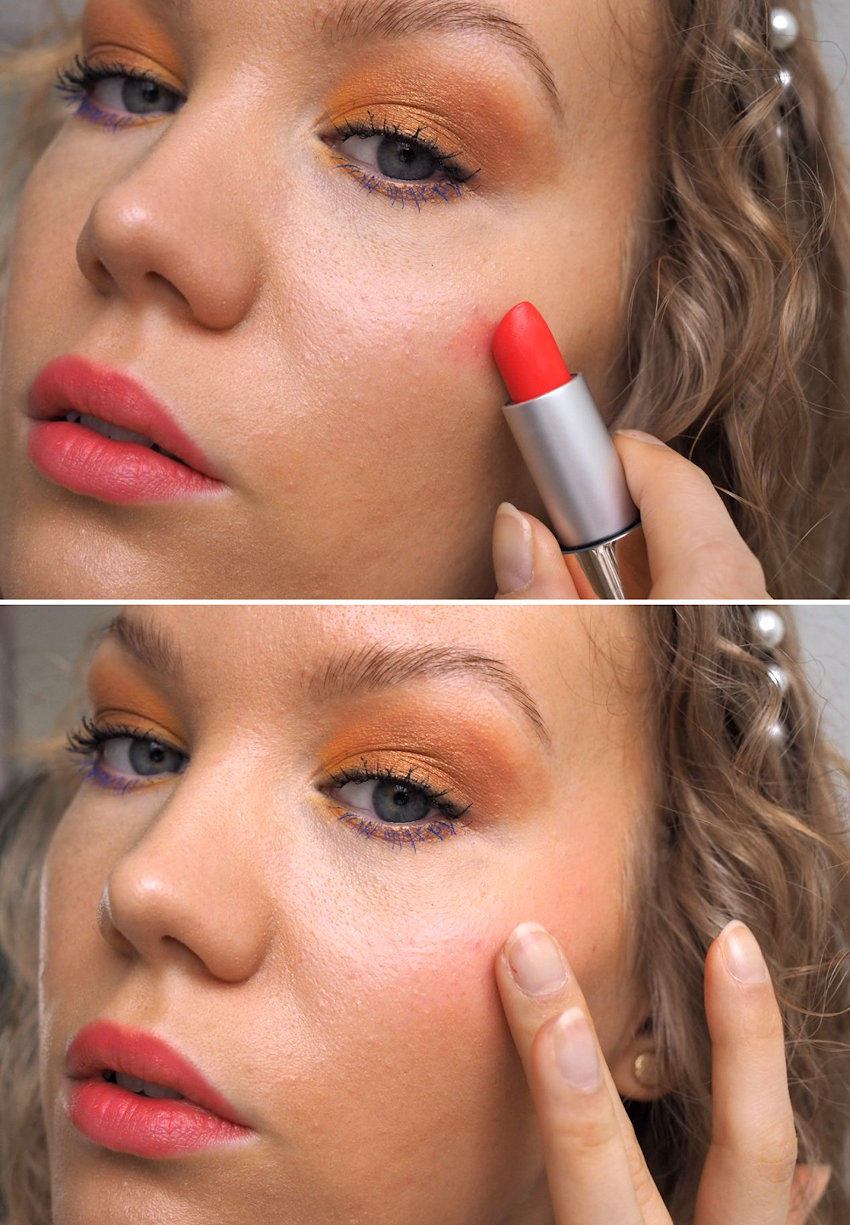 Blue flower freckles tutorial
I used water-soluble face paints (mine are from Grimas) and two makeup brushes to create the flower freckles. I painted the flowers with the other end of my eyeshadow brushes. Easy. And once again, I want to remind you that it doesn't have to turn out perfect – it's still gonna look cute, I promise.
*CC Beauty Professional Face paints with brushes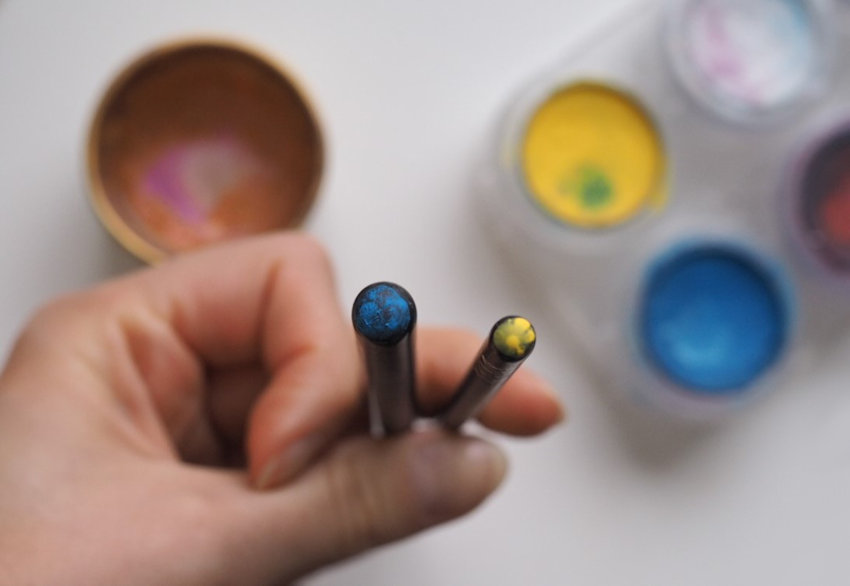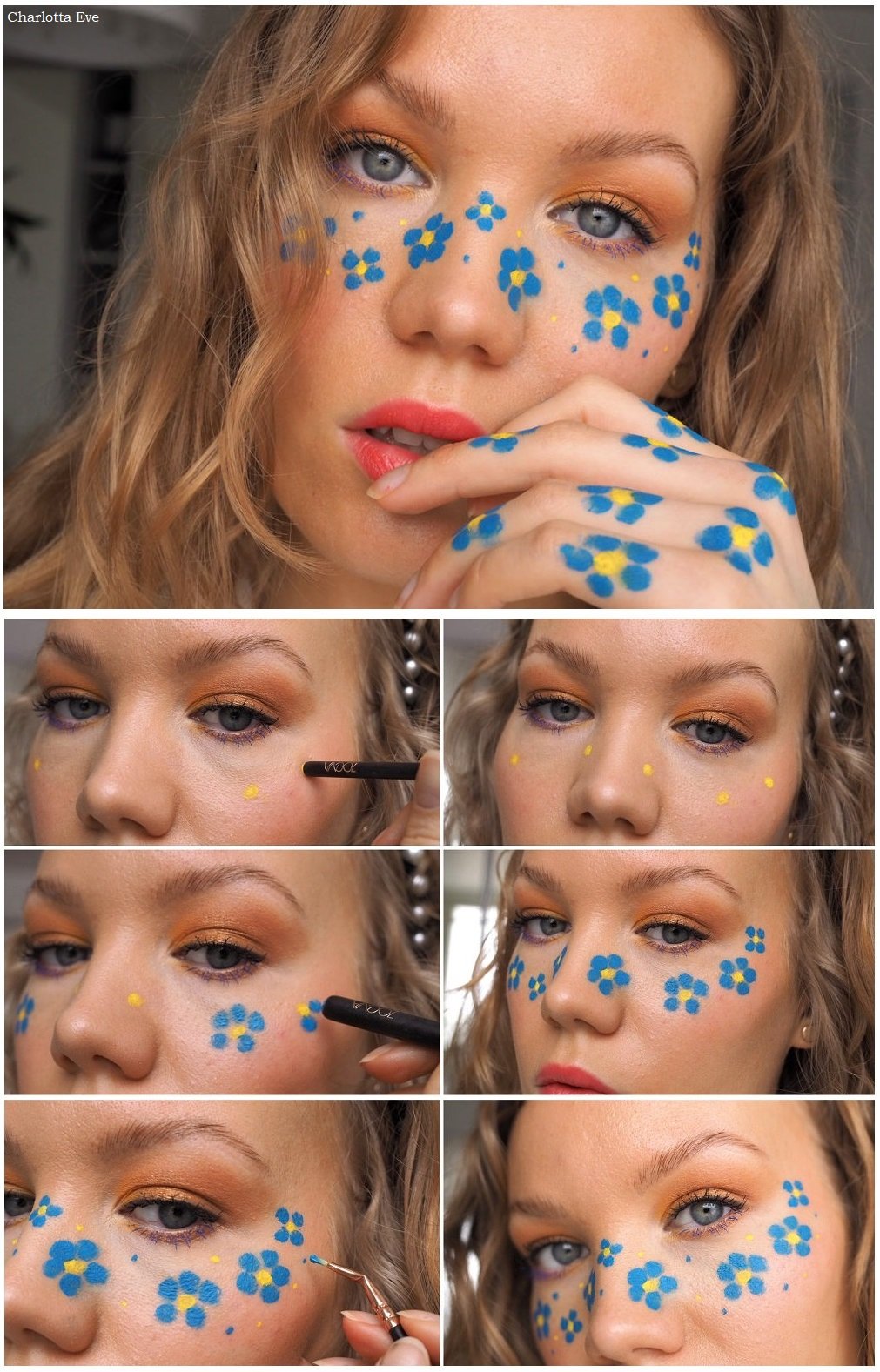 I first made the yellow flower centers. Then I added the petals.
When I was done with the flowers I felt like something was missing, so I added a few smaller flowers (made them with the smaller brush) and some dots with a detailing brush. And that's pretty much it.
If you make a mess, you can use a wet brush or a q-tip to clean and carefully add concealer on top of the mess (I did that a few times).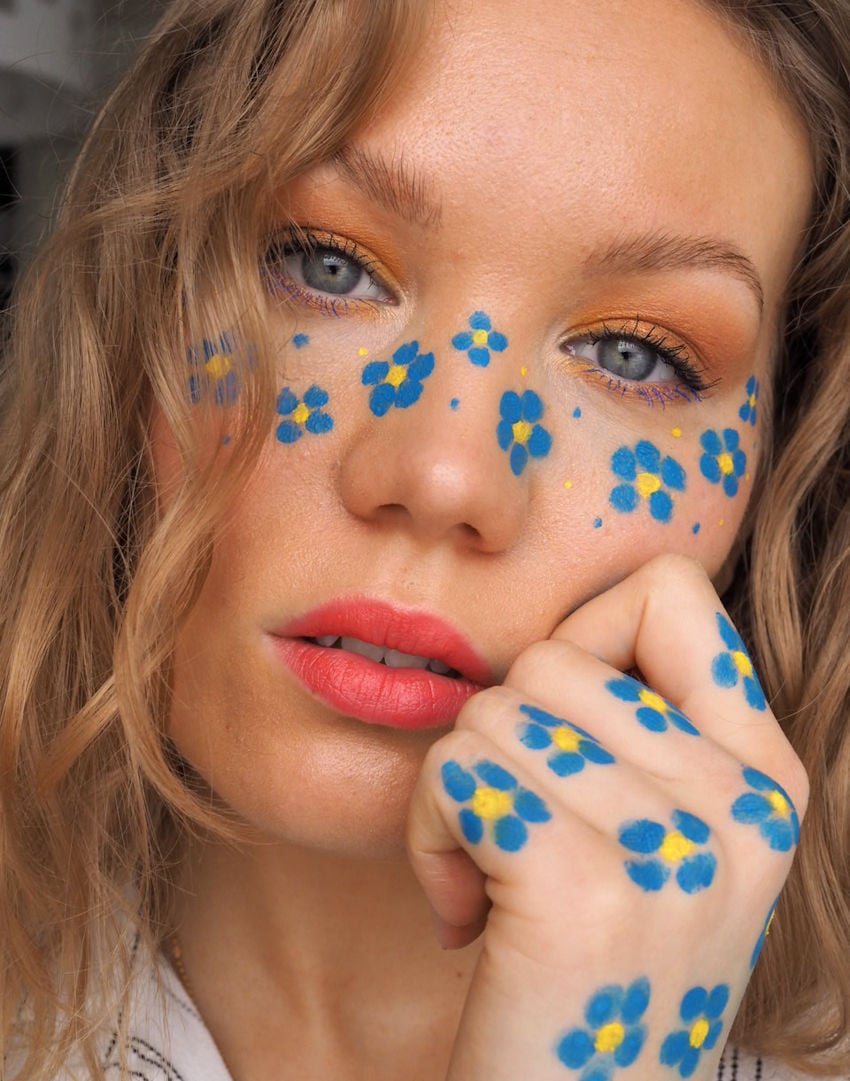 Gold & yellow eye makeup tutorial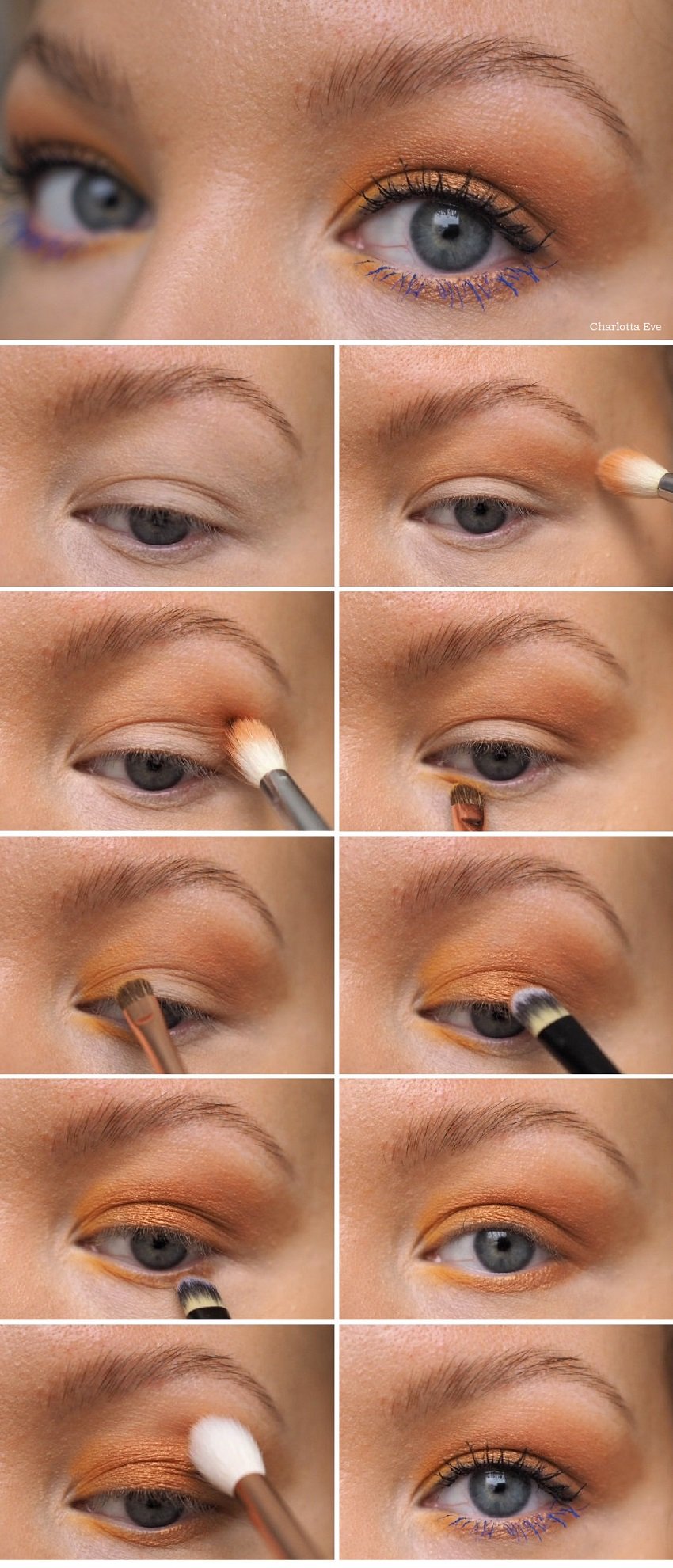 First I primed my lid. Then I shaded my eye with a warm orange shade (I actually mixed mustard and a nude brown from the Too Faced Gingerbread Extra Spicy Palette).
I added yellow eyeshadow on the inner part of my lid, also on the lower lid. Then I patted on a shimmery bronze color on the center of my lid and on the lower lid.
Finally I tightlined my eye and added mascara. I chose blue mascara on the lower lashes, to match with the flower freckles.
Voilà!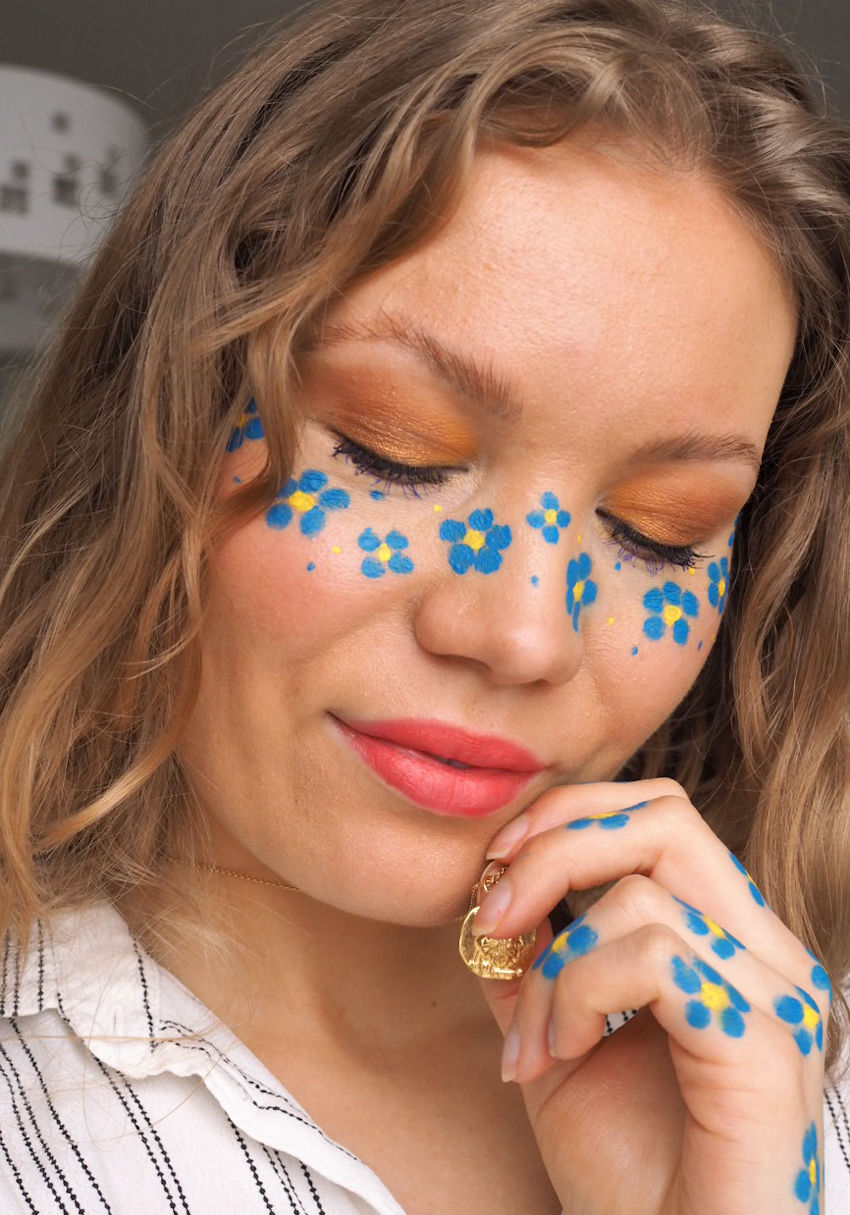 Products:
*Urban Decay Primer Potion Eden
Too Faced Gingerbread Extra Spicy Palette (similar Too Faced palette *here)
GOSH Boombastic Crazy Volume Mascara, Blue
*essence Bye Bye Panda Eyes mascara
*Benefit 24hr Brow Setter Gel
GOSH Brow Pencil, Greybrown
*Jane Iredale Triple Luxe Lipstick, Ellen
Brushes:
*Coastal Scent Brush Set ($)
*Zoeva rose gold brush set ($$)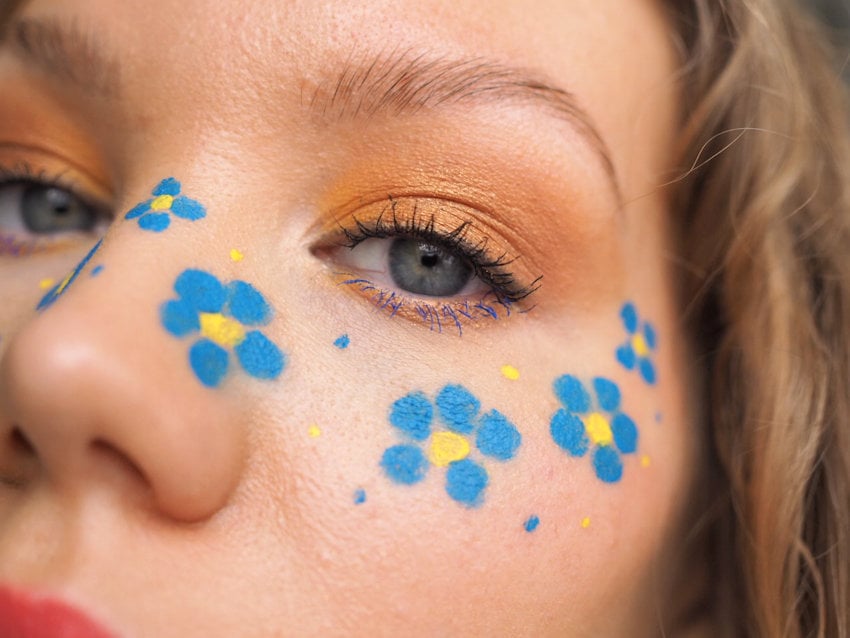 What do you think of the look? I gotta say, this look cheered me up on yet again another home office day.