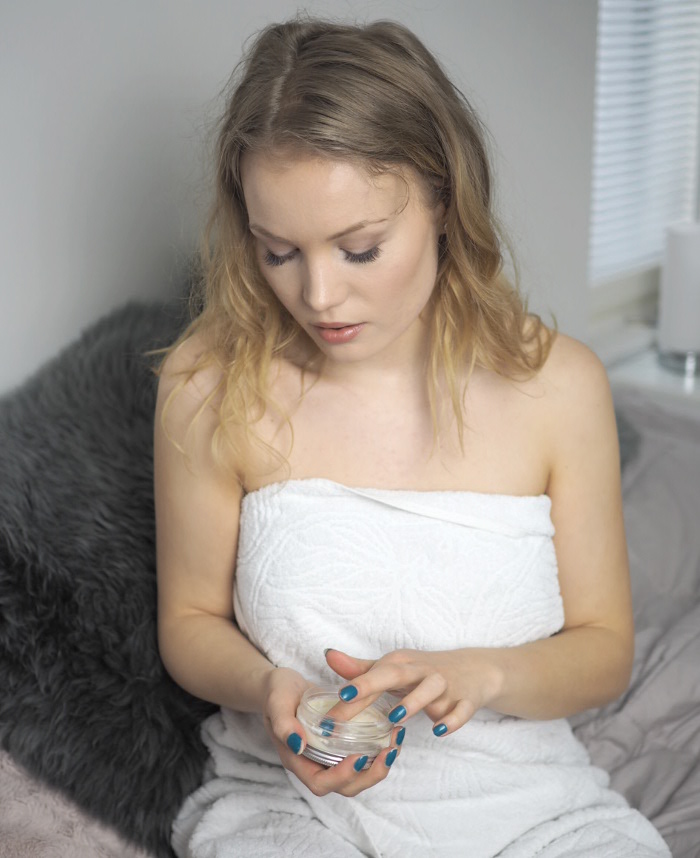 *adlink
I found a great natural deodorant – and it's actually the best one I have tried so far.
Antiperspirants have the worst reputation, when it comes to beauty products. There's constantly new articles popping up about them. There's even words like cancer and alzheimer's disease associated with the products. Yikes, I know. It's one of those things you do hear about, but just don't want to get into. Especially when we're talking about products, that help you get through tricky situations, that keep you clean, fresh and not sweaty.
That's why I finally bit the bullet and decided to find a natural deodorant. Even though I was skeptical at first. Like, can it actually work? What if I smell?
But honestly, I wish I had switched my deodorant to a natural one ages ago. Because I found a great natural deodorant, and it's actually the best one I have tried so far. No other product has worked this well for me, ever.
The best natural deodorant I have ever tried
The magic product, which I can't hype enough, is Cotton fresh deodorant cream from Evolve beauty. It's organic and its ingredients are all natural. I can not understand how this product works so well. I've checked the ingredient list multiple times to check if it contains some anti-sweat magic, but no. It honestly works and it keeps the moisture and odours away with sodium bicarbonate, kaolin, coconut oil, sage oil, shea butter and a list of other awesome ingredients.
It doesn't really make sense to me, but who cares, when I've found a deodorant that works. And that's *Evolve Beauty's Cotton Fresh deodorant.
Cotton fresh deodorant cream by Evolve Beauty – review
The first time I applied this it kept me totally dry. For the whole day. No odours, no nothing. I could wear the same shirt the next day. Now that I've been using it for longer, it doesn't necessarily always keep me 100 % dry, but even if I feel moisture in my armpits, they don't smell and the deodorant doesn't leave stains in my clothes. I guess it's only natural to sweat more on some days and on some occasions. And sometimes sweat less. Anyway – it works like a deodorant should.
I hadn't even realized how annoying my sweating situation had been before. I get frustrated just thinking about it. I've tried so many different antiperspirants and deodorants. Some of them worked okay, some of them didn't work at all and some of them were just the best that I could find, so I settled. I even tried the antiperspirants you can find in a drugstore, that promise to keep you dry for three days or something – didn't work for me.
Not only have my products let me down before, they have irritated my skin. I used to have dry and itchy armpits and I could feel, that my skin just didn't like what I was putting on it. I had to keep deodorant-free days just to soak my armpits in coconut oil in hopes of recovering the dry irritated skin.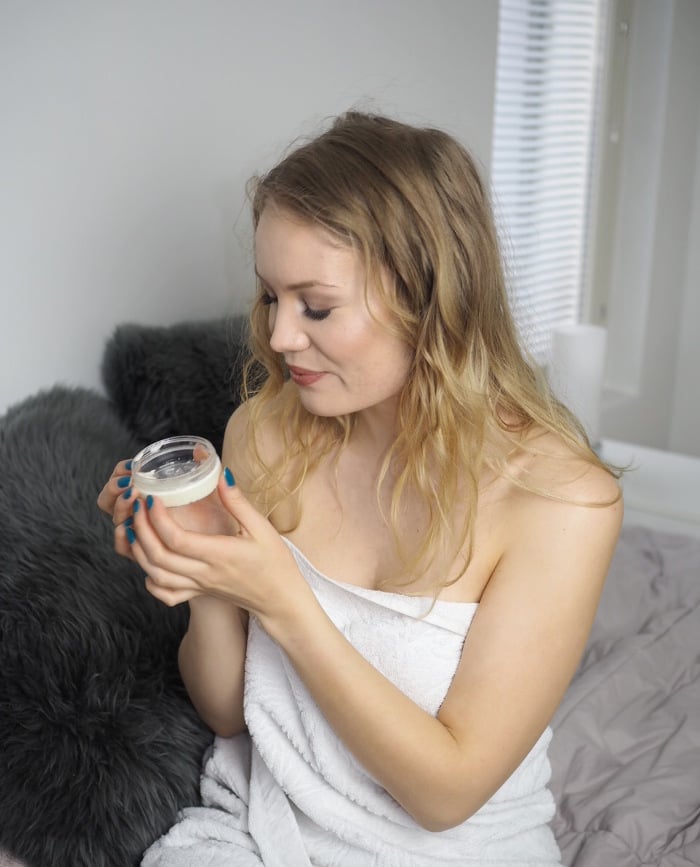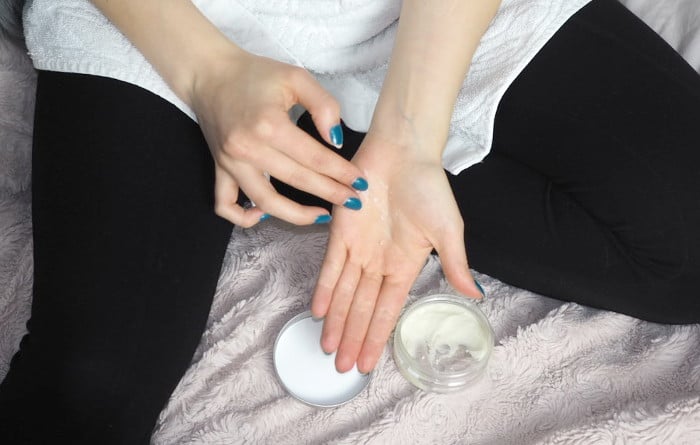 The natural deodorant that works
This new *natural deodorant doesn't irritate my skin. At all. Why would it? It contains coconut oil, shea butter and cacao butter. It actually nourishes my skin. The ingredients, that control my sweating are ingredients, that my skin can take.
The cherry on top is that the scent of this deodorant cream is so good. It's fresh and clean. It's pretty subtle and it fades throughout the day, but it's so nice, when you apply the product. This is a cream, so you apply it with your fingers. Remember to warm it up a bit by rubbing it on your skin. So yes, it's a longer process than the usual stick deodorant version, but who cares when the product is gold.
The only downside to this product – and this is quite far fetched – is that since it comes in a (beautiful, I might add) glass packaging, it can break. Heh, so I dropped mine and I had to move the product to another jar – thank god I have a bad habit of saving my old jars and tubes. (So that's why the the packaging looks different in these photos.)
I am so happy I found this product. And I'm pretty sure, it's the best natural deodorant there is. I've recommended this product to my friends as well and so far everyone who's tried it has liked it and it has worked for them too!
So if you're thinking about switching up to a natural deodorant, you can start here: *Cotton fresh deodorant cream 10£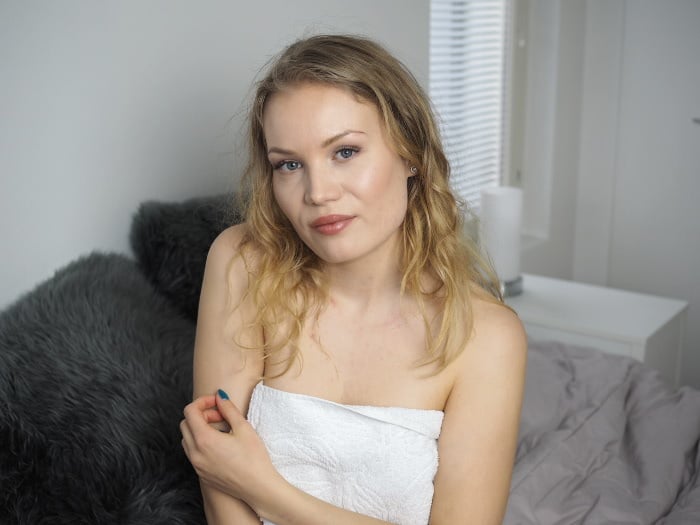 Have you tried any natural deodorants?
Evolve Beauty is one of my favorite brands. Some of my favorite products from them are these really effective masks – check out my post about them!