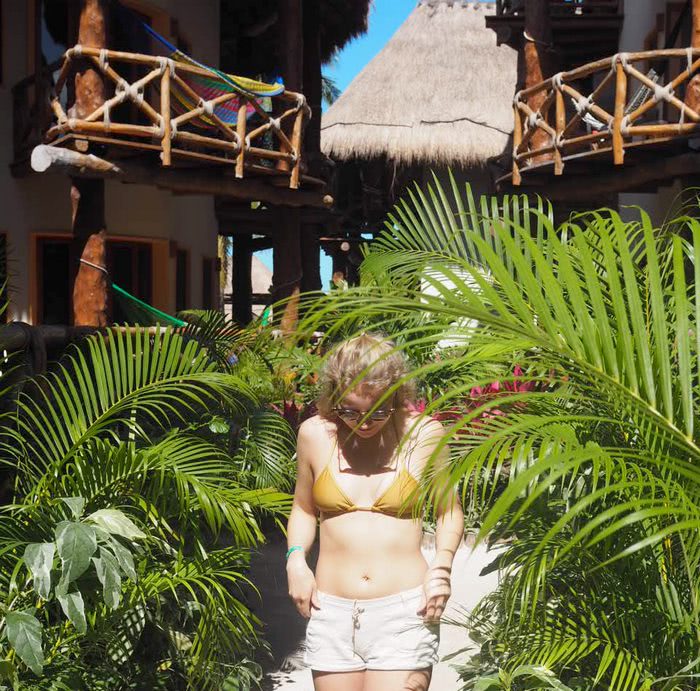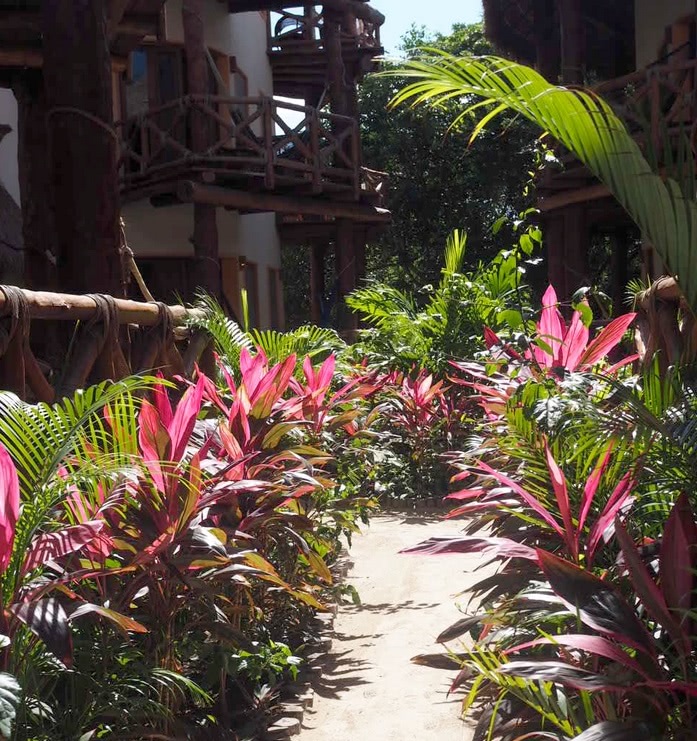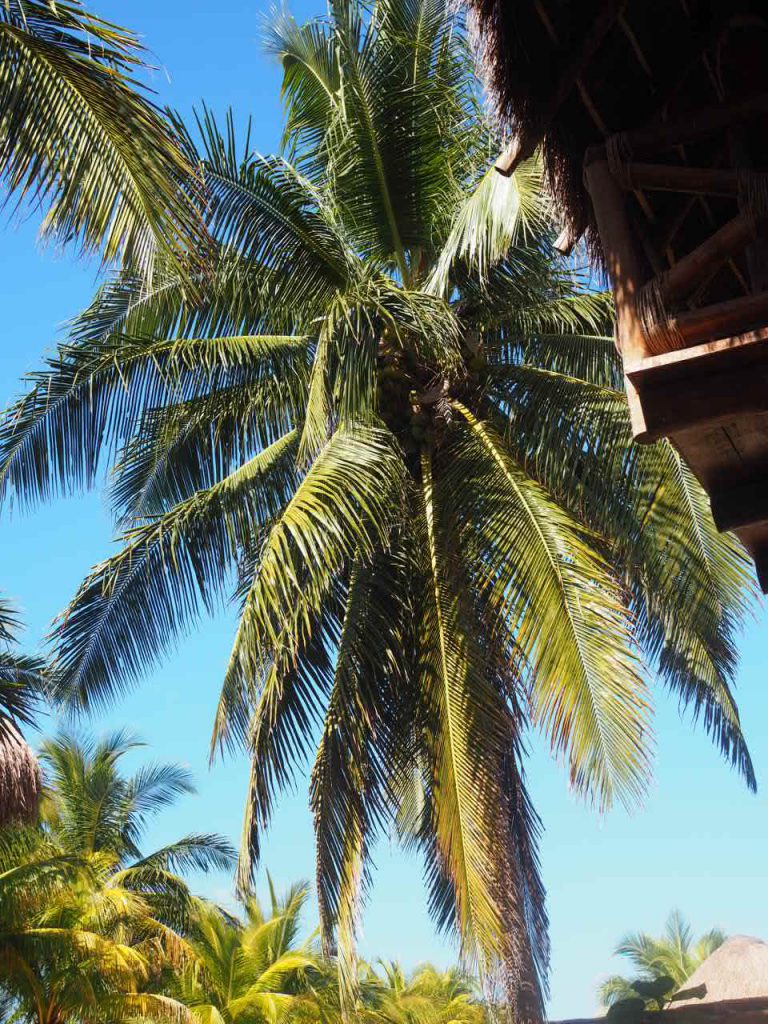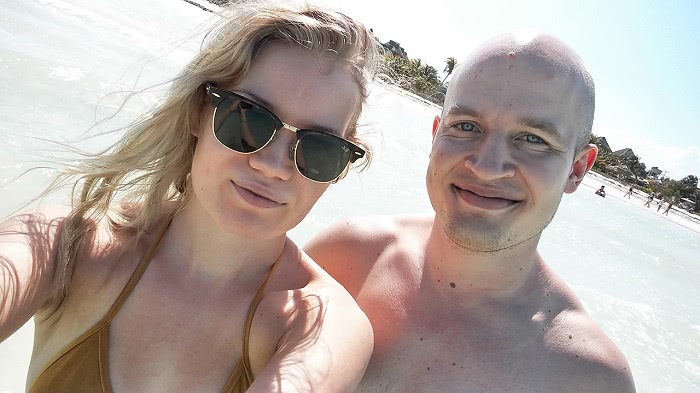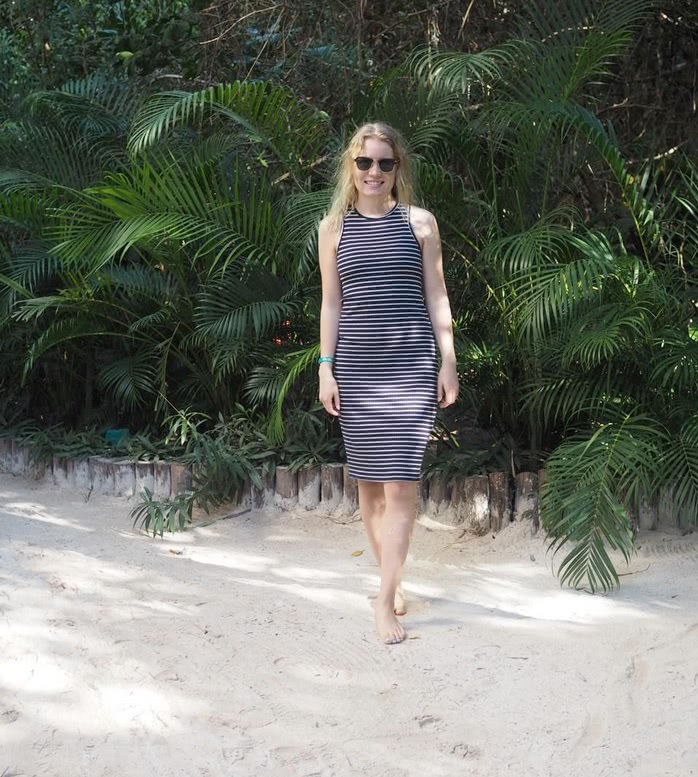 You know your trip has been a success when your tan is still visible and you remember every moment like it was yesterday. (And you know you're late on your post when you're being asked for the second part.)
As I told you on my previous post – our trip to Holbox was perfect. I loved the island and the hotel. You may have read about this place and heard the phrase "you need to go there NOW, not later". That's true. The island is becoming more and more crowded every day and to avoid the tourists you need to go there before anyone else does. When we were in Holbox it wasn't crowded at all. There were only handful of tourists and there was plenty of room at the beach. Or everywhere, really.  Calm, peaceful, beautiful.
On this post I'm concentrating on the pictures, our hotel and the restaurants. Be sure to check these out if you're headed to Holbox!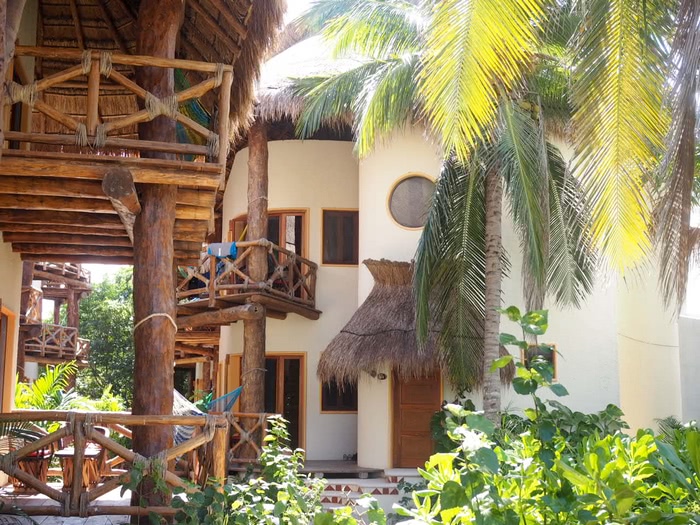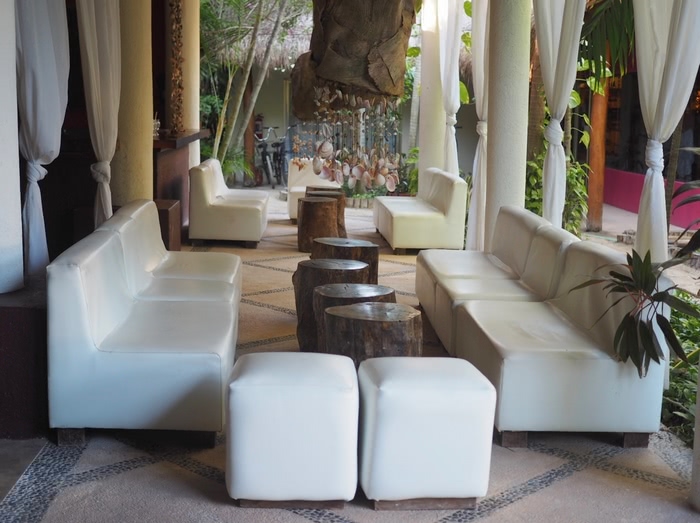 Villas Paraiso Del Mar Hotel ****
The hotel is definitely worth the four stars. It's beautiful. The hotel is surrounded by tropical gardens which make the whole place look magical. The villas are gorgeous with their colorful hammocks and beautiful wooden details.
We had a junior suite which had all the things we needed. It was really spacious and comfortable. Some of the things were different than what we're used to of course – the toilet for example (you can't toss paper into it) and the shower (the shower head made the water shoot all over the place, but luckily they changed it for a new one that worked just fine). The air conditioner worked really well but we didn't even always use it – the room wasn't hot but it got humid after some time.
Edit: we should have used it all the time – the hot weather got one of us not feeling that well. So: remember to take breaks and enjoy the coolness of your hotel room and drink lots of water!
The hotel staff was very friendly – not everyone spoke English but with some words and gestures everything got handled. I loved that the cleaners made towel art and even decorated the toilet seat every time they cleaned up the rooms. These are the nice details that give the hotel a little something extra.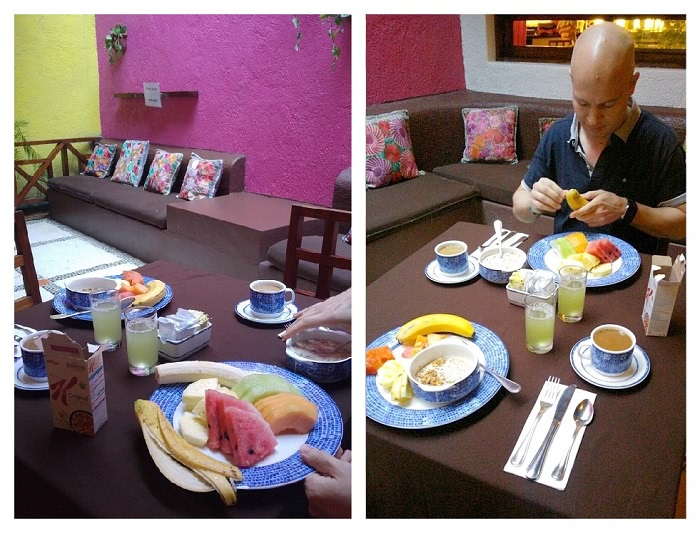 The breakfast that is included in the stay was delicious and really good. There were plenty of options and what I loved is that there were lots of fresh fruits, juice and smoothies available as well as a cook who made you an omelette of your choosing. He also made pancakes or crepes when asked. The coffee was brought to the table and the cup was filled whenever a waiter noticed you had already drank it. The coffee was delicious – that's always important.
The atmosphere in the restaurant (where the breakfast is served) was relaxed and romantic. Sometimes hotel breakfast buffets can be noisy and stressful, but here it was easy to enjoy your food and coffee in peace – almost as if there were no other people around.
I can also recommend the cocktails served at the bar. 'Dirty monkey' and 'Holbox' cocktails are a must have while enjoying yourself at the beautiful beach. The drinks were made from fresh ingredients and they were absolutely delicious. We also tried the snack bar and that's something that I can recommend. Especially the quacamole.
The only downside to this hotel was the lack of wifi. The wifi just wasn't working. In fact there would have been wifi if it was just installed properly, but it wasn't (a weird fact Risto found out, he's a bit of a techie). I don't know if they were working on it, but at least that wasn't told to the guests. The hotel staff wasn't sorry about this at all. All I got from them was: "It's not working? Then maybe we don't have wifi at the moment." I found this a bit weird, but on the other hand I did enjoy my holiday without the internet.
Altogether the hotel made our stay even better. If you're headed to Holbox, you may want to consider this beautiful hotel as your choice.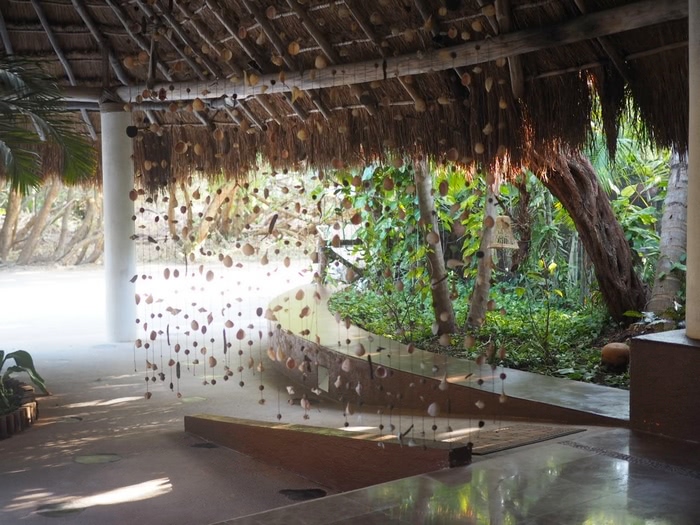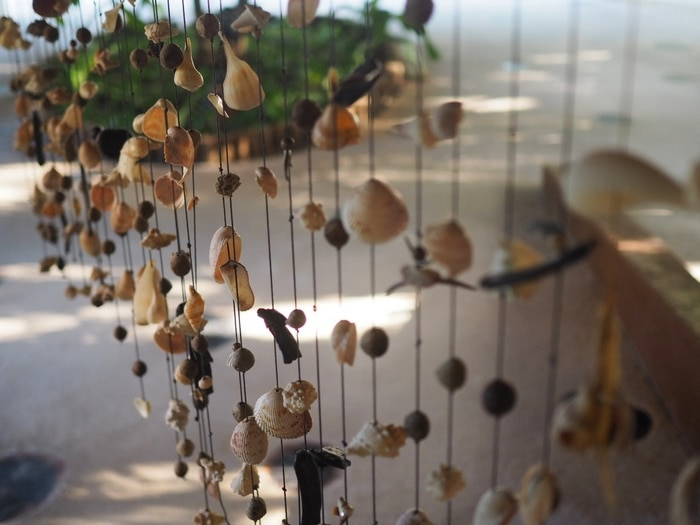 BEST RESTAURANTS IN HOLBOX
Even though it's a small island there are still great restaurants and lots of options. We actually didn't eat that much on this trip (I think the hot weather made us not so hungry) but there were some restaurants that deserve some praise.
It's good to know that I'm a vegetarian but Risto isn't and he loves meat. So these options are meat + vegetarian friendly!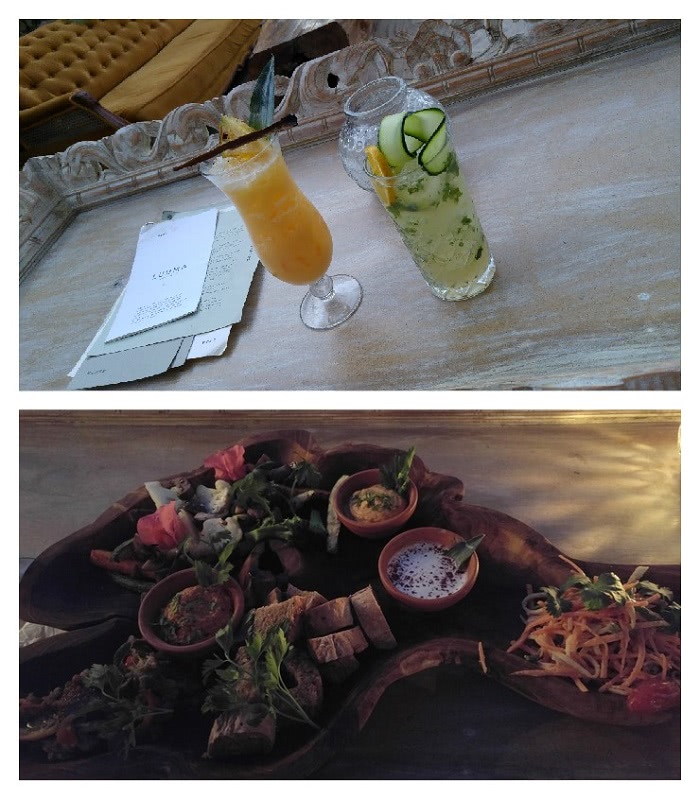 LUUMA Tapas + cocktails
In Luuma we enjoyed great cocktails and delicious tapas. The cocktails are said to be the best in the island and they are good – not too sweet like in some places and with lots of different flavours. Same goes with tapas – they were delicious. I loved the falafels, vegetarian croquettes and tacos. Risto loved all the meat – especially lamb. They also have these big plates that are big enough for two. We tried the vegetarian plate and we both enjoyed it. The different flavours are definitely the key ingredient in making this place unique as well as the relaxed atmosphere and nice music.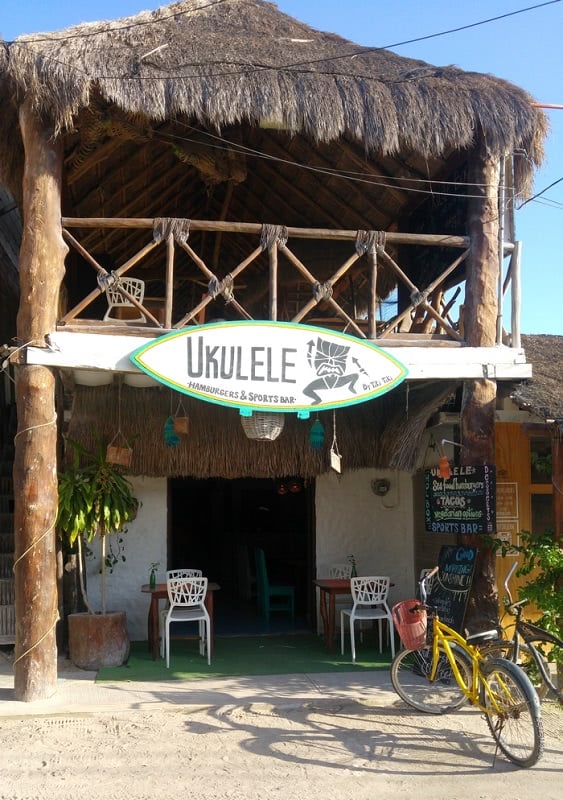 UKULELE Best burgers
Ukulele is a sports bar but also a restaurant. It offers salads, tacos and burgers. We tried some of the cocktails which were okay but the best thing about here is definitely the food. There were great vegetarian options but the veggie burger was just so good I had to had it twice. It had falafel "steak" which was delicious. Risto tried the chicken burger as well as the beef burger and was very happy (especially after the waiter asked if he wanted to add bacon in his burger).  We also had Nutella flan for dessert and it was – again – delicious.
The service was really good here and the staff spoke great English.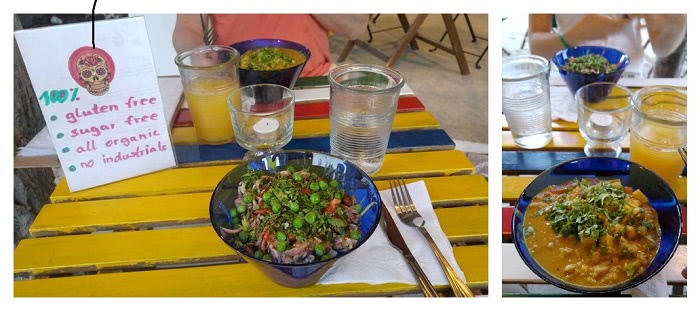 Gracias Madre Raw Food Vegan
I think this is the only totally vegan restaurant in the island. Besides being vegan it's also gluten free, sugar free, all organic and no industrials. It's originated from Hamburg where Raw food first was opened. Here as a vegetarian I had the best options: everything on the menu. I had the Thai Noodles and they were so good – the best food I've had in a while! Risto had the sweet potato curry which he liked as well. Despite it being good – he still would have wanted meat with it – so for him the food still lacked something. That was a shame because for me this was the best restaurant on the island.
The only thing that I found weird or that I would have liked to add to my experience is good wine. There was zero alcohol on the menu. I understand it's part of the brand but that's just something I like having with my meal especially on a holiday.

+ Maruc Best dessert
Maruc is a super cute small cafeteria in Holbox. They have the best cakes! We tried the chocolate and mocha cakes which were heavenly. Strong recommendation to all the cake lovers out there.
Read the first part here.