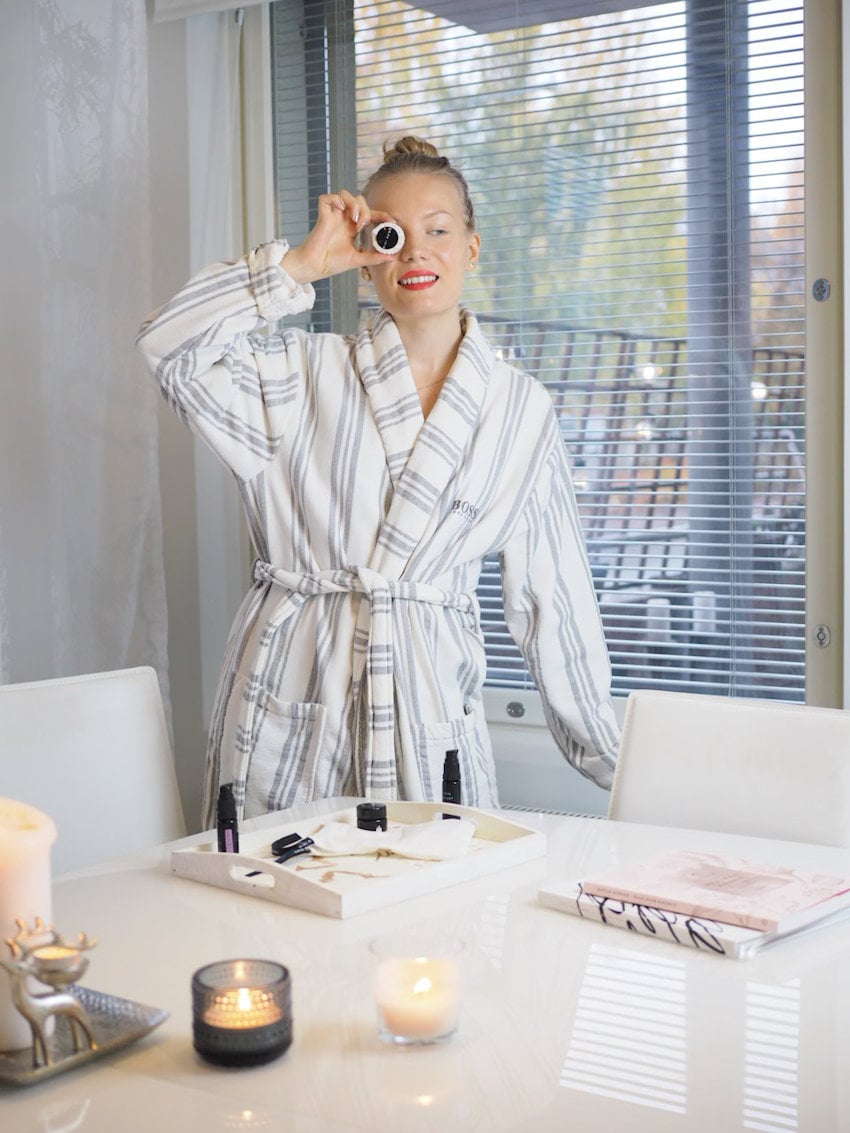 Pr-samples & affiliate discount code
We all want a healthy, balanced skin. One that doesn't feel dry nor oily. A happy skin, so to speak.
I've always said that a good routine is the base for a healthy skin. You need a skincare routine and products that give you results.
An updated skincare routine is in the works, but for now, I'm sharing the two most important key products in my routine. These two products are my secret to a balanced skin. This post is especially helpful for normal, combination or oily skintypes.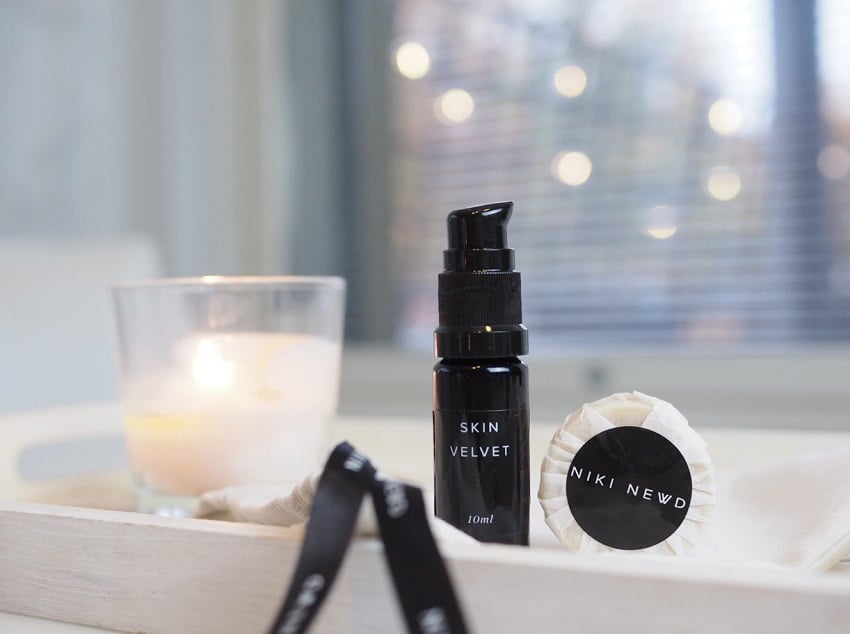 The key products in my skincare routine – Cleanser & Oil
I've been using Niki Newd's products for several months now. On my first post I declared that I had found the cleanser for my face. After I started using that Oatmeal Soap, I could see and feel the difference on my skin. I also fell in love with their Skin Velvet oil serum. Oil is another product that I couldn't live without. Even though I have some oiliness in my skin, using an oil in my skincare routine is crucial in keeping it balanced, moisturized and glowy.
The best cleanser I've found
A face cleanser is probably the most important product in my routine. Even on the days that I'm not wearing makeup, I make sure to clean my face well. I've been using Niki Newd's Oatmeal Soap for half a year now. I feel like every time I talk about Niki Newd's Oatmeal Soap, I need to emphasize, that it's not a regular Soap. You can forget everything you know about soaps. This soap is gentle and it leaves my skin clean and balanced.
The soap contains only five ingredients, which are: rapeseed oil, coconut oil, linseed oil, oatmeal and yeast.
I like that this soap comes with no packaging (except the paper it's wrapped in) and after I've used it, there's no plastic waste. It's also suitable for vegans. The soap comes in a package of two (making the price very reasonable!) and a wash cloth. I like to use that washcloth every once in a while to deep cleanse and exfoliate my skin.
P.S. You'll find a code at the end of this post, which gives you a free gift when you make a purchase from Niki Newd!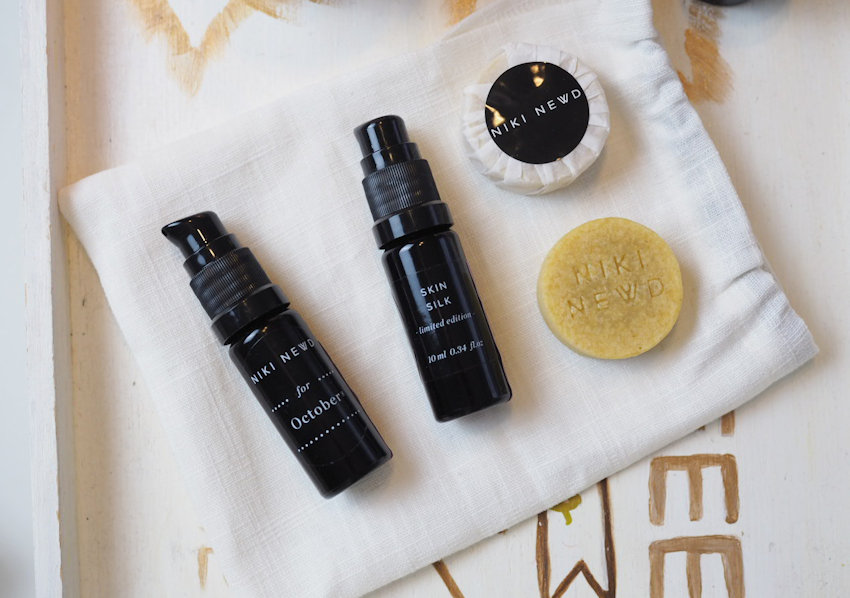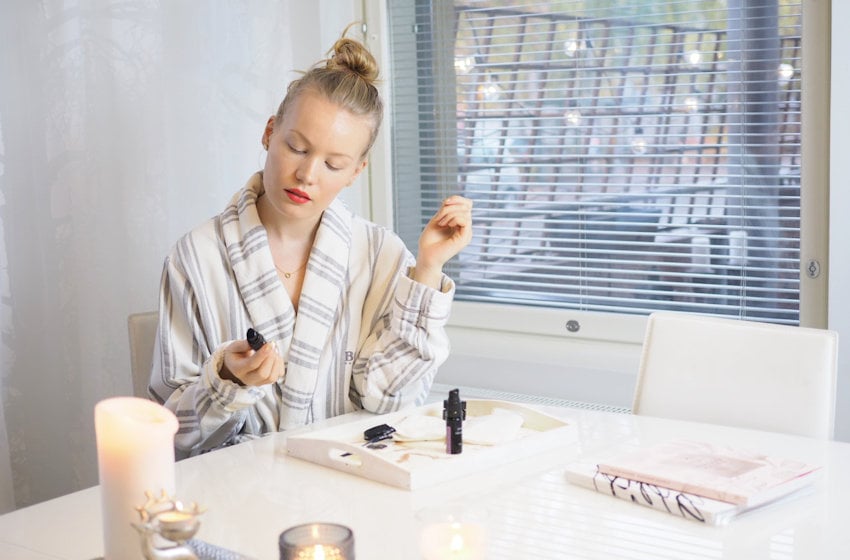 Luxurious oils for a healthy glow
Even if your skin was oily at times, I would still recommend using an oil. Oils are like nutrients to your skin and they help with dryness, skin texture, scarring and redness. Oils are lifesavers for dry skin, but also crucial for oily skin. Once you put an oil to an oily skin, it doesn't have to produce as much oil as it usually does. That way it balances the skin.
Niki Newd's oils are my favorite luxury oils. They consist only of the purest ingredients and they're very compressed. One drop of either one of these oils is enough for the whole face. I've been using Skin Velvet Oil Serum for longer, but now also got to test out their Skin Silk oil, which is a bit lighter. I'd recommend it for oily skin or for anyone who really loves a light silky feel.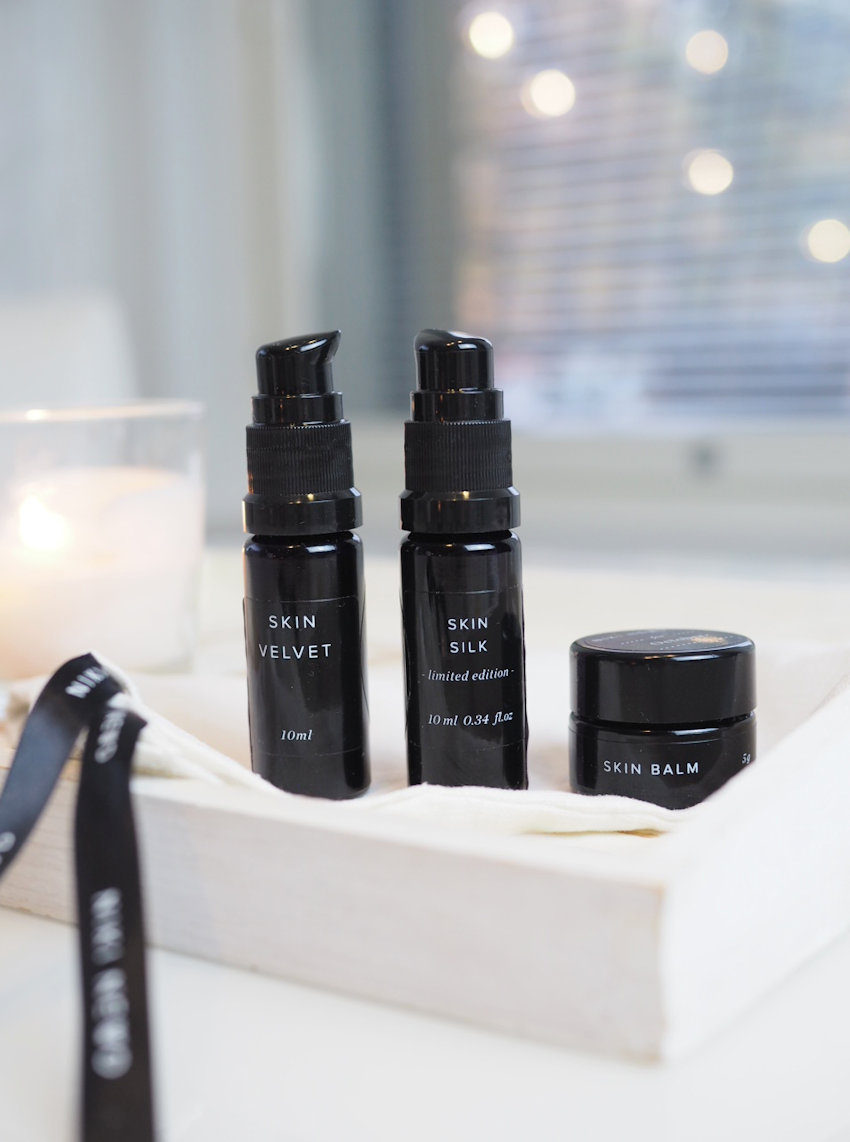 I mostly use oils in my nighttime routine, because I like to give them time to really work their magic when I'm sleeping. A literal beauty sleep, I would say. But as the weather gets colder, I might apply it in the morning as well. Skin Silk Oil serum works well under makeup. Skin Velvet works too, but you need to let it absorb a little before applying your makeup.
Niki Newd Skin Velvet Oil Serum
Niki Newd Skin Silk Oil Serum
Niki Newd Skin Velvet contains Avocado Oil, Camelina Oil, Sea Buckthorn Oil, Strawberry Seed Oil, Lingonberry Seed Oil and Blackcurrant Seed Oil. And that's all the ingredients.
Niki Newd Skin Silk contains Olive oil, Tomato seed oil, Blueberry Seed Oil, Lingonberry Seed Oil, Strawberry Seed Oil, Raspberry Seed Oil and Cranberry Seed Oil. And that's everything.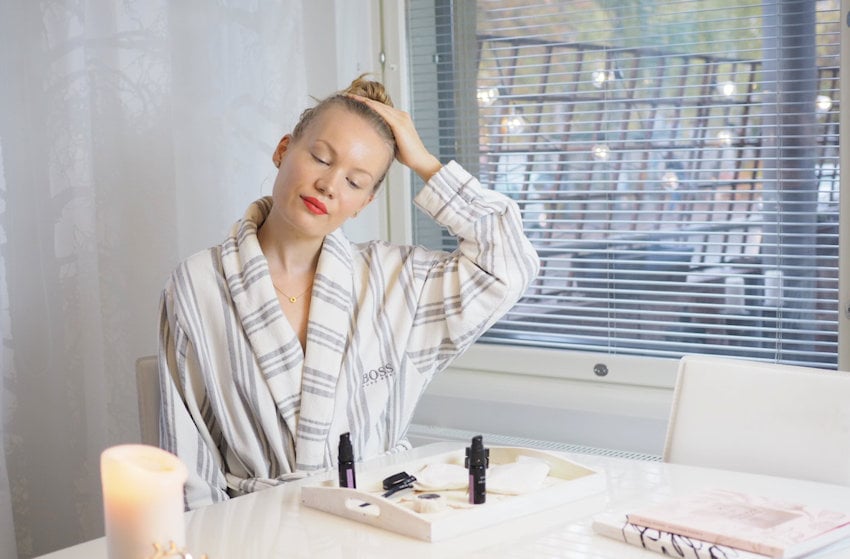 And those are the two most important products of my skincare routine. A good cleanser, that doesn't dry me out – and a nourishing oil, that keeps my skin moisturized and healthy. Obviously besides these, there are also other products in my routine. Such as a moisturizer. Lately I've actually used that skin balm as my moisturizer. I was worried that it wouldn't suit my skin, because it contains coconut oil, but to my surprise it's perfect for my face (maybe thanks to the naturally antibacterial juniper sprout extract it contains).
I'm also using some products mentioned in this post. Those products I would still recommend as well and they are a great option for a budget.
If you are interested to try Niki Newd products as well, you can get a free gift of the Skin Velvet oil in your purchase.
You get a sample size of the Skin Velvet Oil on your purchase with the affiliate code 'CHARLOTTA'. It's gonna show up as "0,00€" on your order, but the gift is automatically added to your package.
*Affiliate code means that you get a gift – and I make a small commission based on your purchase.
P.S. I'll publish a giveaway on Niki Newd Vegan Set on my Instagram today – go follow me so you can participate!