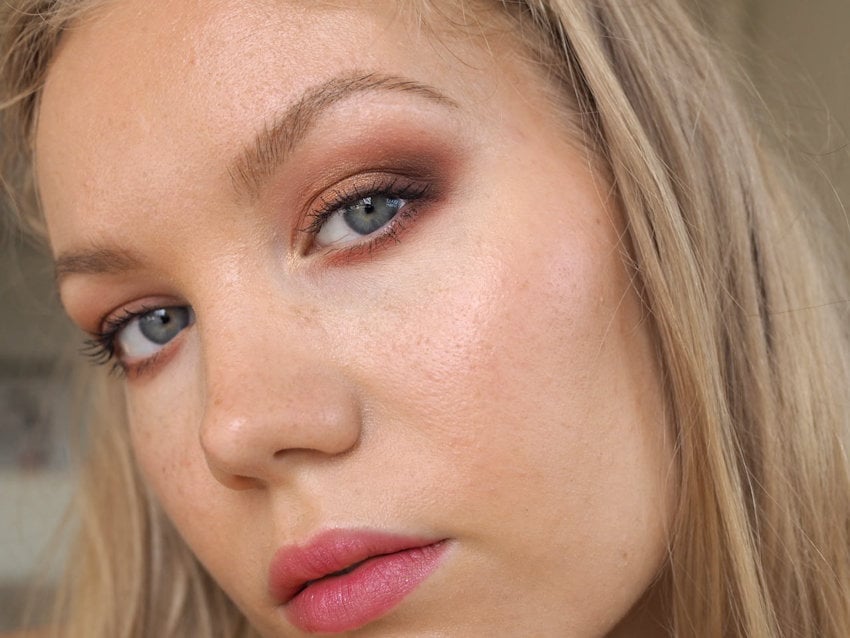 *adlink
Do's and don'ts for deep set eyes.
I've done quite a few tutorials for deep set and hooded eyes, but this time I thought I could also show you what not to do. Showing you side by side the "dos" and the "don'ts" can be helpful in mastering your eyeshadow technique!
I was actually inspired to do this tutorial when I saw a magazine cover with a model who had very deep set eyes. Her makeup (in my opinion) was not done right and it emphasized the hood and overall was not very flattering. Inside the magazine there was an interview and a photo of her without makeup. I noticed that her eyes didn't look that deep set on the no-makeup photo and she actually looked better without the makeup (again, my opinion). It just goes to show how powerful makeup can be. It's all about working with what you got and knowing what works and what doesn't.
And to be frank, I actually have made a lot of makeup mistakes, when it comes to my eyes. And I'm gonna go through those mistakes now, step by step!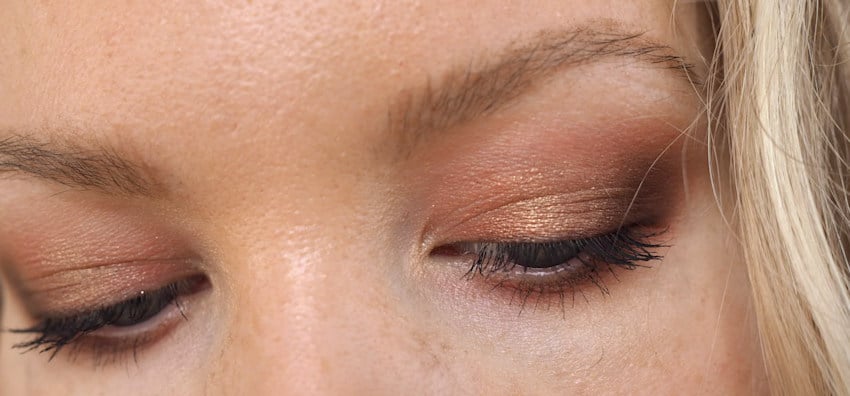 Do's and don'ts for deep set eyes / hooded eyes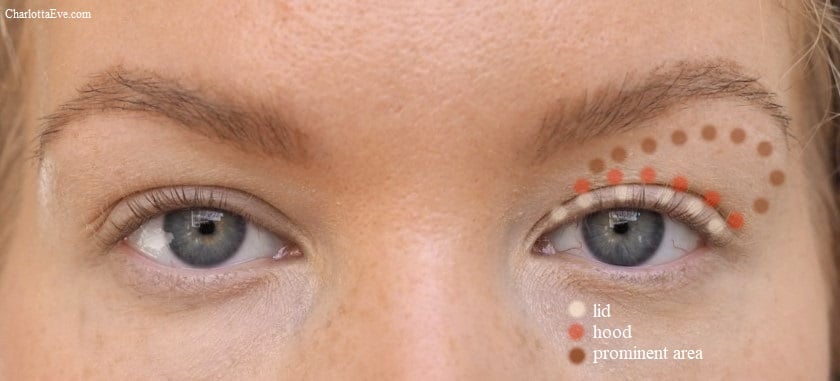 So here are my eyes. I have a bit of visible lid space (shown with white dots). If you have hooded eyes, you might not have a visible lid at all. Above it I have a slight hood (shown with orange dots), where my skin droops on my lid. This is also my crease. But in my eyes the most noticeable feature is the big prominent area (shown with brown dots), which pushes forward above the hood. And I like to shade that to balance my eyes a bit. So instead of shading my actual crease, I imagine my crease is somewhere in that prominent area and I do my makeup accordingly.
Let's go through some do's and don'ts for deep set eyes.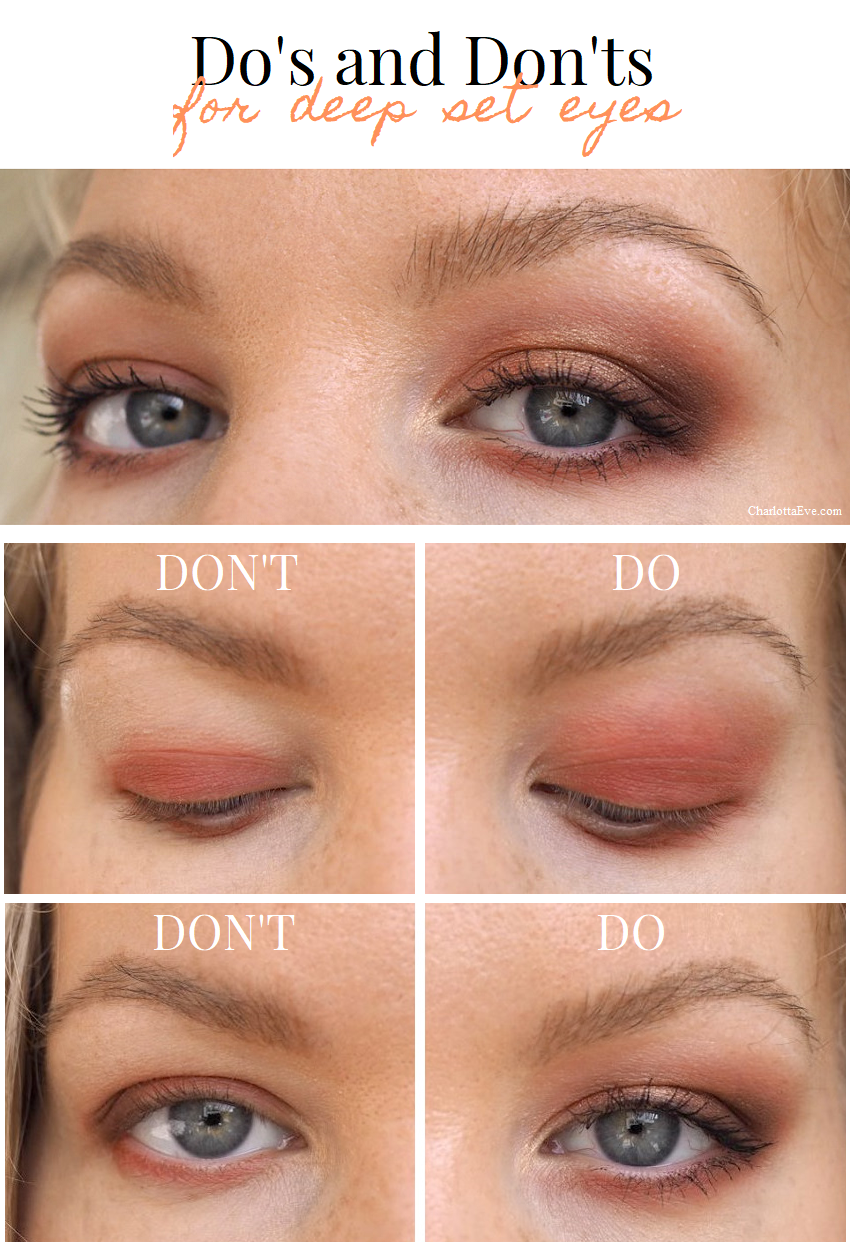 Don't apply dark eyeshadow only on the visible lid

See what this does to my eye? It sinks it in even further. And see what else happens? The hood and the prominent area appears even more prominent.
The contrast between my skin and that dark eyeshadow is quite big, making my hood and prominent area come forward even more (because they are a lighter color).
Do keep your eye open when applying your eyeshadow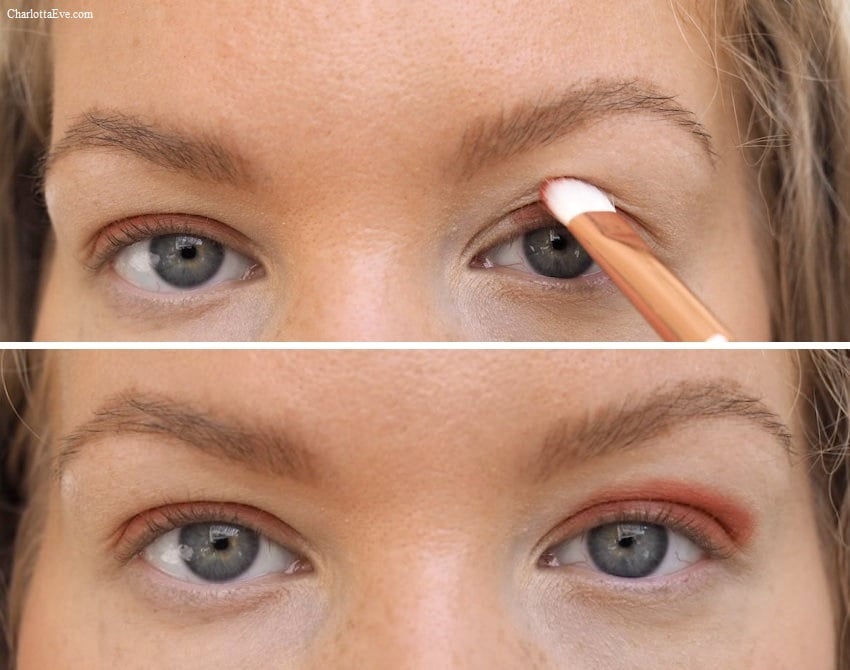 The most important thing for both deep set and hooded eyes is this: keep your eye open while applying your shadow! The whole idea is to hide the hood so you need to apply the shadow both on top of the hood and slightly above it. Enough so, that your eye gets a nice lift. Keep your eye open so that you can see how high you need to lift the shadow, in order it to show a little (and work!). I might bring it even further than that, since I have so much real estate.
Don't just line your lower lid with a dark eyeshadow – Do take advantage of that space and smoke it out!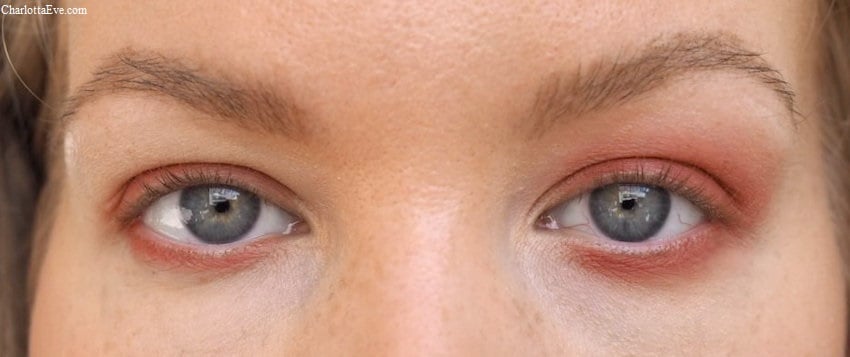 Here might just be the reason why people are afraid of a smokey eye. When done wrong, it makes the eye appear smaller – exactly what happened here. By lifting up the shadow and smoking out that lower lid, my eyes look huge and more round!
Do lift up the eye by darkening the outer V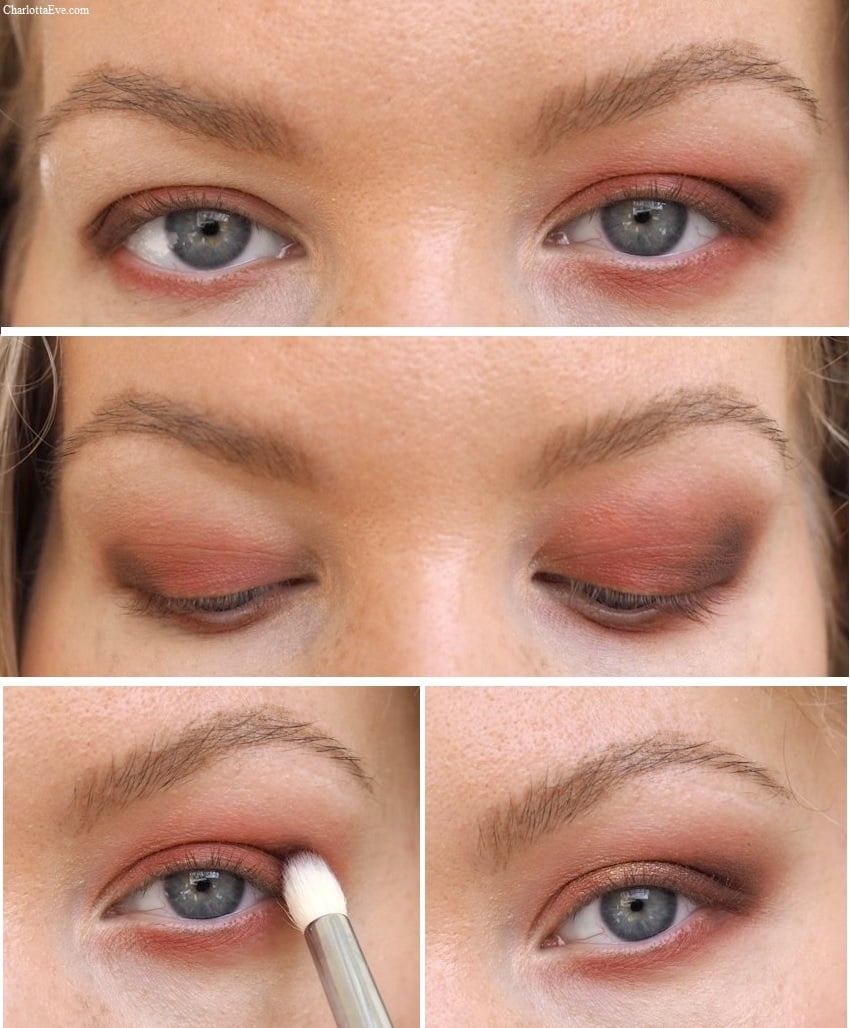 This trick actually works for downturned eyes too. It's all about lifting up the outer part of the eye in a V-shape towards the end of your brow. Now how to find the right spot? I keep my eye open, look straight ahead determine where I need to add that shadow in order to get a nice V-shape. You can compare the side by side photo and you can see the spot, where I should have lifted the shadow. It needs to be lifted on top of that hood.
Do use shimmer to your advantage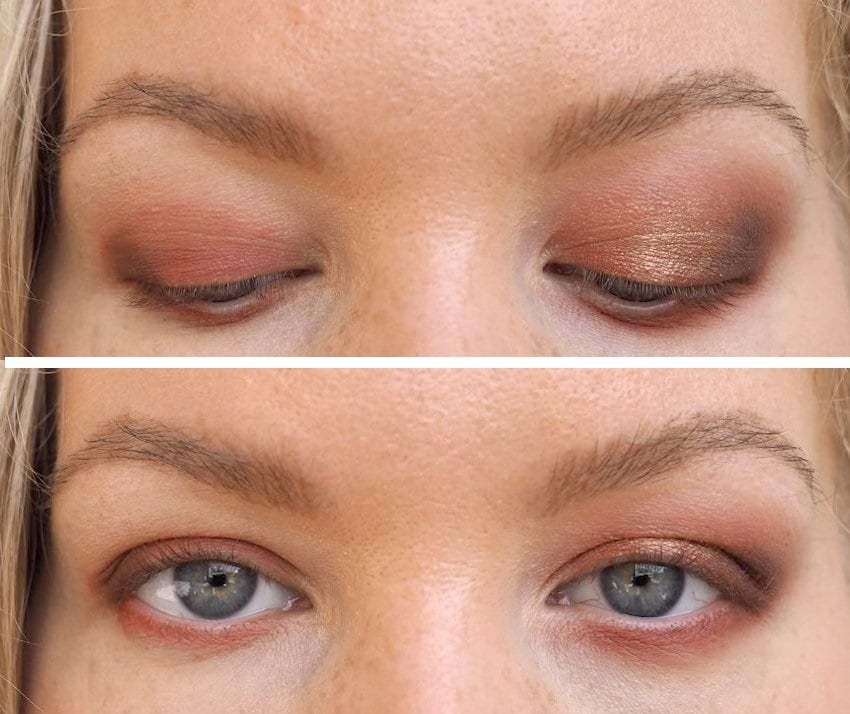 This might just be personal preference, but I like to emphasize my visible lid space by adding a touch of light shimmer there. It also rounds up my eyes. Another reason is that I'm not looking to change my eye shape – just make the most of it. When I don't have makeup on, you can see my lid (even though it's small). So with makeup I also like it to be enhanced.
And that's about it! I think the biggest thing is to really look at the makeup, eyes open, eyes relaxed. Is it doing what it should be doing (enhancing your eyes and giving them a lift? Or are you sinking your eyes even deeper with a bad technique? Hopefully this post gave you some ideas and clarity on doing makeup for deep set eyes.
Reddish brown makeup for deep set and slightly hooded eyes

So now that you know all the tricks, here is a warm reddish brown eye makeup tutorial.
Prime your eyes and add a matte color all over the eye. Bring it as high as you need to, in order to hide the hood and in my case, the prominent area. Blend the edges so that it's nice and smokey.
Deepen the outer corner in a V-shape, so that your eye gets a nice lift. A matte dark color will be fine for this. Blend.
Add a touch of shimmer right on the center of your lid, where it's visible when your eye is open.
Line your eyes lightly and add mascara. All ready!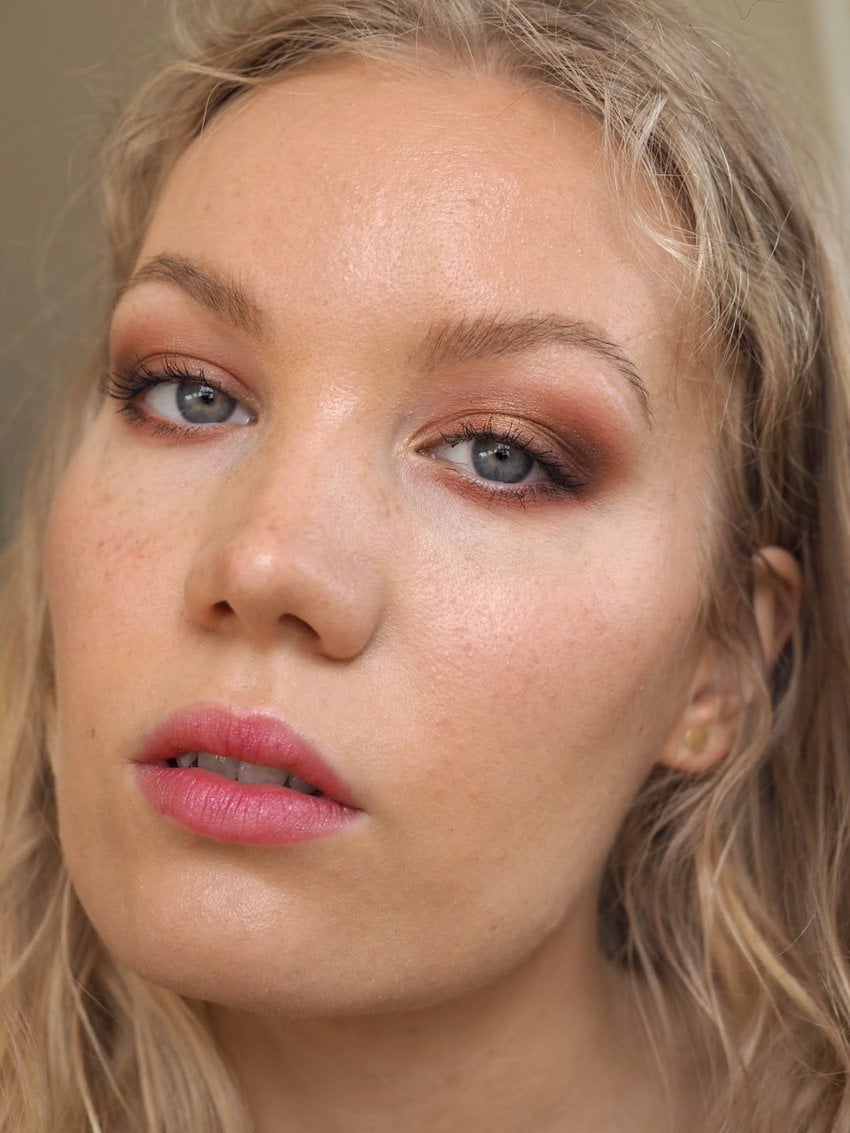 Now when it comes to the makeup products, three things help you succeed: primer, eyeshadow and brushes. I use the classic *Urban Decay primer, just because it makes my eyeshadow stay the whole day and night. For eyeshadows, I like ones that have enough pigment, but are still blendable. Three of my most used eyeshadow brands are Too Faced, NYX and Illamasqua. In this particular tutorial I used a Morphe palette, which I also like quite a bit.
Eyeshadow palettes I love:
*Illamasqua Unveiled Nude Artistry Palette (US,CA) *Illamasqua Unveiled Artistry Palette (UK)
*NYX Perfect Filter Palettes
*Too Faced Gingerbread Extra Spicy Palette
Makeup brushes I use:
*Coastal Scent Brush Set (this brush set is what I started with)
*Zoeva rose gold brush set (more expensive, but more quality too)
Products used in the makeup:
NARS Soft Matte Concealer, Custard
Madara Concealer, Vanilla
Madara Skin Equal Soft Glow Foundation, 50
*Madara City CC SPF 15 (US, CA) *Madara City CC SPF 15(UK)
*Laura Mercier Transluscent Powder
Boho Bronzer, Sunkissed Glow
Kjaer Weis Cream Blush, Above and Beyond
*Urban Decay Primer Potion
Morphe 3502 palette
Boho Lipstick, 204 Orchidee