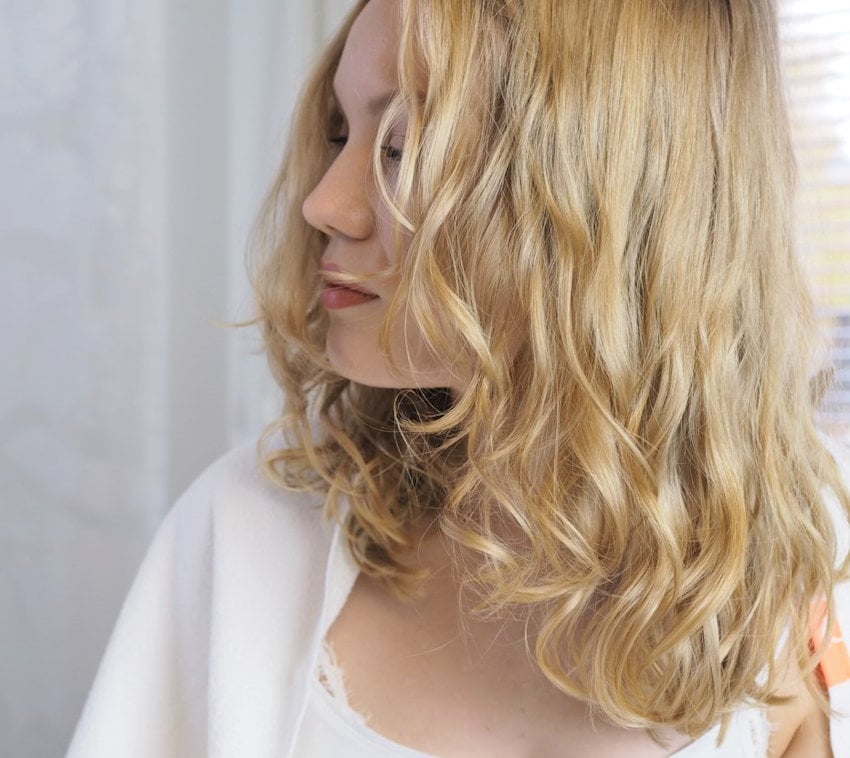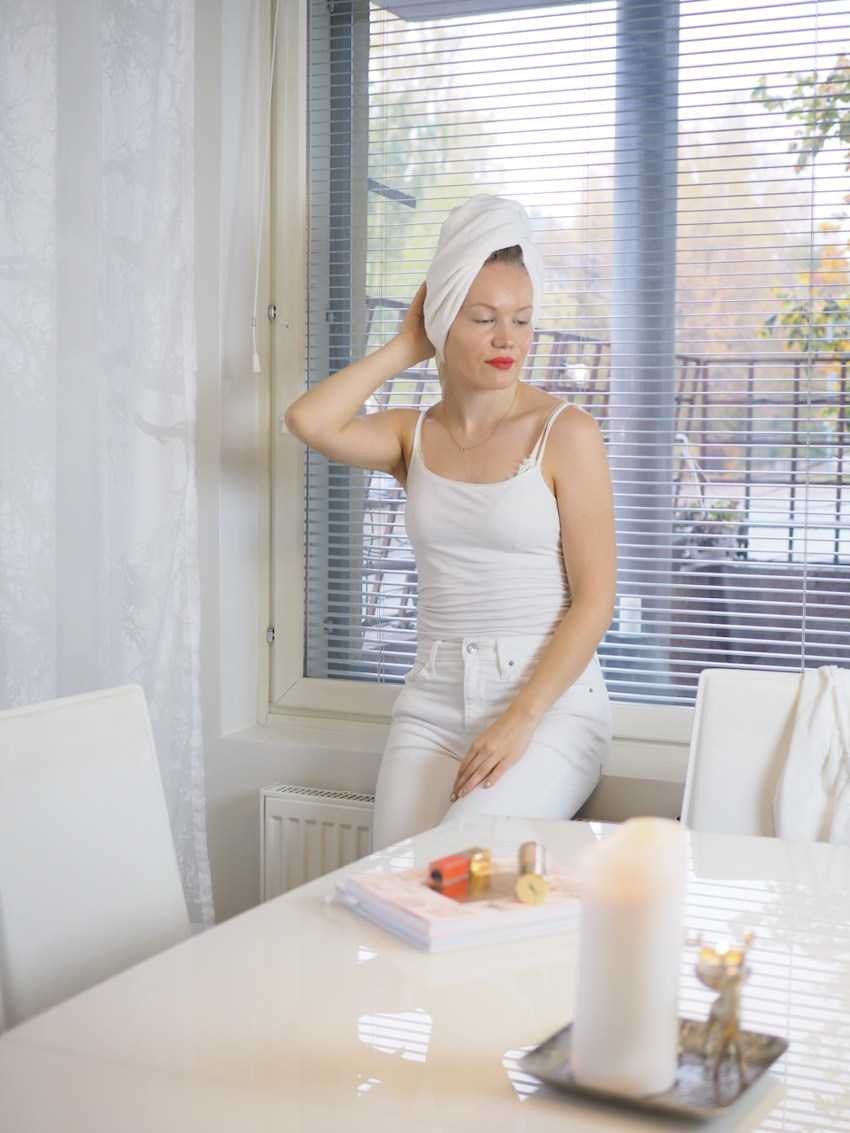 Sponsored collaboration with Abreve Oy
Fast drying hair – there's a wish I've had every time I've washed my hair and come out of the shower. One of the most frustrating things is waiting for my hair to dry once I've washed it. And I know I'm not alone. No one likes to wait two or three hours for their hair to dry.
But guess what? I no longer need to. I've found a special towel that dries my hair in half the time than a regular towel. At the same time that towel has improved my curl pattern and my hair quality – as impossible as it sounds.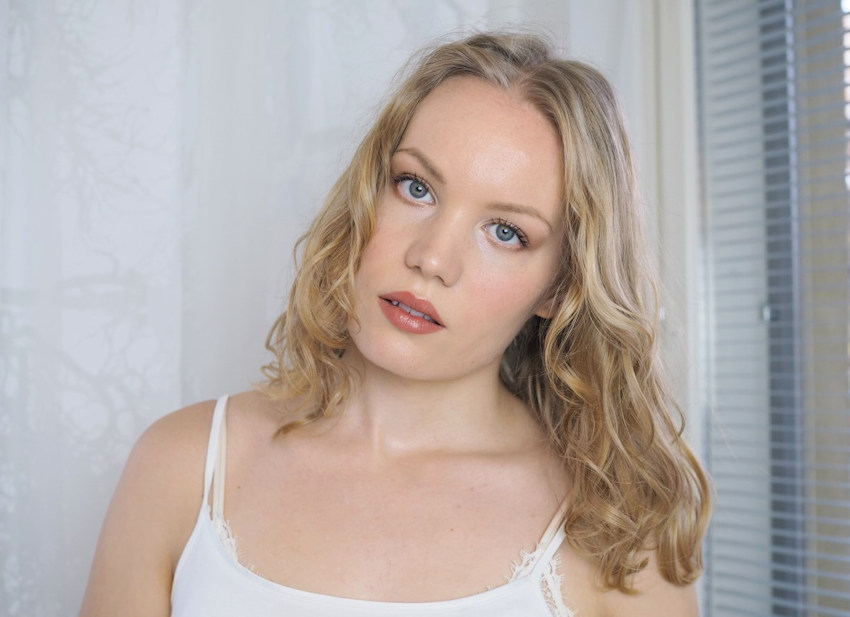 Aquis fast-drying towels for curly, wavy & all hair types
I'm so excited about this collaboration, because these towels have actually improved my every day life and my curls. Since I have naturally wavy hair, I'm all about keeping it healthy and I don't like to dry it with heat that often. Drying my hair with these special towels from Aquis is a gentle way to speed up the drying process.
Plopping my hair with the Aquis turban has improved my curl definition – the turban helps the curls to set into tighter waves and curls. Once my hair is mostly dry, it's easy to add all the styling products and make the most out of my waves and curls.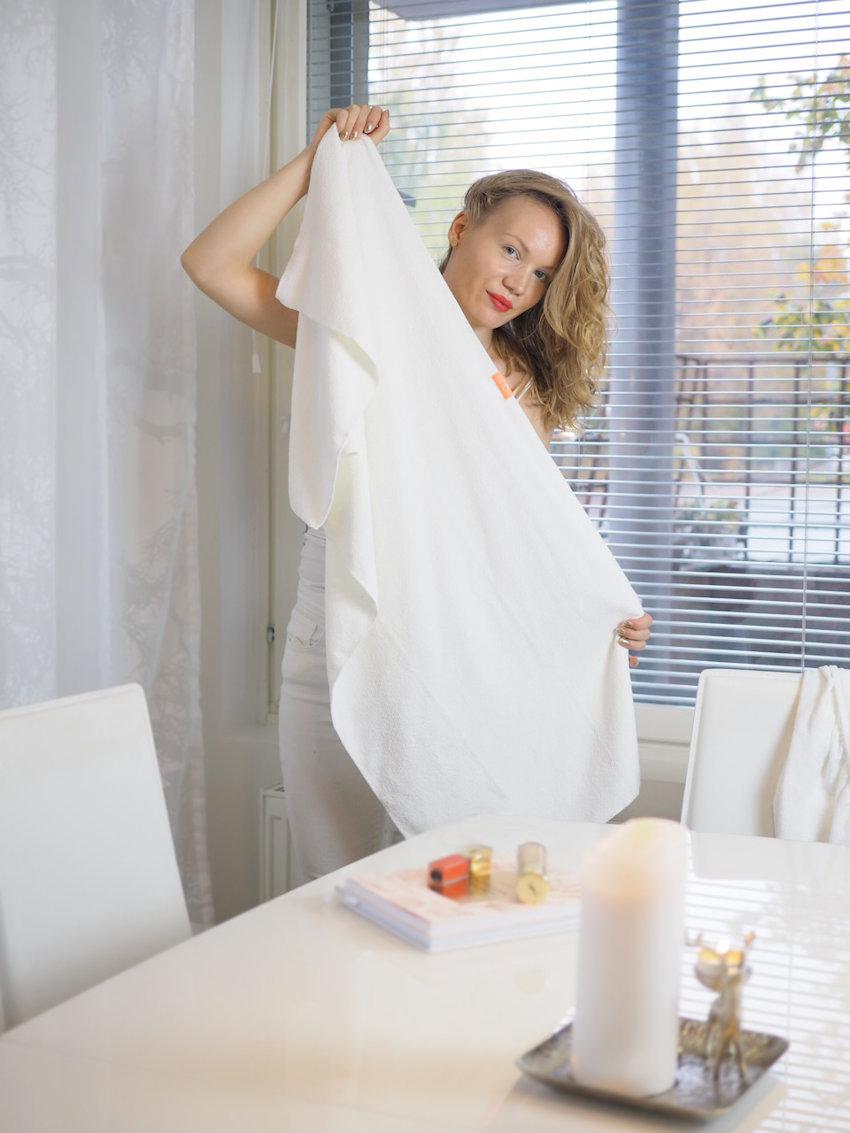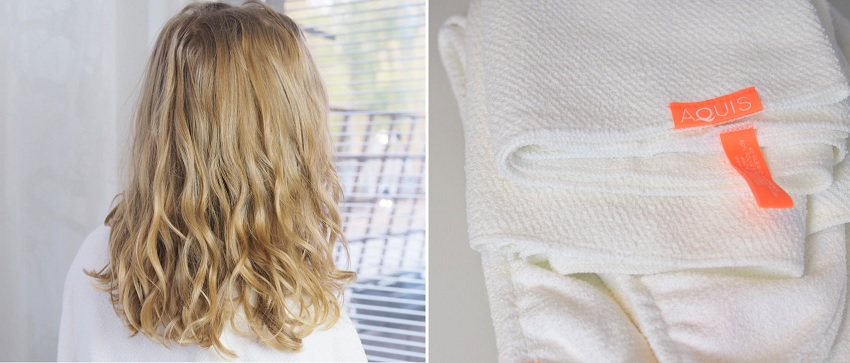 How do Aquis towels work? What makes them special?
Aquis towels are made from special Aquitex fabric, which cuts down the drying time by 50 %. We all know that wet hair is easily damaged or stretched, so getting it quickly dry without friction is a good thing. I have my natural hair color, but if you dye your hair, Aquis towels also help to keep your hair color vibrant.
The fabric feels high quality and soft. A regular towel fabric makes my hair frizzy, whereas with these I feel like my hair becomes shinier.
Aquis towels help with curl definition and shape, since the problem with curly hair is getting the hair to dry in the right shape. Aquis hair turbans are perfect for plopping! I love to first scrunch out the water with Aquis towel and after that I plop my hair. I keep the turban on for 30-60 minutes. After that my hair is mostly dry and it's convenient to either diffuse it to totally dry or let it air dry.
You'll find a discount code for these products at the end of this post.
Aquis Towel for long hair, Lisse Luxe
Aquis Hair Turban, Lisse Luxe
How to: Plopping curly or wavy hair with Aquis fast-drying turban
Plopping is a great way to get your natural curls or waves to really show up. It's all about letting your hair dry so that the curl definition or pattern is not ruined. You are basically tying your hair up upside down to create volume and definition.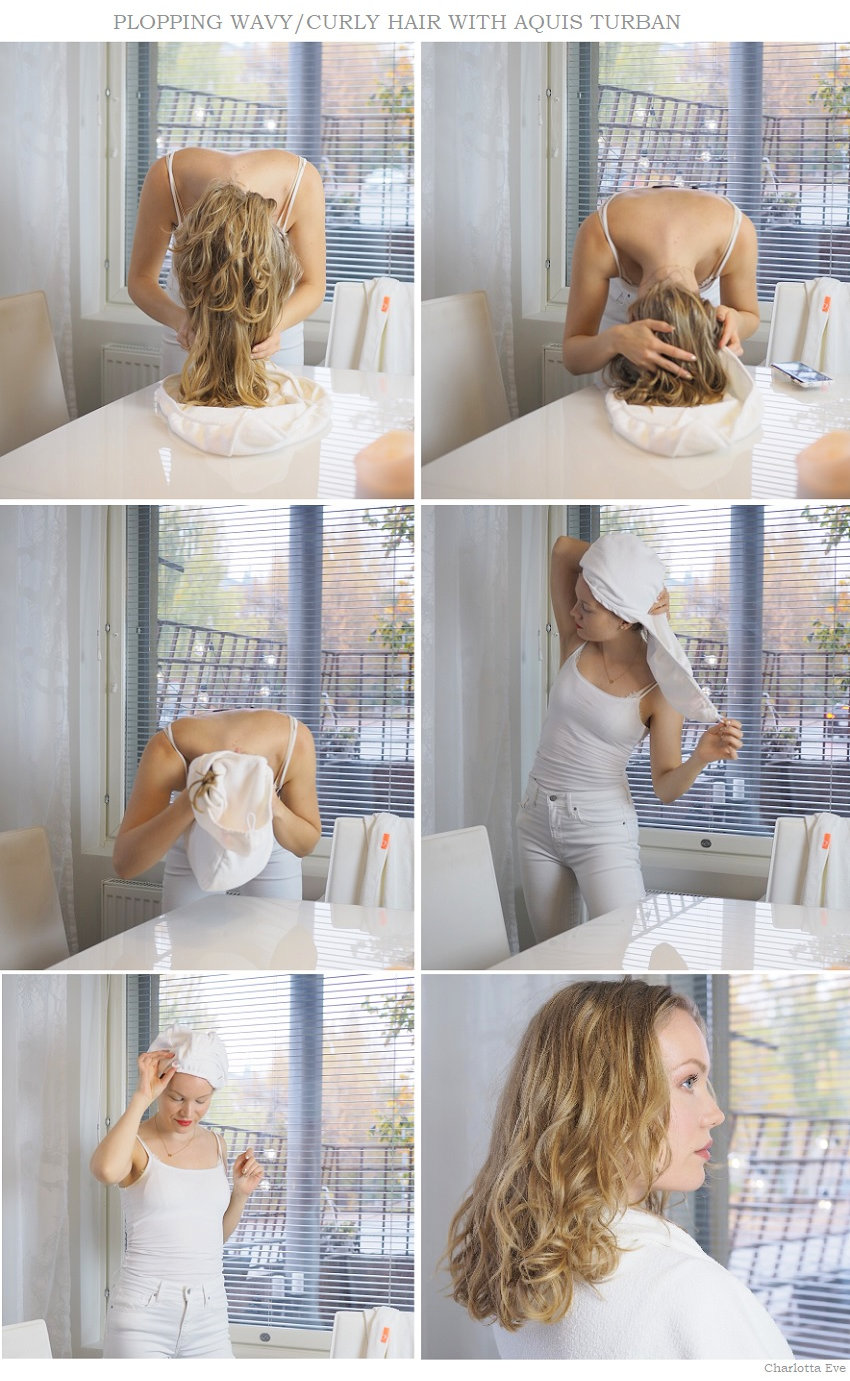 Place the turban on an even surface, a table or a sofa for example. Open it so that your hair can fall into it.
 Your head upside down, place your hair in the turban. Pile your hair so that when you tie the turban together your hair is right above your head in a nice pile. Don't tie the towel around your hair, so that the curls don't get stretched (unless you want that).
Let the towel absorb the water and remove the turban. After that either diffuse or let air dry. Voilà!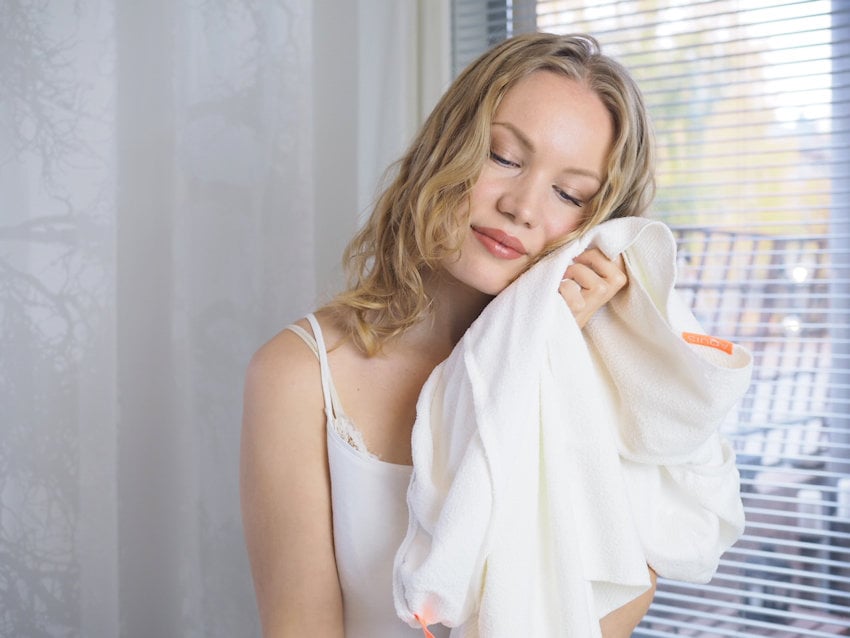 You can also use the towel to create a turban, but for curly haired beauties, I recommend using the actual turban. The towel is awesome for all the hair types though, and if you're not looking for curls, it dries the hair even faster since you can tie your hair in it (like you would do with a normal towel). But as I said, I feel like I get the best results once I first scrunch out the majority of the water, before putting the turban on.
All in all, I'm so pleased with these towels and my results! There's no going back to regular ones. I feel like now I actually look forward to washing my hair and the whole curly hair routine.
And since I'm talking about Aquis towels, I have to mention another product I've been using from them for several years now. I have their head band, which I use every morning when I wash my face. It keeps my hair dry and hair out of my face. It's great quality as well and has lasted well in my every day use.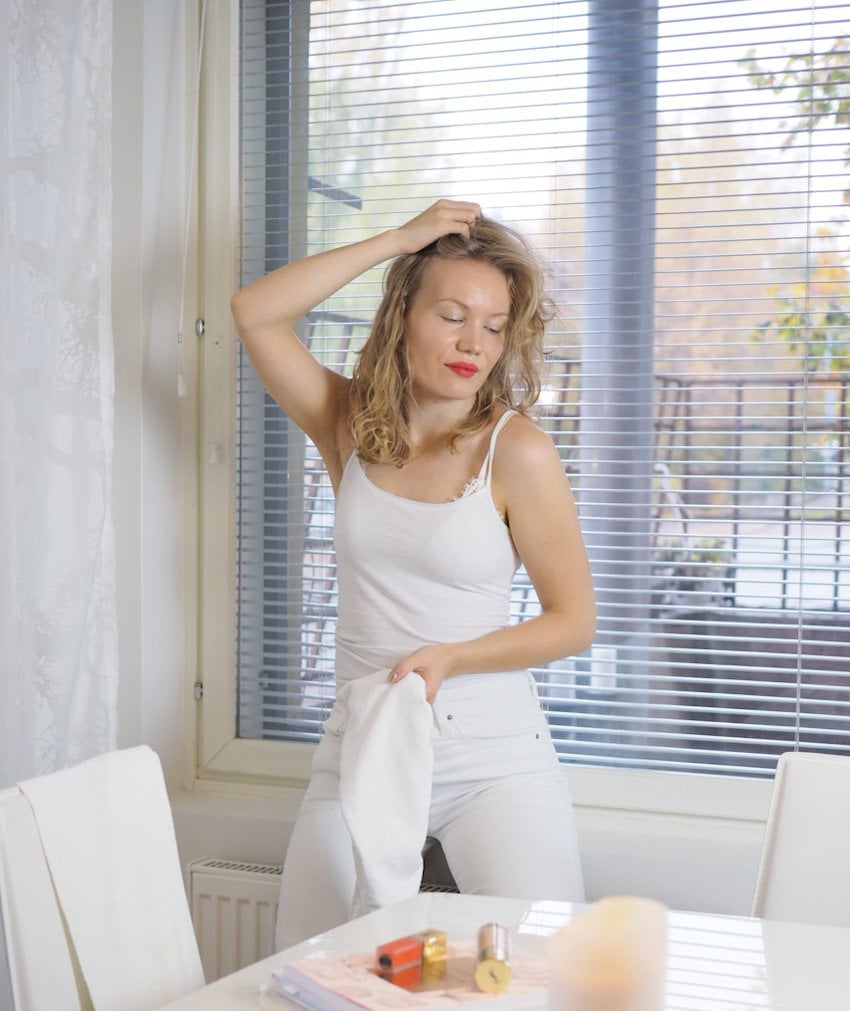 If you would like to try these, you can get -20% off with the affiliate code 'CHARLOTTA' on Aquis Finland Shop. I can warmly recommend these towels. Valid until 31.12.2022. Shop here!
You'll find all the Aquis resellers from their official site here.
Affiliate code means that you get a discount and I make small commission based on your purchase.