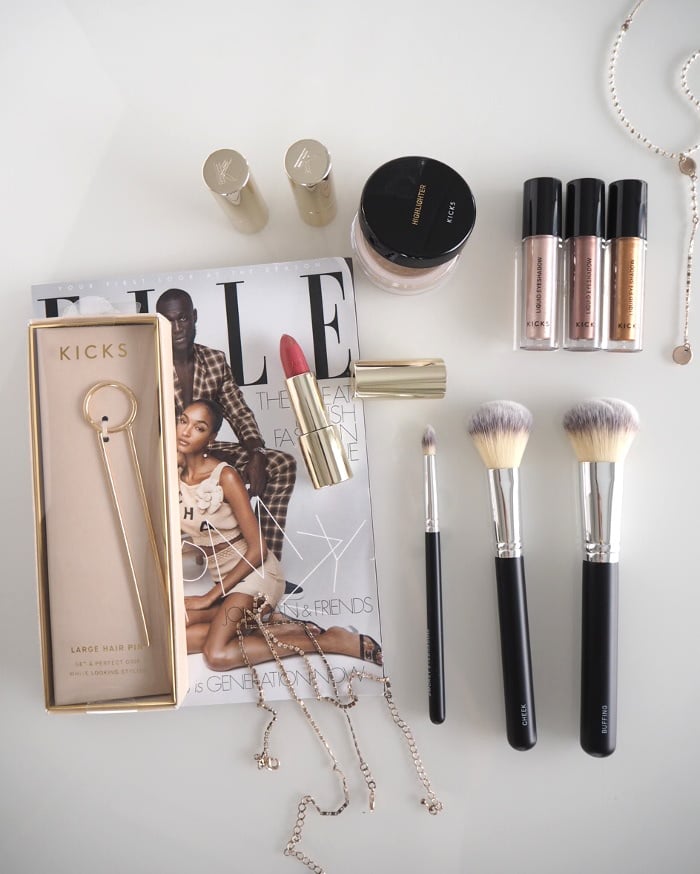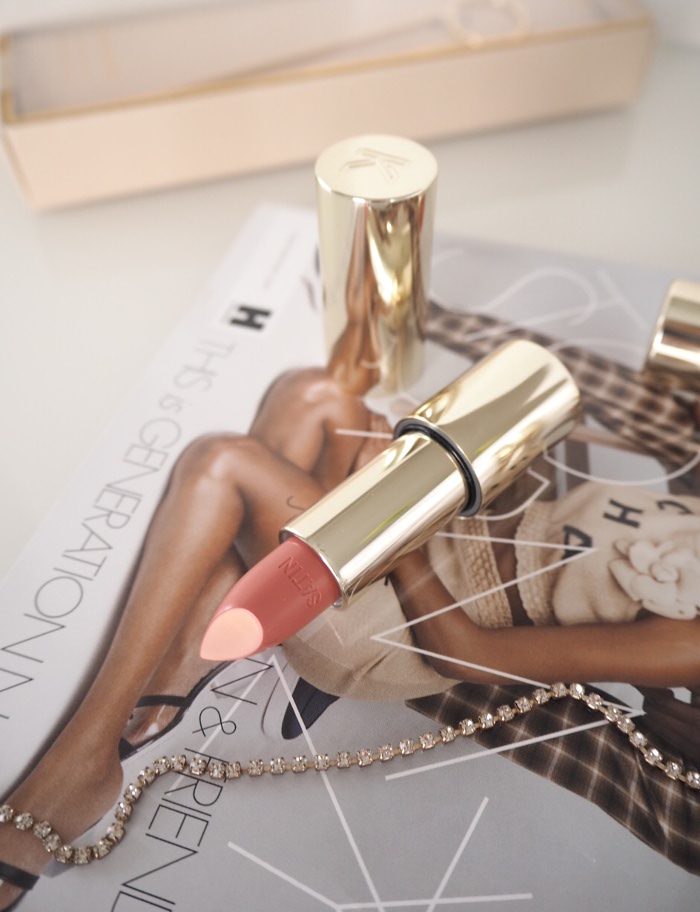 My inner photographer is back! Thanks to the light and sun. Ah, spring. I'm gonna talk about spring even though it was snowing just a second ago and the ground is white. I already packed all my warm mittens and beanies away and I have pink roses on the table. Winter is over. Even though it's just coming… GOT fans, anyone?
KICKS recently came out with some brand new stuff and I was so excited to try them. I've found some great products and brushes from them and I feel like they just keep getting better. It's also a nice reminder, that makeup doesn't have to be super expensive. And it can still look like it.
Products are pr-samples, links are adlinks*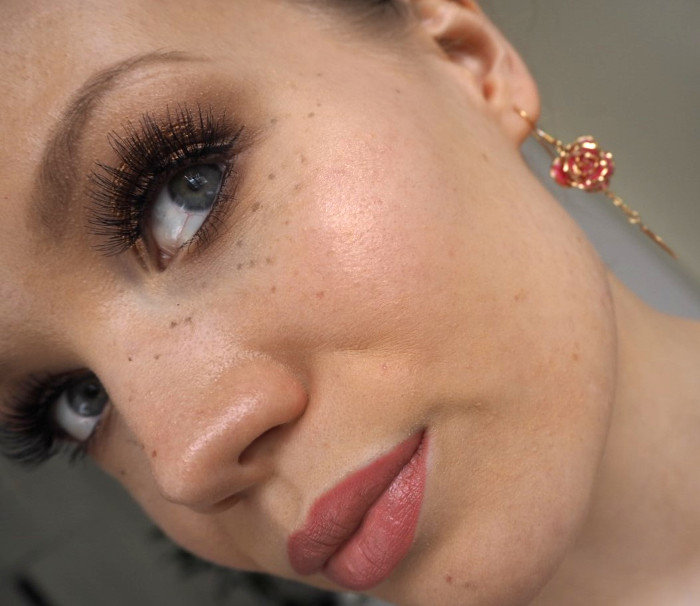 KICKS makeup review – new spring makeup
I think the most exciting products from this launch are the liquid eyeshadows* (which are so pigmented!) and satin lipsticks*. I'm not a fan of matte lipstick and the consistency in these lipsticks is just to my liking. Not matte, not shiny – something in between. I also loved the new look of the makeup brushes (and their quality) and a gold highlighter. Nothing screams summer like a touch of gold on your cheeks.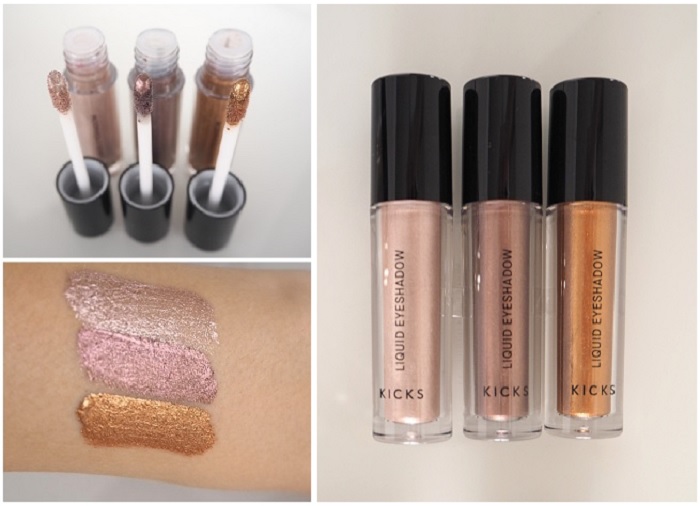 Swatches of KICKS Liquid Eyeshadows in the shades Mesmerized, Hypnotized & Dazzled.
KICKS Liquid Eyeshadows

The liquid eyeshadows are very metallic and pigmented. They are an easy way to bring a little something to your eye look. The color is intense, but what I also like about these is that you can use them with your fingers and make them subtle. Below I have photos to show you the two ways to wear them. These are water-based, they dry down quite quickly, they last well and they feel comfortable.
Pro tip! If they dry down, you can wet your finger or brush and they can be blended again.
KICKS Liquid Eyeshadows* 12,90€ (now on sale 9,67€)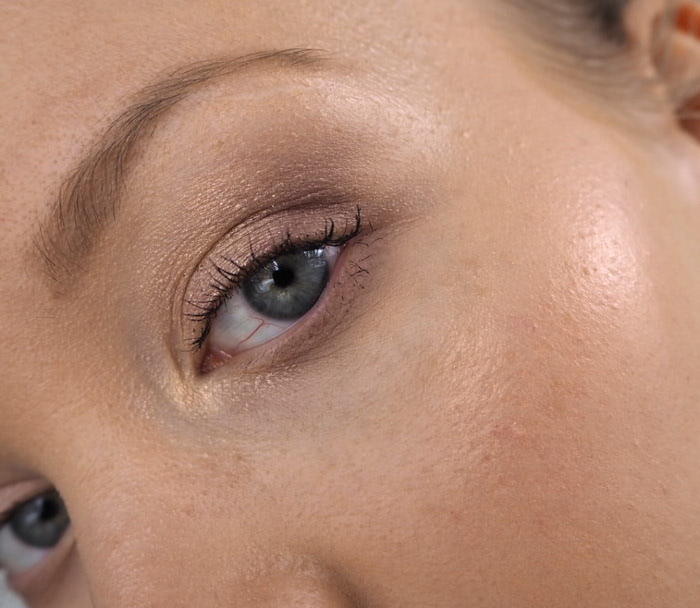 Wearing Mesmerized & Hypnotized on my lids. I'm also wearing the gold highlighter in my inner corner, a touch on the lid and on my cheekbones.
I showed you how to do this on my Instagram stories, so go check it out! Super easy to recreate, I promise!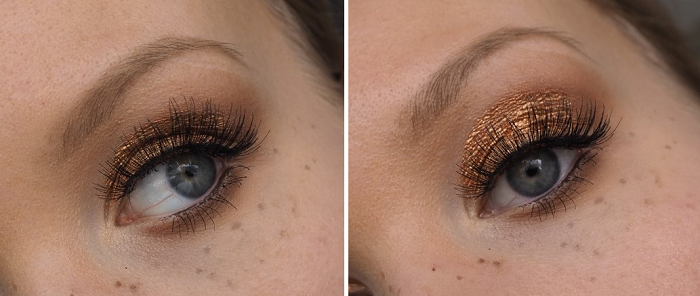 Dazzled liquid eyeshadow on the lids cut-crease style. As you can see – very pigmented and metallic!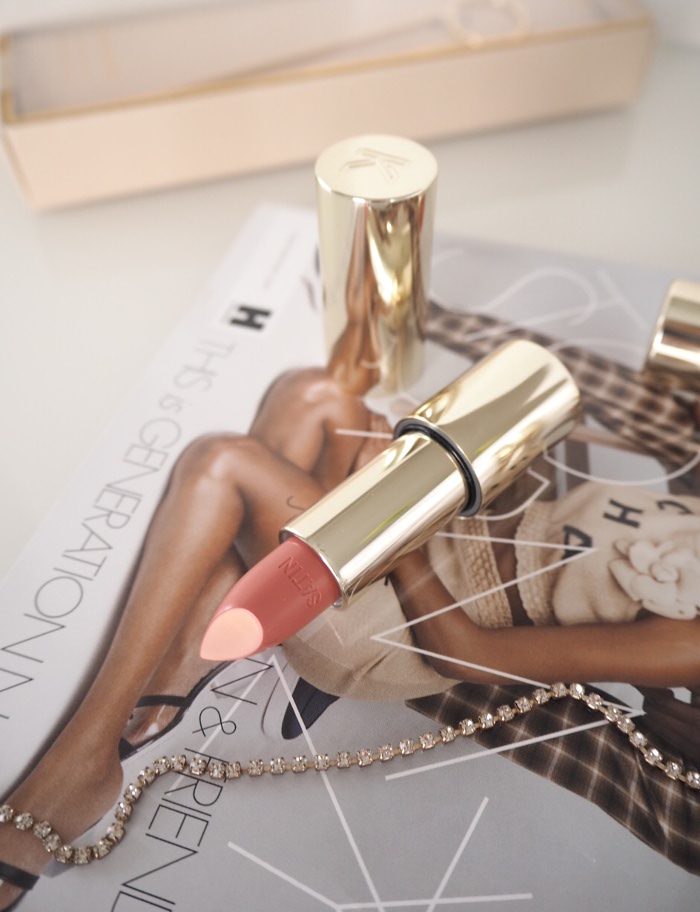 KICKS Satin Lipsticks
Everything is done right in these lipsticks. The packaging is simple and beautiful with an attention to detail – there is a magnetic closure, which to me, adds that bit of luxury to the lipstick. The consistency in the lipsticks is creamy and comfortable. On my lips these last well and I only need to fix it a little after eating. Definitely recommend the lipsticks!
KICKS Satin Lipsticks* 14,90€ (now only 11,17€)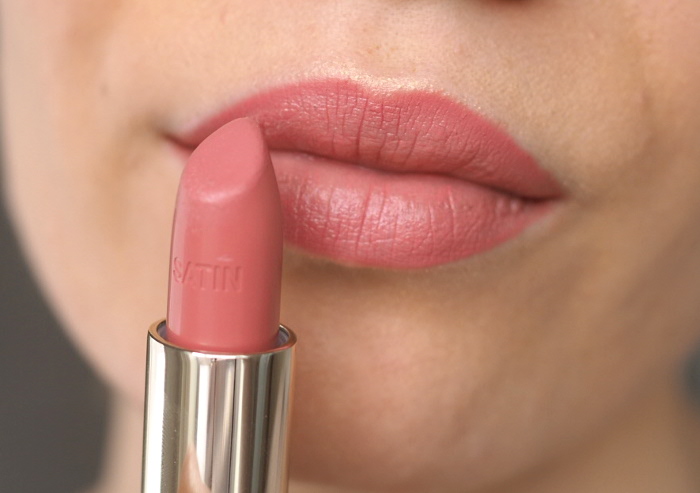 KICKS Satin Lipstick Cream Please – warm light pink nude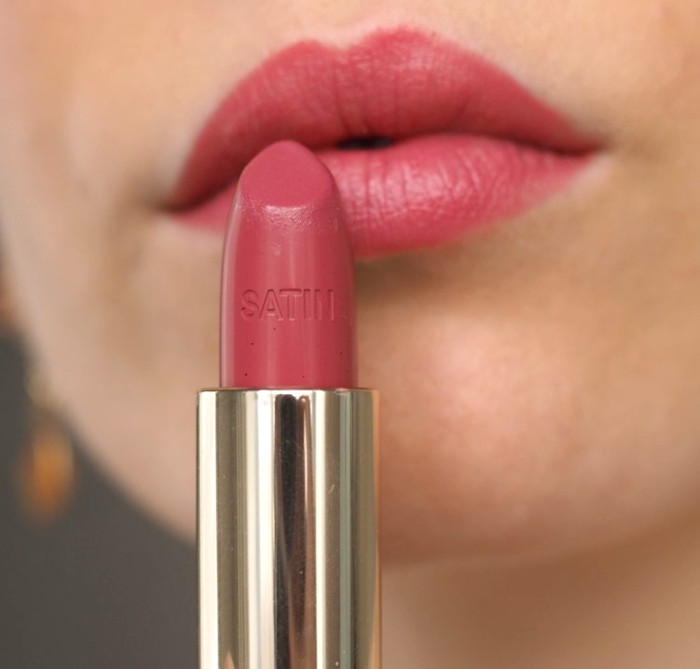 KICKS Satin Lipstick Just Kissed – cool pink nude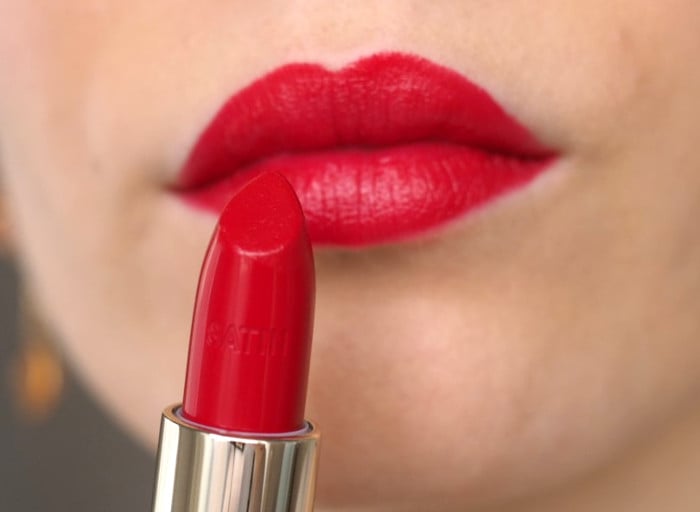 KICKS Satin Lipstick Brick Lane – a raspberry red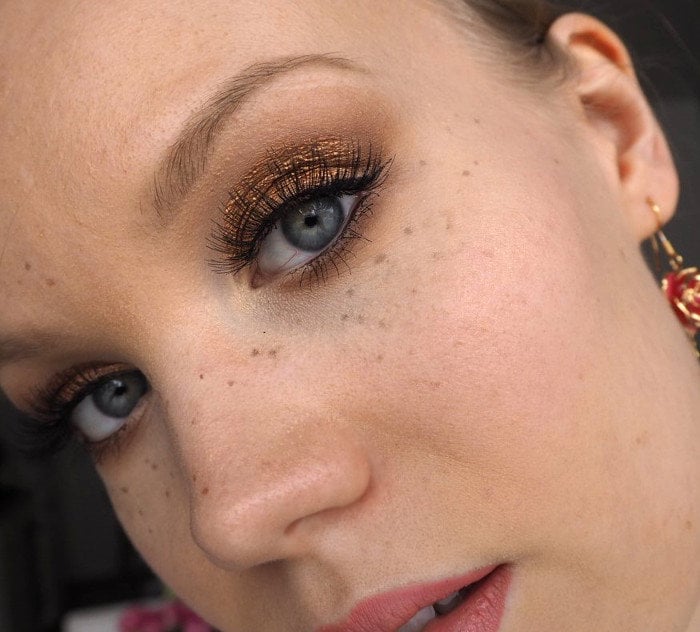 Wearing KICKS highlighter, Fake Freckles Pen and Just Kissed on the lips.
KICKS Gold Highlighter

The gold loose highlighter is quite the basic loose highlighter. It's very fine, so it can be applied quite subtly on the skin. Then again, you can layer it to get a super intense color. The jar is quite big so it will last a long time! The highlighter can also be used as an eyeshadow or you can mix a little to your body lotion to get a nice glow.
Soon available*.
KICKS makeup brushes
The first brush that caught my attention was the  Smokey eyeshadow brush*. It reminded me so much of my Zoeva 221 brush, which I use almost daily. It's soft yet sturdy, so it's perfect for my crease. I also like the face brushes. They are soft and make makeup application easy. I also love how the brushes look!
KICKS makeup brushes*  prices 5-15€, these are now on sale too!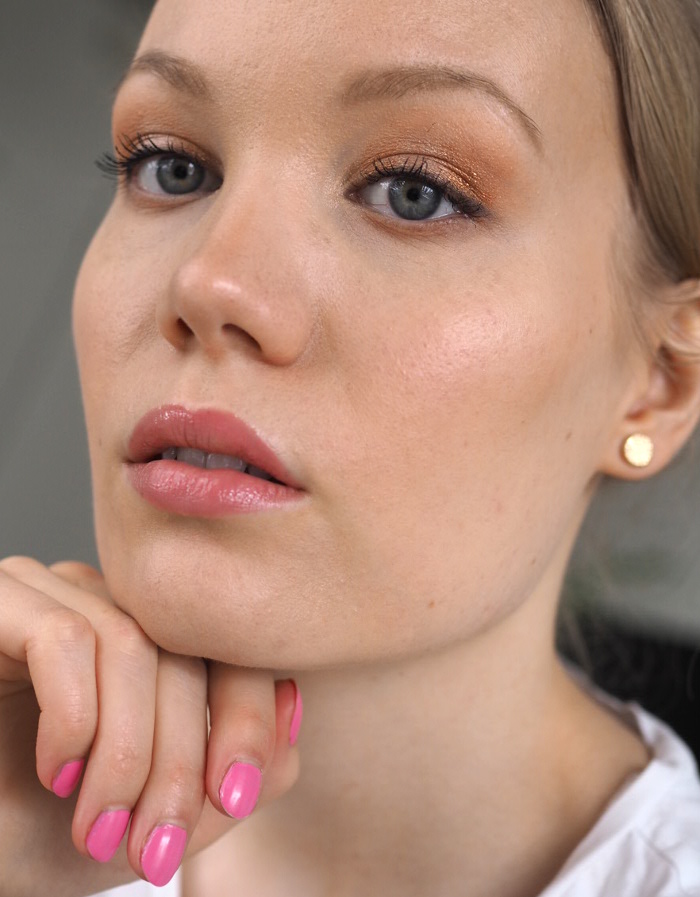 Wearing Dazzled on my lid and Cream Please on my lips (with a gloss on top).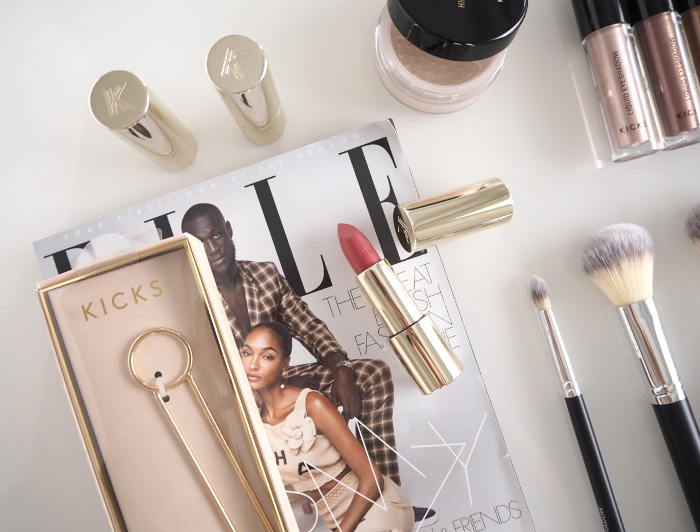 For this makeup look I also used my Fake Freckles* pen to create a sun kissed look to my face. That product is one of the most genious products I've tried – as I told you, I've found some awesome products from the brand.
You can also see in the photos a gold hair pin*, which is pretty handy for when you want your hair up quickly.
What do you think of these products?