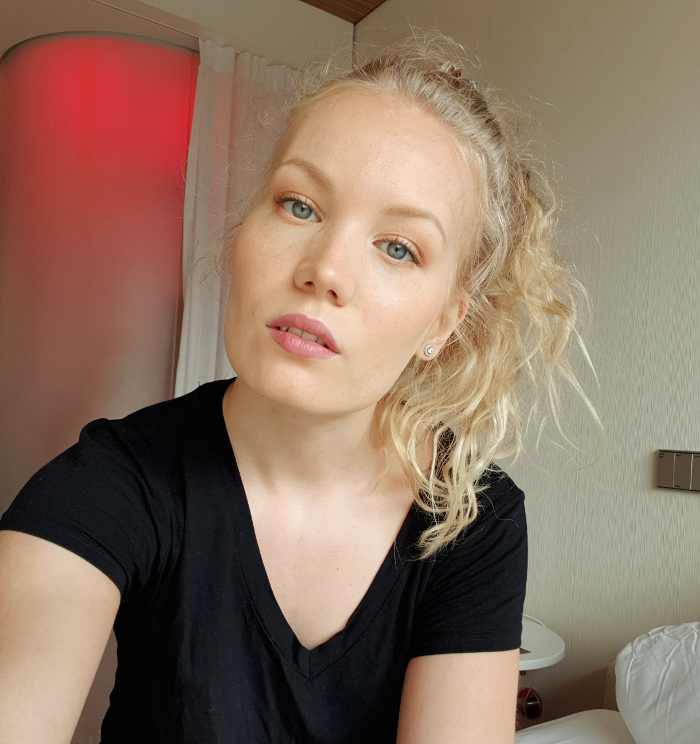 I don't know if I've told you, but I mostly eat gluten-free food. (And no, it's not because it's so trendy right now.) I'm also a vegetarian, which, luckily, is not usually a problem. But combine those two, and it's sometimes frustrating to find restaurants and cafes suitable for my diet.
It can also be hard, when you're travelling. And let me tell you, that that is a bit of a struggle in a food-heaven place such as Amsterdam. Luckily I did manage to find some restaurants and cafes serving gluten-free food and I have my tips on the stores, that sell gluten-free options.  So I will give my tips on food that is both gluten-free and vegetarian – that also suits people, who are not vegetarian or gluten-free (such as, my man). Complicated? Life is.
I'll also tell you, where I had the best gin & tonic of my life. There might have been a moment, where me and Risto sat at the bar, and the bartender went like: "Weren't you here just yesterday?" Erm, yes. Gotta make the most out of the short holiday in the city serving the best gin & tonics.
Gluten-free + vegetarian restaurants, coffees & shops in Amsterdam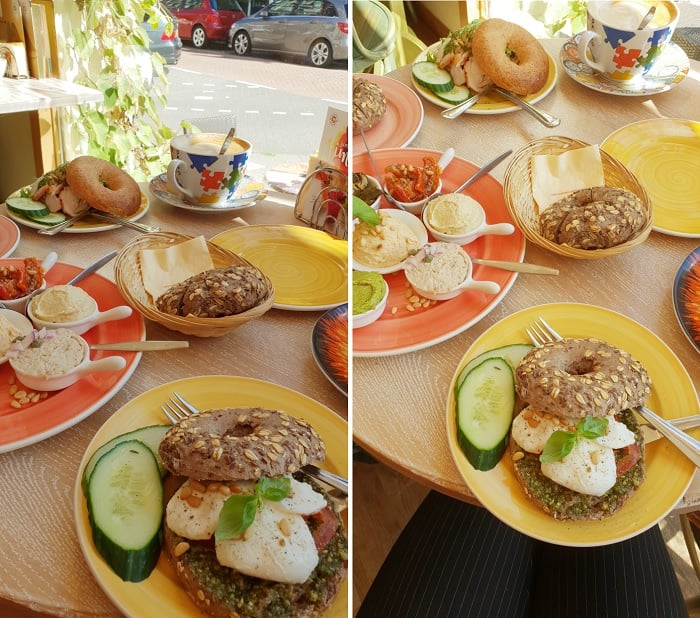 Bagels & Beans
There are several of these in Amsterdam, but the place we went to was on Overtoom. We had breakfeast and brunch, and everything we tried there was delicious: bagels, juices, coffees & desserts. My favorite food there was probably tapas for 2, where you get two bagels and all the different sauces and foods that go with them. Coffee there is good, and it can be made with soy or oat, if that's your preference (I always drink my coffee with either one). And obviously there were gluten free bagels and food – and both vegetarian, vegan and meat options.
Salsa Shop
I love mexican food. Again, there are several Salsa shops in Amsterdam, and the one we ordered from was on Kinkerstraat. They serve corn tacos, bowls and salads (and burritos). I've had the bowl before, but this time I had vegetarian tacos and they were delicious. Can recommend!
Wagamama
We only ate here once, but I wish I could have tried more foods from the menu. Because food was awesome. There's something for everyone, and they've even made finding gluten-free options easy with their gluten-free menu. There are many wagamama restaurants in Amsterdam and actually in 23 different countries (please come to Finland as well!).
Foodhallen
Everyone knows Foodhallen – it's a big hall with lots of different stands serving all kinds of foods. The one place I need to mention though, is Bulls & Dogs, that serves gluten-free & vegetarian not-a-hot-dog – besides the regular options, that made Risto very happy.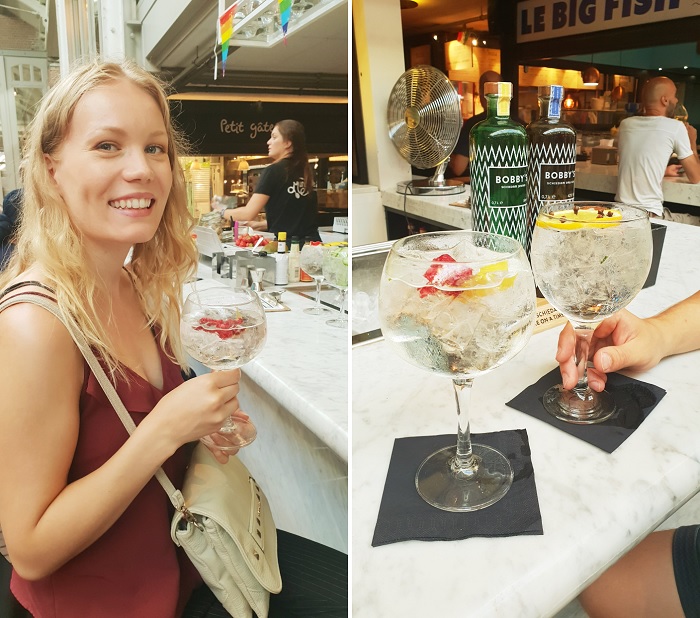 +The gin & tonic bar in Foodhallen
This place deserves it's own spot in this listing. I had the best gin & tonics of my life here. It's a gin & tonic bar (duh) and there are several options of them. My favorite drinks were floral gin & tonics. My pro tip would be to start your foodhallen journey here – the big drinks somehow make you relaxed and choosing a food afterwards is easy.
Restaurants we didn't try, but that were on my list:
Mastino V
I definitely need to try this place the next time we go. They serve gluten-free pizza with vegetarian and even vegan options. There aren't many places in Amsterdam serving gluten-free pizzas (correct me if I'm wrong, but didn't find any), so this is pretty awesome.
Pancakes Amsterdam
I think pancakes are pretty vital in Amsterdam and luckily there is a place serving gluten-free pancakes as well. Again, there are several of these shops in Amsterdam.
Grocery stores:
marqt
This grocery store had lots of organic and gluten-free options – definitely more, than the regular store. So if you're staying in an airbnb and cooking your own food, you should definitely shop here!
Jumbo
My favorite grocery store in Amsterdam. They have fresh salads, tapas and other easy food to buy, if you don't feel like cooking or finding a restaurant that serves food to you. I bough a delicious salad, that had for example beans and feta in it, so it was definitely not boring.
If you have some more food tips for this list, let me know.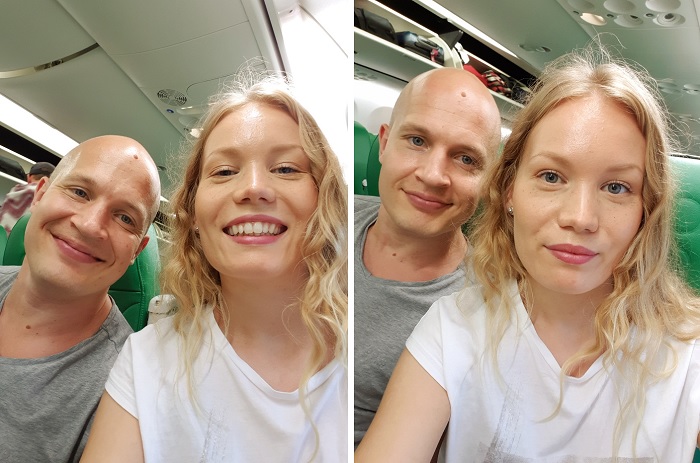 If you're interested to know what else (besides food) I was up to in Amsterdam, I will just tell you in a nutshell. Maybe you can even get some ideas for your own trip.
We spent some time with our friends & their kids
They are the main reason we travel to Amsterdam in the first place. Such a loving family with sweet kids.
We attended a wedding
Or our friends' "take two", on their 10th wedding anniversary. The venue was gorgeous and the whole evening was fun. We also got to know some new amazing people.
We went to a canal cruise
I've always wanted to experience Amsterdam from the canals, and it was nice. We had our own private boat rented, since it was part of the wedding celebrations.
We walked a lot
One of my favorite things to do in Amsterdam is to just walk around. It is just so beautiful everywhere (and only slightly scary with the traffic & bikes).
We spent an entire day shopping
We don't go shopping that often, but when we do, we do it properly. We love Mc Arthur Glen outlets, and we always visit them, when we travel and there's one close by. These outlets are like small villages, and they carry some really nice brands – and always cheaper, than in a regular store. We rented a car and drove to Mc Arthur Glen Outlet in Roermond, which is about two hours drive from Amsterdam.
We visited some of my favorite shops
Besides the shopping day, I had to visit Rituals and River Island. Those are by far my favorite shops in Amsterdam.
We saw the pride parade – or some parts of it
To be perfectly honest here, we slept the entire day and then took a walk in the centre later in the evening. And let me tell you, pride is BIG in Amsterdam. And colorful. And noisy. And messy.
We stayed in an airbnb
Renting an airbnb is the best way to get a proper feel of the city. We had rented a beautiful loft, so that itself already made the trip feel very special.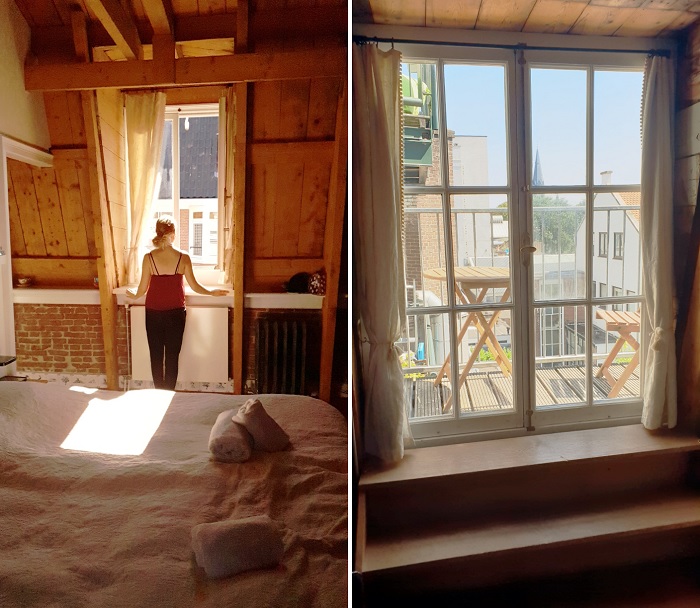 I shared some snaps from the trip on my Instagram and made a new highlight on my profile, so if you want to see that, follow @charlottaeve.
Even though travelling is nice and our trip was fun, it feels nice to be home and get back to normal life for a while. And in October, the world calls for us again.