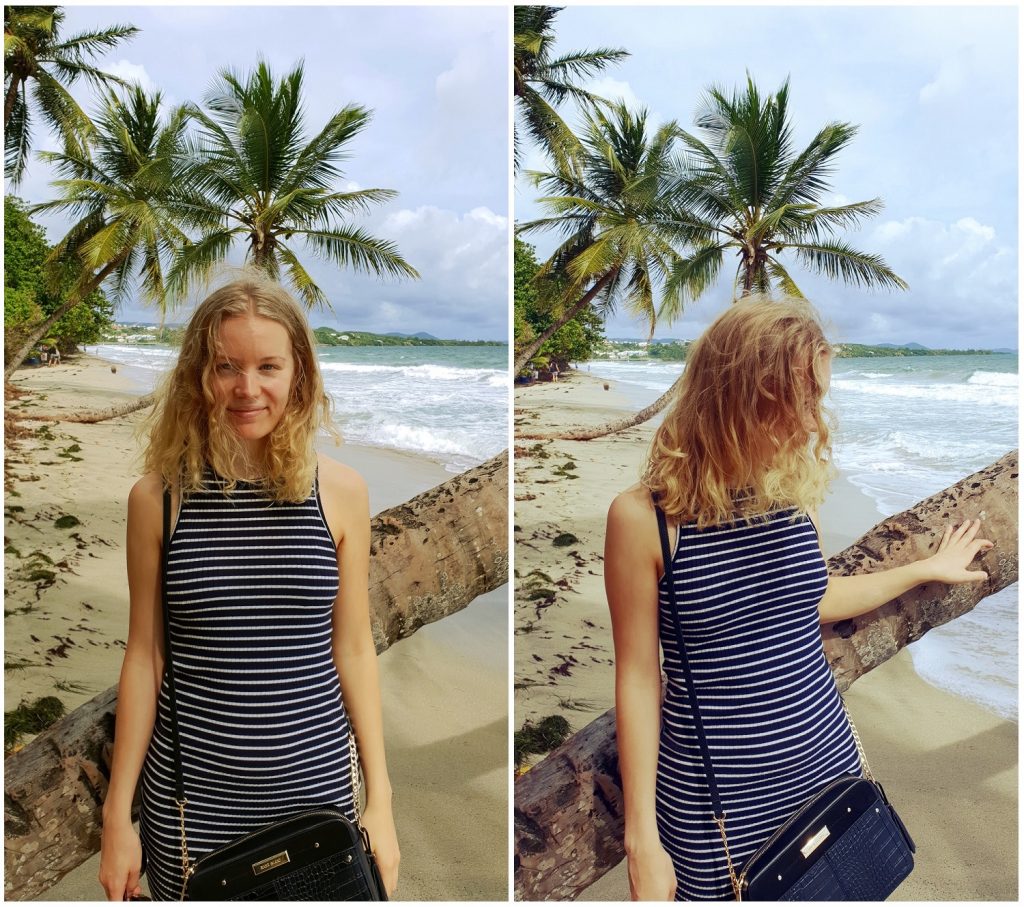 I thought about naming this post 'My very first culture shock', but that title wouldn't have told the full story. Even though I did experience a culture shock, which – now that I think of it – might have just done me good. Still, the title I ended up with is more fitting.
Martinique as a destination was definitely something completely new to me. I guess I had certain expectations, but it was nothing like that.
It was so much more.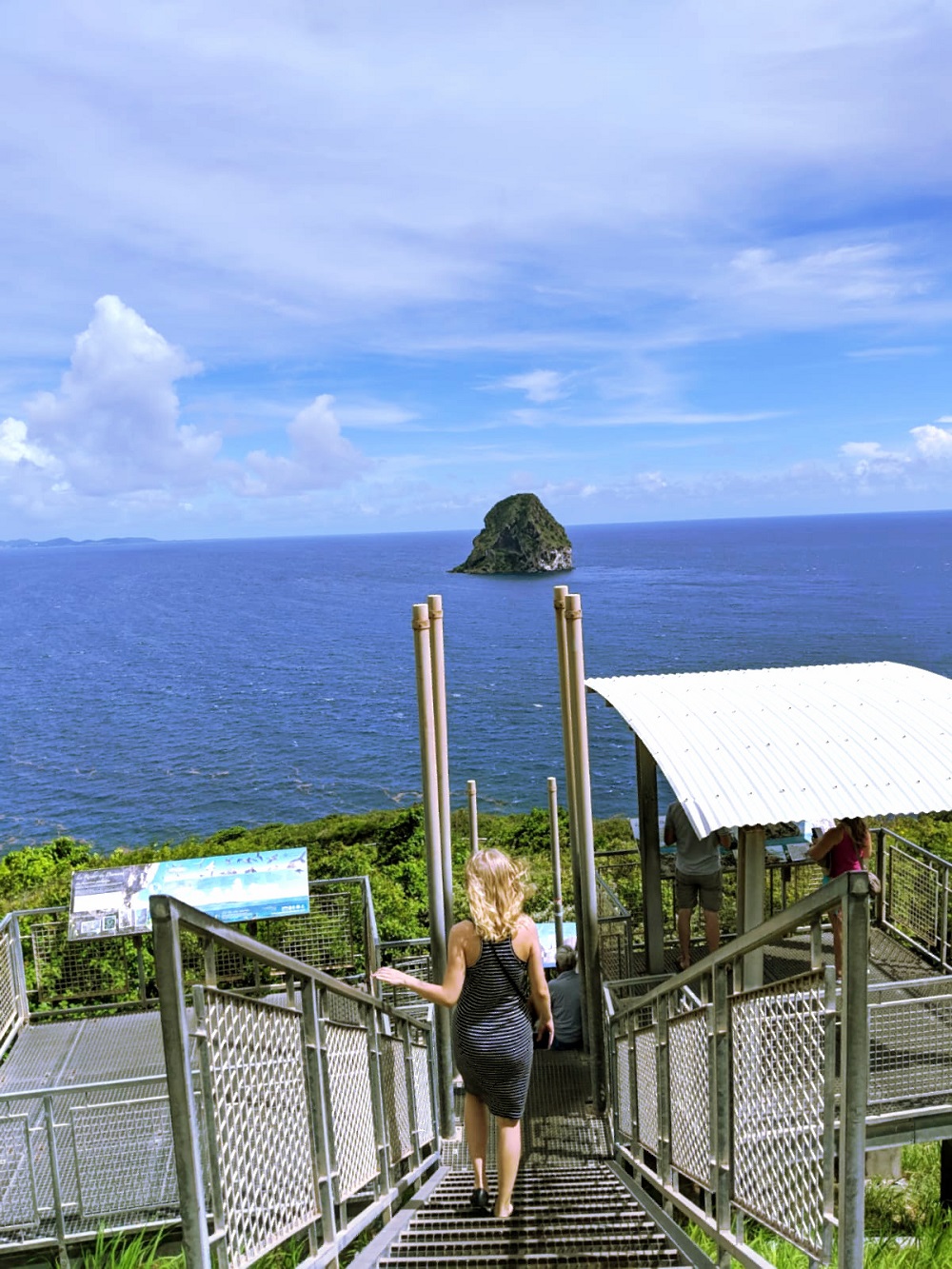 The French Martinique in the Caribbean
When we landed in Martinique – well, it was quite spectacular.
It was the first ever flight to Martinique with this particular airline, so there were news people everywhere and local firemen to welcome us there. After landing we went to rent a car. It went fine, except the person renting the car for us didn't speak English. I just remember being all jet lagged, tired and wondering what he meant when he pointed the map and told us repeatedly "When you fish – you know, fish? When you fish?" I just stared at the aquarium behind him and wondered about the fish. Finally we managed to get the car (Luckily Risto understands and speaks a bit of French) and in the car Risto realized: he probably meant, when we're finished. Solved that puzzle!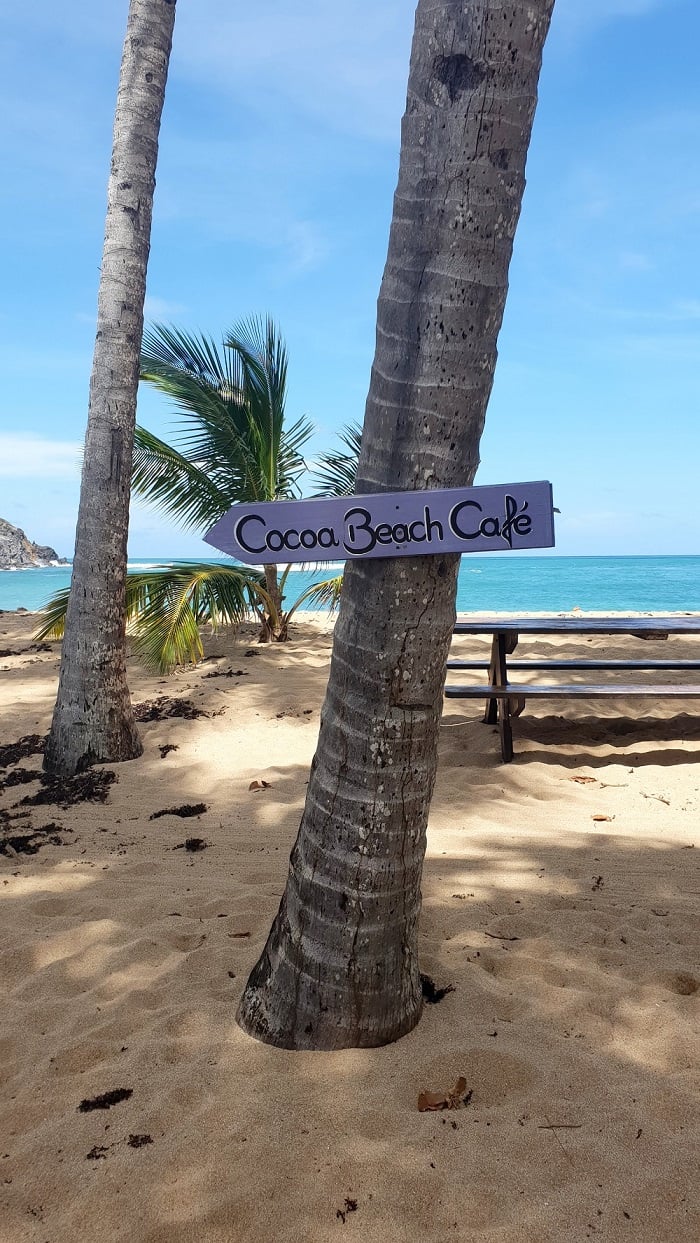 Next up was our drive to our Airbnb. In a complete darkness. In crazy traffic. Never mind you can't see where you're going and the roads are narrow – people were driving fast! Luckily Risto is the best driver I know. Still, I was scared and halflaughing to the fish thing and half worrying about managing in the island without anyone speaking English. And also – wondering where was that noise coming from? There was this weird noise – even though the radio wasn't on. We just figured it must have been French rap music playing silently somewhere.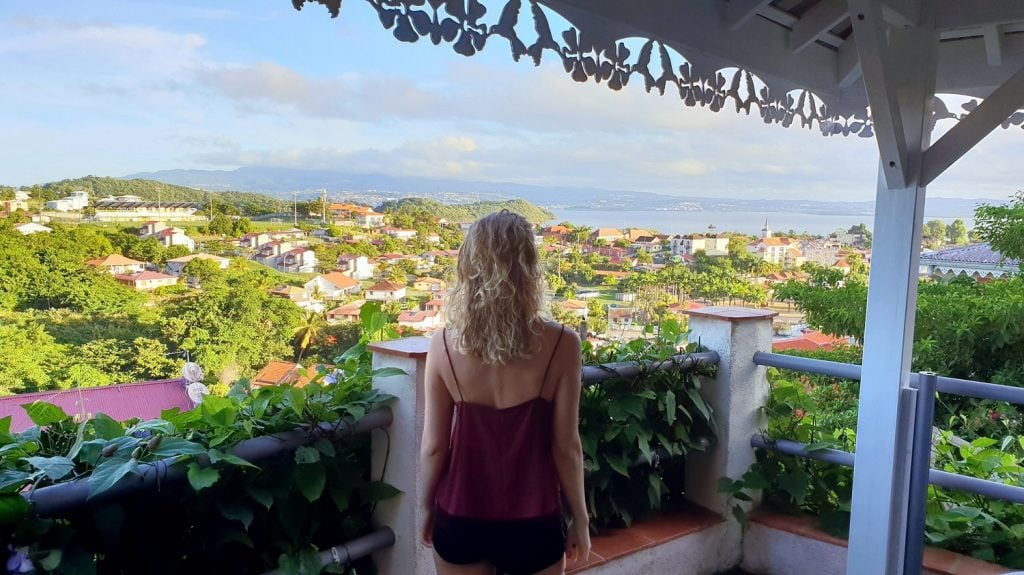 Spoiler alert: it wasn't rap. And it wasn't coming from the car. It was the island! And the jungle. You know, the insects, birds and whatnot. On the first night it seemed scary and loud, but after that I got used to it and listening to the nature's music was actually pretty calming. And hearing the chicken cuckooing in the morning was also pretty useful: you knew it was around 4am and you could still sleep a few hours.
Our Airbnb apartment and host were both great. The apartment was clean and beautiful and the host spoke English. I wasn't a big fan of the bugs (mainly ants) living in the apartment with us though, but that was just my personal problem. The place is honestly such a jungle, it's no wonder some of the insects find their way indoors as well.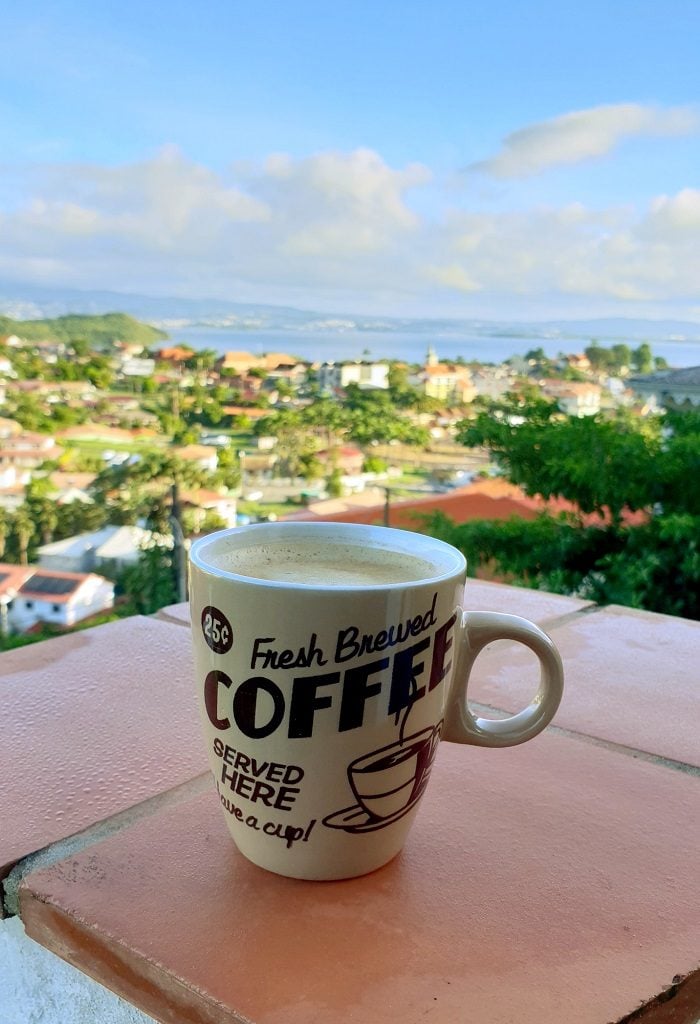 Our holiday in Martinique – We came in mentally prepared for mosquitos and the rainy season
From what we read beforehand, there were several people and sites warning about the mosquitoes and the time we traveled there was supposed to be in the middle of the rainy season.

The bugs or mosquitos didn't bother us as much as we thought they would. We didn't see a lot of mosquitos during the days, and in the evening they didn't bother us since we were indoors (and the windows had mosquito nets). I did however get stung or bitten a few times, but we had allergy medicine that helped. Usually Risto is the one collecting all the stings, so I guess it's only fair for me to take them for a change.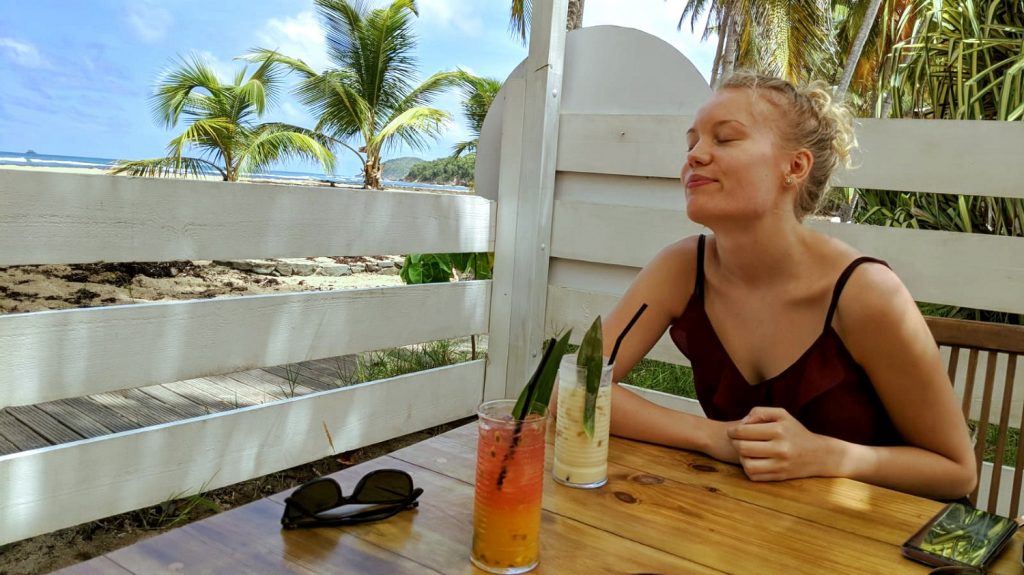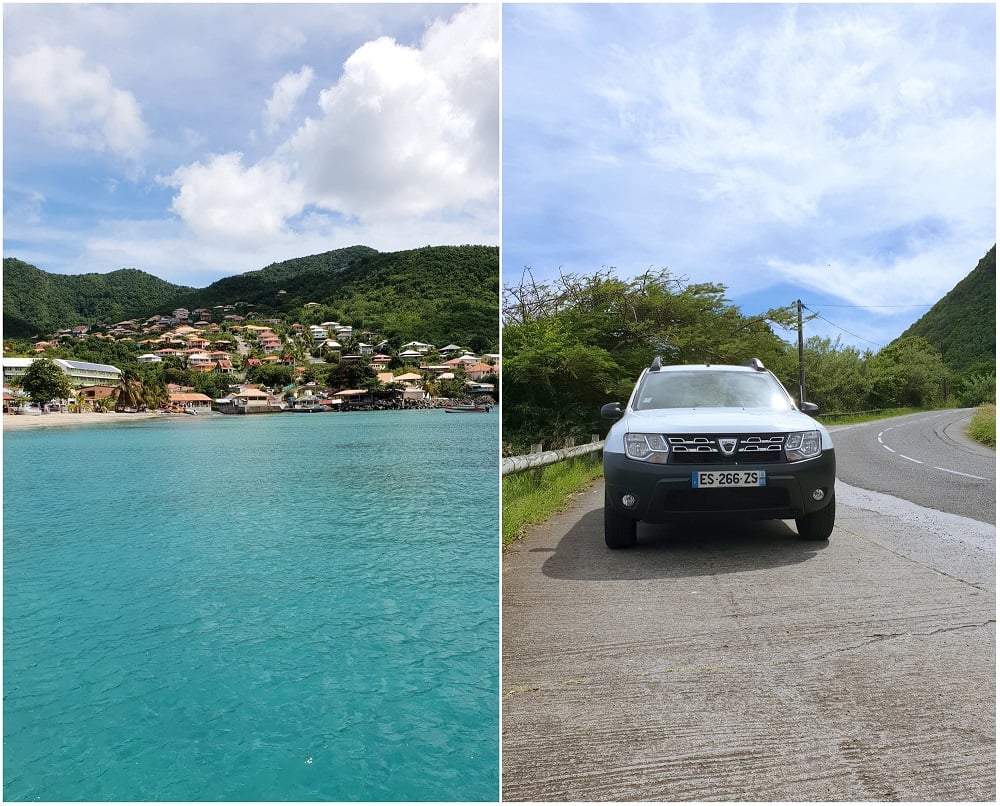 Martinique isn't a popular tourist attraction and therefore there aren't that many tourists. Or tourist areas. Or tourist restaurants. It also wasn't the tourist season, if there is one, since it was rain season. Combining all this with my difficult diet – the result was that we couldn't find restaurants that 1.) were open 2.) would have food for me. We found one restaurant, that was open (it actually opened it's doors the second last day we spent there) and had vegetarian and gluten free options, and I was over the moon! So our trip was different in a way, that we cooked our own food in the apartment and didn't really get to enjoy the local restaurants. We did, however, enjoy the local fruits and vegetables, which were delicious. The local avocados were some of the biggest I've ever seen, since we usually get these small ones from Africa or Peru here in Finland.
Even though it was supposed to be rain season and we braced ourselves for heavy rain and bad weather – the weather was amazing all week. Sunny, hot and beautiful. The rain came in small showers here and there. You could be driving down a sunny road and all of a sudden the road is completely wet. The island was never fully covered with clouds. Although for one night, it rained quite hard, but we don't know whether the rain covered the whole island or just our apartment. It felt nice to spend time in a humid, hot weather. My curls loved it!
What to do and see in Martinique –
rhum, zoo, sightseeing and the beaches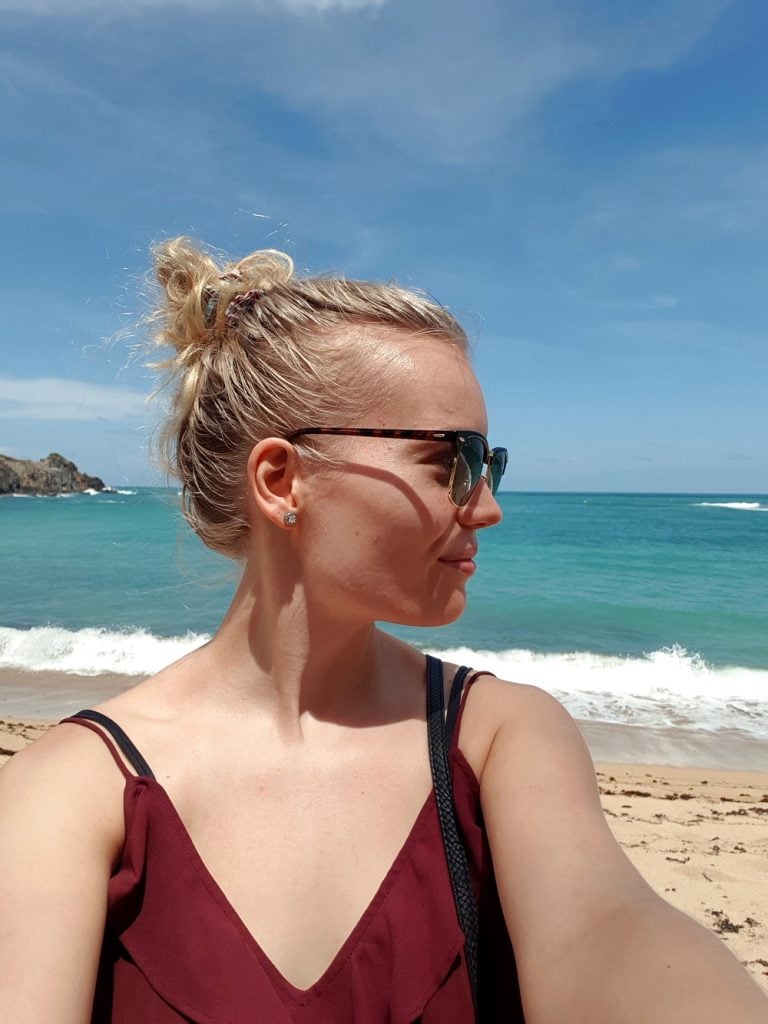 We had done some research on the island beforehand, so we had some attractions we wanted to see and things we wanted to do. During our week we visited almost all the main attractions: the diamond rock, the Cap 110, many of the popular beaches, the volcano, the zoo and JM Rhum distillery.
The diamond rock was beautiful. It is definitely worth to see live.
The cap 110 made us quiet. It's good to learn a bit of the island's history.
The beaches are spectacular. I think the beaches in Martinique are the most beautiful beaches I've ever seen. My favorite thing was to just bury my toes in the sand and stare at the ocean. It was cool to see that the beaches weren't owned by humans – they were full of crabs and their little holes.
If you're a fan of the beaches, reserve time to visit several on this island. Being between two oceans and having experienced a volcano eruption, you almost forget you're still on the same island, when you go see the different beaches. That's how different some of them are from each other.
(I'm pretty sure divers and surfers might love the island, but we tend to have this philosophy concerning the oceans: no Portuguese man o' war, blue ringed octopus or any other of the lovely killers in the sea has entered our home to bother us, so if we don't enter their home, perhaps things will stay cool between us.)
The volcanowas cool. It's the first volcano I've been to. The weather got really cool and foggy that high up though, so we didn't hike all the way to the top. If you're thinking of hiking there, make sure to wear warm clothes and good shoes.
The zoo was lovely. But not necessarily, because of the animals. There weren't even that many animals. What made the Zoo amazing was the fact that it was in the middle of the jungle and there were some cool old ruins there. And I guess that walking in the butterfly house and seeing all my favorite butterflies so close up made me quite happy. One warning though: since it's a bit in the jungle, I suggest using some mosquito repellent. I got stung two times immediately when we got there.
The JM Rhum Distillery was also a cool experience. Martinique has many Rhum distilleries, so visiting one is a must. We took a walk (for free) in the distillery and learned how rhum is made. Rhum is my favorite liquor, so I was excited. However, I did not like the taste of the local rhum. And I tried a few. It was quite different to what I'm used to.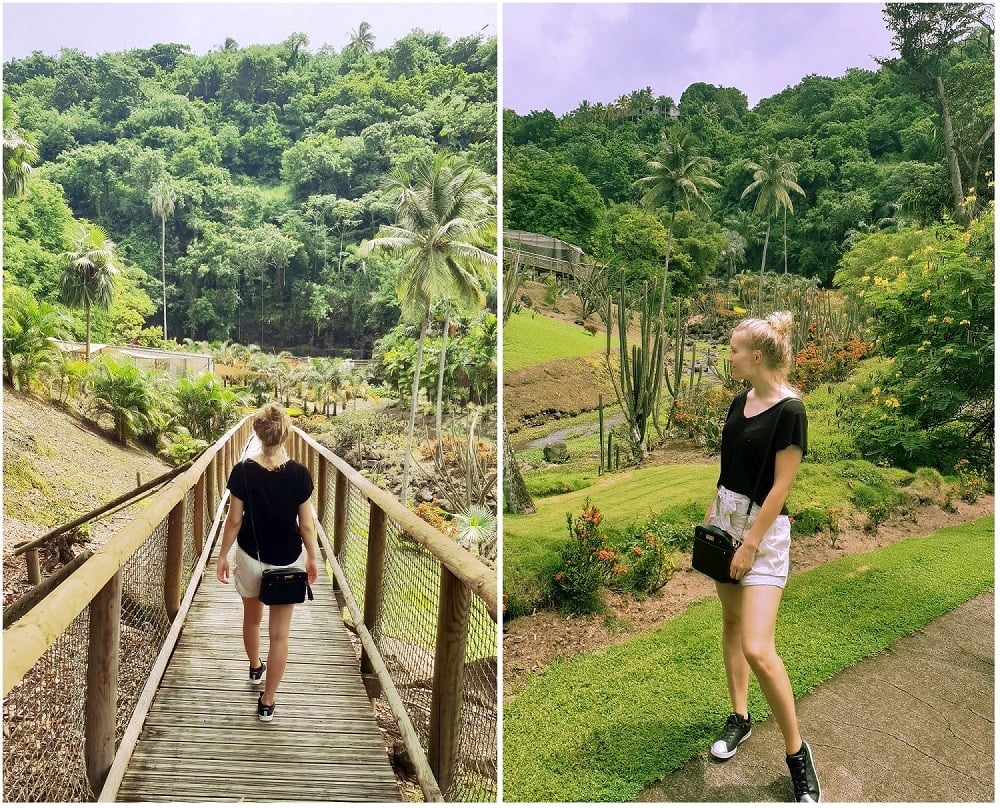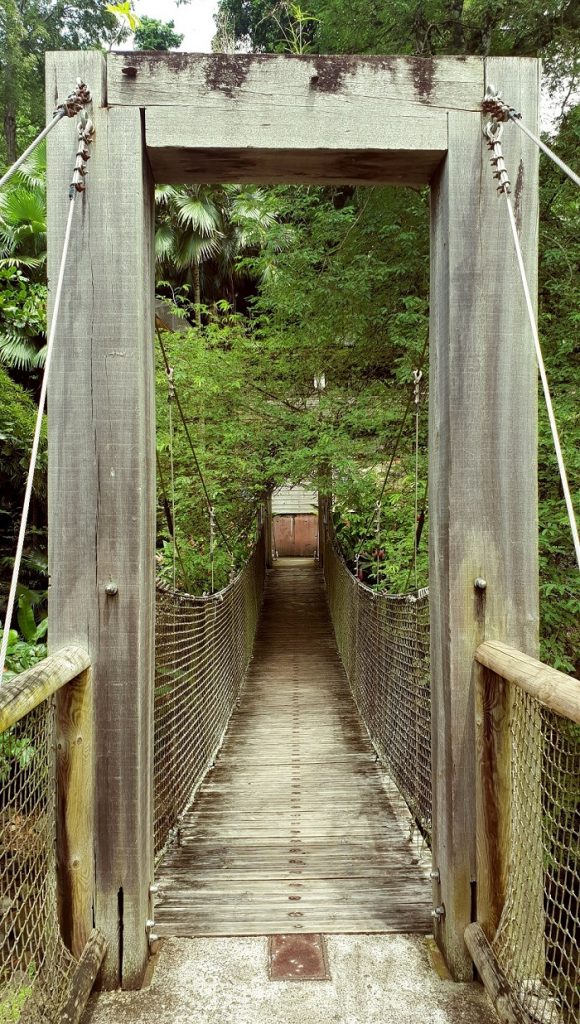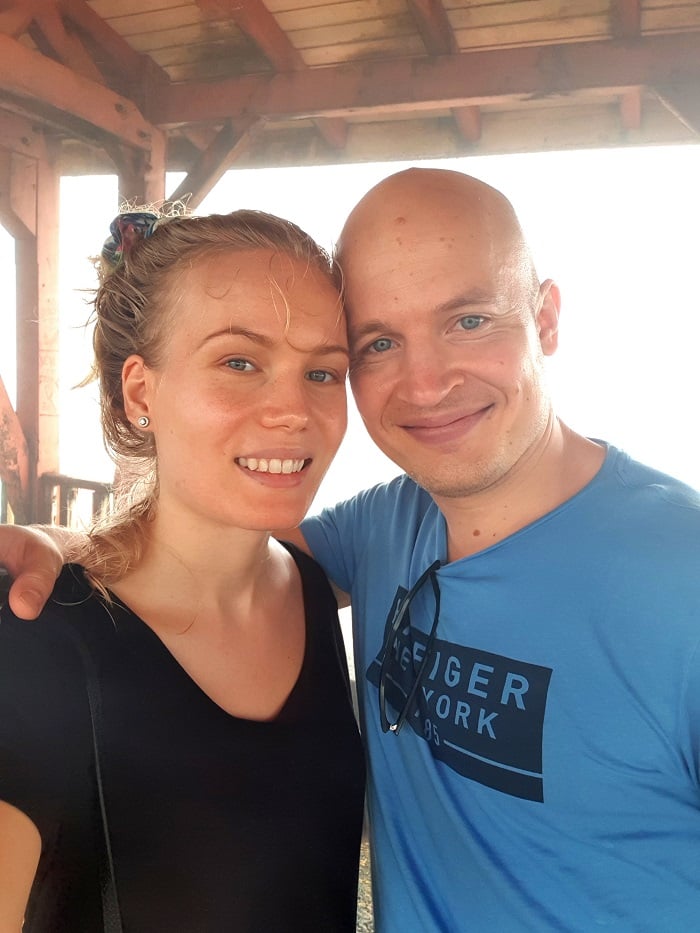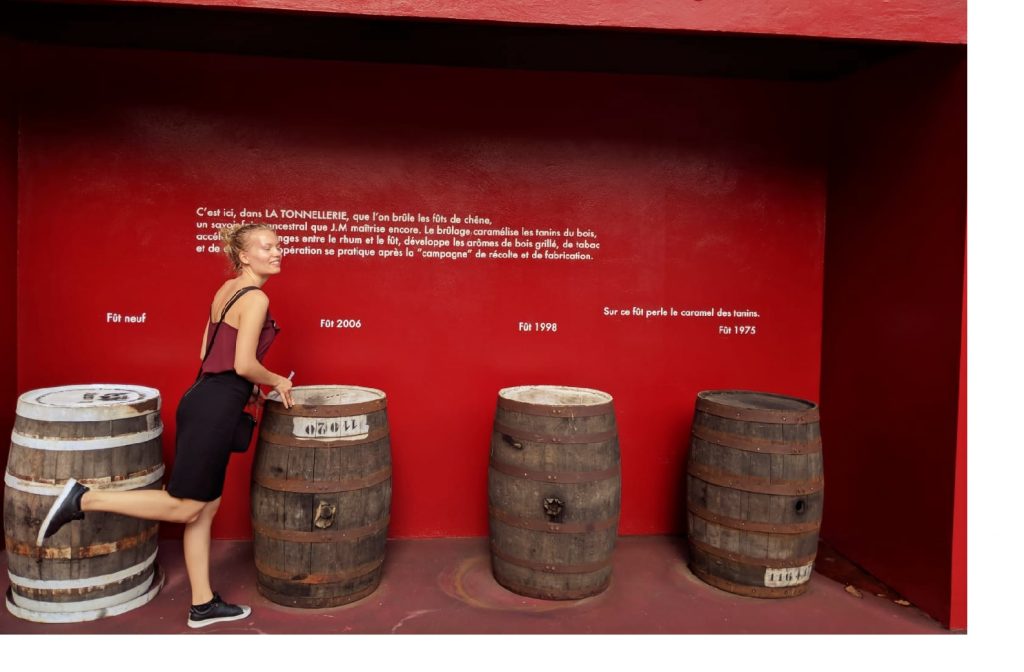 Final tips if you're visiting the island
One last thing I'd like to note, is that you will need a car in Martinique. The island is quite small, but the roads are narrow and crooked, so it might take quite a long time to get to your destination, even if it was near. But I also think driving a car through the island is the best way to see the island.

In addition, Airbnb prices were very reasonable and you could get a nice villa at the price of a small apartment in Paris, so as long as you're okay driving, rent a nice villa, pick up a car from the airport, and you're set. Risto's advice: if you're not used to driving with manual gears, this probably is not the optimal place to come practice, so pay for the automatic transmission.
Altogether Martinique was an amazing experience. And the best thing about it was definitely it's nature. The scary hills, the beautiful jungle and palm trees everywhere, the volcano, which always seemed to be hidden by a fog, the beautiful sunrises and the cute little lizards that guarded our balcony.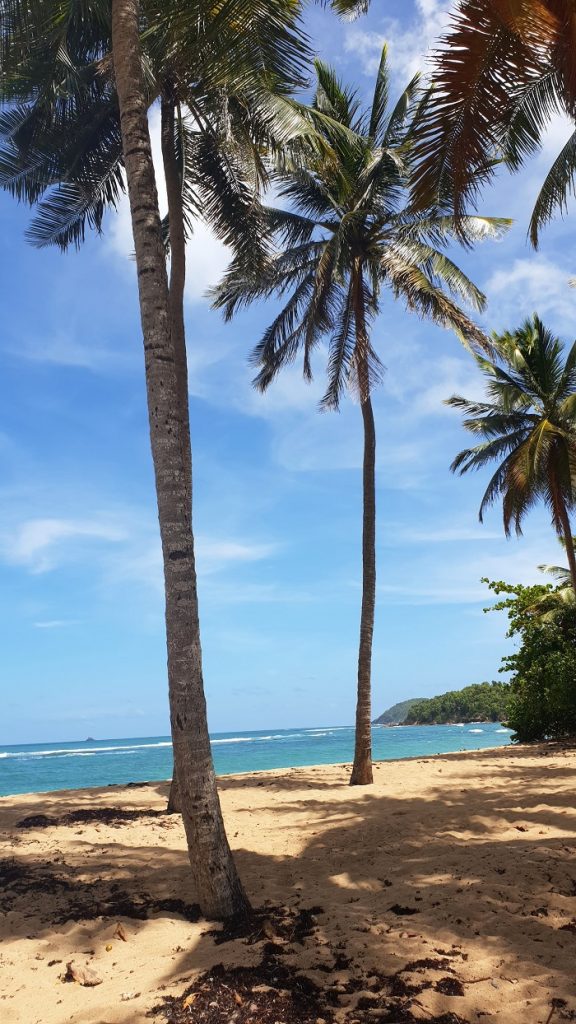 On this same trip we also travelled to Versailles and Paris. We travelled for two weeks altogether – and only with hand luggage! I showed you what I packed for the trip here.  I managed fine in Martinique with what I packed – I actually wore basically the same things in Paris.