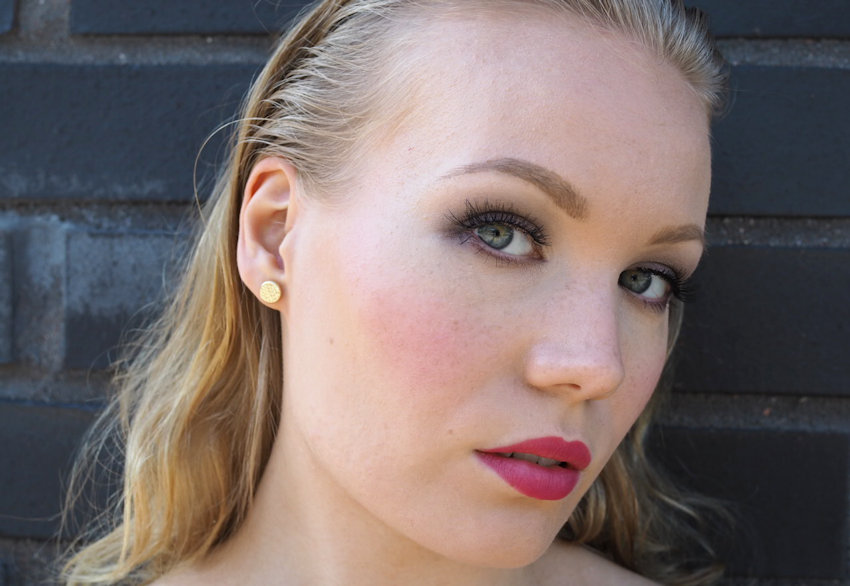 Pr-samples
A while back I was enjoying breakfast with GOSH Copenhagen and I got some new products to test out. I hadn't tried any of their products before, so it was interesting to learn more about the brand.
GOSH is cruelty free, 70% of their products are vegan and usually free from perfume. They also have their own lab in Denmark, where all the products are made. They are quite innovative when it comes to packaging and they are working on making their packaging more eco-friendly. Their newest foundation packaging is made with 40% ocean waste plastic – meaning waste collected from oceans. (If you are wondering why it's only 40% and not 100 %, I can tell you, that it has something to do with the durability of the packaging. Because yes, I asked about that.)
But let's get to the products, shall we?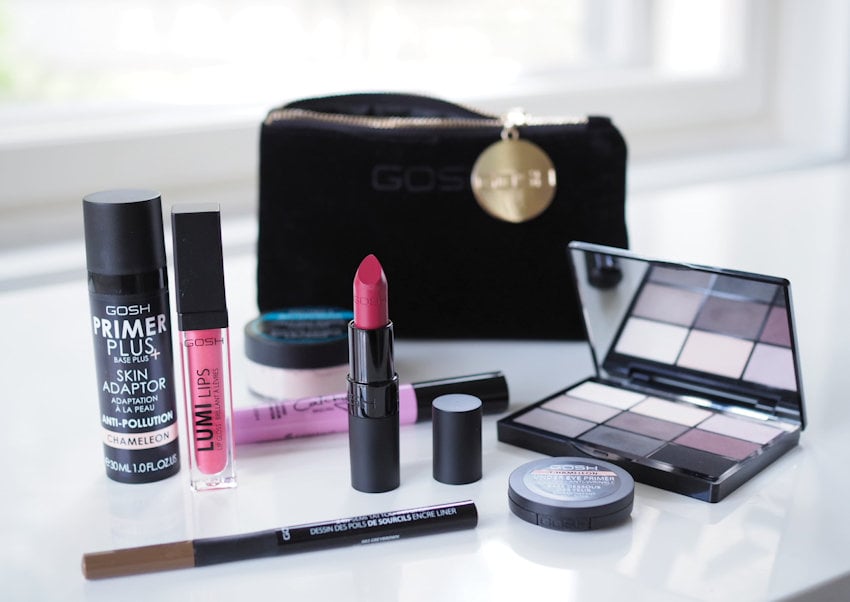 GOSH makeup review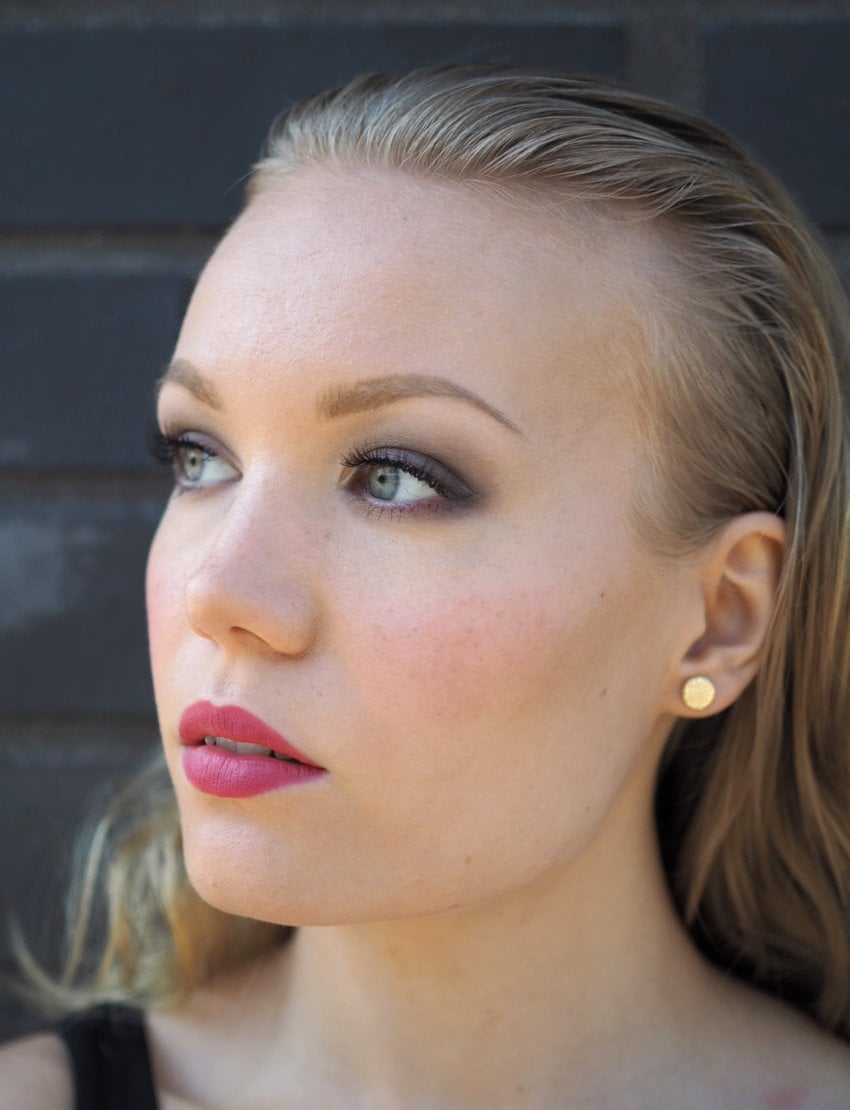 I'm wearing all of these products on my skin in the photos, so you can see them in action.
GOSH Brow Hair Stroke Semi Tattoo Ink  Liner, 002 Greybrown
My absolute favorite product out of everything is the Brow Artist Brow Pen. You can create brow strokes with the applicator and that actually works. It's easy to use and the color payoff is just perfect. If it was too heavy, it would look unnatural. If it was too light, it wouldn't show. I have taken this brow product into my routine and I use it always after first painting my brows on with the mad4eyebrow Natural Brow Filler, which is essentially a brow powder. This product is also awesome for filling in any gaps, which most of us tend to have in our brows. Vegan.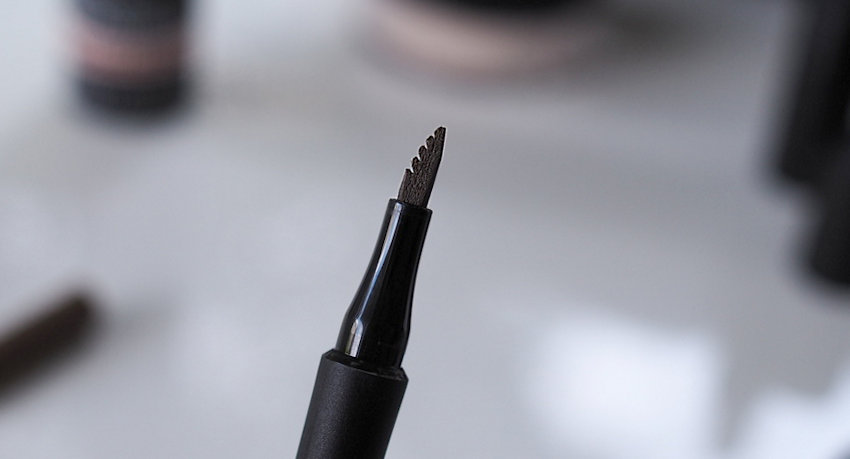 GOSH Matt Shadow Collection, To Be Cool in Copenhagen
This eyeshadow palette contains nine cool shades that are perfect for a smokey eye – or for every day use. The palette itself is super handy. It's small and it has a big mirror inside, which makes it perfect for travelling. The pigment is good in the palette and it has enough light, medium and dark shades. I think this would look perfect on grey/blue eyes or on someone who really benefits from cool colors.
GOSH Catchy Eyes Mascara
This mascara was a nice surprise, because I'm quite picky when it comes to mascaras. The wand is rubber and makes separating your lashes easy. I would say this separates and gives nice length to your lashes. It's impossible to make clumps with this! If you like thin consistencies and a mascara that gives detail to your lashes, this might be a good choice.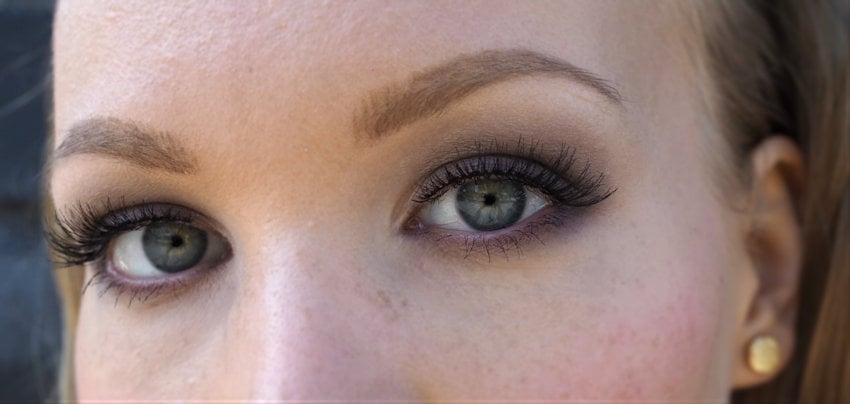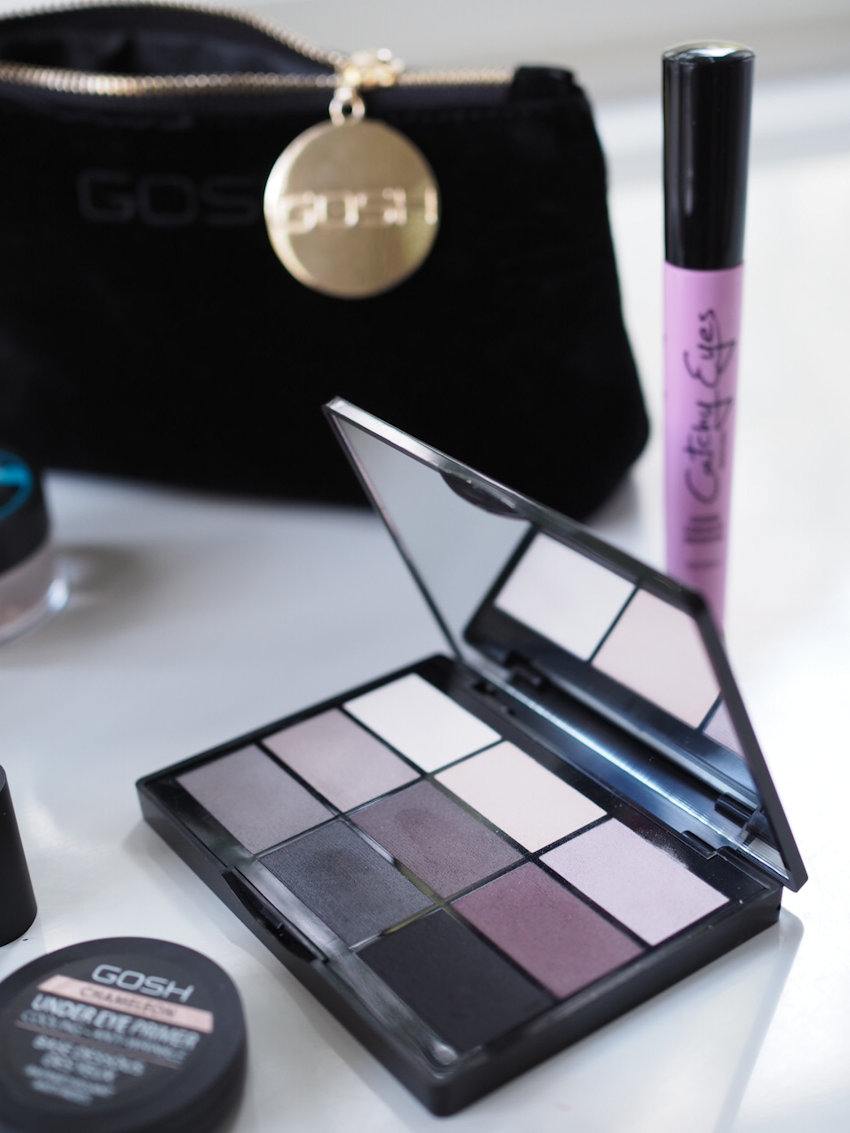 GOSH Velvet Touch Lipstick Matt, 026 Antique Rose
This lipstick has a very nice velvet texture. It's super pigmented, but comfortable on the lips. The shade is beautiful as well – a cool pink shade, that I can see myself wearing often.
GOSH Lumi Lips Lipgloss
This lipgloss has to be my second favorite product here. The shade I got is a beautiful everyday pink color, but more importantly, the lip gloss comes with a light and a mirror! This lip gloss is definitely made for keeping it in your purse on the go. The consistency is very smooth and it feels hydrating on the lips. It's unscented. Vegan.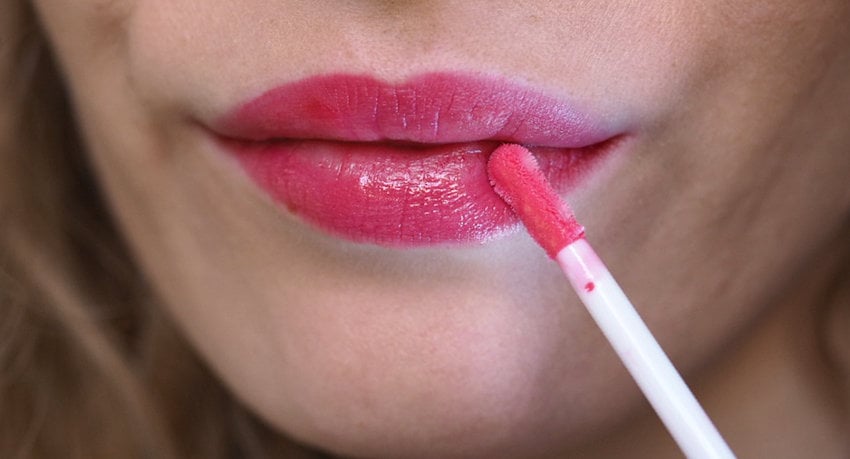 GOSH Under Eye Primer, Chameleon
This product is the least interesting one to me out of all these. I can't help but wonder why do I need yet again a new product? I guess the idea behind this product is to smooth the skin around eyes to make your concealer go on more evenly. It also has a slight cooling effect, which can be refreshing. I personally didn't really get much out of this product, but I get the idea behind it.
GOSH Primer Plus Skin Adaptor, Chameleon
I haven't really used primers nowadays, but I've somehow grabbed this primer quite often. It's perfect for those days, where I want my skin to look like it was glowing from within. It seems to do something to the skin, that you can't quite point out. Unless you're me. This primer smooths out the skin, evens out the skin tone just slightly – and it reflects light. All this makes your skin look like your skin, but a bit better. When it comes to lasting powers, I wouldn't say this helps combination or oily skin to stay matte. It's definitely more of a glow product. Vegan.
GOSH Waterproof Setting Powder
This has to be the first powder that promises to be waterproof. And I'll say that it's the most waterproof powder I've tried. Obviously there's not a product that would last swimming, but if it happened to rain and you were wearing this powder, I'd say your makeup is pretty safe. This powder keeps the makeup locked really well. The texture is silky smooth and the finish it leaves is quite matte, but not dry-looking. Vegan.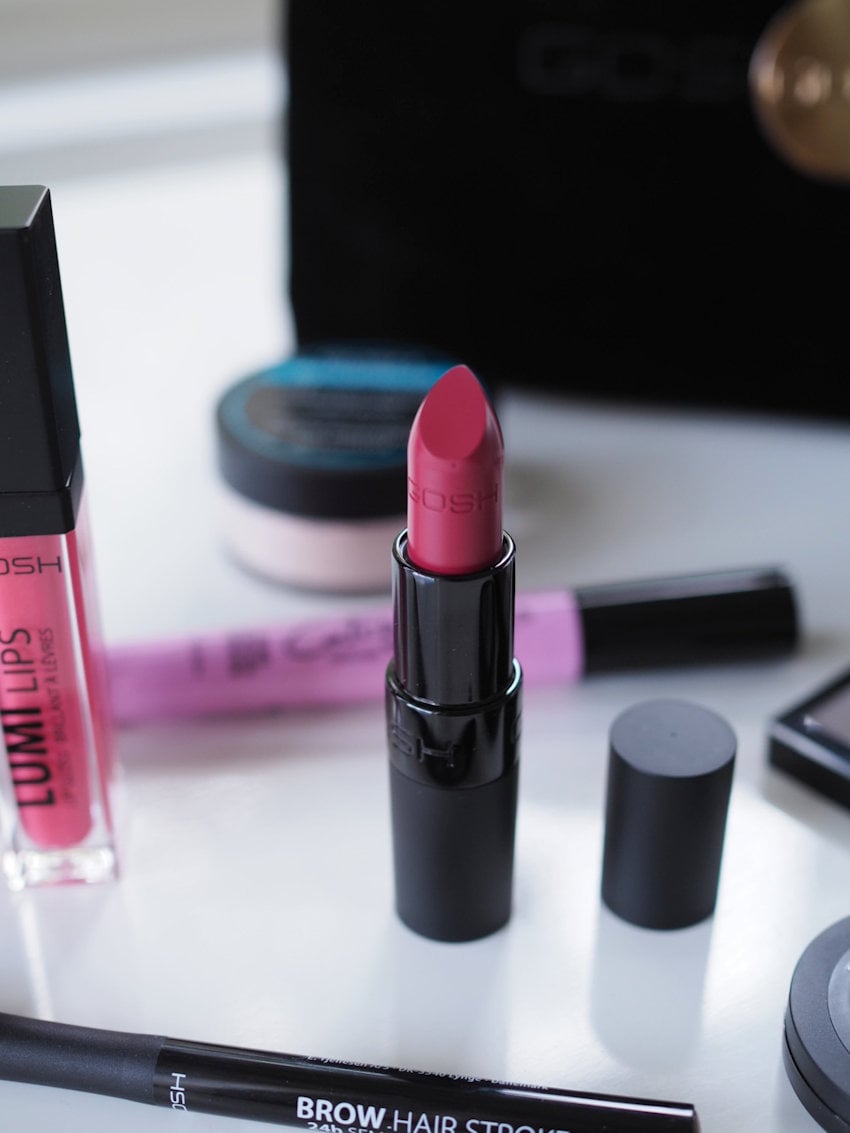 Are you familiar with GOSH Copenhagen?