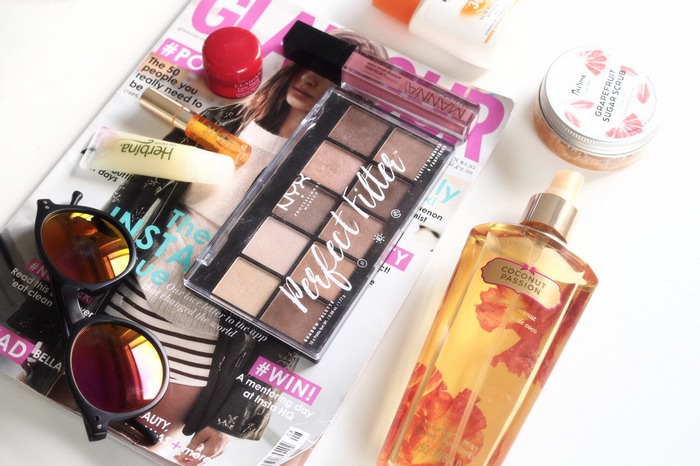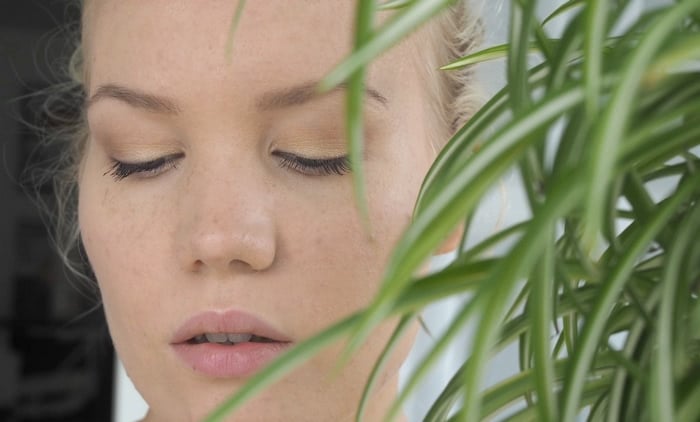 Oops, I kinda forgot to post monthly favorites on June and July. But that can happen at Summer, right? To make up for it, I collected my summer favorites on this post, including the best sunscreen for oily skin and a perfect neutral eye shadow palette (and more!).
Summer has gone by so quickly and I think it's partly, because I've just waited for it, day after day. It never really began, you see? But even though the weather hasn't been the best, there's been lots of light and it's green outside and I've got to wear my summer outfits. Living in Finland, you kinda learn to appreciate the "ok" weather. Kinda.
Anyway – it's still Summer as long as it's August and my birthday coming up – so here are my top picks.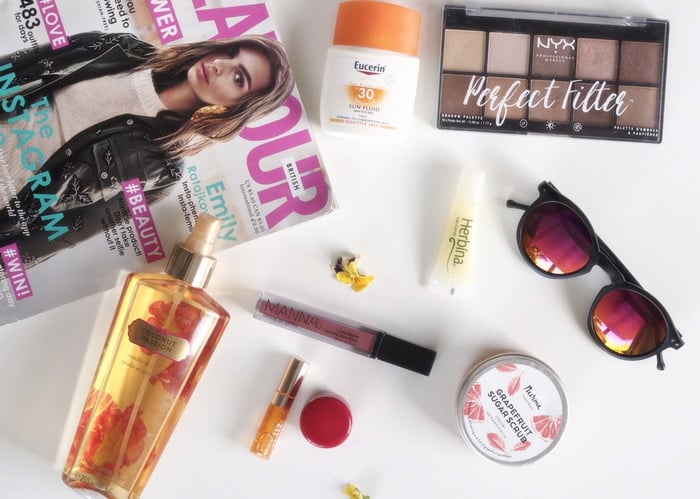 *Eucerin Mattifying Fluid SPF 30-50
All of you combination or oily skinned beauties out there – you can stop looking for the perfect sunscreen for your faces. This is it! Super lightweight, actually mattifying sunscreen, that doesn't clog your pores or make your skin explode. My man also likes to use this on his head (his bald).
*NYX Perfect Filter palette in the shade Golden hour
This palette has been my go-to palette throughout the summer. I travelled with it and I even used it on one of the brides I did this summer! I love the colors, that are easily blendable, but still very pigmented. One of the best palettes I own. If you're in need of a neutral everyday palette, that is pretty – yet affordable – you may want to try this!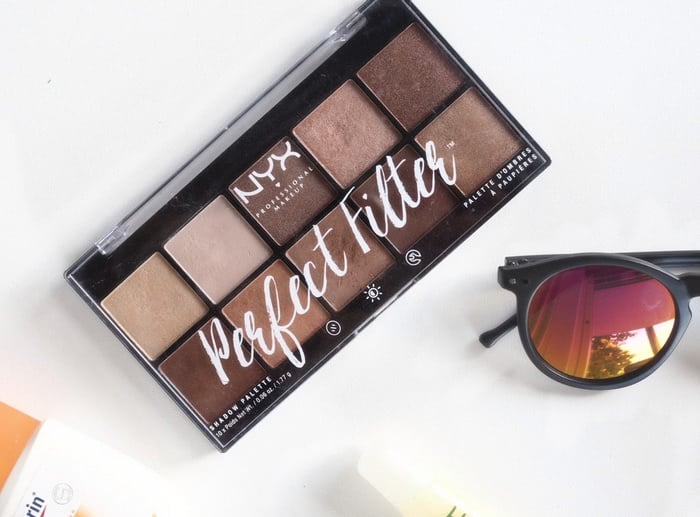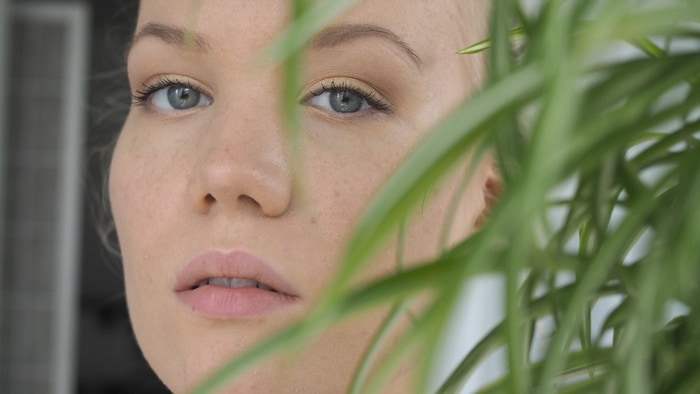 Using NYX Golden Hour Palette & Clarins Primer
Victoria's Secret Body Mist, Coconut Passion
This probably doesn't need any introductions, VS Body Sprays are classics. I love wearing lighter perfumes in summer, so I've been using a lot of body mists. This sweet coconut-vanilla scent is not only my favorite, but a lot of my friends use it too.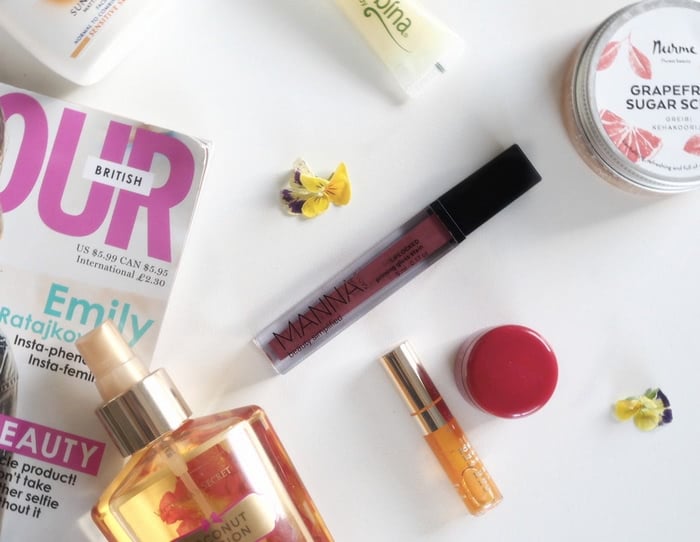 *Manna Kadar Cosmetics Lip Locked Primer & Lip Stain (Lucky)
The brand itself is pretty unknown to me, but I love this particular lip product, that I got from a surprise beauty box (Finnish Bette beauty box). The color reminds me of MAC Faux, which is one of my favorite nude colors. This one is more glossy and maybe a tiny bit darker than Faux. I love the beautiful packaging and the applicator makes it easy to apply.
(MAC Faux post & review)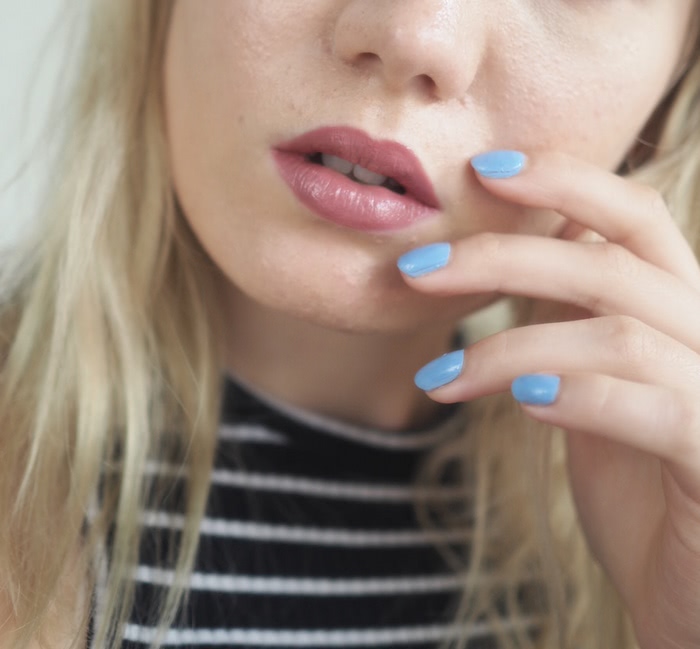 *Clarins Instant Smooth Perfecting Touch Primer
I got these cute small sized Clarins samples from one of the PR-events I attended last Spring. I have used the primer before – maybe two years ago, but had forgotten just how good it is. I mean, my makeup is on point the whole day with this! With oily skin a good primer just really makes a difference and this is one of those primers – it really smooths your pores and wrinkles and just makes a great base for foundation. I don't know what I'm gonna do, when I run out of this cute little jar.
*Clarins  Instant Light Lip Comfort Oil
I've also loved this lip oil for those days, when I'm too lazy to wear lipstick, but want a little something on my lips. This one is a clear(ish) gloss, which isn't sticky and makes your lips look plump (like glosses tend to do, duh).
(In this post I'm wearing nothing on my face except this gloss.)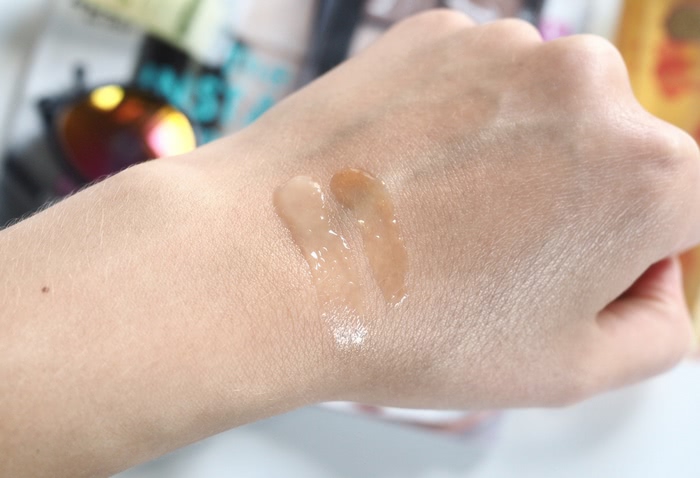 Herbina Lip Candy & Clarins Instant Light Lip Oil
Nurme Grapefruit Sugar Scrub
I got this too from the surprise box. I have one other product from this brand – a mango body lotion and needless to say I love it. I love products, that smell like fruits and berries. Yummy.

Herbina Lip Candy lip balm
Herbina is one of the most popular affordable cosmetic brands in Finland. If you ever visit Finland, you may want to check out their products, that are sold in department stores, but also in grocery stores. The packaging is a bit childish, but I like this clear gloss, which has a sweet lemony scent. I have surprised myself lately with the addiction of lip glosses!
+ Glamour & Bench sunglasses
I rarely buy or read magazines, but when I do, I'm most likely to take off. I have a tradition of buying Glamour from the airport, whenever I'm heading out to a holiday. Or sometimes I buy it, when I want to pamper myself. That said Glamour is definitely my favorite magazine – it's actually full of interesting articles and funny things such as "Hey, it's okay.." -section.  Note to self: I should buy Glamour more often.
The sunglasses were actually free, when we shopped at Bench and spent enough money. I like their pink reflection and the funny round shape!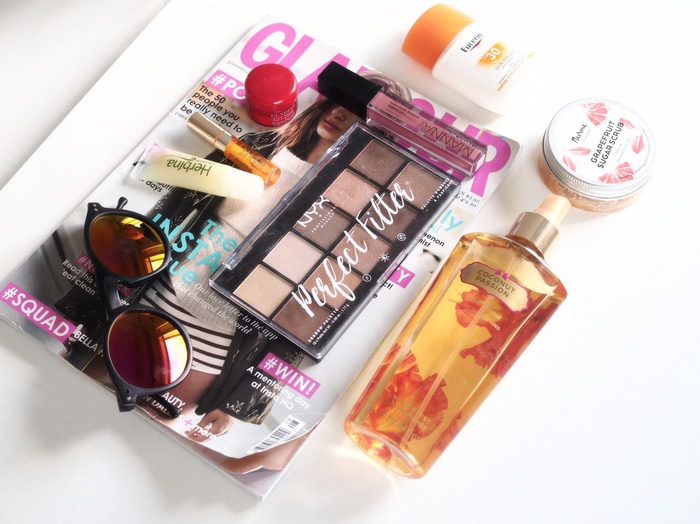 How has your summer been? I'd love to hear about it!