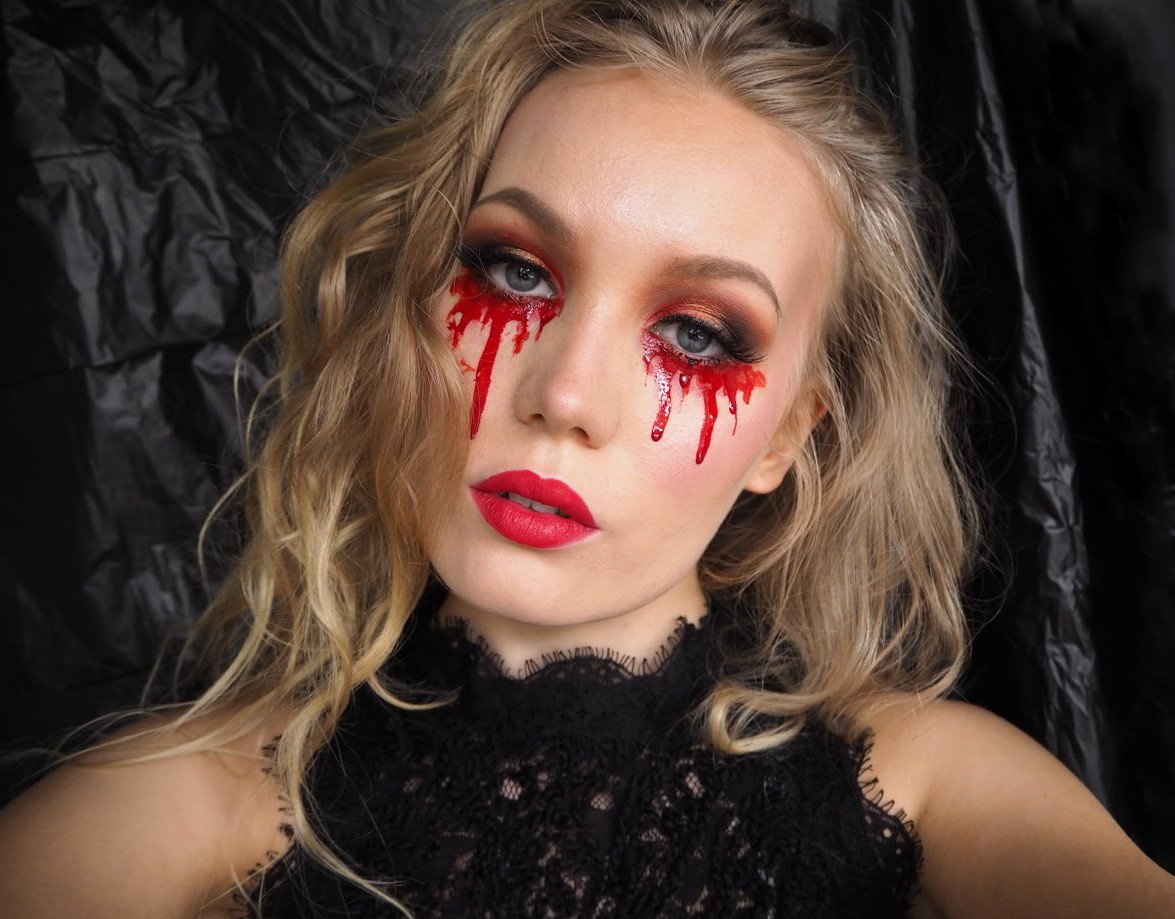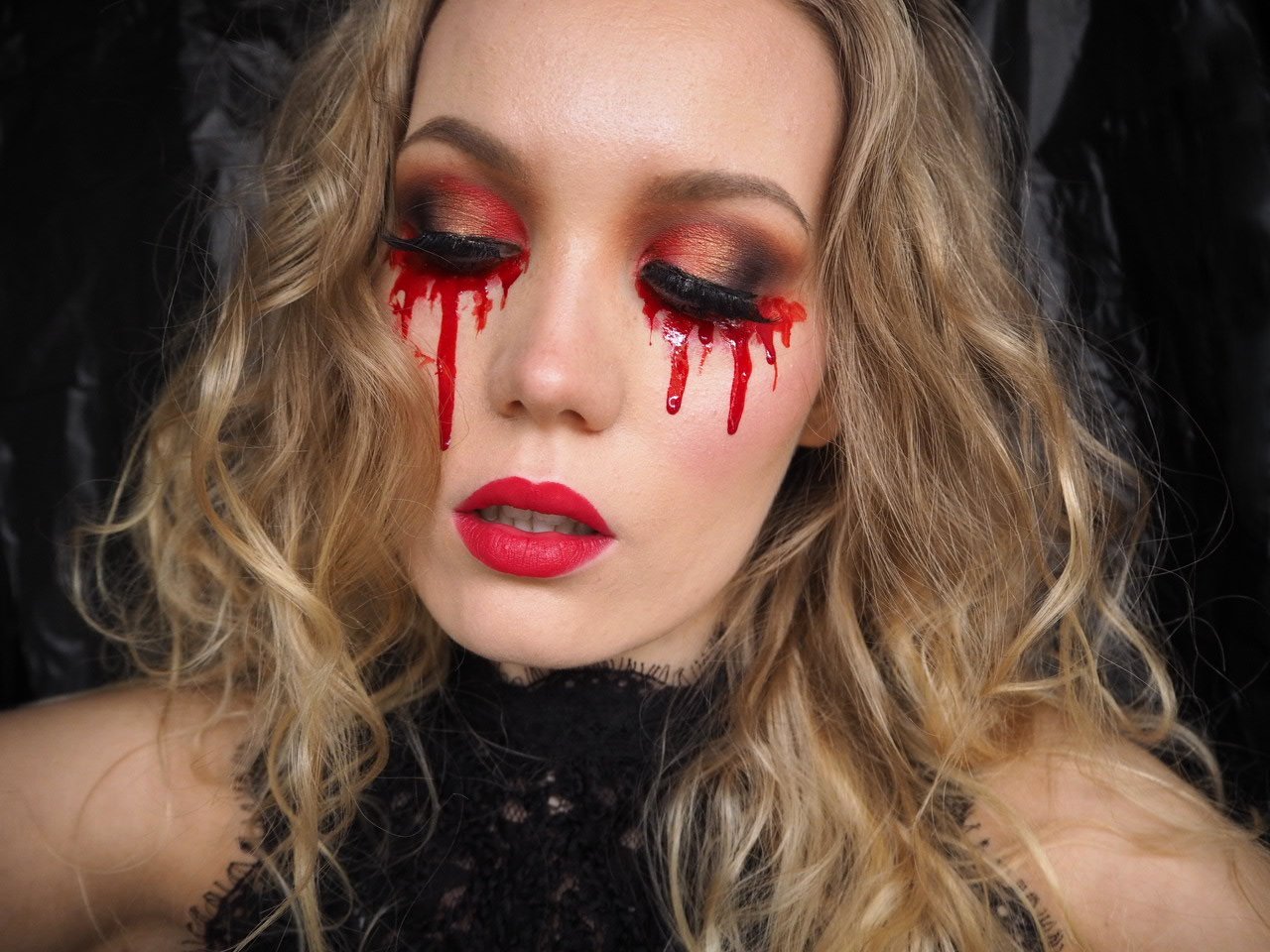 Another easy Halloween makeup look! Halloween looks don't have to be complicated. In this easy look you only need your regular makeup as well as some fake blood. The key thing in this look is to just use warm red colors to go with the fake blood tears.
Every year my sisters urge me to create Halloween looks and every year I find myself – well – not doing them. Or just doing something Halloweenish, like this dark smokey eye I did last year.
This year is different. I decided to finally go for it and push myself to be more creative. I listened to the voice that says 'yes you can' rather than the voice filled with doubt and buts.
Easy Halloween makeup – Blood tears
So here I am, with the first Halloween look. This look is very simple, but it looks pretty fierce. I call it Blood tears. I like this look, because you can still do a beautiful makeup look to go with it and your whole face doesn't have to scream Halloween. You just do your makeup and add some blood tears. I have a strong feeling I will be going with this look for this year's Halloween parties.
I just realized that red lenses would look super cool with this.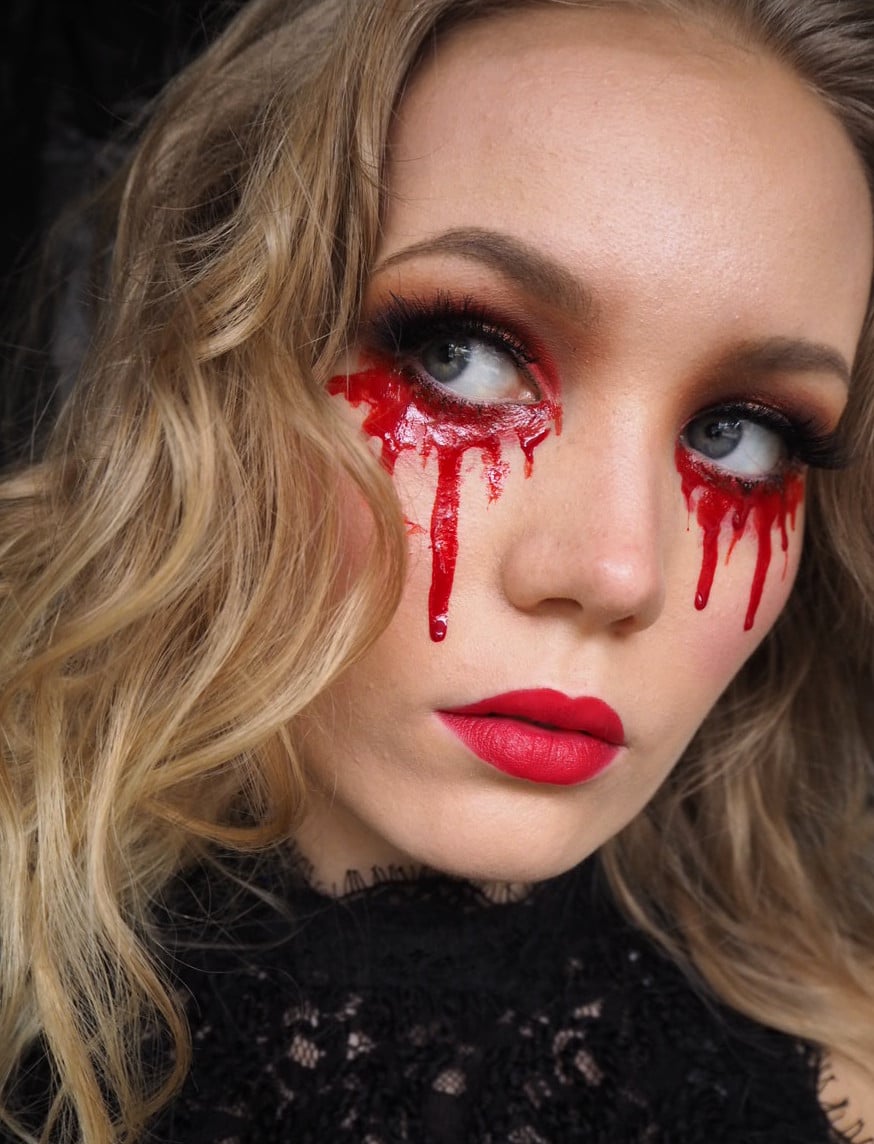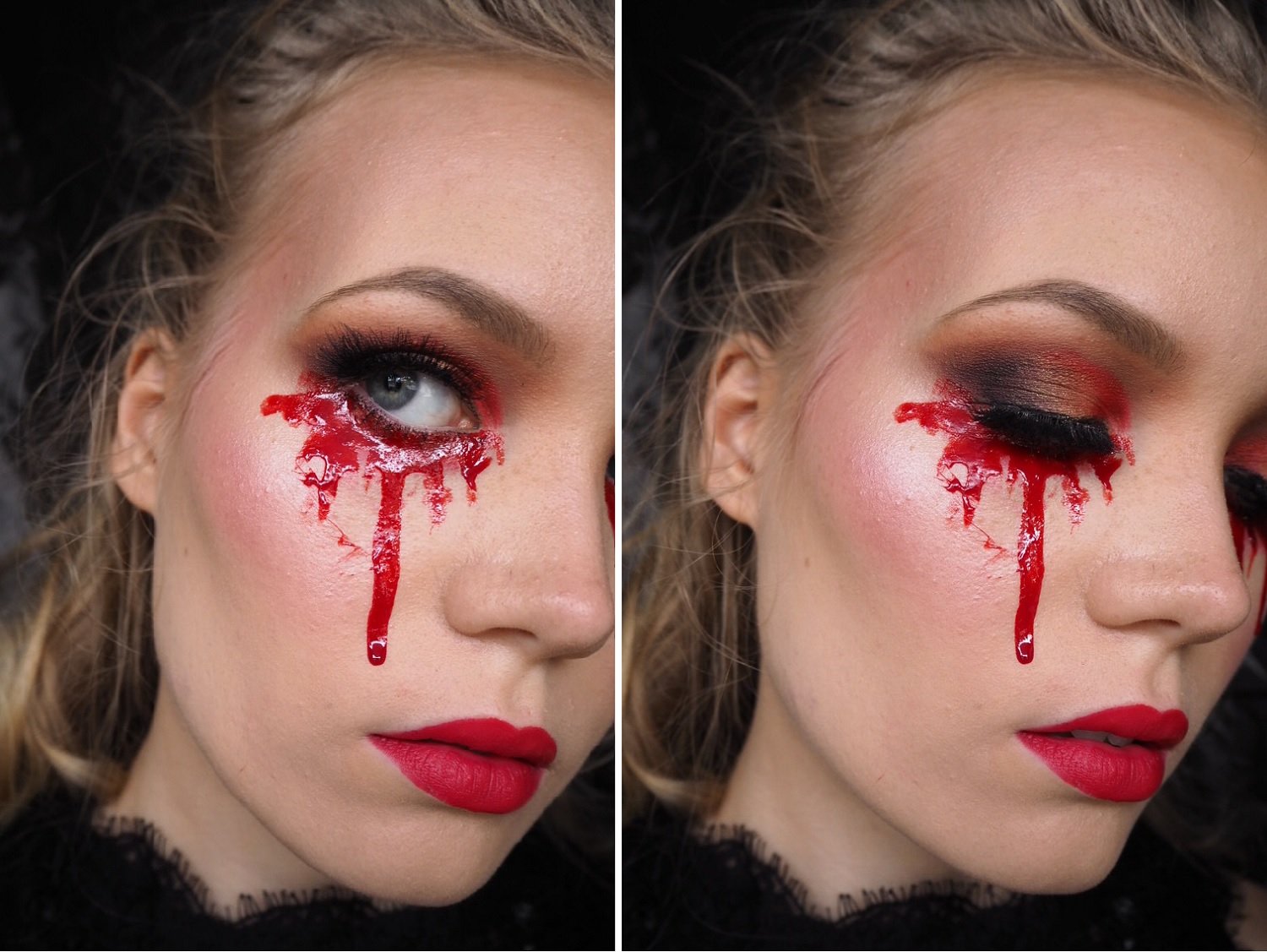 Some notes about the look if you want to recreate it:
A good even base is important here, since there's so much happening with the eyes and the red lips. Use a foundation that gives a nice coverage. The foundation I used is cheap and miraculously good.
I did warmer eyebrows than usual – again, to go with the red theme.
I contoured my eyes quite dramatically. I applied some eyeshadow at the beginning of my brow and upwards to create this sad/dramatic effect. That new palette with warm shades from KICKS is perfect for this. And it's an awesome palette.
I applied a ton of blush and brought it to my temples as well. Owning a red blush came handy here!
I also applied a ton of pink highlight. The more the merrier! That KICKS Highlighting palette was perfect for this.
I applied some red paint under my lower lash line and as blood 'spatters' before going in with the fake blood. I'ts easier to bring all the way to the lashline, than fake blood. I also applied the same red paint on my lids, since I don't own a good red eye shadow (but I patted some golden shimmer color on top of it).
I'm not sure where Grimas is sold, but here in Finland it's available in shops that sell costumes and stuff.
I didn't do a tutorial I as I was just kind of winging it. But I took a few in the making shots: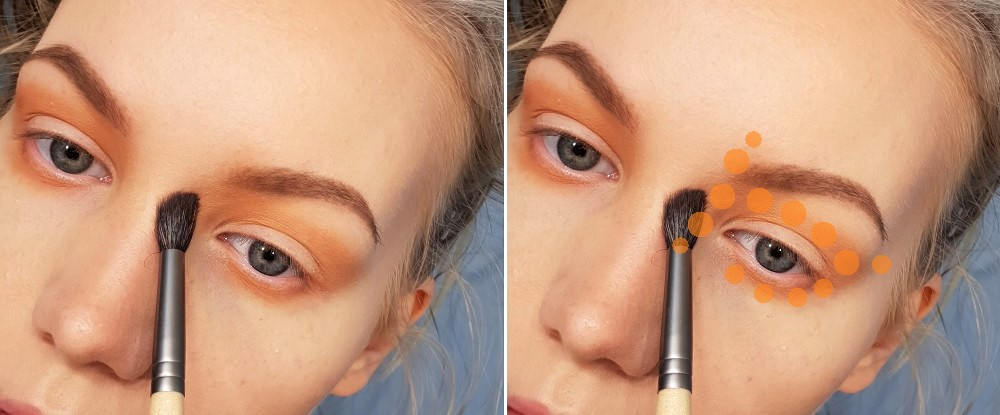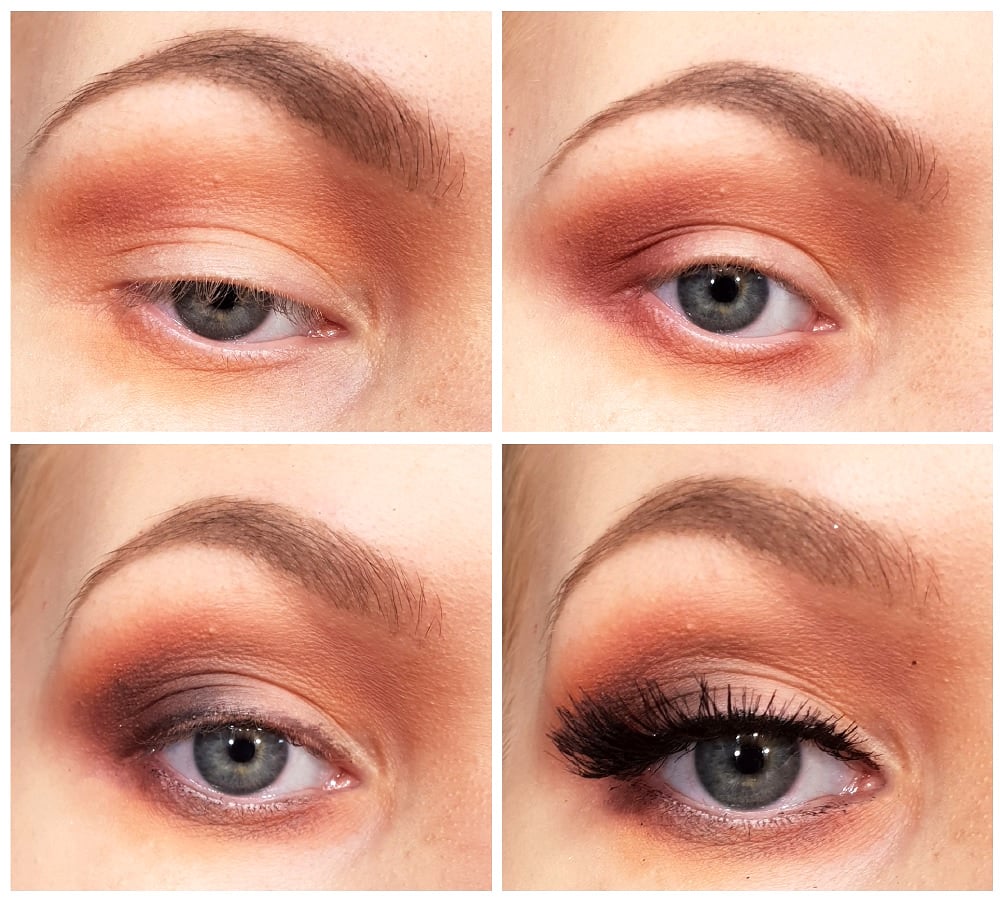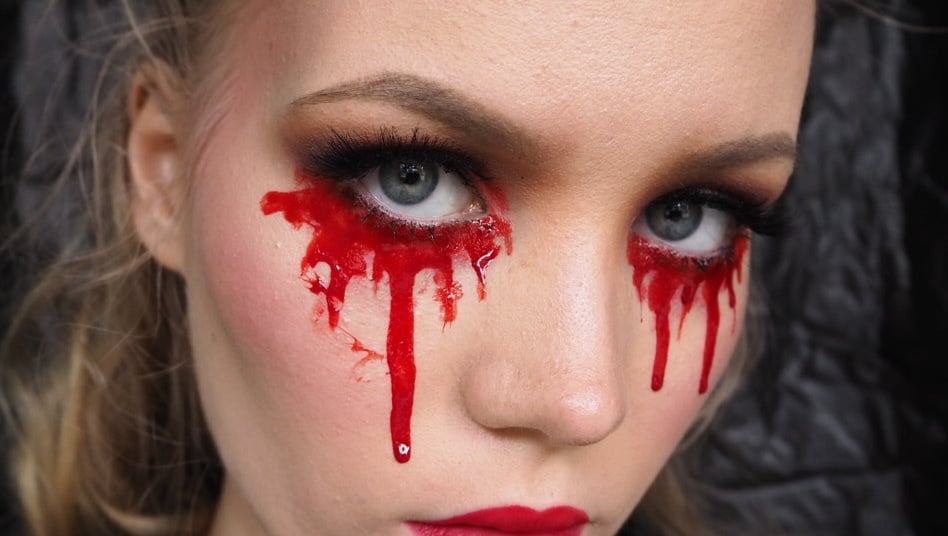 Links are adlinks

Easy halloween look: Blood tears

TonyMoly Silky Smooth Balm
Pretty by Flormar Weightless Foundation, Golden Neutral & Light Ivory
KICKS Marble Collection Glow Kit
Milani Baked Blush, Red Vino
Grimas Water Make-Up Palette 6
Grimas fake blood
KICKS Marble Collection Eyeshadow Palette
Pretty by Flormar Ultimate Dipliner, Black
Ardell lashes
Demi Wispies & Wispies (yes I wore two pairs)
Zuii Organic Eyebrow Definer, Taupe
Holika Holika Wonder Drawing Skinny Eyebrow, 02
IsaDora Perfect Matt Lipstick, Red Carpet
Tonymoly, Pretty by Flormar & KICKS products I've received as pr-samples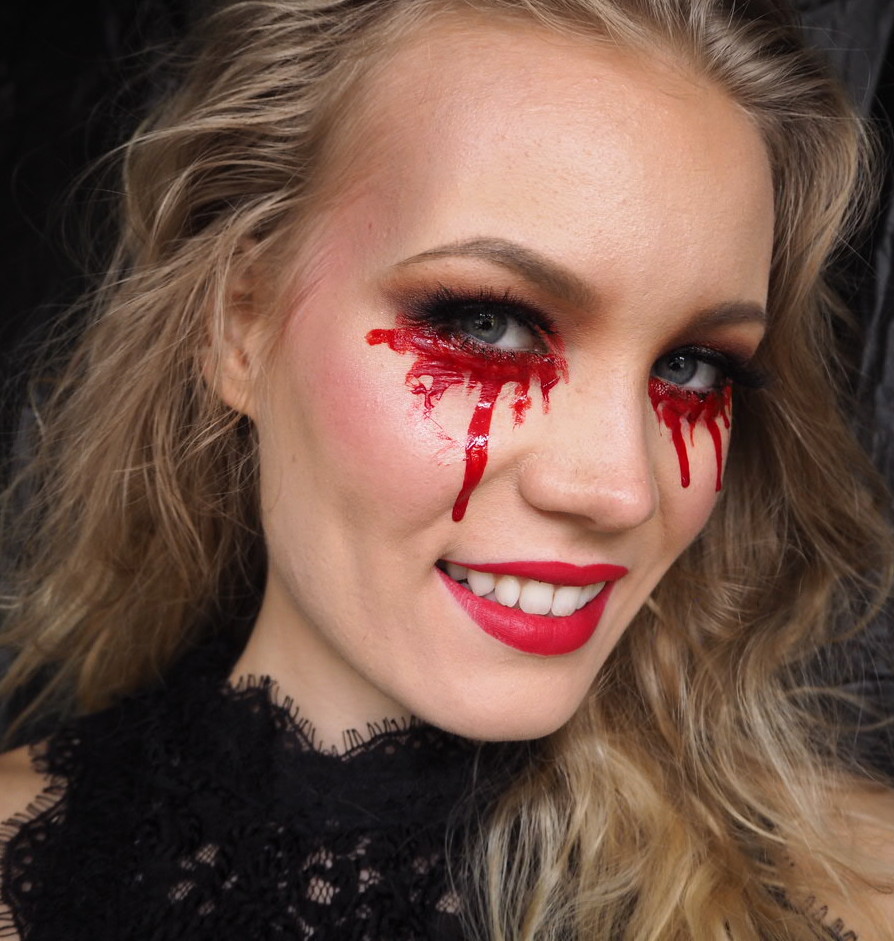 Are you excited about Halloween?
I think I am! I will be posting another Halloween look during October. I'm planning on making it a tutorial.